As I have mentioned in my other blog, I guess in my food blog, that I had my first ever lunch at Kamalig Restaurant, a Filipino restaurant in Dumaguete City last Sunday, April 21, 2012 with my close and an old friend, Aicy.
Aside from the foods that we had, some small things that caught my attention include the furniture at the restaurant. Those were made of bamboo and were very homely-designed place to dine at.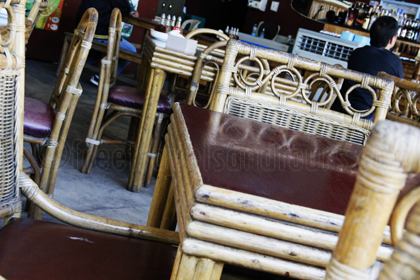 However, when my friend mentioned the place, I didn't expect it that way, I just thought of other modern-style restaurant though its name is kinda giving me a clue already. This is because Kamalig, in the local dialect is like a garage area at home. So when I tried to imagine the place, I thought of some techie modern and more advanced Kamalig place with luxurious Lexington furniture on it.
Nevertheless, the place has a cozy environment and a conducive one to dine and hang out with friends and family.