An Abandoned Plane in Bali
Bali is full of activities and attractions, but have you heard of an abandoned airplane? Often the only place where you can find an abandoned airliner is within airports or in an "aircraft graveyard." However, the exception to this is the island of Bali, where the Boeing 737 has become a local tourist attraction that is a must-see.
Reasons for appearance
The mechanical "monument" is located on the Bukit Peninsula. Deep in a lush, grass-covered quarry where the air is thick and damp, stands an abandoned airliner that was apparently taken there by someone with an incredibly grand plan. According to a local explanation, an entrepreneur once planned to turn a retired Boeing 737 into a restaurant. But something went wrong.
Curious! The island's authorities have not shown the slightest concern for the abandoned aircraft. This is due to the fact that in Bali it is not uncommon for planes to be used for commercial purposes.
Just one kilometer from Pandawa Beach, it would seem that an abandoned plane, devoid of markings and logos, might seem like a great (or at least interesting) place for a restaurant. However, even many local tour companies are not sure what will happen to the plane in the future. Some say the restaurant may still open, while others say plans for it have changed.
Can tourists visit the plane?
Access to the plane is now closed. The entire facility is enclosed by a high fence and is monitored by local guards. But people can get in by negotiating with benevolent guards or paying them a few dollars. Someone sometimes even manages to get inside the "iron bird" and walk around its hull. I myself did not go up to the plane, only saw it from the side. But if you have such a desire, you can discuss this matter with the guards.
Interesting to know! Pandava Beach offers a beautiful view of the white cliffs with Balinese-style statues carved into them. But if one wants to find some remote, mysterious places near a tourist beach, this abandoned plane would be a good option.
As of today, rumor has it that construction of the restaurant has resumed and is well underway. But that's not certain.
How to get there?
Getting to the abandoned plane will not be very difficult. It is located in the southern part of the island. To do this you must follow a dirt road to the beach Pandava. There is a beautiful abandoned building, where you must turn left. After about 5 minutes you will see colorful containers on the left side where you must stop.
Near this place, behind a small counter set up, a local woman sells refreshments and other goods. Directly in front of her you can see a path leading towards the cliff. Following it will take you to the top of a makeshift observation deck from which you will have a great view of the airliner.
Abandoned plane on the map
On this map, I marked the location of the abandoned airplane.
As unexpected as this is, it turns out that this abandoned passenger plane is not the only one on the island. There is another Boeing 737 standing in an empty yard on Bypass Ngurah Rai Road next to the Dunkin' Donuts coffee shop. The history of this plane is the same – it is an unfinished restaurant facility.
Once you visit this beautiful island, don't forget to look at the abandoned airliner. It has become a real tourist attraction for travelers eager to take pictures with the mysterious plane.
Abandoned plane in Bali. Description, photo, coordinates.
Hello, horrors and nightmares! Who among us can keep at least a semblance of calm in places where the blood runs cold in the veins! Today we will tell you about some sights of Bali, where you do not want to be after the sunset.
The Abandoned TAMAN FESTIVAL theme park in Sanur, Bali
This is a large unfinished and abandoned amusement park project in Sanur, Bali. Fourteen years ago the construction of the complex stopped and now everything has turned into ruins that the jungle is slowly taking in its arms. In fact, the ruins look more than creepy: over the years the roofs have fallen off, the walls are weathered, overgrown with moss and have acquired chilling graffiti writings (or blood, who doesn't know!?), vines hang from the ceilings, half the stairs are gone, – an average horror movie set.
Few ominous places are without myths and legends. A story from an abandoned amusement park in Sanur about cannibal crocodiles in Bali (yes, yes, that's right!). The park has a premium pit full of black slime, where, according to the assurances of contemporaries who caught the construction back in the day, only a mere 130 crocodiles were housed. As usually happens, the green cuties were forgotten about when the project was abandoned. Legend has it that most of the tribesmen got into the huge toothy mouths of the crocodiles, since even the frailest monkeys avoided this place. Whether the guys ate each other up without a trace, no one knows. So be careful when you visit the park – don't jump into slime pits and watch your step!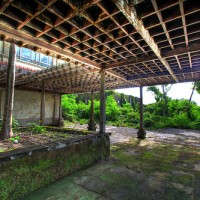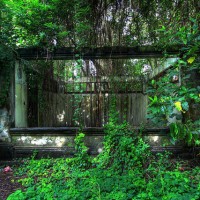 Where: Taman Festival is located along Jalan Pantai Padang Galak road in Sanur. It is a 7-minute drive north of Sanur Beach.
Abandoned Plane in Bali, Bukit
Apparently airplanes are the fashionable decor in Bali. In Changu and Kuta, a couple of abandoned planes already adorn rooftops and gardens. But the most impressive display is near Pandawa Beach. There are reports that there were plans to turn the plane into a restaurant, but the idea remains unrealized for now, and for all those who dreamed of walking on the wing without risking their own necks, there is an amazing opportunity to make their dreams come true. The abandoned plane can easily be found on a satellite map of Bali.
Where: On Bukit, Jalan Nasa Dua Selatan Street. 5 minutes by bike from Pandawa Beach.
Abandoned Hotel in Bali Taman Bedugul
A famous abandoned hotel can be found on a map of Bali in Bedugul, on the way to Lake Bratan. The history of this abandoned hotel in Bali is very simple. The big hotel was almost ready to give up when its owner Tommy Suharto (son of Indonesia's second president) went to prison on murder charges (no fairy tales here). Since then, the hotel in the picturesque hills of Bedugul is rotting and falling apart, as befits all creepy places. Destroyed and dilapidated, honestly earning the title "haunted hotel.
The multi-level terraces of the almost fully equipped but abandoned hotel rooms look out sullenly from the green and mist-shrouded hills of Bali. It is better to walk through the corridors of the hotel during the daytime and only for people with a stable psyche. At dusk, the imagination can play a cruel joke with you.
The legends of the place are like common horror stories for children: a certain fool came, stayed overnight, and no one else saw him. Mention is also made of the group disappearance of a team of construction workers and a law enforcement officer who went to the famous abandoned hotel in Bali to look for them. It is unlikely that these guys would have left a good review on booking.com.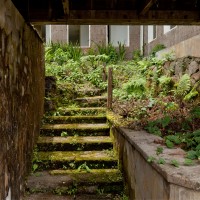 Where: In Bedugul village in Strawberry Hills, a 15 minute drive from Bratan Lake.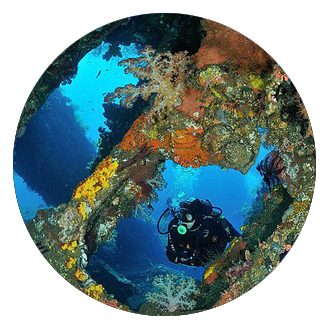 Bali Shipwreck in Tulamben
Divers call this rak "Liberty" after a shipwreck near Bali. In fact, it's only by arming yourself with a mask and flippers that you'll be able to explore attraction #4 on our spooky list. For a more detailed exploration of the shipwreck, you'll need full diving gear and an experienced divemaster guide. You won't have to go far for that – there are several equipment rentals on shore.
The American wreck "Liberty" lies in shallow water off the coast of Bali, – this means that even beginners can dive here, without licenses and certificates. The wreck rests at a depth of no more than 30 meters near the shore.
The history of this place is not the most ordinary: the ship was hit by a Japanese torpedo near the island of Lombok and was towed to Tulamben to save people and valuables. The volcanic eruption of Agung in 1963 affected most of the eastern part of Bali and drove the ship further from shore, making it a refuge for sea creatures.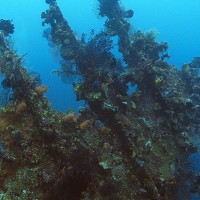 Where: Wreck Liberty in the village of Tulamben. A 2-3 hour bike or car ride from Kuta.
The underwater temple in Pemuteran in Bali
For fans of underwater creepiness there is another sweet spot – the temple Pura Taman in the fishing village of Pematuran in the north of the island. The underwater structure covers a large area at a depth of 15 to 29 meters and offers divers and snorkelers 25 huge statues that have been swallowed by the ocean. Overgrown with bizarre corals and disappearing into the darkness of the sea depths, they tell a frightening tale of an angry heaven.
Sadly, there is no titillating tale of Balinese Atlantis. No bloody volcanic eruptions, no monstrous earthquakes, no divine intervention that lowered the temple into the abyss of the sea. In 2005, the statues of a Hindu temple were dived by human hands as part of a program to restore the coral reefs of these places and to attract tourists.
Diving in the Pura Taman area alone will test your nerves, but for a group it can be a fascinating adventure.
Where: Pura Taman is located off the coast of Pemuteran Village. It is in the north of Bali and from the main tourist areas you have to travel a short distance.