Moscow region's best beaches 2022: top 20 places for a rest by the water in the Moscow region
Even if you can't go to the sea this summer, it's not a reason to get upset at all. Enjoy the warm days not far from Moscow! Let us tell you about the area beaches where you can not only relax and sunbathe, but also try your hand at water sports. Find more equipped areas by the water, which are waiting for vacationers this year, in our article "Map of the best beaches near Moscow 2022: where to swim and sunbathe" .
Important! The main rule of safety on the water – swimming only in specially equipped places.
The Ministry of Public Works of Moscow region and the Main Department of EMERCOM of Russia in Moscow region remind: swimming in unauthorized places is dangerous to life!
Embankment of the lake Senezh, the central city beach of Solnechnogorsk
Address : Solnechnogorsk, Senezhskaya street

Cost of visiting : free of charge
This public space has become the center of attraction for local residents and tourists. Recently there has been carried out an improvement and a lifeguard station with a tower, shade shelters and cabins for changing, bathing benches, piers, piers and an amphitheater for sunbathing have been installed. For safety of swimmers on duty at the beach lifeguards.
Fans of active recreation will have a great time at the equipped workout site and on a bicycle path of 2 kilometers, which connects the beach with the park.
Rest area on the river Kolomenka
Address : Kolomna, Kolomenka town beach

Cost of visiting : free of charge
Clean sandy beach on the shore of the Kolomna River. The bottom in the area fenced for swimming is also sandy, smooth and flat. There are umbrellas, toilets, changing rooms. The swimming zone is fenced with buoys.
Beach at M'lstra'l Hotel & SPA
Address : Istra city district, Rozhdestvenno village, possession 60.

Cost of tickets: 3800 rubles, children under 3 years old – free of charge.
Hotel M'Istra'L Hotel & SPA has its own beach on the Istra reservoir. There are all conditions for comfortable rest. You can sunbathe on the shore on cozy chaise lounges or take a ride on a speedboat. At the quay boats and catamarans are waiting for you: you can rent all necessary equipment.
The beach "Golden sands".
Address : Orekhovo-Zuevsky urban district, Korotkovo village

Cost of visiting : free of charge
This beach is in great demand not only among the locals but also guests of the urban district. Recently here have installed additional benches and equipped seats under the canopy to be able to hide from the sun.
A safe area for swimming is fenced with buoys. Bathing depth for children is 1.2 meters.
Malibu Beach
Address: Urban district Mytishchi, Ostashkovskoe highway, 18 km, v. Sorokino

Cost of visiting: entrance – from 250 rubles, entrance to the beach – from 600 rubles
On the beach, Malibu set more than 600 sun loungers, there is enough room for all! All necessary infrastructure provided: changing rooms, toilets, showers and deck chairs with umbrellas.
You can stay on the sandy beach or choose a VIP-zone on the pontoons with pools, bars and palm trees. Here you can rent not only a catamaran, but also a motor boat.
Rublevo Beach
Address : Odintsovsky urban district, Mozhaiskoe highway, 7, Zhivopisnaya Bay

Cost of admission: weekdays – 300 rubles, weekends and holidays – 300 rubles. Children under 6 years old – free of charge. Children from 6 to 14 years old – 50 rubles. Pensioners – 50 rubles. Persons with disabilities and participants of military operations – free of charge. Liquidators of Chernobyl disaster – free of charge. Parking – 500 rubles.
A huge sandy beach is just a kilometer from Moscow, near the village of Rublevo. There are several summer cafes, showers, changing rooms, toilets, sports fields and entertainment area. There are lifeguards and a medical center. On sunny days at the beach are sports competitions and even paintball games. Children can go for a ride on the water slides.
Torbeevo lake
Address : Sergiev Posad, Bereznyaki village.

Cost of visiting : adult ticket – 200 rubles, children's ticket – 100 rubles. Parking: bike – free, motorcycle – 100 rubles, car – 200 rubles, minibus – 500 rubles, bus – 1000 rubles
This place is ideal for family vacations. Here you can not only sunbathe and enjoy the lake view, but also rent boats, catamarans and various sports equipment.
The beach is sandy. There are everything you need for a comfortable rest: deckchairs, shade shelters, cabins for showers and changing clothes, a stationary toilet.
The beach in the park "Sunny Beach".
Address : Taldomsky urban district, Zaprudnya village, Pervomaiskaya street, 59A.

Cost of visiting : free of charge
A large coastal area with river sand over 180 square meters. Bathing area (depth of about two meters) is limited by buoys, special bathing zone for kids. Entrance is free.
Beach at Mozhayskoe Reservoir
Address : Mozhaisky urban district, Blaznovo village.

Cost of admission: free of charge, parking 150 rubles, umbrella rental 150 rubles, rent a deck chair 150 rubles.
Sandy beach on the Mozhaiskoye Reservoir is located on the territory of the recreation center "Ilinsky Beach". There is also a cafe, a soccer field, sports and children's playgrounds, asphalt paths for riding gyroscooters, trails for biking, camping and cottage settlement.
Volkusha" recreation area
Address : urban district Lytkarino, Lytkarinskoye highway.

Cost of visiting: free of charge. Rental of beds – from 300 rubles, catamarans – from 350 rubles. Entrance to the parking – from 200 rubles.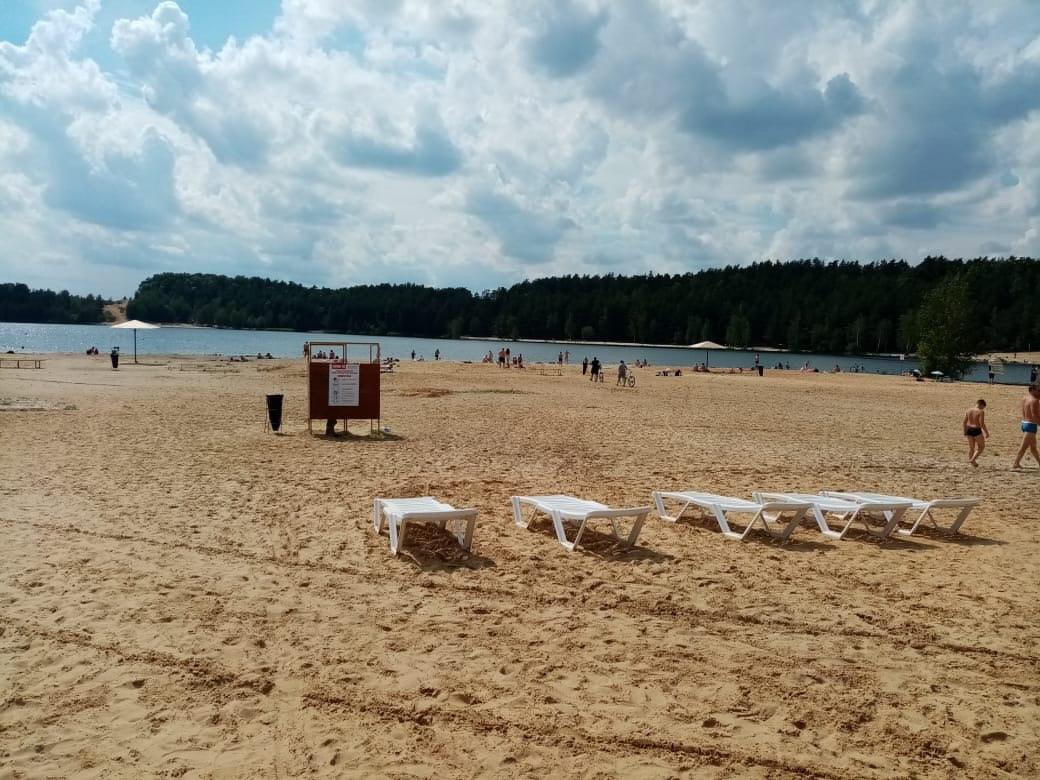 Entrance is free. There is a cafe with soft drinks. The coast is sandy.
Beach recreation base "Novoalexandrovo".
Address: Mytishchi urban district, Novoalexandorovo village.

Cost of visiting : free of charge
Novoalexandorovo" resort is a picturesque place on the bank of the Klyazma reservoir. It has everything for a comfortable holiday: a sandy shore, green area and fresh air. Improved area occupies 4.5 hectares. Active recreation lovers can play volleyball, table tennis or have fun at water attractions – and they are suitable for both children and adults.
At the recreation camp there is a restaurant that serves lunch and dinner in a pleasant atmosphere and at reasonable prices. And for those who want to organize their own meals there is an opportunity to rent a gazebo with barbecue pitches and all the necessary accessories.
Novoseltsevo Beach
Address : City district Mytishchi, Novoseltsevo village.

Cost of visiting : free of charge
Large sandy beach is located 12 kilometers from Moscow, in the village of Novoseltsevo, on the site of the northern entrance to the canal from the Klyazma reservoir.
During the season, water attractions and a summer cafe are offered. The recreation area is equipped with free toilets. Entrance is free.
Beach on the Banka river
Address : town district of Krasnogorsk, 4.6 km from the mouth of the river Banka.

Cost of visiting : free of charge
The beach in Krasnogorsk has an open space for lovers of sunbathing and shady areas for those who prefer to hide from direct sunlight.
The beach is equipped with changing rooms. Entrance is free.
Zaraisk town beach
Address : Zaraisk, Pravoberezhnaya Street

Cost of visiting : free of charge
On the beach there are cabins for changing, toilets, awnings and deckchairs, parking for cars and volleyball courts. The descent into the water is equipped with handrails and steps. There is a separate bathing area for children. Entrance is free.
Beach on the Bolshoi lake
Address : town district Fryazino, Ozernaya street

Cost: Free of charge
The beach is equipped with toilets, volleyball courts and cabins for changing. The area is clean, the shore is gentle. Entrance is free.
The beach "Sinkovskaja dam".
Address : Dmitrovsky urban district, Sinkovskoe village.

Cost of visiting : free of charge
On one side of Sinkovskoye reservoir there is a full-fledged sand beach with boats rental, toilets and changing rooms.
City beach at Goluboe ozera
Address : Lukhovitsy urban district, Ozernaya street

Cost of visiting : free of charge
Flooded sand pits are located north of Lukhovitsy. On the sandy beaches there are cabins for changing clothes and a cafe, you can rent a boat or go fishing – in the clearest blue water there are carp, crucian carp, ruff and tench. Tourists also come here to spend a few days in a tent surrounded by beautiful forest nature.
Beach at the recreation center "Klyazma
Address : urban district Mytishchi, settlement Povedniki.

Cost of access: free of charge for guests of the health center.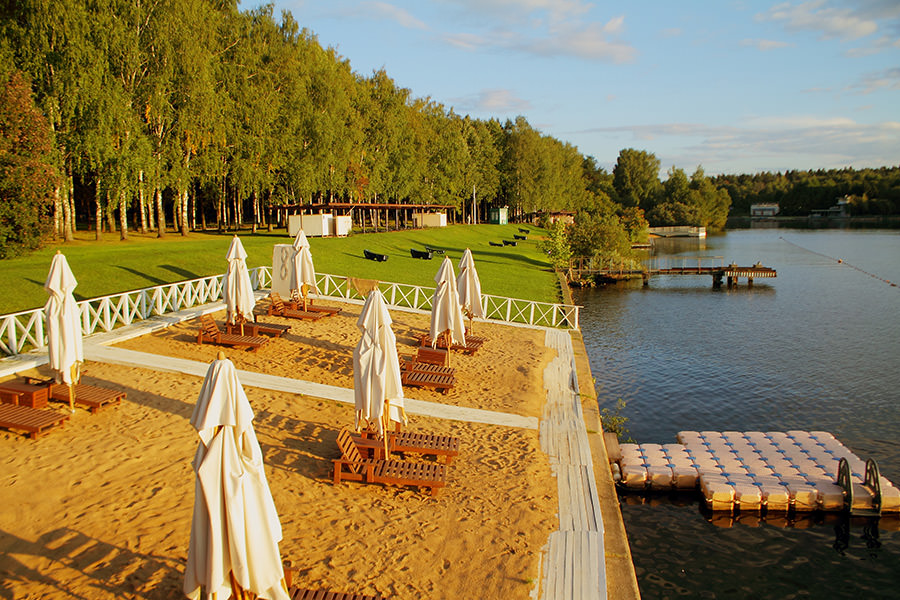 The beach of the recreation center is a special recreation area on the shore of the Klyazma Reservoir. It is paved with soft sand, equipped with umbrellas and comfortable wooden deckchairs, where you can sit and admire the natural scenery.
The beach at the recreation center "Troitskoe".
Address : town district Mytishchi, village Troitskoye.

Cost of visiting: the entrance to the beach is free. Parking is 300 rubles.
On a coastline length of 1100 meters you can find three large beaches, two piers and a lot of comfortable pavilions for a picnic. Fans of outdoor activities will certainly like such facilities as: equestrian sports complex, soccer field, tennis court, volleyball court, mini golf, climbing wall, team building and more.
Belopesotsky quarry
Address : Stupino, Belopesotskaya street.

Cost of visiting : free of charge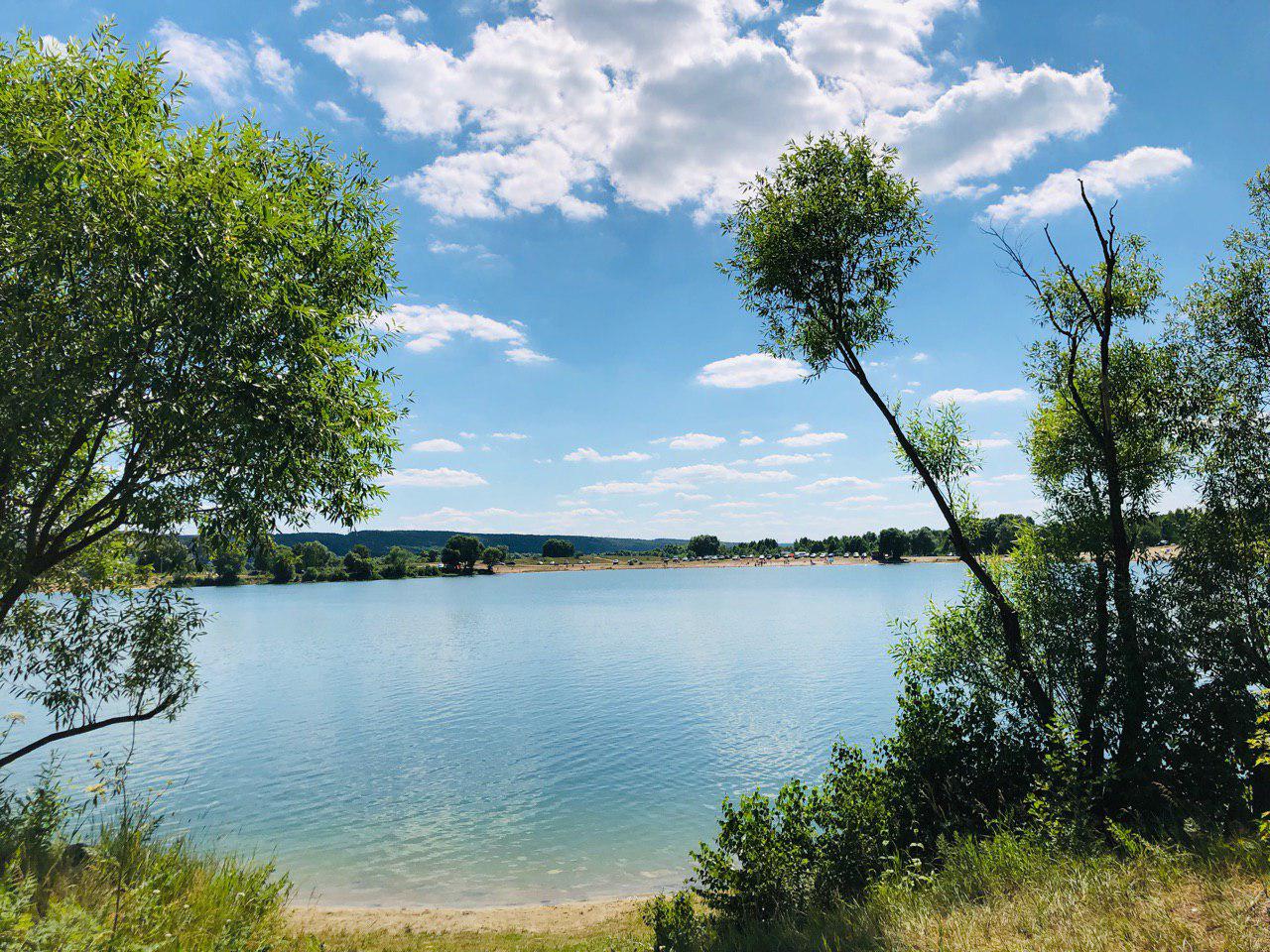 This place used to produce sand, and today there are beaches equipped with everything you need on the shore of a flooded pit. Vacationers have nicknamed the Belopesotskaya quarry "Stupino Rio de Janeiro". In the summer here come not only to relax and sunbathe in the rays of the Moscow suburbs, but also divers. Some of them claim that the depth of the reservoir reaches 25 meters.
Beaches of Moscow and the Moscow region
In the hot weather, citizens are drawn closer to bodies of water to bask in the sun, swim, and have a picnic. Moscow beaches are mostly equipped with areas with barbecues and tables, furnished with deckchairs or sun beds and equipped with facilities necessary for recreation on beaches, such as locker rooms, showers and toilets. On some municipal beaches all facilities are available free of charge to holidaymakers, which explains their overcrowding.
Bathing season in the capital lasts from June 1 to September 1. Beach complexes and recreation parks with beaches begin to be cleaned and equipped in April, so that everything is ready for the beginning of the season. It is necessary to bring clean sand to cover some recreation areas both within the city and on the territory of country clubs. Every year Rospotrebnadzor checks the water in natural ponds and sand for recreation suitability and safety of citizens and tourists. The current list of approved places is published at the end of May or beginning of June.
Moscow beaches can be divided into three groups. The first – beaches where you can swim and sunbathe, the second – beaches where you can only sunbathe and the third – beach complexes with swimming pools. Let's consider which beaches in Moscow are the most popular among holidaymakers where free entrance operates and where they let in only after the payment and face control. Also it is possible to swim in the ponds where it is safe for health.
List of beaches in Moscow and Moscow region
Troparevo Beach is the only area suitable for summer swimming in the southwestern part of the Russian capital.
Meshchersky Beach is one of the most popular beaches in Moscow, located near the pond of the same name. Notoriety.
Serebryany Bor beaches are quite popular among Muscovites and guests of the capital of the Russian Federation. It is always crowded here.
The main beach in Strogino is free, accessible to all comers, and is located in the northwestern part.
Gloria sandy beach is part of the cultural and entertainment complex "Gloria Park". The complex is located.
Moscow beaches on the map
Overview of Moscow beaches
Moscow beaches are quite well maintained and equipped with everything you need. There is a lifeguard station on each public beach, and patrolling takes place from morning till evening. Most beaches are located on the shores of coves, ponds and lakes hidden among the trees. There are also unusual areas with pontoon pools or with sun beds on the concrete city embankment. Whatever beach you have chosen there will always be something to amuse you. Almost all Moscow beaches have sports fields and volleyball nets, as well as catamaran and boat rentals.
In 2022 Rospotrebnadzor approved for swimming the beaches of Serebryany Bor № 2 and № 3, Left Bank beach, Meshcherskoye, Troparevo, the beach of Great Garden Pond and Lake White. Lakes Shkolnoye and Chyornoye in Zelenograd were also inspected by sanitary inspectors. Read more about each beach.
The beach "Levoberezhny.
The beach area stretches along the bank of the Vorobyevka River. A very popular vacation spot for Muscovites, including families with children. You can get here by public transport, as the beach is located within the city. For the convenience of tourists on the beach toilets, changing cabins, playgrounds, there is a cafe and a lifeguard station. From 9 am to 9 pm the beach is patrolled by lifeguards.
The beach is covered with yellow sand, the entrance to the water is gentle. All bathing areas are fenced with buoys. The water in the river is quite suitable for swimming, which attracts many citizens. The beach "Levoberezhny" is protected from the winds by overgrown vegetation, so it is comfortable to be here even in cool weather. In the heat on the beach there is a lot of traffic. If you want to occupy a free deck chair, come early, there are not so many of them. Entertainment at "Levoberezhny" is also available – volleyball, soccer, sports ground, swings for children.
Troparevo Beach
On the territory of the park "Troparevo" is organized by a small beach. In the summer it is crowded even on weekdays, as you can swim here without harm to your health. The Ochakovka River and the nearby pond are cleaned every year, but in the middle of summer the water becomes muddy, firstly, because of the muddy bottom, and secondly, because of the abundance of vacationers.
Taking air baths and swimming at Troparevo beach can be easily combined with a water ride on a rowing boat or catamaran, a game of chess or volleyball. For children there is a playground on a soft surface and a paid area with trampolines. If you want to walk around the park, you can rent a scooter or bicycle. Free sun beds on the beach are quickly taken apart, so bring a mat or a blanket.
Meshchersky Beach
Meshcherskoe Lake is an officially allowed bathing area. In addition the beach here is well equipped – free sun loungers under umbrellas, wooden decking, changing rooms and showers. The sand covering the beach is soft and clean and has a golden hue. The beach area is well equipped and in terms of entertainment. For volleyball there is a stretched net, so it is worth bringing a ball. It is convenient that it is allowed to have picnics and barbecue on the beach. Often Muscovites come here with overnight stays in tents, fishing and enjoying nature.
If you vacation at Lake Meshcherskoye with children, keep them safe, because the bottom of the lake is muddy and their feet get very sticky, which can scare a child. For children on the beach, there are swings and a playground with a sandbox and slides, as well as a pool in which they can safely swim. And to hide from the sun, you can always go to the nearest park and take a walk in the shade of trees.
Beaches of Serebryany Bor
Bathing is officially allowed at four beaches of Serebryany Bor. Every year water there is subjected to sanitary control. Responsible persons monitor the cleanliness of each beach and clean up trash daily.
Beach number 1 offers a respectable holiday for VIP persons, you can get here only with a pass, passing face control at the entrance. The beach complex is equipped with tents, gazebos, sports fields, by the water in a row are placed sun beds under umbrellas. Wealthy Muscovites like to have a rest here as well as to organize official events, weddings and private parties.
There is a well-organized free beach with a lot of entertainments in the north of Serebryany Bor. The beach number 2 is fancied by family tourists mainly because of the proximity to Manor Park where there are trampolines, a playground, a dry pool and other fun things for kids. Adults on the beach also have things to do, such as arrange a competition in volleyball, badminton or tennis. Entrance to the beach is free, but you have to pay for the use of sun beds and umbrellas.
The kilometer-long sandy strip of beach No. 3 is considered the longest in the capital. Muscovites like to relax on this comfortable beach because of the developed infrastructure, noisy parties, animation. The beach itself is fenced, but the entrance fee to the territory is not taken. Sun beds and deck chairs, sports equipment, catamarans and boats are available for rent. After a cold shower you can have a refreshing dip in the shower room or change your clothes in the locker room.
The fourth beach in Serebryany Bor is notable for its contingent. This beach area was developed by nudists years ago. The beach is wild, without any conveniences, but lovers of sunbathing "in what ever they were born" does not stop it. The nudist beach is fenced with a fence and is hidden from prying eyes by the dense vegetation. Nearby is the Beach number 1.
Beaches Strogino
The day at Strogino Beach will pass unnoticed, while you are swimming, sunbathing, playing soccer and volleyball, water skiing, wakeboarding and motor boats. The beach of Strogino floodplain is small, only 350 meters long, but very well maintained and popular with Muscovites. It's very comfortable to put out a mat or a towel on the soft sand or to settle a little bit far away on the grass. The depth in the bay is increasing gradually, the entrance is gentle and safe for children, in addition the bottom was leveled during the reconstruction of Strogino Park.
The fashionable beach complex is located on the shore of the Gulf of Strogino. "Bereza Park" offers guests several swimming pools by the bay, sun beds and tents, deckchairs on the grass and on wooden decking, yacht and boat rent, equipped pier. "Birch Park" is a party place with high-level service.
On the shore of Clear Bay, nudists sunbathe and swim in silence and solitude. Nudist beach Strogino small, but crowded here and does not happen. Rest mostly regulars. The water in the bay is clean and the entrance is comfortable for bathers. Nudist beach is not equipped with anything, all the necessary things vacationers bring with them.
Gloria Beach
The clean sandy beach is located on the territory of the cultural and entertainment complex Gloria. Unfortunately you can not swim in the lake "Chaika", despite the cleanliness of the water, but you can ride on the water surface on a catamaran or a wakeboard. For swimming in the Beach Bar area there is a swimming pool with deck chairs on wooden decking around it. Entering through the main entrance, you will find yourself in the public area of the complex, which is equipped with a beach with sand. There is no charge for being on the beach, you will only have to pay to rent a deck chair if you don't want to lie on mats and towels.
The beach area of complex "Gloria" is very well-groomed, it is pleasant to spend time here with big companies and children, for whom play areas are provided. You can always grab a bite to eat at the restaurants on the shore. For picnics are equipped with special areas with barbecue.