Anguilla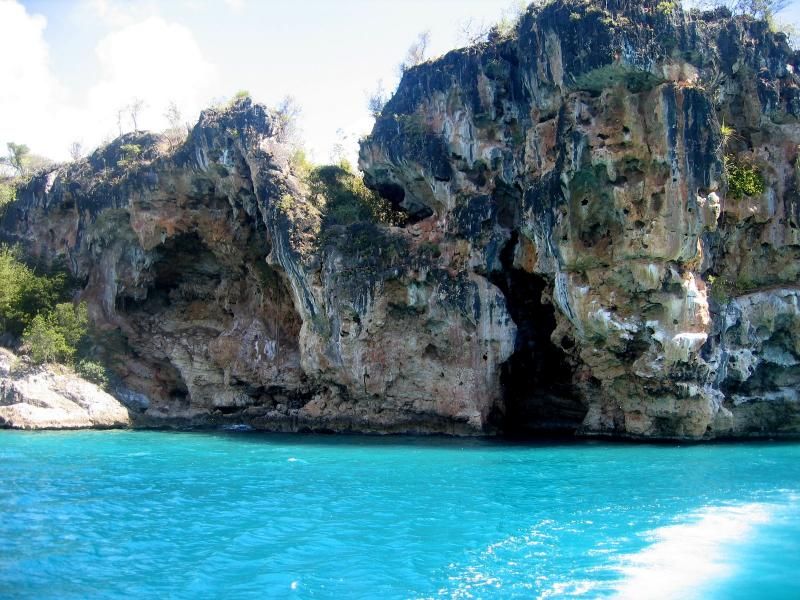 Anguilla is a tropical self-governing British Overseas Territory in the northern Caribbean Sea which includes the paradise island of Anguilla and the surrounding small islands and coral reefs. In Italian the word "Anguilla" translates as "eel," a name traditionally associated with the elongated shape of the island.
The capital of Anguilla is the only city in it with the uncomplicated name of Valley, which means "valley" in English. Anguilla has a total area of only 102 km2, of which 91 km2 is Anguilla Island itself. Anguilla's permanent population is less than 15,000 people, with more than 100,000 tourists visiting the island each year. Anguilla is surrounded on all sides by the Caribbean Sea, and its closest neighbor is the French-Dutch island of St. Maarten (St. Maarten).
Since Anguilla is a former British colony, still formally part of Great Britain, English is the most widely spoken and the only official language. At the same time, since about 90% of the population of Anguilla are black, the Creole language is also very common. As in almost all other Caribbean islands, most locals consider themselves Christians (usually Protestants of various branches). The African roots of most locals often make themselves known, which brings many pagan elements to the local understanding of Christianity.
Regions and resorts
Anguilla is divided into 14 districts:
Island Harbor.
Blowing Point.
George Hill.
East End.
North Hill.
North Side.
Sandy Ground.
Sandy Hill.
South Hill.
Stony Ground.
Te-Farrington .
Te-Quarter .
The Valley.
West End.
Anguilla's major resorts:
Valley.
West End Village.
Blowing Point.
Long Bay Village.
Shoal Bay East.
Island Harbor.
Skilly's Reef.
Sandy Ground.
South Hill.
Scrub Island.
Prickly Pea Keys Island.
Time difference.
Kaliningrad-6.
Moscow -7
Samara -8
Yekaterinburg
Omsk -10
Krasnoyarsk -11
Irkutsk
Yakutsk -13
Vladivostok -14
Magadan -15
Kamchatka
Climate
Anguilla is located in the tropics, so it is quite hot here all year round – in summer the air can get up to +38 ° C, and the average monthly temperature ranges around + 25 ° C. The heat is sometimes softened by trade winds coming in from the Atlantic. Anguilla experiences its rainy season from August to November, and tropical storms and even hurricanes can strike between July and October. So while it's warm all year round, the best time to visit Anguilla is during the winter and spring.
Visa and Customs
To enter the territory of Anguilla, the Russians, except the lucky owners of the British visa, need an entry visa. It is processed at the British Consulate, and the following documents are required:
Valid foreign passport with a free page (for visa).
A copy of the first page of your passport.
Filled in visa application form from the UK Immigration Department website.
Recent photo of 3.5×4.5 cm (color).
Confirmation of financial support of your trip (bank account statement, copy of bank book, pay slip, certified documents from tax office and other documents confirming financial support).
Certificate of employment certified by seal and signatures of the director and chief accountant (must be on the official letterhead of the company). Individual entrepreneurs should present a copy of their registration certificate instead. Non-working pensioners must provide a copy of pension certificate, students – student ID card and certificate from the place of study, pupils – school certificate; here all these categories of citizens must also provide full information about the person who will pay their expenses for the trip to Anguilla.
If there is an old passport with a Schengen, British or American visa – you need to provide it as well.
In addition to all of this, you will need an invitation to Anguilla from the host country or proof of hotel reservations.
Once you have collected the documents be prepared to pay the consular fee of 44 pounds and wait up to 3 weeks for an answer. If approved, the visa will be issued for six months or a year. Customs regulations in Anguilla are fairly standard and do not differ much from the basic customs rules of most countries in the world.
The only nuance is that if you are going to take a pet with you, it must have a veterinary certificate, and its importation must be authorized by the Anguilla Agricultural Ministry. Leaving Anguilla by air or sea, you will have to pay an additional fee of $20.
How to get there
Unfortunately, there are no direct flights from Russia (as well as from most other countries) to the beautiful island of Anguilla because the small airport Clayton J. Lloyd International Airport simply can not take large international flights. So in any case you have to fly there with a change of narrow fuselage plane or via Puerto Rico or Chicago with American Airlines, or via St. Maarten with Air France (with an additional change of plane in Paris) or KLM (with a change of plane in Amsterdam). Once you get to St. Maarten, you can take a ferry to the Anguilla port of Blount Point or even rent a boat instead of changing planes. The sea voyage to Anguilla takes no more than half an hour.
Airfare
Excursions
Anguilla Island sightseeing tour.
Tour of the Valley.
Island Harbor Village.
Scrub Island.
Skilly's Reef.
East End.
Shell Beach.
Cave diving excursion.
Big Springs Cave.
Transportation
Since Anguilla is rather sparsely populated and has a small area, there is no public transportation system as such. Locals mostly get around by private transport. Cab services in Anguilla are provided by four main operators – Airport Taxi Stand at (264) 497-5054, Blowing Point Taxi Stand at (264) 497-6089, Island Transport Services Ltd at (264) 497-2679 and Premier Taxi & Tours at (264) 497-0515.
A two-hour sightseeing tour of Anguilla Island by one of these companies will cost you from $40. If you just want to get from, say, the airport to a place on the island, the trip will cost you $10 to $20 depending on the distance. You'll have to pay 50 cents extra for each piece of luggage over two, and $5 for each additional passenger. Cab fares for all major destinations in Anguilla are set by the local government and published in the Anguilla Gazette. But there are still no meters in cabs, so if you decide to deviate from the regulated routes, the final cost of the trip will depend on how you negotiate with the driver.
If you're traveling in a group of 15 to 45 people in Anguilla, you can rent a tour bus from Harry's Taxi and Tour Bus Service, at (264) 497-4336. You can cruise around the island or travel from Anguilla to the surrounding smaller islets, as well as St. Maarten and other neighboring Caribbean islands, by water transport. Here it is represented by regular ferries, as well as all kinds of boats and yachts, which can be rented together with the crew. The cost of such rentals starts at $100 per day. Ferries from Anguilla to St. Maarten leave every 45 minutes from the pier at Bowling Point. A one-way trip will cost about $20, including taxes, and take less than half an hour. If you intend to travel extensively by land, however, you can rent a car. Price per day, depending on the brand and capacity of the car ranges from 50 to 100 dollars. In addition, you will need to buy a driver's license in Anguilla ($20) and buy insurance against car damage (from $5 to $15 per day). Many local companies may refuse to rent a car to anyone under the age of 25.
Communications and Wi-Fi
Anguilla is very small, so there are no places outside of the coverage area of the 3 local cellular carriers (Cable & Wireless Ltd, Wireless Ventures Ltd and Digicel). If you are going to stay in Anguilla long enough, you can buy a SIM card of these operators. For example, a prepaid package of SIM-card, free text messages for a week, 700 MB of mobile Internet and 175 minutes of talk time will cost you about $ 28. You can buy such packages in local stores and stores. And for $10 a day at the salons of Cable & Wireless you can rent a cell phone with a SIM card installed by the local operator. Anguilla has a very well-developed system of pay phones, which can be found in almost every little bit dwelling place on Anguilla. It comes to the fact that one of them is located directly on the stump in one of the local villages. They are paid for with calling cards, which you can buy in local stores, hotels, post offices, and telecommunications companies. This allows you to save 10 to 15% on local and international calls compared to hotel calls. Internet in Anguilla is quite slow, with local providers not offering dedicated line plans with speeds higher than 10 Mbps. This also affects the speed of Wi-Fi in local establishments. However, it is possible to find free Wi-Fi access points at the airport, some hotels and cafes. Internet cafes, including those with paid Wi-Fi, are also fairly common throughout almost all of Anguilla.
Money
The official currency in Anguilla is the Eastern Caribbean dollar, commonly referred to as the XCD or EC$. Its exchange rate is strictly tied to the U.S. dollar – for $ 1 give 2.7 XCD. In this case the U.S. dollar itself has free circulation in Anguilla and is accepted for payment on a par with the Eastern Caribbean, so you do not need to exchange them for each other to travel to Anguilla (unless you plan to visit other islands in the Eastern Caribbean, where the dollar may not be accepted). Keep in mind that large U.S. banknotes ($50 and $100) may not be accepted in many local stores or cafes, so before the trip you should change your currency. Almost all types of credit cards are accepted, but in addition to the amount of purchase they will be charged a fee for the conversion of currency into Eastern Caribbean dollars, so the conditions of payment by credit card is better to clarify on the spot. ATMs in Anguilla can be found both in the capital and outside it – in the villages, country hotels and beaches. Traveler's checks are cashed in almost all large establishments, whether in stores or hotels, but to avoid conversion losses it is better to have them in American dollars.
Approximate Food Prices in Anguilla:
 1 liter of milk is $3.
Business lunch is $15.
Three-course dinner for two people at a restaurant – $80.
A loaf of bread – $ 3.7.
Two-liter bottle of Coca-Cola – $0.7.
0.5 liters of local beer – $ 1.2.
Approximate prices for sightseeing tours in Anguilla:
A sightseeing cab tour of Anguilla Island – $40.
Four-hour guided sightseeing tour of Anguilla Island – $440.
Approximate prices for transportation in Anguilla:
Cab – up to $20.
Ferry to the island of St. Maarten – $20.
Car rentals per day – up to $100 per day.
How to avoid problems
As one of the most expensive and "star" Caribbean resorts, it is only natural that Anguilla is one of the safest among them. One might even say that Anguilla is one of the safest resorts in the world. Violent crime almost never happens here. So just follow the basic rules of caution, and you will have no problems with crime. Locals are generally very friendly, which is not surprising, since, in addition to offshore banking and lobster fishing, tourism is one of the main sources of income in Anguilla. The only thing that can seriously spoil your vacation in Anguilla is the tropical nature itself. Remember about the rules of the sun, do not forget to use sunscreen, do not abuse alcohol, always take a supply of drinking water. If you are planning a trip to Anguilla between July and October, be sure to check if the Caribbean is hit by another hurricane as some have passed through Anguilla in recent years causing quite a bit of damage. Use repellent when outdoors and stay in places equipped with mosquito nets – mosquito bites are painful and can sometimes lead to infection with tropical diseases such as dengue and Zika fever. Of the local flora, you should avoid mancinella, which looks like an apple tree but is one of the most poisonous plants on the planet. In most cases, manzinella is fenced and marked with special signs, but you should avoid contact with unfamiliar trees in Anguilla just in case. The same applies to local fauna – for the most part it is not dangerous, but traveling through the jungle should not touch and especially tease animals (especially wild goats). Swimming in the Caribbean Sea, beware of sharks (the most dangerous of them – Caribbean reef shark), poisonous jellyfish and sea urchins. And finally, take care of your head while walking under the coconut palms.
Major Cities
The only city in Anguilla is its capital, Valley.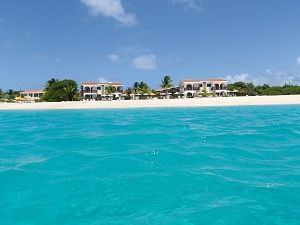 Book a Hotel
Shopping
Anguilla is one of the most expensive Caribbean resorts, so shopping as such is unlikely to be profitable here. But in Anguilla's restaurants, you can eat delicious lobster and lobster while enjoying live music or a show. And the wine list of some local restaurants exceeds 30,000 bottles. Since Anguilla is, after all, the Caribbean, of course, rum and cigars are sold almost everywhere. In the Valley, fishing villages and beaches you can buy souvenirs of this beautiful place. Most hotels and restaurants in Anguilla automatically include a tip of 15% of the order. Where this does not happen, however, you are likely to be expected to give a similar tip "in hand." Hotels add an additional 8% local tax and 10% service charge to their bills.
Cuisine
Anguilla cuisine differs little from that of most other Caribbean islands. Seafood of all kinds is widely used (usually lobsters, lobsters, octopuses and oysters), pork, goat and poultry are popular meat, vegetables are mostly served as salads, and beans and rice are used as side dishes. The most typical dishes of Anguilla are rabbit stew with vegetables, all kinds of steaks, char-grilled chicken with rice and vegetables, curried pilaf. Instead of the usual bread, you will often find banana bread, various scones, or "johnny-cake" (something in between the bread and the cake). Of the fish dishes, various ways to prepare Pacific cod, beryx, sunfish, menticirous, mackerel, sea bass, red snapper, and barracuda are popular. Local restaurants are not limited to Caribbean cuisine alone, so you can taste almost any cuisine in the world if you wish. The most popular drinks in Anguilla are tea, coconut milk, fruit juices, and a refreshing Mawby made from tree bark.
Attractions and attractions
Big Springs Cave.
Anguilla National Trust Museum in the Valley.
Wallblake House in the Valley.
Stony Ground Marine Park.
Governor Richardson's grave.
Holidays and events
New Year's Day Jan. 1.
D-Day. Р. Webster – March 2.
Good Friday and Easter – floating date in April.
Labor Day – May 1-2.
Anguilla Day – May 30.
Spirit Day – June 13.
Queen's Birthday – June 14.
Constitution Day – August 5.
Christmas Day – December 25.
Boxing Day – December 26-28.
In addition to the national holidays, there is also a colorful Summer Festival in August which attracts many tourists from all over the world.
Historical Facts
The original inhabitants of Anguilla were the Arawak Indian tribe. But after the discovery of America almost all of them were wiped out or expelled by the invading Spaniards and aggressive Caribs. But the Spaniards had little interest in a tiny island in the Caribbean Sea, so as early as 1650. Anguilla was taken over by the British, who still rule here, albeit in many ways formally. The British brought black slaves to Anguilla (of whom the majority of the island's population is descended) and began to grow cane here. But poor soil and frequent droughts, as well as wars between the great European powers in the Caribbean, led to the decline of the sugar industry in Anguilla. In 1967, Anguilla, along with a group of neighboring islands, received the status of a self-governing territory. Finally, in 1969, Anguilla declared independence, but the arrival of the British expeditionary corps restored the status quo. Anguilla has remained a British Overseas Territory ever since.
Anguilla
Anguilla is an island in the South Atlantic, near the western Caribbean Sea. They are the northernmost island group of lands in the West Indies. The majority of the population speaks English and Creole.
The self-governing British territory includes 14 districts. The Queen is Elizabeth II and the Governor is Christina Scott.
In terms of economy, Anguilla is not considered to be a very developed country due to lack of natural resources. The country exports some fruits, salt, sugar cane, tobacco products and rum.
Population 13,254 people Territory 102 sq. km Part of the world Americas Capital City Valleys Money Eastern Caribbean Dollar Domain Zone .ai Country phone code +1-264
Hotels
There are plenty of accommodation options on the island: from chain resort hotels, comfortable pensions and inexpensive guest houses to villas on the coast, but you can't expect low prices. The price starts at $ 100 for a room in an apartment hotel with modest service.
Apartments are not a bad option for vacations with children.
Climate: Tropical. Northeasterly winds.
Attractions .
The only recognized attraction of the island are its gorgeous beaches. Greenish-blue waves, beautiful beaches, uninhabited nearby islands covered with coral sand. The lack of man-made attractions c more than compensated by excellent ecology and remoteness from the industrial production of neighboring islands.
Terrain: Flat and low-lying islands of coral and limestone.
Resorts
The entire coast of the island – endless strips of white sand beach. The northern coast, areas of Island Harbor, Capetan Bay, Shoel Bay East, Little Bay.
All of Anguilla's beaches are public.
Many hotels fence off their areas, but not the beaches.
Resources: Salt, fish, and lobster.
Leisure
The main thing many travelers come here for is solitude. There are no crowded beaches where, literally, there is a fight for every lounger or seat at the bar. This is why Anguilla has become a popular vacation spot for the public in the U.S. and Europe: here you can just relax, swim in the sea or play sports, enjoying complete privacy. Rest, of course. For the amateur.
Active sports in Anguilla are windsurfing, diving and snorkeling.
Transportation
The length of roads with paved roads is 65 kilometers. Public transport as such on the island is absent (cab – the exception). You can rent a car with a driver to travel around the island and enjoy the local beauty. It will cost you about $ 80. Locals ride motorcycles.
Standard of living
The country lives off tourists, so everything is very expensive. The cost of recreation comparable to the resorts on the Cote d'Azur in France. The minimum check in restaurants for one person – $50 (plus infinity). If you move away from the tourist area, you can find cafes locals, where the price tag is more democratic.
The country is poor in natural resources. All the forces of the locals are focused on agriculture, fishing and service to tourists. The economy is based on offshore business and lobster fishing. As in other Caribbean countries, the pace of life here is measured and the locals are rather lazy. Anguilla is considered one of the safest Caribbean countries for tourists.
Cities
The capital of the country – the city of Valle, which can only be called a city with a stretch, it's only 1060 people. But for the inhabitants of the island, this figure is great, so Valle became the capital. In fact, it is a large village, where it is not easy to find a working bar or store. There are no other towns on Anguilla.