Ari Atoll is a scattering of small but fabulously beautiful islands. Maldives
Maldives includes a large number of islands. Most of them are usually used for recreation. This is due to an ideal location of the archipelago. Excellent climate and excellent views are a characteristic feature of these places. In addition to the classic paradise beaches, there is also an amazing glowing beach on the island of Vaadhu, which is just a must visit if you have been dropped off in the Maldives.
One of the most impressive places Maldives is Ari Atoll. About him you should know that it is not just an island, but a whole scattering of islets of different sizes, so, speaking of "Ari Atoll," we will mean the totality of these islets. There are about 70 of them. Why approximately? Because only the most significant islands are taken into account, and do not consider those, which are only small pieces of land (and there are a lot of them).
The total length of the atoll is about 90 km from north to south and about 30 km from east to west. Officially the atoll is divided into two parts North Ari, also known as Alif Alif and South Ari, also known as Alif Dhaal. Ari is located approximately in the middle of the Maldives in the eastern part.
Ari Atoll on a map
Geographic coordinates 3.869058, 72.836563
Approximately 80 km from Male', the capital of the Maldives
The distance to the nearest international airport in Male' is also 80 km.
South of Ari Atoll, on Maamigili Island there is Villa International Airport Maamigili
The view from space on the atoll resembles a huge footprint or a giant slipper infusoria (well, remember your 5th grade biology lessons).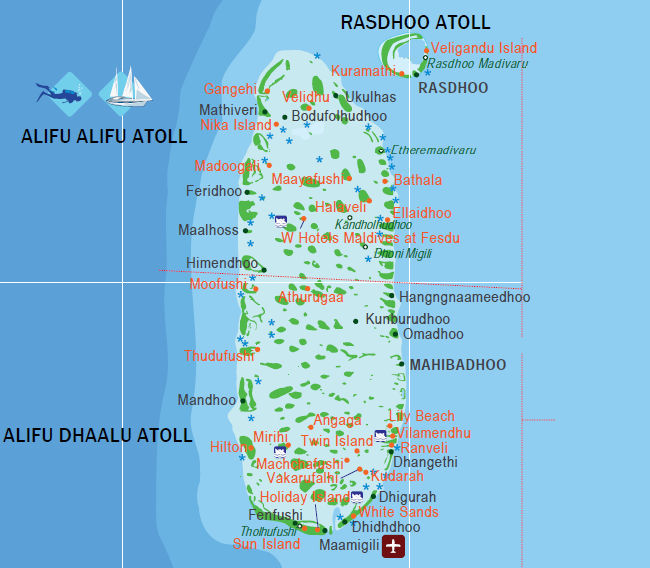 Given that demand breeds supply, it quickly became clear the need to develop tourism. Therefore, especially beautiful islands from the 90s of the last century began to be quickly built up with various hotels. In particular, very popular bungalows on stilts right in the ocean. At the moment 30 islands have been developed.
An interesting fact that tourism has almost superseded the main traditional local crafts (fishing, coral collection, hunting for turtles). Now the islanders are trying to find work in the tourist market. Not bad going in the production of souvenirs. Until very recently, was popular shark hunting, but since 2009, the country's government banned their shooting. In our opinion, this is a very right decision: it is extremely stupid, short-sighted and mean to kill animals for the sake of entertainment.
Small reef sharks and giant whale sharks can often be found in these areas. The first can be dangerous if a man will provoke and annoy them. But the latter, despite their impressive size (up to 20 meters in length), do not pose any threat to humans, they even do not pay attention to people and eat plankton. Experienced divers can not only touch such a shark, but also roll, holding its fin.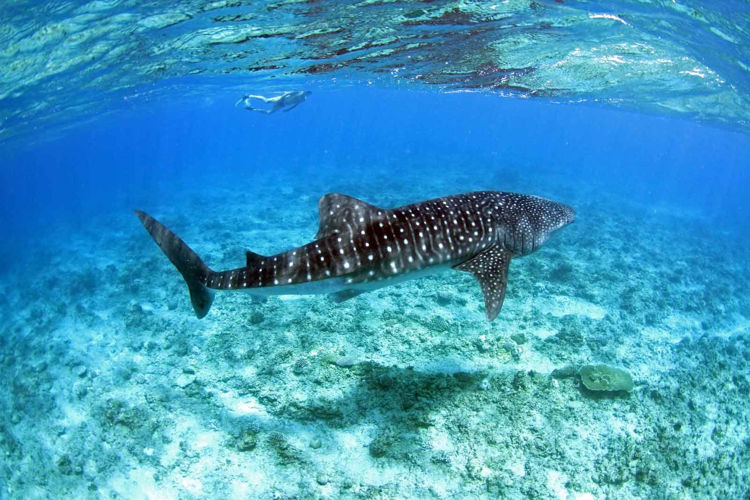 The underwater life of Ari Atoll is diverse and beautiful. The pristine waters allow you to fully experience the wild, but incredibly beautiful aquatic world.
Almost all hotels offer diving as an activity. It is one of the most popular activities on the islands. There are many diving schools in the Maldives. Interestingly, some of them deliberately sunk some ships so that tourists had something to look at the bottom. So, for example, one of the schools in Halaveli, sank a ship over 30 meters long. This is now the home of the spotted rays. It is very popular with divers.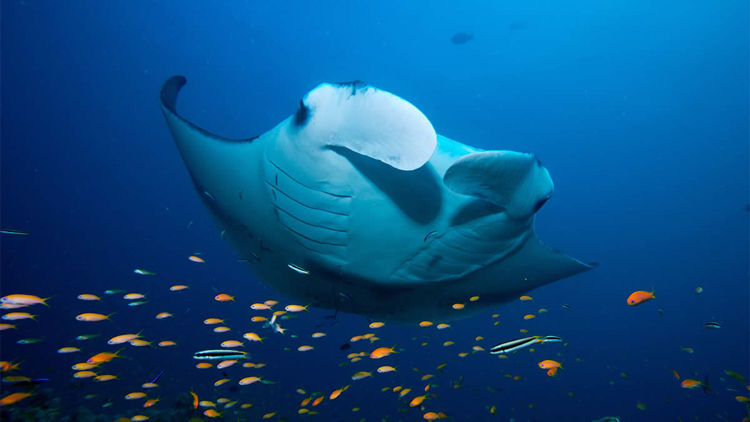 If you like these big and graceful sea animals we recommend to visit the Stingray City in Cayman Islands or at least read about it.
The beaches of Ari Atoll. There are no words – just emotions. To say that the beaches are chic – nothing to say. Perhaps the beaches are some of the best in the world. And you can not select a special one, they are all, as a selection, delightful. White sand, lush palm trees, ocean breeze and rustling waves. That's why we put these islands in the world's landmarks.
There are many uninhabited islands on Ari Atoll. They are usually offered to tourists (no, not bought) as a vacation spot from their vacation. That is, when you get tired of the beach at the hotel, you can get to the islands, pictures of which are often seen in the promotional brochures of any tropical resorts. This is something like this.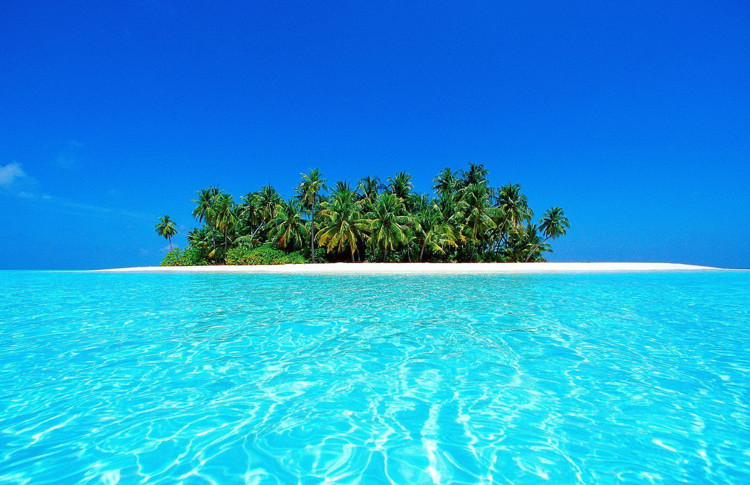 Here you will definitely feel complete unity with nature and seclusion from the daily bustle. On these islands you can arrange a fun picnic or a romantic candlelit evening.
Or you can book a boat excursion. Also impressive event.
We will not talk at length about all the charms of Ari Atoll – there are too many, and they are all perfect. It is better to see once than to read ten times and hear a hundred times.
Ari Atoll
Ari Atoll is one of the largest atolls in the Maldives, covering an area of 80×30 km, as much as the North Male and South Male atolls combined. Located to the west of South Male Atoll, it took on the third wave of the resort construction boom in the early 1990s, following two atolls on each side of the capital that had been developed two decades earlier. Ari now has 30 resort islands, the most in the archipelago.
Save money on your trip!
General Information.
The pursuit of dollars brought in by tourists has supplanted many traditional island activities such as fishing, turtle hunting and coral collecting. Residents of the atoll seek work in the resorts or engage in ancillary crafts, such as making crafts for souvenirs. The atoll has long practiced the ancient shark hunt, but in 2009 the government imposed a total ban on the shooting of reef sharks. Now they entertain scuba divers, and whale sharks are frequent guests in these places. The atoll is also known for its tila diving.
On Ari Atoll, as well as on North Male Atoll, most of the resorts are located on the southeastern tip. The administrative boundaries of Ari Atoll include the tiny atolls of Tomu and Rasdu. The atoll used to be famous for two "attractions": the remains of a Buddhist temple discovered by archaeologists in the 1950s and its watermelons!
Beaches
Ari has a whole host of fantastic beaches, of which it's impossible to single out the best. If you get tired of the ordinary strip of sand, some resorts, such as Sunny Island in the south of the atoll, offer their guests a boat trip to one of the uninhabited islands nearby, and thus change the scenery. You can also go to one of the picnic islands, like Gaatufushi, which are located about mid-northern Ari, next to the W Retreat & Spa. They are usually uninhabited and used by resorts for their own purposes: they set up bathing holes, showers and cafes there. While it's hard to beat the beaches of the Maldives, these islets have a pristine, somewhat rugged charm that stands apart from the refined beauty of resort landscapes.
Boat rides
Many resorts organize a variety of boat rides, ranging from hour-long sunset rides, fishing and dolphin trips, to excursions that take all day. In this case, you will be taken to a local village (it is, as usual, will be prepared for the visit of tourists), the island picnic or other resort.
Wanting to spend as much time as possible in the open ocean, you can, for example, to live aboard the ship. The biggest player in this field is Atoll Explorer. It organizes two tours, each starting from Male and passing through Ari Atoll. The former oil ship has 20 air-conditioned cabins with private baths and even a swimming pool. These tours, also called safaris, are mainly for divers who want to do their favorite activity in secluded, rarely visited places. There is a PADI dive center right on board.
Another way to spend as much time as possible in the ocean requires quite a bit of budget. That's staying at the luxury W Retreat & Spa, which owns its own yacht, appropriately named Escape, or Escape. Guests can charter this two-masted vessel for sunset cruises, special occasions, or just to ride it for fun.
Diving
Ari doesn't have a long barrier reef like everywhere else in the archipelago. Its reef is characterized by numerous passages and a huge variety of underwater life. There are many shipwrecks on the bottom. The Halaveli diving school, run by the highly reputable Constance group, deliberately sunk a 33-metre cargo ship and now has a home for spotted stingrays not far from the reef.
A dive school on Mirihi Island did the same thing to a Taiwanese fishing vessel. And now the former trawler, lying on the ocean floor north of Wilingili Falu, has become a pilgrimage site for divers. There are many spots for tila diving, such as the spot off Fish Head, or Mushimasmingali Tila, which south of the island of the same name, has earned a reputation as one of the best. The longest canal in the country is considered the Gangehi-Kandu, 2.5 km. The reef south of Chaaya-Ellaidu is recognized by the commonwealth of divers as one of the best in the country. There is a decompression chamber on Kuramati Atoll.
Watersports
You'll find the usual range of water sports at Ari Atoll: snorkeling, paragliding, canoeing, windsurfing, parasailing, wakeboarding, powerboat racing and water sledding. If a water activity takes up a big part of your life, it is better to find out in advance what hotels offer: Some of them offer you the opportunity to practice water sports not related to motor transport for free.
How to get there
You can get from Male to Ari Atoll by seaplane or speedboat. The flight takes an average of 15-35 minutes, and the waterborne trip takes about two hours. If you are already engaged for a boat transfer, but wish to enjoy a scenic (and potentially smoother) flight, you can make your dream come true upon arrival at Male airport.