What to see in Pattaya. On your own visit all the attractions
November 2016 (updated: 17.03.2022) 12
Pattaya offers a wide range of interesting places for tourists. This article will give you a brief description and links to the main attractions in Pattaya. Now you will have options on what to see in Pattaya on your own on vacation.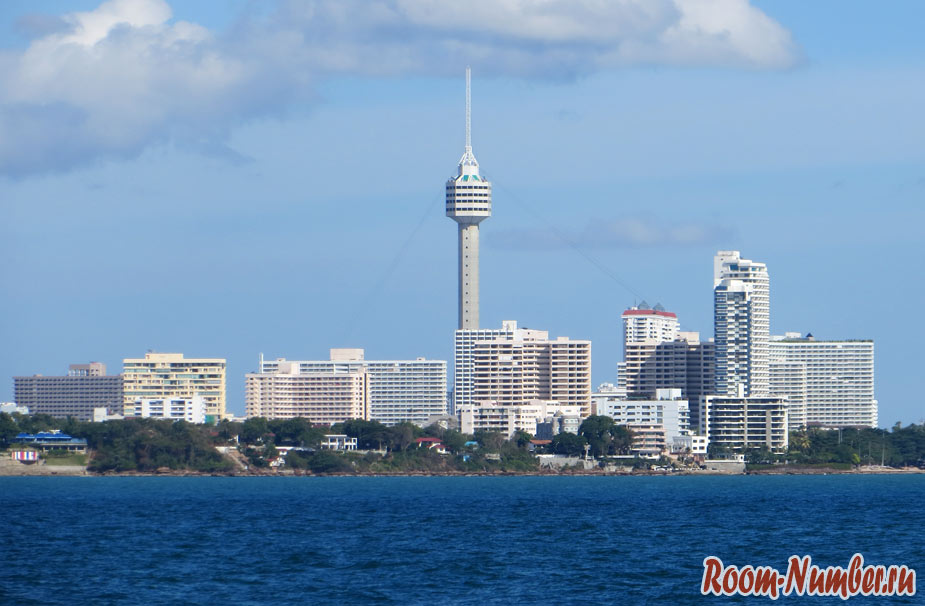 Attractions in Pattaya
I would like to point out that many places, including the best beaches, water parks, gardens and zoos are in the outskirts of Pattaya, outside the city. There are not many places to visit in Pattaya itself, mostly entertainment attractions like a drag show, as well as an observation deck, temples, a couple of museums and a miniature park.
Temples
To embrace Thai culture you should definitely see at least a few temples in Pattaya. In fact, the more the better. They are all equally beautiful and colorful. At a minimum, visit the wooden temple of Truth and any Buddhist temple of the standard look.
For many attractions you can buy discounted tickets online at Klook
The largest wooden temple not only in Thailand, but in the whole world. It cost a lot of effort to create and bring it to life. Be sure to visit it. You can either on their own or to book a tour. Admission is 500 baht.
Another worthy masterpiece on the outskirts of Pattaya. There are several temples and a lake. This temple is part of the tour of the village Karen. You can also get to it by rental car or cab.
This temple is located at an altitude of 140 meters above sea level. The gilded Buddha is surrounded by various sculptures. It is always crowded, but not noisy, everyone respects the place, although it is not only a religious but also a tourist attraction.
A small temple in central Pattaya of the standard look. It is located near Volking Street and Tukkom. If this is your first time in Thailand or will be passing through here by chance, stop by. Admission is still free.
All Saints Church in Pattaya was built with donations. The Russian church is located in the Naklua district on 14th Street, near Wongamat Beach.
Lookout Points
The most important observation deck in Pattaya. Here you can sit and take lots of pictures. After all, the view is the best there can be.
A lesser known observation deck. From this observation deck, where the word Pattaya is lit in red letters, you can see the whole central part of town and the coast, but there are almost no tourists.
From the 55th floor of the tower you can easily cover all of Pattaya. Especially welcome to go up in clear weather. Then the Gulf of Thailand will appear in all their glory. Go down a cable car or bungee jumping.
The main attraction here is a large golden Buddha. But there is also an observation deck. The view is not the chicest, but you can see the whole area Jomtien, Pratamnak and a piece of the sea
Animals and Zoo
The zoo is a half hour drive from Pattaya. One of the best zoos in all of Thailand. It is worth a visit. The animals walk in cages, and many live completely without cages. The most pleasant experience. If you go by car, buy a discounted ticket through Klook.
It is located in Sriracha, not far from Pattaya. The zoo has contradictory reviews. Mostly come here to pet and feed the little tigers from the pacifier. The zoo is small and inferior to Khao Kheow. Admission is 450 baht.
Underwater World features many of the inhabitants of the underwater world. Both children and adults will be amused to feel inside the aquarium and look at the fish so close up. Admission is 500 baht.
In continuation of the marine theme you can go to the dolphinarium. Dolphin show, friendly atmosphere, and even the opportunity to ride a dolphin for an extra fee.
Want to spend time in the company of thoroughbred and well-groomed cats and cats, then come to the cat cafe. For a small fee you will cheer yourself up and make your children happy. You can only get there on your own or by cab, as the cafe is located in Chonburi.
Gardens and Parks
What to see in Pattaya of the natural attractions, where to go for a walk on a hot afternoon. There are no parks within the city limits. But there are several interesting parks in the vicinity within a radius of 30-50 km from Pattaya. You can visit them on your own transport, by cab or with a tour.
The most famous garden in Thailand. The variety of flowers, palm trees and well-groomed immense area will impress everyone. Also in Nong Nuch is held elephant show. Admission is 500 baht. Ticket with discount
Here you will see firsthand the most famous landmarks of the world in miniature. It is very beautiful, both during the day and in the evening, when they turn on the lights and spectacular illumination of all buildings. Admission is 350 baht.
Less popular, but also often visited by tourists. Beautiful nature, unusual surroundings and just the right place to contemplate the beauty around.
These cute creatures in great variety you can see here. And also enjoy the plants and flowers. Located 45 kilometers from Pattaya, can be reached by car or cab.
Despite its name, there is a nice park. Everything blooms and smells. Clean, pleasant, civilized. A lot of gazebos and benches. Little Europe in Ptt. And the main thing is that you can relax here for free, which is a rarity for Pattaya.
A huge rock painting of Buddha. This attraction in Pattaya is something between the park and the temple. Located next door to Silverlake.
Shows in Pattaya
One of the best shows with transvestites that exists in Thailand. Beautiful outfits, a dressed up hall, and a rousing performance guaranteed. Tickets with transfer buy in any travel agency. Do not come on your own, as it will be more expensive on the spot. If you go without a tour, here you can get tickets at a discount.
This show is not just with dressed up dancing transvestites, but a real cabaret. No less cheerful and full of its own show program. Tickets for such events is more profitable to buy in travel agencies, because for the same money will be transfer.
According to the reviews of tourists, the most boring show. But you should judge only when you have been there yourself. The program should be similar to the show at the Colosseum, but a little lower level.
You like to watch tricks, but all the time sorry for the money to do it? In Pattaya, the show is very budget friendly. Allow yourself to plunge into the world of childhood.
The show is for adults. Cameras and children leave at home and come immerse yourself in the promiscuous erotic world of Pattaya. Stunts with genitals, like smoking, shooting darts and ping pong balls, lots of surprises and debauchery.
Museums
An extraordinary museum with the most unexpected exhibits. There is also a wide variety of attractions. This museum will change your mind about museums in general. Admission costs 500 baht.
Here you will become the hero of your own fairy tale. Themed pictures will transport you far into the past or into the future. In the pictures you can be sealed in different life circumstances and even countries.
Relatively recently was presented in Pattaya. If you come here with children, you will find your favorite bears, be able to touch toys and walk through several interactive themed areas. It will be fun for the whole family.
Farms
Sheep farms of all kinds are a popular attraction for Thais with children. There are such places in all cities of Thailand. There are several sheep farms in Pattaya, below is a link to one of them.
PATTAYA SHEEP FARM is located near Pattaya. For less than 100 baht, you can spend many pleasant hours at the farm and interact with the sheep. A good and inexpensive place to spend the first half of the day in the company of these cute creatures.
Not far from Pattaya is a farm with beautiful flowers. Here you will not only be told all about these flowers, but also sell certified plants to take home.
Water Parks
One of the best and most modern water parks in Thailand. A day spent on all sorts of water rides, will be remembered for many years. A 40 minute drive from Pattaya. Admission is 1190 baht. Discount tickets here.
The second popular water park in Pattaya. Would also be great fun. Clean and modern. Everything is there for a full day at a place like this. As an alternative to Ramayana has a place.
Other interesting places in Pattaya
If you like speed, then be sure to come here to have fun. Feel like a real racer. Karting is located near the Bali Hai Pier at the far end of Volking Street.
Now not only in Phuket, but also in Pattaya there is a wonder house. To walk upside down and take extraordinary photos as a memento, why not.
Thai Venice with stores, shows in the evenings and lots of entertainment for the whole family. Located in the district of Na Jomtien opposite the Ambassador Hotel.
A large complex where you can ride a horse. Here you can try out horseback riding and get to know these beautiful animals better.
Beaches
There are not as many beaches in Pattaya as one might think. In addition to the well-known beaches, such as Jomtien and Wongmat, you can swim at other, even cleaner beaches. Read our review of all the beaches with full descriptions of photos and videos.
Pattaya Islands
Near Pattaya there are several islands. You can get to them, both on their own, and order a full excursion. The nearest and most accessible island is Ko Lan.
Ko Lan is the most visited and the closest island to Pattaya. After the beaches in Pattaya, the beaches of Ko Lan will seem truly heavenly. You can reach it on your own by ferry for 30 baht.
There are more distant islands, which can be traveled on their own or with a guided tour. Since the other neighboring islands, which would take a maximum of an hour away from Patta, as Ko Lan, there is practically no other islands, the neighboring provinces Rayong and Trat are also included in the list of excursions.
The drive to Samet is closer than to Ko Chang, but farther than to Ko Lan. The island will have white sand and turquoise sea water. The island is suitable for a romantic vacation for a couple of days or even the whole vacation.
Ko Chang is much farther away than Ko Lan and Ko Samet. It owes its popularity to its wide beaches and developed infrastructure.
Ko Wai is located near Ko Chang. This small wild island is becoming more and more loved by tourists every year. All because of its pristine nature and a minimum of tourists. For swimming is not ideal, the bottom is stony.
Total relaxation, palm trees, crystal clear water, no waves and peaceful atmosphere. All of this applies to the island of Ko Mak. We went for four days.
Koh Kood is the farthest island and is on the border with Cambodia. Wilderness, coconut plantations on the shore, but still good hotels, restaurants and roads. It's worth coming here at least once.
Here are 42 places, from what to see in Pattaya. Check out the attractions in Pattaya and choose where you want to go the most. As you can see, half of the attractions we have listed are outside of Pattaya itself. If you are on a bike, it is not a problem to get to them. You can use the tour bureaus. Or get to remote places with cabs or shuttles.
Where to stay in Pattaya
We recommend the Jomtien area if you are coming for a vacation or a winter stay. Pratamnak and Wongamat districts are also a good place to stay. The city center is good for shopping, partying, and bar lounging. For all the major areas of Pattaya we have made a selection of hotels with good reviews and high ratings:
Fly to Pattaya and enjoy your vacation in sunny Thailand! We hope our humble articles help you decide on a list of sights to see, beach and hotel choices. Be sure to write in the comments what interesting things you saw in Pattaya, what you liked, what not so much. We may have missed something and not added to this list.
16 main attractions in Pattaya
Pattaya boasts a wide variety of interesting places that are suitable for both "wild" and family vacation. However, the city itself can hardly be called a typical tropical paradise. Rather, this is the capital of the sex industry of Thailand: there are hundreds of beer bars, go-go clubs and massage parlors. In short, lovers of everything "hot" will definitely find something to see in Pattaya.
Otherwise, everything here is oriented to the usual "beach" tourists of retirement age, which there are literally crowds. Tourist groups are moving in endless streams to and fro throughout the city during the day, so if you prefer tranquility, it is better to settle down outside the central area.
Temple of Truth
Temple of Truth.
The Temple of Truth is famous for the fact that not a single nail was used in its construction. It is an architectural creation unique in its kind, combining features of an art installation, a religious shrine and a cultural monument.
According to the idea, the four bodies of the temple were to unite under its arches the traditions of Thai, Khmer, Chinese, and Indian religions.
The idea of building this bright temple complex belongs to Lek Wiriyapant, a Thai millionaire who decided to spend his fortune on this and several other interesting architectural projects (including the Ancient City in the Bangkok suburbs).
These projects were designed to preserve ancient building traditions and techniques that might otherwise disappear without a trace. The Temple of Truth, for example, is still developing its hand-crafted woodworking traditions today, as the construction, which began in 1981, is still unfinished.
Address: Temple of Truth, Pattaya-Naklua, Pattaya, Banlamung, Chonburi, Thailand.
Anek Kuson Sala Museum
Anek Kuson Sala.
This museum is visited by dozens of tourist groups a day. There are more than 300 curious works of Chinese art stored here – mostly bronze and brass statues depicting famous historical figures, as well as a variety of Buddhist, Confucian and Taoist deities.
The museum was founded by Sanga Kulkobkiat, a Thai citizen who grew up in China, and was conceived by him as a project aimed at bringing the cultures of the two countries closer together.
Address: Anek Kuson Sala Pattaya Pattaya, Banlamung, Chonburi, Thailand.
Khao Phra Bat Hill
View from Khao Phra Bat Hill.
On this hill there is a humble Buddhist temple and a monument to Admiral Uphakon, the founder of the modern Thai navy, which is highly revered by locals.
From here you can enjoy a wonderful view of the bay and the surrounding area of Pattaya, for which there are small cafes with terraces. At sunset, the view is especially gorgeous, but don't expect to enjoy it alone. You can get to the hill from the south end of Woking Street.
Address: Khao Phrabat Thap Phraya Pattaya, Banlamung, Chonburi, Thailand.
Golden Buddha Statue and Temple Complex
Golden Buddha statue and temple complex.
The main attraction of the wooded hill, located between Jomtien and South Pattaya, is a huge gilded statue of the Big Buddha, which appeared here at a time when Pattaya was still a small fishing village.
This place can be reached from the south end of Woking Street.
Address: Wat Phra Yai, Pattaya, Banlamung, Chonburi 20150, Thailand.
Underwater World Oceanarium
Underwater World Oceanarium.
"Underwater World" Pattaya may not be as spacious as some other aquariums in the world, but it is home to many rare marine creatures from around the world.
Here, in the most modern oceanarium in Thailand, you can feed koi carps, see sharks and rays up close, touch some of the local creatures and see the largest collection of jellyfish in Thailand. There are regular special events for children – for example, "a night at the aquarium.
Address: Underwater World Pattaya Co., Ltd., Sukhumvit Road, ตำบล หนอง↪Lo_E1องปรือ Banlamung, Chonburi, Thailand.
Greta Farm.
Greta's Farm.
The main attractions of this cute children's farm are its inhabitants – goats, horses and cows. You can play tennis, shoot archery, spend time in the amusement park, and go climbing rope bridges afterwards.
Address: Greta Resort and Sport Club, นาจอมเทียน, อ.สัตหีบ, Chon Buri, Thailand.
Art Museum in 3D
Art in Paradise 3D gallery.| Photo: nabuhunso / Flickr.
Thais come here to take chic selfies in front of incredible 3D paintings of dinosaurs, waterfalls and even an elephant on a toilet.
Address: ART IN PARADISE Pattaya Sai 2 Rd, Pattaya, Banlamung, Chonburi, Thailand.
Jomtien Beach
Jomtien Beach | Photo: clayirving / Flickr.
Located ten minutes from Pattaya, Jomtien Village is a popular vacation spot for those who prefer quiet evenings by the water. Its sandy beach with palm trees gives a calm and peaceful atmosphere.
Restaurants and cafes along the beach offer a variety of Thai cuisine, fresh seafood, and cocktails overlooking the sea.
GPS coordinates: 12°53'24.5″N 100°52'28.3″E.
Coral Island
Coral Island | Photo: Renju George / Flickr.
The coral island of Ko Larn, located near Pattaya, is the perfect escape from the noisy beach parties. The island is a four-kilometer strip of white sand with six large beaches, washed by the crystal blue waters of the Gulf of Thailand.
You can go here on a day trip, but you can stay very long on Coral Island, because it has everything you need for a quality and interesting vacation, including affordable accommodation and all kinds of entertainment: snorkeling, kayaking, hiking and, of course, sitting in the bars until midnight.
Address: Pattaya Coral Island, Banlamung, Chonburi, Thailand.
Mini Siam Park
Mini Siam | Photo: Pictoluck / Flickr.
This wonderful park offers 1:25 scale replicas of Thai landmarks in miniature. Walking past the miniature Wat Aruna, Ayutthaya or Victory Monument, you will feel like a real monster from the movie "Godzilla".
In the second part of the park, called Mini Europe, visitors will see miniature replicas of the most famous landmarks from around the world, such as the Eiffel Tower or the Leaning Tower of Pisa.
Address: Mini Siam The miniature World in Pattaya, Sukhumvit Road, Pattaya, Banlamung, Chonburi, Thailand.
Walking Street
Walking Street, a pedestrian street.
What to visit in Pattaya for those who love vibrant nightlife? Of course, the so-called "walking street"! You just have to visit this place at least once in your life.
With the onset of sunset the car traffic is blocked here, and this place instantly becomes a 500-meter carnival mix of loud music, neon lights, cheap booze and the most wild fun.
Pubs, taverns and go-go bars take up most of the street, and the street performers do everything to attract tourists – from unusual ping-pong shows to flashy kick-boxing performances.
Address: Walking Street, Pattaya, Banlamung, Chonburi, Thailand.
Naklua Fish Market
Naklua Fish Market | Photo: lynhdan / Flickr.
This bustling market is best visited in the morning, when fishermen are just bringing in their catch. Local stalls offer a wide range of fish and seafood: perch, shrimp, oysters and clams, crustaceans, and more are sold here every day.
Prices at this market are much lower than anywhere else in the country (feel free to haggle), and you can have local chefs prepare your fish on the spot.
The nearby Lan Pho Park is the perfect place to enjoy freshly fried seafood with a view of the ocean.
Address: Naklua Fish Market Pattaya-Naklua, Pattaya, Banlamung, Chonburi, Thailand.
Nong Nooch Tropical Garden
A huge park, named after its founder, Nong Nooch Tansaki, annually visited by more than 800 thousand foreigners from all over the world.
Here you can stroll through picturesque theme parks including a topiary, a 17th century French garden, a European Renaissance garden, and even a separate exotic plant garden.
When strolling through Nong Nooch, don't forget to check out the magnificent orchid garden, which is sure to awaken a desire to plant a few vibrant flowers in your own vegetable garden as well. The Thai Cultural Hall regularly hosts performances with traditional Thai dancing, sword fights, kickboxing and elephant shows.
Here you can rent a bicycle or use the transport format "door to door". The most convenient way to visit this place is a half-day tour from Pattaya. This four-hour tour includes a tour of the gardens and a round-trip transfer directly from your hotel door.
Address: Nong Nooch Botanical Gardens, Na Chom Thian, Sattahip District, Chonburi, Thailand.
Wat Yanasangvaram Temple
Wat Yanasangvaram Temple | Photo: Amstrong White / Flickr.
Like all of Thailand's major temples, Wat Yansangvaram Temple (often referred to as Wat Yang) gives visitors a chance to experience not only the architectural traditions of Thailand, but also the values of that society. This majestic temple, surrounded by sprawling gardens with palm trees, was built in 1988 to commemorate the 42nd anniversary of the reign of King Bhumibol Adulyadej.
The main complex houses precious Buddhist relics, and on the right side of the path leading to the temple, you can see a lake with colorful Chinese pavilions that collect various antiques and ancient artifacts.
Temple Wat Yansangwararama stands on a hill, and to get here, you have to climb 299 steps, which are guarded on both sides by golden snake-nagi.
Address: Wat Yannasangwararam Worawiharn Provincial Waterworks Authority, Rural Road, Pattaya, Banlamung, Chonburi, Thailand.
Ramayana Waterpark
Ramayana Waterpark | Photo: Holiday Photos / Flickr.
The largest water park in Thailand offers travelers of all ages and complexes 21 water attractions for all tastes and colors – from exciting spiral slides and crazy free-fall rides to mini waterfalls for the youngest vacationers.
Other attractions include a pool with artificial waves, a children's park Aquasplash with fountains and even a green maze. There's even a "lazy" river running through mysterious caves and bubbling geysers.
At Ramayana you can play water polo, feed the fish and try your hand at zumba, among other things.
Address: Ramayana Water Park Pattaya, Ban Yen Rd, Na Chom Thian, Sattahip District, Chonburi, Thailand.
Region Four Floating Market
Four Regions Floating Market | Photo: Karen / Flickr.
The only floating market in Pattaya is divided into different sections selling goods from the four main districts of Thailand.
Here they sell souvenirs, arts and crafts, clothing and much, much more. At the Four Regions, you can enjoy the local exotic cuisine – after all, it's not every day you get to taste fried scorpions, freshly cooked crickets or crocodile meat.
The best way to experience this quaint place is to rent a boat, but keep in mind that you'll have to pay to get in.
Address: Floating Market in Pattaya, Sukhumvit Road, Pattaya, Banlamung, Chonburi, Thailand.