Belgian cuisine and its peculiarities. Belgian national dishes and their recipes

The Belgian cuisine is unique in some ways, and in some traditions it is very similar to the others. It began to form in the Middle Ages. Germanic, French and Dutch cuisine superimposed upon it with indelible imprints. They are like three pillars holding their "offspring" firmly to this day.
Belgian dishes are characterized by quick and easy preparation. As a rule, home cooking requires a minimum list of products. However, this applies only to home cooking. In restaurants, visitors are offered exquisite delicacies, the taste of which will be remembered if not for life, then for a very long time. By the way, refinement is the "handiwork" of French cuisine.
Belgian cuisine is varied and multifaceted. The taste of ready meals will conquer the heart (and, of course, the stomach) of any gourmet, even the most demanding. By the way, this country is considered one of the most popular destinations in gastronomic tourism. Today we will talk about it – about the unique cuisine of Belgium. Who knows, maybe after reading this article you might even want to visit it, so be prepared for such a turn of events.
What is it like, Belgian cuisine?
It is impossible not to mention the fact that the dishes are at least just healthy. Not to mention the amazing taste. In Belgium, it is customary to cook exclusively with fresh products. In addition, the country has access to only one sea – the North Sea. However, it is influenced by the Gulf Stream, flowing nearby. Therefore the coasts have a lot of variety of animals. Take just the northern shrimp, which do not live anywhere else in the world. They even have a completely different taste. So the Belgians have no shortage of fresh produce. At least in seafood.
For general information: Historical background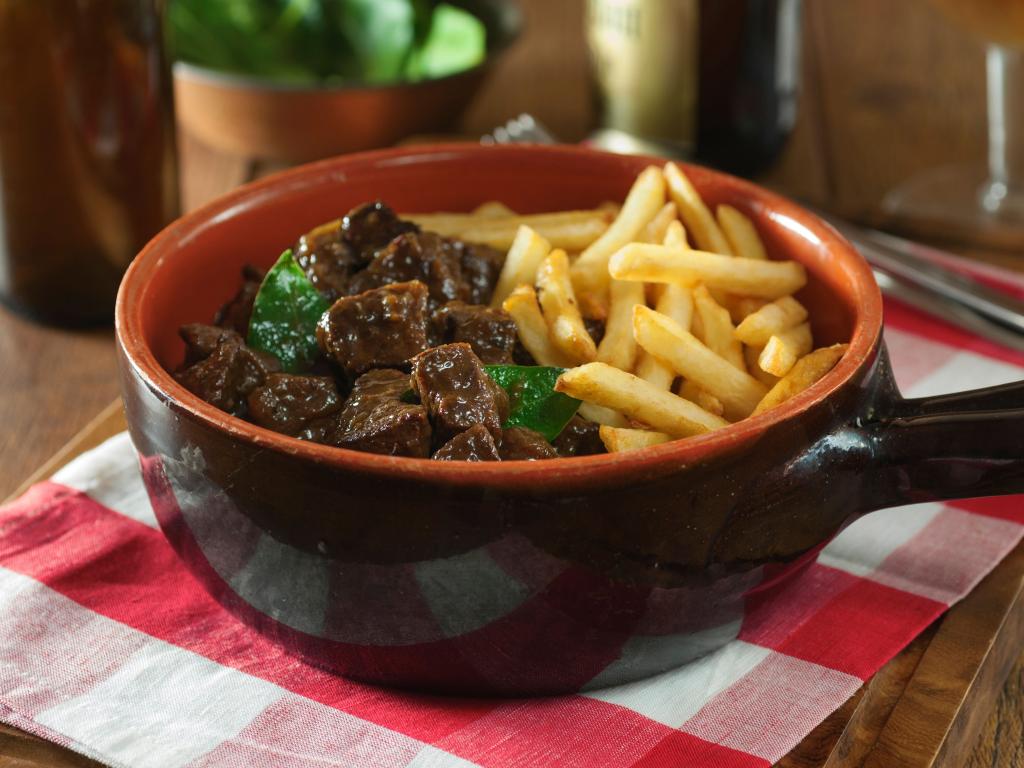 The territory of modern Belgium was already inhabited 20,000 years ago. At that time the main trades were hunting and building. But the forests became more widespread, making it harder and harder to catch animals. Then people began to give preference to fishing.
Around 2000 BC, primitive varieties of wheat, barley, and beans began to be grown here. Around this time goats and sheep were raised for wool and milk. Meat was obtained mainly from raising pigs.
Around 300 years BC the Celts settled here. They brought with them the plough, three-field crop rotation, and began to expand their diet. For example, the Celts introduced the culture of eating chicken and goose meat. They also, roughly speaking, taught the natives how to drink, giving them mead and beer. Fish, butter, and canned meat were introduced from the British Isles.
In 54 B.C., as transportation became better and better developed, olive oil and wine were introduced. The Gallo-Roman period is also notable for the fact that the diet was greatly expanded with various vegetable and fruit crops. For example, cabbage, onions, plums, carrots, beets, coriander, peaches, thyme, etc. Back then, the locals were very fond of such a Belgian dish as pulse porridge. This is cereal mixed with water or milk, olive oil, lentils or beans.
In the Middle Ages, after the fall of the Western Roman Empire, the Franks and Germans settled in the area. They could not help but contribute to the development of cooking in the region. From them came the recipe for the traditional fish sauce. They also replaced olive oil with butter, and wine with ale.
It is also interesting to write about the birth of Belgian brewing. It is believed that its history began in monasteries. Allegedly, it was there that they first started brewing foamy drink. The monasteries also began to make cheese. At one time the consumption of meat decreased sharply, which was associated with the introduction of Lenten days in Catholic churches. Only fish, eggs and bread were allowed.
In the XIII-XVth centuries special attention was paid to the table setting and serving dishes. The cuisine of Belgium from now on was to please not only with its taste, but also with its appearance. They began to use sauces, add different spices, which was promoted by the importation of exotic fruits and spices from India. The Belgians started to invent new dishes. They developed recipes for soups, main courses, desserts, snacks and so on. This is also when the famous Belgian waffles were invented.
The preferences of Celtic descendants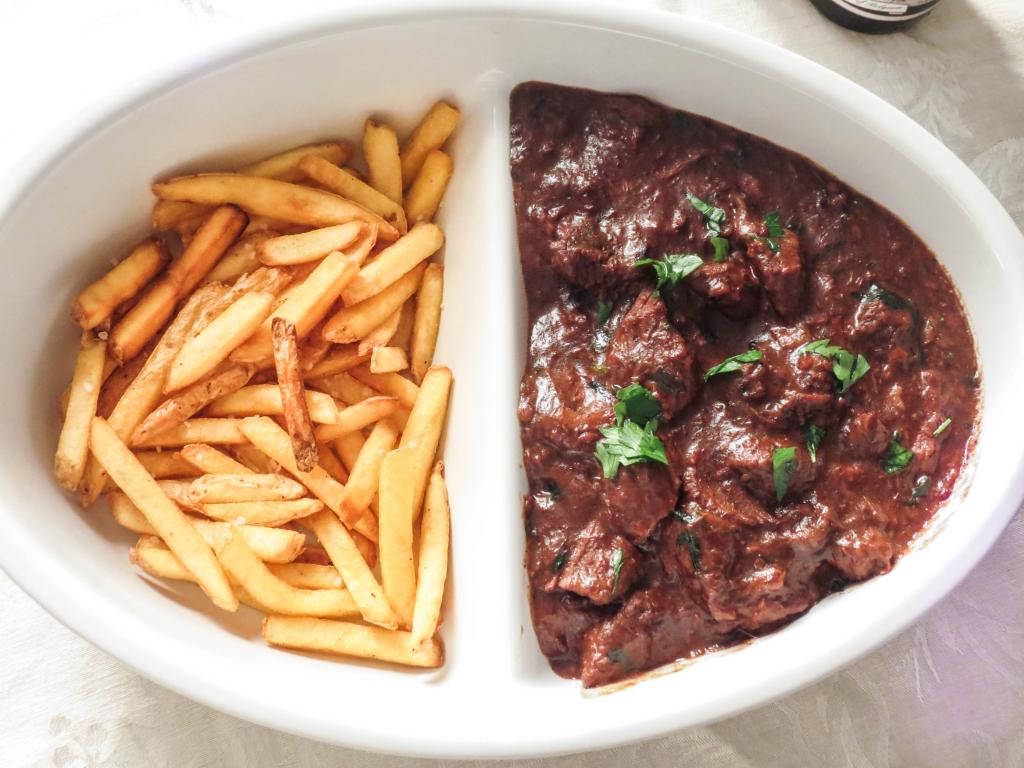 As mentioned, dishes include plenty of seafood and fresh vegetables. Also on the question of what to eat in Belgium, you can safely answer – meat. It is not inferior to the seafood.
They are not indifferent to the potatoes. They are the main side dish of any dish. Also Belgians have special relationship to Brussels sprouts and leeks.
Cooking technology is incomplete without the use of seasonings, fresh herbs and sauces. Belgians are also wildly fond of chocolate. Produced in this country, it is considered almost the best in the world. Of course, because it's made from natural products. Fresh, it literally melts in your mouth.
Features of Western European cuisine
Since the dishes are very diverse, many different components are used:
seafood;
meat;
oil;
vegetables;
cream;
beer;
wine, etc.
Although it is a symbiosis of the traditional cooking of the other three countries, Belgian cuisine also has its own unique characteristics. For example, the locals observe a food culture. Because of this there are a lot of cool restaurants in the country and almost no cheap bistros, because it is impossible to prepare the desired dish in a hurry. And now, in more detail about those very special features.
A little of regional differences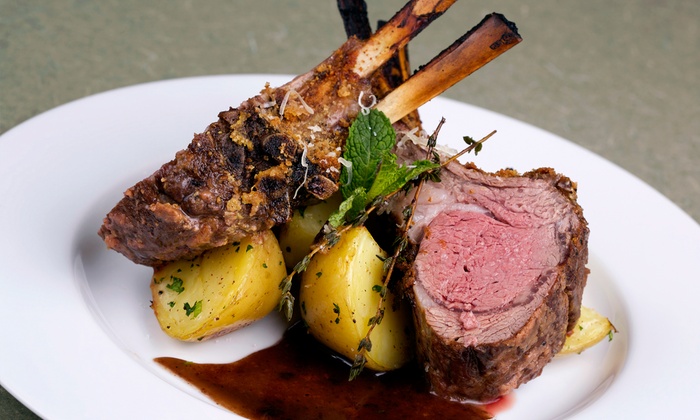 Many people know that Belgium consists of two parts – Flanders and Wallonia. The cuisine of Wallonia is more refined. But Flanders is characterized by rustic simplicity. The dishes are prepared from fresh products, which are mainly obtained here. For example, these are vegetables, chicory and lettuce. In Antwerp there are a lot of summer varieties of vegetables, and in the vicinity of Mechelen – asparagus. Flanders has a lot of variety of seafood. And it is here that the most Michelin-starred restaurants are found.
Walloon cuisine, on the other hand, is a true descendant of French cuisine. Here wine is often used to prepare dishes. In the hunting season, there is a lot of game on the table, which is served with lingonberry and mushroom sauces.
National dishes of Belgium
The traditional cuisine of the kingdom has many interesting culinary masterpieces:
French fries;
Belgian waffles;
Liège green bean salad;
Brussels sprouts;
Flemish fish cutlets;
Brussels soup with dried mushrooms;
flounder with potatoes;
Flemish-style carbonades;
eel with shells, etc.
It's hard to list all the traditional goodies. Of course, to try most of the dishes, you have to go to Belgium, because in other conditions it is simply impossible to enjoy the true taste. However, you can diversify your daily diet by cooking some dish. After all, this is the only way to understand the peculiarities of this cuisine. So, the recipes for some national Belgian dishes.
The most exquisite waffles in the world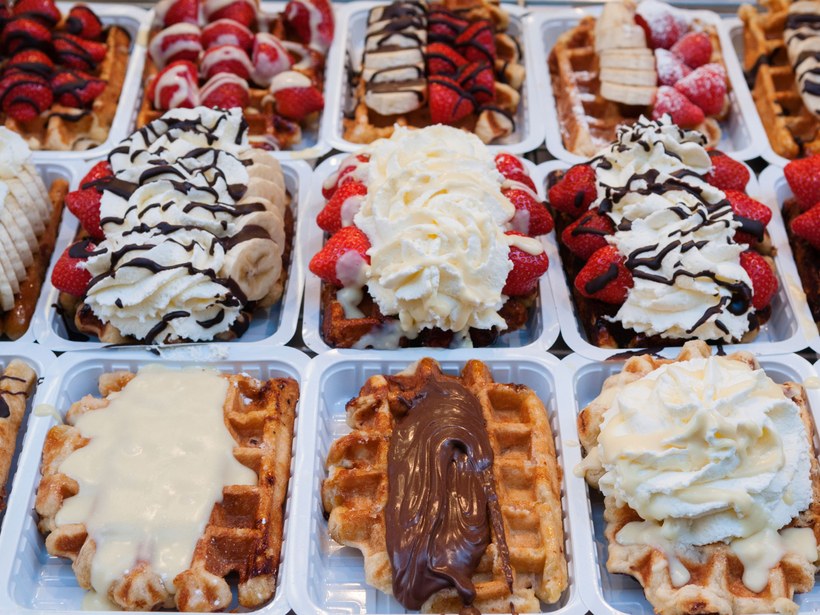 You will need a special machine – waffle maker and such a set of products:
eggs – 3 pcs;
sugar – 50 gr;
flour – 100 gr;
baking powder – 1 tsp;
butter – 50 g;
salt – 1 pinch;
Honey and fruit – for decoration.
Whites separate from the yolks. Whip the egg yolks with sugar and knead with melted butter.
Add sifted flour and baking powder to the yolks. Stir and combine with the whites.
Grease a waffle iron with butter. Spread the batter and bake until ready.
When the dessert is ready, pour honey and garnish with fruit. Belgian waffles are the best option for breakfast in this country.
Waterzoo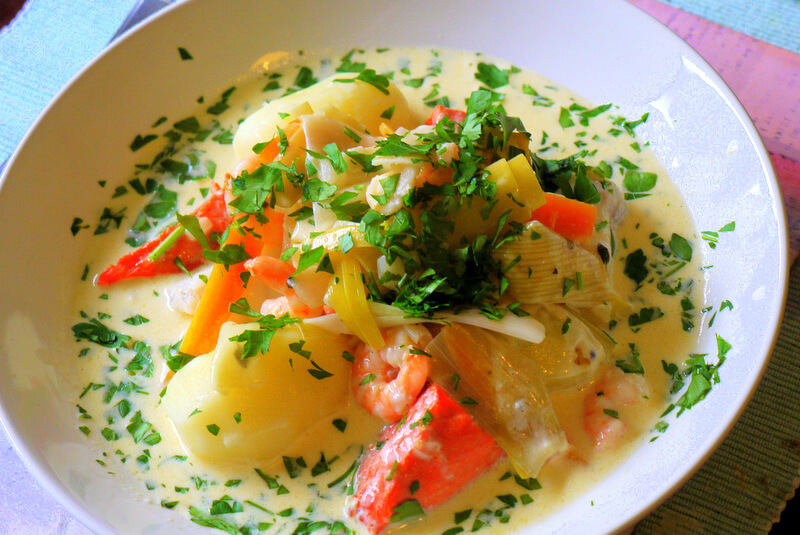 This national Belgian treat is a soup. Its name is made up of two words – "water" and "boil". The traditional Flemish chowder is prepared as follows:
Peel the celery root and carrots, cut them into straws.
Peel potatoes and cut them in slices.
Peel the onion, cut into half rings. Fry in a saucepan with oil until it becomes soft.
Then put vegetables, except potatoes. Cook for 10 minutes.
Pour in broth, then add potatoes.
Bring to a boil, add bay leaf and pepper. Cook for 15 minutes more.
Add the fish. When the soup comes to a boil, time it for 7-10 minutes. At the end of this time, take it out, remove the bones. Remove the bay leaf.
Mix the egg yolk with the cream and one ladleful of broth. Pour it into the soup.
Season with salt and pepper and add the fish.
Then sprinkle with parsley and heat the soup without boiling.
Traditional omelet
In the national cuisine of Belgium, in addition to waffles, there are several other options for a hearty breakfast. One of them is an omelet. You will need the following products:
mushrooms – 50 g;
butter – 10 grams;
Eggs – 2 pcs;
flour – 10 gr;
carbonated water – 20 ml;
ham – 20 g; parsley – 10 g
parsley – 10 gr;
salt and pepper – to taste.
Shred the ham and parsley as finely as possible.
Put in a greased pan. Pepper and stew for 10 minutes.
Separately whisk egg whites. Combine with mushrooms, baking soda, flour, salt, yolks.
Make batter and fry it on a pan on both sides.
Before serving this dish you should decorate it with finely chopped greens and ham.
Liège salad
The appetizer is prepared very simply. The main ingredient is beans, and the additional ingredients are potatoes, parsley, onions and bacon. The salad is dressed with oil, wine vinegar, seasoned with nutmeg, pepper and salt. It turns out not only tasty, but also hearty and quite unusual.
Brussels sprouts
Like the previous dish, this Belgian dish is very simple to prepare. But it is incredibly tasty. To prepare the Brussels sprouts, small sprouts are stewed or fried in oil and then baked in eggs. This is such an unusual recipe.
Local produce you must try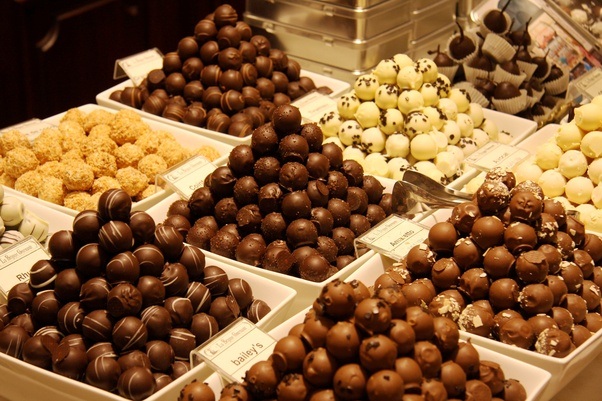 Every tourist who goes to travel in a foreign country, has a list of what he must see there. Do not be lazy – make a list of things you must try. And we will help you a little bit:
Chocolate. It is the national pride. You must try it in Belgium and also buy sweets to take home.
Cheeses. This is the second product that the country is proud of. There's so much of it here, it makes you dizzy. Be sure to try goat cheese and rambol with spicy herbs, as well as "Old Bruges".
Beer. Belgian cuisine would not be complete without this drink. Frankly speaking, the beer produced in this country is not worse than German beer. It is recommended to try "Lambic", "Gez", "Kriek" and "Trappist".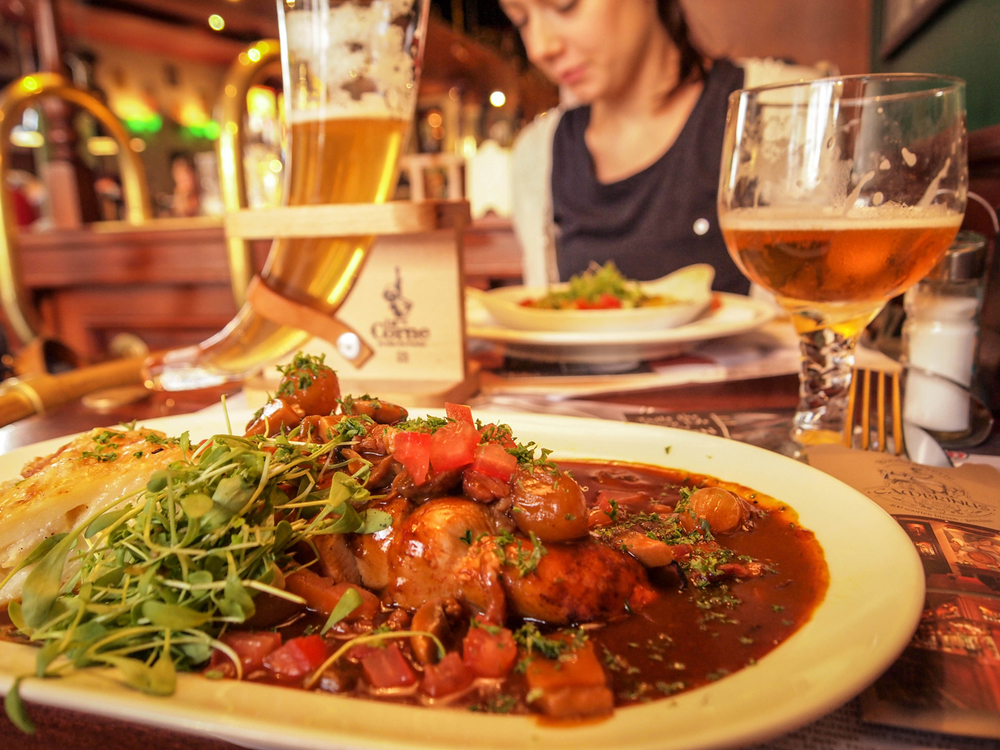 The cuisine of Belgium is unique and unusual. It is able to surprise the taste buds of the most demanding gourmets. If you get a chance to visit this country, be sure to visit as many restaurants as possible. After all, many of the dishes that are served in Belgium, you will not be able to try in any other country.
Belgian cuisine – what to try for the tourist
Belgian cuisine goes back to the Middle Ages. The national culinary traditions were formed under the influence of three powerful pillars – French, Germanic and Dutch cuisine. Home cooking is distinguished by a simple technology of preparation and a maximum available set of products. Restaurants serve more refined treats – the influence of French cooking is felt in this. The national Belgian cuisine is multifaceted and is capable of winning over a demanding gourmet. It is not surprising that culinary tours to Belgium are very popular among tourists. During such a trip, you can visit interesting gastronomic places and taste the best dishes of the country.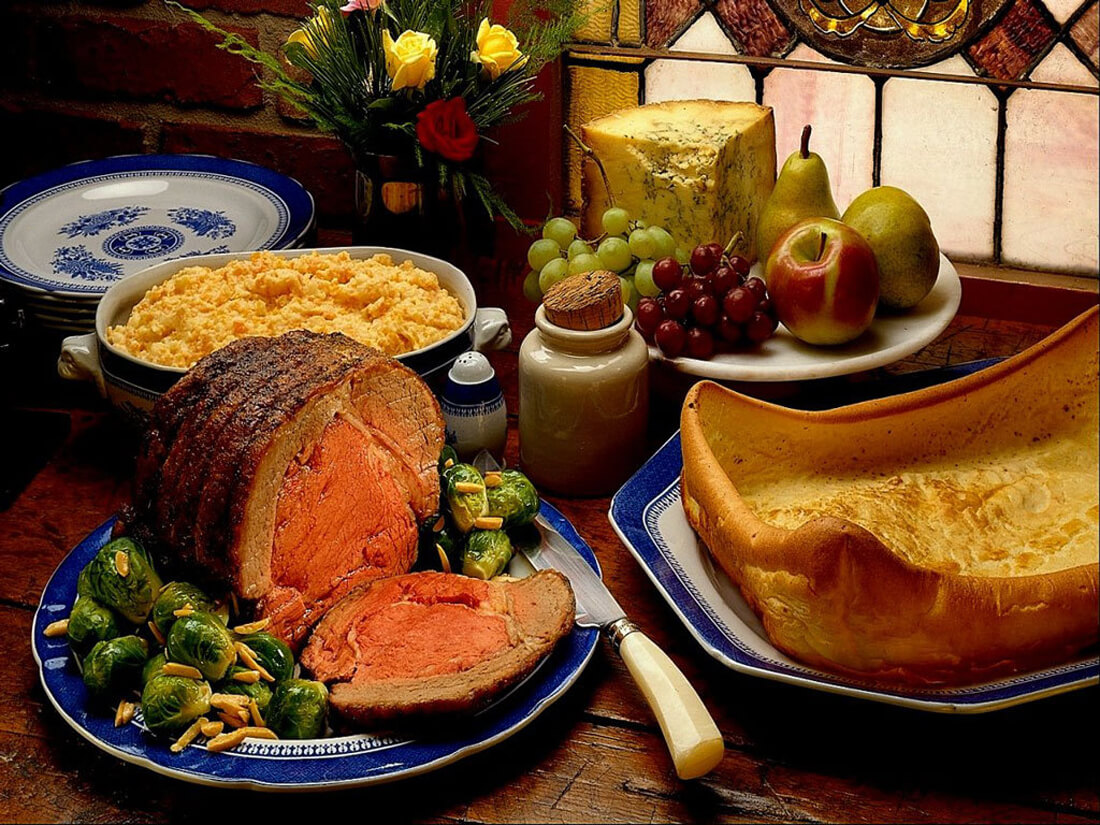 The nature of national cuisine
Locals prefer to cook from seasonal and regional products. For this reason, there is a particular difference in the culinary preferences of the inhabitants of the southern and northern parts of Belgium. In the cities located on the coast, the fish and seafood menu prevails, and a variety of vegetables, including the famous Brussels sprouts, are prepared as a side dish. In the mountainous regions (Ardennes) game and meat treats are cooked with special skill.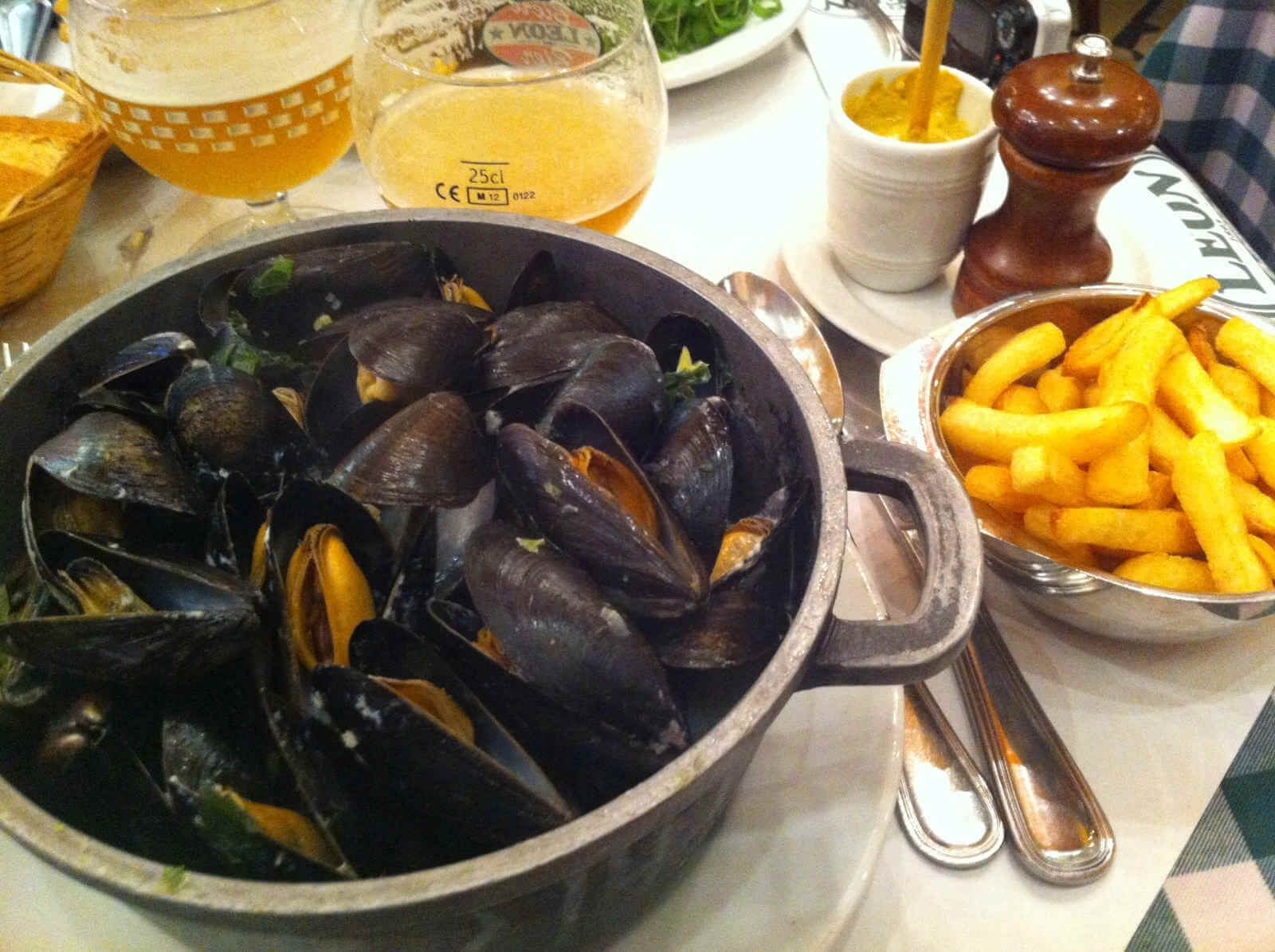 An easy snack for the average Belgian is French fries and spicy mussels with a mug of beer brewed according to an exclusive recipe. And the traditional holiday table is drowned in an abundance of culinary masterpieces – blood sausages, pork head and ears, seafood, all sorts of sweets, bread, fruits. Inhabitants of Belgium, as if, compete – who can cook more dishes. Served and filled table of modern Belgian family reminds still life of the 17th century.
Interesting fact! Tourists love the Belgian national cuisine for its varied menu and huge portions in local restaurants.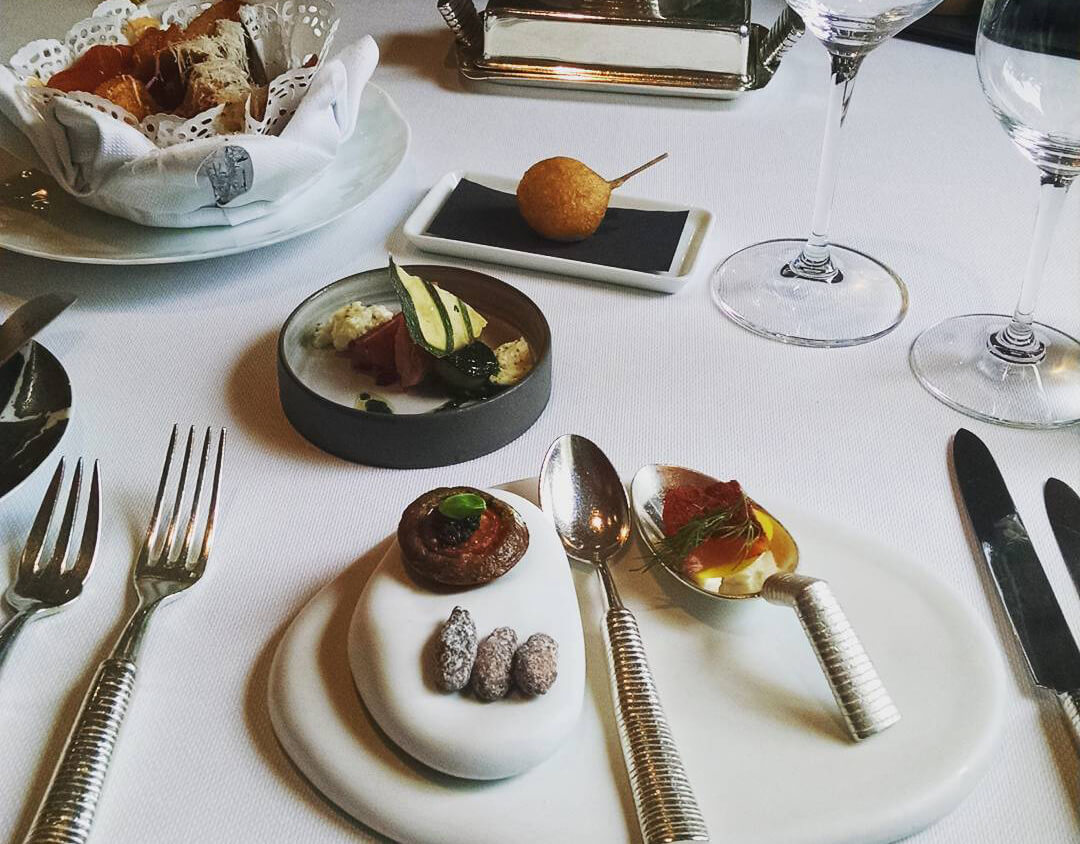 De Karmeliet
Local cooks value the customer above all and stick to classic cooking techniques. New-fangled experiments are rarely used here, which is probably why restaurants do not charge exorbitant prices. There is a simple rule in Belgium: if the chef does not cook well, his place will go bankrupt, because the competition is too high.
Good to know! Belgian restaurants are appreciated all over the world and many are Michelin-starred. According to statistics, there are 2 three-star 3 two-star and 15 one-star restaurants per 1 million inhabitants.
We can say that Belgian cuisine has few first courses, but all of them are distinguished by exquisite taste and original combination of ingredients. Thick creamy puree soups prevail in the national menu. However, there are traditional first courses, such as pea soup or vegetable soup. Locals are not indifferent to beer and even add it to soups. Soups with vegetables such as asparagus, Brussels sprouts, string beans, and mushrooms are also popular.
The national Belgian dish, the name of which comes from two Dutch words – water and boil. This is a traditional Flemish chowder, it is also called Ghent Waterzoo, after the region of origin.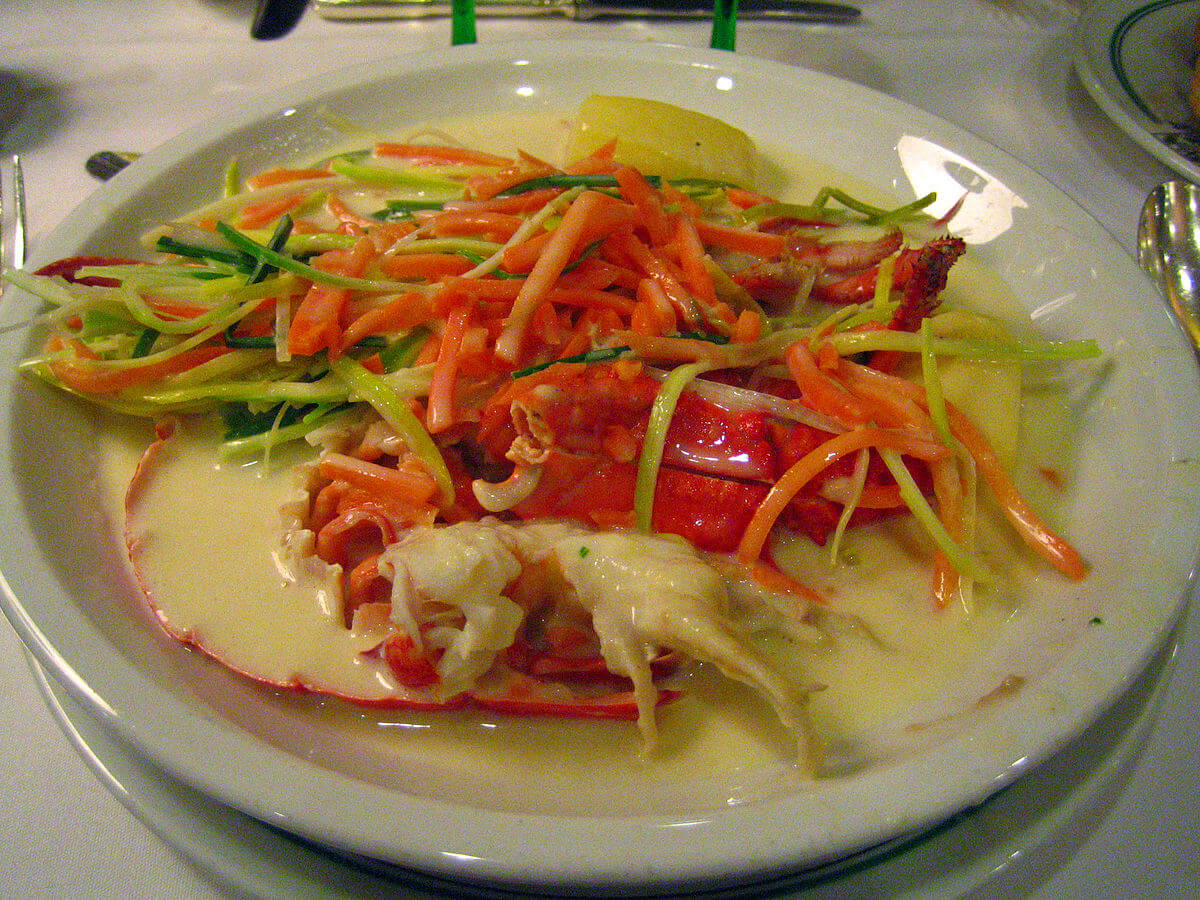 The classic recipe calls for using fish as the main ingredient, but when Ghent's waterways became too dirty, the fish in them disappeared. After that, chicken meat was used to make it. In addition, carrots, leeks, celery root, potatoes, and a whole bunch of spices are added to the soup. The peculiarity of this soup – vegetables and meat (or fish) are cooked separately and then combined. The broth is topped with whipped egg yolks and cream, sometimes with breadcrumbs.
It is best tasted with toasted white bread and butter.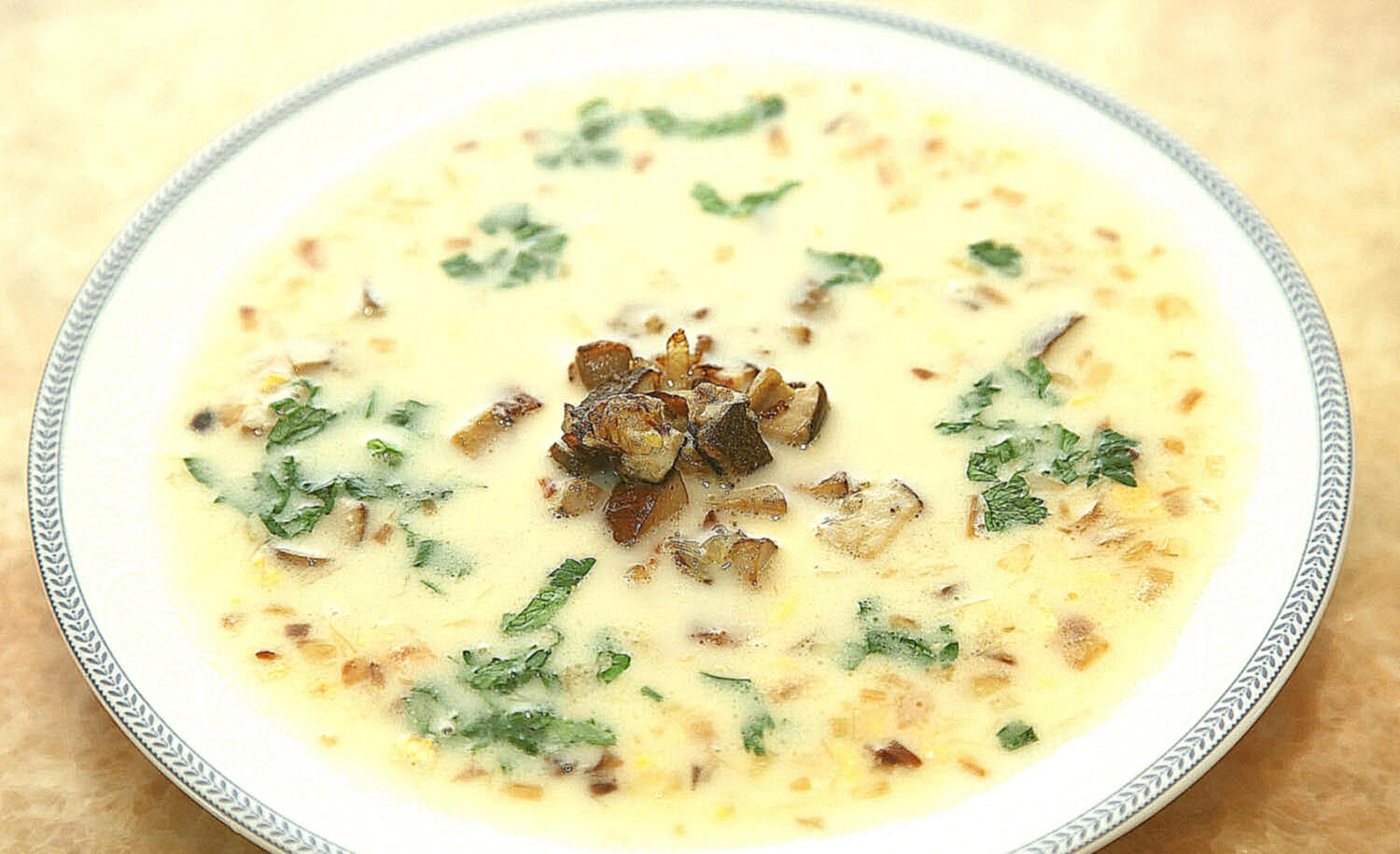 This national recipe is original and quite appetizing, for sure all the family will want to try it. It is served with rye bread and separately put on the table chopped greens.
The peculiarity of the soup in the preparation of mushrooms – they are washed, minced and stewed with butter and onions (grated). After 10-12 minutes add flour and broth (in the original recipe used bone), spices season to taste. At the end of cooking, cream is poured into the soup and garnished with boiled eggs.
For note! You'll find a selection of the best restaurants in Brussels on this page.
Salads and appetizers
Belgian cuisine is rich in vegetables and they are prepared in many different ways. The numerous Belgian markets sell a huge number of fresh vegetables grown in the country. Here you can try different varieties of celery, tomatoes, potatoes, onions, kohlrabi, radishes, peas, asparagus, sorrel, parsnips, carrots, beans and mushrooms.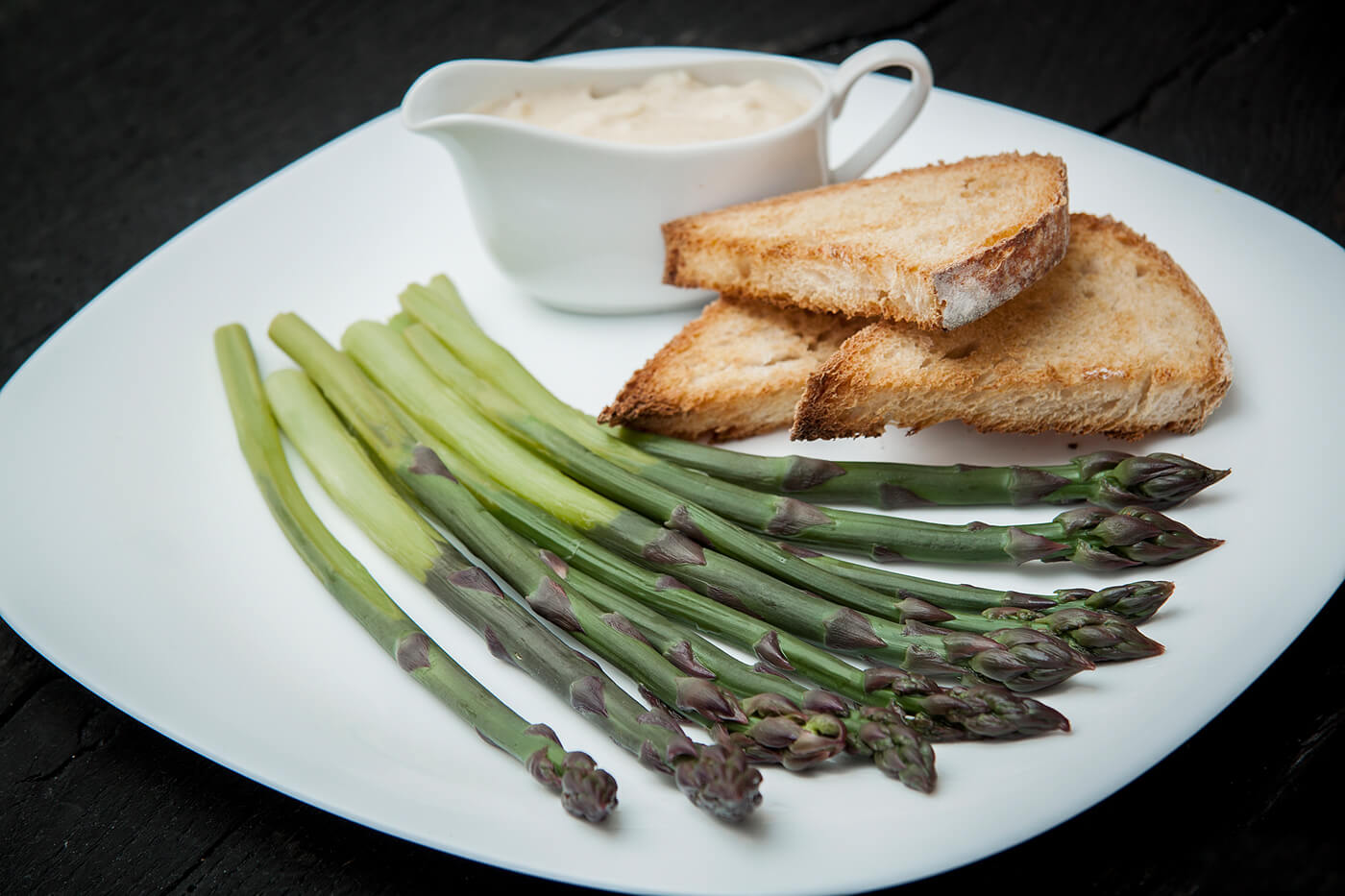 Asparagus as a national treat
The main delicacy of Belgian national cuisine is the young shoots of hops, picked in spring. Be sure to try them in a restaurant. Asparagus grown in Mechelen (province of Antwerp) is also a favorite national treat of many locals.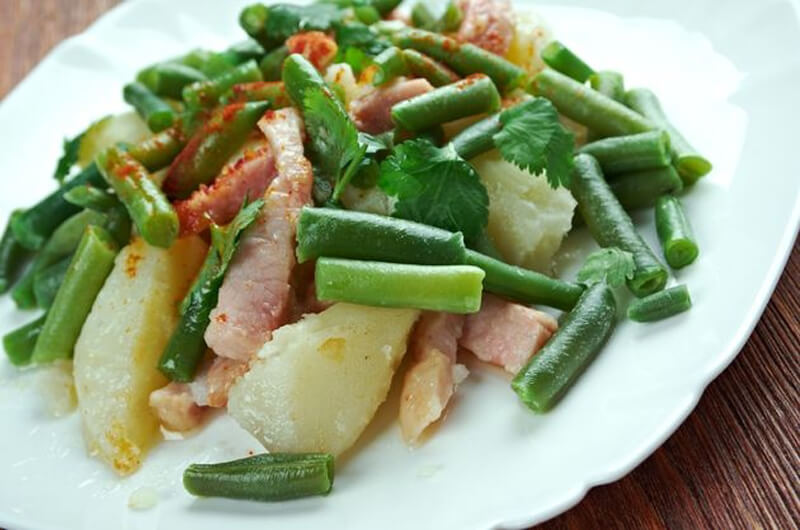 Liège salad
An original salad that you can try at any restaurant and then make at home. A hearty treat of young potatoes, green beans, onions, ham and apples. The potatoes are cut into portions and boiled until tender. In 5-7 minutes on a pan with potatoes put a colander and put the beans in it – it is steamed. Onions are chopped, ham is sliced larger, fried, apples and a little vinegar are added. All ingredients are mixed and dressed with olive oil.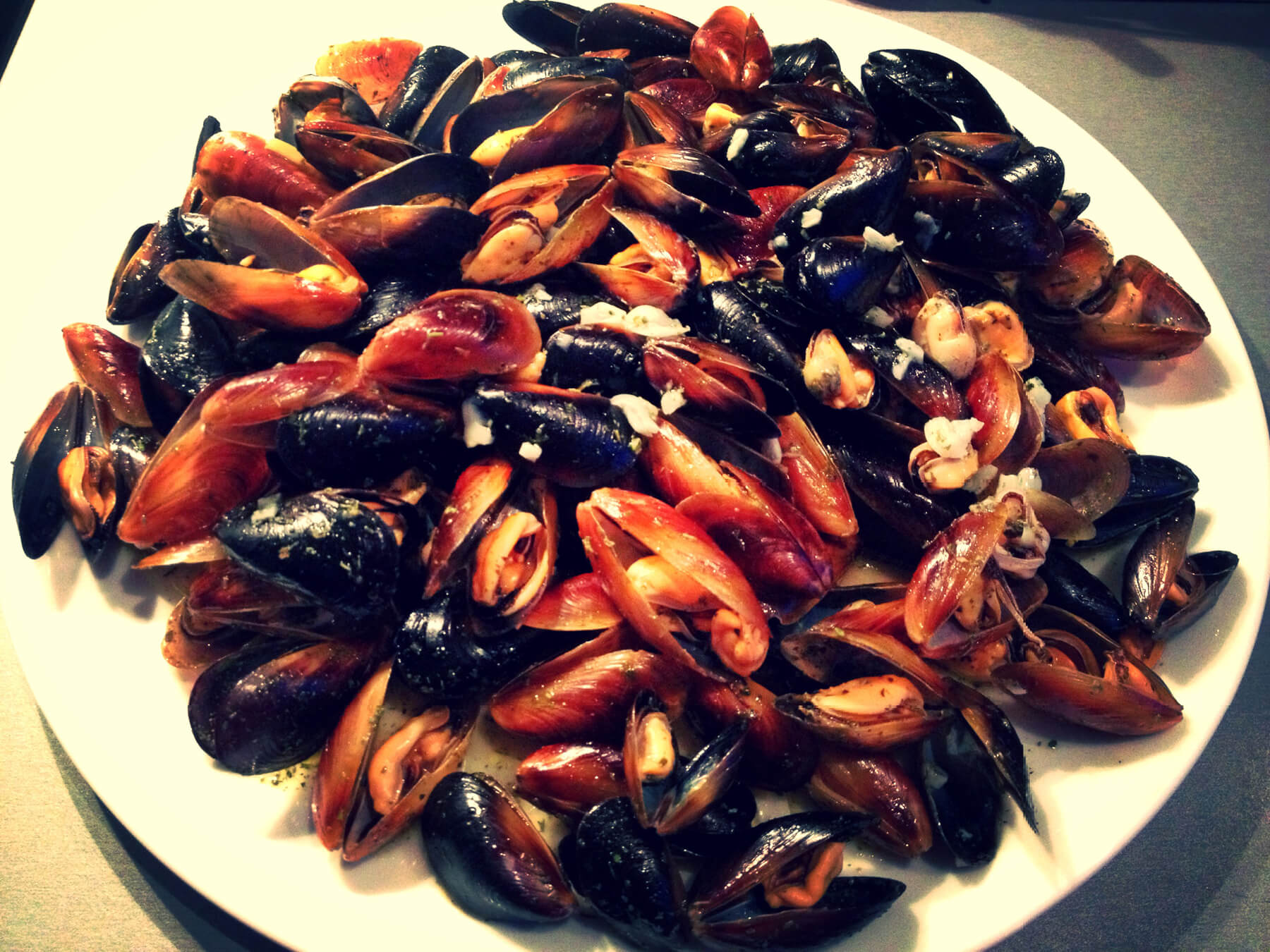 Mussels
It is impossible to imagine the national cuisine of Belgium without seafood. According to the Belgians, the perfect combination of flavors – French fries and a plate with mussels. It is impossible to come to Belgium and not try this culinary masterpiece.
The most popular recipe for cooking mussels is seafood stew with the addition of a variety of spices and spices. The cost is from 10 to 15 euros.
Useful information! In local restaurants mussels are served in a pot, this volume is enough for two people.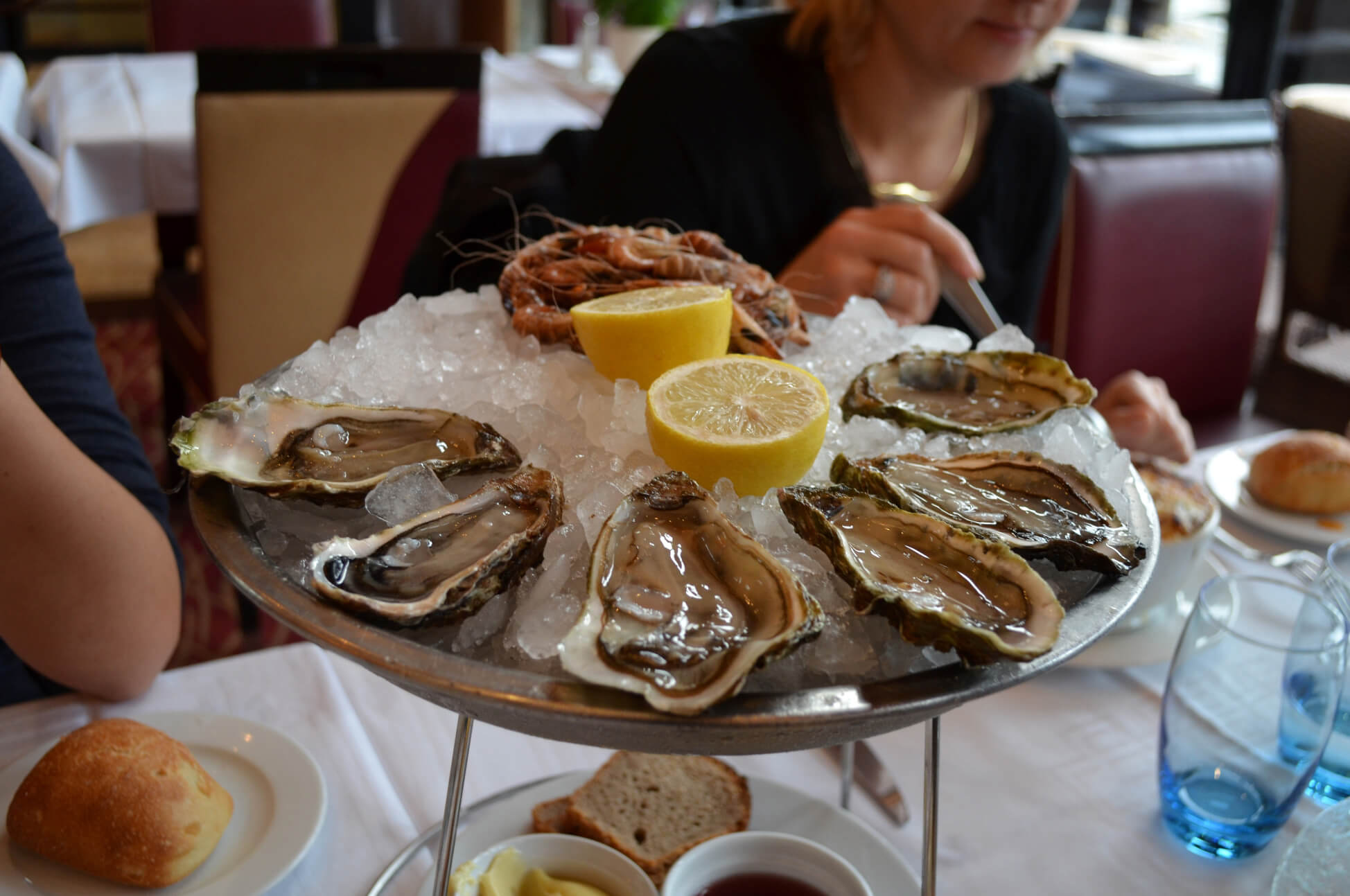 Oysters
There are a huge number of recipes for mussels in Belgian cuisine – you can try seafood with the addition of white wine, lemon sauce, and vegetables.
Oysters are another popular, one might say national product, they are served in every restaurant. The cost is about 20 euros for 6 pieces. As a rule, the portion consists of 12 or 6 oysters.
You can also buy seafood in the shops in the streets, at a cost of half as much – 10 euros.
Dishes
The abundance of Belgian cuisine is impossible to imagine without fish and meat treats. The national menu offers a large selection of dishes from sea fish, pork, beef, rabbit and game. Separate thick sauces and a side dish of potatoes or vegetables are prepared for the main dish. Just imagine the pheasant standing in the middle of the table, the many variations of ham, the beef rolls. The real culinary fame of Belgium came from beef stewed in dark, locally brewed beer. The dish is called Carbonade.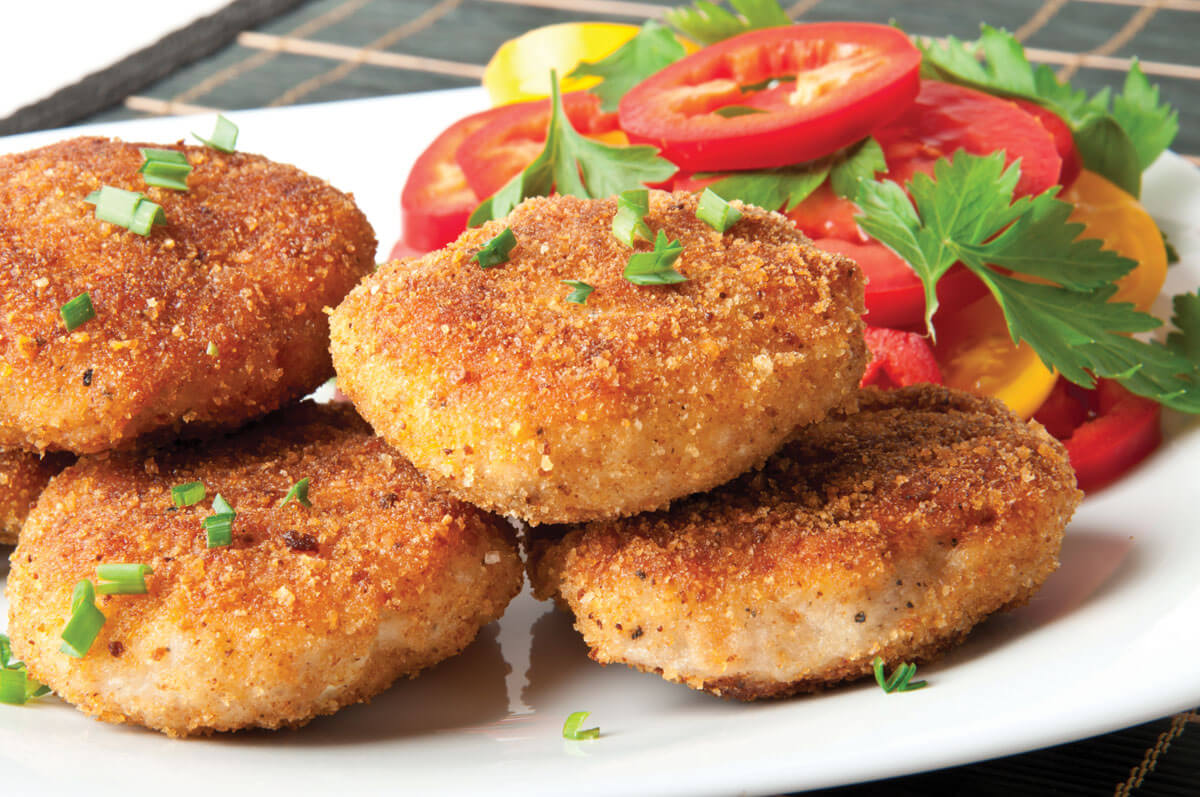 Belgians respect fish, the king of the national cuisine is eel. The most popular recipe is eel in greens, even pâté is prepared from the meat of this fish.
Another popular type of fish is herring, which is cooked in different ways. Be sure to try the Flemish-style cutlets, which are made from minced herring with the addition of onions, garlic, white bread pulp, eggs and capers.
In Belgium, this dish is necessarily served with the type of beer used for cooking. The beef is stewed in a pot with a thick bottom. It is believed that the next day it becomes even tastier and richer. The traditional side dish to the meat is potatoes in any form and vegetables.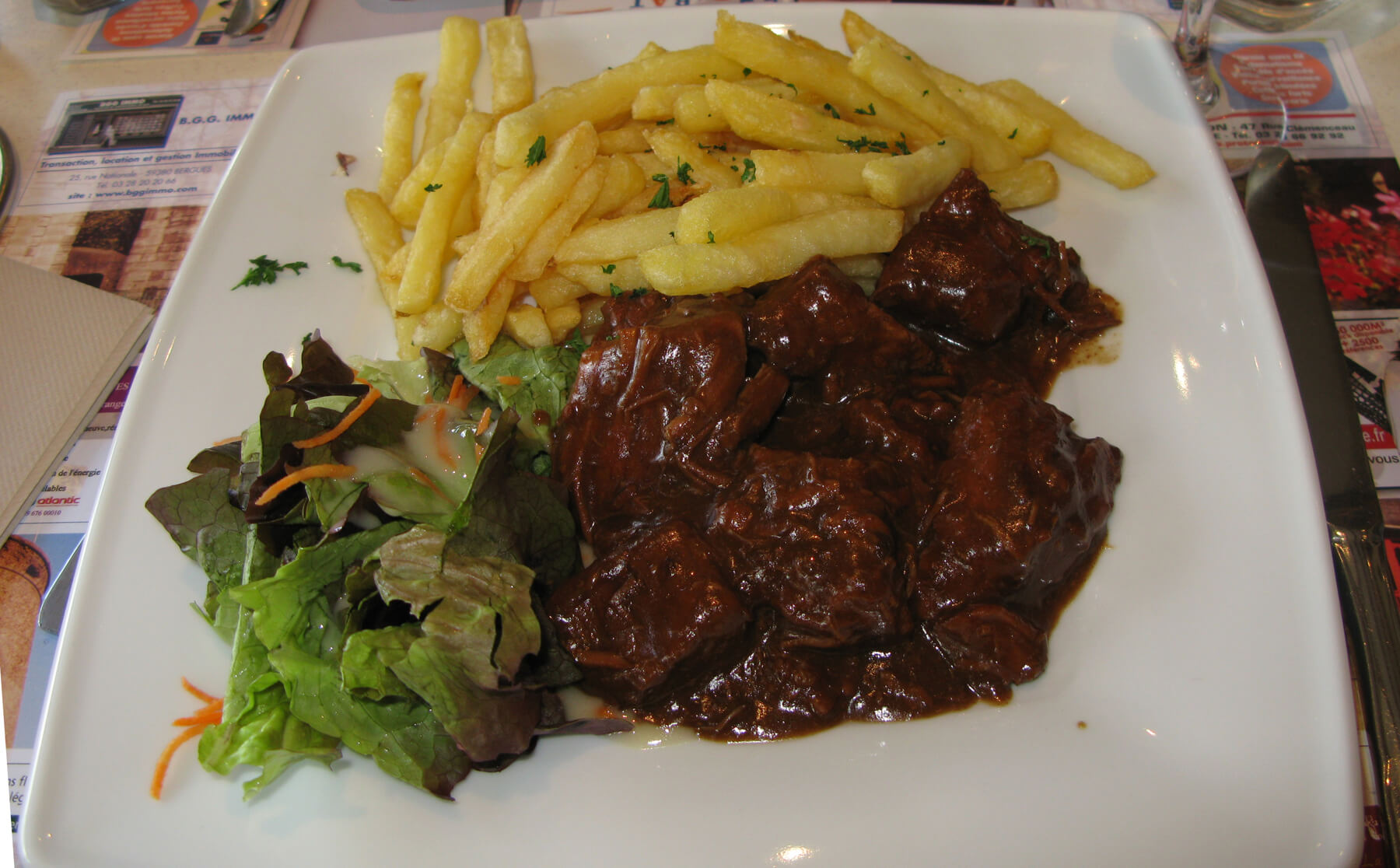 Interesting to know! In Belgian cuisine, special attention is paid to the reconstruction of ancient recipes, such as goulash Flemish-style. It was served in Belgian taverns to nobles and nobles.
A piquant feature of this dish is a thick sauce. It is prepared in the following way – 15 minutes before it's ready the bread crumb smeared with mustard is put on the meat. A few minutes before cooking the ingredients are mixed and the bread is evenly distributed in the sauce from the broth and beer.
Desserts
Sweet dishes are also not neglected in Belgian cuisine. There are pies, tarts, brioches, muffins, gingerbread and, of course, waffles and chocolate.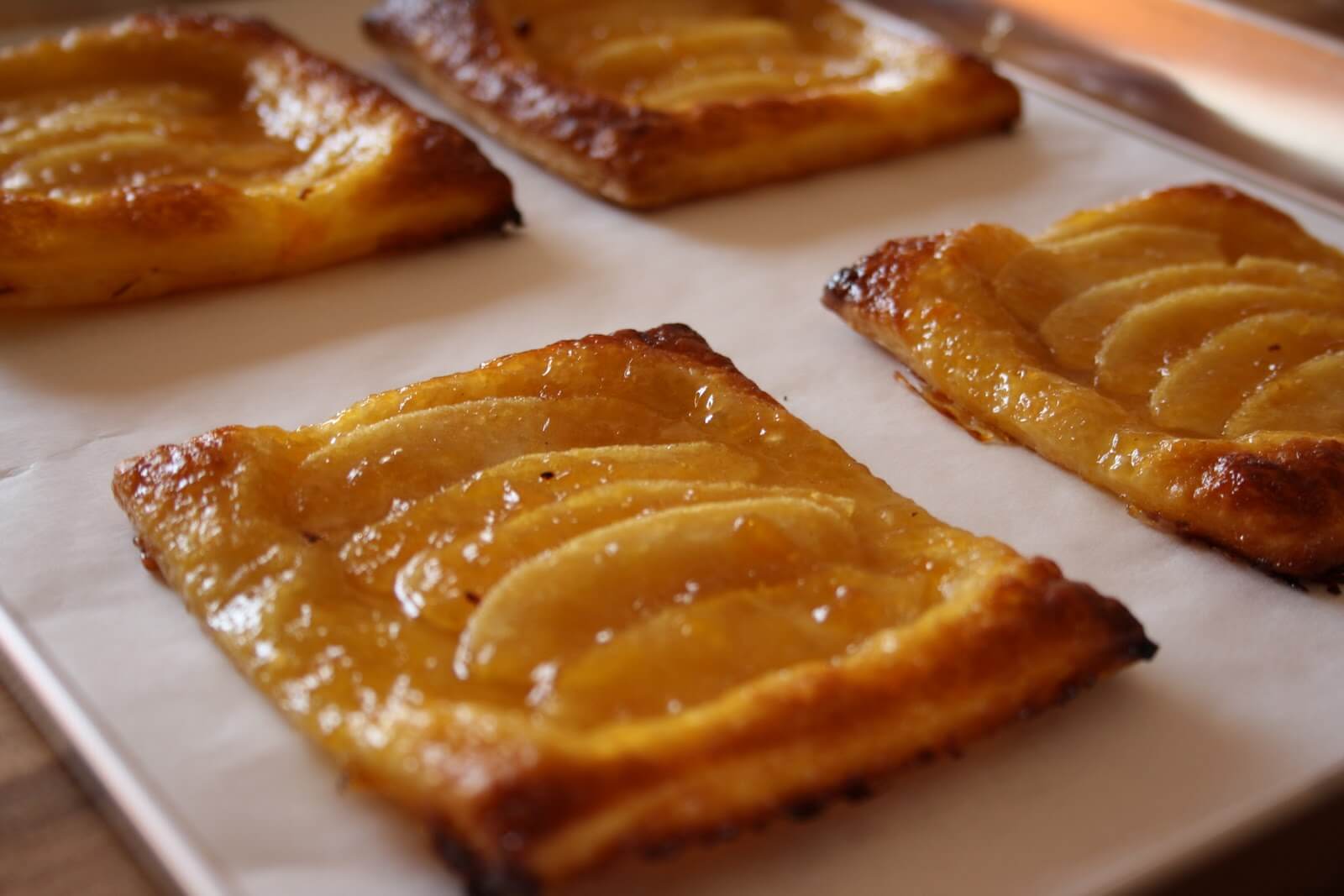 The dessert is sour-sweet and flavorful, and children and adults alike would love to try it. Apples with a slight sourness are used, peeled from the skin and seeds. The apple is stuffed with a mixture of jam and cinnamon. Roll out the puff pastry as a sheet, cut it into squares and wrap the fruit. Place the envelopes on a baking tray, brush with egg and bake until the dough browns. Sprinkle with powdered sugar before serving.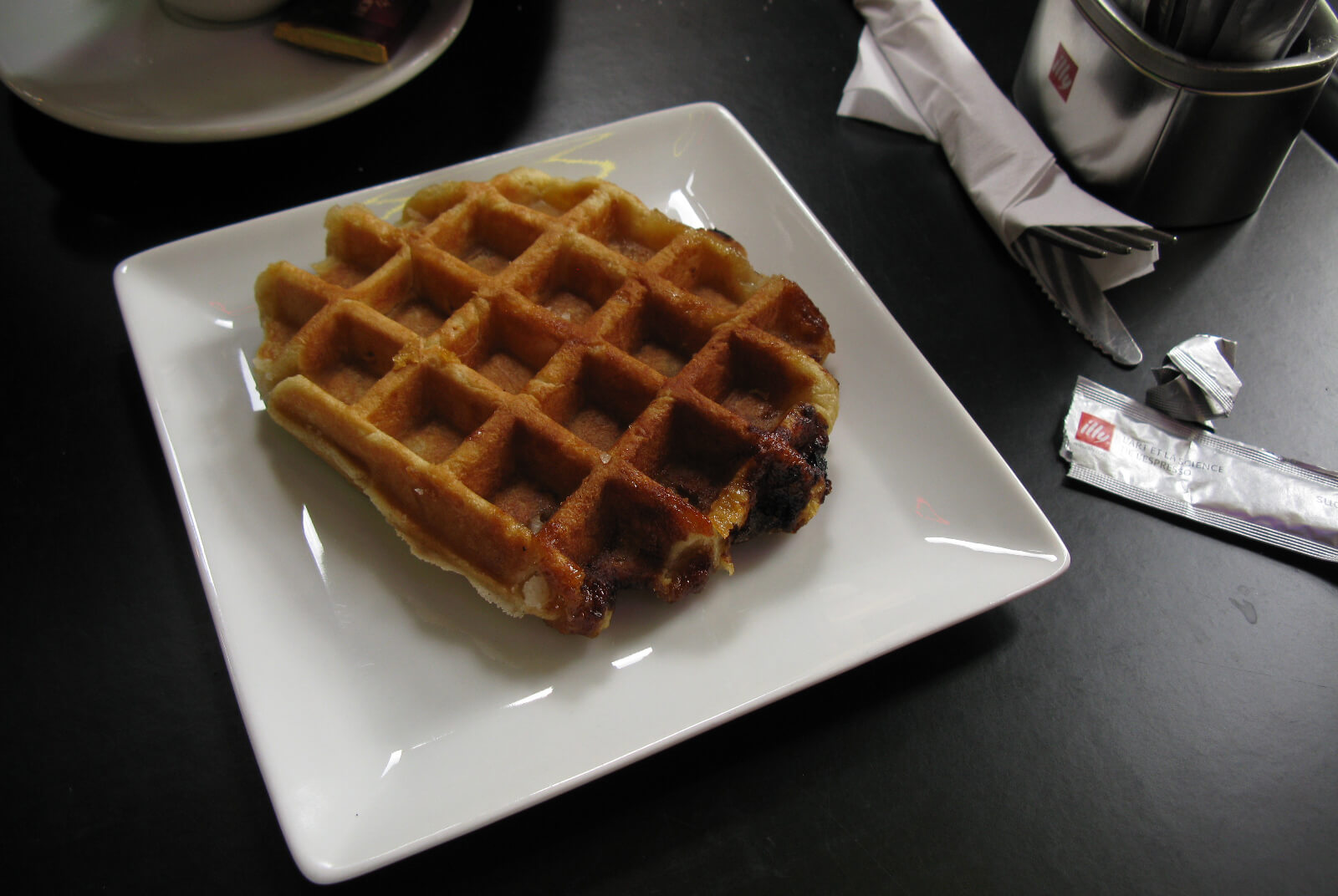 World popularity waffles became popular after Expo 1958. Liege waffles, unlike their Brussels counterpart, are softer, sweeter and more oval or round. They are hearty and their secret ingredient is "sugar pearls". The dessert is served with hot chocolate, whipped cream and various fruits.
Local produce worth tasting
What to try in Belgium? Local produce, of course.
Belgian chocolate is a national pride. A sweet of the highest quality. With chocolate, the masters make treats from small candies to huge compositions.
An interesting fact! Belgium's chocolate consumption is the third highest in the world, behind only Switzerland and Germany.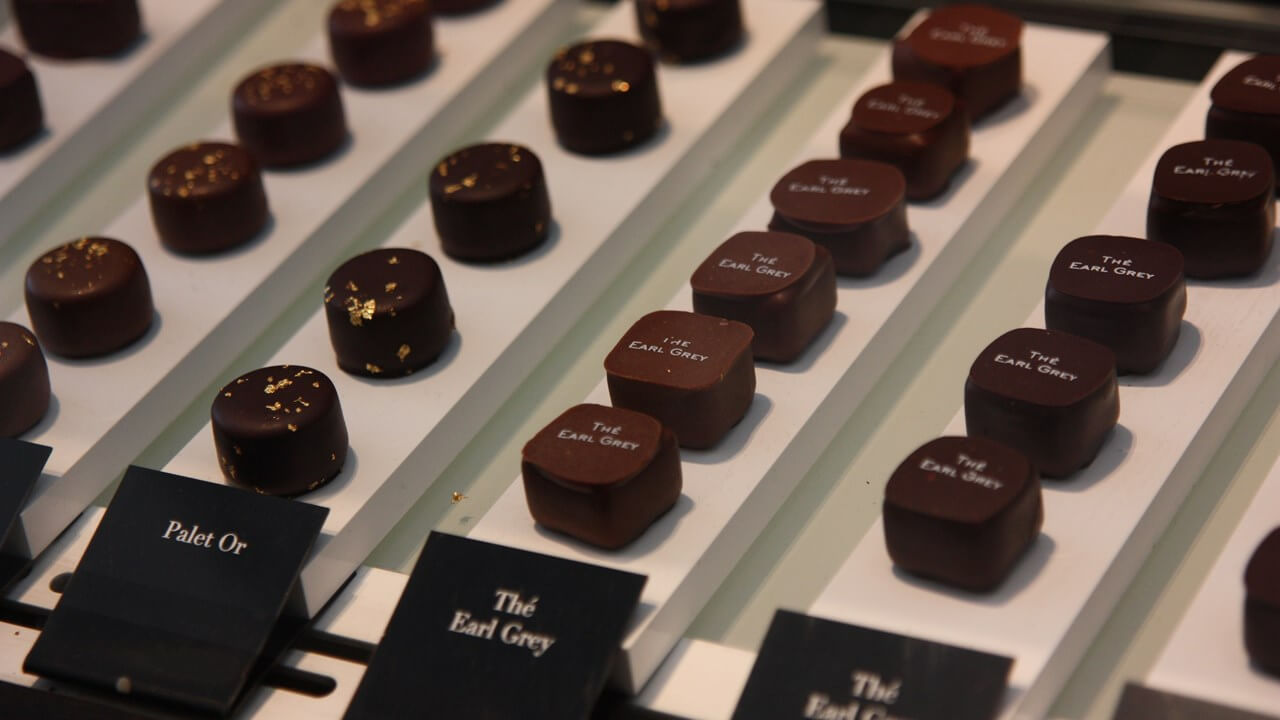 The best way to buy chocolate is in private shops, where it is made by hand. The most popular sweet is Pierre Marcolini's chocolate, and there are several chocolate stores in Brussels named after the master.
What you can go crazy about in Belgium is the abundance of cheeses. They are made according to traditional recipes and exclusive recipes, with the addition of herbs, nettles, spices and nuts.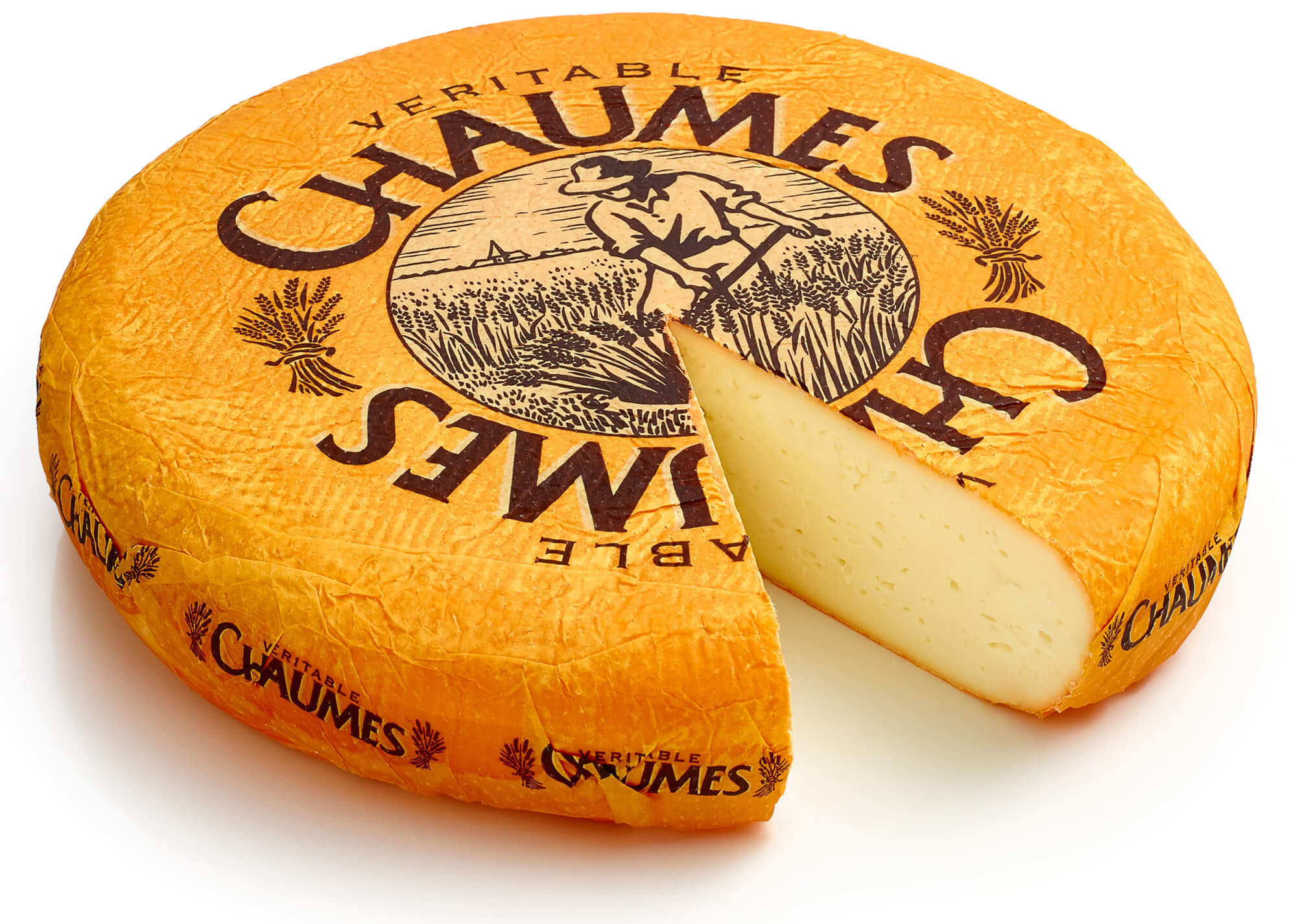 Some varieties have too spicy smell – Camembert, Hevre, Chaumes.
A large group of cheeses with mold – gorgonzola, Roquefort. Goat cheese and rambol with spicy herbs are popular. Belgians are especially fond of the "old" cheese varieties; they even have honorary names for them: Old Bruges or Old Brussels.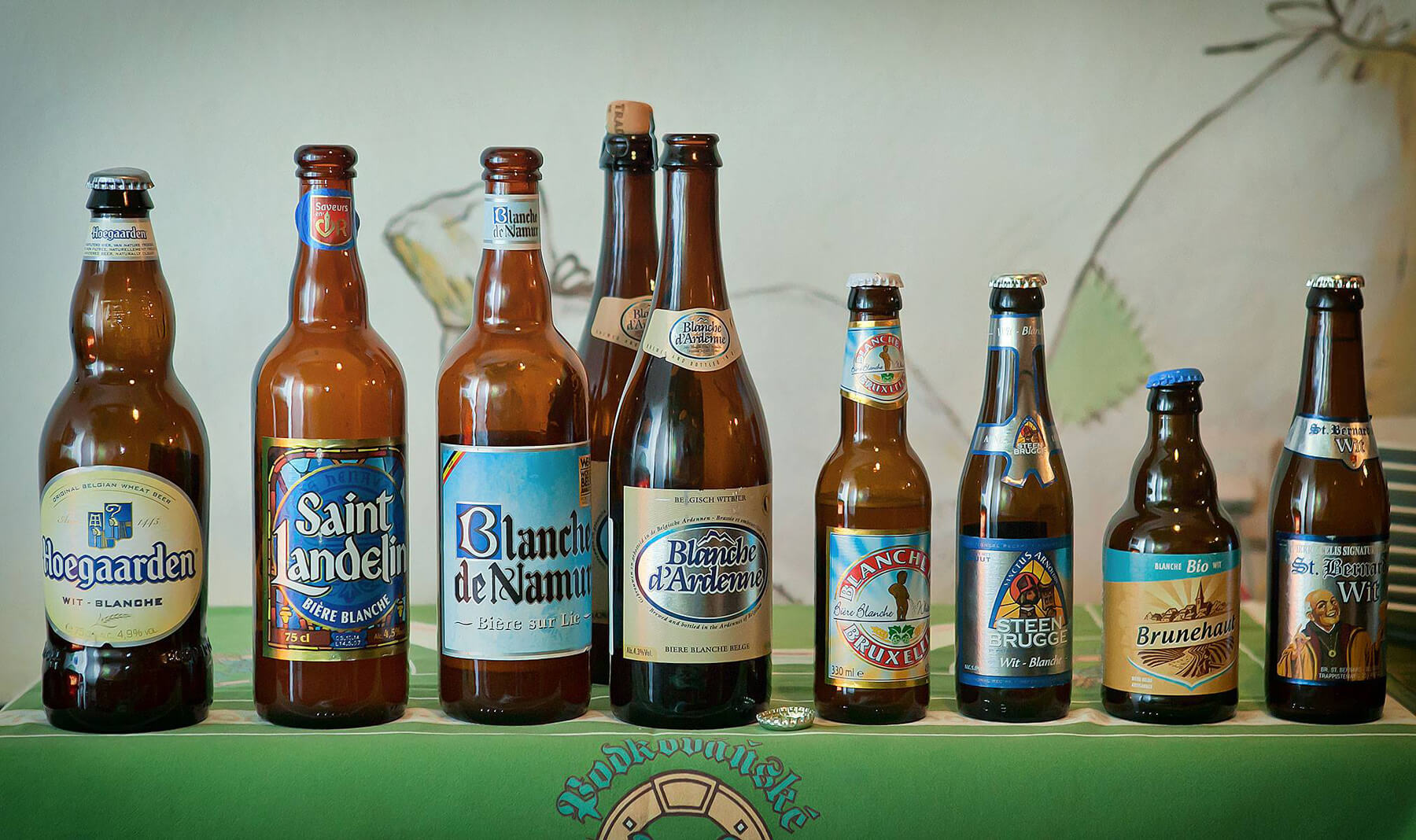 It is impossible to imagine Belgian cuisine without beer. The country produces more than a thousand varieties of beverage, which are exported to dozens of countries around the world. Beer brewed in Belgium, on its taste qualities is not inferior to the magnificent German drink. Local brewers use their own secret ingredients that give beer a unique flavor, such as fruit, rice, and honey.
The most famous varieties are Lambic, Kriek, Gueuze, and Trappist.
Belgian cuisine attracts the attention of millions, people come here to try colorful treats from a wide variety of products. Be prepared to be asked what you ate, not what you saw, when you return from your trip.
Video: peculiarities of the cuisine of the Breughel era, secrets of dishes from Belgian chefs.
Author: Julia Matyukhina
Updated: 23 Mar, 2021 The national cuisine of Sri Lanka is characterized by spiciness and…
Updated: 10 Aug, 2021 Turkish cuisine is full of all kinds of dishes with unique flavor variations…
Updated: 30 Apr, 2020 In the land of scorching deserts, the mix of religions and eternal…