Beaches in Sri Lanka
This catalog compiles the beaches of Sri Lanka – popular and secluded, built up along and across and virtually untouched by man, with a big wave and quiet, located on the west and east coasts. For search convenience the beaches are marked on the general map. All sites are provided with descriptions, photos, video, and where possible, and panoramas.
Exotic island of Sri Lanka attracts many people. And it has a lot to love: the many kilometers of sandy beaches, idyllic coconut palms and a truly endless season. Air temperature, as well as water temperature during the year varies between two or three degrees, which can only dream of the Mediterranean resorts (they have a gap of ten degrees is the norm).
The specificity of Sri Lanka and its beach vacation is due to the weather conditions, and above all – the geographical location. The subequatorial monsoon climate, in which the island lies, is a pronounced division into the dry season and the rainy season. While on one coast the elements rage (huge waves, regular downpours), on the other the sun shines brightly and it's really hot.
The beaches of the southwestern coast of Sri Lanka rest from October to May, the beaches of the northeastern coast, of which there are not so many – from May to October. This point is described in more detail in the Weather in Sri Lanka .
To decide on a holiday destination, read travelers' reviews of Sri Lanka. Tourists share their impressions, valuable information and colorful photos.
Best Beaches in Sri Lanka
Hikkaduwa Beach stretches in the southwest of Sri Lanka. Since it is the first on the island to receive foreign tourists.
Jungle Beach is a small sandy beach on the south coast of Sri Lanka, located in a bay among tropical.
Unawatuna Beach is located in the south of Sri Lanka and is one of the most popular beaches on the island. It attracts.
Uppuveli (sometimes called Upuveli) is a sandy beach in the popular northeastern Sri Lanka resort.
Nilaveli Beach is a long and sparsely populated beach on the northeast coast of Sri Lanka.
Tangalle Beach lies on the south coast of Sri Lanka, 196 km from Colombo. This beach is invariably included in the .
Wadduwa Beach is located in the resort of the same name on the southwest coast of Sri Lanka, near its .
Dikwella Beach is located in the town of the same name on the south coast of Sri Lanka, washed by the Indian Ocean.Beautiful .
Beaches in Sri Lanka on the map.
Tranquil beaches for swimming
The very first surprise that tourists have when they first arrive on the island: why are there waves in the water all the time? It just can't be any other way. Even so, the beaches of Sri Lanka without waves does not exist, as taken care of by the Indian Ocean that washes the island. One salvation is the small lagoons and coves with relatively calm backwaters, which are all along the coast.
For example, on the beach of Velighama, firstly, gentle approach to the water (50-100 m not very deep), and secondly, there is a bay, and the waves subside for 300 meters from the shore, so that here parents with children actively go.
Hikkaduwa Beach is protected from the power of the ocean by a kilometer-long lagoon with coral reefs and rocks. The same is true of Unawatuna Beach, where you can swim comfortably even for those who are afraid of waves. Nearby is Jungle Beach, where there are virtually no waves. The cozy bay of Dickwell Beach and the lagoon of Mirissa also makes for a pleasant swim.
To the east, there are beaches in Sri Lanka with a calm ocean, such as Uppuveli, Kalkuda.
In Sri Lanka, like nowhere else, it is important to stay safe in the water. The most important thing is not to get into the water if you are not sure of your abilities. Oceanic waves are powerful and merciless, so if you have even minor doubts, do not even close to the shore.

Beautiful beaches of Sri Lanka
One of the most picturesque beaches of the island recognized the beach of Bentota. The secluded beach of Tangalle is not inferior to it. On the shore of the bay stretches the already mentioned beach of Velighama with lush vegetation and fine sand.
Romantic scenery is a feature of Dickwell Beach, where romantic couples invariably meet. An incredible sunset awaits at Induruwa beach. Kalutara beach also deserves praise for its wide strip of sand.
The dream of any resort – white beaches – in Sri Lanka is absent as a class: there is no snow-white beaches like in the Philippines or Phuket, the sand is mostly light yellow or ochre.
Almost all the beaches in Sri Lanka can be called beautiful, the only difference is that some beaches have not yet reached the mass tourists.
Beaches in Sri Lanka for recreation with children
To choose a beach for recreation with children is not an easy task, because it is worth taking into account many factors. First of all, it is not characteristic for Sri Lanka lack of strong waves. Also decisive are the purity of the coastal strip and a gentle entrance to the water.
Usually, tourists with children do not go in search and choose the popular Unawatuna beach. The water here is quite clean, as the beach is located in a small lagoon.
Also a distinctive feature of the beach is a gentle entrance into the water. The natural shade is created by a strip of palm trees. It is worth being careful not to spend time under the coconut palms, it can be dangerous.
One of the main beaches of the island has all the necessary infrastructure for recreation with children – showers, toilets, sun loungers and eating facilities. A big disadvantage is the crowdedness of Unawatuna Beach. In the high tourist season, noise and crowds can interfere with a full quality rest. On the other hand, among the many small vacationers child can find a company to play.

Easy to rest with the kids can be called the beach of Bentota. By Lankan standards, the beach is fairly clean and well maintained, the sand is uniform without inclusions, the depth increases gradually. The beach is conditionally divided into southern and northern parts. For a holiday with children you should choose the northern beach due to the lack of strong waves.
Many families with children prefer a quiet and comfortable beach Dikvella. Rich entertainment infrastructure beach can not boast, but the coast is rarely a strong wind and waves. Dikvella is divided into three beach areas: the large and two smaller ones, following it. The calmest zone is right behind the big beach.
The best beaches for children are in bays sheltered from the wind and, consequently, from strong waves. Some of these beaches are Uppuveli and Nilaveli. The beaches of Trincomalee are quite calm coast with developed infrastructure and not the largest number of holidaymakers.
Fine uniform golden sand, comfortable and gentle entrance to the water, tourist entertainment infrastructure – all this is about the beach of Mirissa, which is the best suitable for young travelers.
For children's holidays should choose the eastern part of the beach, as the sea in the lagoon is almost always quiet. A distinctive feature of the beach is that here live large turtles, the meeting with which – the dream of every child.
For lovers of secluded holidays suit the sandy part of the beach Maravila. The shoreline is occasionally interrupted by stone placers, and you should choose those areas for swimming, which are located closer to the hotels. The beach is located away from the hustle and bustle of the city. If you are lucky, you can meet turtles on the shoreline.
5 Star Hotels with its own beach
Own beaches in hotels have long been a guarantee of comfort and a good rest. There are a lot of advantages of such hotels. More and more families with small children choose this type of accommodation, because hotels with private beaches can avoid a lot of extra trouble and sometimes cost.
Typically, the cleanliness of the coastal strip is carefully monitored by hotel staff, thus maintaining a high level of service and comfortable recreation.
The best 5 * hotels in Sri Lanka with private beach:
Riu Sri Lanka (tours on level.travel , Onlinetours , Travelata )
Amari Galle (tours on level.travel , Onlinetours , Travelata )
Royal Palms Hotel (tours on level.travel , Onlinetours , Travelata )
Serene Pavilions (tours on Onlinetours , Travelata )
Taj Bentota Sri Lanka Resort And Spa (tours on level.travel , Onlinetours , Travelata )
Cinnamon Bey (tours on level.travel , Onlinetours , Travelata )
Saman Villas (tours on level.travel , Onlinetours , Travelata )
4 Star hotels with a private beach
Also in Sri Lanka you can find a number of more affordable hotels. According to reviews of vacationers, the level of service in four-star hotels is high enough, and prices are slightly lower than in 5-star hotels.
First-line hotels in Sri Lanka usually isolate part of the general beach and put up some deckchairs for their guests.
The 10 best 4* hotels with a private beach in Sri Lanka:
Coco Bay Unawatuna (tours on level.travel , Onlinetours , Travelata )
Bentota Beach By Cinnamon (tours on level.travel , Onlinetours )
Mount Lavinia (tours on level.travel , Onlinetours , Travelata )
Avani Kalutara (tours on level.travel , Onlinetours , Travelata )
Anantaya Chilaw Resort & Spa (tours on level.travel , Onlinetours , Travelata )
Oak Ray Haridra Beach Resort (tours on level.travel , Onlinetours , Travelata )
Ranna 212 (tours on level.travel , Onlinetours , Travelata )
Kamili Beach Villa (tours on level.travel , Onlinetours , Travelata )
Heritance Ayurveda Maha Gedara (tours on level.travel , Onlinetours , Travelata )
Jetwing Sea (tours on level.travel , Onlinetours , Travelata )
3 Star hotels with private beach
Those who want to save money and not lose comfort should consider three-star hotels in Sri Lanka. The demand for such hotels is quite high, especially during the high tourist season, so you should take care of booking in advance.
The best 3* hotels in Sri Lanka with private beach:
Tangerine Beach (tours on level.travel , Onlinetours , Travelata )
Club Hotel Dolphin (tours on level.travel , Onlinetours , Travelata )
Mermaid Hotel & Club (tours on level.travel , Onlinetours , Travelata )
Coral Sands Hotel (tours on level.travel , Onlinetours , Travelata )
Koggala Beach Hotel (tours on level.travel , Onlinetours , Travelata )
Blue Beach Wadduwa (tours on level.travel , Onlinetours , Travelata )
Cool Beach Hotel (tours on level.travel , Onlinetours , Travelata )
Private Sri Lanka Guides
Russian private guides will help you to learn more about Sri Lanka. There are 2 registered Russian guides in Sri Lanka.
Beaches of Sri Lanka with hotels and points on the map [15 best].
November 2018 (updated: 20.11.2018) 2
Check out the best beaches in Sri Lanka. Ceylon is a huge island surrounded on all sides by ocean. There are so many beaches in Sri Lanka that it would take more than a month to see them all. We will tell you and show you the beaches that travelers choose when they come to vacation in Sri Lanka on a trip or on their own.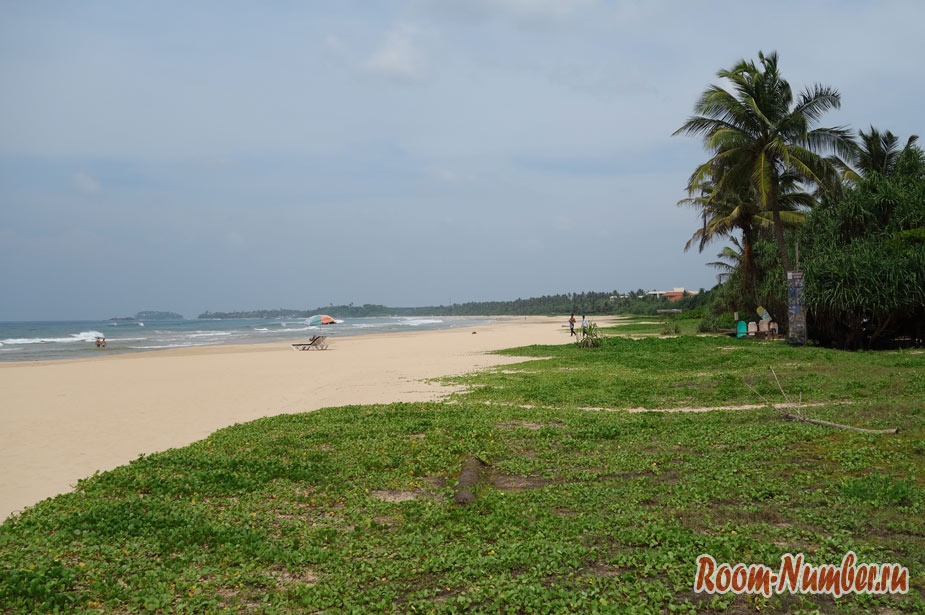 Endless Beaches in Sri Lanka
The most popular beaches in Sri Lanka
What most beaches in Sri Lanka have in common is the yellow and coarse sand, high waves, the length of the coastline. At first it may seem that all the beaches in Sri Lanka are very similar to each other. After a closer look, you will notice some differences. For example, somewhere will be tall palm trees, and moving south of the island, the water becomes more blue.
Large ocean waves in Sri Lanka are always and on all beaches. Only a few enclosed small bays allow you to swim with minimal or no waves.
From Negombo and down to Hikkaduwa, sun loungers on the beaches are rare, and there are no beach restaurants at all. In Sri Lanka, beach activities are not developed. Jet skis were seen only in Mirissa. But locals offer boat rides or fishing.
Molestation of tourists on the beach in Sri Lanka is practiced everywhere. Merchants, guides, beach fights. It is best not to communicate with these people, completely ignore them, then leave them alone.
All major beaches in Sri Lanka are marked schematically on the map: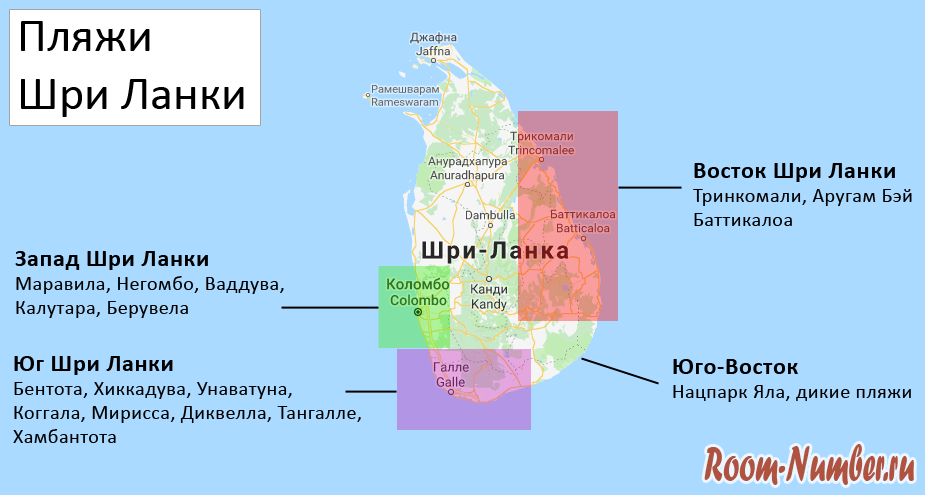 Let's start in order from north to south.
Negombo
The beach Negombo beach is very long, sparsely populated, but not the cleanest in Sri Lanka. Suitable for those who want to quickly get to the nearest beach from the airport. Negombo is definitely not the place to go for the whole vacation with the hope of swimming in the ocean. Read a detailed review of Negombo in our report.
For accommodation in Negombo, we have a selection of hotels with good reviews on our blog. Of the hotels within walking distance of the shore, the following good options can be highlighted:
Heritance Negombo
Cloud 9 Boutique Hotel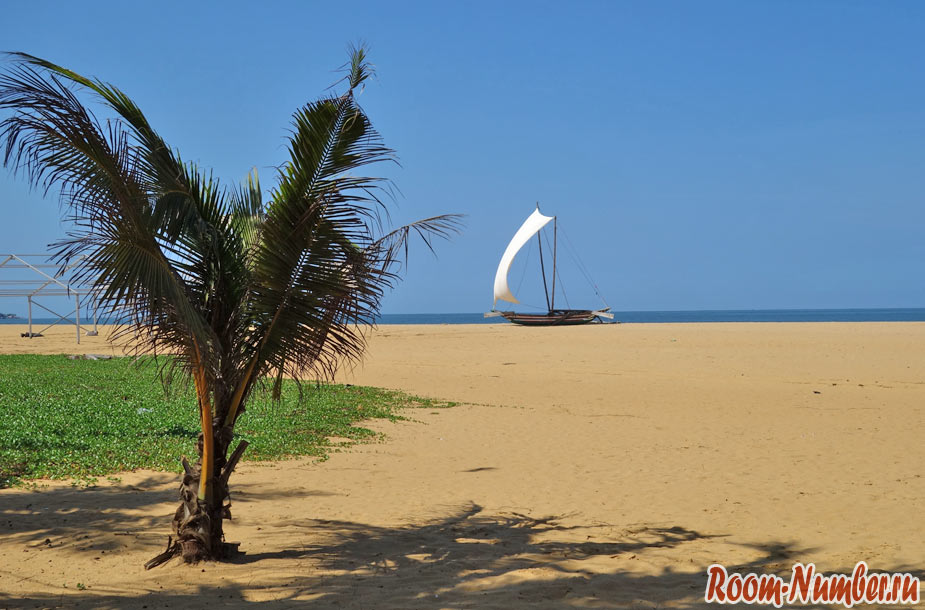 Marawila
The beach Marawila beach is about 20 km north of Negombo and is a kind of continuation of the beach. However, the views are a bit more picturesque, there is more greenery and less people. Where to stay in Marawila:
Club Palm Bay
Solomon Beach Hotel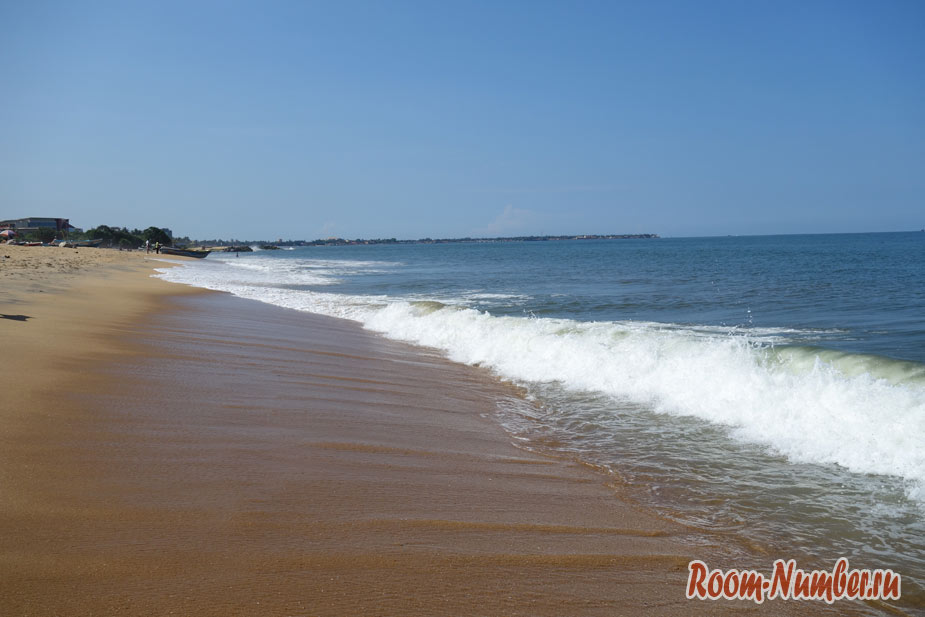 Vadduva
Wadduwa beach is very secluded and non-touristy. Apart from the fishermen, there is not much to see on the beach. The beach is visually beautiful, thanks to the high hanging palm trees. Read more about Vadduva in our review.
We have a separate article about hotels in Wadduwa. The most popular first-line hotels are:
The Blue Water
RajMahal Inn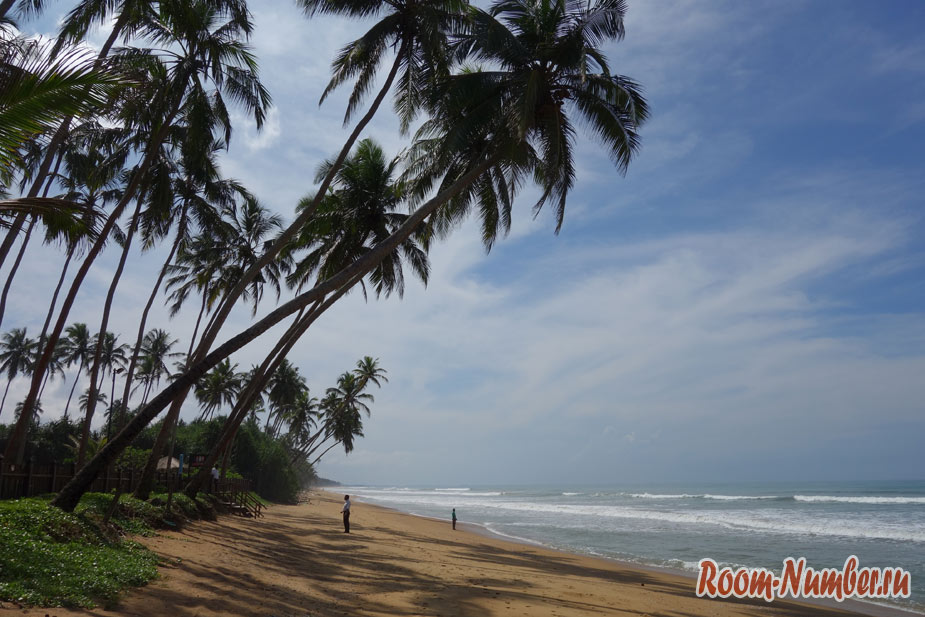 Kalutara
Kalutara beach is suitable for vacation if you choose the right hotel with its own beach. A good five-star hotel with a pool and manicured grounds. Then there will be a less clean beach and a minimum of intruders. The ocean in Kalutara is dirty, the waves are big, it is not a good place for swimming in Sri Lanka. For more information. The best hotels in Kalutara:
AVANI Kalutara Resort 5*
Anantara Kalutara Resort 5*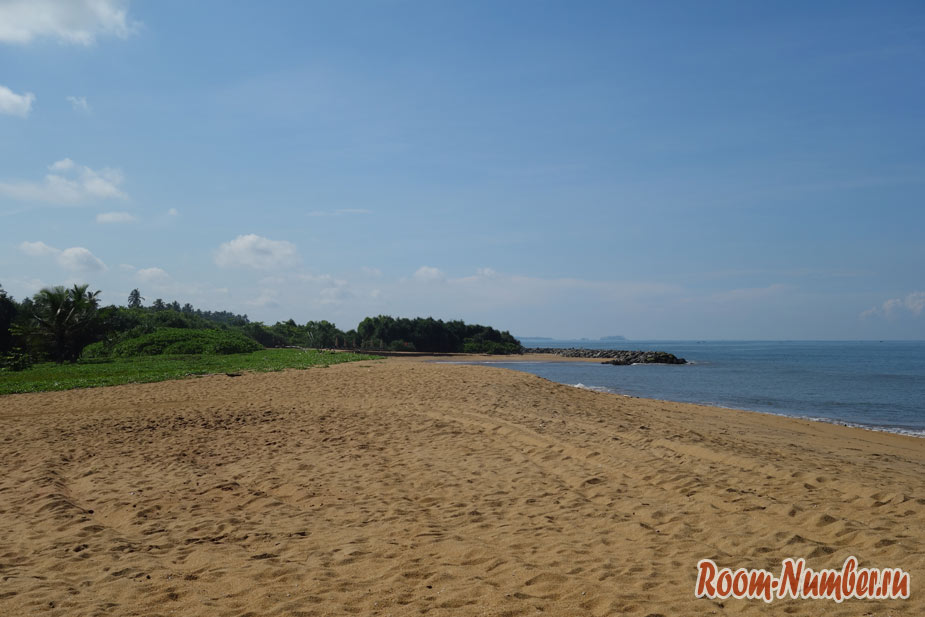 Beruvela
The Beruwala area is not really suitable for a full beach vacation. Beruwala is a fishing village. The smell of fish, a lot of people and questionable cleanliness around. But there are a few beaches without waves a little away from the fishing villages, where you can swim. The best hotels with their own beach in Beruvel:
Cinnamon Bey Beruwala.
Ypsylon Tourist Resort
Bentota
Bentota Beach is one of the most touristy beaches. Located relatively close to the airport, it has the best sand. Bentota – almost the only beach with white sand in Sri Lanka. Also in Bentota low waves, so you can swim. The long coastline on which you can walk for hours. Read more.
Lodging in Bentota is divided into luxury hotels on the front line and gesthouses behind the railroad. We stayed in an inexpensive gesta behind the railroad. I won't say it's stressful to cross the road, and there's virtually no noise from it, but it's still better to check in closer to the ocean. The best hotels:
AVANI Bentota Resort
Centara Ceysands Resort & Spa
EKHO Surf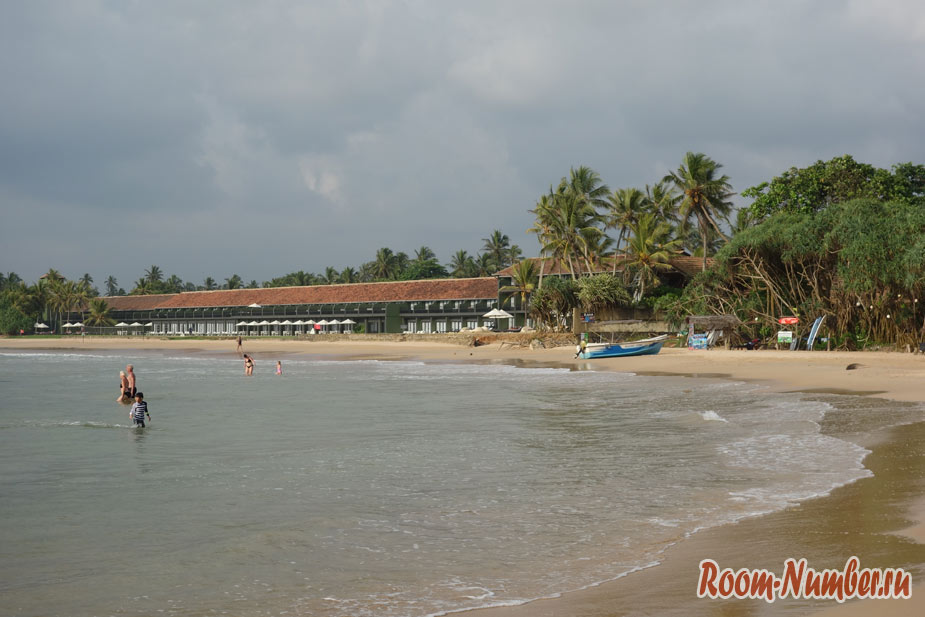 Hikkaduwa
Hikkaduwa beach is one of the most popular beaches in Sri Lanka, there is a fairly developed area. On the one hand Hikkaduwa is suitable for swimming with children. No waves in Hikkaduwa bay near the hotel Hikka Tranz. The other part of it is given to surfing, as there are huge waves. Starting from Hikkaduwa, restaurants overlooking the ocean will begin to appear on the beaches. Read more about Hikkaduwa.
There are plenty of hotels in Hikkaduwa, with prices ranging from cheap gestos to four and five-star hotels with their own beach. See our selection of the best hotels in Hikkaduwa. We stayed at the Hotel Kai. A new and inexpensive 4-star hotel, located almost in the center, across the street from the sea.
The best options for vacationing on Hikkaduwa beach:
Hikka Tranz by Cinnamon
Coral Sands Hotel
KAI Hotel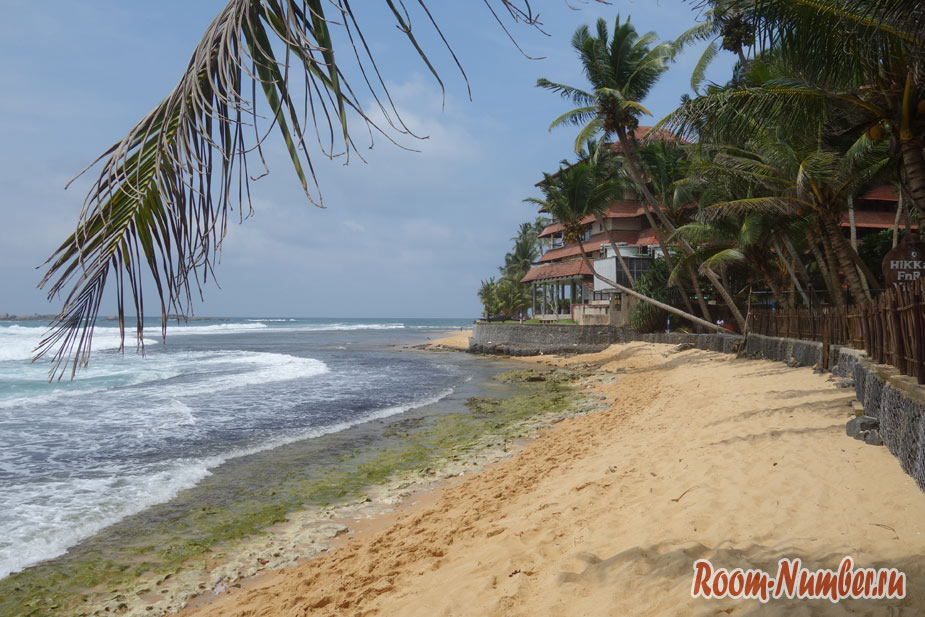 Unawatuna
Beach Unawatuna the most popular beach in Sri Lanka. And not without reason. Unawatuna is the bluest water and minimal waves. Suitable for recreation with children and even for those who can not swim. In addition, a very developed area. Learn more.
A lot of inexpensive housing, there are hotels right on the beach. The most popular options for stopping in Unawatuna:
Calamander Unawatuna Beach Resort.
SHORE by HOPPA
The Lodge Unawatuna.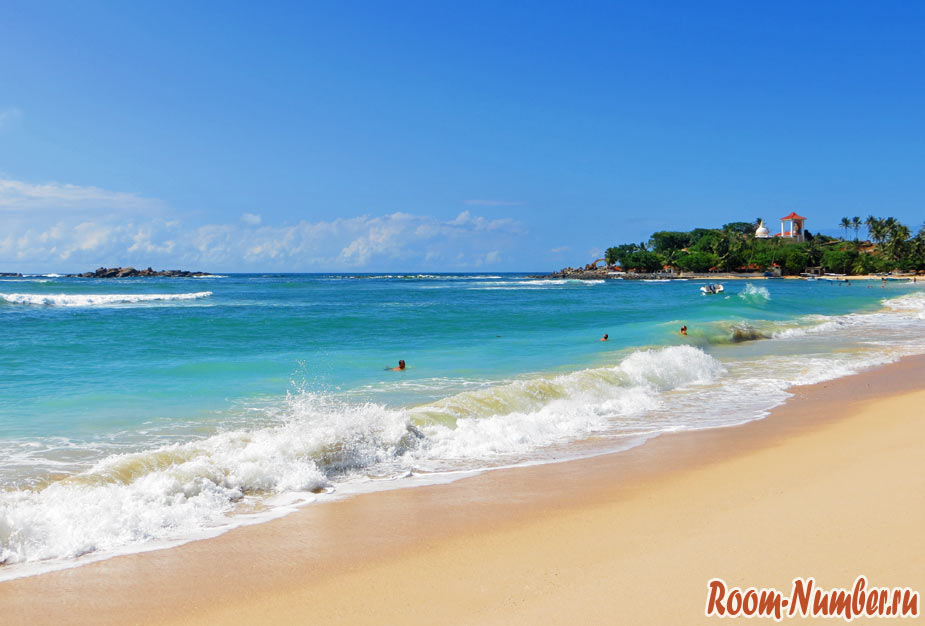 Koggala
Koggala beach is several miles of deserted ocean beach with yellow sand and palm trees. It can be classified as a wild beach, despite the 10 hotels. It is not safe to swim fully, as the waves are big and the beach is not monitored outside the hotels. Read more about Koggala in our report. Where to stay:
The Fortress Resort & Spa.
The Long Beach Resort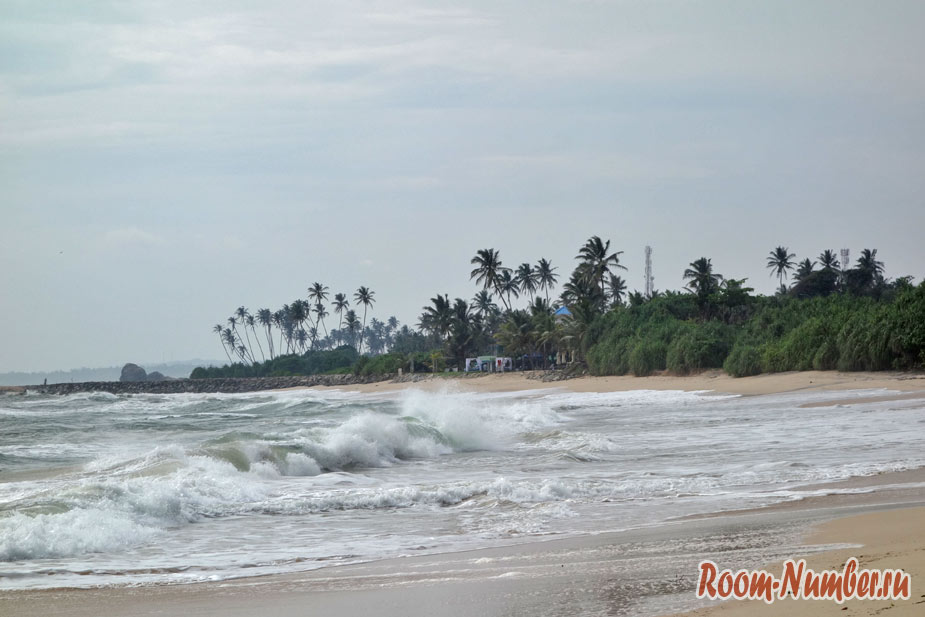 Weligama
Weligama beach refers more to beaches for surfers, Weligama bay is cute and partyy, the twist is definitely there. A selection of hotels in Weligama. Good options for a stopover:
Weligama Bay Marriott Resort.
W15 Hotel Weligama
Mirissa
Mirissa beach is good for everything. Beautiful coastline, unique views, clear water. It is possible to fight the high waves or find a secluded corner where there are no waves. Learn more about Mirissa in our review.
Of accommodations, the gesthouses dominate. Most are close to the ocean. In Mirissa we stayed at the Ocean Reach gesture for $30 a night, a 3-minute walk from the beach. We've compiled a list of the best hotels in Mirissa based on reviews and location.
Ocean Reach Holidays.
Citrine Mirissa
Blue Whale Holiday Hotel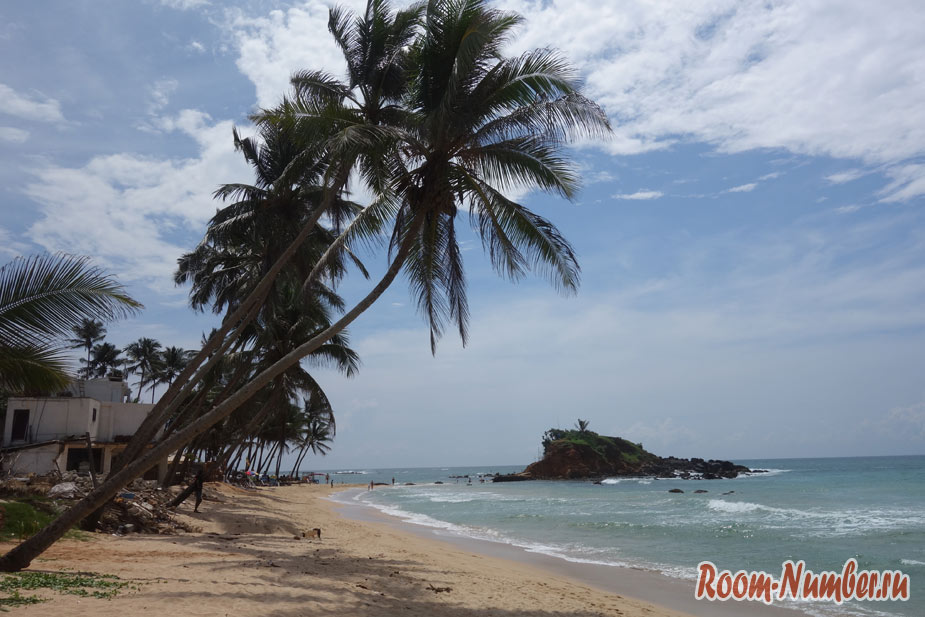 Matara
The beaches in Matara are wild, urban, fishing and dirty. The coast of Matara is more for contemplation than swimming. No one properly takes care of it, so the beach is public in every sense of the word. For a stopover in the area, it's best to choose the neighboring villages of Mirissa or Dikvella.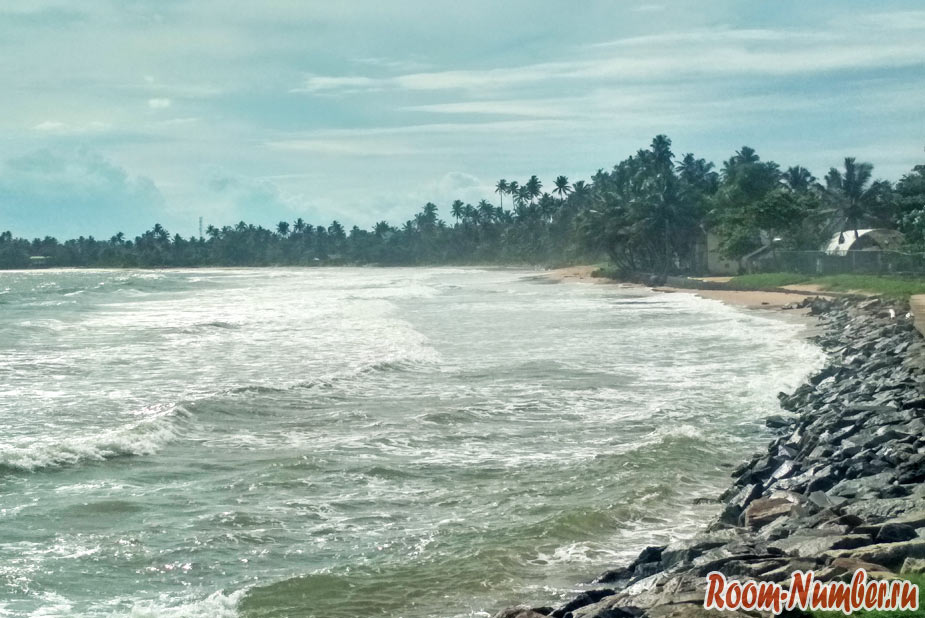 Dikwella
Dikwella beach is not the most popular beach in Sri Lanka. The beach is little known among tourists. A large deserted cove. There are waves in Dikwella, as elsewhere in Sri Lanka, but nearby there is a picturesque beach without waves Hiriketeya, which can be reached on foot. Of the accommodations in Dickwella worth considering are these hotels:
Crystal Resort Dickwella.
Dickwella Resort and Spa
Dickwella Beach Hotel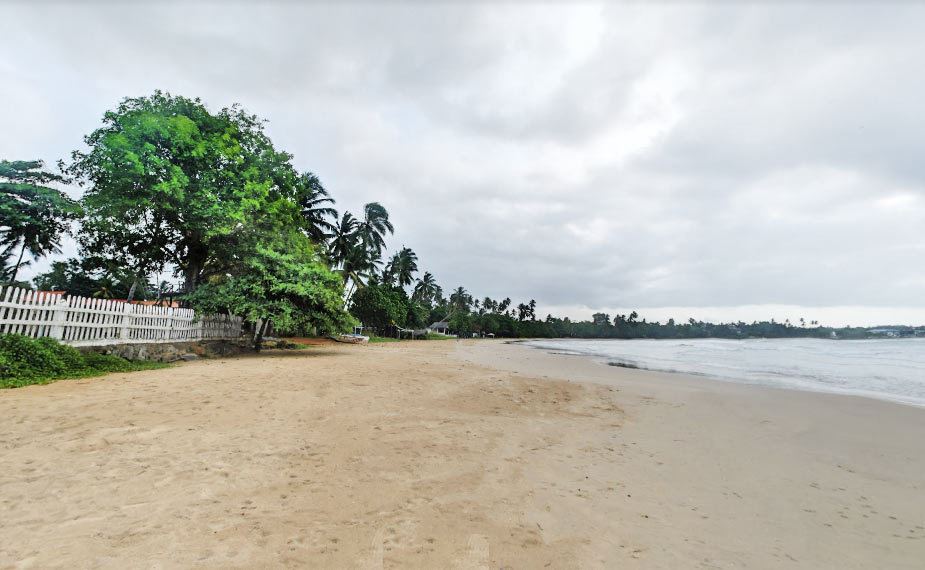 Hiriketiya
Hiriketiya Beach is a secret beach. It is a small cove, popular with surfers, but there are places for swimming without any waves. One of the few beaches in the country with quiet, calm, and blue water. Point on the map. Hotels on Hiriketiya beach:
Pepper Hiriketiya
Dots Bay House
Salt House
Tangalla
Tangalla beach is preferred by advanced tourists, because this beach is one of the farthest in Sri Lanka. Despite the fact that it does not stand out too much for any features, many appreciate it for its seclusion. In general, it is an ordinary beach for Sri Lanka, like dozens of others. It's long, with yellow sand, big waves, and not the best choice of hotels. But a few good lodging options are available here:
Golden Pearl Tangalle.
Sea View Tourist Inn
Anantara Peace Haven Tangalle Resort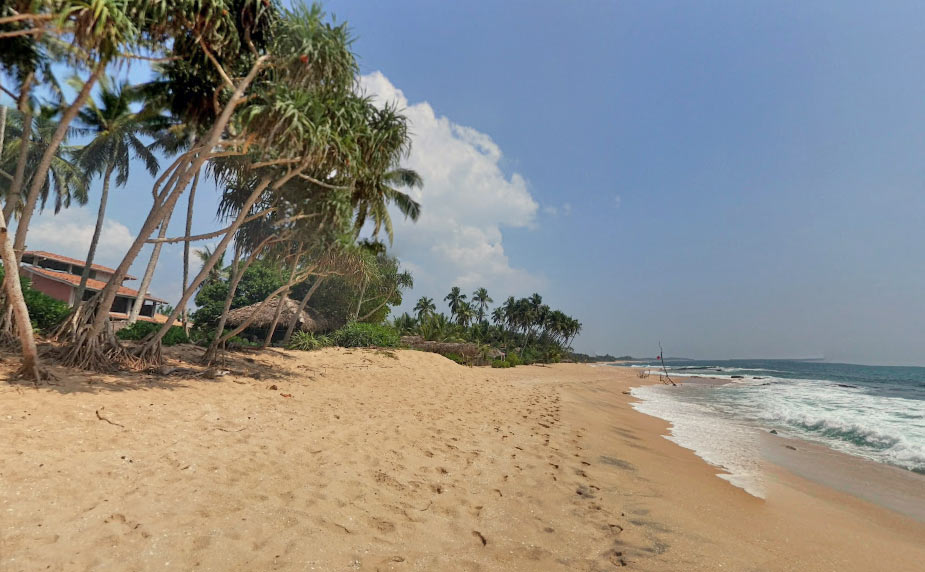 Which beach to choose in Sri Lanka
The best beaches in Sri Lanka are Hikkaduwa, Unawatuna and Mirissa. For most tourists, they will be the best choice. These beaches are good in their own way, each of them offers an unforgettable vacation. You can also add Bentota to this list, but this area is underdeveloped, there are few cafes and tourist infrastructure.
The little-known and non-tourist beaches are usually untidy and littered. There are a lot of fishermen and dogs on them.
If you go to areas such as Negombo, Vadduva, Kalutra, then check into a good expensive hotel and be prepared to eat in the hotel restaurant, as nearby there may be nothing.
Other than resting in the hotel and sightseeing, tourists in such places have nothing to do and nowhere to go.
The remote beaches of Sri Lanka, such as Dikwella, Tangalle or Hambantota, are suitable for lovers of deserted ocean coast. There are many hotels, where within a few kilometers there is nothing, no cafes or houses. Not everyone will like this, so keep this feature in mind.
Write in the comments, what is your favorite beach in SHL? Which beach would you say is the best?