Boca Chica or Punta Cana
Boca Chica and Punta Cana – resorts of the Dominican Republic. For infrastructure development, proximity to civilization and a variety of entertainment among them confidently leads Punta Cana.
Holidays in the Dominican Republic attracts tourists with its exoticism. The most popular resorts are considered Boca Chica and Punta Cana, located in the southwest and southeast coasts respectively. To determine your choice, it is worth considering in detail the advantages and disadvantages of both areas before the trip.
How long is the flight to the Dominican Republic?
A trip to the Dominican Republic is quite long, so it's important to evaluate the convenience of traveling to each of these resorts. Getting to them is as follows:
You can get to Boca Chica from Moscow by plane, but there is no direct air service between Russia and the Dominican Republic. The resort itself has no airport, so all flights land at the main airport of the country Las Americas, located in the capital city of Santo Domingo. Ticket price starts from 670 USD. The flight time is about 15 hours with connections in New York, Frankfurt/Main or Madrid. The distance from the airport to Boca Chica is 12 km, which will require additional payment for individual transfer to the resort. The average cost of a transfer is 190 USD (per car for 1-4 people).
Russian tourists to Punta Cana will be a little more convenient thanks to the presence of its own international airport in the city center.
Importantly, the Punta Cana Airport is the only air link in the Dominican Republic, which receives flights not only from the Russian capital, but also from St. Petersburg, Yekaterinburg, Rostov-on-Don, Krasnodar and other cities.
When departing from Russia, you will have to make a mandatory connection in Munich, Dusseldorf, Miami, the capital of Germany or Great Britain. You can buy a ticket for an average of 700 USD – 900 USD, and the flight will take a little less than in the case of Boca Chica: about 13 hours and 40 minutes. If you have chosen a charter flight to the United States, don't forget to get a U.S. visa. Without it, the flight will not be possible.
Most Punta Cana hotels offer free shuttle service from the airport. But even if you have to get to the hotel on your own, public transportation is cheap here – only 45 DOP. Ordering a cab will cost 1,400 DOP to 2,400 DOP.
Where are the better beaches in Boca Chica or Punta Cana?
At both resorts, access to the sea is free, which will please surfers and diving enthusiasts. Each of Boca Chica and Punta Cana beaches has its own "twist."
Boca Chica attracts tourists with large beach areas covered in fine white sand. All of them are located on the shores of a shallow lagoon (no more than 1.5 m), safely protected from underwater currents by a coral reef. Some beaches are located on a secluded island, to which you can go from the shore directly in shallow water. Here are almost ideal conditions for diving, windsurfing, sailing, sport fishing, mastering water skiing. The hotels have tennis courts and horseback riding clubs.
Punta Cana is not only designed for a quiet family vacation, but also for fun for young people. Almost every tourist will find a place to his liking: for fans of solitude will suit the wild beaches of Macau (but note that the amenities such as umbrellas and deck chairs are absent). But if you want to party and experience the "nightlife" of the Dominican Republic, go to the beach "Bavaro" with a well-developed infrastructure and a lot of beaches and discos.
In Boca Chica is unlikely to please those who can not live without civilization and its entertainment: diversify their leisure time can only travel to nearby islands or in Santo Domingo, which is not so cheap. Visitors to Punta Cana are unlikely to get bored: the resort has many entertainment venues and well-developed urban infrastructure, including public transport, hospitals, banks, pharmacies, etc.
Vacationers should note that most hotels in Boca Chica are located at some distance from the shore, so the beach will have to walk a little. On the other hand, in Punta Cana almost all hotels are located right on the coast.
The choice of places to stay in Punta Cana is very diverse: from hostels and guest houses (cost 650 DOP – 1300 DOP per night) to 4- and 5-star all-inclusive establishments (prices per night range from 1000 DOP to 30000 DOP, depending on the hotel class).
Boca Chica restaurants are famous for their unusual fish dishes and longanita sausages. But there are undoubtedly more catering establishments in Punta Cana, offering both budget dishes and delicacies of Dominican, European and Asian cuisines.
Comparing advantages and disadvantages of the famous Dominican resorts, you can conclude that the greater level of comfort and a variety of recreation offers tourists just Punta Cana.
Boca Chica or Punta Cana: where is better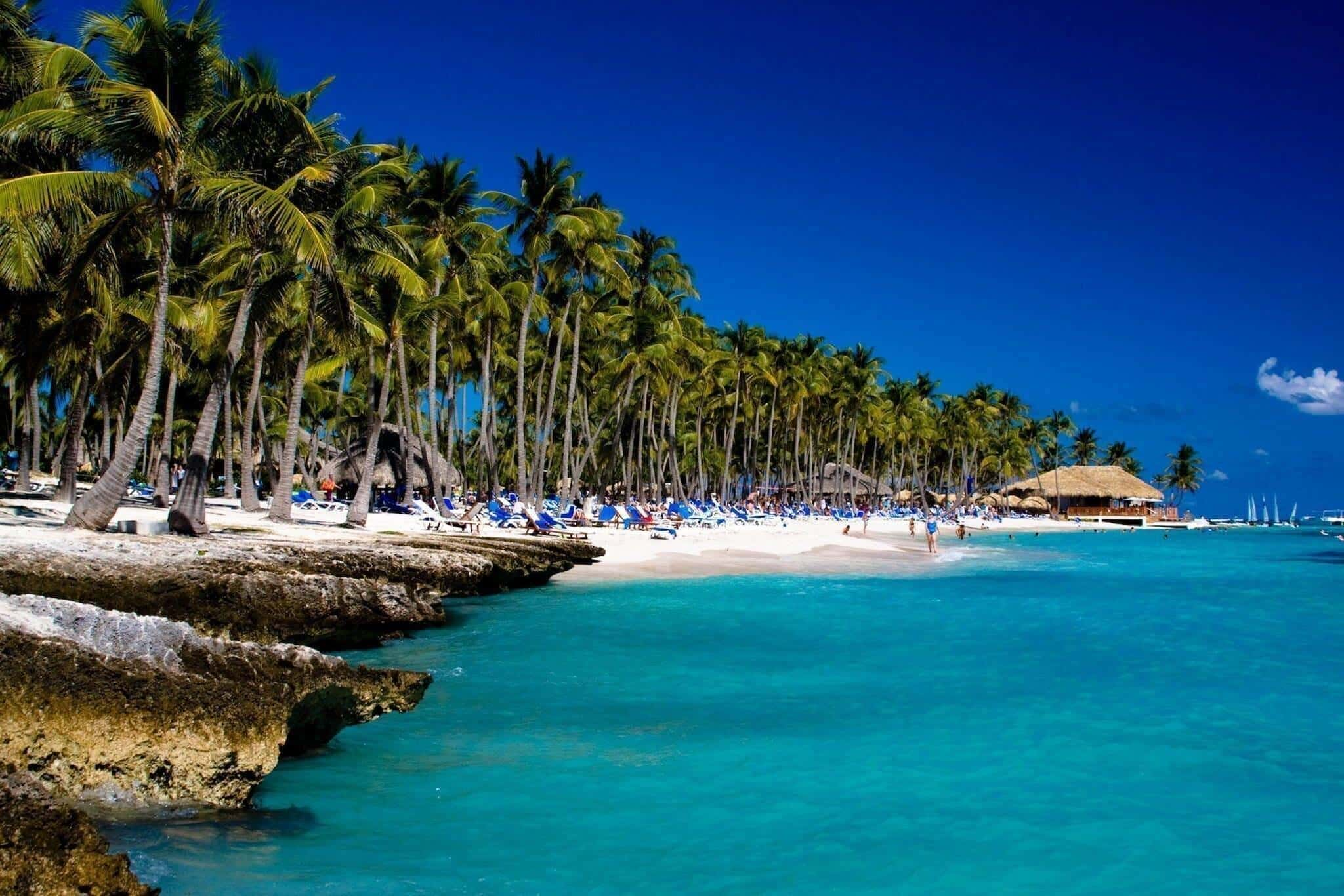 Comparison of resorts
In the fabulous Dominican Republic, everything is created for a perfect vacation. The island welcomes tourists from all over the world with open arms. The country is washed by the Atlantic Ocean and the Caribbean Sea, so there is a significant difference in which city to go and what time to choose for a vacation.
Tourists often prefer to go to the following resorts: Punta Cana, Puerto Plata, Boca Chica, La Romana, Bavaro and Playa Dorada.
If you are going to visit the Dominican Republic for the first time and are choosing between the best cities, you are probably wondering: Boca Chica or Punta Cana: where is better? Read more about it on ToursDominicana.
Facts about the country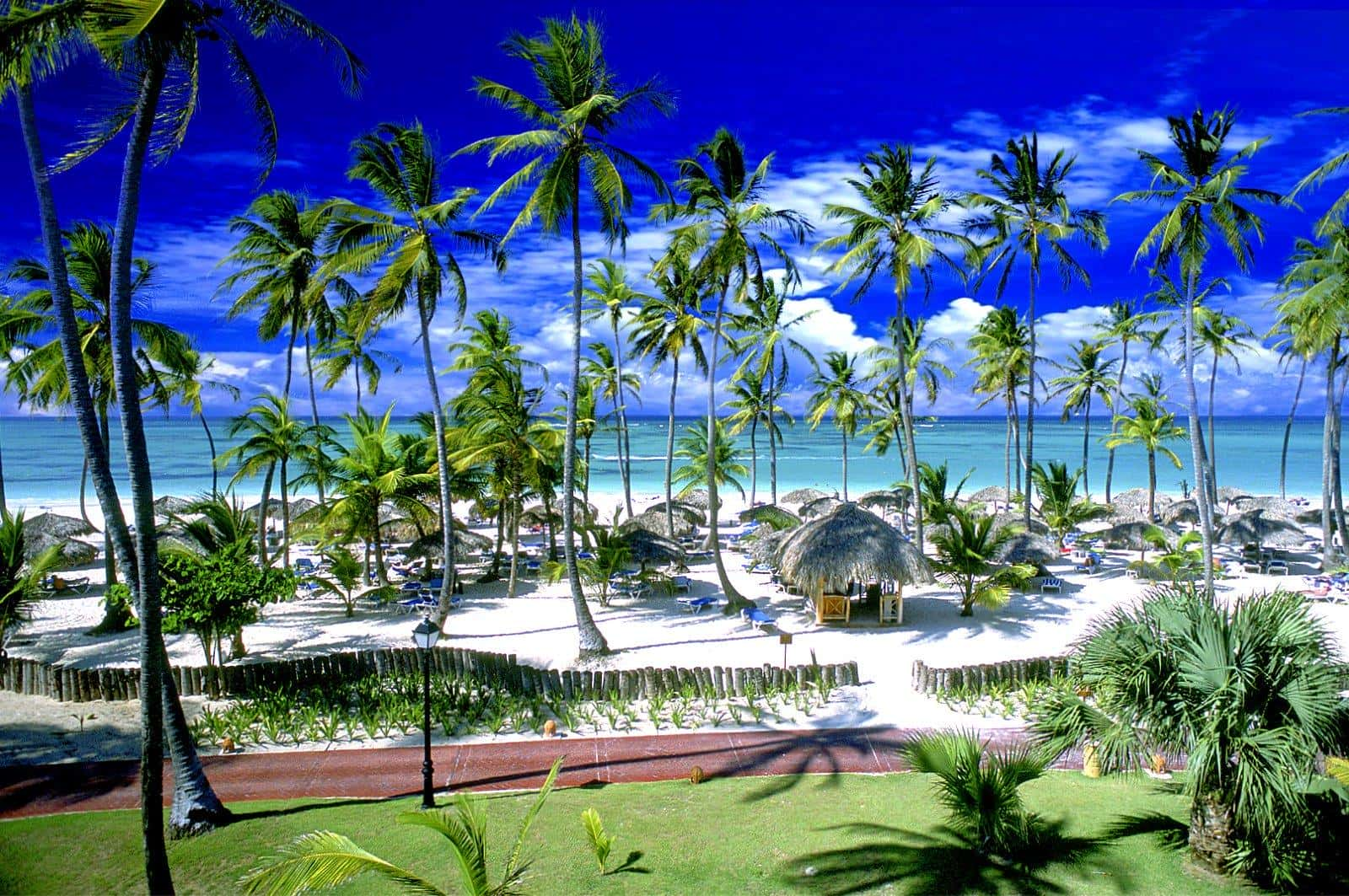 It is important for tourists to know that the national language is Spanish. However, you can hear addresses in Italian, English and French dialects.
The state currency is the Dominican peso. You can exchange money at the entrance to the stanu6 in a bank or special points.
You can visit this corner of paradise at any time of the year. The most favorable time for a beach holiday is autumn. At this time there is no scorching sun, and the sea is still warm. In addition, in the autumn there is no algae in the water, which annoys a lot of tourists.
On the island is a pleasant subtropical climate. Summer is here all year round. The hottest month is August. The air during this time warms up to +31 ° C. The coolest month is January. The thermometer in this month usually does not fall below +21 ° C.
From May to September comes the rainy season. Usually they are short-lived. Heavy rains quickly end and give way to bright sunshine. In the rest of the months the amount of rain is insignificant, and in some months there is no rain at all.
In summer, it is better to choose another resort, such as the Mediterranean. But in the autumn and winter period Dominica is ready to give its guests the most pleasant and memorable vacation. The only thing that remains is to choose the city where to go.
Boca Chica
A resort for those who like serene recreation and unity with nature. This place is also called the "coconut beach. It will appeal to tourists who want to escape from the noise of the city and give himself up to relaxation.
The coastline of more than 1.5 kilometers abounds hotels. They have one thing in common – they are all very presentable. The hotels are high-star, so the service is at the highest level.
Nearby is Las Americas airport, so visitors come straight to the azure coast.
The beaches here are from everywhere. They are protected by a coral reef, a length of 500 meters. It is this natural structure has turned the place into a cozy lagoon, protected from the strong waves and sea waves.
The water depth here does not exceed a few meters. Nearby there is another small island, to which you can walk directly on the water. This is where couples in love like to come for a date.
Boca Chica hotels are known for their service. Each hotel has a tennis court and golf courses. They offer horseback riding, sea fishing, diving, water skiing, and yacht cruises.
There is no noise and loud music in the bars and restaurants. Most vacationers prefer to eat in their rooms or take their meals to the coast.
There are no supermarkets, shopping malls or public transportation at this resort. If you want to diversify your vacation, you will have to go to neighboring San Domingo.
You can get to Boca Chica from the airport of the capital city. If you plan to travel around the country, it makes sense to rent a car. If you are not planning a trip, however. It is better to take a cab.
Beaches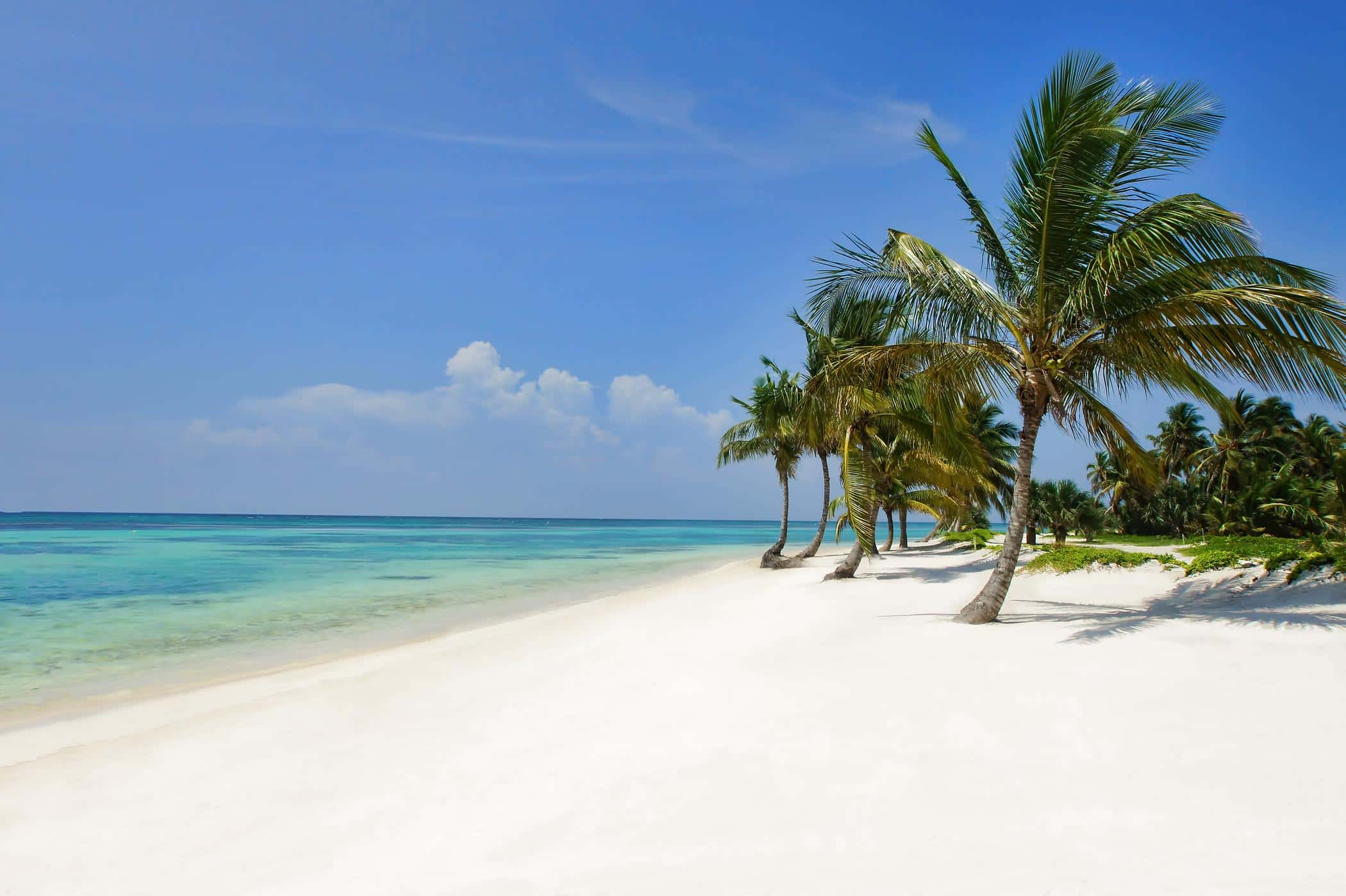 The pride of the Dominican Republic are the snow-white sandy beaches, which will please the most sophisticated tourists.
The most popular beaches are:
PlayaAndres;
LaMatica;
Protected by a reef, the coastal area is an attractive place for families with children. The entrance to the sea is smooth, and there are almost no waves in the water.
Hotels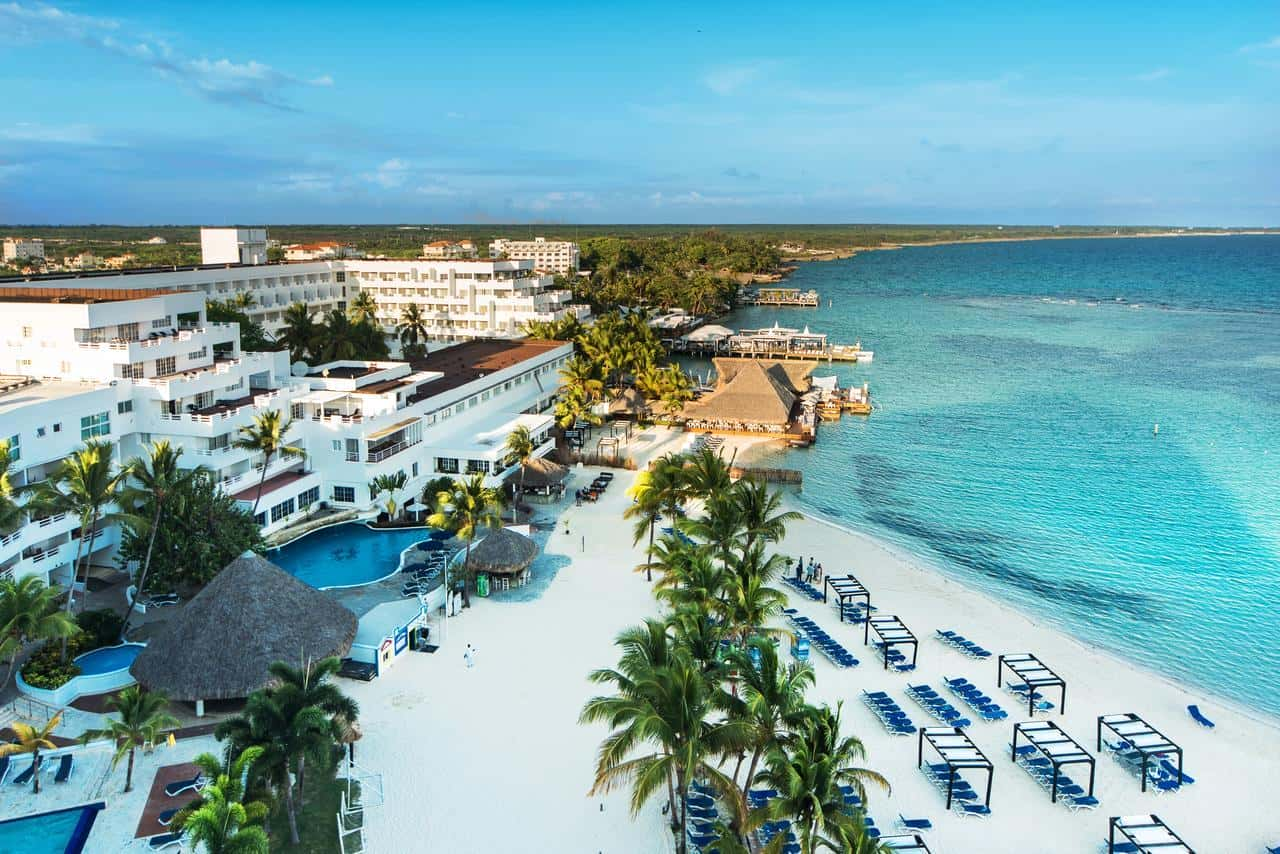 Boca Chica is not the biggest resort. There are not many hotels, but they all have from 3 to 5 stars.
Hotels on the first coastline have their own access to the sea, the second line hotels are no further than 1 kilometer from the beach.
If you prefer to rest "savage", you can rent an apartment from locals. However, experienced tourists note that such a holiday will cost more than renting a hotel room.
Entertainment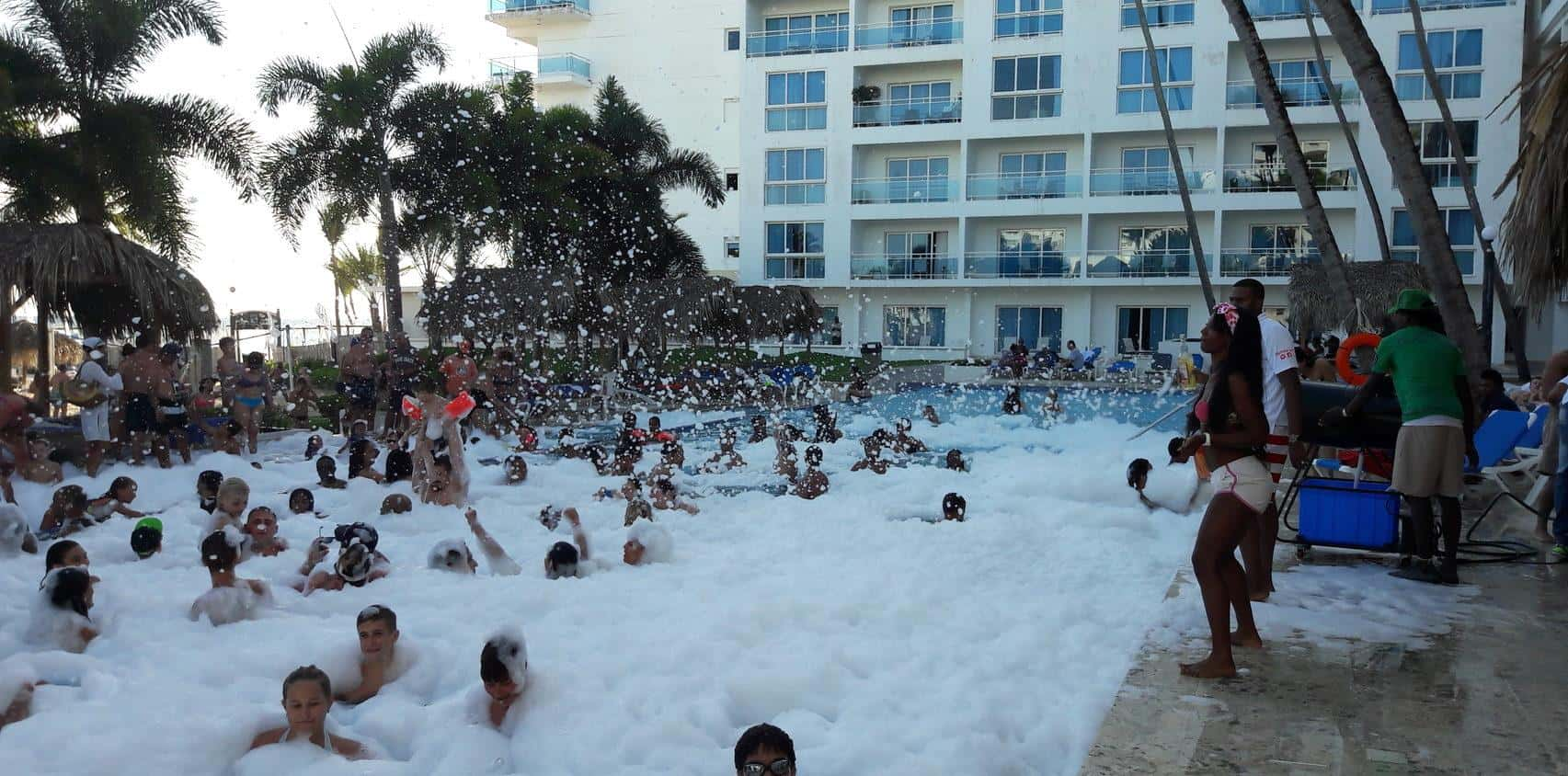 Boca Chica offers its guests not only beach recreation and swimming in the Caribbean Sea, but also active entertainment:
tennis;
golf;
horseback riding;
Exploring coral reefs;
surfing.
There is no need to be bored here. Local travel companies offer excursions.
On the shore dozens of white yachts, which at any minute are ready to go on a cruise. Nearby are several islands, which will be of interest to tourists:
La Matica. A small island that can be reached by shallow water. The main attraction – a huge mango tree. A large number of exotic birds live here.
Los Piños. The island was hit by a terrible hurricane. All infrastructure was destroyed, making it deserted. All the inhabitants left the island for the "mainland". To wander the deserted trails, you need to equip yourself with mosquito repellent and sturdy shoes.
In early to mid-spring, fishing competitions are held in the republic.
Advantages of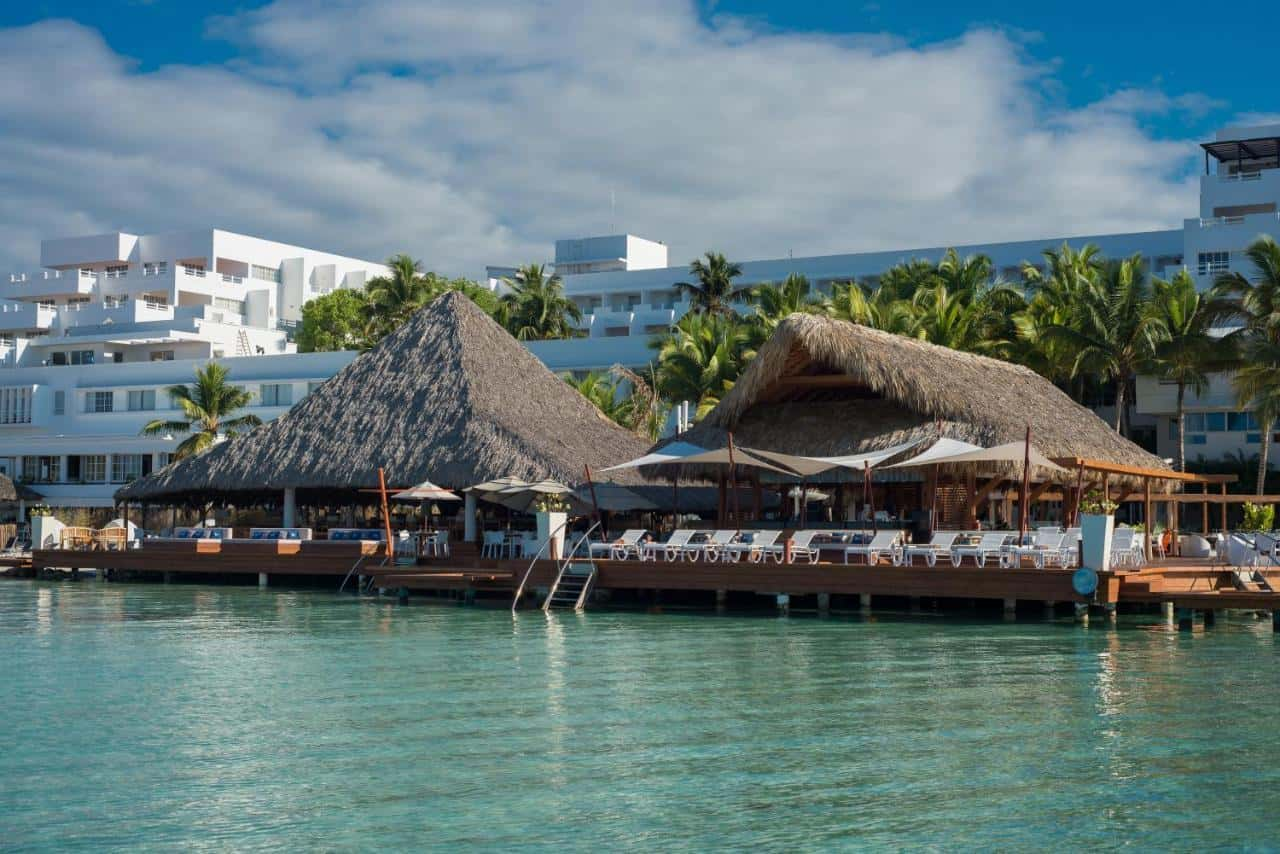 The main advantage of the resort is its measured rhythm of life. Time in this place as if stopped. In addition to the atmosphere of tranquility and relaxation, tourists are expected here:
Comfortable temperatures of +26 to +32 degrees all year round.
From the airport of Santo Domingo to Boca Chica is only 10 minutes by car. Cabs take tourists there and back for $20.
Safe swimming, which is very relevant for children. The lagoon is shallow, with no waves and a smooth entry into the water.
Fascinating scenery.
Ideal conditions for diving and snorkeling. These sports are better practiced on the nearby islands of Los Pinos and La Matriz.
It is an ideal place for a quiet holiday without noisy parties, loud music and crowds of tourists.
Disadvantages
Despite all the advantages, the resort has some disadvantages.
For those who do not speak Spanish, communicating with hotel staff and locals will be very difficult.
As in the whole republic, tap water here is not suitable for drinking. In order not to feel thirsty, you will have to spend money on bottled water.
The city is considered the capital of sex tourism. Sometimes the locals are very obsessive offer tourists such services.
The inhabitants of Boca Chica are constantly trying to sell guests souvenirs, tours and food and more.
A striking contrast between the posh luxury hotels and shabby shacks of the local population. There are a lot of beggars and beggars.
Near the city built a plant for recycling waste. It has no special influence on tourism, but it spoils the landscape and this fact can alert someone.
In fact, the beach is located in a bay, so sea sports and recreational activities are not available here.
Boca Chica is not a resort for budget tourists. However, if you come here, the first-class recreation is guaranteed. Snow-white beaches and turquoise sea water will not leave indifferent even the most discerning tourist. This is a place of unity with nature and with each other. If you like this kind of recreation – welcome to Boca Chica!
Punta Cana
This city in the Dominican Republic is the opposite of the resort of Boca Chica. Here the nightlife is in full swing, music is constantly playing and flowing river of cocktails.
Here developed infrastructure: cinemas, cafes, bars, shopping centers, there is public transport. The hotels are stellar for any taste: from 2* and above. You can rent an apartment from locals.
In Punta Cana there is an airport, which is undoubtedly a powerful argument in favor of this resort. From here you can go to any city of the republic.
Beaches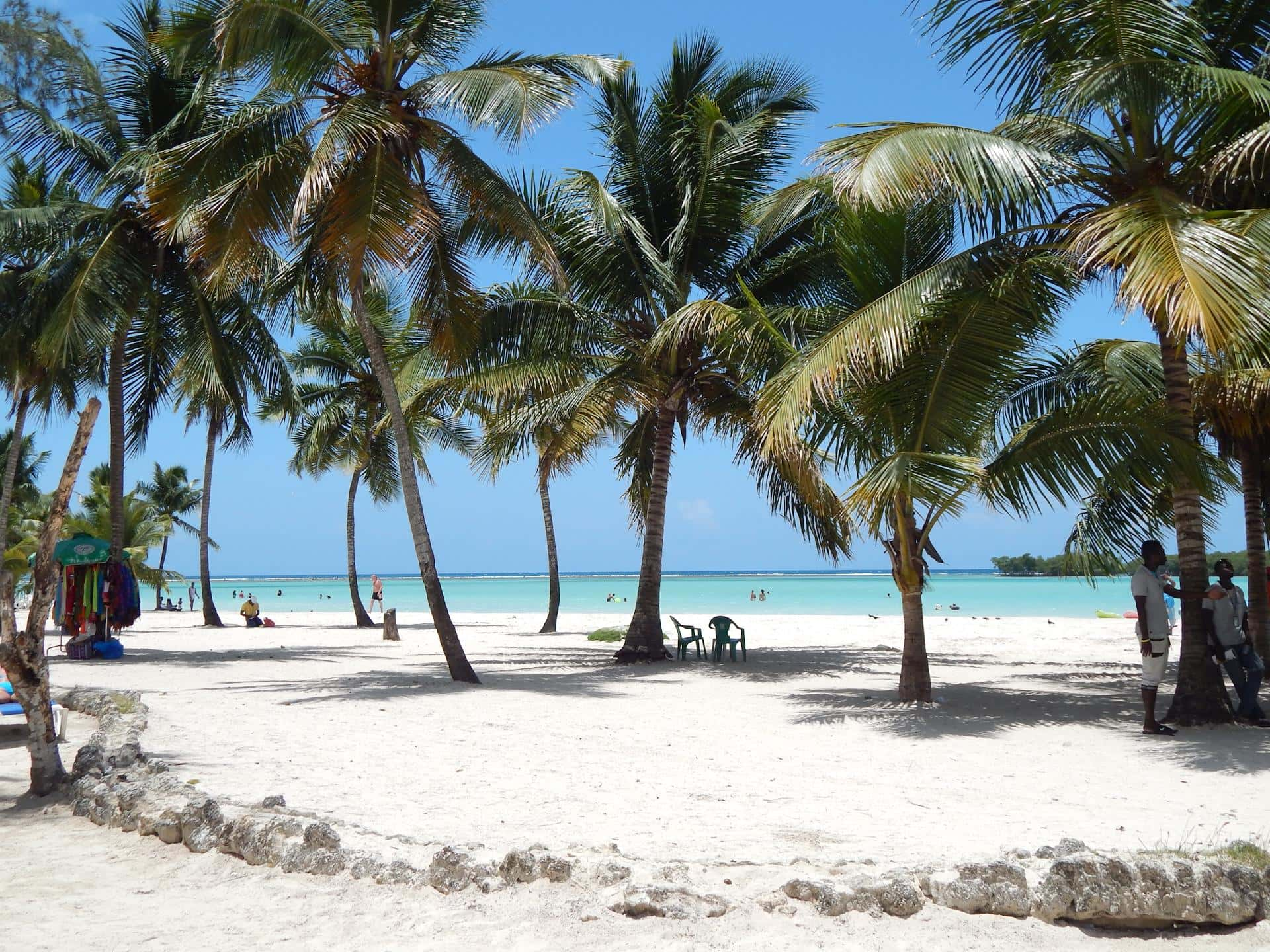 The shore of the Atlantic Ocean beckons tourists with crystal clear water and soft sand.
It may seem that the coastline is not divided into separate beaches, but this is not the case. Conventionally, there are several zones. They differ in intensity and height of waves, sand quality and water temperature. The more north you are, the choppier the sea.
The most famous and popular beach in Punta Cana is Bavaro, whose length is 4 kilometers. The beach is protected by a coral reef, and therefore there are almost no waves. You can hide from the scorching sun in the shade of palm trees.
Famous beaches in Punta Cana:
Macau.
Uverto Alto.
Arena Gorda.
Beach ZoneBarcelo Bavaro Resort.
Cortecito.
Each beach here has its own atmosphere.
For those who love pristine nature and prefer to relax away from civilization, Macau beach is worth choosing. There are no sun beds, umbrellas and bungalows. Only the Atlantic waters, soft sand and palm trees.
Those looking for beaches with bars, entertainment and music should pay attention to Bavaro. It is always crowded, noisy and fun.
Hotels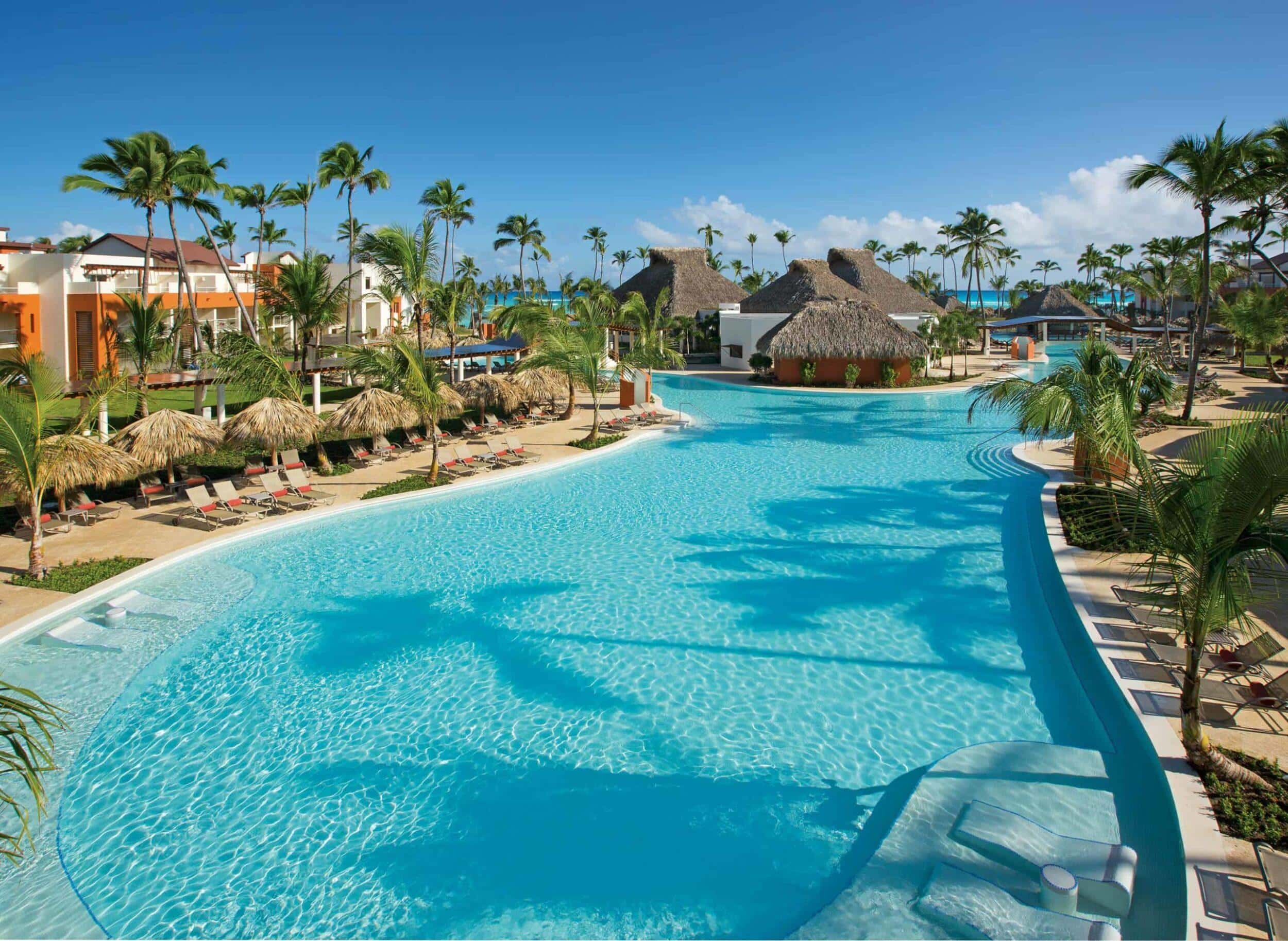 A hotel is not just a place where people come to spend the night. This term refers to a whole structure of cafes, restaurants, clubs, spas, swimming pools with water slides and playgrounds.
Despite the fact that most hotels in Punta Cana are located on the coast, each hotel has several pools. They differ in shape, depth, and additional features.
Hotel rooms are equipped with the latest technology. There is air conditioning, modern plumbing and stylish furniture. The hotels' internal infrastructure includes chic restaurants, chain stores, bars and clubs. Umbrellas and sun loungers are provided for all guests.
The peculiarity of hotels in Punta Cana is their "stunting". There are no tall buildings and skyscrapers. Most hotels are similar to bungalows, which are hidden in the shade of tall sprawling palm trees. For large companies and families provide spacious rooms with private pools and jacuzzis.
The resort has the largest concentration of hotels. There are hotels for families or adults only.
The distance from the hotel to the beach is about the same, but the distance to the airport is different. Travel time ranges from 20 minutes to 1.5 hours.
Entertainment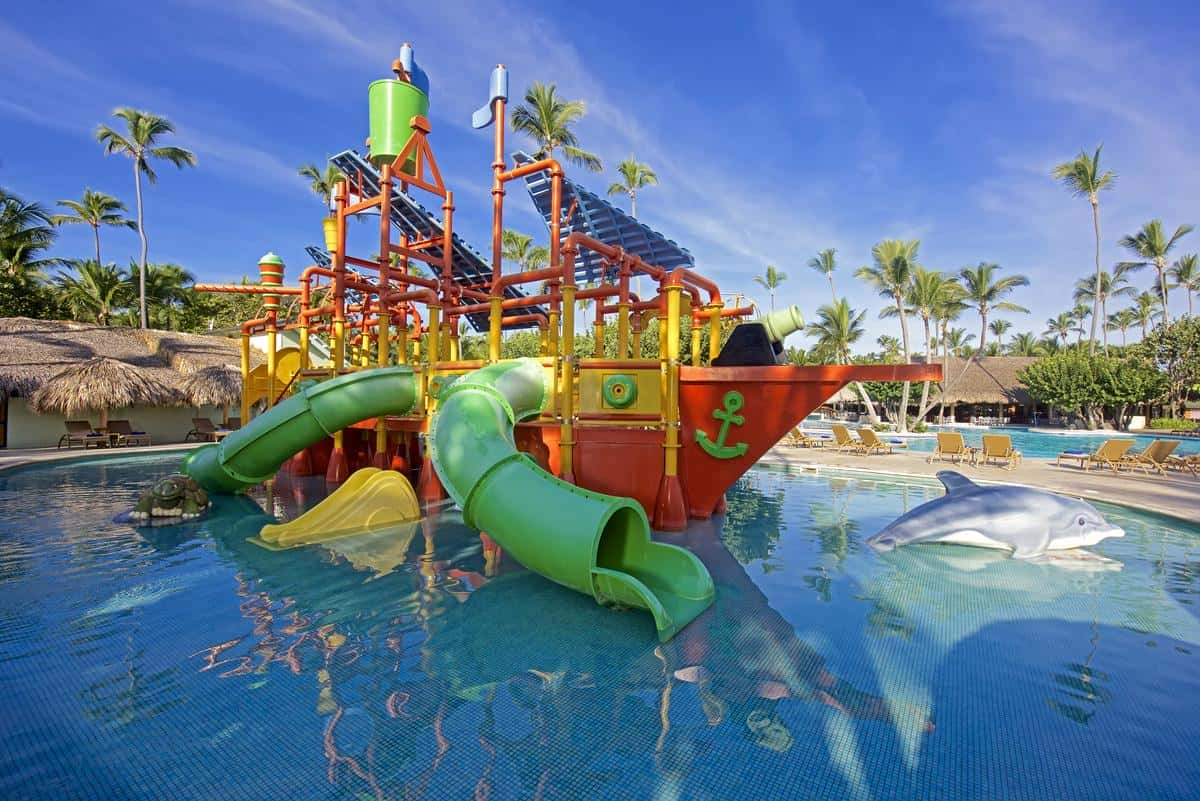 Punta Cana is a piece of paradise in the Caribbean that is ideal for those who love sunbathing.
What entertainments the resort has prepared for its guests:
Excursions and sports walks are suitable for those who cannot imagine a vacation without movement;
Those who love flora and fauna will be interested in visiting parks and nurseries, such as Manatee. Visitors can touch the exotic world of animals, birds and plants. This place will give unforgettable emotions to both children and adults. Guests will be delighted to meet monkeys, crocodiles and lizards;
You can try your luck in the casinos, which are located at some five-star hotels;
Dominican Republic is a country of the best golf courses in the world. Therefore, if you are in Punta Cana, do not miss the opportunity to put a few balls in the hole;
The rows of boutiques and huge shopping malls will please avid shopaholics. Stock up on some local pesos and you can do just about anything.
It is best to pay in Dominican pesos. Another popular currency in the country are dollars. Euros in the Dominican Republic are less readily accepted, and the ruble do not pay at all impossible.
"Imagine" is a natural dance floor right in the cave. You can only go to such a party in the Dominican Republic.
Delicious food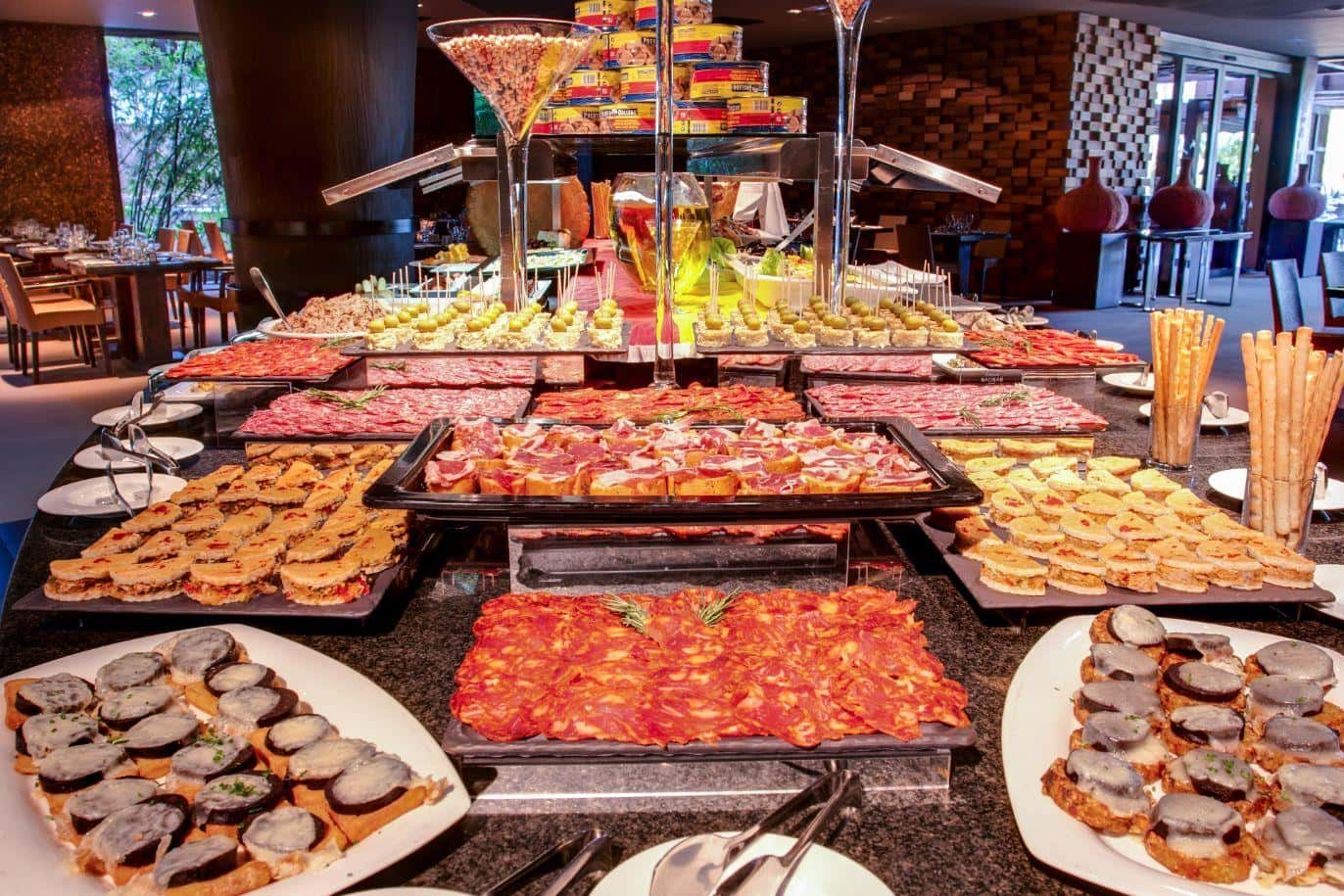 Punta Cana abounds with delicacies. If you are going to this city, do not miss the opportunity to try the most unusual seafood dishes. Even if you can't stand this kind of food, it's worth a try. The way mussels, shrimp, and octopus are cooked in the Dominican Republic is not cooked anywhere else.
The island loves booze and consumes it a lot and all the time. If you don't mind tasting something new, don't deny yourself the local rum. The taste is unparalleled. Mamahuana is based on rum, wine and honey. You can enjoy this drink only in the Dominican Republic and nowhere else. It is forbidden to take out of the country in amounts greater than 200 ml.
Advantages of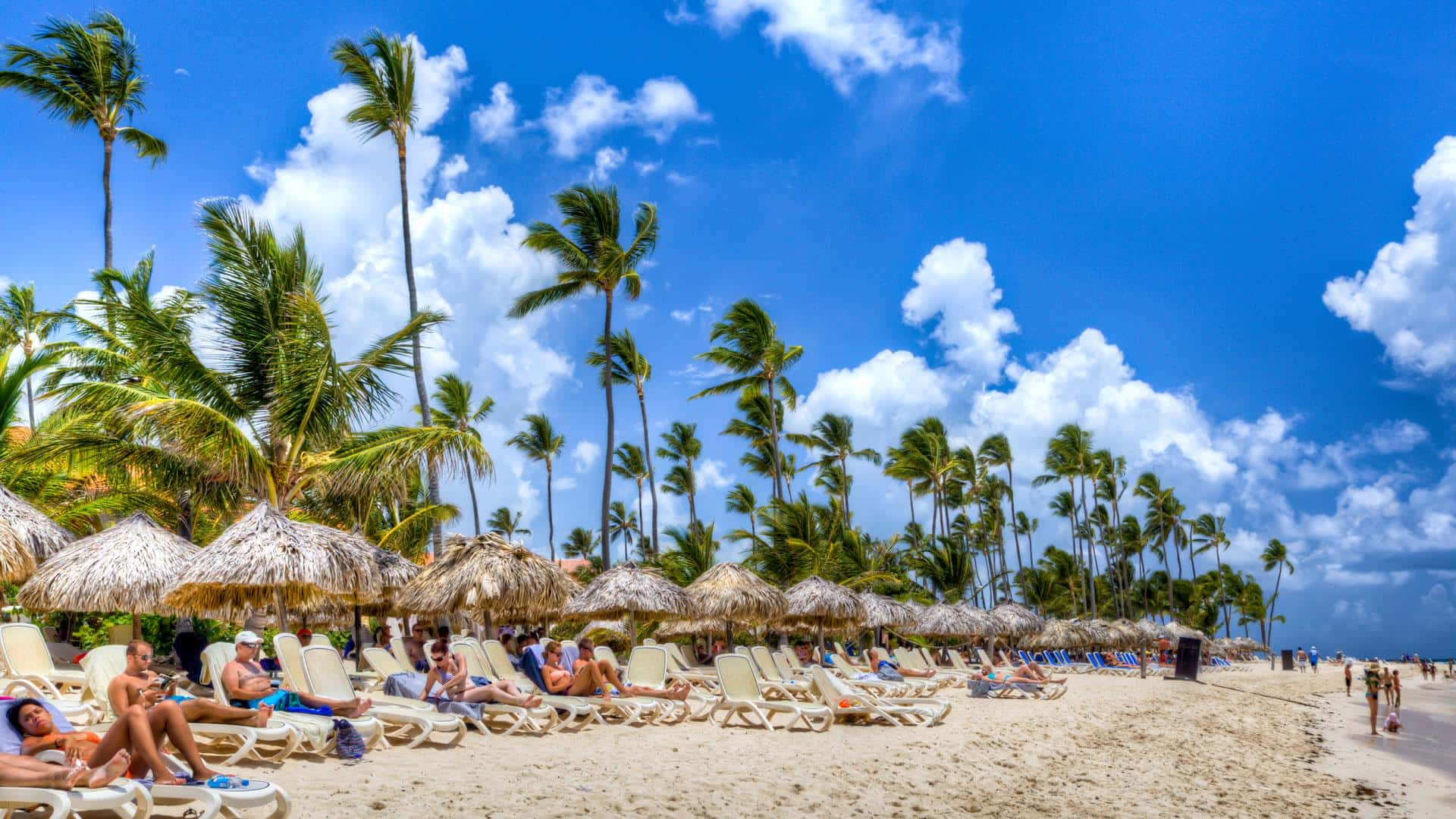 The resort of Punta Cana annually receives thousands of tourists.
The main reasons for this popularity:
Comfortable temperatures throughout the year, from 22 to 31 degrees.
Compared to the rest of the cities of the republic, it has the least amount of rainfall.
Sandy beaches with white and soft sand are the best in the whole Caribbean.
The entire south coast is shallow and calm beaches.
A wide variety of activities and top-notch all-inclusive meals.
High level of security.
Modern airport, from which the city is no more than 10 minutes away.
All buildings do not exceed the height of palm trees. It is enshrined at the legislative level.
The friendly staff at the hotels.
Eco-friendly parks.
You can buy traditional Cuban rum and cigars in most hotels.
Disadvantages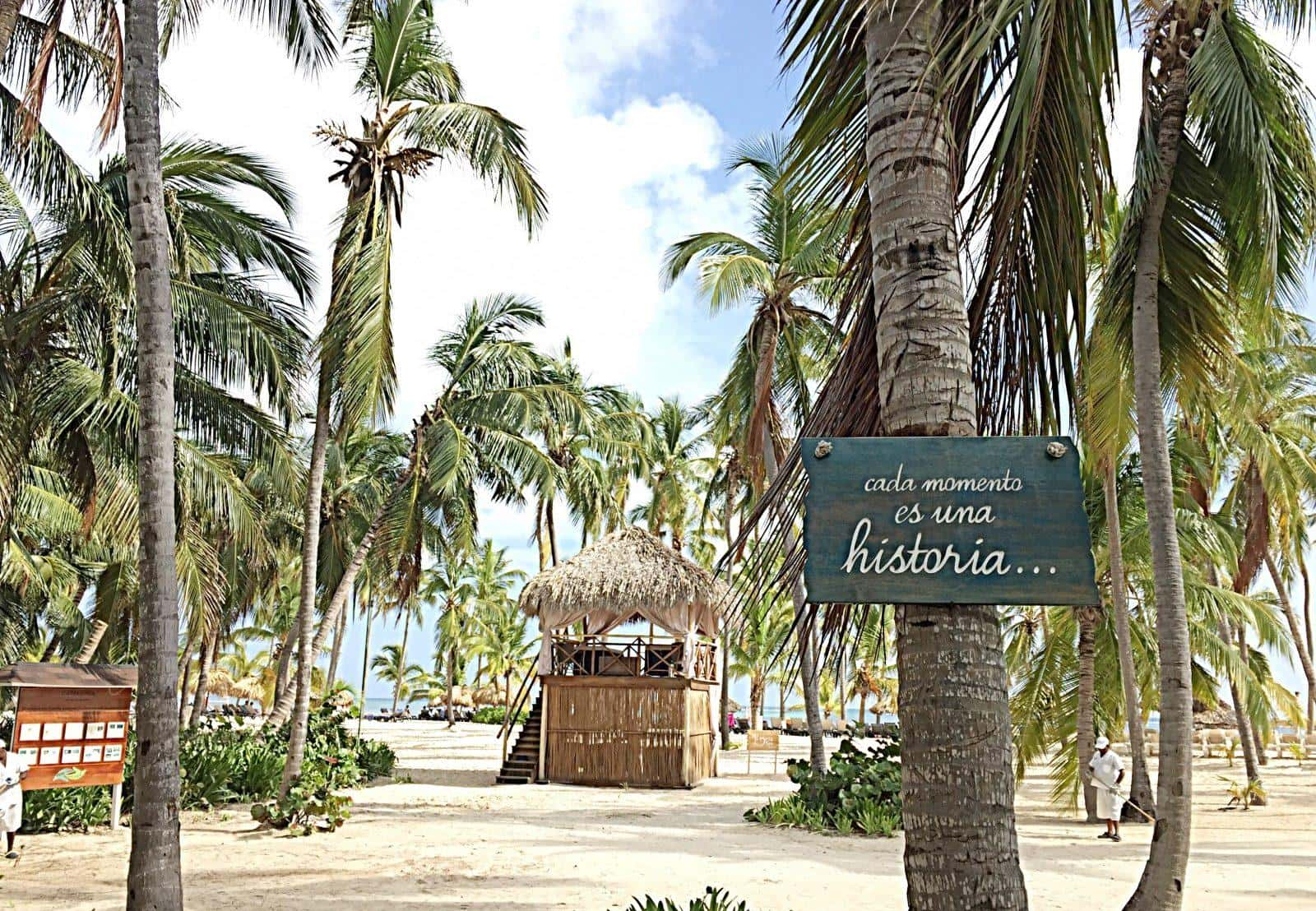 The main disadvantage of the Dominican Republic is the price tag of recreation. This is not a cheap country and it will not be easy for a budget tourist here.
Another drawback is the lack of clean drinking water in the water supply. Besides the fact that it leaves much to be desired in taste, it is not safe to drink. A few other disadvantages:
The most popular restaurants and bars are far from the hotels. You have to take a cab to get there.
Bad roads and dangerous driving style of most drivers.
Mosquitoes and flies are almost everywhere.
Prostitution is legalized in the Dominican Republic and so at crowded resorts there are always those who obsessively offer tourists their services.
Punta Cana is not suitable for water sports such as diving and snorkeling.
This resort is ideal for those who go to the republic for an active holiday. Here life, including nightlife, is pulsating.
If you want to spend your holidays quietly sunbathing and drinking coconut milk, this is not the place for you. No resort is more boisterous and free-spirited than Punta Cana.
What you need to know
Before choosing a resort in the Dominican Republic, you should accept the fact that there are no direct flights from Russia to this country. All flights with a connection. And, if you do not need a visa to the Republic itself, then, for example, in the U.S. it is simply necessary. If you don't have one, you'll need to choose flights with a stopover in other countries: Paris, Munich and others.