Museum of Bread in Izmailovo Kremlin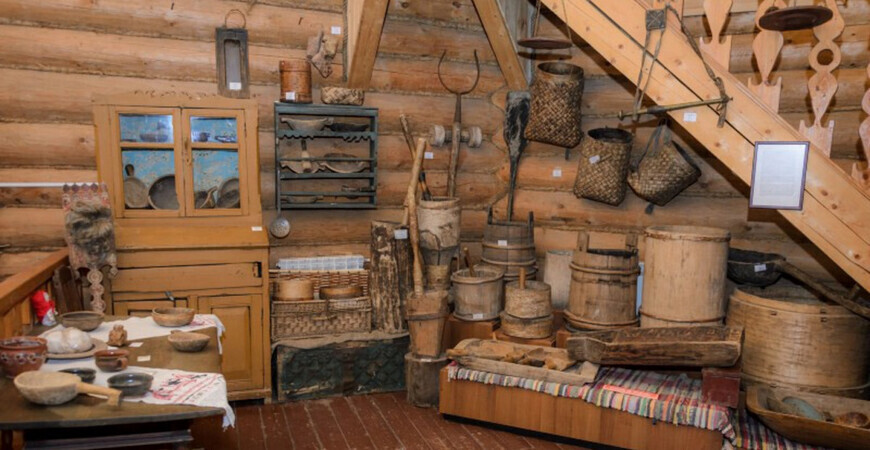 Children up to 7 years old, veterans of the Great Patriotic War, 1st group disabled – free of charge; Excursions from 400 rubles/person; Master-class of gingerbread baking and painting – from 700 rubles/person.
Center "The Kremlin in Izmailovo" is a large complex, which includes several museums and galleries, introducing visitors to the features of our culture. Everyone can plunge into the world of Russian fairy-tales and national way of life, visit the exposition of the Museum of Iron, the Museum of Russian Vodka, the Tsar's Pantry, the Museum of the Russian Navy, visit the Baba-Yaga's hut and other locations.
Among the museums of the Izmailovo Kremlin there is also a Museum of Bread, which tells the history and traditions of baking, presents several kinds of this product, as well as devices for kneading dough and baking. Visitors to the Museum of Bread can take part in cooking classes and buy gingerbread in the buffet.

The Museum of Bread is not only in Moscow, exhibitions devoted to the most important product are open in other cities – Bolgar (Republic of Tatarstan), Arkhipo-Osipovka, Vladivostok, Tyumen. Perhaps the largest of them is the St. Petersburg Museum of Bread. Also such museums are often found at large bakeries, such as the Museum of SMAK Bakery in the Urals (Yekaterinburg).
Excursions and workshops at the Museum of Bread in Moscow
You can visit the exhibition on your own or as part of an excursion. The second option is much more interesting and informative – the interactive program "Taste of native bread" is held by a guide in a national costume who will tell a lot of interesting facts about baking, about the origins of Russian traditions associated with bread. Some of them are widely known, such as welcoming guests with bread and salt, serving loaf to newlyweds, etc.
The interior of the museum is designed in the form of a traditional Russian hut. The exposition starts with national costumes and farming tools used by our ancestors to gather grain. Photos and other documents tell about the process of growing crops and hard work of farmers.

The exhibition also includes dishes – large pots and dishes that were used to store grain, a hand mill for grinding grain into flour and, of course, sieves for sifting. Guests of the museum will learn how drawings and inscriptions are created on gingerbread, see carved forms and get acquainted with the technologies of baking.
Tours must be booked in advance, there are programs for individual visitors, group visits and foreign guests.
To plunge completely into the atmosphere of the museum will help tea drinking with pancakes and Tula gingerbread in the buffet. Those wishing to celebrate a birthday at the Museum of Bread can apply to the information desk of the Izmailovo Kremlin.
Master classes have been developed for adults and children. Several programs are offered: Baking and painting gingerbread, Painting gingerbread cookies, 3D salt dough painting. At the end of the class, each participant is left with a delicious souvenir.

Izmailovo Bread Museum: opening hours and tickets
You can visit the Museum of Bread in Moscow from Wednesday to Sunday: on weekdays from 10:00 to 18:00, on weekends from 10:00 to 18:00.
The last entrance to the museum is half an hour before closing time. Workshops are timed to start each hour and take place during museum hours, with the last workshop starting 1 hour before closing.
Ticket prices:
Children up to 7 years old, World War II veterans, disabled group I – free of charge;
Museum tours – 400 rubles/adult, 300 rubles/children, family tickets from 800 rubles;
Master-class on baking and gingerbread paintings – from 600 rubles per person.
You can make an excursion to the Museum of Bread by phone +7 (495) 215-54-37 or through the site of Izmailovo Kremlin.

How to get there
Address of the Museum of Bread in Moscow is: Izmailovskoe Shosse, 73zh. The easiest way to get from the center of the capital to Izmailovo is by subway. To go to the Kremlin is better to exit at Partizanskaya or Izmailovo stations, then walk 800-900 meters to the museum.
Walking route from the subway to the Museum of Bread:
There are several stops of public transport that are located near the subway. Buses number 7, 36, 131, 211, 311, 322, 336, 337, 372, 375, 382, 385, 386, 391, 399, 444, 445, 1209k; trolleybus number 22; minibus number 1214k.
Coordinates: 55.794578, 37.750631. From the center of Moscow the road takes about 50 minutes.
The route from the center to the Museum of Bread by car:
Guests of the city can use cab services, to order just download a mobile app from one of the popular carriers – Uber, Gett, Maxim, Yandex. Cab, Veset and others.
Review: Museum of Bread (Russia, Moscow) – Children will be interesting.
In late April we went to the Kremlin in Izmailovo, where we walked around and saw the local sights and visited the museum of the history of vodka and for some reason went to the museum of bread. It is probably difficult to call this place a museum, as it consists of one hall, where you can see the traditional devices of the last century, with the help of which made and baked bread. The second hall is designed for master classes, probably there they bake bread or just paint gingerbread. In such small museums you have to go with a tour, although it is designed for children. In general, as you have already understood, the museum itself did not inspire us, we spent there no more than 15 minutes, if not less.
To get to the museum you have to go to the Kremlin, where all the main museums are, so don't get lost, there are signs all around.
It is interesting that the entrance to the museum only through the "Grandma's buffet". The entrance fee is 100 rubles for adults, children from 7 to 14 years old, pensioners and those with many children – 50 rubles, children under 7 years old are free. To take a tour, you must pay 200 rubles per person. You can take photos for free.
"Grandma's buffet" is very small, here you can buy tea, coffee, drinks and all sorts of buns and cakes, and here at the end of the buffet painted door – the entrance to the museum.
In fact, this is the whole museum, fit in two pictures.
I must assume that most of the tour takes a master class, because you can't spend much time here.
Well, let me try to tell you about some of the exhibits.
The baker's outfit)) It should be understood that the museum exhibits items of everyday life of the 19th century, when everything was made by hand.
A winder is a kind of machine, which is designed to separate the grain from the chaff.
A manual mill for grinding grain into flour.
Large wooden mortars, designed for grinding grains of wheat, barley, millet, buckwheat.
Also shown here are grains, of course, already in modern processing.
The wooden bucket with grain, called "sevalka", is worn on the shoulder when sowing manually.
A wicker basket for measuring the yield of crops, it holds one pood of grain, which was equal to 16 kg.
Wooden plow and plough.
Everybody knows a well-known sieve (left), through which sifted flour with different impurities, such bread peasants ate on weekdays. And on the right we see a sieve, which was intended for "sieve" flour or, as we can say now, flour of the highest grade, in general, the peasants ate such bread only on holidays.
Scales with bowls for weighing wheat, rye, barley and other grains.
A birch bark box.
And all kinds of kitchen utensils. That is, in fact, all you can see on the first floor. I think the guide is telling in detail how this or that object was used.
And we go up to the second floor, where there are tables, benches and shelves with handicrafts.
Judging by these rolling pins, they definitely teach how to work with dough here.
There is such an interesting beer barrel, it has a price – 1500 rubles, so you can buy it?
And there are also some old teapots and coffee pots, all with prices too.
What I liked was the sarafan and bagels)).
And where is the bread baked, in this oven or is it for beauty?
On the racks you can see the work – painted gingerbread.
Very unusual teapot made of clay.
And different spice-cakes, I will show them separately, otherwise, it would be too short in the review)))
Gingerbread houses look beautiful!
Well, and different matryoshka dolls, sunflowers and Firebirds.
And the usual gingerbread.
And here I did not see any bread as such.
You can see a small collection of samovars upstairs.
But they all look the same.
What else? On the walls hang bright posters with quotations about our daily bread.
See how it's written? "Without salt, without bread, it's half a meal!" And now we try not to eat bread – it's harmful, salt – harmful, sugar – harmful, and, in general, to live too bad))))
Well, that's all, that's the end of our walk through the museum of bread, which did not impress us at all. Once again, that you should come here with children, take an excursion and a master class, then it will be interesting, and adults have nothing to do here.
Let me remind you once again that Izmailovo Kremlin is located near metro station "Partizanskaya". Working hours – every day from 10.00 to 21.00, the entrance to the territory is absolutely free, but you will have to pay an entrance fee to the museum.