The best campsites on the Black Sea in Krasnodar Krai
People, tired over the winter of the stone jungle, in the summer at least for a while want to escape to nature, feeling like a primitive man. If you belong to this category, then immediately pack your bags, start the car and go to the Black Sea. Autocamps on the Black Sea in the Krasnodar region are waiting for you. We have made a list of the best of them according to the reviews of experienced vacationers "savages". Decide on a place to rest will help you with photos and current prices 2022. Location addresses vary throughout the Black Sea coast.
Bereg
А вы знаете, что правительство России сейчас выплачивает 20% стоимости тура по нашей стране? Читайте, как получить реальные деньги за отдых: Как получить кэшбэк за туры по России в 2022 году ->>>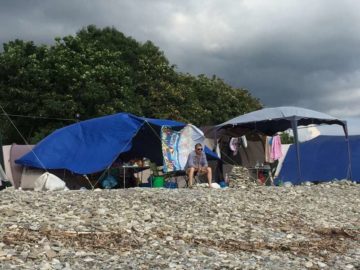 Autocamping "Bereg" is located on the Black Sea in one of the best places in Krasnodar region with a pebble beach. You can pitch your own tent or rent a stationary one from May till October. The base territory is regularly cleaned and well lit. You don't have to bring food and housewares with you, because there's a store. And if you don't feel like cooking, you can visit the canteen. Showers with hot water, toilets and Wi-Fi are available for free.
Accommodation will cost 200-350 rubles per day per adult. You'll have to pay 200 rubles per day for the motor home. Kids under 6 years are allowed for free, and under 12 years – with a 50% discount.
To get to "Bereg" go to Lazarevsky district of Sochi – in Ashe village.
Rainbow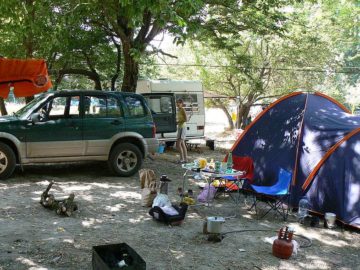 Camping "Raduzhny" is located in the Krasnodar region. The territory is buried in trees, among which you can put your tent and car, sheltered in the shade. On a sandy beach at the Black Sea you can use the water attractions. If you swim 30-40 meters into the sea, you can wander along the spit on the chest in the water. Holidaymakers at any time can use the stores, cafes, where you can order a complex dinner, bio-toilets, near which there are electrical outlets.
Regardless of whether you come by car or not, the fee for accommodation will be from 150 to 200 rubles per day for each adult. Children under 5 years old are admitted free of charge.
You will find "Raduzhny", stopping in the Tuapse district in the village of Novomikhailovsky.
Lesnik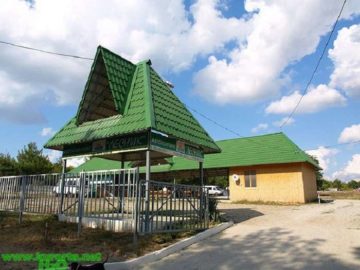 Camping "Lesnik" offers recreation on the Black Sea in tents. Those who like civilization will be offered wagons or tents with or without air conditioning. The distance to the sea is 50 meters. The beach is equipped with water attractions, and there are wild beaches nearby. It is always clean, there is a grocery store and electrical outlets everywhere. Showers, toilets and sinks can be used for free. It is better to make a list of things to stay in the campsite in advance.
The camping fee for kids under 5 will be 150rub./day in 2022 (kids under 5 won't be charged, from 5 to 10 are 100rub./day). Accommodation tent – 100rub./day.
Go to the Gelendzhik district and in the village Divnomorskoye find street Kurortnaya, where the "forester" is placed.
Hermes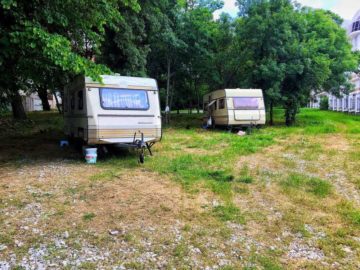 One of the best campsites is considered "Hermes", which is nestled in the heart of Gelendzhik Bay, surrounded by hotels and boarding houses. There are many trees, so that both your tent and your car will always be in the shade. Stores and cafes are within walking distance. The beach at the Black Sea is just 20 meters from the campsite. Toilets, showers with hot water, sinks, refrigerator, outlets and barbecue area are at your disposal.
In July-August 2022 the price for each vacationer will be 300 rubles/day, for a car – 250 rubles. If you'll need an extra tent, you'll have to pay 150 more rubles.
You can easily find Hermes by driving into Magnolia area in Gelendzhik.
Divnorechye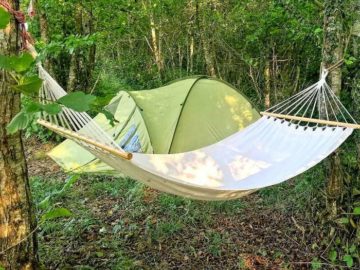 Camping "Divnorechye" is located in a place, almost untouched by civilization. In addition to the sea, which is 6 km away, the forest, river, and mountains are nearby – everything you need for a vacation in nature. This place is called eco-resort. Here all the buildings are made of eco-materials, loud music is prohibited, and the guests are offered a vegetarian meal. Here you can enjoy ripe dogwood, cherry plum, figs and see a lot of wild animals, such as roe deer, raccoon or pheasant. By the way, you are not allowed to bring your own animals here. Smoking is also prohibited in the area.
This tourist complex operates year-round. You can stay in a tent or rent a tipi (3-5 people) or a bungalow (2-3 people), there are services for guests such as summer showers and toilets, a playground with trampolines and swings.
Prices vary depending on the season, but not less than 200 rubles per day per person.
To get to "Divnorechye", you must go to Lazarevsky district of Sochi in the village of Lower Khobza.
Utrish wave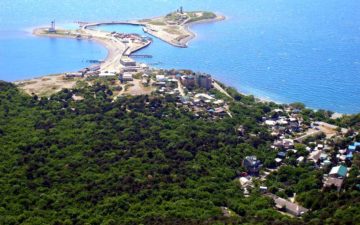 Camping Utrish wave suits tourists looking for solitude and quiet rest. Accommodation is possible in tents or mobile homes. There is a common shower and toilet, clean area and a beautiful beach. A distinctive feature of the camping is its location. It is situated in territory of reserve "Big Utrish", the real pearl of the Black Sea. Prices for accommodation start from 300 rubles per day.
To get to camping, you must move towards settlements Sukko and Little Utrish. Camping is located between them.
Sunny .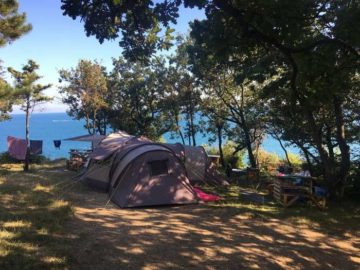 For those who want to rest in a beautiful park in the clean air, the camping "Solnechny", located 1.5 km from the Black Sea, is just right for you. Here you can get by car from Gelendzhik. The guests are accommodated in tents, which are brought with them or rented on the spot, freely using the toilets and showers. There is no dining room, so you have to eat on their own in special areas with barbecues, with tables and chairs. The store is behind the territory. The sport area waits for those who likes the healthy way of life.
Prices start from 250 rubles/day per person. There are discounts for children. Parking is free. You can take your pets with you.
To get to "Solnechny", first go to Gelendzhik, and then go to the village Arkhipo-Osipovka on Vishnevaya Street, 35.
Nazarova Dacha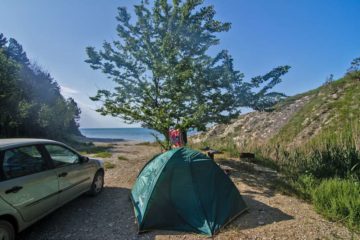 According to tourist reviews, a holiday at the Black Sea in the camping "Nazarova Dacha" will bring a lot of unforgettable impressions. Tents are pitched under century-old pines. Pebble beach is 130 meters away and has a gentle approach to the sea. There are sculptures all over the territory and even an interesting historical museum. Drinking water, showers, toilets, barbecue, tables with benches, Wi-Fi and phone charging points can be used for free.
The cost for an adult is 350 rubles per day, for a child from 5 to 14 years – 250 rubles. You don't have to pay anything for kids under 5 years old. You can park your car and pitch a tent for free too.
You can get to Nazarov Dacha through the village of Arkhipo-Osipovka (not far from Gelendzhik), having stopped at Alpine Street.
Beach village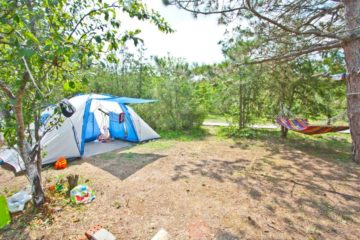 Camping with cottages "Beach Village" offers both comfortable recreation on the Black Sea in rooms, and "wild" – in tents. Everything is civilized on the territory: clean toilets, the opportunity to take a hot shower. There is a dining room, cafe, and for those who like to cook for yourself provided a summer kitchen. The sandy beach has a nice gentle approach to the sea. There are animators for children in the evening, so that parents can relax for a while. There are two playgrounds for children. Showers, toilets and barbecues are free of charge.
For one adult have to pay 350 rubles per day, for a child from 5 to 14 years – 250 rubles. Presence of kids under 5 years old is not charged. You'll pay 200 rubles per day for a passenger car and 300 rubles for a van. Tent sites are provided free of charge.
You can find "Beach Village" in Anapa, Pioneer Avenue, 5.
Orbita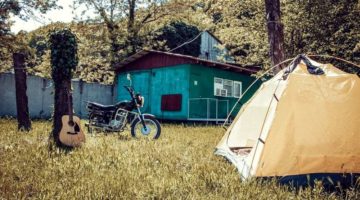 Camping "Orbit" has its own beach on the Black Sea in close proximity. Guests are offered, if desired, tents, trailers or rooms with amenities. There is a lot of greenery here, so you won't feel the heat. Nature lovers can have hot showers, toilets, benches, and tables. You can cook food in the kitchen and barbecue in the barbeque zone.
The price for adults varies from 150 to 250 rubles/day, for children under 4-7 years old – 100 rubles, you don't have to pay for kids under 3 years old. But you'll have to pay for the place for a tent – 200 rbl./day.
If you are in Gelendzhik go to the farm Betta. You can find "Orbita" in the street Podgornaya 21.
Juniper Grove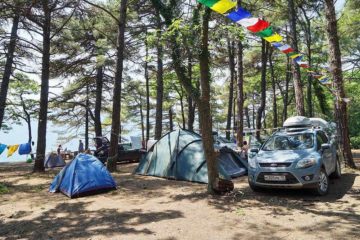 Camping "Juniper Grove" is located 20 minutes walk from the pebble beach on the Black Sea. It will please car enthusiasts with its large territory with a lot of trees, in the shade of which it is convenient to pitch a tent. Ropes for clothes drying are stretched between the trees, and there are small stumps where you can rest comfortably. Near the campsite there are three stores where you can buy everything you need. All the entertainment is on the seafront, which is a 30-minute walk away. A summer shower, a restroom, and a communal refrigerator are provided free of charge. For a fee – showers with hot water, kettle, charging cell phones, barbecue, table and benches.
Prices are 200 rubles per adult per day and 100 rubles per car.
Having arrived in Gelendzhik, turn to the village Kabardinka and on the Revolutionary street you will get to the "Juniper Grove".
Palmira .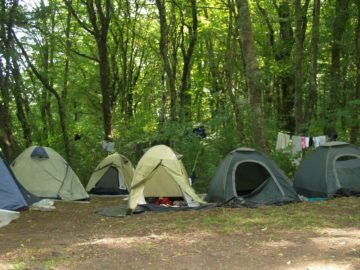 If you want to have a rest in an equipped camping site, "Palmira" is an excellent choice, it has access to its own pebble beach. There is a café right on the seashore. If you want to live in tents, you'll have to pay 200 rubles for each adult per day. List of services for this sum: showers, toilets, tables, benches, refrigerator, recharging, wi-fi. Prices for cabins and rooms start at 500 rubles.
After visiting the Lazarevsky district of Sochi, head to the gorge near the river Shuyuk. There in the village of Magri is located "Palmira".
Cossack pier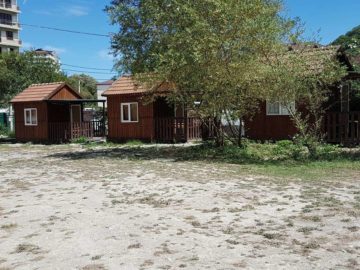 Cossack Wharf" camping site is open from May to September. All conditions are created for the comfort of holidaymakers: showers, toilets, stores, cafes, facilities, sports fields. The beach is 30 meters away from the sea. It is pebbly with small stones. How much rest in tents costs? For adults it will cost 200 roubles for each day, for children under 5 years old it is absolutely free. Parking of the car is 150 rubles, truck – 200 rubles, motorhome – 300 rubles.
First you must go to Tuapse, and then in the settlement Olginka you will find microdistrict Horizont, where you will be pleasantly welcomed by "Cossack pier".
Horizon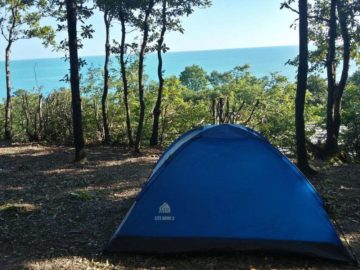 Rest with a beautiful view of the sea and the mountains is possible in the camping Horizon with tents. Here tourists are provided with caravans and tents, and tents can be rented on the spot. Pebble beach is 500 m away. It is allowed to take pets with you. Entertainment is also present: bar, karaoke, water park. There is a common kitchen, terrace, garden. Free wi-fi is available in public areas. Two-man tent will cost 200 rubles, four-man – 300 rubles. You'll have to add another 200 rubles for pitching a tent. Children from 5 to 12 years old will be charged 150 rubles per day. Children under 4 years old can stay free, you'll have to pay for the car parking 150 rubles. Diving, water park and other entertainments are paid separately.
In Tuapsinsky district go to Lermontovo village, where you'll find Horizon.
Sail .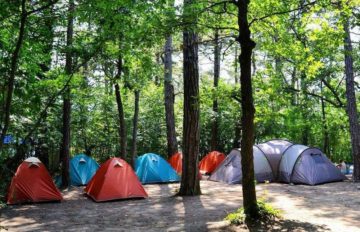 Everyone decides for himself where it is better to spend a vacation, but we advise to pay attention to the autocamping "Parus", located in a place with beautiful nature. The area is equipped with showers, toilets (free and paid), there are access points to electricity. Children can be taken to the playground, adults stretch out on the playground. The beach is a bit of a pebble. Even so, you won't face the sun, as there are plenty of trees around. Market, stores and attractions are located in the center of the village, which can be reached on foot in 10 minutes. Leisure here will cost 250 rubles per adult per day and you have to pay 200 rubles for the car.
You can find "Sail" not far from Gelendzhik in the village of Kabardinka on Mira Street, 10.
Map of Krasnodar Region's camping sites on the Black Sea
View the location of all the campsites discussed in the article on the map.
Planning to go on a trip? Take a handy debit card from Gazprombank . They give you 3% cashback and as much as 7% on your account balance. Maintenance is completely free. And you can also open a credit card with 180 days without interest or a savings account at 10.5% per annum. Gazprombank is the most stable bank in conditions of sanctions!
Autocamps on the Black Sea in the Krasnodar region – is an opportunity not only to get a good charge of energy, but also to save a lot on prices. Staying at one of them is considerably cheaper than staying at a guesthouse or a private accommodation. Armed with the list of the best campsites in 2022, you can choose the most suitable for you by the conditions and remoteness from the beach. And then you will be able to leave reviews about rest on the Black Sea.
By camping in Krasnodar region
To start with a bit of statistics: – 15 days – traveled 4600 kilometers – paid 1200 rubles for the toll roads on the M4. It's funny, but the automatics at some toll points defined our car with a trailer as a full-fledged lorry, and the money was deducted from the transponder accordingly. Then they gave it back, though. – The average consumption is 8.5 liters of diesel fuel per 100 km (Tiguan 2l diesel) – not a single fine – we've been to 4 camping sites, and all the time we've been living only in the trailer
Now is more detailed: the end of August is our favorite time for vacation at the Black Sea. In previous years we went camping with a tent, this year we went with a trailer. There was no special plan, only an approximate direction and maps on the phone. We stocked up on canned food and water, picked and loaded two of the three kids, off we went.
We spent the first day and a half on the road. The weather was overcast, so we just drove without stopping anywhere. I'm a big fan of cruise control, so I put 90 km/h and almost did not interfere with the car to go south.
On the second day the sun was really hot, and we had a break in the corn.
For a change we decided to start with the Azov Sea. We have found in google maps a camping with more or less positive responses – "At Joker's", Peresyp. Have taken with us 600 rubles a day for all.
The beach is chic, the sea is warm, there are not many people. There are tables and benches. You can stand on the shoreline, i.e. practically on the beach, and a little farther away in the shade of trees. And it is the only campsite in the Krasnodar region, of those that we saw, where in territory to each site water is conducted, and in some places there is an electricity.
The only downside, but a big one, is that there is a road near where everyone goes to the ferry to the Crimea, and there is 24-hour noise from it. We stood about 20 meters from the fence and sleep was very uncomfortable. If it were not for the road, I would have happily stayed here for two weeks. But, we drove on.
And further was the camping Solaris, already on black sea, near Blagoveshchenskaya. Here we already were last year (see video here:
) Since last year absolutely no changes. The money took about 500 rubles per day. I made a mistake here – I didn't pay attention to the slope and put the trailer in the way that I had to sleep with my head down. I was too lazy to move it later.
This campsite is worth visiting for two reasons: 1) there is a gorgeous sandy beach, one of the best I've seen on the black sea (about the best will be below). 2) There is a ringing silence at night. After 9 pm you can hear only crickets, and a little noise of the sea.
The campsite has minimal amenities: – a summer shower (summer in translation from Krasnodar means water of room temperature) – a toilet, to which you can't get closer than 5 meters – stores and cafes All the necessary amenities we brought with us, so nothing prevented us to relax. Here we tried a portable shower with gas water heating – works great.
The peculiarity of this place is that the wind almost always blows here. Therefore when we traveled with tents we had to secure everything with suspenders. With the trailer this problem is gone.
We stayed in "Solaris" for 3 days and in the morning we left early. We spent the day at the water park in Gelendzhik, and towards evening we drove to the next campsite of our choice. Here we have almost a detective story with its search. We have found a camping with good reviews on google maps, not far from Arkhipo-Osipovka, and drove there. The first doubts crept up when the navigator had written, that it was 4 km to go, but as much as 25 minutes. At that moment, around the corner we had no more asphalt and we had unpaved road. Then we had to drive up and down through the hills, over the edge of the cliff and down again … We had to switch off-road at one point to drive the trailer up the hill. But anyway we got there. Camping "Quiet". Located on the bluff in the pine forest. At the bottom of the stone beach, you can go down the stairs.
Not a good choice for a beach holiday with children, because of the large stones in the sea. But a lot of wildlife, and therefore a very good place to snorkel.
The camping spots are all in the forest. There is a table and benches at almost every spot. There are all the comforts you'll need, including a hot shower. It's really hot, but for an extra 50 roubles. We had to make our way to the parking lot also through the trees. The trailer wasn't so simple, so I had to remember the game of tag, and after 10 minutes of driving in different directions through the woods, we were finally able to get there the way we wanted.
This campsite is the perfect place to get away from the city. Quiet, the noise of the trees, some sunshine, and shade. At night there are raccoons rustling around.
The money took 950 rubles per day. We stayed for two days.
And finally we went to the camping "Rainbow", which is in the Orlyonok Children's Center. It's our favorite camping. On all its minuses, and there are many, it is possible to close eyes because of unreal abrupt sandy beach. In my personal ranking, this beach is no worse than the beach at Marco Island, Florida. The local legend says that the sand is imported, and brought it specially for the all-union children's camp Orlyonok. I really do not really believe it. We were in this camping five times already and nobody has thought to get the camera. Therefore there will be no photos of this really cool beach, and you will have to take my word for it
Well, and there will be a chance to check it by yourself.
The territory of a camping big and it is possible to stand both in the open territory almost on a beach, and in a shadow of trees. We stood under a tree this time.
The campsite has all the amenities, including summer (i.e. slightly warm by evening) showers, stores, cafes, etc. There was even a luna park this year. The main disadvantage of this campground is the noise. Crazy music from the cafe plays until 1am. At a weekend there are scattered companies with music from a car and binge till morning. The money is 250 rubles per person, they did not take money for children.
Well, then there was a return trip, which is not particularly memorable, except that the whole day charged with rain, and I found a couple of places in the trailer, where while driving on wet road blows water. Nothing major and easy to fix. And along the way completely solved the noise problem from the trailer. Strangely enough, the problem was solved more by loading the front of the trailer, i.e. the noise was, it turns out, from improper weighting. Remaining small noises were completely removed by greasing the ball of the tow bar with C.V. grease. Now all is silence, as if without a trailer
In general now I can make such conclusions: – Four people (2 adults + 2 children) can live in the trailer for a long time. Of course, it's not as comfortable as a threesome or a twosome, but it's much better than a tent.
– In hot weather, in the evening the walls get warm, and in the evening it gets hot inside, even though it's already cool outside. We'll have to come up with some kind of forced ventilation.
– The 100 watt solar panel is excessive. It was sunny every day, and the battery never dropped below 90% at any time. Even in full shade of trees, the battery was putting out 15-20 watts. I think a 40-50 watt battery would have been plenty.
– The water pump and drain worked without any problems. But in the future I want to redo the sink a little bit. Right now when using it, especially children, a lot of water spills around. The countertop itself is made of pine furniture board, and I'm afraid that from the moisture it will not last long. We need to think of something, maybe some kind of trough around the sink. Also got the urge to remove the water flask from the trailer. First of all it's the extra weight in the back, which isn't really needed there. Second reason – I was more cautious about water inside trailer, because it's made out of wood and water, if it leaks from canister, can cause a lot of problems. It's convenient to use ordinary 19liter bottle for parking – I put it near trailer, put down receiving tube and pump pumps water from it by itself.
– I need a trailer stern on the drawbar. First of all for weight distribution. On this trip I fastened two spare tires on the drawbar, and also while driving some things were stowed in the front of the trailer. That solved the problem. But going forward I need a locker where I plan to load the gas tank, water, and other stuff.
This concludes the 2017 season, I'm not going anywhere else this year with the trailer, I'll be getting ready for next year.