Kawasan Falls
Kawasan Falls – the most famous and beautiful waterfall on the island of Cebu, and one of the must-visit places, especially if you're vacationing in the resort of Moalboal. Tourists and vacationing locals are always plentiful here, it is objectively the most crowded of all the waterfalls on the island of Cebu. It is also visited from Cebu City and Mactan Island, but it is quite a long drive, so it is usually included in a comprehensive tour with canyoning along the river bed, or combined with a trip to the whale sharks in Oslob.
Kavasan Falls consists of many rapids that stretch along the riverbed, but the most visited and equipped for swimming are only two, the highest being 20 meters high. At their bottom there are large natural pools for swimming, and around the tourist complex is laid out with restaurants, picnic areas, toilets, cabins for changing, and even a hotel with individual houses from 800 pesos (849.06 rubles, see Philippines currency and its exchange rate). You can come here all day for a swim in the cool water and sunbathing, jumping in the water. You can rent a bamboo raft to swim across the pool and go under the jets of the waterfall. Personal belongings can be left in a lockable locker next to the first waterfall for 100 pesos while swimming. Theoretically, swimming in the pools without a swim vest is not allowed here, vests are available for rent for a fee of 50 pesos.
The most interesting thing here is canyoning, i.e. passing the river bed with overcoming small rapids under the supervision of an instructor and with special equipment. Of course, you will have to pay extra for it, see more about Canyoning. Also for a fee is possible to jump into the pool, for which the instructor, equipment (helmet and vest), as well as taking a photo or video of the jump.
Kavasan Falls
Opening hours : from 08:00 to 17:00, better to visit in the morning on weekdays, as during weekends and afternoons lots of tourists and locals come to rest.
Entrance fee / price of tickets: entrance 45 pesos (47.76 rubles), life jacket for rent – 50, bamboo rafting – 300 (318.4 rubles), gazebo with table – 500 (530.66 rubles), canyoning from 1500 (1591.98 rubles).
Getting there: The waterfall is located in the southern part of Cebu island, 120 km from Cebu city and 25 km from Moalboal (waterfall on the map). The best way to get here is to rent a motorcycle and take a tour, but you can also take a bus.
From Moalboal, you must first take a tricycle 50 pesos from the beaches to the main street in the village, where the intercity buses from Cebu to Bato run. Take any bus heading south to Bato, every 20 minutes, 20 minutes, starting at 15 pesos. Get off in the village Badian, next to Matutinao Church. If you tell the driver that you want to get to Kavasan, he will remind you when to get off. Here you will be offered the lowest-priced canyoning tours, and guides and porters to the falls. If you are not interested in canyoning, you can go further in the direction of the waterfall along the path along the river and a half kilometers to the ticket office and the first rapids. Guides are not needed here at all, the road is clear and well marked. Also from Malboal offer excursions to the waterfall and canyoning, cost from 1500 pesos, including transportation and all equipment.
From Cebu or Mactan it is best to take a tour or a cab, because the bus ride is far, you will spend almost a whole day on the road. Well, it makes little sense to go only for one waterfall, better to take a tour with canyoning. They cost from 2500 pesos. If you decide to travel independently, from the Cebu South Bus terminal, take a bus to Moalboal (runs during the day from 5 am every 30 minutes, cost from 116 pesos, travel time 3-4 hours). From here you can get to the waterfall from Moalboal, as it's written above. From the south bus station, you can also take a bus to Badian.
If you come here by rented car, look for Matutinao Church in Badian village. Near it at the turn to the waterfall there is a parking lot (50 pesos), and then walk one and a half kilometers. It is forbidden to drive on your own after the turn.
We also recommend to see possible options for other excursions in Cebu, which can be booked online:
Cavasan Falls on Cebu Island. Philippines
You will see Kawasan Falls in the southwestern part of the island of Cebu in the Philippine archipelago. It is located in the mountains of Badian area 130 kilometers southwest of Cebu City about three hours by bus.
Kawasan is a collection of three waterfalls.
First Falls.
It is the largest and most crowded with tourists. To get to it, you have to walk from the entrance of the area uphill for about 1.5 km. Along the way there are small stores offering souvenirs such as beaded necklaces, bracelets and t-shirts with images of the waterfall.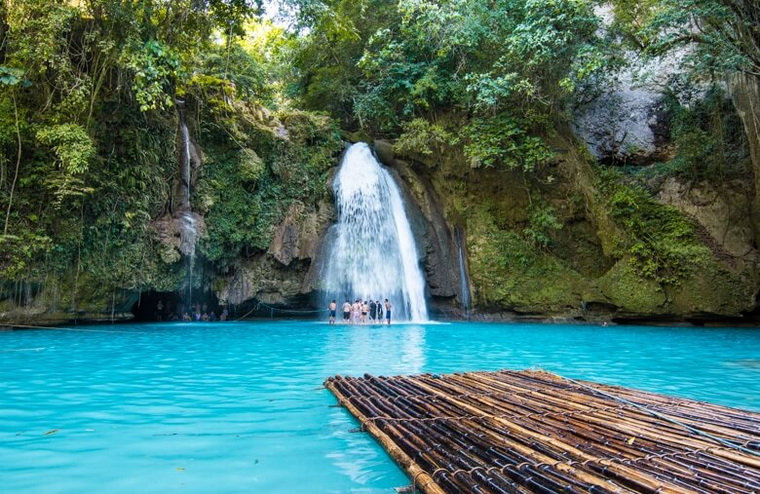 The first waterfall is the most remarkable. It is not the tallest and not very powerful, but its crystal turquoise water fills the beautiful lake at the bottom of the waterfall. It is possible to swim in it, which many tourists and locals do.
Especially good waterfall when the volume of tourists per square meter tends to zero. Only then you can feel all its magnificence and natural balance. But this is rare, as the tourist business is getting stronger and stronger in the area and crowding out the natural charm of the waterfall.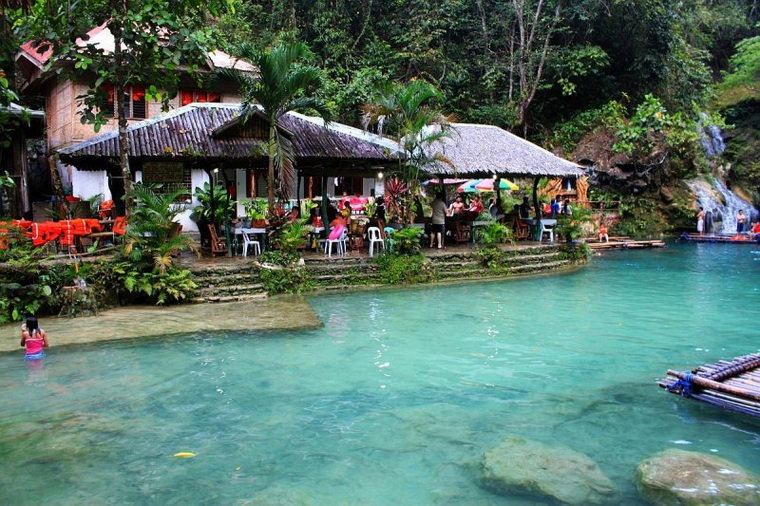 Kawasan Falls and Tourism Infrastructure
Second waterfall
The path to the second waterfall is uphill and takes about 15 minutes. There are fewer tourists here.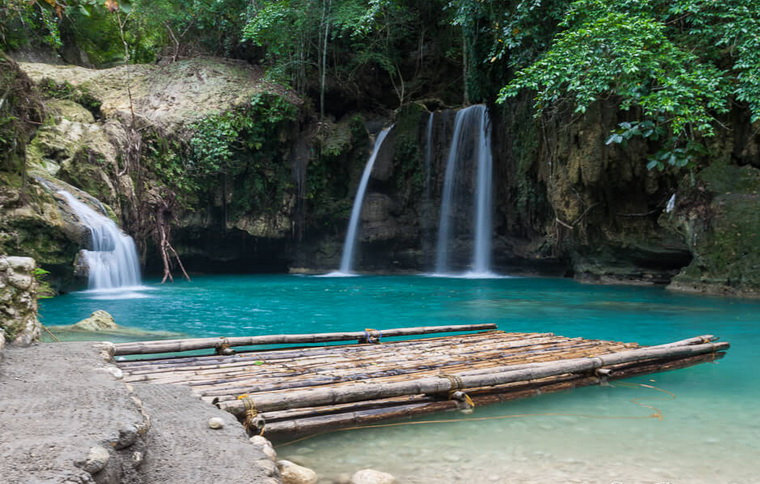 Second Level of Kavasan Falls
Third Falls
According to travelers, the third waterfall is the most difficult to reach. If you are going to get to it, take care of good shoes beforehand. In principle, this point can be excluded from the program, as this waterfall is the most unpresentable. Well, if only "for the record"…
But we found information about Kabukalan Spring, which is considered part of Kawasan Falls. It is located about 250 meters from the first waterfall and is almost as beautiful as it is. Especially the lake filled with the same insanely turquoise water. Therefore, if you find yourself at Kavasan Falls, pay attention to the place Kabukalan as well.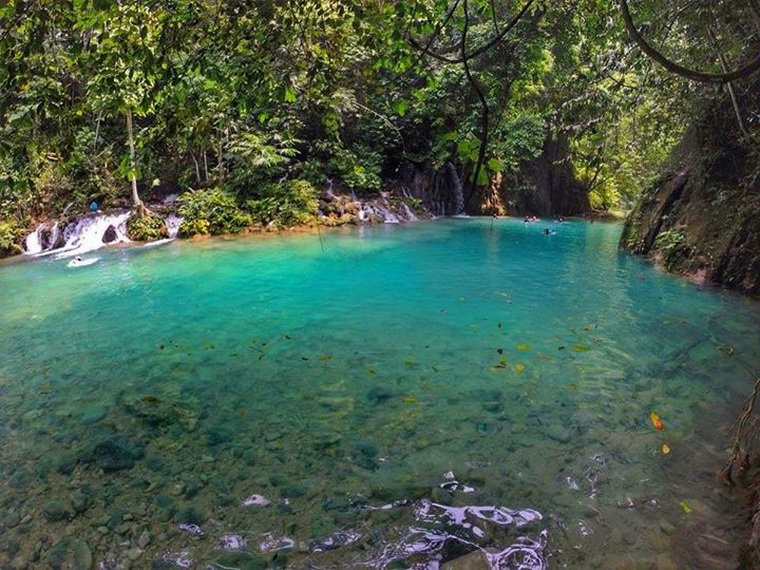 This is Kabukalan Spring. It is considered part of Kawasan Falls.
There are cottages in the vicinity that cost from 1500 to 2500 Philippine pesos to stay in. You can find a regular room for 1000 pesos. You can rent a small raft for 300 pesos and float around the lake. If you need a life jacket, they will also offer it to you.
How to get there
Kavasan waterfall is located a little over one kilometer from the west coast of Cebu and from the Santander-Barili-Toledo Road, which runs almost along the shore. It is easy to get there.
You should pay attention to the road signs if you go by car or moped. If you take a bus (usually a shuttle bus to Bato via Barili), tell the driver you want to get off at Kavasan Falls. The small church of Sto. Tomas De Villanueva Parish (Matutinao Church). From there you can walk to the waterfall.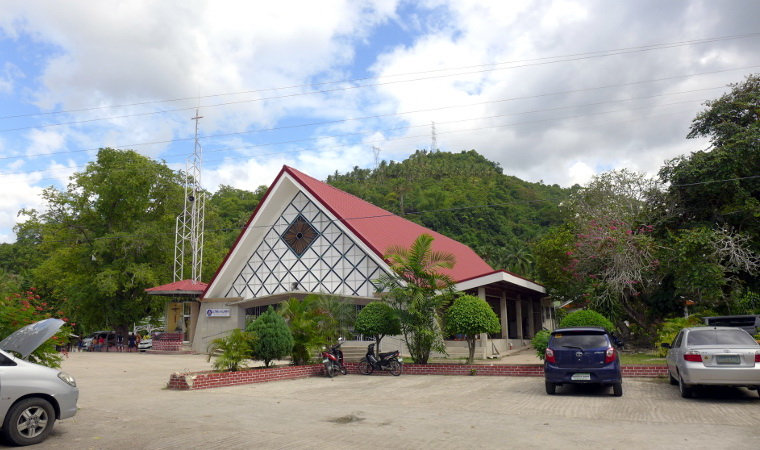 Matutinao Church is a landmark of Kavasan Falls
Kavasan Falls Rumors
There are sad rumors around the waterfall (it probably can't be called a legend).
According to the locals, it is not every year that people die at the falls, but every two years. According to rumors, the spirits of the forest, known as "enkanto", demand 60 human souls in exchange for what people have built cottages, cafes and other tourist infrastructure in the surrounding area. Why exactly 60 is unknown, but people sometimes drown here.
Periodically, photographs of tourists show black and white figures of people. Whether they are spirits of the forest or the souls of the dead is unknown.
Emma Saldua, an employee of a children's resort nearby, said she has always believed in "enkanto," but not in stories about spirits asking for human souls. Emma claims that spirits do indeed dwell there. The locals try not to disturb them so they don't get angry. When a tourist from Iran drowned in the waterfalls, the divers were unable to find his body for a long time. Then Emma asked the spirits to release the body, and it immediately resurfaced.
Whether you believe all this or not is up to you.
Kavasan Falls. One of the favorite things about Kavasan Falls is the water massage.
Advice from seasoned hikers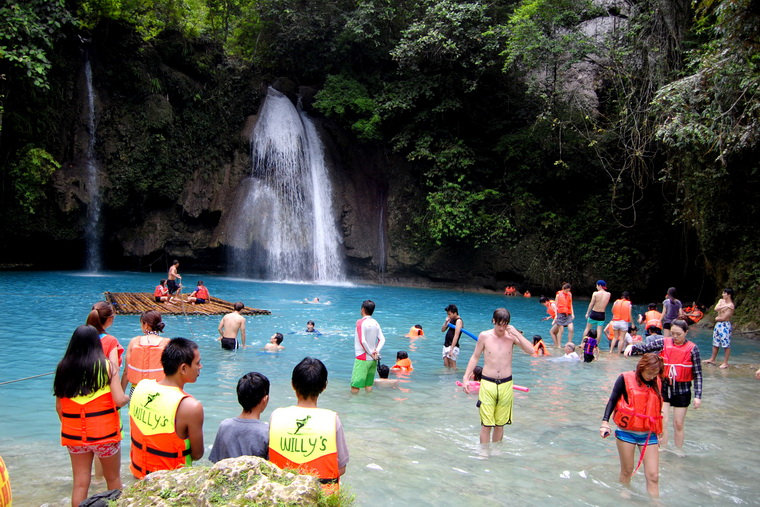 A lot of local guides will try their best to convince you that the way to the waterfall is not easy and that you need help. You can safely ignore the suggestions. The road has been beaten by the crowds for a long time … and there is only one. You won't miss it.
The same guides will scare you with strong currents, while imposing life jackets. There is a current in the lake, but you can't call it strong. If you are at least a little bit in the water, you don't have to take a lifejacket.
It is best to visit Kavasan Falls on weekdays, as there are a lot of locals on weekends.
The cost to visit the falls is 10 pesos. This is enough if you don't want to rent a life jacket or a raft. It is best to bring food and water in advance, since these essential things are much more expensive at the falls.