Travel Online: Peter-Prague!
It's Thursday, I woke up today in gorgeous St. Petersburg, and if all goes according to plan, I'll fall asleep in Prague. All day in this post I'll be bringing you an online report of how the day is going. Stay tuned.
Yesterday Peter was upset by the weather. The whole day was overcast, it rained at times, so we had no chance to walk around at all. The whole day was a succession of bummers. I had planned to visit Sergey Semkin at 5 corners and drink wine with him, but judging by his Facebook, he was going to the village to pick mushrooms. I had planned to fly the quadcopter and shoot the sunset, but the rain interfered with plans. I had made a reservation for "Kokoko," Matilda Shnurova's legendary restaurant, but the rain forced me to drink beer at various places all day, and by evening I was in no condition to eat or drink anything – so I had to cancel my reservation. You can't plan anything these days.
My travel partner is Roomguru.ru, the best hotel search engine.
7:00 Wake up! I wake up without an alarm clock – it's set for 7:30. In general, lately I always wake up early myself, I wake up full of vivacity, strength, optimism and confidence in the day. You should agree that this is not a little, in our difficult times.
In fact, I woke up from a cold! My room is a corner room. It is small, like a school pencil box, with four windows on two walls. Cheap plastic double-glazed windows are not able to keep out the cold of the Petersburg morning and the noise of the crossroads.
The Red Stars Hotel is on the outskirts of the city center – the Pryazhka River embankment. I would never have stayed there myself, but you recommended it to me! Yes, that particular hotel won the contest as the most unusual.
The room cost 5,000 rubles. In general, it's hard to find hotels in St. Petersburg these days, because everyone is flocking here, and there are no vacancies anywhere.
It is unusual in that the walls are painted with graffiti and inscriptions left by guests. For the first three minutes it looks funny. But the feeling that you are in some pissed up passage on the outskirts of the city, doesn't let you enjoy Peter. The hotel is completely out of St. Petersburg! If it had been in Omsk, I would have understood it. But here it looks like a foreign body.
7:30 I read my FriendLent, learned about the fire in Moscow and the details of the clashes in Yerevan. I made a plan of posts for today. First, I should do a post about the New World. The Crimea turned out to be very rich in content, and I have filmed dozens of posts there. There will also be separate posts about Sudak, Feodosia, Gurzuf and Novy Svet. What is interesting, the Crimean series in terms of traffic has appeared more successful than Turkmenistan! I certainly did not expect that. Secondly, I would like to release today a post about Pavshinskaya floodplain in Krasnogorsk. I took photos long ago, I should write a text – and it will be fine. I'll try to do it during breakfast.
7:40 Plans for today in St. Petersburg: see Kadyrov bridge, see the stadium construction, take Prosveshchenie-Ozerki subway, they say there is a real tenseness, like in Vykhino!
7:45 Cleanliness is a guarantee of health! And health, in our difficult times, is above all!
7:47 EMERGENCY INCLUSION. It is also very important to find a hotel in Prague. As usual, the hotel should be unusual. The hotel should be suggested by you. Where to live? Since the partner of this trip is RumGuru, we will search on RumGuru. Throw in links to interesting hotels in Prague, we will have to decide by lunch. Only, please, let's find a good hotel, not as in St. Petersburg )
7:50 Went down for breakfast and it's full of Chinese! In general, there are a lot of Chinese in St. Petersburg. The Great and Beautiful has sent hordes of tourists to the northern barbarians!
8:00 Calling up Max Vernik, he's also in the northern capital, and deciding to go to Kokoko for breakfast.
8:30. So, I've been to "Kokoko" when it was still in a semi-basement on Nekrasova Street. I really liked the restaurant back then. A few months ago it moved to the W Hotel near St. Isaac's Cathedral. The W, by the way, is one of the best hotels in the city. But yesterday there were no rooms available, unless you count the suite for 290,000 rubles per night.
The new Cococo is more glamorous. Breakfasts are from 7 to 11 a.m. You can choose a buffet for 1800 rubles, or on the menu.
8:40 Explore.
8:42 That's why I love Peter!
8:46 Draniki with salmon tartare, smoked halibut, sour cream with herbs and horseradish for 750 rubles.
Vernik has a hangover broth with patties.
8:54 First review. The draniki are dead. That is, it is not very clear when they were cooked, but if you throw these draniki at a person, you can kill. Ate without any pleasure. The patties for the broth are also the day before yesterday. Anyway, so far something love hasn't happened.
9:04 Dumplings with cottage cheese and cherries for 350 rubles. Tooth. One batter, too much butter, which interrupts all the flavor. Nothing at all.
9:06 All in all, Coco Coco for breakfast was completely disappointing. I don't know how it is with dinners here, maybe the cook doesn't come properly in the morning. The price doesn't correspond to the quality at all. At the same Doktor Zhivago in Moscow (the same Russian muggy kitchen), the dumplings with cherries are so good that you'd kill for them! Tenderest thin dough, brightest flavor, huge portion. A miracle, not dumplings! Yes, we are spoiled in Moscow.
Tell me where to go for lunch in St. Petersburg, so as not to be disappointed.
9:08 The bill
9:20 W Hotel Hall.
Time to move on!
9:46 We're going to see Kadyrov's bridge through St. Petersburg traffic.
10:18 Hell of a neighborhood.
-=Sponsor's Corner
10:20 I felt like I was in North Korea.
10:23 We've come to the Kadyrov Bridge! More precisely, there are two bridges here: one is a pipe bridge, the other is an automobile bridge. The area here is hell, for the Kadyrov Bridge was probably the worst place in St. Petersburg that could be chosen. The Kadyrov Bridge is hiding behind this pipe suspension bridge, but the suspension bridge is prettier.
10:41 Because of the low cloud cover I could not fly normally.
But I took pictures. What impressed me more than the bridge was this beautiful neighborhood without a single tree, with some wide roads and endless panel houses.
Only the Kadyrov Bridge brightens up the bleakness of this neighborhood on the outskirts of St. Petersburg. And we drive on, looking at the construction of the Zenit Stadium.
11:05 While driving to the stadium (I have to drive an hour through traffic jams. ) I see what you advise about hotels in Prague: One Room Hotel – not bad, but no room for today; Alchymist Grand Hotel – too glamorous for me; Buddha Bar Hotel – is there another one, what do you think?
Let's find something more interesting!
-=Sponsor's Corner
RoomGuru apps have the same functionality as on the website. Hotel search history for registered and authorized users will be synchronized, i.e. you can start the search on your computer and finish it on your smartphone.
The hotel finder has great filtering, you can choose accommodations by different services, price and even by parameters such as babysitting or laundry service.
11:35 On the way, stopped at an obscure place to pick up Wernick's junk.
12:16 Arrived at the Ozerki subway station. At one bus stop here managed to place 8 (.) pawnshops. Eight pawnshops in one place! That's just at the bus stop. And all around. What's beyond is incomprehensible. Under every tree these pawnshops and micro-loans. Let's keep looking around.
12:27 Arrived at the subway station "Parnassus".
It's very beautiful here.
12:49 This neighborhood promotes suicide.
Wernick says that Parnassus is "a depressing social bottom that prompts suicidal thoughts every 15 minutes."
Everything is granite, the air smells like incense, and a cool wind blows.
12:52 To keep the concrete hemispheres from moving and stealing .
. they are glued to the tiles with installation foam!
12:55 In general, this is a neighborhood you can scare kids with, "You don't do well in school, you'll live in North Valley!"
12:57 How do you know if you're in Peter? Even in the ghetto on the outskirts of the city there will be ads for prostitutes on the pavement.
13:01 Even the ads for prostitutes in this neighborhood hit rock bottom.
13:03 This is the first time I've seen French balconies in a giant panel anthill. Apparently so no one glazes.
-=Sponsor's Corner
RoomGuru, a partner in my trip today, shared a helpful tip. Rarely, but rarely, does it happen that a tourist who has booked a room at a hotel is told that either the reservation information has not arrived, or there is no such room, or the price is wrong. In this case, you need to contact the reservation system support and report the problem. They should put you in another hotel with a room no worse than the one you booked. And she will also reimburse you for cab transfer, cab, coffee, etc.
13:05
13:38 To get over the stress of visiting Parnassus, we decided to stop by McDonald's and enjoy some delicious ice cream!
13:43 Last time I was wrong: they managed to put 10 (. ) pawn shops at one stop here.
14:09 Hosting online from Uber.
14:24 Listening to your advice, came to lunch at Duo Gastrobar on Kirochnaya.
So far it looks pretty good. Let's see how they feed us. I ordered octopus salad for 390 rubles and scallops with buckwheat and smoked duck breast for 490. We drink white wine.
2:29 p.m. Crab soup at Max's.
-=Sponsor's Corner
If you arrive at a hotel and they tell you that the room reservation information hasn't reached them, you need to contact your reservation system support. RoomGuru has put together a list of things you may need to do to prove your case:
– Take screenshots of the booking process, keep them until the end of your trip until you check out of the hotel. This will greatly speed up the process of solving the problem; – keep receipts for cabs and other expenses until check-in; – find the direct phone number of the reservation system support in advance (many hide them far away on the website, so that most people write to e-mail instead of calling); – find the email address of the reservation system support in advance.
2:53 pm So, Duo Gastrobar is pretty good, I recommend it! The scallops and buckwheat are the bomb! They grate the frozen smoked duck and pan fry the scallops.
Risotto with smoked salmon for 350 rubles looks more like rice porridge. For some reason they add cream or milk to it. That's weird. But it's still good. Just don't call it risotto.
Come on in, enjoy.
2:57 p.m. I had a bottle of wine. I ordered port for dessert. I've got to get my spirits up before Prague.
3:03 p.m. Desserts.
15:13 Lunch bill for two.
15:31 The main thing now is to catch the plane.
15:48 Peter is extremely littered with visual and audio garbage in tourist spots. Everywhere there are ads for prostitutes and sandwich people, noise and clamor. All this doesn't make the Capital of Culture look nice.
We take a cab and go to the airport.
-=Sponsor's Corner
Let me tell you about how RoomGuru works. There are two types – a reservation system and a metasearch engine. Booking systems (they're called OTAs – online travel agencies) negotiate with hotels, get rooms from them at certain prices, and then put them up for sale. Booking systems usually work with hotels for a commission, and, unlike the classic small offline agencies, do not raise prices. On the contrary, due to the large number of clients, OTAs get lower prices than the hotel itself offers at the front desk. If you are already at the front desk, why would he sell you a cheaper room? In addition, each PTO tries to make more attractive offers to clients by lowering their own commission, negotiating with the hotel for various specials, etc. Because of all these nuances prices for the same room on the same dates may be different in different booking systems.
A metasearch engine, in turn, is a service that connects a lot of different PTAs and individual hotels, which studies all offers and allows you to choose the cheapest of them (or, at least, not to run into the most expensive). An analogy can be made with shopping. The store negotiates with suppliers and tries to offer you a good selection of juices at the best prices, and the metasearch engine punches in the price of your favorite juice at all the stores in town and tells you where to go. That is, you're still directly making the transaction in the store, just now you're sure you're buying juice at the best price!
16:21 It seems unbelievable, but we made it to the airport again!
Review: Bar "U Schweik" (Russia, Saint-Petersburg) – Czech entourage of a place with relatively good food
I walked through St. Petersburg one May day and saw a sign for a Czech pub on the Fontanka embankment. I had other plans that day, but for the future I made a photo of the menu, which was conveniently posted right next to the main entrance of the place.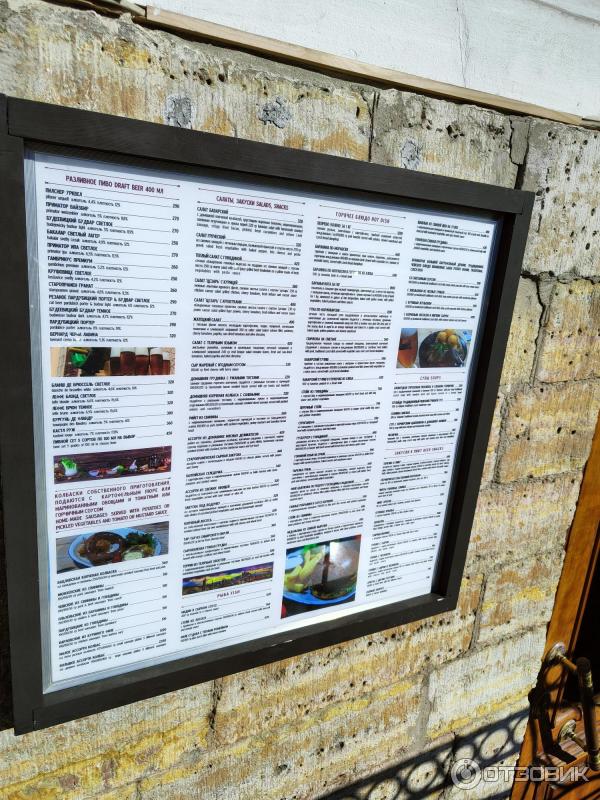 Time was passing, but I still did not have a decent reason to go to the bar. And so, on the threshold of vacation I decided that I should make myself a pleasant evening. After researching the menu I realized that I had been once in another restaurant of this chain, the restaurant "The Goose Shot". After rereading my own review I got upset, recollecting that the institution did not please me much then.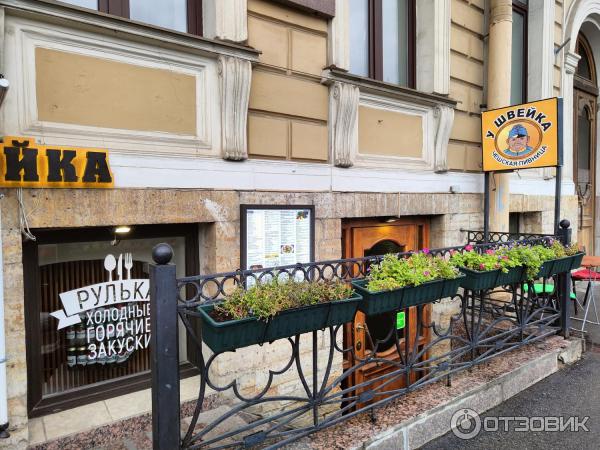 Nevertheless, having glanced through the menu available on the bar's website, I immediately noticed sanctioned items (sliced beer) and after briefly thinking here on the website I booked a table and gave the chain a chance to rehabilitate itself.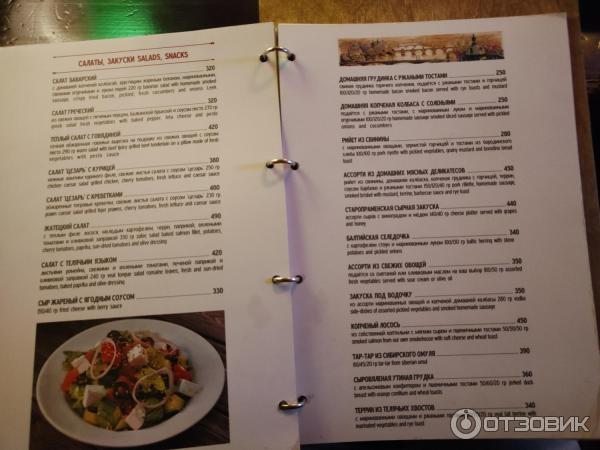 A few hours passed, but I didn't get a call or a confirmation message. I decided to play it safe and call myself. Much to my surprise, they didn't find my reservation. Thankfully there were still seats available, but I couldn't get a secluded table.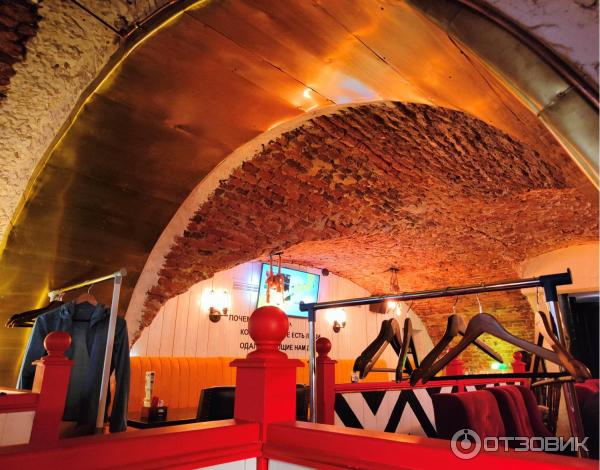 Personally, I was very uncomfortable in Czech taverns, where different companies sit literally side by side. I always tried to get a table farther away and quieter, but in Prague it was very rare.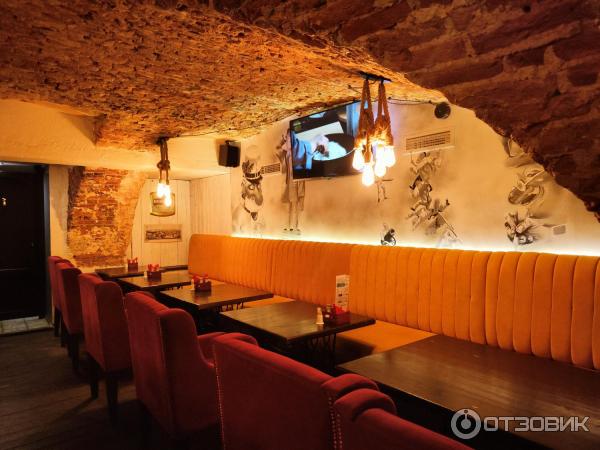 At the appointed place we were escorted to a table located on the edge, which was already a great success, since our neighbors were present only on one side.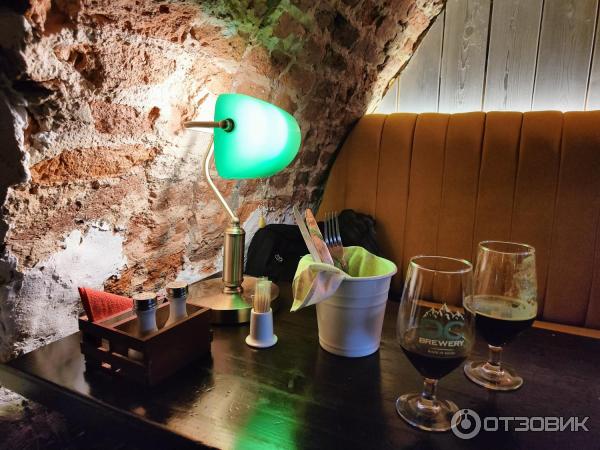 Having glanced at the beer list I realized that it was very poor: there was not even the seemingly classic cherry sort "Castle Rouge".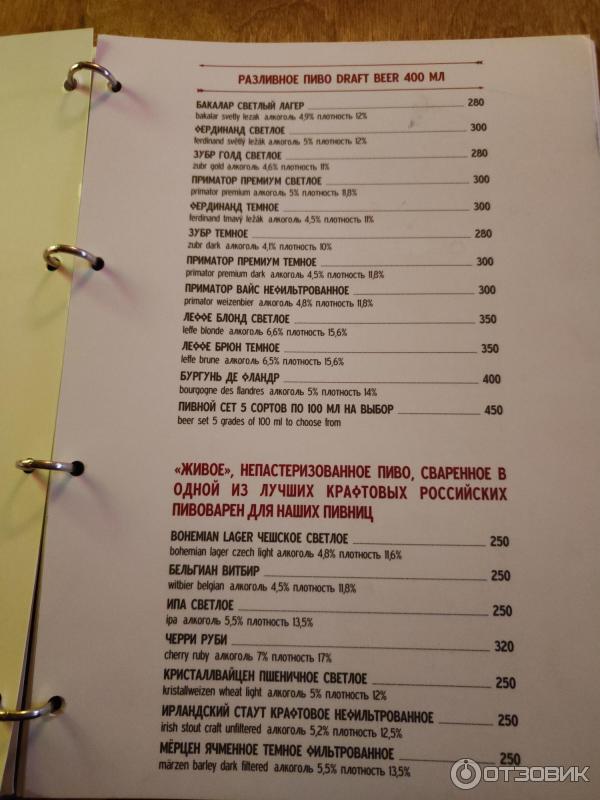 Fortunately at least one draught fruit beer was available: my choice was "Cherry Ruby". There was no problem with the food, the menu was exactly as I had hoped it would be. Without unnecessary deliberation we ordered grilled cheese, swichkova, a plate of beer and a warm salad. As I waited, I looked around: the unpretentious entourage of a small hall. There were a lot of tables, but not more than half of them were occupied. Though, the most well-located ones had a reservation.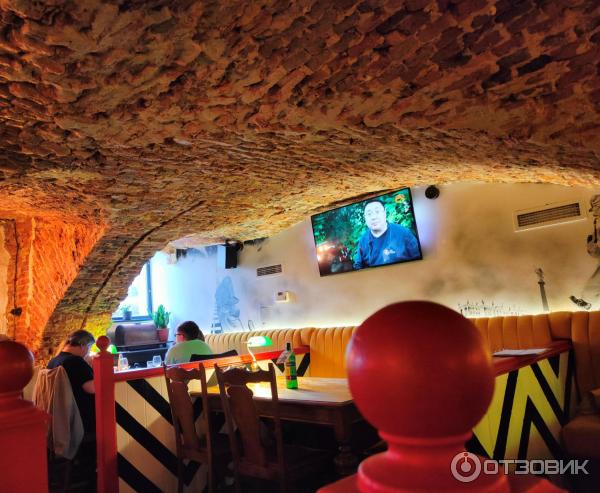 They brought everything very fast, and almost simultaneously. The problem was that the table for two is fairly small, and to place 4 plates on it simultaneously was a problem. The portion of grilled cheese was one bite less, but the taste was excellent. As for the swichkova in this place, I liked it better.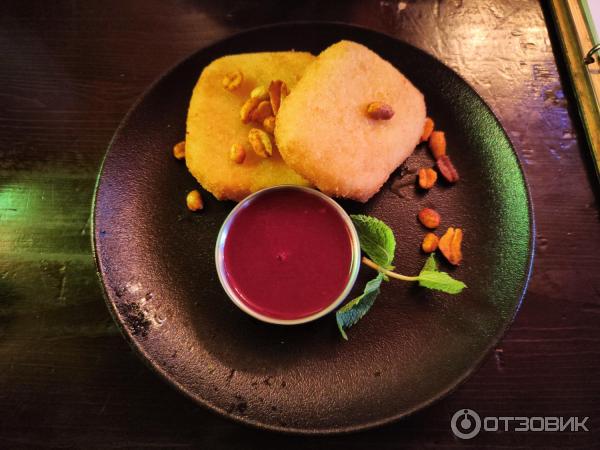 Perhaps over the years I've just begun to forget what it was like in the Czech Republic. The sour cream there was clearly not served in a separate creamer, and the dumplings tasted completely different. But, the meat just melted in the mouth, and the portion was quite decent in size.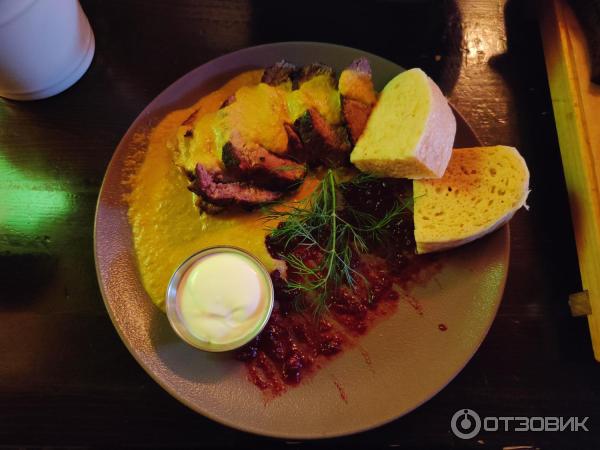 The warm salad was not bad in taste but not worth its money, in my opinion: an abundance of greens with a few pieces of beef – just to whet the appetite. In the St. Petersburg bar "Drunk & Happy" this dish was much more hearty.
The biggest disappointment, however, was the beer plate; the only thing we ate with pleasure were the peanuts and cheese balls. The croutons seemed to be made of dried out old bread, even frying them in a lot of oil did not save the situation.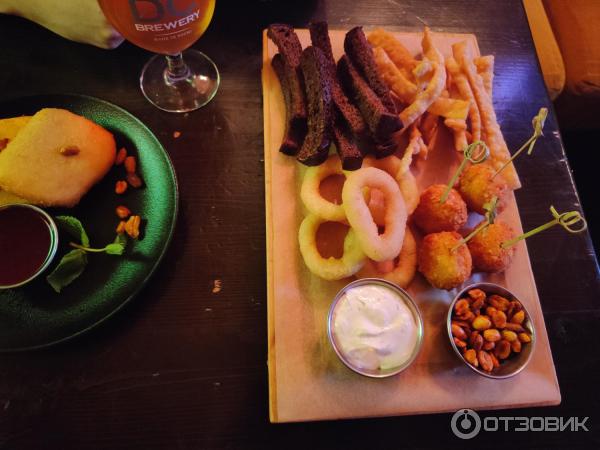 The cheese croutons were not appreciated at all: it seemed to me that they were just pieces of fried dough, and there was not even a smell of cheese. Nevertheless, turning my head, I noted that the plate for beer is a frequent guest on the tables of visitors, it attracts by its affordable price and variety. But I can assure you, you'd better order a few normal snacks separately, because demand breeds supply, and it seemed to me that the quality of this dish is simply forgotten, because they will still buy it.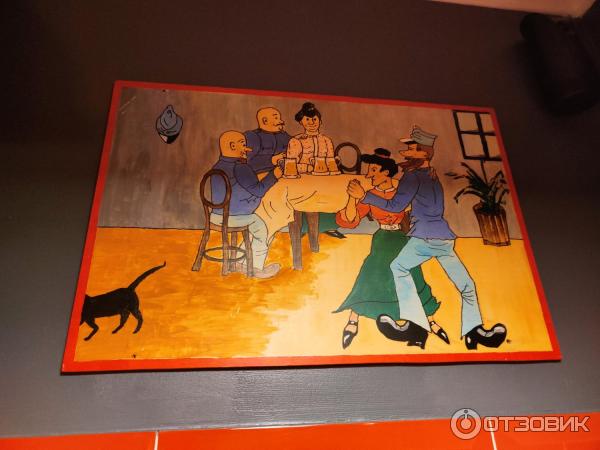 I had no room for dessert this time. In general, I was satisfied with the taste of the main dishes ordered in the bar "At Schweik's". That's how it is in the Czech Republic: to feed tasty and plentiful, the snack format is not in vogue there. Even croutons in Prague are a fried slice of bread with a meat filling, not just croutons with sauce.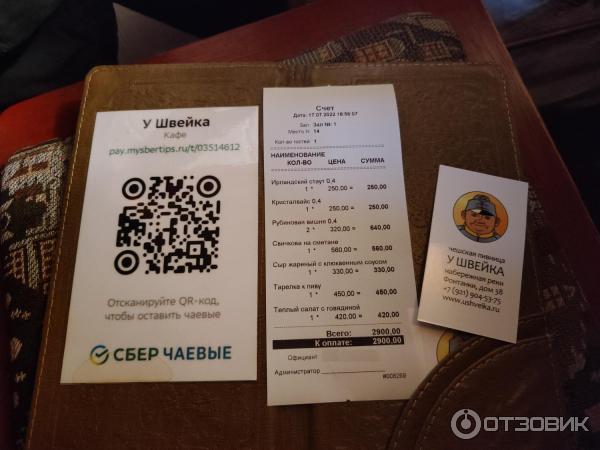 A couple more years without traveling in Europe will pass, and I will have even more fun eating St. Petersburg croutons. Beyond the inaccessibility of the original, such places can brighten up the evening. I recommend a visit.