Christ Church
Christ Church College UK, which boasts so many distinguished alumni. Among them are politicians, heads of government, and distinguished writers.
One of the formulas for success in Western civilization, looks like this: go to a higher education institution, get an education, and you will have a prestigious job with a good income. A striking example of this notion can be found in the statistics of Oxford University's college, Christ Church.
It was his graduates were 13 prime ministers of the British government, and that's not counting other famous figures of science and culture. And no wonder, since Her Majesty is at the head of the list of the staff of this educational institution.
What makes Christ Church College so different from others in Oxford and the whole of Great Britain?
History of Christ Church
Oxford has more than thirty colleges, and Christ Church is one of them. It owes its founding to the second man in England after the King – Thomas Wolsey, who had the rank of Cardinal.
As was the custom in Europe at that time, education was inseparable from the church. But the foundation of the institution was not spiritual, but political.
England was engaged in a continental war with France and needed money to finance the war effort. Cardinal Wolsey developed a flurry of activities aimed at closing many monasteries and other ecclesiastical institutions. The finances freed up covered the war costs, and the Cardinal's College was founded on the site of the closed abbey, which after 21 years was given its present name.
The foundation laid by the church largely determined tradition. For a long time the teachers were priests. Even Lewis Carroll had to be ordained a deacon to lecture in mathematics! And today the dean of Christ Church is necessarily a clergyman.
Today's college has just over 200 faculty members for 400 students, and 200 trainees. It is this large number of educators that allows more attention to be given to each student.
For a student enrolled at Christ Church, this system provides a great advantage in gaining a degree in a subspecialty, whether it be in management, mathematics, or engineering.
Tuition, as in the whole of Oxford University, is not cheap (an average of 20 thousand pounds a year). But even being quite wealthy, money alone is not enough. You have to be a really talented person to get an education here. Perhaps this determines the number of celebrities among the graduates of Christ Church College.
And famous people have graduated from this aristocratic institution quite a few. Among them were politicians, writers, and scientists. Here are some of them:
William Gladstone – Prime Minister of Great Britain in the 19th century was elected to office four times.
Lewis Carroll – was a college math teacher, author of the famous Alice in Wonderland.
John Tolkien – writer and one of the founders of fantasy, creator of The Lord of the Rings.
George Monckton-Arundell – politician and governor-general of New Zealand.
Harry Oppenheimer is president and one of the owners of De Beers (diamond mining and processing).
In the 1930s, Einstein lectured at the college. The Oxford board had to go to great lengths to make this happen. At the end of the class, though, very few listeners remained of the original crowd. The reason was that the great scientist gave all three lectures in German.
It is not only possible to visit the college as a student or listener. Its ancient buildings and halls are available as one of the attractions of the entire university.
The college grounds are available for a visit all week. From 8:00 a.m. to 5:00 p.m. on weekdays and Sundays from 2:00 to 5:00 p.m.
The only thing you need to do is to contact the administration and find out which buildings will be available on any given day, this will determine the price of the ticket. After all, Christ Church remains a functioning college where the academic process is underway.
What happens at Christ Church, Oxford's most famous and scandalous college
Stealing Old Master paintings, a knifing incident among students, and a pay-day trial with the dean – this is how things work at Christ Church, one of Oxford's most famous colleges. Reporting from the walls of the palace of nightmares is Francesca Carington.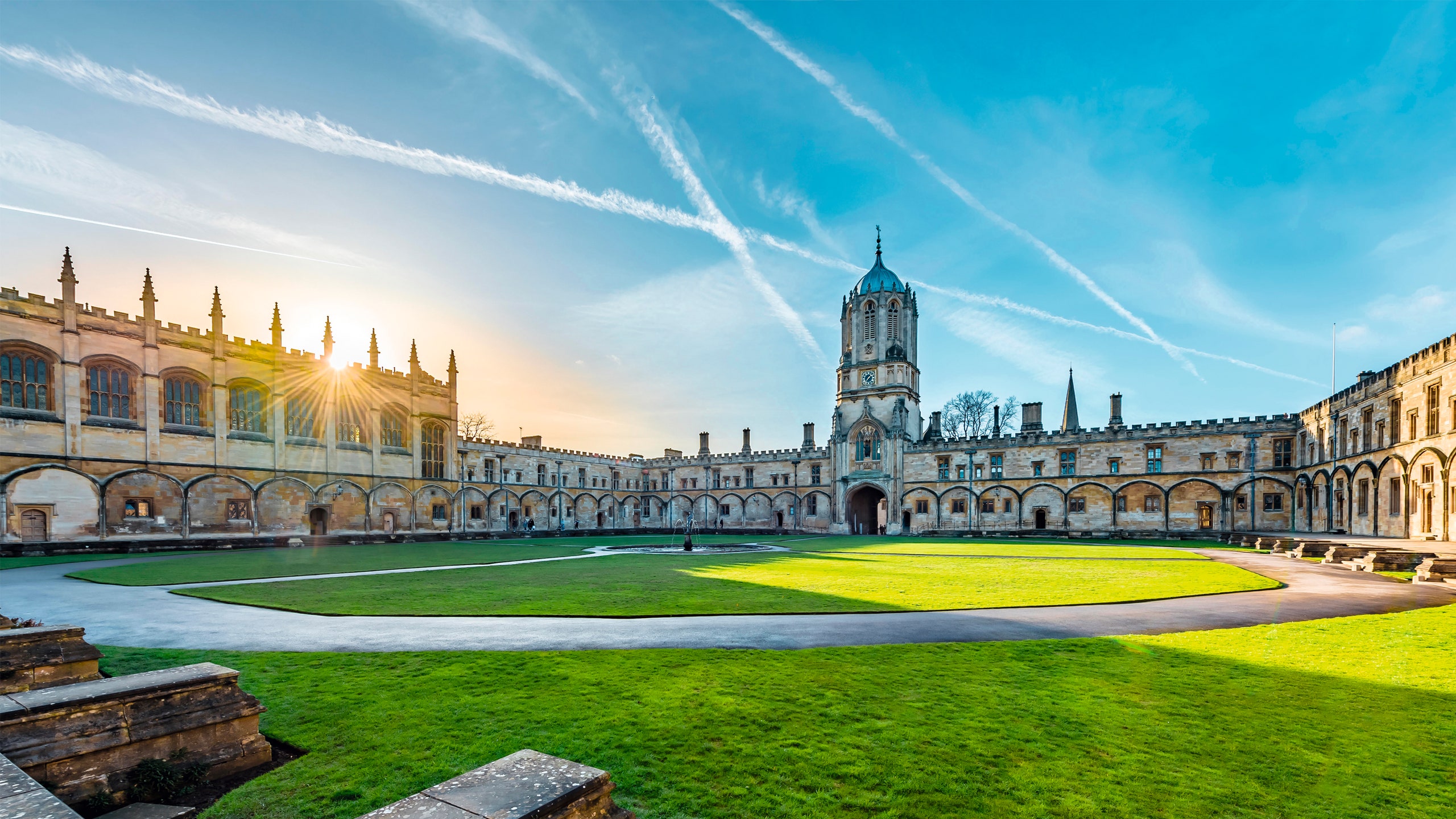 "Christ Church's style is excellence achieved without the slightest effort, though this is not to the liking of those who have not studied at Christ Church. But it would be wrong to expect the world to revolve around those who did not go to Christ Church," wrote Hugh Trevor-Roper, one of the college's distinguished alumni and historian. Today's alumni are far less loyal: "Christ Church has been a mess for the last two years," one of them sighed when talking to me by phone.
Christ Church is not the oldest college in Oxford (Balliol, Merton, and University College are competing for this title), not the richest (St. John's is in first place), and not even the most beautiful (Corpus Christi, Trinity, and Worcester are far ahead). But Christ Church is ahead of the rest in the intellectual level of its students, a reputation that dates back to the days when it was packed with young lords. At Christ Church, more than at any other college, the Brideshead glamour of Oxford is preserved. Its Tom Tower is more mesmerizing than any of the spires dormant above the university. Its cave-like enormous dining hall bewitches both Harry Potter fans (it played the Hogwarts dining hall in the movie saga) and those who dine there without any magic. Eaton's students call it simply "The School." – Christ Church is known among its residents simply as "Home." Each of Oxford's colleges has its own chapel – Christ Church has an entire cathedral. In this college the Parliament of Charles I sat during the Civil War, shone in mathematics the future author of "Alice in Wonderland" Lewis Carroll. It's where members of the Bullingdon Club cracked all four hundred and sixty-eight windows in Peckwater Square, twice. Here, on cold February mornings, the purple silhouettes of long-horned cows grazing in a flood meadow emerge from the fog. In short, this is the Oxford that has long been a myth.
But at the same time, this is where the conflict over pay between the nominal head of the college–dean Martin Percy–and a group of research assistants escalated into a real war. "Just imagine what an episode of Inspector Morse we could have filmed if his [Percy's] wrinkled, squishy calf had surfaced in the Osney lock!" – one of the squabbling participants wrote in an e-mail. It was here at Christ Church that a high school girl who overdosed on illegal substances stabbed her boyfriend and avoided jail, causing a howl in the tabloids. It was here that cases of fabulously expensive wine disappeared from jam-packed cellars and paintings by old masters worth several million pounds were stolen from an art gallery. It was here that a secret society led by leading college officials was banned. Christ Church, founded in 1546 by King Henry VIII and the alma mater of thirteen prime ministers as well as hordes of aristocrats, maharajas and Nobel laureates, is in deep crisis.
"The atmosphere here is poisoned," one graduate student lamented. "It's just kind of crazy," a recent graduate is horrified. The once-great institution is destroying itself from within. Former editor-in-chief of The Guardian and current dean of Oxford's Lady Margaret Hall College, Alan Rusbridger, explains why he wrote an article for The Times about the scandal: "Christ Church is such a famous college that its mention in newspaper headlines could damage the reputation of all of Oxford." Not surprisingly, a number of conservative commentators were not slow to question Rusbridger's motives. Allegedly, dreaming of making his college a bastion of progressive "awareness," he was only too happy to tarnish the old-fashioned splendor of Christ Church.
Tom's Tower of Christ Church College in Oxford
Daily Mail article on the theft of paintings
The real embarrassment of Christ Church has been the theft. In March there were reports that several cases of Burgundy worth between a thousand and two thousand pounds sterling had disappeared from the luxury cellars. By the way, sometimes it seems that people here just take everything that is bad. I remember once getting out of my Exeter College for a formal dinner at Christ Church. What was my surprise when, after dinner, at the bar, I found my tablemate rummaging through my purse. Turns out he wanted to get some of the small dishes with the college crest on them that he had discreetly stashed in my purse during dinner.
On March 14, there was a bigger theft. Around eleven o'clock in the evening three paintings, Antonis van Dyck's Soldier on Horseback, Annibale Carracci's The Drinking Boy, and Salvator Rosa's The Rocky Coast, were stolen from the Christ Church Art Gallery. Police believe the thieves may have smuggled the paintings by river. The value of the work is estimated at £ 10 million. We can say that the gallery got off cheaply: in its collection of about 300 paintings by old masters and two thousand pictures, many of which in the XVIII century bequeathed the college general John Gies. The only art gallery in Oxford, of course, still emphasizes the exclusivity of Christ Church, but being without wine is one thing, not preserving the cultural heritage of the college is quite another.
By this point, the reputation of the college had already suffered terribly because of the conflict over the dean. It began as a trivial dispute over salaries, but grew into a nasty squabble. On one side of the barricades are prominent academics who call Dean Martin Percy "incorrigible, stuffy, and narcissistic," a "manipulative little shit," and a "little Hitler. On the other side is the dean himself, who sends a letter to the Wage Board, lumping together serious concerns about student safety and complaints about the college's procrastination in remodeling the kitchen in the enormous service house (which Percy considers living in not so much a "privilege" as an "obligation," which he claims at every chance he gets). The scandal has so far cost the college £2 million in legal fees. However, Christ Church, which has financial backing of £550 million, is unlikely to face bankruptcy. But there is a nuance: alumni are now reluctant to donate to their alma mater. As one of them articulates: "Why should we give money to a lawsuit that the college itself started?"
Christ Church student Lavinia Woodward at the Court of Appeals, 2018
The breeding ground for this fierce fight was the college's specific governance system. Every hut has its rattlesnakes, but of all thirty-nine colleges in Oxford, only Christ Church is both an academic and a church institution. Technically, the dean directs both the college and the cathedral and–unlike the heads of the other colleges–is always appointed by the Anglican Church. Like all colleges in Oxford, Christ Church practices self-governance. There are sixty members of the council – the dean, some canons of the cathedral, and a majority of the academic staff. The real power, however, belongs to the faculty, and specifically to the two censors, elected by a general vote, who direct the academic and social life of the college. The former censors also wield some influence. Their grouping is precisely what opposes the dean. As Andrew Brown, a journalist who specializes in religion and is familiar with the situation at Christ Church, says, "Martin reads the written rules aloud, but won't consider the unwritten ones because there is no place to read them."
Percy was appointed dean in 2014. In July 2017, he asked for a review of his salary. It was £90,000, plus accommodation in the dean's posh residence and income from renting apartments to graduate students (about £11,000 a year). It's pretty decent for a priest, though not much compared to the salaries of other college heads. However, the Dean felt that this amount did not reflect the real weight and authority of Christ Church.
His request was denied. But the dean kept voicing his displeasure, and in the end the college decided that normal relations with Percy could no longer be restored. He was offered a deal – £2 million, free accommodation (according to the Financial Times), and he would leave his post without fuss. Percy declined. In November 2018, he was suspended. In accordance with the college's bylaws, an independent tribunal presided over by retired judge Sir Andrew Smith began internal proceedings to charge the dean with "immoral, scandalous and unworthy" behavior. In August 2019, it was announced that Smith had decided the case in favor of the dean, disproving all twenty-seven counts of the charge. Percy was reinstated. But his troubles did not end there. In December, the College Administrative Council passed a vote of no confidence in the dean. Percy's supporters, however, wasted no time in making a fuss about the very proceedings. Two of the six appendices to the verdict were redacted before going to the administrative board. This angered the Dean's supporters, and in March of this year, Christ Church alumnus, former minister, and now minister Jonathan Aitken sent out an unedited version of the hundred and six-page verdict and a full set of appendices to all sixty council members.
Half an hour after this mailing, senior censor Geraldine Johnson sent a letter to the council members asking them to destroy Aitken's email without reading it. Aitken declined to be interviewed by the Tatler, citing probable Covid-19 infection. He did, however, send a copy of his email to the editorial board. "It's just astounding that the members of the administrative board were denied the opportunity to read Judge Smith's decision without the bills," said one senior university official. – An impartial board member might have thought, "Shouldn't we get a better handle on the motives of the people who spent two million of our money on this proceeding? And why now don't they want us to read the verdict?"
Smith's investigation clarified several things. First of all, it became apparent that the college should not have fired the dean. But it also showed that Percy had shown himself to be, as journalist Andrew Brown put it, "a stubborn bastard" who "stubbornly refused, because he knew very well that if he lost the job he would have no future in the Anglican Church. He's playing the cards he's dealt. Everyone knows that Percy and Archbishop Justin Welby of Canterbury are not getting along too well after a dispute over the appointment of the new Bishop of Sheffield. Percy, a well-known liberal, has protested Welby's proposed candidate, who is an opponent of appointing women as bishops.
Some believe that attempts to discredit the dean are actually related to Percy's desire to reform Christ Church's security system. It all started after the Lavinia Woodward incident: in December 2016, a drunken senior studying medicine stabbed her boyfriend with a bread-cutting knife and threw a laptop and a jar of jam at him. Dean Percy, as the only college official available at the time, had to clean up the whole situation. Woodward escaped imprisonment – the judge decided to limit her sentence to probation for "such a gifted young lady. However, she never returned to Christ Church.