Colombia. Travel and vacation in friendly Colombia.
Russians do not need a visa to Colombia, without it you can stay in the country for up to 90 days. When traveling to the Caribbean coast and Tyrone Park is recommended to be vaccinated against yellow fever.
How to get there
There are no direct flights, you must change planes to get to the capital, Bogota. Round trip airfare starts from 68,000 rubles* per person.
It would be better to plan a trip for winter or August. Colombia is on the equator, so there are no traditional seasons, there are dry (December-January, July-August) and rainy (April-May, October-November) seasons.
The local currency, the Colombian peso (COP), is valued at around two kopecks per unit. Locals refer to it by the $ sign, but do not confuse it with the dollar. Check the current exchange rate before you travel.
What to see in Colombia
When you arrive in the country, take into account the big time difference – minus eight hours with Moscow – and possible jetlag. I advise you not to plan a busy program with transfers in the first days to have time to recover after the flight.
Bogota
Colombia's capital of eleven million people is located in the Andes at an altitude of 2610 meters. It's a melting pot of colonial mansions and slums next to shiny skyscrapers.
It's more convenient to travel around the city by cab: there's Uber and a local service called Cabify. Do not rent a car for this purpose, because Bogota is a city with crazy traffic.
Where to stay in Bogotá
Close to the main attractions are hotels in the safe neighborhoods of Candelaria (historic center) or Zona Rosa (trendy neighborhood). Selected convenient options:
Selina La Candelaria Bogotá – from 1,800 rubles* per night for two; Ibis Bogota Museo – from 2,300 rubles* per night for two; El Yarumo Hostel – from 2,800 rubles* per night (family room).
Day 1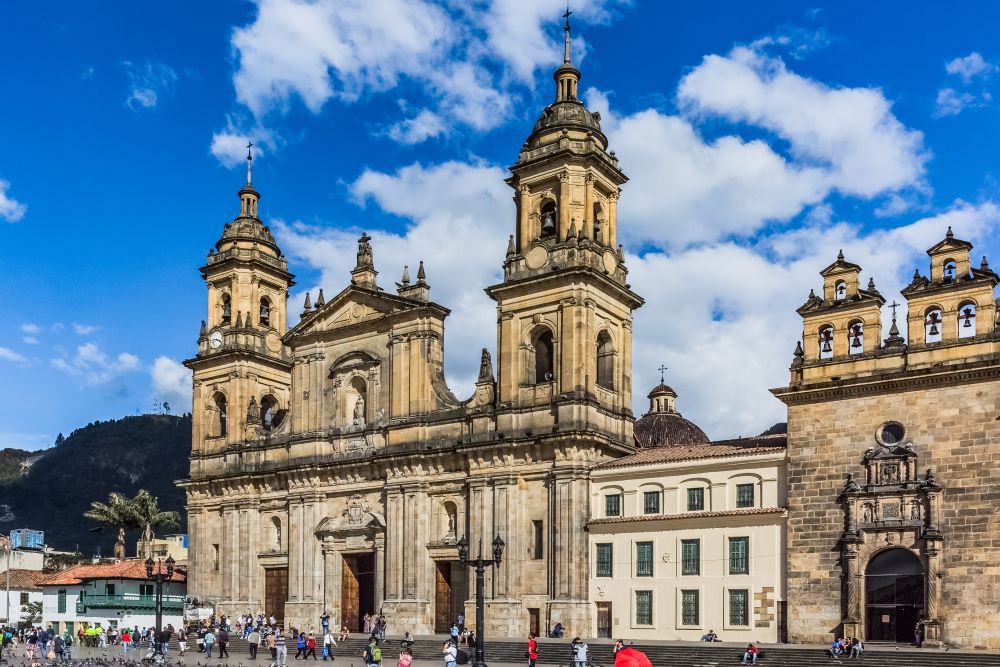 Photo: OSTILL is Franck Camhi / shutterstock.com
We start our trip to Bogota from Plaza de Bolívar. Here you'll find a monument to Colombia's first president, Simón Bolívar, the Cathedral and the Presidential Palace.
Walk through the Candelaria neighborhood with its colorful colonial buildings to the funicular to Mount Monserrat, which offers the best view of the city. The climb costs 13,000 COP*, and you can walk down. Then we go to the Park of Journalists (El Parque de los Periodistas), where we start a free walking graffiti tour. Graffiti is part of Colombia's culture, and the government allowed graffiti in the capital.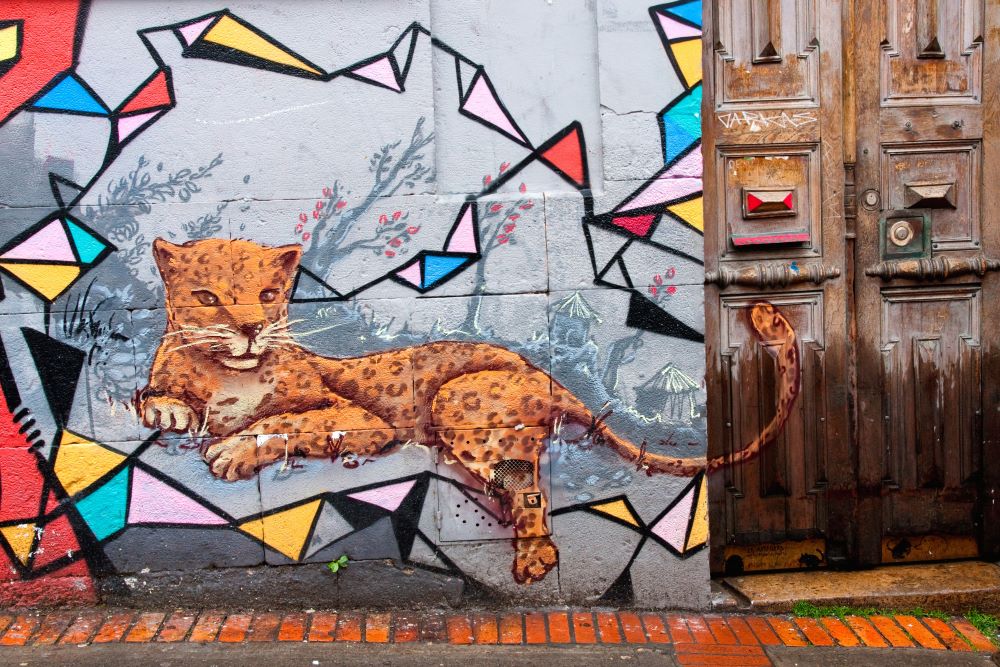 Photo: De Jongh Photography / shutterstock.com
Museum lovers can check out the Museum of Gold (4,000 COP*), the National Museum (3,000 COP*) and the MAMBO Museum of Modern Art (12,000 COP*). The former features 36,000 gold pieces, the latter tells the story of Colombia, and the latter displays works by Warhol, Picasso, and Dali. Also worth a visit is the museum of Fernando Botero (free), Colombia's most famous painter and sculptor.
Villa de Leyva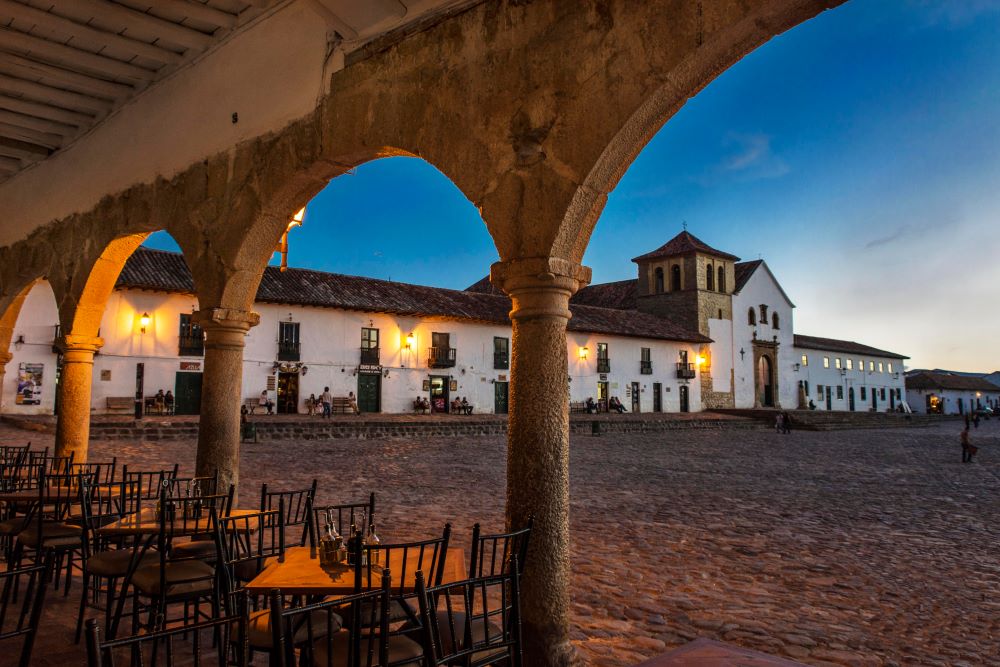 In Bogotá, rent a car for two days and go see the surrounding area, the city of Villa de Leyva, where colonial architecture from the 16th century is preserved. Rent a car on OneTwoTrip in a couple of clicks – it costs from 3700 rubles* per day.
Day 2
The first stop is 50 km from Bogotá, the sacred lake of Guatavita, at the bottom of which the legend says there is Eldorado. Nearby is the town of the same name with houses with white facades and clay tiles, it is also worth seeing.
Then we reach Villa de Leyva (130 km). The architecture of the city has not changed over time, so wandering through the narrow streets, you catch the feeling as if you are in the colonial era. The main attraction is the 14,000 m² paved central square, making it the largest of its kind in South America.
Villa de Leyva is also interesting for its paleontological findings: ammonites, skeletons of pliosaurs, an 18-meter-long land lizard and a crinosaur were found here. You can see some of the exhibits in the Dinosaur Park (entrance 16,500 COP*).
Where to stay in Villa de Leiva
We chose atmospheric hotels with courtyards, arches and balconies:
Hotel Plaza Mayor from 2,800 COP* per night for two; Casa San Nicolas from 3,800 COP* per night for two.
Rakira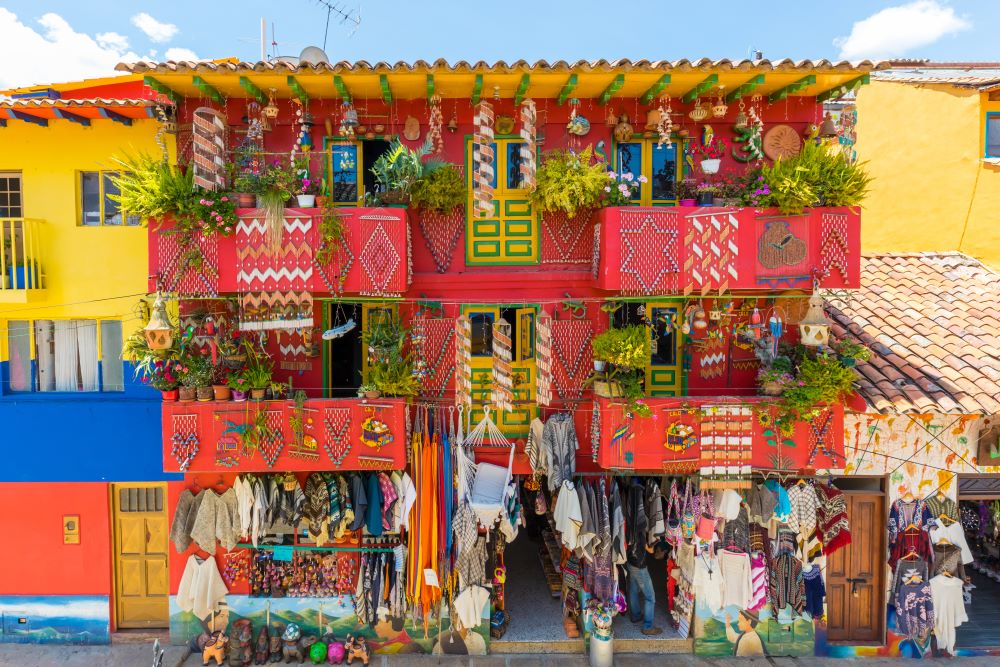 An artisan village 25 km from Villa de Leiva. Photo: Mark Pitt Images / shutterstock.com
Day 3
After breakfast, we leave for Raquira, the artisan capital of Colombia. Each cottage in the town is unique: the first floors contain pottery and ceramic workshops and shops, while the upper floors are decorated with whimsical patterns and trappings. This is where you should look for original and cheap Colombian souvenirs, such as colorful hammocks or ponchos.
We should leave for Bogota at noon in order to be back before the evening traffic jams. Rent a car and fly to Pereira in the morning by local airlines. The flight costs from 3500 rubles per person*.
Salento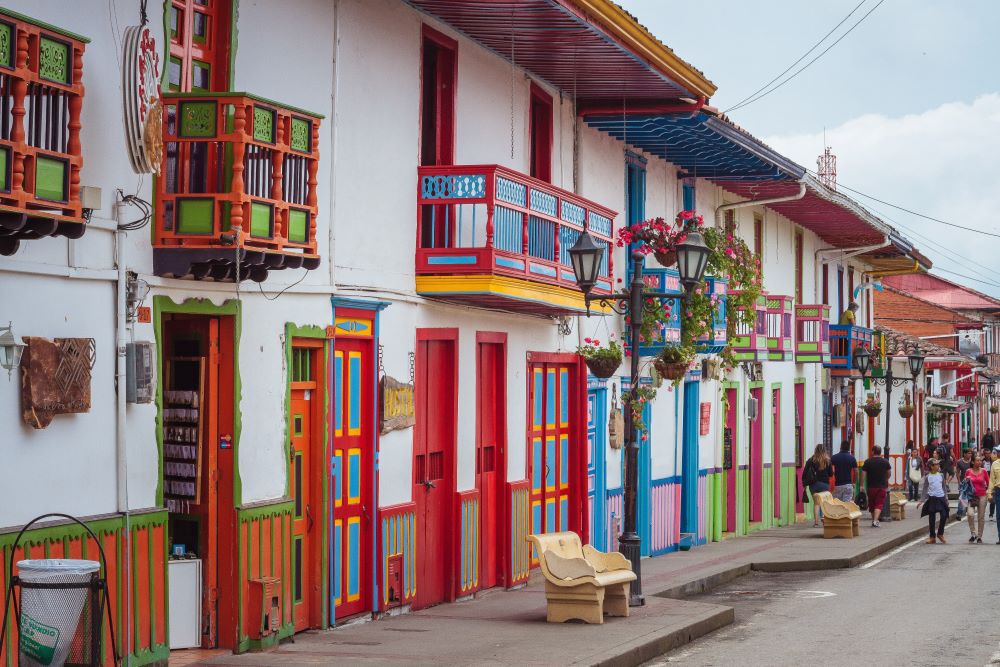 The city is located in the "coffee triangle" – an area where a lot of family farms for the production of beans, called "finca". Some can be accessed with a guided tour.
Day 4.
At the Pereira airport we take the car again, this time for five days. Our final destination for today is Salento, but on the way into town we make a detour and stop by the Parque Nacional del Cafe. This is an amusement park and open-air museum that tells the story of Colombian coffee (ticket with unlimited rides is 59,000 COP*).
Salento is a small bright city. The most popular activities here are tours of coffee farms and plantations (Finca Don Eduardo, Finca El Ocaso Salento and Finca Las Brisas) and hiking in the surrounding valleys and national parks.
Where to stay in Salento
Hotel Camino Nacional Salento – from 2300 rubles* per night for two; Hostal Tralala Salento – from 1500 rubles* per night for two.
Cocora Valley
The valley with the highest endemic palm trees is part of Los Nevados National Park in the Andes. 11 km from Salento.
Day 5
Dedicate this day to a walk in the park with wax palm trees, the symbol of Colombia. These huge trees reach up to 80 meters in height, and in cloudy weather their tops are lost in the clouds. There are also hummingbirds and rhinoceroses, often seen at feeders along the way.
The colorful jeep Willys are the best way to get to the valley. They leave from Salento's central square every hour, catch the first one at 7:00. The round trip costs 8000 COP*.
Entrance to the park itself is free, but hiking is paid. There are two marked routes: a short 5 km (3000 COP*) which will lead directly to the valley with palm trees, and a long 17 km (7000 COP*) covering all parts of the valley.
Afterwards we drive to Medellín (260 km).
Medellín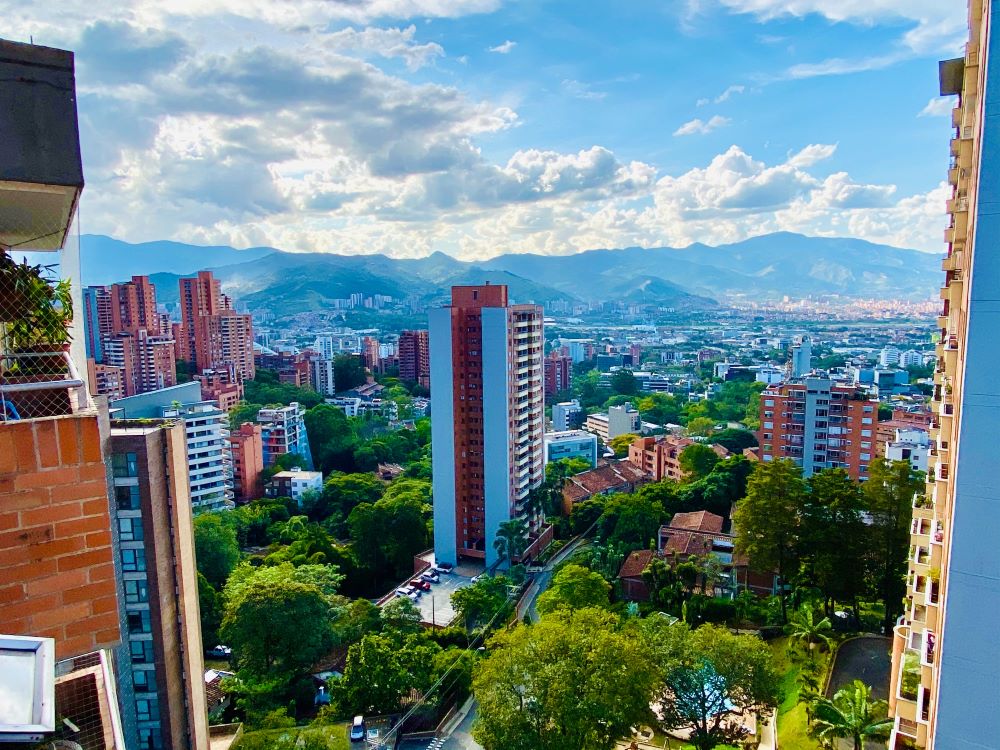 Once a city of drug lords, now a burgeoning metropolis with a metro and modern infrastructure.
Day 6
Today we walk through the "city of eternal spring". The program includes Botero Square, the Metrocable cable car over the slums (not recommended, so don't go out and come right back), the Botanical Gardens (Jardín Botánico) and the historic village of Pueblito Paisa. Get around the city easily by metro (fares start at 2,450 COP*, depending on the area).
Also, be sure to take a free walking tour with locals through the 13th commune. Not long ago it was the city's most crime-ridden neighborhood, now it's a neighborhood of artists and musicians. It even has street escalators!
Where to stay in Medellin
We chose hotels in the El Poblado area.
Selina Medellin – from 1400 rubles* per night for two; Soy Local – from 2900 rubles* for an apartment.
Guatape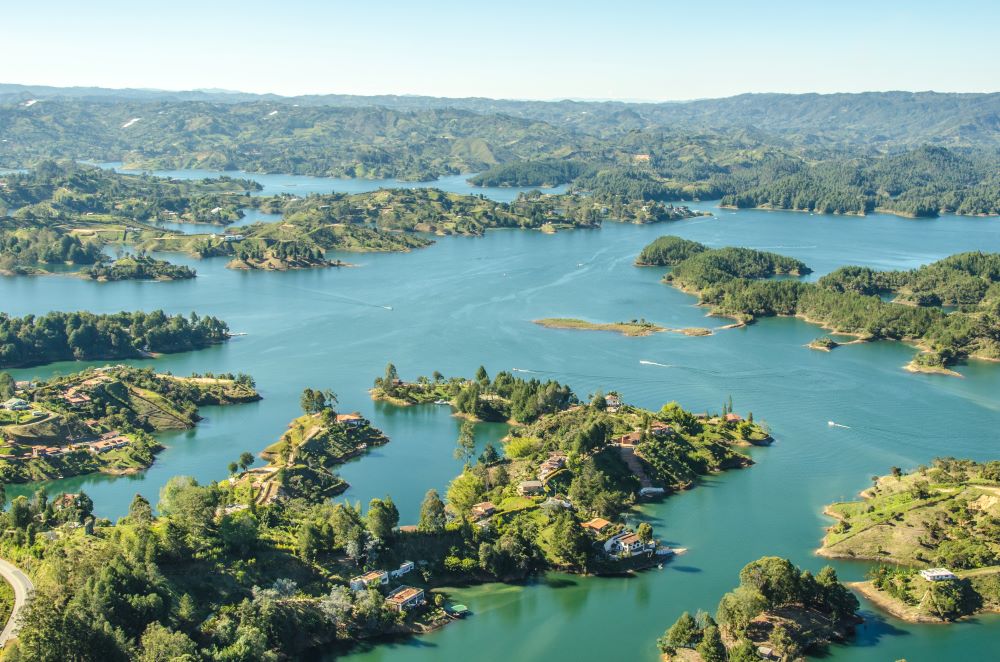 Artificial reservoir 80 km from Medellin is a popular place for weekend trips of Colombians.
Day 7-8
Relaxing on the lake and admiring the scenery. Be sure to stop by to wander the colorful streets of tiny Guatape and try the local street food. You can rent a kayak (from 50,000 COP*) and sap-board (from 20,000 COP*) in the city tour companies.
At the end of the vacation we return to Medellín, rent a car and fly to Cartagena.
Where to stay
Picked accommodation options with a view of the lake.
Bacoa Hostel – from 2100 rubles* per night for two; Paradise Lake Hotel – from 4900 rubles* per night for two.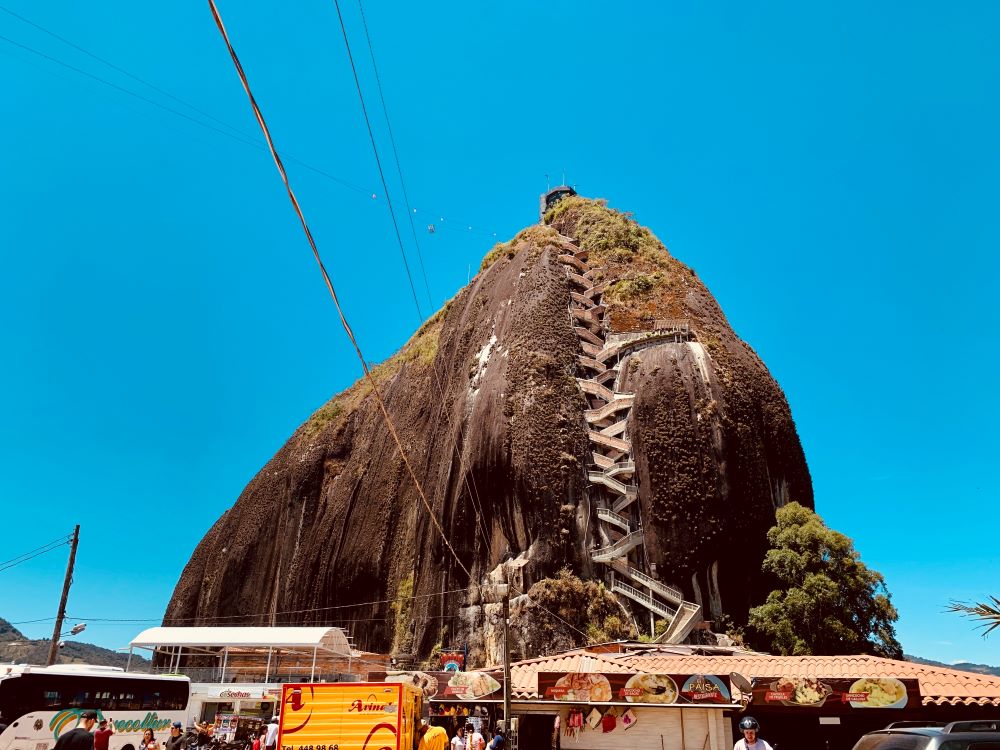 El Peñón de Guatapé, 220 meters high, is a monolith with 644 steps leading to the top.
Cartagena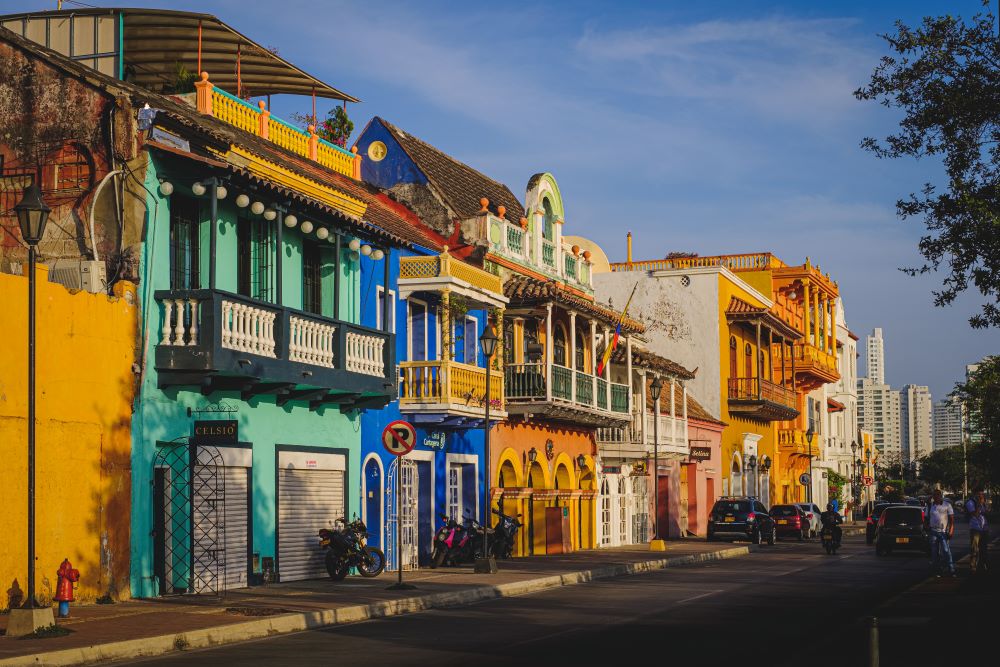 The romantic city on the Caribbean coast was once a major seaport through which goods from all over the continent were shipped to Spain.
Flight Medellín-Cartagena: from 2,700 rubles per person*.
Day 9
Stroll through the cobblestone streets of the old town, the historical center of Cartagena, walled to protect against pirates. Visit the Palacio de la Inquisicion (11,000 COP*), the Castillo San Felipe de Barajas (25,000 COP*), the Barrio Getsemani neighborhood with bright graffiti and evening performances by street musicians. Greet the sunset on the rooftop of Cafe Del Mar, take an evening ride on a chiva (an entertainment bus-bar with music) and dance the salsa at Cafe Havana.
If you want to spend the day on the beach, take a day trip to the Islas del Rosario. You can get to them with a motorboat tour (from 8,600 rubles). There are clean white sand beaches, blue water, and beautiful reefs.
Where to stay in Cartagena
We chose an option in the historic center of the city.
Hotel Casa de la Tablada – from 3800 rubles* per night for two.
Minka
The eco-village in the Sierra Nevada mountains 20 km from Santa Marta is an ideal place to escape from the hustle and bustle of the city.
From Cartagena we go to Santa Marta (230 km): by shuttle bus or rented car. Then from the central market by kollectivo (shuttle bus) to Minka for 7000 COP (21 km).
Day 10-11
Cascading waterfalls, mountain air, trails through the jungle with monkeys, coffee plantations, hummingbirds and toucans make Minka a nature lover's paradise. The roads here are difficult to access, tourists travel by motorbike-taxi or jeep.
Here we go on a tour of the 130-year-old La Victoria coffee farm (15,000 COP*), hike to Pozo Azul and Las Cascadas de Marinka waterfalls, hike along the Los Pinos trail, watch birds (from 25,000 COP*), meet the sunset in a hammock over the chasm at Casa Loma. You can also go trekking at Cerro Kennedy Peak.
Where to stay
We chose hotels in Minka itself, which is convenient to get to all the sights.
Casas Colibri Hostal Minca – from 1300 rubles* per night for two; Rio Elemento – from 1700 rubles* per night for two.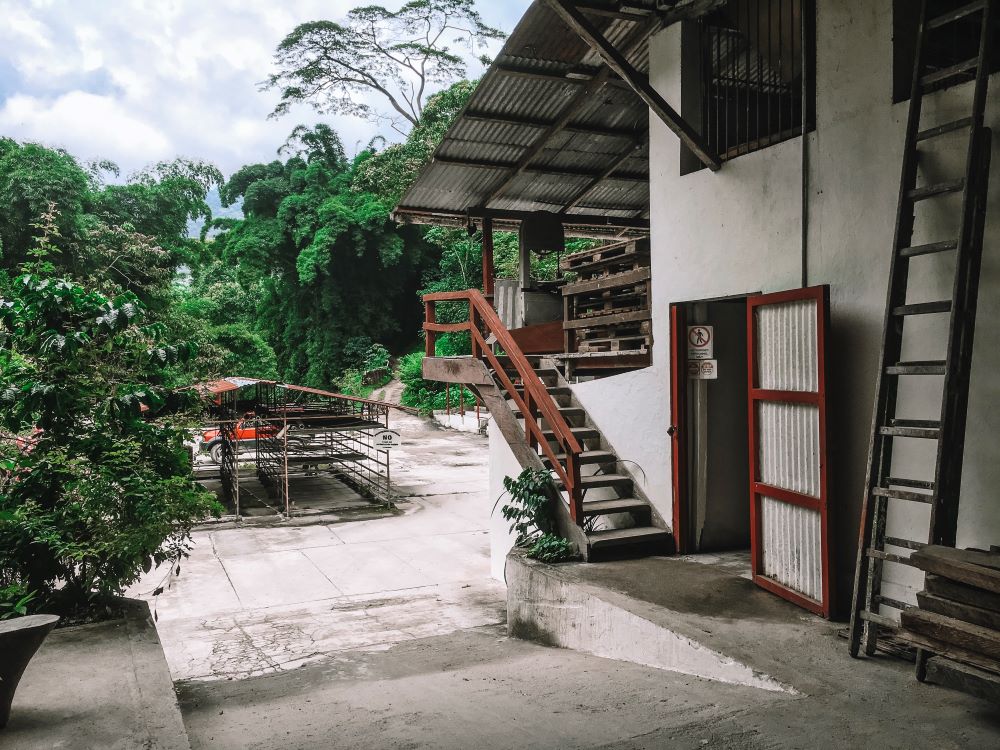 La Victoria Farm still uses coffee processing machines, which were brought in 1892.
Tyrone Park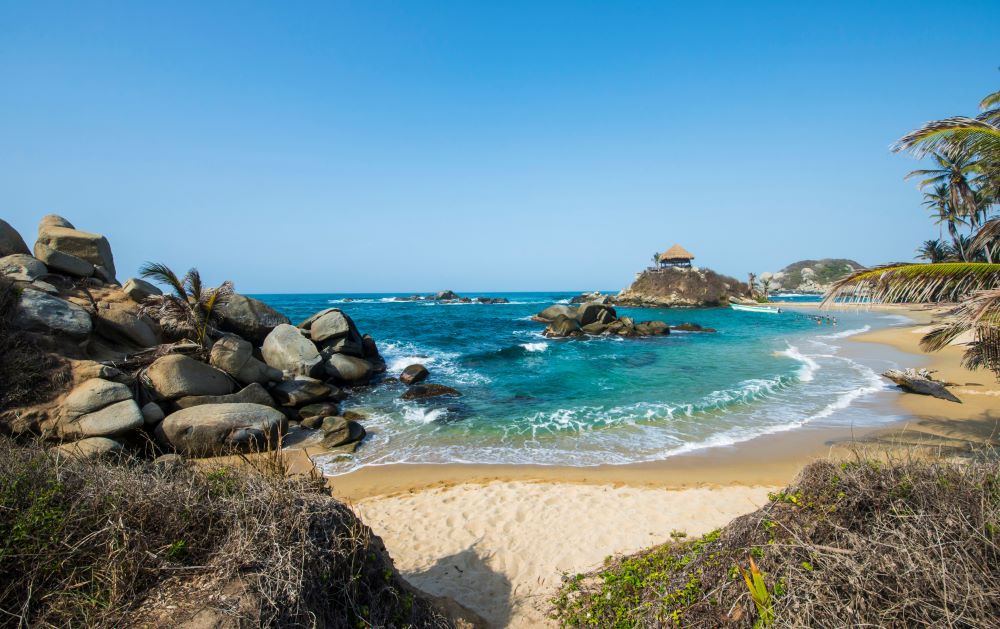 National Park on the Caribbean coast, 30 km from Santa Marta.
Day 12-13.
There are two ways to get to the park. By boat from Santa Marta (one hour, from 60,000 COP*) you will be taken directly to the popular San Juan Beach, where there are campsites for overnight stays and cafes. If you want to explore the park, you can take a bus from Santa Marta Market to the central entrance of El Zaino (45 minutes, 7,000 COP*), where the beach is a 2.5-hour walk through the jungle and along the sea. To get the most out of the park in two days, download maps.me.
There is a fee to enter the park (66,000 COP, plus insurance 2500 COP per day), and you need to buy tickets in advance on the website to get into the quota and avoid the lines.
Bring your passport, yellow fever vaccination certificate, water and a snack. There are several cafes and food tents in the area, but the prices there are high.
Where to stay
Overnight in the park you can stay in specially equipped parking lots in hammocks (from 15,000 COP*) or tents (from 30,000 COP*). They are occupied according to the fact
After the rest we go back to Bogota by plane from Santa Marta (from 3400 rubles* per person).
Text writer: Christina Boyko
*Prices are valid at the time of publication
If the article does not convince you to start planning a trip to Colombia now, go to the material in which we briefly describe which countries Russian tourists can go to and what are the rules of entry for them.
Colombia
Population 44 205 293 people Colombia Territory 1 138 910 sq. km Located on the continent (SA) Capital city Bogota Money in Colombia Peso (COP) Domain area .co Country phone code 57
Attractions
The incredible nature of the land of Colombia has given the country a huge number of natural attractions, among which the most unique is probably the amazing crystal arm of the Caño Cristales River, thanks to which the river was named the reservoir of five colors.
The next must-see site is the Salt Cathedral, located in Bogotá, in the Salt Park – a truly unique sight. The Pablo Escobar ranch in Medellín is also of great interest to tourists. The ranch features a large number of stuffed animals, including prehistoric dinosaurs.
Climate of Colombia:: Tropical along the coast and eastern plains. Cool in the mountainous areas.
Museums
For lovers of historical and archaeological monuments, Colombia can present the Archaeological Museum, located in Sogamoso and opened back in 1952. It is not only a large number of historically valuable exhibits, but also a remarkable example of unique architecture.
The National Museum of Colombia is located in Bogotá. There the exhibits on display are divided into four categories: art, archaeology, history and ethnography. In this museum you can see art, panoramas and in general a variety of exhibits of great interest.
Columbia terrain:: Flat coastal lowlands. Central mountain range. High Andes mountains, eastern lowland plains.
Leisure
For vacationers with children, Diversity will be an interesting place to spend leisure time in Colombia. Gambling and thrill-seekers can visit Rockefeller Casino, and fans of extreme activities, full of entertainment and experiences, can visit the capital clubs: "Salitre Magico" or "Adventure World Park".
New generation movies are available in Bogotá, in "IMAX Procinal". Lovers of dance and good alcohol, while in Cartagena, can spend time in "Donde Fidel Salsa Club", "Cafe Havana" and "Mister Babilla". Lovers of wildlife and quiet walks can visit the aquarium "Explora" or the natural reserve "Parque Zoologico Santa Fe", located in Medellín.
Colombia has resources like: : Oil, natural gas, coal, iron ore, nickel, gold, copper, emeralds, hydropower.
Resorts
The Colombian resort of Bucaramanga is very popular among the affluent population of the globe. There is a beautiful resort town Isla Palma in the northwest of the country, which is also famous for its coffee products. A small town Cali is also famous for its recreation areas, which, contrary to popular belief, is a resort town, too. Also one of the resort cities of the world is rightly considered Cartagena, distinguished by its magnificent beauty. The island of San Andrés is famous for its marvelous ivory beaches. Ríonegro is a famous city for music festivals and costume parties.
Colombia's currency is the Colombian peso which has been in use since Spanish colonization. The country has an excellent banking system, which has a very conservative policy. Banknotes of considerable denominations are in use: from 1000 to 50,000 pesos. Currency is the centavo.
Hotels
Colombia has a large variety of hotels and the best value for money for tourists in Bogota are: Hotel Casa Palina, Charlies Place Hotel and Hotel Casona de Patio. Luxury hotels are considered to be: "Hotel Morrison 114," "Sofitel Victoria Regia" and "Marriott Hotel Bogota." The best hotels in Cartagena include: "Hotel Casa Agustin", "Casa Pestagua Hotel Boutique" and "Sofitel Santa Clara". For a family vacation in this city the best choice is "Hotel Casa Agustin". The most chic hotels in Mendelin are recognized: "Medellin Royal", "Hotel Categoria Colombia" and "Park 10 Hotel".
Transport
Public transport in the country is represented by buses and minibuses. Numerous cab services are widely popular, the safest and most comfortable of which are considered licensed. The railroad system in Colombia is quite long (more than 4,000 kilometers). Trade relations between the regions of the country are carried out through railroad connections. International trade is carried out by sea transport. The largest passenger port is located in Cartagena. In territory of the country more than 700 airports work, the majority of which carries out international transportations.
Standard of living
Colombia is a country with a high standard of living. Most of the population – more than 90% are literate. The average life expectancy of the population is 71 years. The cost of real estate in the country is relatively low. The most prosperous sector of the economy can be considered trade. According to statistics, the average salary of Colombians ranges from 250 to 300 U.S. dollars a month. Significant disadvantage in the standard of living is medicine. Medical facilities are few and rather poor in terms of equipment.
Cities
Colombia's most important city and its capital is Bogota, which is located in the Eastern Andes. In this city colonial architecture successfully coexists with modern architecture in a strange harmony.
The leading industrial seaport and second largest city is Barranquilla, home to South America's first air terminal. Bucaramanga is a major commercial city in Colombia, the center of the department of Santander and an important economic territory. Cali is also a large and popular commercial city in the country.