Crazy House – Crazy House in Dalat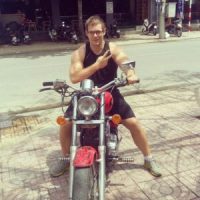 The most famous and most visited landmark of Dalat (and maybe of the whole Vietnam) is a hotel called Crazy House, which easily gives up for its strangeness buildings of the great Gaudi.
Dang Viet Nga – author.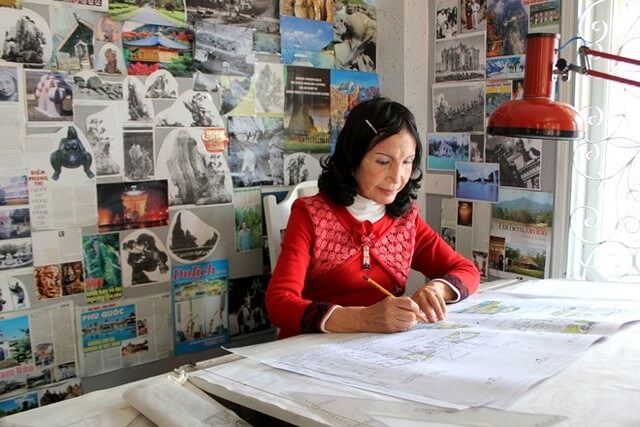 It is there is an incredible structure, most of all similar to a giant knotty stump, covered with moss and braided with cobwebs, – "Crazy House", or "Mad House". It was designed by Ms. Dang Viet Nga, a graduate of the Moscow Architectural Institute. She lived in the Soviet Union for a long time, so in many details, the Krazy House in Dalat borrows motifs from Russian folk tales.
Her father, Truong Tinh, was Ho Chi Minh's successor, the second president of Vietnam. The city authorities were not happy about the idea, and the residents are still not happy about it. And residents still do not like the place. It does not correspond to the doctrine of feng shui. The building is built in the style of surrealism, it is incredibly mysterious and is still in the process of completion. Crazy House is constantly being brought to perfection.
The architect herself says that she conceived this house as a reminder to people of the need to protect nature, which is mercilessly destroyed.
How to get there
Address : 03 Huynh Thuc Khang Street,Ward 4,Dalat City 67000,Lam Dong, Vietnam Vietnamese Address : Trần Phú, Phường 4, Tp. Đà Lạt, Lâm Đồng, Phường 4, Vietnam, Lâm Đồng, Vietnam Official website : www.crazyhouse.vn Opening hours : 8:30 am to 7:00 pm. Entry fee : 40,000 VND for an adult and 20,000 VND for a child.
The streets in Dalat are quite confusing, so getting to Crazy House on your own is not as easy as it seems.
If you rent a bike and get on your own, then feel free to turn on Google Maps. The GPS will take you to the right place sooner or later. Asking locals is useless, because very few people in Vietnam speak English.
The easiest way to get to the gates of the "madhouse" is to catch a cab. "Crazy House" is one of the most famous attractions in Dalat, so any cab driver will get you there quickly and inexpensively.
Wonder of the World in Concrete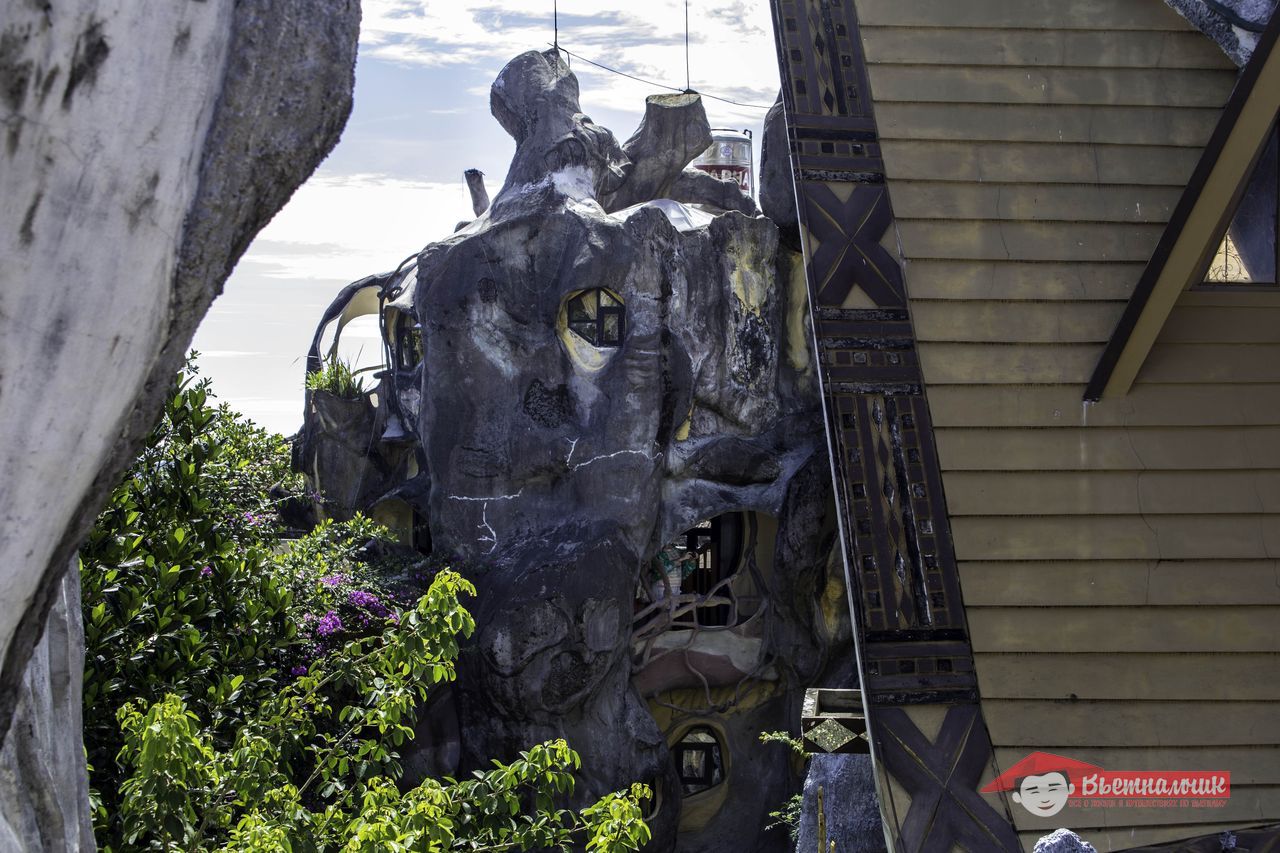 Although the Vietnamese themselves are not particularly fond of this house, it constantly attracts many tourists from different countries. It is clear why – just one look at Crazy House causes momentary consternation. And then it is replaced by delighted amazement – how could they build such an outlandish building! And no wonder – this "crazy house" was included in the top 10 most unusual buildings in the world. Most of all it looks like a giant fantasy tree with intertwined roots and branches, entangled in a web with giant spiders. In a word, a house that looks like it came out of a fairy tale. It is also surprising that there are practically no straight lines and no right angles.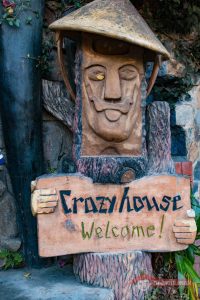 The miracles start right from the entrance – you are met by a charming figure of a Vietnamese man wearing a national headdress.
Dang didn't have enough money to build it, so she decided to let the curious into the building under construction, charging a small fee. There were a surprisingly large number of curious visitors. The house continues to be completed under the direction of Mrs. Dang herself. Despite her advanced age, she is full of strength and inspiration and is still working on her brainchild. Now no tour in Dalat is not complete without a visit to Crazy House.
For a long time, Dang Viet Nga has resisted the disrespectful name of her creation. After all, she called it unusually beautiful: Hang Nga – "Moon House". According to the architect's plan, it was supposed to be a place of romantic meetings of lovers. But she soon had to put up with the name given by visitors, and now the structure has two names.
The house is an art gallery, a museum and an extraordinary hotel. Here are a lot of small stores with souvenirs, cozy cafes.
The greatest impression on visitors decorations of the house produces after sunset, when it gets dark. According to tourists, at this time there comes a feeling of complete "crazy". The windows are irregularly shaped, the moonlight is streaming through tree trunks and leaves, and shadows are falling on the floor. It gets creepy.
Hotel
Entrance to the hotel is paid, tickets are sometimes sold by the hostess herself, she is also the architect. It costs $25 to $50 a night for a room.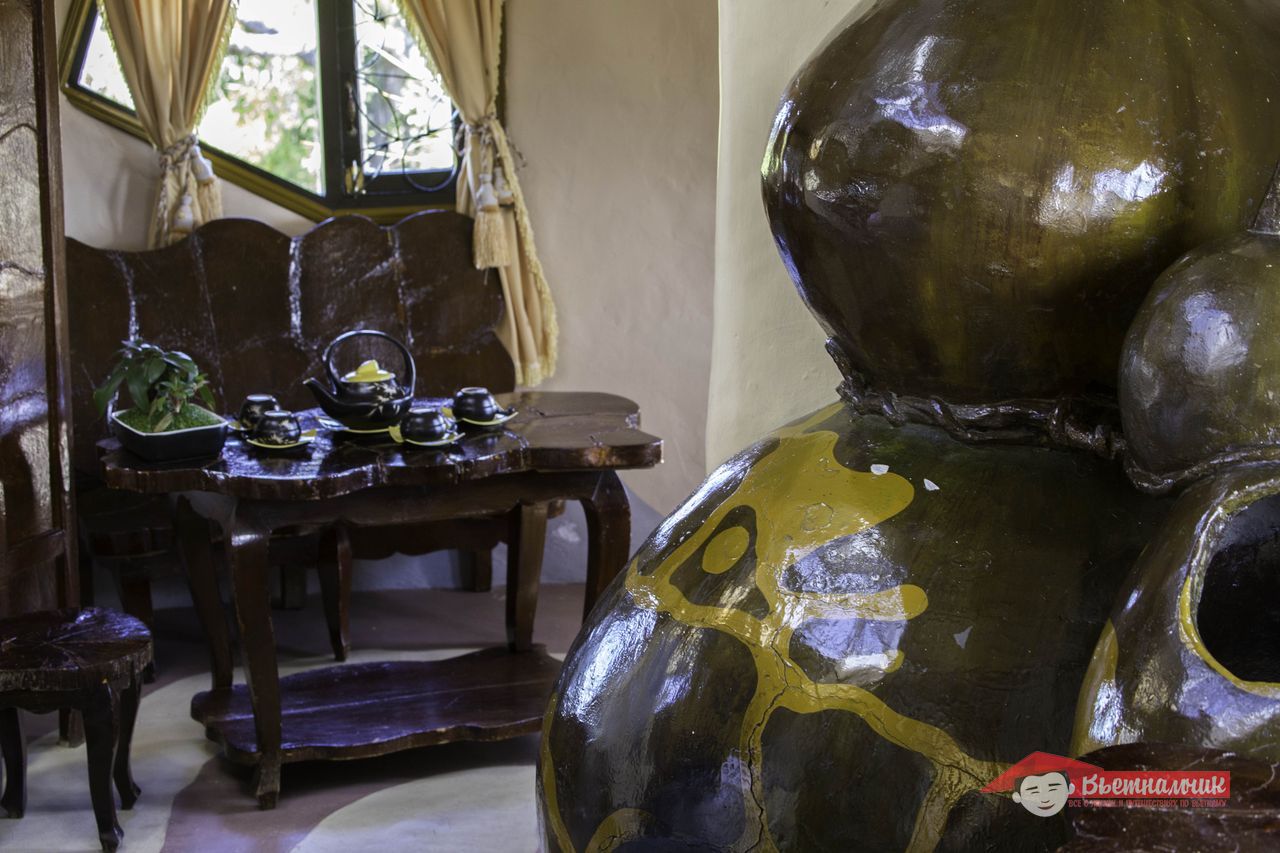 Today it houses a hotel with 10 rooms. They are all different, not like one another, decorated by theme. There is a room of Tiger, Kangaroo, Ant, Bear, etc. And each of the rooms is decorated according to its name.
For each of the rooms named character is the "master" and "hides" in it sometimes so skillfully and carefully that it is difficult to find him. Sometimes only after the fact, looking at photos, you can find the "main occupant" of the hotel room. It is believed that the characters are chosen in accordance with the countries they are supposed to embody. Thus, Russia is symbolized by the Bear and Vietnam – by the Ant.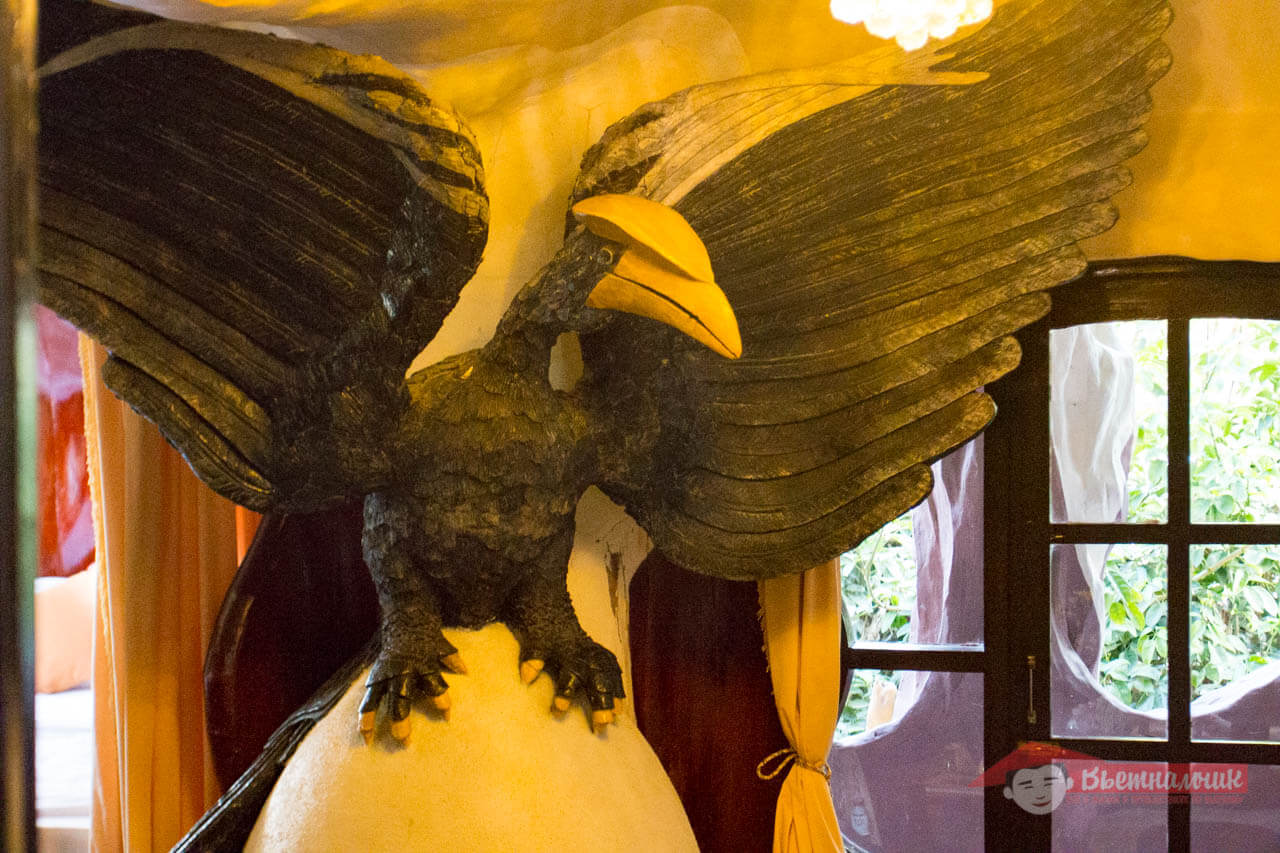 The rooms also have a fireplace, bathroom and shower. They are all made according to unique designs, and the entrance is disguised as a hornets' nest.
There is also the world's smallest two-level room, the Bamboo Room. All of its design is stylized as bamboo, but in fact it is concrete.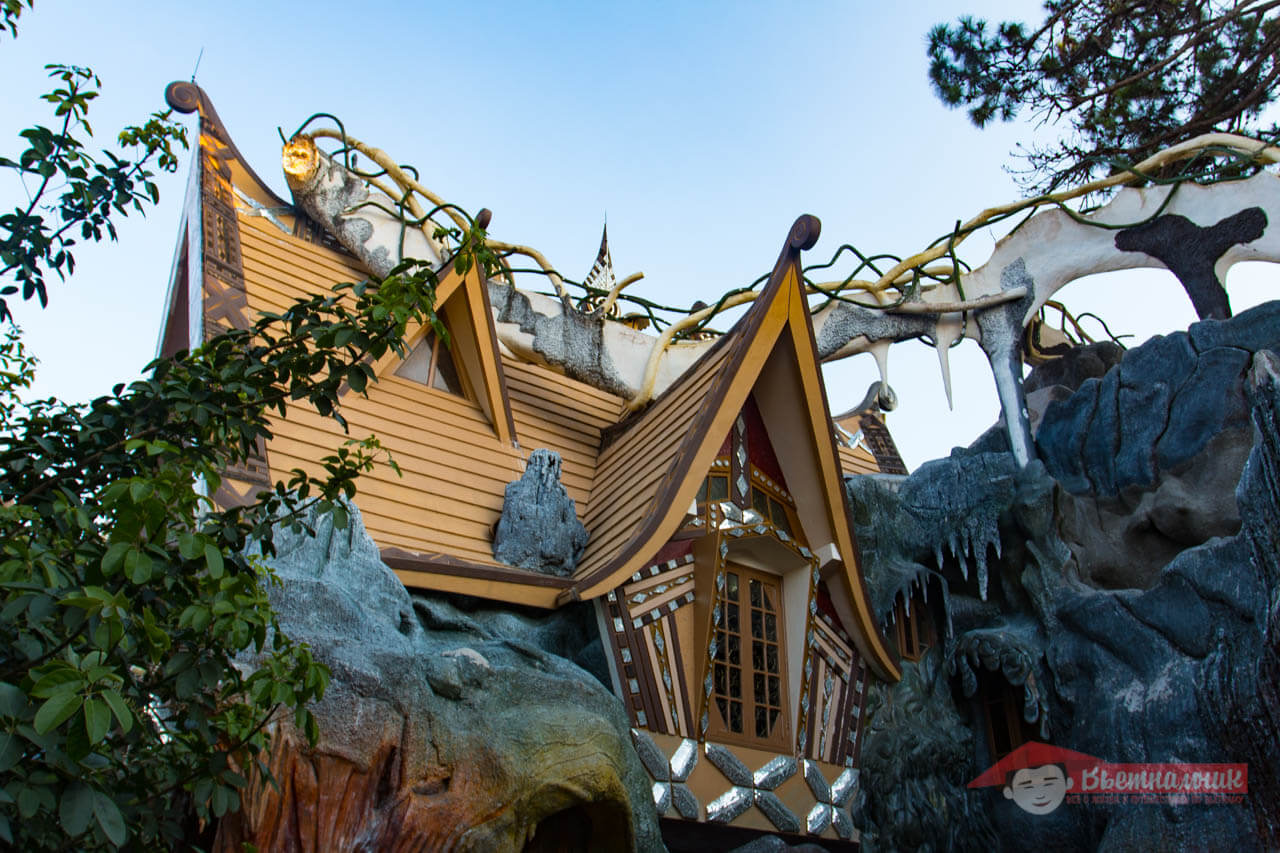 The hotel consists of four houses made in the form of fairy-tale caves. The fantasy of the architect created giant spiders, mythical animals, tree branches, and vines on the walls. At the same time it is very bright here – the sun rays penetrate through the wide large windows that are located everywhere.
Standing apart from the others, the fourth house consists of only one room and is designed for honeymooners. To get into it, you have to book a queue months in advance.
The rooms are connected by fanciful winding stairs made in the form of stumps, tree roots, stylized "dragon's teeth".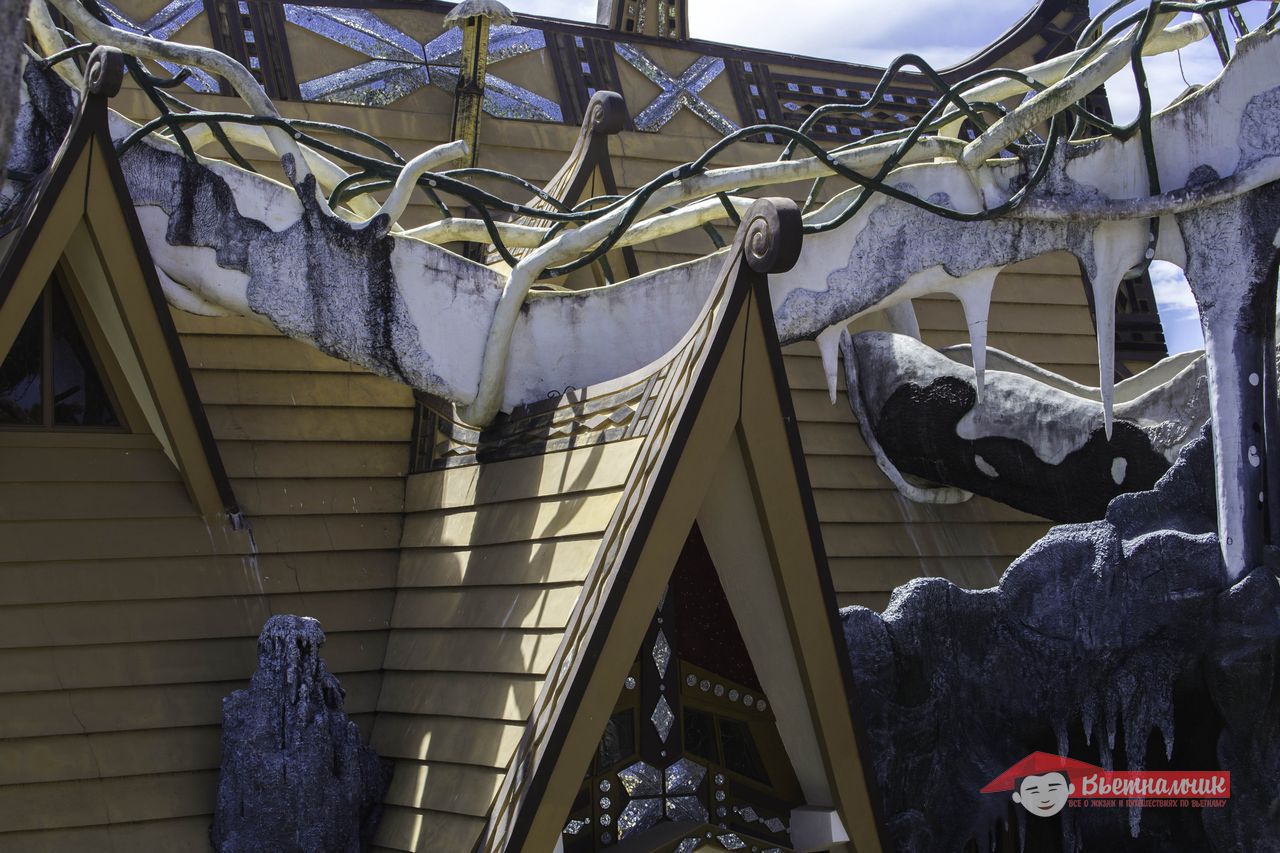 The furniture in the amazing hotel is special. It is designed by designers and all made by hand.
Despite its uniqueness, it is a very modern hotel with everything you need for a normal holiday. There is access to Wi-Fi and minibar.
According to hotel rules, guests are required to leave the doors open during the day so that visitors can appreciate the interior. However, if the room is occupied, they are not allowed inside. There are no curtains on the windows, and guests may not feel particularly comfortable in the room during the day, as tourists peek in every second.
The doors in the rooms are double. If the room is occupied, they are closed, but when there are no guests, their upper part is open. Tourists can enter free rooms without restrictions.
In the courtyard of the Crazy House one can easily get lost, despite its relatively small size. This is exactly the case when they say "in three pines. "Only here instead of them numerous staircases, passages, labyrinths are hidden, and around there is an unusually large number of cobwebs – of course, concrete ones. Everywhere "grow" huge mushrooms, incredible plants. Stairs are so narrow and steep that it is impossible for two to separate.
As elsewhere in Vietnam, there are a lot of flowers, in the middle of the courtyard is built a small pond with fountains. And this is where most tourists gather to wander around the yard, wander the stairs and walkways, to climb to the top of them, where a great view of the entire city.
The stairs themselves are also unusual – made in the form of a giraffe figure, scatterings of stones, woven roots. Knowledgeable people advise to wear comfortable low-heeled shoes to tour the courtyard.
Museum
The very history of Crazy House in Dalat is so interesting that it has formed a small museum. There are dozens of photos of its founder. And even inside these rooms everything is "krazy" – as in the whole house, there is not a single flat surface! Through the cobwebs you can look at Aunt Dang's personal car, see a small room dedicated to her parents. This place is made with such love and tenderness that it resembles an altar. The inscriptions are in different languages, including Russian.
Conclusion
It just so happens that of all the sights in Dalat, its beautiful waterfalls and parks, it is Auntie Dan Viet Nga's house that has become the most popular place in this small mountain town. The most amazing thing is that it really is. It is the visit to the crazy house that will be one of the most memorable memories.
For those who do not like such walks and quickly get tired after a lot of steps, there is a place where they sell "fresh juice".
Have a great time!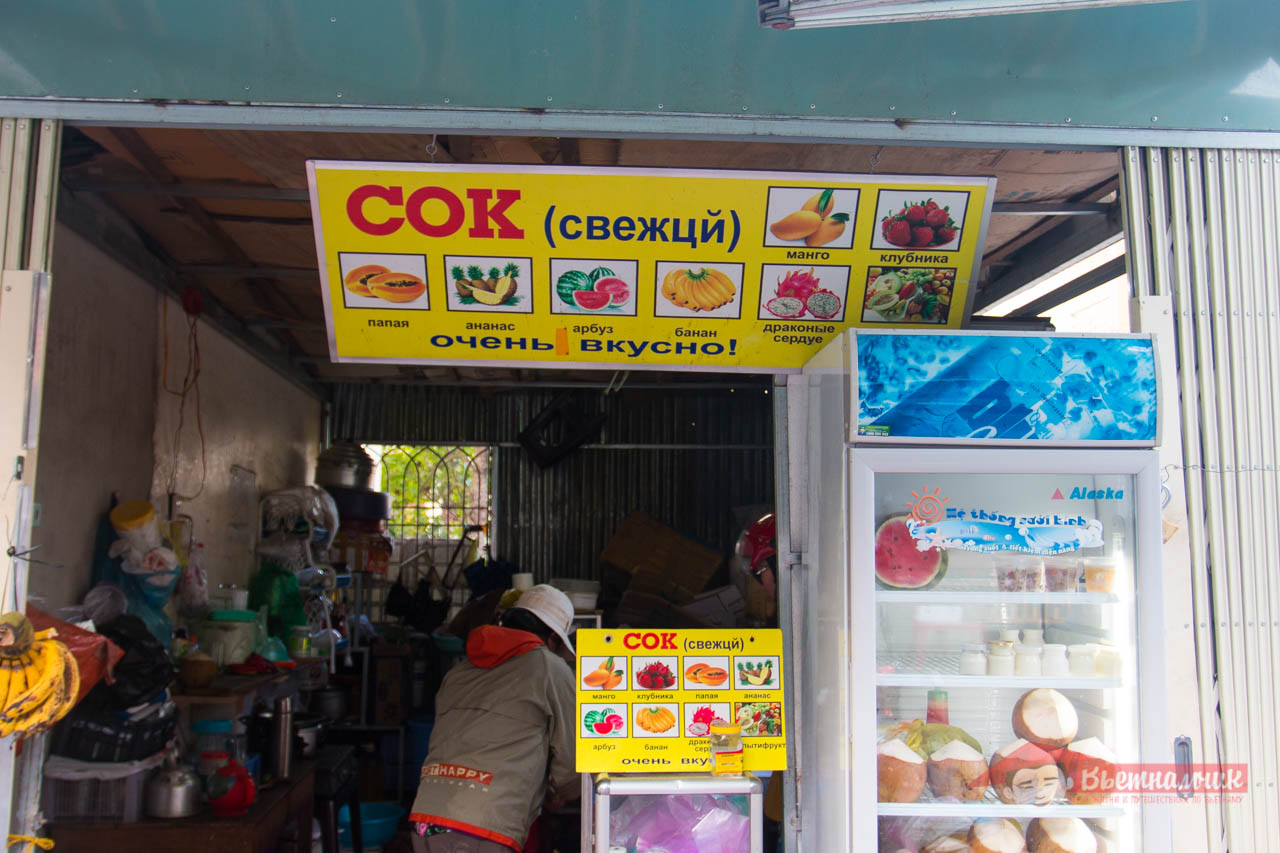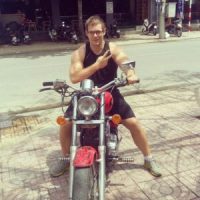 Since 2013, I have been living with my wife in different countries, including China, the Philippines, the USA, and Vietnam. I photograph and write about travel blogs.
Review: Crazy House Hotel and Museum (Vietnam, Dalat) – It felt like home, but on the steep passages you realize – you're a guest
Meanwhile, I'm back to the extraordinary and unforgettable Vietnam with a stop at Crazy House. No, no, I hasten to assure you, fortunately I have not been assigned there yet, but I have been taken on a tour:) All jokes are jokes, but in fact, Crazy House, which is the official name of this unusual place, is, no less than a hotel-museum, known for its atypical design not only in Asia, but also in Europe. Crazy House is still there, in Lam Dong province, in the glorious and ever-blooming Dalat. I have already told about traveling around this city when we visited Prenn and Datanla parks (these reviews can be found through the search engine Otzovik), went for a ride on an electric sledge and a cable car, and visited the Buddhist temple complex Chuk Lam. But our trip would not have been complete if we had not visited this famous and photogenic house.
On the day we visited Crazy House tourist groups kept arriving and arriving there, it was difficult to see the rooms and buildings without the crowds of Chinese and other travelers, so I apologize in advance for the people caught in the frame. In general, Crazy House is located among the narrow Vietnamese streets, without a guide and tourist bus to get to it, of course, it is possible, guided by its towering buildings, but rather inconvenient.
Immediately, even before buying tickets, I recommend tourists not to shine the money. The ticket office is almost at the entrance to the hotel-museum, and along the street scurrying local residents on bikes. It is clear that to steal and take away your blood, tearing from the neck purse or shoulder purse or grabbed a couple of thousand dong, right out of his hands, it is possible. So don't lead people into temptation for nothing. We were lucky we didn't get the tickets by ourselves because our guide bought them for the whole group. How much is the "spectacle" for the people now, I do not know, but it seems to me, there will be some purely symbolic value. The first thing that greeted us, and that I did not have time to capture, was a garage with our domestic kopeck. And immediately the guide began to explain where such a rarity had come from. First, the guide informed us about the owner of this unusual house, Madame Dang Viet Nga, who not only designed all the structures, but was directly involved in the creation of her child, because she is an architect by training.
By the way, it is a well-known fact that Madame Dang Viet Nga studied in Russia, if I am not mistaken, then the Soviet Union, and she has a good command of our great and powerful language. At least, writes quite tolerably and even beautifully (I envy myself, as a native speaker, because my writing is far from perfect).
But still, let me show you Crazy House closer, both from the outside and from the inside.
You can start with a map of the whole hotel complex, but we, not having knowledge of Vietnamese and not having seen our elusive guide, made the trip according to the principle "where most people are, there we go".
The "sightseeing" started with the most beautiful, in my opinion, and at that time still unfinished wing, dedicated to the maritime theme.
There were different things, mermaids, and strange fish, splashing on the walls and floor, as well as real predators, peeking out of the walls.
Each room is reproduced with such impressive detail, as if Madame Dang Viet Nga were broadcasting the images she really had in her head.
In addition to harmonious and concise design, each room is complemented by thematic accessories: windows with bubbles or cobwebs, grottoes in the area of transitions, and over the head airy chandelier, like a jellyfish.
What is remarkable is that none of the rooms have sharp corners. All rooms are rounded, as if streamlined.
If you look out the window, which resembles a porthole, you can still see the ornate armature. Construction is going on all around.
Moving from room to room in this mysterious and enigmatic structure, you get from the underwater world to the world of fairy tales.
A kind of gingerbread house, where administrative offices, the museum itself and several souvenir shops are concentrated.
All the buildings, and there were four of them at the time of our visit, and the rooms of the museum are connected by air passages, but they are so narrow that to move from point A to point B we had to wait for the oncoming stream of travelers to pass. And besides in spite of railings in the form of tangled branches of trees, there were waves of fear of possible fall.
Meanwhile the height of the constructions, as well as of the passages was not small. It was possible to stand on viewing platforms or on aerial walkways to admire the hotel complex and the surrounding views of Dalat.
The branches, roots and artificial bark looked very harmonious against the surrounding greenery. Crazy House is like a living part of the landscape and nature, while the surrounding houses of ordinary Vietnamese people, on the contrary, are unnecessary props.
From the beginning, Crazy House was never intended to be a hotel or a museum, but when Ms. Dang Viet Nga almost ran out of money to build her dream, she decided to use the resources rationally and rent rooms in different parts of the buildings to tourists.
Madame Dang Viet Nga herself also lives in this hotel and according to the guide she can even be seen sometimes. I do not know if we were lucky, but the mysterious woman in a hat similar to the mistress of the house I captured.
In general, some apartments and rooms in the buildings Crazy House for tourists are not available, and some are presented only for viewing and in addition to the main doors have more additional, deterring the onslaught of curious guests.
All rooms of the hotel, and there are no less than 10 of them are themed and dedicated to an animal.
There is a small house "spider's web" for the newlyweds.
You can rent a room in the hotel through the Internet services and travel agencies, however, the guide said that this pleasure is not cheap and is quite a fan. We are not interested in the prices on the rest in Crazy House.
To visit this place on occasion, I would highly recommend it, however, it is far from a fan.
So, I was left inexplicably delighted with what I saw and I wanted more and more to wander through these intricate labyrinths of consciousness Madame Dang Viet Nga, but my husband felt uncomfortable. But unequivocally, this place was enjoyed by all the children in the group. So I strongly recommend Crazy House in Dalat to visit!