Cuba. Travel and vacation to Cuba as it is.
Not everyone knows that Cuba does not have a single supermarket (in our usual sense),
Most products are sold on coupons, the famous rum Havana Club drink beggars, and the most beautiful beaches are not in Varadero, and in Maria La Gorda. And that is not all.
Currency
There are two types of currency in Cuba: Cuban Kukas (CUC) and Cuban Pesos or Copas (CUP). The CUC is for tourists and the CUP is for Cubans. The exchange rate is the same all over the country and is about one dollar. It makes sense to buy a Kuku in large hotels, it will save you from huge lines in the city exchange offices.
It is not possible to buy kupas for nothing, because they are not for tourists, but if you are lucky enough, kupas can be exchanged in stores. One kuk is equal to about 25 kupas. The currencies are very similar in appearance, only kukas are brighter and kupas are paler.
It is convenient to pay for hotels, petrol and restaurants with kukas, but it is better to buy bread, vegetables, fruits and any production which is mainly not for tourists, but for local residents. When you pay with cookies the price can be up to four times higher!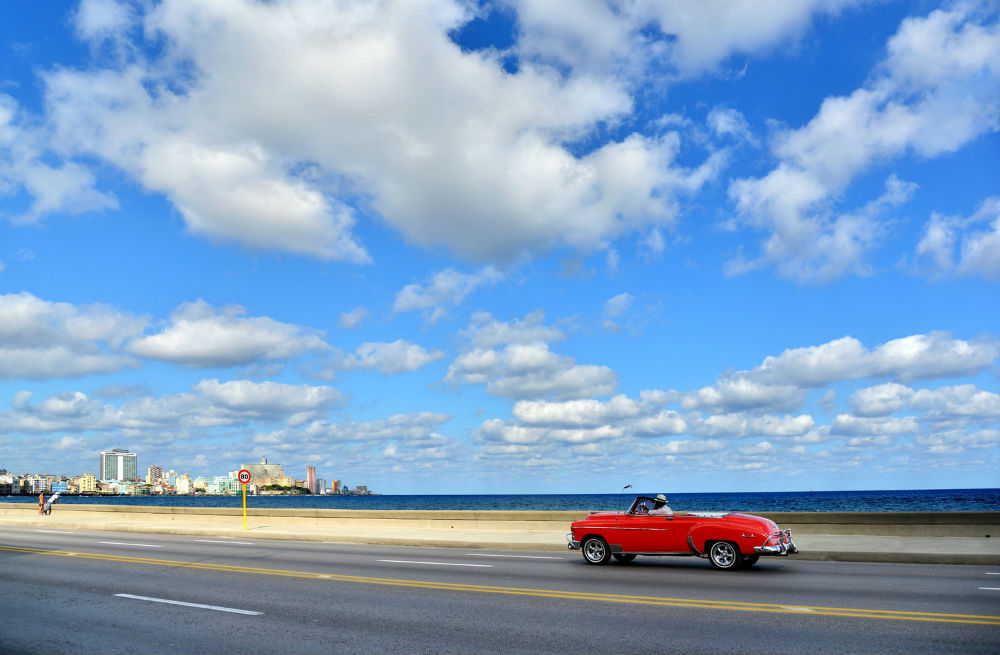 Transport
Public transport in Cuba is rather underdeveloped, Cubans prefer to travel by hitchhiking, which is very popular here. The cabs mainly consist of vintage cars which are not only good for their purpose – to drive on Cuban roads, but also as a generator of likes in Instagram and Facebook.
You can rent a vintage car only with a driver. Go for a car in a special agency is not necessarily, the owners of vintage cars offer their services everywhere. On average, a trip of 10 kilometers will cost 5 kukov (≈ 300 rubles). For a ride over a longer distance it makes sense to bargain.
Renting a regular car is not easy, especially if we are talking about high season. The queue for a car at best will be a week, so the car should be taken care of in advance.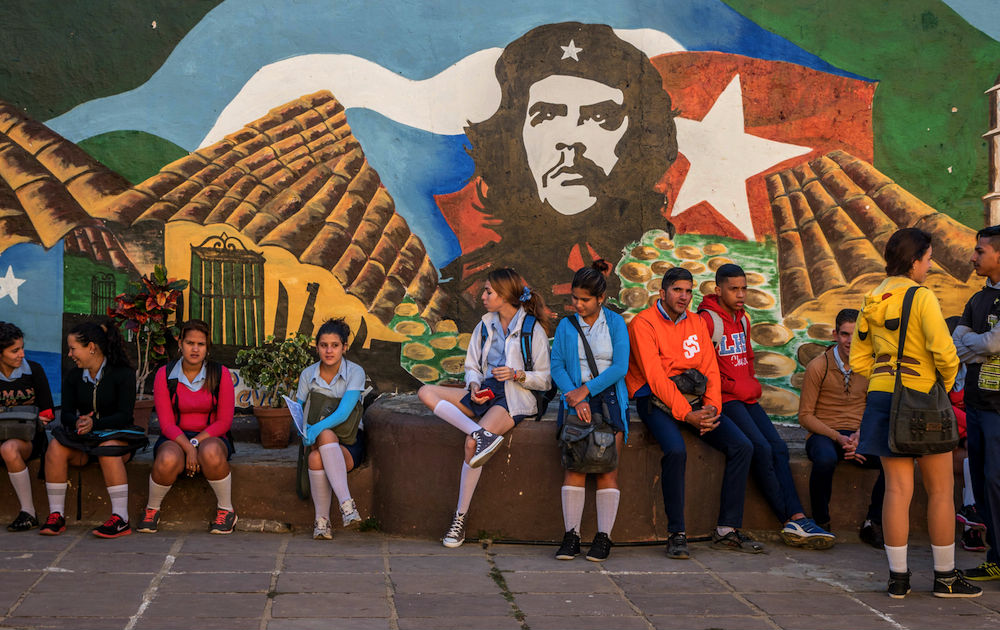 Internet and Cell Phones
Internet in Cuba is available only in expensive hotels, it is almost impossible to find it anywhere else. Therefore, when planning a self-trip around the island, do not rely on the help of the World Wide Web, it is better to make a route in advance.
About wi-fi. In fact, there is a way to get it, quite specific. In large cities, such as Santiago or Havana, in some places you can see a pandemonium of young people. They are all sitting on their phones. If you stop next to them, after a while a Cuban will come up to you and say quietly: Wi-Fi. You can give him 10 kukas (600 rubles for 1 hour!),
and he will connect your phone to the Internet. But the speed, of course, terrible.
The situation with cellular services is not better. Only Cubans can buy a SIM card in Cuba, so it makes sense to connect a travel-friendly tariff of the national operator before the trip.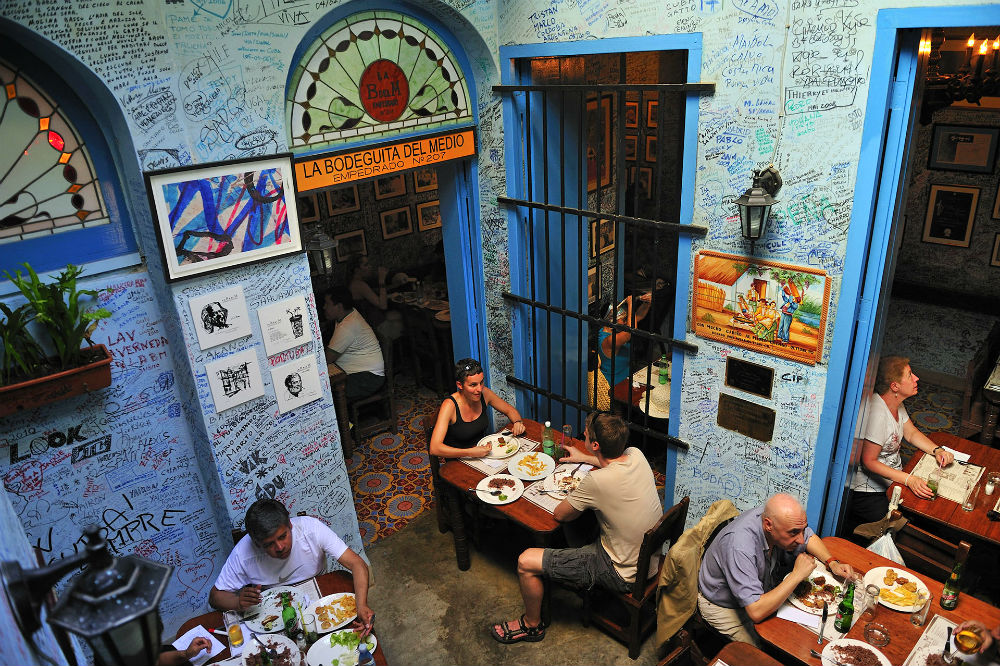 Restaurants and cafes all over the island offer the opportunity to taste the national Cuban cuisine, which is a special mix of Spanish, Chinese, African and Latin American culinary traditions. The only problem with most good restaurants is that you have to wait a long time for the dish.
There are no supermarkets in Cuba, there are stores, for example in Havana, where you can buy tomato paste, pasta, sunflower oil – and that's it.
In the morning, always before lunch, fresh bread is sold in any Cuban city, but you must stand in line to buy it. Meat products can only be bought with coupons; it is useless to try to persuade the salesman to sell the sausage for koki. You can buy fresh cheese by hand on the highway. The cheese seller can be seen from afar. He is standing in the middle of the road with a large piece of cheese. He will sell it to you for one kuk and also give you a small package of jam. Cubans eat cheese by dipping it in jam – it's quite tasty. You can also buy melons, bananas, huge cucumbers and tomatoes at the track. Some gas stations sell canned goods.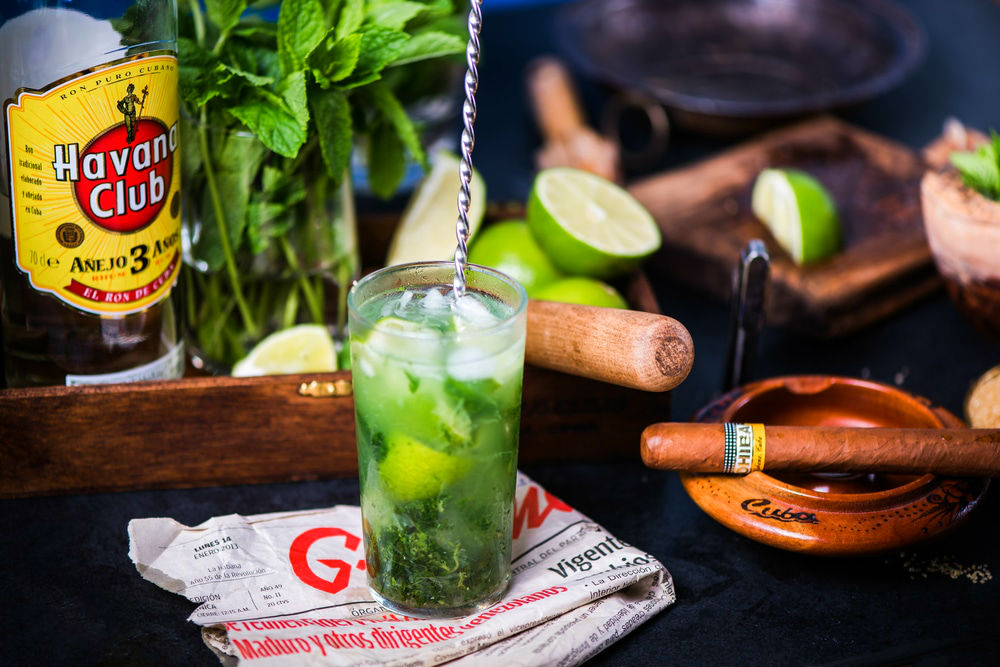 Drinks and Cigars
Cuba is famous for its Havana Club rum. Depending on its ageing and volume, its price ranges from 1 to 8 cukes – in Cuba, rum is cheaper than water! The beggars drinking Havana Club straight from the bottles in the street make any Cuban town especially colorful.
Rum is sold absolutely everywhere: in stores, stalls, gas stations, and you can buy it at any time of day.
Cigars are sold at tobacco plantations, tobacco factories and many bars. The price for 20 cigars starts at 100 kucs.
On the street you can find a semblance of cigars for one kuk, but they are not cigars, but something like huge cigarillos, with the worst tobacco. That's what the locals smoke.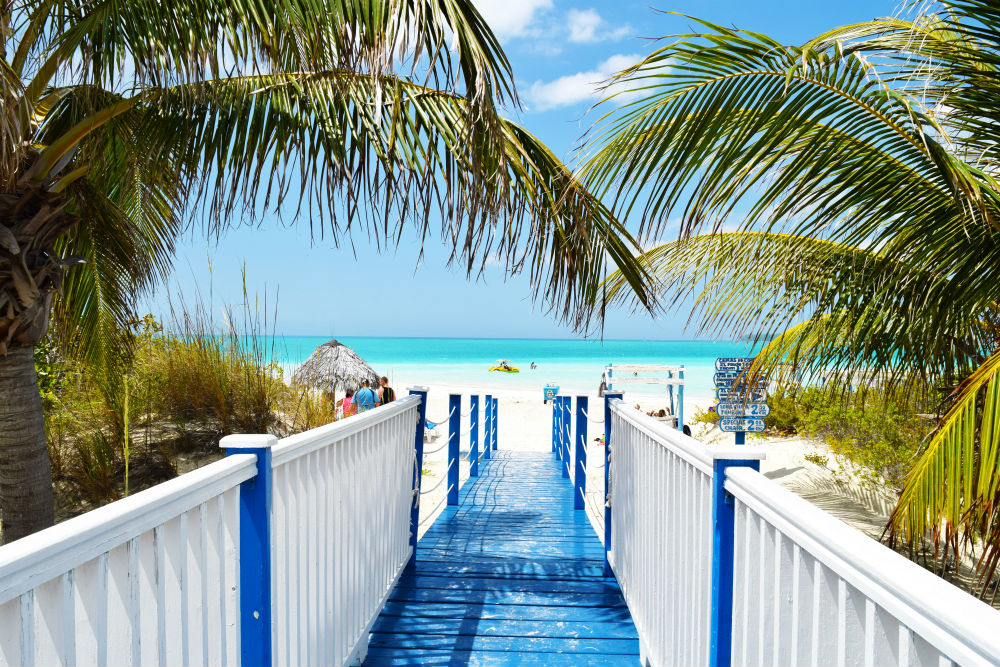 Beaches
Varadero is considered one of the best resorts in the Caribbean, thanks to well-developed infrastructure, snow-white beaches and clear sea water. But there is a place in Cuba, no worse than Varadero, called Maria La Gorda, located in the western part of Cuba, 300 kilometers from Havana, on the peninsula of Guanacabibes.
Maria La Gorda is a beach and international diving center located in the Peninsula de Guanaacabibes National Park. Here you can sunbathe on deserted white-sand beaches and go scuba diving. In ancient times, pirates took a fancy to the Guanacabibes Peninsula, so a large number of artifacts and remains of shipwrecks have survived in the coastal waters of Maria La Gorda. The cost per dive is 35 euros.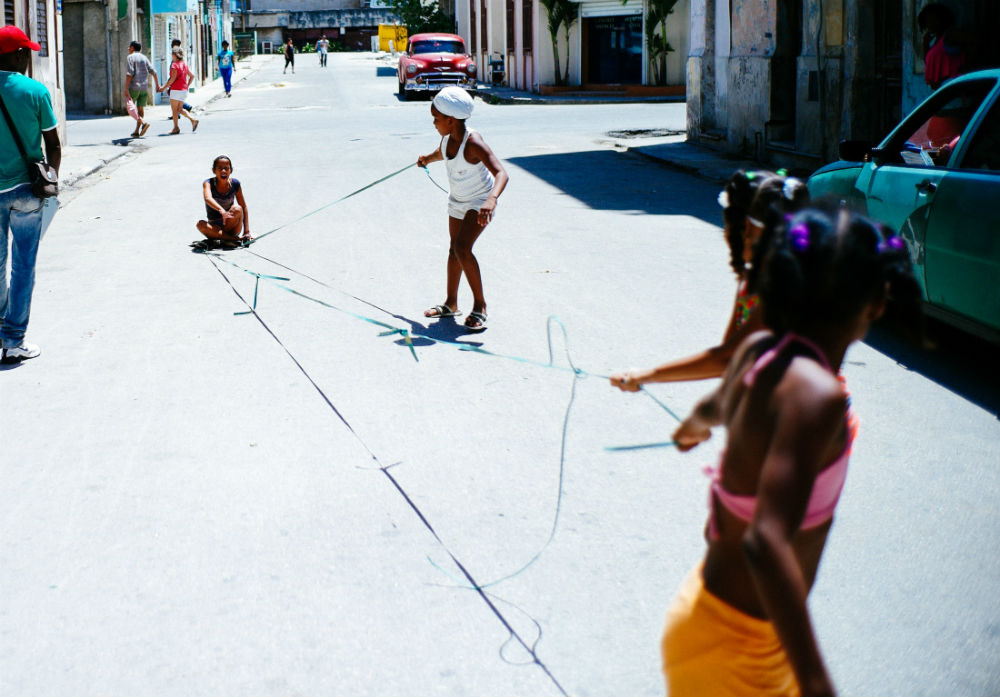 Population
Cubans are amazingly beautiful, cheerful and kind people. They are very nice to tourists, especially Russian tourists. Cuba is more than a friendly country. But Cubans do not like to work. When the sun goes down, all work stops, and Cubans go out to walk, dance, drink rum, and enjoy life.
One may assume that the dislike of work is connected not only with their mentality, but also with the very low wages, which are about 15-20 kukas (900 – 1180 roubles) a month. Even if a Cuban has his own business, such as renting an apartment or a private cab, he is obliged to report to the government about his income, so most of the money he earns goes to the state treasury.
What to see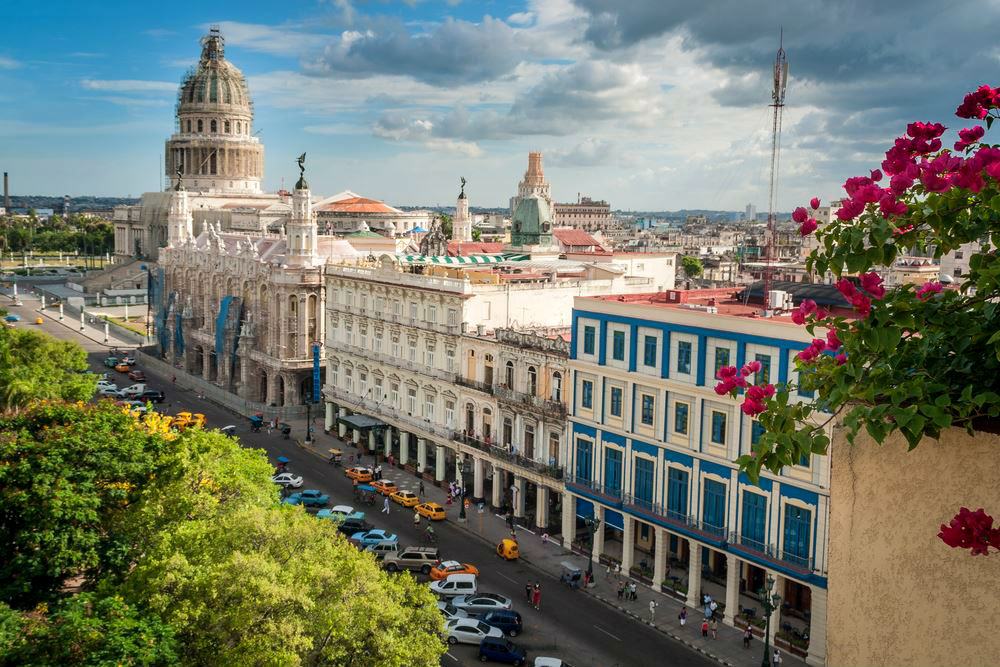 Havana – the Heart of Cuba
A city that can't leave anyone indifferent. The houses make a special impression. Bright, colorful with huge columns, but in a dilapidated state. Closer to the center, the houses look more or less decent, but the farther from the center, the worse. But even in these dilapidated buildings, some of the windows have light.
Also, Havana…smells. This is due to the lack of toilets and infrequent garbage collection, but you can't call the smell irritating. Early in the morning, watering machines drive through the streets of the city, washing away the dirt left over from the night.
All day long, retro cars roll down Havana's avenues, bringing back tourists, jazz plays in the bars, and Havana's best bartenders make the famous cocktail, Cuba Libre.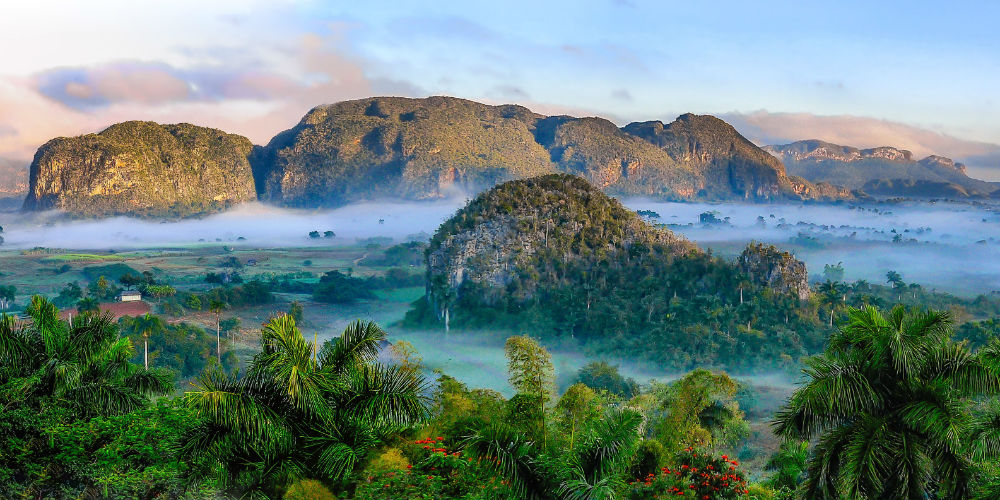 Viñales Valley, a colorful valley among the mountains in western Cuba
Viñales Valley is located 170 kilometers from Havana, in the western part of Cuba. You can get there by rental car, cab, hitchhiking, or by public transportation. Buses between Havana and Viñales run daily at 9:00 and then at 2:00 pm. The trip lasts more than three hours and the ticket costs 15 kukas (890 rubles). Buses on the Viñales – Havana route make two trips every day: at 7:30 and then at 2:00 pm.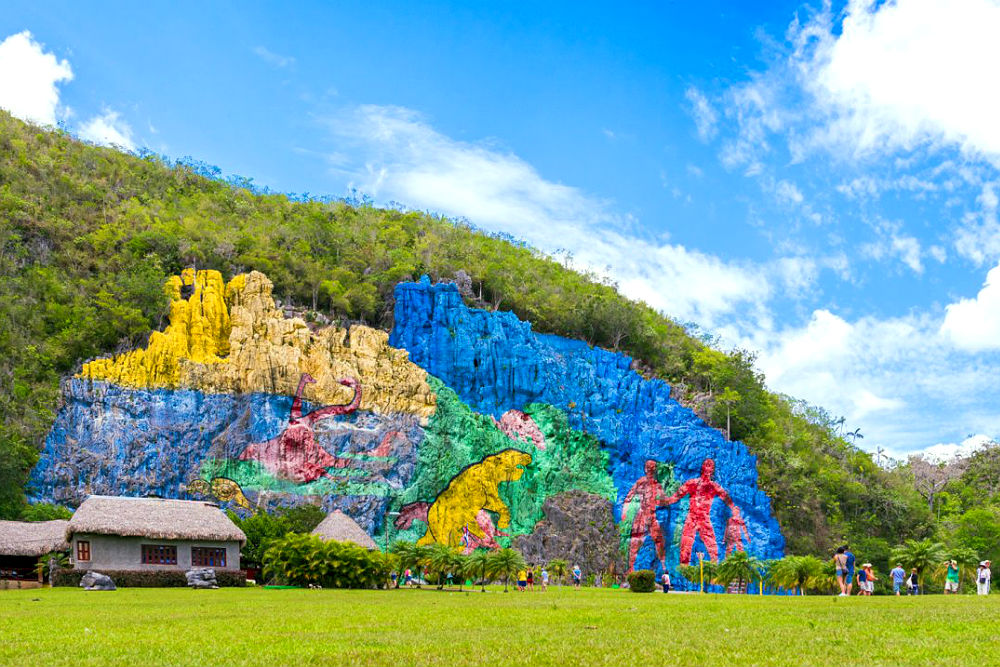 The valley is surrounded by a mountain range Sierra de Viñales, beautiful not only scenery, but also a huge fresco carved on one of the rocks in the valley, the location of which is better to clarify the locals – the explicit signs on it are not.
Viñales was a favorite destination of Fidel Castro. There are many hiking trails through the valley, and no matter which one you take, you'll enjoy the vivid scenery. Many caves can be found in the mountains, and a bright red sunset can be found in the valley itself. Surprisingly, there are not many tourists in such a beautiful place.
Through the valley can be moved on foot, as well as on horses or bicycles. You can also use the services of a guide. You can get here for free. You can also visit the tobacco plantations located in the valley for free.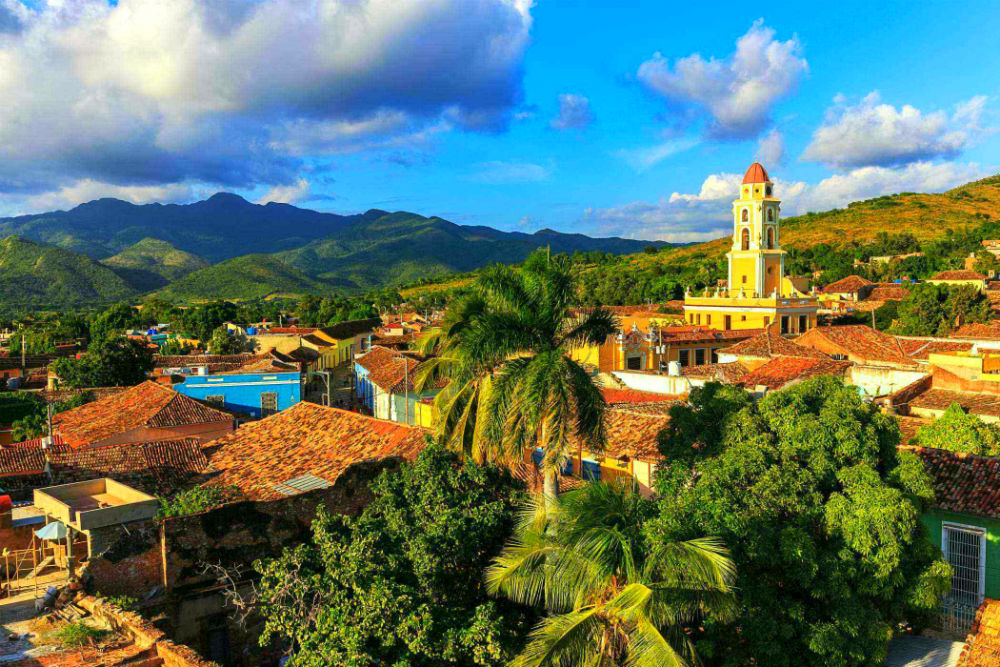 Trinidad
Trinidad – a city with over 500 years history, is located 300 kilometers from Havana, in the southern part of the Cuban province of Sancti Spiritus. You can get there by rental car, cab or hitchhiking.
The main attraction of the town is the central square Plaza Mayor. The square has a large number of buildings from the colonial era, as well as Cuba's largest church – the Church of the Holy Trinity. All the houses in Trinidad are old, some of them have cafes and restaurants. I would like to note that it is in Trinidad, the most impeccable service in restaurants, the most delicious cuisine and the lowest prices in Cuba.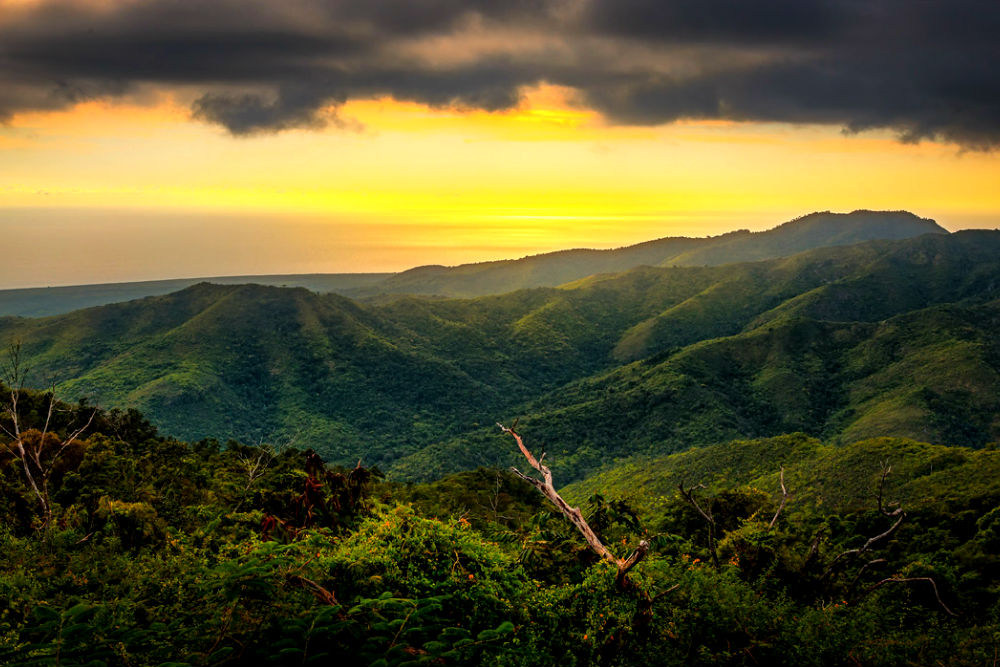 Topes de Collantes National Park.
The huge, scenic Topes de Collantes Park is located just 14 kilometers from Trinidad – it can be reached by rental car, cab or bicycle. The cost of an entrance ticket to the reserve is 10 cucas (600 rubles). The main interest in the park is the Salto del Caburni waterfall, which can be reached on foot along a trail through the jungle, on the way admiring the blooming orchids, trudescantias, listening to birdsong and the sounds of the forest.
Cuba – everything a tourist needs to know about Liberty Island
The first thing the tourist is interested in – where in general Cuba is on the world map, whether the trips are expensive and what are the prices of hotels. Of course, it is a bit expensive, but only because Cuba is too far away from us, and otherwise on the island itself ️ prices are not as high, but the beaches and rest compensate everything
"Cuba libre," or the Island of Liberty. White sands of sunny beaches, endless ocean expanses, vibrant nature, unique architecture, rum and cigars – all this and a little more will tell Well TAM about Cuba.
General information about Cuba
Where is Cuba
The Free Republic of Cuba is located near the shores of the northern and South American continents, separated from them by the waters of the Straits of Florida. The state occupies the islands of Cuba, Juventud, and about 1,600 smaller islands with a total area of 110,860 km².
The southern coast of the main island faces the Caribbean Sea, while the northwestern and northeastern beaches are washed by the Gulf of Mexico and the Atlantic Ocean.
Population
According to the Population Division of the "United Nations Department of Economic and Social Affairs," the population of the republic as of 2017 is 11.4 million.
Currency
The national currency is the Cuban peso CUP, CUC. At the exchange rate of 1 peso = 1 U.S. dollar.
Useful Telephone Numbers
Phone code of the country: 53;
Phone code of Havana city: 7;
Call from Cuba: 119 – your country code – city code – telephone number.
Call to Cuba: 8 – international call code – Cuba code – city code – phone number.
Russian Embassy: (+53 7) 204-10-85;
Russian Consulate: (+53 2) 268 61 46.
Emergency services (Havana):
Police: 116;
Medical care: 40-50-93;
Fire department: 78-85-41.
Domestic:
National Police: 82-01-16;
Fire Department: 81-11-15;
Medics: 24-28-11.
Payment and exchange in Cuba
Convertible pesos are in circulation in areas designated for tourists. Because of the warm relations between the island's communist state and the Empire of Good, which is jealous from the other end of the Florida Straits, it's best not to fly in with evergreen presidents on vacation. When exchanging U.S. dollars from you can take a commission of 10 to 20%. This is why experienced travelers recommend coming here with Euros. Interestingly, the non-convertible Cuban peso (CUP) is almost unreal.
If it is more convenient for you to use Visa/MasterCard take into account that:
Visa is accepted in more establishments than Mastercard;
When visiting small stores or cafes, it is better to carry cash, as there may be no payment terminal;
Card transactions are subject to a tax of 11.24%.
Tourist Memo
Staying in Cuba should be as colorful as possible, you may have to add colors to your everyday closet. You have every chance to become a fan of Cuban cigars after visiting their homeland, but smoking in public places is prohibited.
If you meet a cow on your way to the beach or during a tour, be extremely careful. This animal is sacred to Cubans, and the death of a cow in your presence can lead you to unpleasant conversations with the local police.
It is also important for tourists to know that it is forbidden to photograph government agencies, military equipment, soldiers, police officers. In addition, before taking a picture of a Cuban should always ask his permission.
What are the Cuban people like?
Cuba is a multinational and multicultural country where the blood and traditions of the peoples of Africa, Spain, Italy, Britain, Germany, Cuban and American Indian tribes, immigrants from China and France, as well as Jews displaced during the First and Second World Wars.
Local, friendly people. Don't be so quick to turn down an offer to play dominoes or share a meal. Do not be surprised if they ask for a drink in the cafe at your expense. And if the hotel or hostel staff will ask you to leave your personal hygiene products (razors, shaving foam, etc.) remember that this is due to the high cost and inaccessibility of the latter for poor citizens.
Safety on Cuban soil
The people in a communist republic are friendly, but poor. It is better not to show cash and expensive accessories. Watch your belongings, so as not to become a victim of petty crooks and pickpockets. At nighttime walking around in poor neighborhoods is not recommended because of the high probability of being attacked.
Climate in Cuba, when to go
The most favorable time for recreation is from November to April.
Fans of windsurfing will enjoy the summer, when the rainy season raises the biggest waves. The holidays can be darkened by the domination of hurricanes between October and November, but in fact, you can plan a vacation in Cuba at any time of year.
Interesting cities in Cuba
Due to the small area you can visit Cuba within a few weeks of vacation. So you do not miss anything important, our website has prepared for you a list of cities and resorts to visit.
The capital Havana is a city of opposites. Here modern skyscrapers are next to colonial pre-revolutionary mansions, where ordinary people live. The city is full of architecture, monuments, and places of interest. Havana dazzles with its white beaches, gourmet cuisine, and salsa sounds. The El Floridita Bar, one of Ernest Hemingway's favorite spots, is worth a special mention. If you're not interested in the bar, visit the writer's house museum and then head to the Roma Museum. For those who aren't tired of daytime excursions, it's important to know that closer to night, the city turns into one big disco filled with unbridled energy. It's a good time to visit the Tropicana show cabaret, which has been world-famous since 1939.
Santa Clara
Santa Clara is a memorable place for the Cuban Revolution where Comandante Che Guevara derailed the armored train of dictator Batista. The wreckage of that very train remains at the site of the derailment to this day, it is a pride and a landmark for the people of the country. Also, there is a mausoleum named after Ernesto Che Guevara and if you are an American citizen, you might not be allowed in.
Santiago de Cuba
The home of street culture is Santiago de Cuba. Music can be heard on every street corner. It is rightly considered the cradle of Cuban melodies and rum, because Don Facundo Bacardi was born here.
Trinidad
If you want to see the island as it was in the 18th century, Trinidad is the best place to do so. The authentic setting of this place is amazing. Cobblestone roads, colonial-style homes, sugar plantations, and slave cabins are an echo of the old days.
Matanzas
Matanzas the capital city of the province of the same name is known for a large number of bridges, which was nicknamed the "Venice of Cuba". The province of Pinar del Rio is interesting to visit, where you can visit the tobacco plantations and admire the views of the Viñales Valley, which received the title of "Cultural Landscape of Humanity" in 1999.
Cuban Resorts
Varadero
Varadero is the oldest of the resorts, a popular and truly heavenly place with turquoise ocean waters and snow-white beaches. The resort can be called a classic Russian-style vacation, here everything is always included. Hour bars, buffets in the restaurant with cuisines from around the world.
Holguin
Holguin is a resort of elite business VIP class. The hotels are mostly five-star. People visit this place for luxury, tranquility, and sophistication.
Guardavalaka
Guardavalaka, one of the best resorts for diving, famous for its coral reef. Esmeralda is a place of emerald beaches. For lovers of the original party you can visit the Cayo Coco island's cave disco.
Juventud
Isla de la Juventud, known as the Youth Island (located 100 km. from the island of Cuba) is interesting with its natural reserves. It is said that R.L. Stevenson described the image of "Treasure Island" from the very landscapes of Juventud.
Cayo Largo
Speaking of pirates, it's hard not to mention La Yana, an ancient tree located on the island of Cayo Largo. Legend has it that it served as a landmark for the pirates of the Caribbean Sea when they buried their looted gold.
This is just a small part of the places you can visit during your stay in the country. Even if you visit Cuba several times a year for several years you will always be surprised and captivated.
Entertainment and Recreation on Liberty Island
The one thing thousands of tourists come for each year on vacation is diving. The underwater world is interesting not only beautiful coral reefs, but also a lot of sunken ships off the coast. Windsurfing enthusiasts can catch waves off the sandy shores, those who do not want to (or do not know how to swim) dive in a submarine into the embrace of the ocean.
The main monuments of Cuban architecture are concentrated in some of the most famous among tourists cities. In Cuba's capital, Havana, you can see many cathedrals, including St. Christopher's Cathedral. And you better not brag that you've been to Cuba without visiting the Armory, Cathedral and Old Plaza of the nation's capital.
The Che Guevara Memorial in Santa Clara, the cigar factory "Francisco Donatien" in Pinar del Rio, the caves with cave paintings of Mantanas. On Isla de la Juventud, the prison Presidio Modelo, which is a replica of F. Castro's former prison, Joliet (Illinois). The natural scenery and national parks more than make up for the small number of architectural attractions, many natural areas of Cuba are protected by UNESCO.
When you come to vacation between July 15 and August 15, be sure to visit the carnivals that take place in Havana and Santiago de Cuba, as they are unforgettable colorful events full of music, dancing and colorful costumes. And for fans of smoking it will be interesting to know about the festival of Cuban cigars of international level, which takes place at the end of February.
And where to go without shopping, because you need to buy something really Cuban – cigars, rum and coffee. Popular among tourists black coral and products from them. In the malls of Havana or chain stores Casa del Habano you will not be cheated and sell goods of proper quality.
Cuban cuisine
The predominant cuisine in Cuba is Creole. Basic national dishes are prepared from pork and chicken. Meat is prepared in many different ways. Among the dishes of national cuisine – "Creole Ahiaco" – one of the main. It is made of pork and vegetables with a good portion of spices. You should also try :
lobster with lemon;
crocodile meat;
turtle meat and eggs.
Fresh fruit slices are often served with each course. Tasty and strong coffee is brewed. The main national drink is rum, which is part of almost all local cocktails.
Restaurants are mainly concentrated in resort and tourist areas and it is recommended to visit them with cash. The cost of a meal for one person in a good establishment is from 30 up to 40 pesos, simpler establishments will cost no more than 15 pesos, and in a tavern you will leave a maximum of 5 Cuban coins. The tip is 10% of the check and it's better to give it in the hands of the waiters. And if you decide to eat at the bar, you are unlikely to succeed. In the colorful Cuban bars you have to drink, and the meal you get at most nuts or chips.
Cuban Hotels
The most common hotels in Cuba are 4 stars, although for those who do not plan to linger within four walls sufficient number of hotels of class 2 and 3 stars. But lovers of luxury have nothing to choose from as 5-star hotels are literally one and a half. Most of the hotels on the island of freedom represent world-renowned networks, which work on an "all inclusive". Check-in at the hotel in Cuba is at 15:00, check-out is recorded at 12:00. Cunning Cubans allow themselves three hours to clean the room before the arrival of the next guests, so you can safely make a claim if you find the unwanted traces of previous guests.