Peculiarities of Thai cuisine: 9 delicious dishes you must try.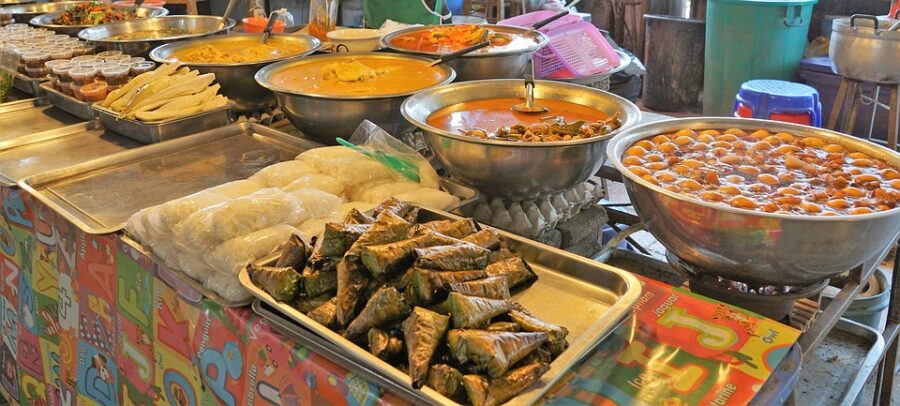 When you come to Thailand, you will understand why this country is famous all over the world for its street food: here you just love to eat, and do it everywhere. From the many cafes and restaurants, to the food carts that are on every street.
Have you ever seen a neatly dressed person sitting on the sidewalk eating soup straight from a cellophane bag? It's no surprise to anyone in Thailand!
Maybe it's because Thai food is just so delicious that you can't pass it by quietly?
We know one thing: no other Asian cuisine appeals to travelers as much as Thai food – so get ready to meet new dishes that will soon become your favorites.
The peculiarities of Thai cuisine
The main rule of Thai cuisine: the table must have all 5 flavors – salty, sweet, sour, bitter and spicy. Almost every Thai dish is their unexpected combination with different shades of spices.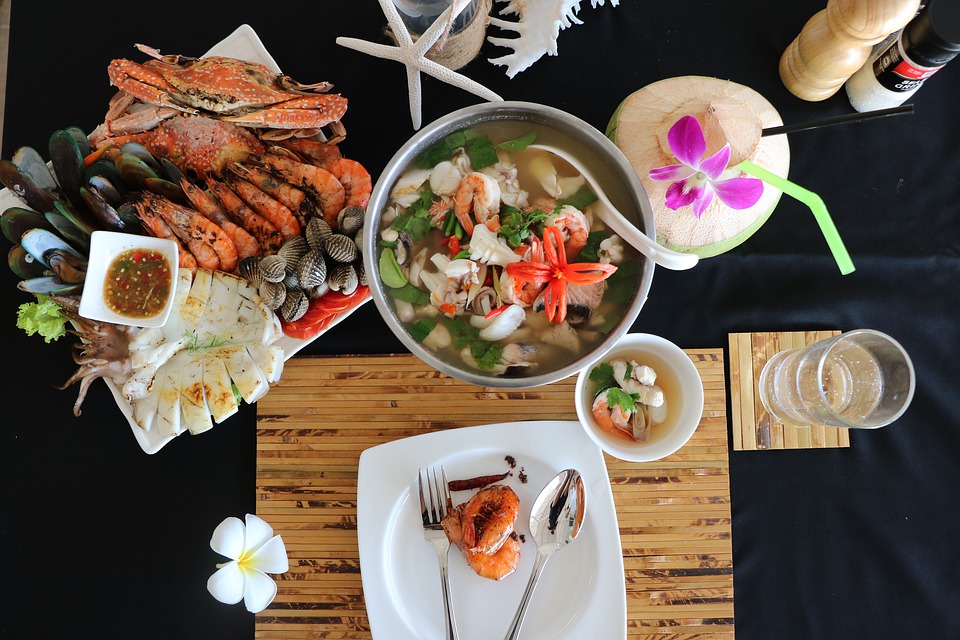 Peculiarities of Thai cuisine
Thai food was influenced by the national cuisines of different parts of Asia, so now in Thailand you can try variations of local dishes with Malay, Indian, Chinese character. Pork, beef, chicken, a wide range of fish and seafood, noodle and rice dishes, salads, fruit and vegetables, spicy tastes, as well as more traditional for Europeans – everyone will find something here to his/her taste.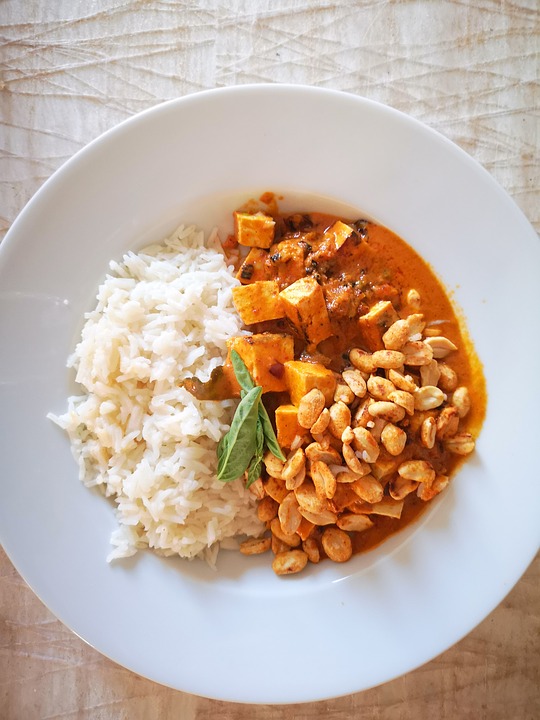 Thai Cuisine
It's a Thai philosophy that if the ingredients are fresh and of good quality, everyone can make a tasty dish out of them. In Thailand, even the most unassuming-looking street food can taste just as good as restaurant food. What's more, street food stalls are often a long-standing family business where they protect their reputation and take care to ensure that the quality of the food is consistent, even when it comes to the simplest dishes.
Another peculiarity of Thai cuisine is that during cooking the products do not lose their taste and nutritional value. That's why most of the Thai dishes are cooked quickly: 5-10 minutes and the meal is ready. A special wok with high sides and a narrow bottom is used for this, in which the food is quickly fried on a high heat.
The uniqueness of Thai cuisine is the use of rare ingredients, which are unusual for our latitudes. So, what does Thailand have that we don't?
Fish sauce is one of the main local ingredients, which is made from small fish fermented in a marinade.
Almost all of the best Thai dishes have hot chili peppers – there are several dozen types of chili with varying degrees of spiciness.
Ginger is a spicy root used to make sauces and marinades. Though its usage in our cuisine is rather limited (ginger tea or pickled ginger for sushi), in many Thai dishes it gives piquant notes to the main taste.
Galangal owes its sourish spiciness to the famous Thai Tom Yam soup.
Lemongrass (lemongrass or lemon grass) is a common ingredient in many Thai recipes, though it is rarely used in other Asian cuisines.
Kaffir lime leaves are used as a spice and in a fried form as a garnish to meat.
Curry – unlike other Asian countries, in Thailand curry paste is not made from dry powder, but exclusively from fresh ingredients.
Coconut milk – coconut pulp is grated and then infused. We are more accustomed to coconut in desserts, but here they cook meat, seafood and soups with it.
What must try in Thailand?
We've told you about the characteristics of Thai cuisine – now moving on to the most interesting: what dishes are worth tasting in Thailand? Of course, there are hundreds of types of seafood alone, as well as ways to prepare them – but there are the best Thai dishes that both locals and tourists adore. We've picked nine of our favorites:
Tom Yam.
Pad Thai
Curry
Kai Pad
Tom Kha.
Som Tam
Spring Rolls
Mango Sticky Rice
Khao Pad Sapparod
Spicy Tom Yam Soup
When asked what to eat in Thailand, it is Tom Yam that comes to mind first. A popular and very exotic dish: spicy sour-sweet Tom Yum soup is made with galangal, kaffir and lemongrass, which together give birth to an unparalleled combination of flavors.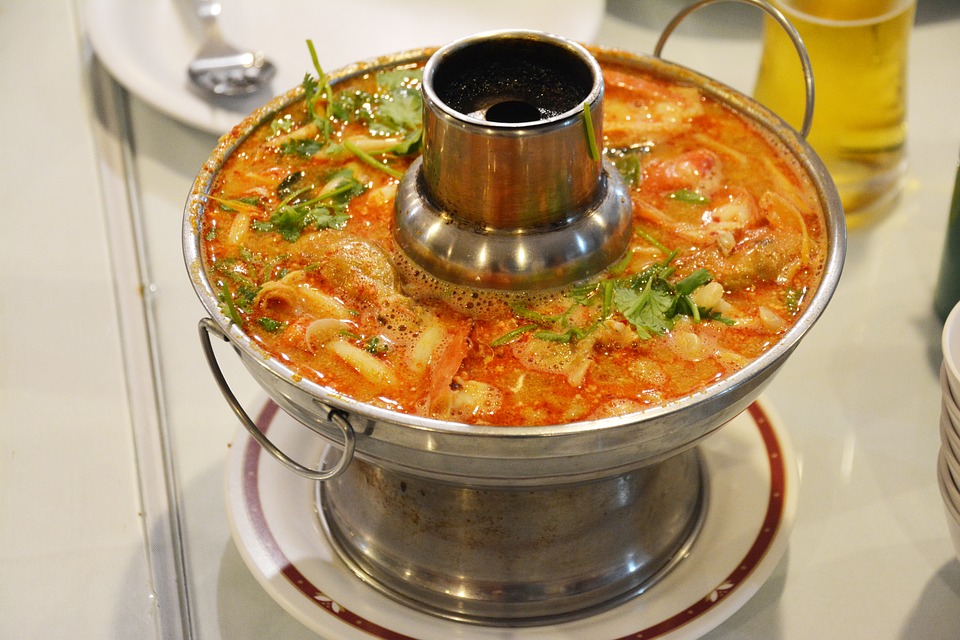 Spicy Tom Yum soup
Tom Yam is made with water, chicken or shrimp broth. It should be very spicy, but try ordering "no spicy" to start: even in this version, there is spiciness in the Tom Yam.
Pad Thai.
An equally famous Thai dish is noodles framed with eggs, bean sprouts, fish or oyster sauce, peanuts and your choice of meat – chicken, pork, shrimp, etc. When ordering Pad Thai, you can usually choose what type of noodles you will be prepared with.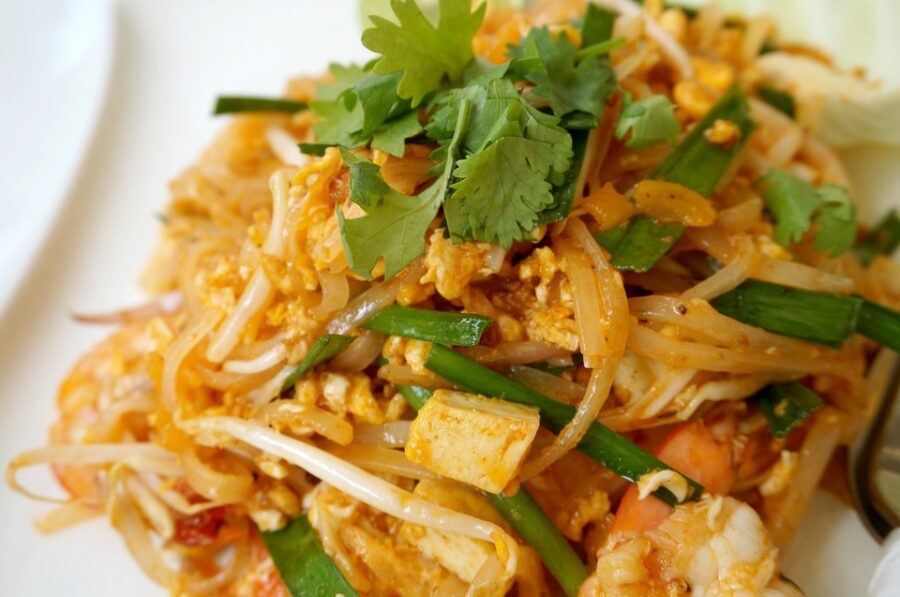 Pad Thai.
Different kinds of curry
There are many varieties of curry in Thailand, the best known are: green curry (with chili peppers, basil, lemongrass and lime leaves), massaman curry (with coconut milk, cardamom, fish sauce and tamarind) and paneng curry (with shrimp paste and peanuts).
The curry is usually accompanied by steamed, unleavened rice which helps to offset the spiciness of the main local dishes.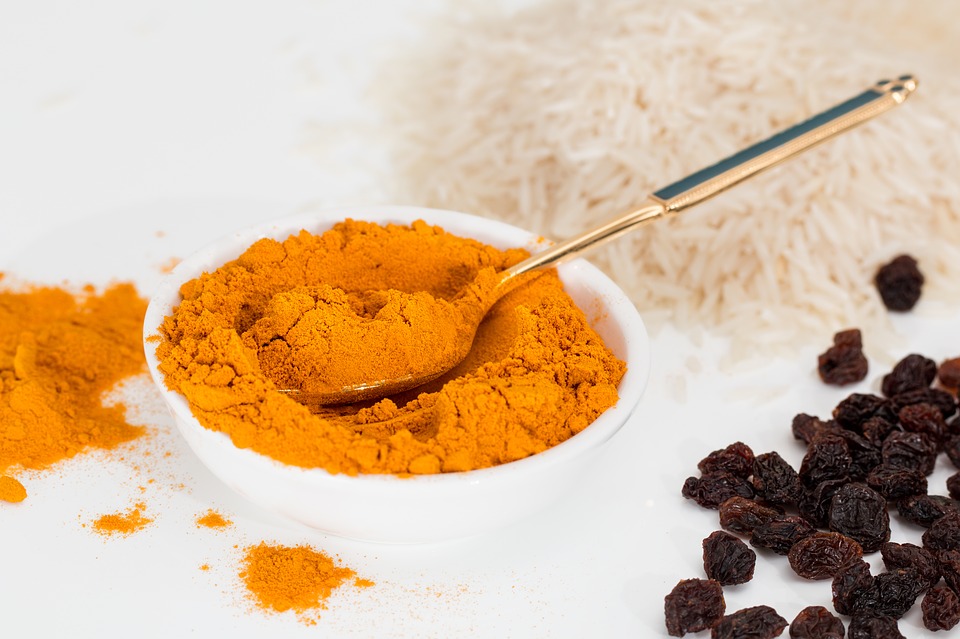 Different kinds of curry
Kai Pad Chicken.
If you see "Kai Pad" on the menu, you know that it's chicken fried with … Here are all sorts of variations. One of the most popular is Kai Pad Met Mamuang, a chicken stir-fry with cashews and vegetables.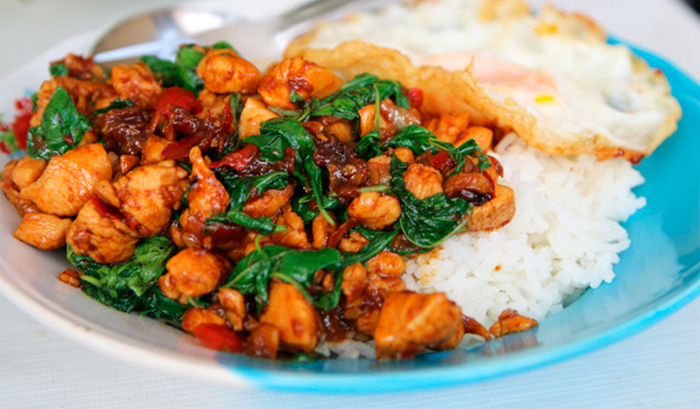 Kai Pad Chicken
Tom Kha soup.
"Little Brother" Tom Yam: these soups are similar, but Tom Kha is based on coconut milk, mushrooms, and shrimp or chicken. Tom Kha is also spicy and tangy, but unlike Tom Yam, it is softer and creamier without the sour taste.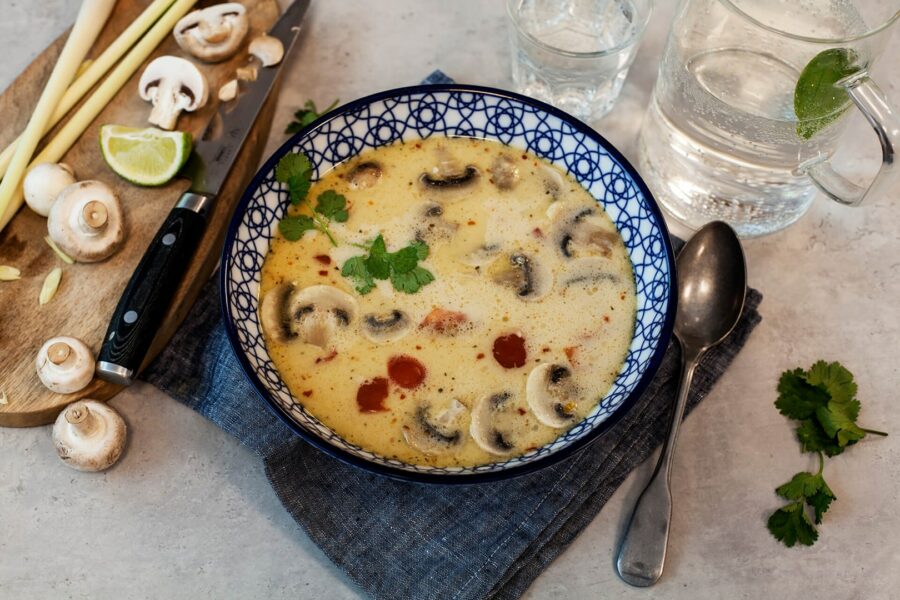 Tom Kha Soup
Tom Tam Green Papaya Salad
A simple dish with a very original flavor. It usually consists of just a few ingredients, most often papaya, green beans and tomatoes. Fish and tamarind sauces, palm sugar, and lime juice are used to make the sauce, making the salad sour-sweet-spicy.
There are two versions of Catfish Tam salad: just salad greens or salad with seafood (usually shrimp or crab). Moreover, if you order the salad with crab, the boiled crab will just lie on top of the greens, in its shell and with all its contents.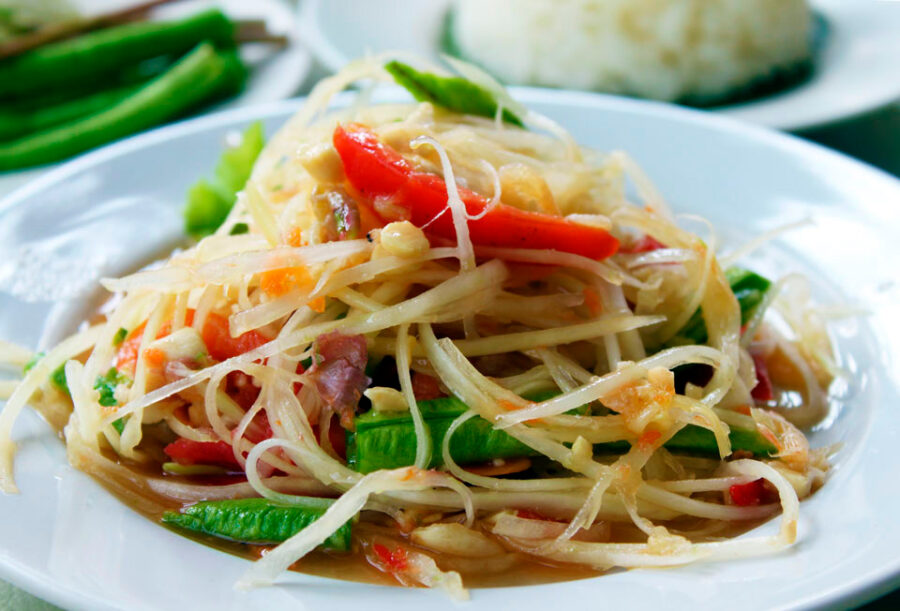 Salad with green papaya Catfish Tam
Spring Rolls
Roasted crispy rice flour pancakes that usually have vegetables wrapped in them. Locals have this as a predominantly vegetarian dish, while tourists prefer a chicken or shrimp version.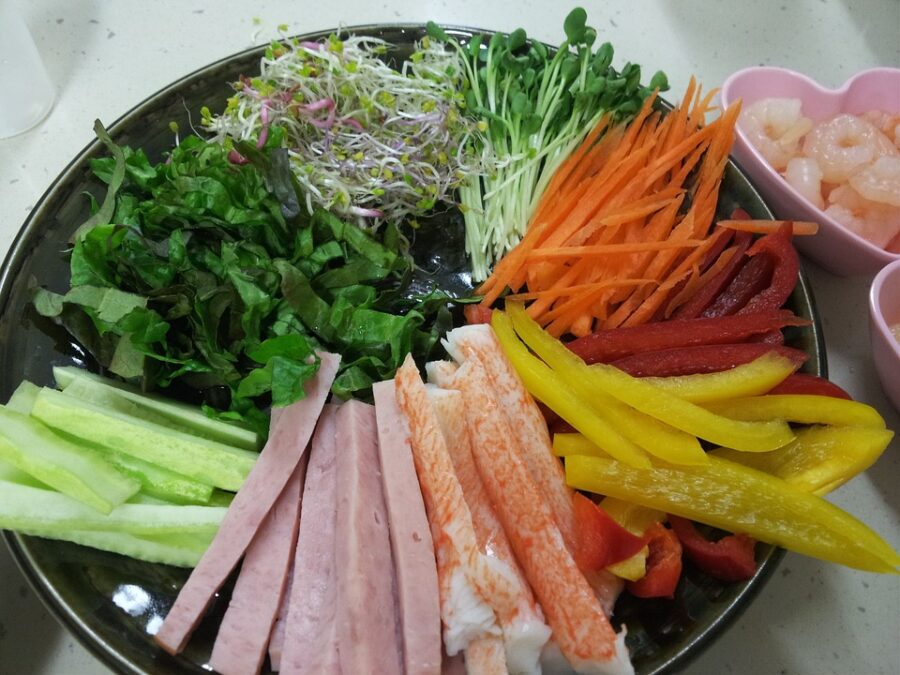 Spring rolls
Mango sticky rice.
Desserts are not very popular in Thai cuisine, so they are often served with the beloved mango sticky rice. It is sticky sweet rice boiled in coconut milk and topped with delicate slices of ripe mango.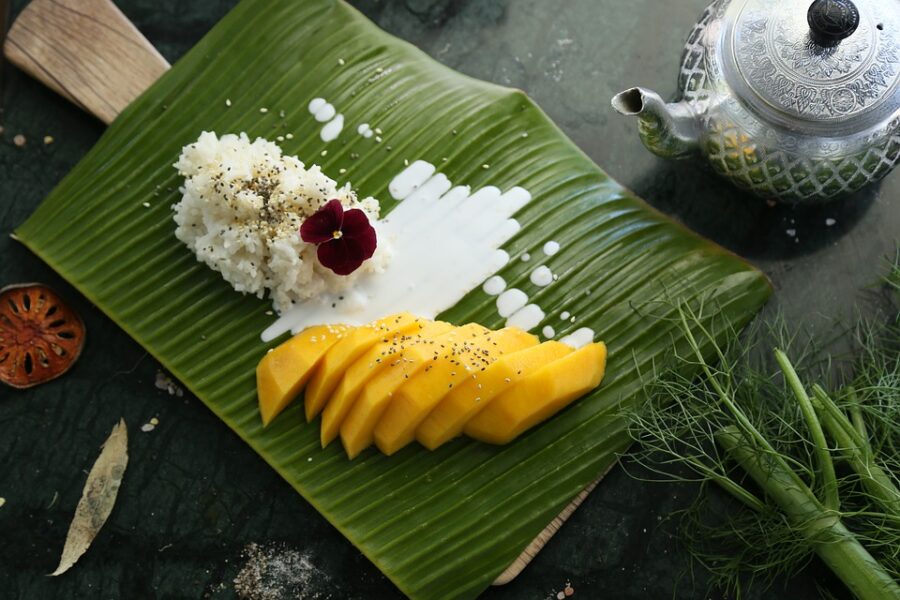 Mango Sticky Rice.
Khao Pad Sapparod fried rice.
If you're wondering what to try in Thailand that's unusual, but you're sure to like, order the Khao Pad Sapparod (or just "rice in pineapple"). The first thing is the spectacular serving: instead of a plate, the rice is brought in half a fresh pineapple, and because it is fried with raisins, fruits and pieces of the pineapple itself, the dish is very flavorful.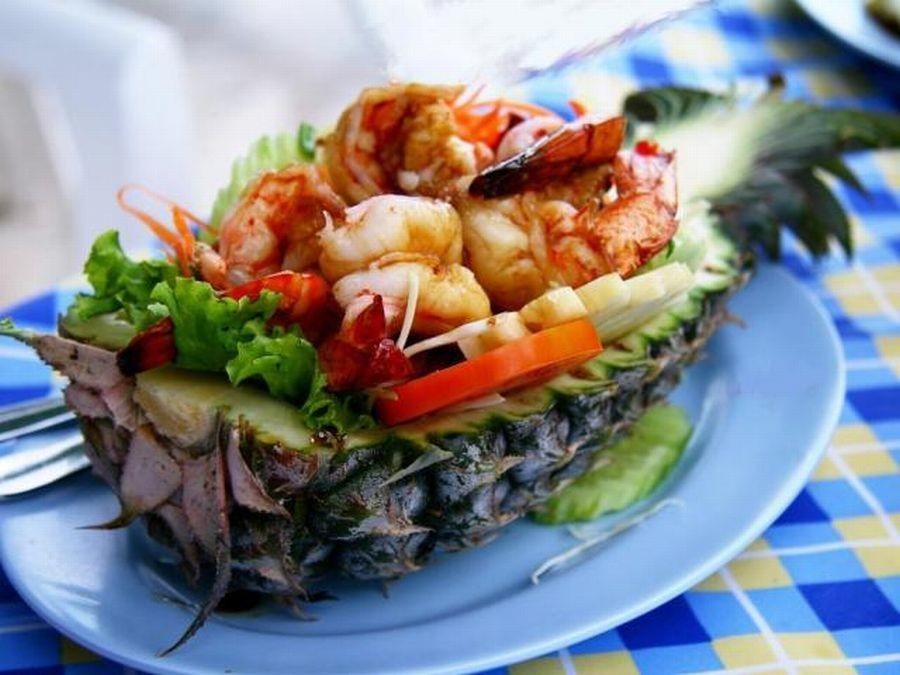 Khao Pad Sapparod Fried Rice
Where and how do people eat in Thailand?
Food in Thailand is elevated to a cult status, with a wide variety in the nature of the dishes, ambiance, and prices. The local love of food is embodied both in the simplest street stalls of rice and noodles and in the highest culinary traditions. You'd be surprised to learn that the top 50 best restaurants in the world include two Thai establishments, and Bangkok has as many as 17 Michelin restaurants – incidentally, one of which is a street food outlet in Chinatown Market.
It's up to you to decide what to try in Thailand, but to get an impression of Thai cuisine, we recommend trying it from different angles. If you have a good restaurant for dinner, it's time to choose a colorful makashnitsa (mobile food cart) for lunch and eat right on the street, as the locals do.
Spicy Tom Yum, fresh seafood and tender mango sticky rice are waiting for you – time to plan your trip!
Thai food – 10 of the tastiest Thai dishes to try
You may or may not like Thai cuisine, but it leaves no one indifferent. If you're getting ready for a trip to Thailand, here are ten delicious Thai dishes to try. Thai cuisine is spicy, spicy, sweet, salty, sour and all at the same time. But the combination of flavors in 10 popular Thai dishes should please everyone. Even if you've been to Thailand a hundred times and know the local cuisine inside out, it's always nice to feel nostalgic, isn't it?
The most popular dishes of Thai cuisine
I will start with the fact that contrary to the common opinion there are many dishes in Thai cuisine that are not spicy at all and can be easily eaten even by small children. Yes, Thais do like spicy food and it seems to me that even their taste buds are different from those in Europe.
If you are just getting familiar with Thai cuisine and spicy food is not allowed, or you are just afraid of it, just tell the waiter or the cook – "Mai phet". Or at least – "But spicy. Keep in mind that 99% of the time if you ask for a little (nit noi) they will serve it to you like to ordinary Thais. Spicy from the soul.
The most popular dish of Thai cuisine is not Tom Yam. Thais do not eat it very often, it is a cult soup, but more for tourists. Although its popularity does not cancel the fact that it's damn tasty, especially if you order it in the right place.
About Thai food and Thais
To understand how Thais feel about food, it is worth knowing that the verb "to eat" in Thailand (Kin Khao), literally means "to eat rice. Thais are always eating. All day long. If they don't eat, they talk about food or discuss food with friends. And as a greeting you may be asked "Kin khao," which literally means "have you eaten rice?" but really means "how are you? And it doesn't require an answer to this rhetorical question.
Breakfast in Thailand starts early. At 5:30-6 a.m., the macashnikas are already plowing the streets of towns and villages and the Thai people go out for their morning snack. At the same time, monks walk by to collect alms.
Breakfast can be anything. From Mama's noodle doshirak to fried chicken. But the most common is "Jock." It's rice cooked into porridge with meatballs.
At 12, it's lunch. If you suddenly need something from the Thais from 12 to 13, forget it. Workers in offices, stores, offices go out for lunch. If you can not leave, they eat right in the workplace all this hot, smelly food, accompanied by conversation.
Dinner is at 7 or 8 p.m. The diner workers have all the tables taken up. Office clerks, cab drivers, nightsticks, students all go out to dinner.
It's not customary to cook at home. Why should they? There's plenty of delicious, inexpensive food on the street. Healthy? That's a complicated subject. Thai food, by the way, pretty caloric and generally not about "zhizh. Although many Europeans here lose weight because it's hot, you want to eat less, more fruits and vegetables, fiber. So whether you eat healthy or unhealthy Thai food, it's up to you.
Not spicy Thai food
I will start with something that can be eaten without fear of anyone upon arrival. I will talk about not spicy Thai food with rice and chicken that even a child can eat.
Guy Yang + Khao Nyiao – Grilled chicken with sticky rice
Gai Yang Grilled Thai Chicken
Well, it's impossible to describe this on an empty stomach. I'm going to finish this and run outside to my favorite grandmother who sells this most delicious version of Guy Yang Khao Niyao near her house.
Grilled chicken thigh, specially marinated and chopped into pieces, plus sticky rice in a bag, what could be tastier. I love this Thai dish for its simplicity and incredible flavor. No two recipes are the same. You can have 5 chicken and rice makashnikas in a row and everyone will have completely different variations. So to find your own, you have to try.
How do you find it? Easy. Literally on any street you will find a makashnitsa with a grill, on which there are already cooked fried chicken thighs. You walk up, say hello, choose your piece, and the vendor immediately warms it up for you and chops it into pieces. Rice does not go a priori, so do not forget to say – nyn khao nyiao kap.
The price of the issue – 50 baht chicken leg + 10 baht for a bag of rice.
Eat chicken and rice with your hands, dipping all this deliciousness in a sweet or hot sauce
Khao Tom – Rice Soup with Meatballs
If it's time for your child to eat lunch and you're a proponent of having soup for lunch, there is a way out. In Thailand, you can order him Khao Tom soup.
Generally in Thailand Khao Tom is mostly eaten for breakfast, but it is also served for lunch, and in the menu of many cafes it is present.
Khao Tom soup includes – jasmine rice cooked in a meat broth. Eggs, green onions, shallots, meat, lemongrass and a little ginger. Most often there will be pork meatballs floating in the soup. Sometimes chicken meatballs.
Price 50-60 baht
Khao Pad Gai/Kung – Chicken with fried rice or shrimp
Khao pad is fried rice, the mainstay of Thai cuisine. Popular with Thais and tourists alike. Classic. If you don't know what to eat, always take khao pad, you can't go wrong. It is almost impossible to spoil, it is always rich and delicious.
You can find cao pad anywhere, from a dip shop to a fancy restaurant.
Khao pad gai is prepared like this – boiled rice is fried together with eggs, herbs, and onions, meat is added, and served.
You can order Khao Pad Kung, then you get rice with shrimp. There is also Khao Pad Moo, fried rice with pork.
It is served with a lime slice, which is usually squeezed on the rice to enhance the flavor.
Khao Pad Moo is enjoyed by children and adults alike.
Price – from 40 baht
Fish in salt – Pla Pao – grilled fish in salt with lemongrass
Grilled fish in salt pla pao
You've probably seen, eaten a hundred times this grilled fish in salt, but didn't know what it's called. Or maybe you haven't eaten it or seen it, then I highly recommend you buy it and try it.
Pla Pao is a win-win even for those who don't really like fish.
Fish in salt is a great dinner. Nourishing, healthy and not at all caloric.
They make it like this: they "stuff" peeled perch with lemongrass, cover it with coarse salt and bake on coals. You cut the fish open in front of you and to get the full flavor, you need to break off the soft juicy white pieces of fish from the inside and dip them alternately – in the sauce that is served with the fish, and in the pieces of sea salt that remains on its crispy skin.
The price starts at 80 baht. In the high tourist season, an average of 100-160 baht, depending on the size of the fish.
There are few bones in such fish and they are large, easily removable. But still be careful if you give it to children, look through each piece.
Pad Krapao Mu Kai Dao – Rice with roast pork, basil and fried eggs
pad krapao mu rice with roast pork and basil
I love it, I'm crazy about Pad Krapao. If I want "something Thai," the right thing to do is to go out and buy Pad Krapao.
This uncomplicated dish has a combination of everything Thais love – spicy, spicy, bland, flavorful, unusual and hearty.
Plain unleavened rice is served with minced roast pork and basil. Be sure to mention before ordering that you want Kai Dao, that is, with scrambled eggs on top. it's not the same without it.
The melting egg yolk is supposed to envelop the rice and stuffing, shading the basil and taking away the spiciness of the chili.
You can, of course, ask for it not to be spicy, but that would ruin it and ruin everything. Pad krapao should be eaten spicy. That's the whole point of it.
Price is from 50 baht
Yam won Sen – Spicy glass noodles
Thai yam won Sen salad
Here's a diet product for you. Yam Won Sen uses glass thin noodles, garlic, dried shrimp, peanuts, onions, lime, Chinese celery and chili. The taste is spicy and sour. It is often made with boiled shrimp.
In general, Thais are not very good at salads. The fingers of one hand are enough to list their "strong" salads. Neither in large restaurants nor in tiny cafes Thais are not able to make salads close to the European. For example, a Caesar salad, or a Greek salad, or even the most common vegetable salad. Their vegetable salad will look like this: coarsely chopped chunks of cabbage and onion, a couple of tomatoes and cucumbers + sweet mayonnaise. It's impossible to eat.
That said, the variations of the yam salad are delicious and amazing. But keep in mind, it only looks simple, and it's easy to screw up. So if you don't like it the first time you make it, it might not be as good as you thought.
Price from 60 baht
Catfish Tam – Green Papaya Salad
Catfish Tam green papaya salad
Som Tam came to central Thailand from the poorest region of the country, Isan. Thais love Catfish Tam. It comes as an appetizer to a main course and as a stand-alone product.
It is made by pounding julienne chunks of green papaya in a mortar, along with chili peppers, green beans, cherry tomatoes, garlic, dried shrimp, and peanuts. Lime, cane sugar, and fish sauce are added.
Tip: If you want it spicy, ask for 2 chili peppers. Medium spicy -1. Not spicy at all – zero. I don't like dried shrimp, it's kind of weird, so please don't put it either.
Catfish Tam is a must try, because along with Tom Yam is the hallmark of Thai cuisine.
It's easy to find. If you see a pestle and mortar on the makashnitsa or in a cafe, then the catfish is definitely there.
They also make catfish out of green mango. In my opinion it tastes even better than papaya.
The price starts at 50 baht.
There are dishes for which the price is established and fixed throughout the country. So the price of Som Tam on the street is usually 50 baht. This is the easiest option, just vegetables, but that's what we need. If you take Catfish there with crabs, for example, it will cost 100 baht. But crabs – one name and the shell, so do not advise.
In the cafe catfish there can certainly cost anything.
Tom Yam Kung – spicy soup with shrimp
Tom Yam Kung soup Thai
I don't know what else to write about Tom Yum, you've probably all eaten it and admired it. Tom Yam is the most popular dish with visitors.
The amazing thing about Tom Yam is that it is made from scratch before serving. No broth, no stock, no preparations. Vegetables and herbs, tom yam paste, shrimp, and at the very end, coconut cream are thrown into the boil. It can be spicy or not at all. Ask for no chili if you want it not spicy.
Luli are usually divided into two camps. Those in the "more cream" camp and those who like no cream at all. There is no right or wrong, each version has a right to exist.
They sell Tom Yum at the macarons, too. For example, one of the tastiest is sold at a granny's across from Wat Boon Market. It stands in the evening, so if at 11 pm you want a hot meal, you know where to find.
The price of the issue – from 80 baht. More often the price of soup in the cafe from 120 to 160 baht.
Khao Niao Mamuang – Sticky Rice with Mango
sticky rice with mango khao niao mamuang
Thailand's most famous dessert. They make ice cream and even cosmetics with its flavor.
Usually traders of this dessert enlighten the whole place with it and if you see beautiful mangoes hanging over the head of the seller – it is definitely Khao Niao.
Inexperienced tourists are surprised by the price. Why is it so expensive. In tourist places mango rice can cost 120-150 baht. At the market 70-80.
The fact is that the rice is cooked for a long time and a special way, in coconut milk, boiled syrup.
The meal is served like this: sticky rice in syrup is placed on a plate with mango sliced into strips on top. It's either topped with sauce or served just like that.
For those who like it sweet and unusual, this will do. My kids love this dessert, but I don't get it at all. I find it both weird and too sweet. And I'm not ready for the combination of rice and fruit yet.
Pad Thai – wide fried noodles with shrimp
pad Thai fried noodles with shrimp
Another popular and non-spicy Thai dish.
Pad Thai is a classic of the genre. Wide noodles are fried in tamarind sauce, onion, egg, dried shrimp, boiled shrimp, and sprinkled with fresh soy sprouts and peanuts.
It's tasty, hearty, a must-try. Sometimes, negligent chefs serve some kind of sticky mass of noodles instead of pad thai. It should not be like this.
Price – from 60 baht.
I hope that you like me wanted something delicious and this article whetted your appetite and made you want to come to Thailand soon. If you are not in Thailand yet, it is quite possible to take and cook something Thai yourself. You need basic ingredients like rice, fish sauce, chili and cane sugar.
What are your favorite Thai dishes?
In any case, bon appetit!
How to buy good insurance cheap? Insurance in Thailand is always very difficult to choose. This article will help you decide: