The mystery of "Devil's ravine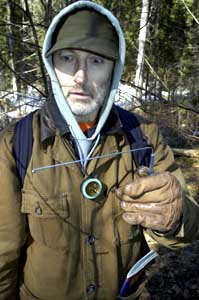 ." />
The Pskov land has always been rich in mysteries. Traces of the Battle of the Ice have not yet been discovered, and the remains of an ancient Viking found by local archaeologists turned out to be female.
Lyadsky Triangle
The Pskov land has always been rich in mysteries. So far, traces of the Battle of the Ice have not been discovered, and the remains of an ancient Viking found by local archaeologists turned out to be female.
But there are other mysteries that excite the imagination of the average man, but are not studied by historians and prosecutor's office investigators.
In the north of the region, in Plusky district, near the village of Lyady, cut the sandy soil for centuries "devil's ravine. It looks like a ravine. Nothing special. Fern, bushes, fallen trees, murmuring brook. But every once in a while people go missing down there. It's only a mile and a half from home. All around are roads with buses and logging trucks. But lo and behold!
The Komsomolskaya Pravda editorial board, concerned about the mass exodus of its citizens which leads to a demographic catastrophe, sent its special correspondents to solve the mystery of "devil's ravine".
In Three Pines
Last year, on July 13, a 67-year old veteran mushroom hunter Evgeny Evgenyevich N. (he asked not to mention his last name because he is a well-known TV presenter) got lost while looking for chanterelles in the "devil's ravine" near the village of Lyady. Evgeny Evgenyevich had a reputation as a seasoned pathfinder, and his friends, who were waiting for him by the road, did not worry at first. But minutes, hours, twenty-four hours passed. Evgenijevgenijevich all was not present. On the third day soldiers and MES specialists with dogs were alerted. But the dogs helplessly wagged their tails, the soldiers trampled the ferns with their chains, shouted with their commanding voices, but Yevgeny Evgenyevich was no sign of him.
– Is it not hearsay to be lost in three pines! – commanders boiled. – He got out of the patch long ago and is drinking tea with lemon in the house of some housewife!
The dogs and the soldiers left. And Evgeny Evgenyevich wandered around the "devil's ravine" in circles, eating raw mushrooms from his basket and praying to God all this time in a confused and hopeless manner. Time had stopped. Among the rubble of ship pines and giant ferns, day seemed like night, and night seemed like a continuation of the day's nightmare. On the fifth day, the pensioner began to have visions. One day he was walking through an abandoned pioneer camp (there were no pioneers in the forest from the beginning), and the next day a lumber truck rumbled over the hills. On the tenth day Eugene Evgenievich, having used up all his strength, curled up on soft moss and quietly began to die.
But relatives and friends of Evgeni Evgenievich hoped to find him in good health. His relatives, medics from Lyady village and local boys were looking for him. The land of Lyady moaned with shouts of searchers. But Evgeny Evgenyevich heard nothing.
At first grandmother Nina, a resident of Rudno village, smelled the signs of the lost mushroom hunter. She felt a strange smell of rotting mushrooms in the ravine. The grandmother got scared and returned home. She told her grandson Andrew about her feelings. Andrew assembled a team and went in search of the mushrooms. On July 22, exactly at 7:30 p.m., he heard a faint croak from behind a bush:
– Hey, buddy, give me a smoke!
A thin body was lying in the bushes. Andrew handed the dying mushroom hunter a Prima, reassured him and rushed to get help. An hour later Evgeny Evgenievich was taken in his arms to the hospital.
– Although we believed that we would find him, there was something mystical about it all. He only had a couple of hours to live," says Lydia Starovoytova, a dentist at Lada hospital, excitedly. – As soon as we found him, he was put on a drip. Dehydration, protein starvation and even heart failure – that is a sure end!
– I was sure they would find me, too," Evgeny told us. – I lost my sense of time and did not know how many days I had been "walking".
Ariadne's Thread
We went on this expedition well prepared. We wrote detailed wills, handed out debts, washed in a bathhouse and put on clean clothes. After all, at least two dozen people had disappeared in the "Lyadski Triangle". In order not to repeat their mistakes, we bought the best local liquid compass in a sporting goods store, a needle from a Ukraine bicycle for the sensitive element of the psychic frame and five kilometers of nylon thread for mushroom tourists. It was our secret, our know-how. If you tie a thread to a birch tree at the beginning of the trail, then no matter how much unclean force carried us, we would always be back at the start. We believed sacredly in the domestic light industry.
– Maybe we'll never see it, – philosophized Yuri, wiping treacherously shining eyes with kerchief. – So let's enjoy the old Russian relics.
And in the Kremlin the preparations for the holy feast of Easter were in full swing. In the Holy Trinity Cathedral the service was going on. Archbishop Evsevy of Pskov and Velikoluksky served the service. However, we did not know about it. We were just passing by the porch when His Eminence, accompanied by a large retinue in cassock, got into a black "Volga". At the flashes of our camera, their high eminence reacted warily, interrupted his boarding in the car and sternly asked:
– "Komsomolskaya Pravda from Moscow, Father!
– I read it; it's a good newspaper. And what is the reason for coming to our region?
We did not dare pronounce the words "damn ravine" in the days before Easter – the archbishop had a long stick in his hands.
– Anomalous area to check.
– Interesting. Well with God! – And got in the car.
We were immediately surrounded by the entourage of His Eminence.
– Grace has come upon you! He has blessed you! – The servants chattered excitedly.
"Komsomol" landing
Historical landing of the "Komsomolskaya Pravda" took place at exactly 10:00 pm Moscow time. The landing took place from a prosaic cream-colored "six" right on the central square of the Lyady village. Opposite stood the "Lyady Trade House", where we replenished our food supplies in the expectation of ten days of inadvertent wandering. We decided not to take vodka. Firstly, a drunk would get lost anyway, and secondly, when it would run out, it would be sad and very painful. At the local hospital, the dentist Lydia Starovoitova was already waiting for us.
– I, of course, will show this place, – said, fixing her glasses, Lydia Pavlovna. – I'm a confirmed mushroom picker myself. I came here from Leningrad thirteen years ago. The ecology in St. Petersburg is useless. But here is a beauty: the air and mushrooms. But I don't go to "devil's ravine". It's a nightmare! You lose your bearings. Especially in summer. There are white nights. There's dusk everywhere. The rubble is so thick that you can't get around it. I'm not surprised that Evgeny Evgenievich has been wandering so much. And you there be careful!
Lydia Pavlovna called the ambulance driver. When he heard that he had to go to the "devil's ravine," he fidgeted:
– I don't have any gas!
– But we will fill it up! – the reporters began to persuade him.
– But the pump is already closed!
In general, after much persuasion of the superstitious driver, we found gasoline. An hour later, we were near the village of Rudno. This is where the "devil's ravine" begins.
In Rudno live an elderly widower Mikhail and his dog Baikal, a young couple who moved into an empty house from the neighboring village, and a 77-year-old Nina Ivanovna Chernysheva with her grandson Andrew, who found a retired mushroom hunter last summer.
– Hey, ducks, where are you going? – Nina Ivanovna wept. – Last year I myself got lost there! I was walking along the road, and the village is at hand. But it is gone! I listened. There's a cow mooing somewhere. A car is humming. And we haven't had any cattle for a long time. And cars come once a day. And then silence again. I thought I'd have to spend the night. And then my grandson rode his motorcycle to the hut. And I got out at the rumble. I was right next door. If it wasn't for the motorcycle, grandma would have been lost!
. Having listened to her story, with an uneasy heart we stepped to the edge of the "devil's ravine". Alexander tied the end of white thread to a thick curved aspen, crossed himself, checked the azimuth with a new compass and raced to the ravine where the transparent brook gurgled with spring waters. The adventure began.
FROM "KP" DOSSIER
Rumors about the "mischief" of the "devil's ravine" have been disturbing the Yadka community for a long time. Even before the revolution, provincial newspapers often reported about mysterious disappearances of horseless peasants in the area. In 1928 a team of lumberjacks-foremen together with their axes perished – seven people! In 1931, nine Ladian kulaks disappeared with their families. True, inquisitive local historians assure that traces of some of them were found on Kolyma. But this is just a hypothesis.
Years passed. Disappearances of people continued even in peacetime. In 1974, a group of mushroom pickers from Leningrad disappeared in the "devil's ravine". Two of them were found a week later. None of them could tell convincingly about the fate of their five comrades.
Read also
Age group of the site 18+
Network publication (site) is registered by Roskomnadzor, certificate El № FS77-80505 on March 15, 2021 Chief Editor – Sungorkin Vladimir. Chief editor of the site – Nosova Olesya Vyacheslavovna.
Messages and comments from readers of the site are posted without prior editing. The editorial reserves the right to remove or edit them from the site if such messages and comments are abuse of freedom of mass information or violate other requirements of the law.
Komsomolskaya Pravda Publishing House. TIN: 7714037217 OGRN: 1027739295781 127015, Moscow, Novodmitrovskaya 2B, Tel. +7 (495) 777-02-82.
Anomalous places of Pskov region
Almost every region of Pskov region has its anomalous zones – real riddles for scientists. Duhova mountain, Devil's ravine, "prodigal forest", where you can hear a woman crying, and chronomirages in an ancient monastery – especially for mysticists we have made a map of the main mysteries of the region.
Duhova Gora
To get to it is pretty easy: it is 135 kilometers from Pskov to the regional center Opochka, and then – another 7 kilometers to Krasnogorodsk, and then you have to take a road to the village Kirovo, and then everybody will show you where it is situated. The mountain itself is a kind of elevation (about 300 m above sea level), on top of which is an ancient chapel. Several years ago it burned down, but thanks to the efforts of well-wishers new chapel soon appeared in this place. However, the number of pilgrims there does not decrease.
There is a legend that Ivan the Terrible ordered to make a register of holy places in Russia. It was then that the tsar's list included Dukhova Mountain, which at the end of the 16th century was already a famous holy place.
Local residents say: standing on it, you can be so charged with positive energy that one feels as if he had just come out of the steam room, but you can the opposite – to feel the strongest decline in strength. In addition, there is still alive a legend among the population of neighboring villages that Duhova Mountain can take vengeance on people for not treating it with respect.
When we were there for the first time, we were shown the graves of two brothers, who in their lifetime quite dabbled in wine. Once, having got drunk, they shot from the rifle in the direction of the anomalous zone. Local residents then assured us that the mountain took terrible revenge on them. One may not believe it, but the fact remains that within six months the mountain drove both shooters to their graves. I'm sure that a lot depends on the moral nature of a person: if you go there with pure thoughts, you will receive help and sometimes healing from diseases, but if you go there with an evil heart, you may be punished.
According to our interlocutor, the anomaly of this place is obvious: special frames were measured there, and it was found out that at the top of the mountain there are as if in parallel mode two energy flows: one ascending and the other descending. And the flows were so strong that the frames literally rotated 180 degrees. What is their nature? We can only guess.
Although our expert assures us that in this case we are dealing with the so-called infrasound radiation, which, coming into resonance with the human body, has a certain influence on it. As a consequence, an unconscious feeling of terror may develop.
Approximately the same is true of people who find themselves in the Bermuda Triangle. Unmotivated fear has more than once caused the crew of a ship to abandon it in a hurry. When the ship was found, they were surprised to find coffee still warm in their cabins. Apparently, Spirit Mountain has similar properties.
Unbearable Heat
To the anomalies also belong Eleazarovsky monastery (only 30 km from Pskov along the Gdovsk highway. -S.N. Note), more exactly – the upper chapel of the main cathedral, where, according to legend, was buried the founder of the monastery Reverend Euphrosyn. The latter assertion is highly disputed, however all sources agree on one thing: this place is extraordinary. For example, there is a story of a parishioner possessed by demons who suddenly fainted there. She was unconscious for a long time and when she came to, she could not remember what had happened to her.
They say if you hold your hand over the grave, you will suddenly begin to feel an unbearable warmth – alas, the author of these lines to feel its power personally did not succeed: for what I bought, for what I sell. But everyone (including locals) is convinced that the temple has some incredible power. Strange thing, but almost all residents Yelizarovo suffer severe pain in the legs. And they explain it as… punishment: during it was a club here, and the local youth danced without sparing their feet. Now they are already old people who attribute their ailments to their sinful youth. Chronomirages
Another place that also occupies the imagination of explorers of the unknown is the Nikandrov Desert. According to authoritative ufologists, this is one of two (!) officially recognized in the Northwest anomalous zones. The first one is located near Myasnoy Bor in Novgorod region, and the second one – in Nikandrov desert in Porhovsky district.
Both are characterized by the fact that from time to time there appear… chronomirages. What is it? It is difficult to answer this question, especially since eyewitness accounts are quite contradictory. However, according to Oleg Konstantinov, a well-known journalist from Pskov, he personally saw something mysterious:
When we went there for the first time, from the monastery itself almost nothing remained: it was destroyed before the war. However, pilgrims have already started to go there. In particular, the tomb of the Venerable Nikandr was arranged. I went there to take a few pictures, but before I reached 10-15 meters, I noticed that someone was standing near it. From his appearance, it seemed to be a monk. As he approached the place, he seemed to vanish into thin air and then disappeared altogether. Later, I came across such a term as "chronomirage" in special literature. I think that I witnessed this unusual phenomenon.
Devil's ravine
Another mysterious place in the Pskov region is considered the so-called Devil's ravine. Rumors of its treachery have long alarmed local residents. They say that even before the revolution, reports of mysterious disappearances appeared in provincial newspapers. For example, in 1928 seven people at once disappeared there – a team of woodcutters. In 1931 there was one more case when nine people perished in the ravine at once. In 1974 a group of mushroom pickers from Leningrad allegedly disappeared in the Devil's Gully. Two of them were found a week later. Exhausted, they could say nothing about the fate of their comrades. Is this place really so unique?
It's all nonsense! My aunt and all her relatives had lived all their lives in the village of Rudno, next to where this same Devil's Gully is located, and… nothing. No one ever got lost or lost there, until one mushroom picker got lost there. It was relatively recently – then the guys from the local squad of the Ministry of Emergency Situations looked for him. Of course they found him, but think about it: he is an elderly man (over seventy), so no wonder that he lost his way back. But it turned out that his son works for one of the central television channels.
This circumstance, I think, played a role in the emergence of all kinds of ridiculous rumors, which were then picked up by the "yellow press", and most of all – came up with it. If we talk about real miracles, the most famous is the so-called "God's Stone" in the village of Zayan', which is about thirty kilometers from us. It's a deaf place there, but it has its own church and this very stone. It stands out because it is as if a man's foot is imprinted on it. Everybody walks around and worships it, and they say it grants wishes. It's hard for me to believe that, too, but it's certainly more than the Devil's Gully scare stories.
And there's also Petrakova Glade (it's already Kunya district. – Author's note) where locals talk that not once they observed some strange figures which can be conditionally called "aliens" in the modern interpretation. There is also a "prodigal forest" in the place Tsigelna, where a "maiden weeping" is constantly observed, and one can easily get lost there.
A little farther away, in Zhilin Lake, there is a constant oil stain and rust on the water – perhaps something is at depth? How not to recall Alexander Sergeyevich with his Lukomorye, where "wonders, where the lich wanders…". But if anyone does not believe me, he can check for himself. If, of course, enough courage.
Expert opinion. Victor Bobrov, the president of public organization "Mir" on research of anomalous investigations
– I personally researched five anomalous zones, although it can be assumed that there are in fact many more. And one of our latest discoveries is not far from Stary Izborsk. Only 5 km away. It looks like a simple slope, but when you enter the zone, you begin to feel the strongest discomfort: dizziness, nausea. For the sake of purity of the experiment I went there several times, and each time the effect was the same. Another place, which we also examined, is located in the Loknya district. It is a hill where we captured several strange black balls.
And we were shooting in complete darkness, but the camera "caught" them. When we began to climb this hill the next morning, we could clearly smell ozone. In this place the grass was noticeably higher and greener. Where did it come from? There was no thunderstorm in sight. I count this fact to the category of unexplainable too. In general it is necessary to tell that such phenomena, which cause a lot of questions, are enough.
The fact is that the level of our knowledge today is too low to give a logical and – I emphasize – a scientific explanation of these phenomena. For this purpose (to describe and record the unusual) our organization "Mir" was created, which is actually an abbreviation: mysticism and reality. In this sense, I see my task as separating legends and rumors from real physical facts and systematizing them. This is so far all we can do today…