Vinsky's forum
In northern Egypt, in its Asian part, a half-hour drive from the Gaza Strip, on the shores of the Mediterranean Sea, is a town where palm trees have taken over.
El Arish is the administrative center of the North Sinai Province. The local population is mostly Bedouins (the original inhabitants of Sinai), a few Palestinian refugees and immigrants from the mainland. After the war with Israel, little is left of the town of Arish, just some Israeli fortifications and Egyptian trenches. Later, there were municipal buildings and a good offer was made to the military families to move into new apartments and live in the land of palm trees + decent salaries and pensions. An airport was built (our planes landed there with humanitarian aid to the Palestinians not so long ago), pilots, mechanics and others came. And life began. El Arish is different from other cities in Egypt with its special mentality. The wild Bedouin culture is closely intertwined with the military order. And when the universities and hotels began to open. As an example of this mixing – a third of the city's girls walk in T-shirts and jeans with open hair, a third sparkle with eyes from the niqab (a type of veil), a third dressed in all the colors of the rainbow – Arab fashion.
The most important in the city are the palm trees. If one has bought land with palm trees, one must arrange his dwelling in such a way that he won't damage them. Destroy a palm tree = fine + jail. At an average salary of 350 pounds a month, a fine of 5000 pounds is harsh. Yes, and the threat of arrest for six months inspires people to take good care of palm trees.
A typical bungalow on the main street.
A house on the same street, but a bit further away.
Let's take a closer look at it.
And this is what an Arish Bedouin dwelling looks like – a fence around his territory, a traditional wicker shack or brick house, a herd walking around, geese, chickens, and other livestock. Some live in the desert, nomadic, and some don't, but live as if they were still nomads.
A picture from everyday life – a Bedouin woman herding sheep
Bedouins are also famous for their embroidery and jewelry. In the bazaar and in the stores, you can buy elaborately embroidered things for a ridiculous amount of money. Local though not recommended to take things that have seals, as toys, rags and other crafts. They say they put pieces of enchanted camel dung in it – very powerful magic.
I bought a teapot at this picture shop, and it had a rag doll in it. When I brought the purchases to the house where I was staying and showed the acquisitions, the doll fell out of the teapot. there was a panic! The whole house was in an uproar. They took away the pretty baby doll, sniffed it all first (for feces), then cut it up, and then threw it away. Nothing was found, just a good thing spoiled. And we were strictly warned never to trust Bedouins and never to burn enchanted things.
It turns out that in ancient times there was a road called Hora along the seashore from Gaza to the end. The pharaohs stomped along it, and the Holy Family used it to escape from Herod to Egypt. But even without this knowledge the road to El Arish looks amazing – the two ribbons of highway "back and forth" curve between barchans of the softest sand, they now converge, then disperse again, then go at different levels. In some places, groups of palm trees are scattered in bunches. Some palms are covered with sand up to the crown. Here and there one could see traces of sheep's hooves and dents from camels' "irons". And strange-looking buildings.
We enter the city, driving from Cairo to Gaza. As you can see, on the right are the chalets, just behind them is the beach. On the left are the colorful houses of the locals.
Then the chalets give way to five-star hotels. (I'm slow – the hotels themselves are not photographed, as well as a trump dormitory of the local university, located in the palace) On the left you can see only the palm groves.
Giant palm trees attack! ))
Closer to the middle of the local buildings are thicker, here they are already on both sides. There are cafes, children's clubs, etc.
The same street "bahari" that is "coastal".
Well, here is the exit from the central part of the city. Hosni Mubarek's villa is on the right but one can't take photos of it, the police keep him there as if Mr. President had locked himself in an ambush. On the left around the corner is the Bedouin Museum, right behind the palm trees is a zoo (there are only donkeys, a camel and visitors).
By the way, there is a super hotel for national army officers (also not recommended to take pictures).
There is a "corniche" along the coast, a promenade that separates the beach from the buildings. It is a favorite place for walks of the Arish people, as well as a fortification against the stormy sea.
The breakwaters are also adapted for recreation, there are promenadikas with benches, with a gazebo in the fashionable Bedouin style – pagoda.
Pagodas are the local style. Rich people's houses have to stand out somehow, so one jackass built a house as a pagoda, and now it's "sort of a trend", as you see, even municipal buildings are infected with it. That's where it all started.
From the funnies. I used to think that "M" and "G" were only for toilets. but not in Egypt! That's how they also designate the windows at the local bakery! In the morning, the bakery fires up the ovens and bakes the flatbreads. You have to take 5 (on average) flatbreads per family per day. Basically, they don't eat there without bread, they wrap Egyptian pickles in it and use it instead of a fork and spoon. So, to buy bread in the morning – the most relevant )). It is often sold in soums and there are a lot of people, so there are long lines. But this is a Muslim country, so it's not good for women and men to be crowded together. So they made two separate windows for men and women (above the left window, it says "Hurim" – G, and above the right one, "Rgal" – M), and between them, a pedestal and a brick wall (for security).
There are several kinds of bread baked in Egypt, the most popular being pita bread. It is made of wheat flour or dark flour (its origin is not clear, but it is similar to our rye bread in taste). Fatir is a flatbread made of puff pastry. And large pita breads – fatair. This is the bread of the Bedouins. And this is how it is baked.
This video, by the way, was made near the central square, the medina. From the center of the coastal street perpendicular to the main street of the city, all the major stores, banks, etc. are located on it.
A signpost to the medina next to the painted mosque
The medina is a fun office building. It's very economical.
A bit away from the main streets. and the typical Egyptian mess begins.
By the sea, too, there are quite modest houses – a fisherman's chalet, for example.
Suburb El Arisha The most popular beach on the entire coast is just beyond the zoo.
A very cozy place
In addition to palm trees, the city is surrounded by olive orchards. The olives are pressed into a wonderful oil, and they are also pickled in a hot pepper brine. The thing is called "zitun mhahil" – pickled olives.
It's a weighty picture. There are stone Bedouin huts in the foreground and a wattle and daub in the background.
In some places the view is ominous, but on the whole, El Arish is a very pleasant seaside town. )))
The Egyptian town of El Arish.
Originally this Roman garrison town was called Rhinocolorum (where they cut off the noses) because of the fate of the criminals exiled there. El Arish has survived many invasions. Until recently it was a popular resort for vacationing families, attracted by its palm-lined beaches and invigorating sea waves, but events on the border with Gaza and deteriorating relations between Israel and Egypt have caused many Egyptians to refrain from traveling to el-Arish, preferring other Mediterranean resorts such as Alexandria.
Western tourists are slowly getting used to life here, which is why the tourist posters advertising El Arish are overflowing with beach images. Whether for this reason or another, El-Arish is more conservative than the resorts along the Aqaba coast. There are restrictions on liquor and loose clothing, and the nightlife is quite quiet. However, for a group of travelers who are willing to rent accommodations on the shore and have fun on their own, El-Arish can be a great vacation spot.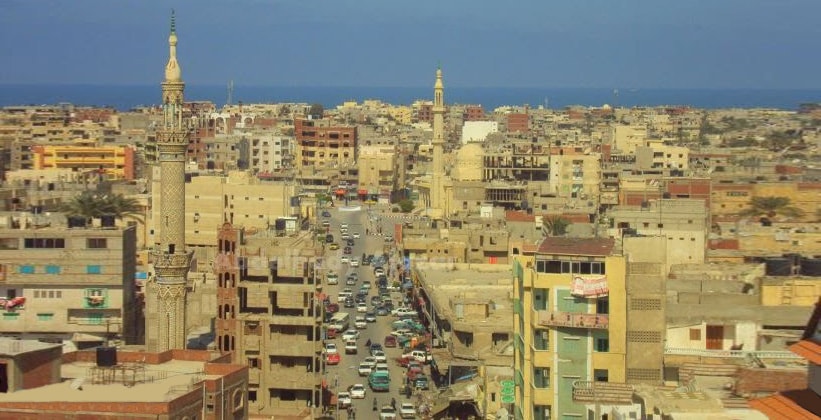 The most attractive feature of El Arish is the many palm groves on the outskirts, a number that is unfortunately diminishing as more and more country villas are built. Considered a backwater even by Egyptians, this quiet town came into the spotlight in October 2004 when it was discovered that the terrorist attacks in southern Sinai were directed from here. This revelation led to a wave of arrests, although a large majority of these alleged perpetrators are in prison without charge.
Arrival and accommodation in El-Arish
There are buses to El Arish from Cairo's Turgoman terminal (6 daily; 5 hours; £25-37) and Ismailia's main terminal (6 daily; 3 hours; £10), and service cabs from Ismailia (£7) and from the east bank of Kantara (2 hours 30 minutes; £7). Egypt Air flights from Cairo to El Arish (Thursday and Sunday; 1 hour; $109 one-way) operate only in summer.
The tourist only needs two streets in this city. Coming from the west side, you will walk along El Fateh Street – parallel to the beach – until it turns inland, goes downhill, and turns into 23rd of July Street. Eventually it turns to a bitch consisting of stores with wooden shutters reminiscent of a scene from a Wild West movie, and ends at Baladia Square, with a bustling mosque and a bus station. Minibuses (50 piasters) and service cabs (50-75 piasters) constantly ply between the souk and the beach, stopping at any point along the way.
The tourist police and the almost useless information kiosk (Saturday-Thursday 9.00-14.00) are in a building on El Fetas, in front of the Sinai Beach Hotel; the main police station and the hospital are to the east on El Geish Street, which branches off inland. The Mubarak Military Hospital is located next to the North Sinai Governorate in Dahiya. A block north of 23 July Street a side street leads to a bank, a post office (daily except Friday, 8:00-14:00), a 24-hour telephone exchange (international calls possible but not calling by card) and the Egypt Air office.
El Arish accommodation
With the exception of the season lasting from July to September, there should be no difficulty in finding a place to stay. The coastal hotels are usually either expensive hotels or cheap dilapidated shacks, so look for something suitable for a reasonable price in the town itself.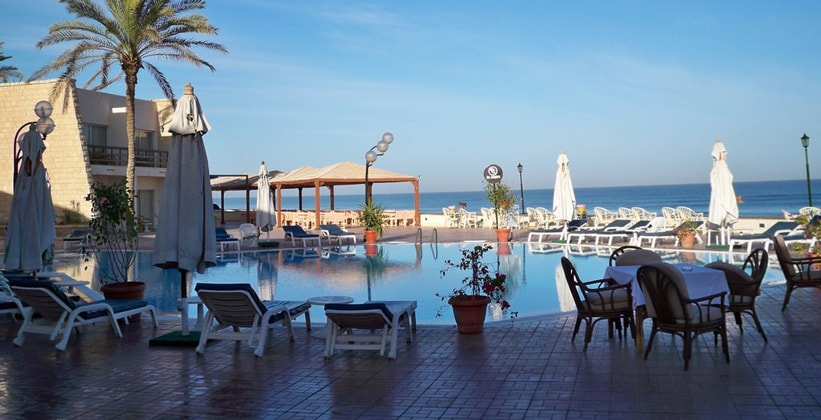 Swiss Inn Resort
1). El-Arish Resort Hotel – Tidy rooms for one, two, or three people, with a nightclub, pool, tennis courts, and the only bar in El-Arish. Non-guests can pay £25 to use the beach and pool. Rooms are quite expensive in peak season, but you can usually get a discount of up to 40% off season. Location: from the beach at Sharia El-Fateh;
2). Hotel Messa – A welcoming hotel on a quiet street, one block east of 23 July Street. Its clean rooms are probably the best value among inexpensive lodgings in town, including breakfast. Location: Sharia El Salam;
3). Moonlight Guesthouse – Small rooms close to the sea. It's not bad lodging, though not the highest level;
4). Hotel Safa – Friendly staff and reasonably priced rooms with showers and a fan. There is a rooftop restaurant with a great view and laundry facilities. Look for the green hotel sign, 150 meters north of the Mr. Kodak store. The location is Sharia 23 July;
5). Semiramis El-Arish Hotel – The single and double rooms are quite far from the beach, as are the more expensive Med-facing suites. Location: Sharia El-Fateh;
6). Sinai Beach Hotel – Double and triple rooms with private baths and air conditioning, some with balconies overlooking the sea. Location: Sharia El-Fateh;
7). Sinai Sun Hotel – Nice rooms of all sizes with balconies, baths, air conditioning and TV. A good choice for the mid-range. Location: Sharia 23 July.
Beach & Attractions at El Arish
Despite the many hotel lodges and chalets lined up along several kilometers of beach, you can still find deserted strips of palm-lined beach, where the occasional dropped anti-aircraft gun lends a surreal touch to the landscape. The sea is cooler and more restless than off the coast of Aqaba, and with no reefs, El Arish beach is more suitable for swimming and sunbathing than for diving or snorkeling (no dive stores there anyway).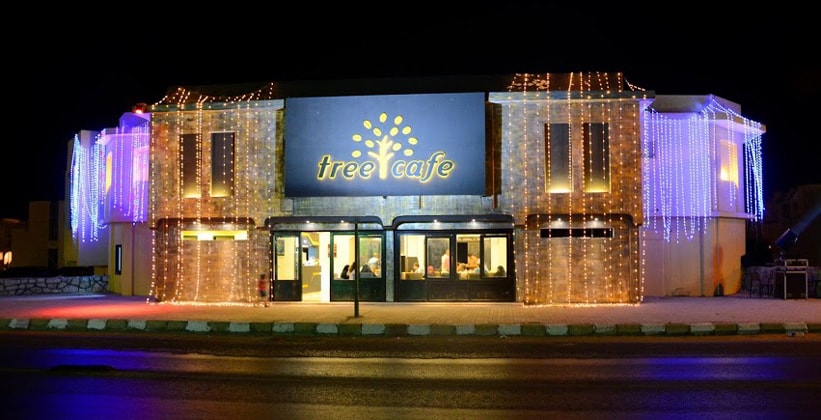 Tourists are advised not to be on the beach after dark and to dress more modestly in town – the rules of conduct are monitored by the police. For a town with 50 thousand inhabitants, El-Arish offers very few sights in Egypt or places for entertainment. On Thursdays, the Bedouin market sells fruit, vegetables and Bedouin handicrafts: the latter are also available in tourist stores such as the International Military Observers warehouse on 23 July Street.
Another attraction is the Sinai Heritage Museum, behind the UN post along the coastal road in Rafah (take a bus or service cab). The museum is open daily (Saturday-Wednesday 9:00-14:00, summer 8:00-20:00; £4) and contains mostly stuffed wild animals. Nearby is a small and poorly stocked zoo (same hours of operation).
Food and nightlife in El Arish
The cheapest places to eat are the ful and taamia establishments near Baladia Square or the simple restaurants along 23 July Street. Aziz (after El-Salaam Hotel, next to Midan Baladia) and Bet'a Bet, across the street, do good kofta and salad or chicken and fried potatoes at reasonable prices.
On the beach, go to Basata, behind El-Arish Resort, which has excellent seafood cuisine. Other than the well-equipped but expensive bar at El-Arish Resort, it's very hard to find alcohol. If you really want hard liquor, you can take a service cab to the border and use the duty-free store outside the Egyptian customs and immigration office.
Smoking shisha and playing backgammon are available at the cafe on July 23rd Street, which is usually all El-Arish has to offer as a night out. In the summer, El-Arish Resort opens a nightclub with live music and belly dancing. An outdoor restaurant in front of El-Arish, a dance hall on the beach next to the town, and a disco on July 23rd Street sometimes hosts entertainers.
Going further afield.
Direct buses leave from the terminal near Midan Baladia for Cairo (£16-22) and Ismailia (£7), while service cabs leave from a point opposite the terminal and also go to Cairo (£14) and Ismailia (£7). In summer, there are also Egypt Air flights to Cairo (Thursday and Sunday).