El Gouna – The Venice of Egypt
El Gouna is a modern resort city on the Red Sea coast of Egypt. Not long ago it was an unremarkable desert. But there were people who saw the considerable potential of this place.
In 1989, several Egyptian businessmen decided to organize here a resort, as beautiful as the famous Sharm el-Sheikh and Hurghada. Yes, it is still inferior to them in size, but the construction of hotels, private villas and tourist infrastructure is booming. El Gouna is capable of squeezing the other Egyptian resorts in the future.
Where is it located
El Gouna is located 25 kilometers north of Hurghada on the shores of the Red Sea. The town became part of the Red Sea Riviera.
El Gouna – view from the top
El Gouna Climate and Nature
Considering the location of the resort, its climate can be classified as hot desert. The sun shines here almost all year round. The air temperature is usually between 17-33 o C. Very rarely it can drop to +9 ° C. But to go over +35 ° C is quite capable.
Despite the proximity of the sea, the humidity in El Gouna is not high, an average of 22%.
The classic desert landscape is characteristic of these places. Although in combination with the beautiful beaches and gentle waters of the Red Sea, the overall atmosphere sets up a great holiday.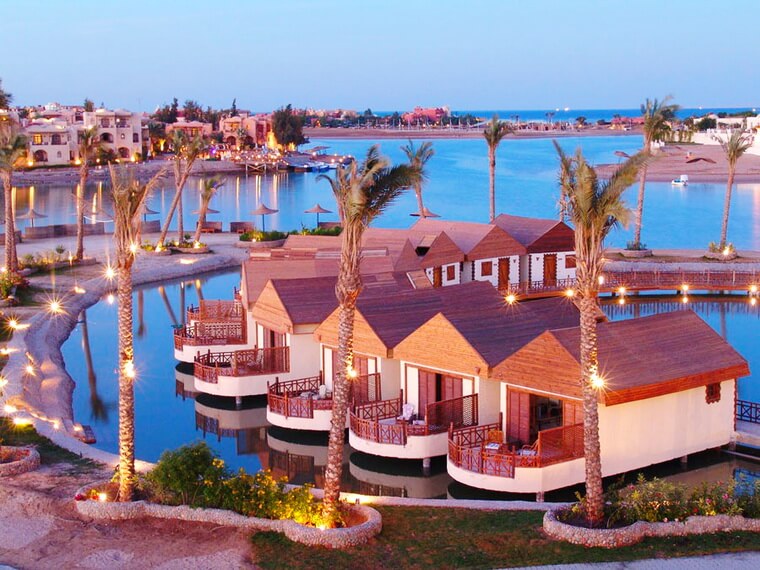 What El Gouna Looks Like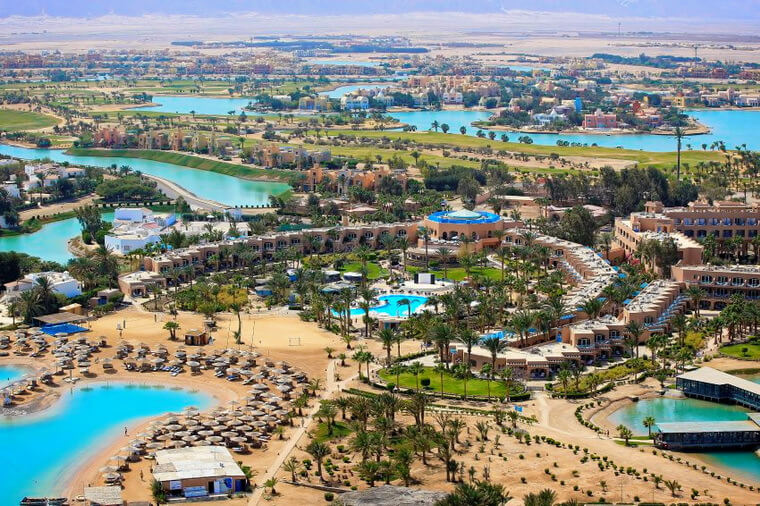 Sandwiched between the desert and the sea, El Gouna looks like a picture from a tourist ad. But it really is so – cozy, inviting and calm.
It has many different names. Little Italy, Egyptian Venice, sometimes you can hear "toy town".
The coastal area consists of many islands, separated by canals. Hence the resemblance to Venice. On the gondolas here is unlikely to sail, but the yacht or boat may well be. The islands are connected to each other by stone bridges.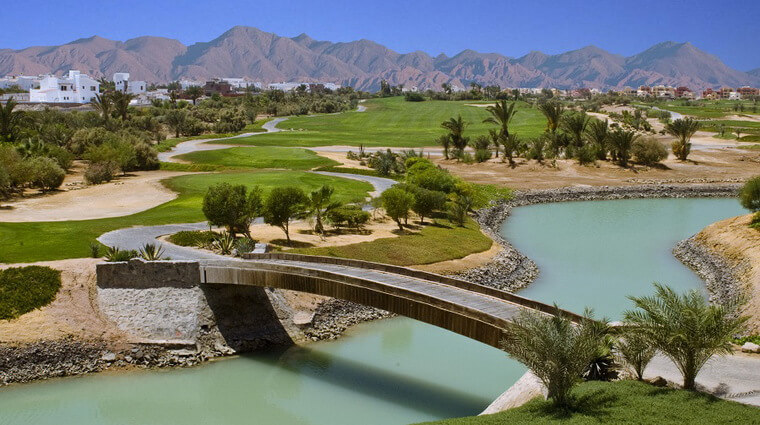 It seems there are a lot of "Venice" in the world. The island of Mescaltitan is called the Venice of Mexico. Why do you think so?
The city of El Gouna is located on an area of 36 km2 . The sandy beach stretches for 10 km and is easily accessible from any part of the city.
Luxury villas are found along the banks of canals. Almost all of them have access to the water. It is possible to rent them or even buy. Both hotels and villas follow the same architectural style and colour scheme. The construction plan was developed in advance and does not include any buildings that go beyond it.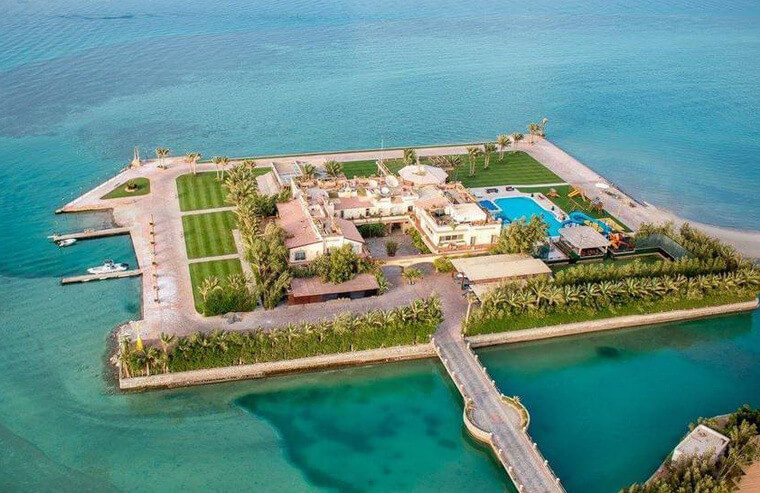 One of the islands of El Gouna
The hotels, of which there are 18, perfectly combine European and Oriental styles. At that, everything is built according to the newest technologies. All hotels have a full range of tourist services and correspond to 3-5 stars of the world classification. Total room stock numbers about 3000 rooms.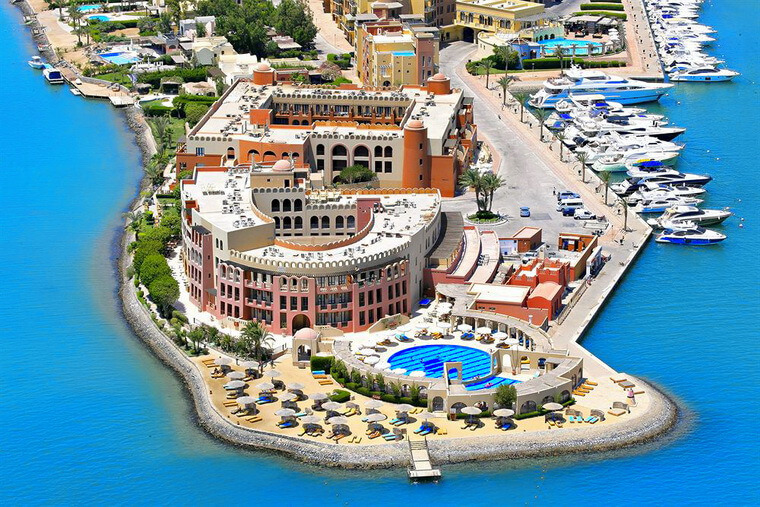 One of the hotels in El Gouna
Features of El Gouna
At the center of El Gouna is an island called Kafr. Here are cafes and restaurants, stores and schools, a cinema and discos. There is also a small museum in the city. It has about 90 exhibits, including copies of statues and paintings by modern Egyptian artist Hussein Bikar. The museum opened in 1996.
El Gouna even has its own radio and magazine. And in 1999 came and own channel El Gouna TV. The town has found a place for a brewery and a factory for the production of wine and mineral water.
There is also a fully equipped, internationally renowned hospital. It is capable of performing many medical procedures, including dentistry, plastic surgery and general surgery. In addition, the hospital is equipped with an intensive care unit and even a decompression chamber.
El Gouna is famous for water tourism, especially diving. So you need a decompression chamber in the hospital in case you have a diving emergency.
Transport infrastructure in El Gouna is quite developed. It has its own runway length of 1600 meters.
Since this is a seaside resort, there are three piers. One of them is capable of receiving the most modern and large yachts.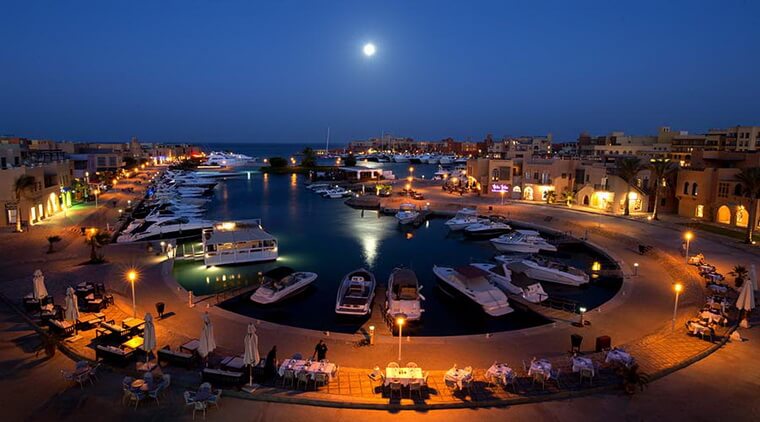 El Gouna marina
The city has its own stadium and its own soccer team El Gouna FC. It is now in the Egyptian Premier League.
We highly recommend reading about the Henningsver stadium. It meets UEFA standards, but lies among the rocks on an island in Norway.
Since 2017, El Gouna has hosted an annual film festival. It attracts stars of Egyptian and even international cinema.
What to do in El Gouna
In addition to the usual beach bumming, you can play tennis and even golf in El Gouna. Scuba dive and enjoy the underwater beauty of the Red Sea. Go on a desert safari, or descend to the bottom of the Red Sea in a small submarine. Off the coast of the resort city you will see shipwrecks.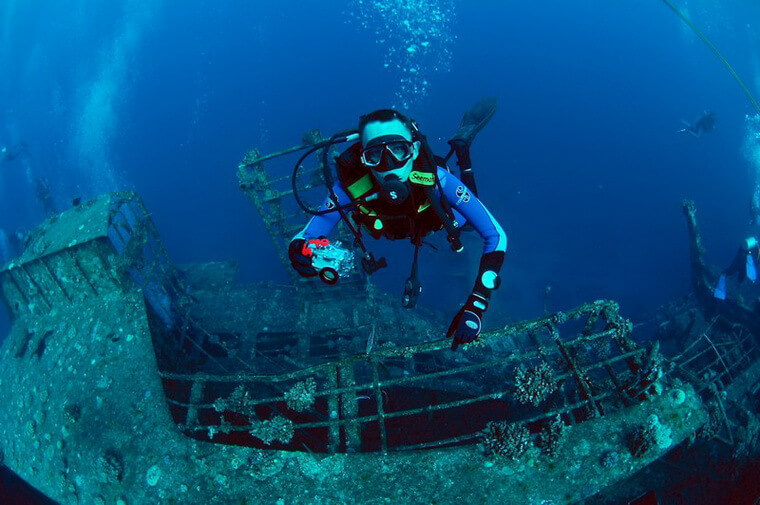 There is not much vegetation in the city. But on one of the beaches there are thickets of mango trees. This beach is carefully preserved in an effort to preserve this amazing piece of nature.
El Gouna Resort in Egypt
El Gouna is a unique town and resort in Egypt. Many towns were built for tourism from fishing villages, but El Gouna is a resort created by one plan and one company. The city is located on small islands separated by canals, for which it is called the "Venice of Egypt.
Features of El Gouna resort for Russian tourists
Let's start with the most important thing – the truth. Orascom Hotels and Development, which created the city, thought about tourists only secondarily. Their main business is selling real estate to wealthy Europeans.
At the El Gouna resort everything is "confined" exactly to the sale of villas and houses, and it is felt. The main idea of PR and advertising of the resort is a maximum of pathos and glorification of the merits of this place.
As a result of the actions of advertising agents have a lot of myths about this place, and from the descriptions of the resort on the Internet, many are just sick. Let's try to figure out what's true and what's fiction.
They write that El Gouna has its own airport, and it is indeed present. Just do not think that you can fly here from Moscow. This airport does not take big planes. All tourists come to the airport of the neighboring Hurghada and then take a bus here.
The distance from Hurghada is 25 kilometers. It is not Marsa Alam, where tourists get 4 hours. One can say for sure that the resort of El Gouna is well located.
The city's administration claims that it is the most environmentally friendly resort in Egypt. It uses a special system of sewage treatment and desalination of water. Of course, it's nice, but what does it give to an ordinary tourist? In fact, it gives nothing. The sea is cleaner than in the resorts of Hurghada or Sharm el-Sheikh, it is undeniable. But there are places in Egypt where the situation is not worse – El-Qusair or Taba.
You have to pay for eco-friendliness, which is what tourists do. Prices for holidays in El Gouna are 25-50% higher than in Hurghada. The organizers of the resort boast architectural sophistication and the fact that many hotels are designed by famous architects from the U.S. and Europe. However, it is difficult for the average tourist to notice.
What tourists easily notice is the lack of most hotels' own beaches. Of course, all hotels have a small line with canals, but it's not a full-fledged sea beach.
Tourists have to go to the beach on electric cars and boats. The fare is free, which smooths out that negative a bit.
There is a golf club on the territory of El Gouna resort, which is quite popular among Europeans, but this kind of active rest does not attract Russians.
The staff of hotels in El Gouna rarely speaks Russian. The task of attracting Russian travelers has never been set here. The situation is similar in the stores, and it is difficult to buy something for a Russian.
Another negative thing is almost complete absence of hotel green territory. If you want to walk in peace and quiet, it is difficult to do.
Also tourists complain about the lack of entertainment programs and animation. In fact, there is a lot of it, but the performances are "scattered" in different hotels. That is, every day there is a good show, but in different places. You have to watch the schedule and go somewhere every evening.
Of the pluses of the El Gouna resort are the quiet and respectable crowd. The sea here is very clean – a paradise for lovers of diving.
The only serious plus for the Russians is a very cultural behavior of the local Arabs. Here the traders do not grab tourists by the hand, and beach workers do not offer women a massage and other forms of body contact. There is discipline. Perhaps this is the end of the pluses.
The cuisine in local hotels is no better than in popular resorts, the composition of dishes is similar. Of course, advertisements ringingly describe the variety of Egyptian cuisine at the El Gouna resort, but this advertising is far from reality. There is a small museum with copies of famous antiquities, but nothing particularly interesting in it.
There is a small aquarium, which does not impress anyone, a go-kart track, a paintball court, tennis courts and a stable. The prices for all the entertainment are quite high.
All the stores, bars and restaurants are concentrated downtown in the Downtown area. It is good if your hotel is close to this area.
Hotels and Rates
There are a total of 19 hotels in the El Gouna resort, with about 3,000 rooms (as of 2021). That's not much; there are two dozen separate hotels with even more rooms. Of the 19 hotels, only four are labeled as three-star, four are considered five-star, and the remaining 11 are four-star.
The most respectable hotel is considered to be Mevenpick Resort & Spa El Gouna, but it is not the most expensive in terms of price. The leader in terms of price tag is La Maison Bleue El Gouna. This is a small hotel with a rather expensive interior. However, except for the interior there is nothing to boast about.
What to do and where to go
The set of excursions is standard. A trip to Cairo to the Great Pyramids, an excursion to Alexandria. The distance from El Gouna to Cairo is 430 km (5 hours drive), to Alexandria 620 km (7 hours drive). In both cases, we do not recommend a one-day excursion, as it is too tiring. It is better to go for two days with an overnight stay.
The sights of Upper Egypt (in the south of the country) are also quite far away. Luxor is 320 kilometers away, Edfu is 420 kilometers away, Kom Ombo is 480 kilometers away, and Aswan is 520 kilometers away.
Local activities are standard – diving, desert safari with a visit to a Bedouin village and a boat trip to one of the wild islands nearby. Also in El Gouna you can find all kinds of resort water activities – windsurfing, water-skiing and parachuting.
The only exclusive activities are soccer matches. The city of El Gouna has its own soccer team, playing in the Egyptian Premier League. Their home stadium holds up to 13,000 spectators, and it can hold all the tourists, all the hotel staff and all the locals at once, and there will still be room.
Looking at the modest size of the stadium, you might think that soccer in Egypt is unpopular and stadiums in the country are small. El Gouna stadium is the smallest among Premier League teams in Egypt. The largest arena is in Alexandria – Borg Elarab holds 86,000 spectators.
You can go see the match if it takes place when you visit El Gouna. Unfortunately, we don't know of a good scheduling source to anticipate this moment.
Another attraction not found in other resorts in Egypt is the open free movie theater in the Downtown area. No movies in Russian are shown, and most Russians consider this attraction useless.
Very strange that the architects of El Gouna resort did not provide for a water park. However, it is understandable, because their main task is to sell real estate to rich Europeans, and they do not need a water park for this. But they did make a water park, not a stationary one, but inflatable in the sea. The water park is called Sliders Aqua Park El Gouna. However, it is not a big one and it does not take children for a long time. And it turns out that there is nothing interesting for children in El Gouna, and it's sad.
To summarize
If you appreciate silence and tranquility, El Gouna is a good choice. If you categorically do not accept the insolent behavior of the Arabs, then this is the right place for you. In other cases, we will not recommend this resort.
Important tips
– El Gouna is an expensive resort. For gifts and souvenirs we recommend to go to Hurghada. What to buy, read the article "What to bring from Egypt;
– If you need: a local SIM for internet, cigarettes, imported alcohol, you should buy at the airport in Hurghada. Read more in our articles "Internet in Egypt", "Alcohol in Egypt", "Cigarettes and Smoking in Egypt;
– There have been no cases of sharks attacking tourists in El Gouna. And that's great. But there have been at neighboring resorts, and more than one. Read more in our article "Sharks in Egypt.
Have a great vacation, and read our helpful articles about Egypt (links below).