Flinders Chase Australia.
Flinders Chase National Park is a beautiful island reserve in Australia.
Flinders General Information
Full name: Flinders Chase National Park.
Region: Kangaroo Island, Australia.
Establishment date: November 1919.
Area: 328 km2.
Relief: island-like, hilly, with a rugged coastline and steep coastal slopes.
IUCN category: Flinders – II (national park).
Climate: maritime, subtropical.
Visit – paid.
Official website: environment. /. /Flinders_Chase.
Purpose of creation: preservation of unique geological formations and relict flora and fauna of South Australia.
Information for visitors
Flinders Chase National Park is located in the western part of Kangaroo Island, the third largest island in the Commonwealth after Melville and Tasmania, 213 kilometers southwest of Adelaide, the capital of South Australia, and 110 kilometers from Kingscote, the island's largest city. The park is open year round from 09:00 to 17:00, and there is a fee for admission. Here there is a developed tourist infrastructure, an extensive network of paths or wooden decking, not to damage the endemic flora of the park, routes of varying length and complexity. You can learn about the surrounding landscape thanks to information desks. The viewpoints at the most interesting parts of Flinders Chase offer spectacular scenery, and picnic and camping facilities are available at designated sites. The park's trails allow for comfortable travel for people with disabilities. At the South Flinders Chase Visitor Center, you can take virtual tours to learn about the nature and history of this extraordinary area, buy souvenirs and a detailed national park map, then grab a small café for lunch, and stay in a comfortable hotel for the night if needed. The park staff offer a variety of tours of the protected area: group and individual, night and day, walking, biking, bus tours, accompanied by a guide, air tours by helicopter to places inaccessible to visitors from the ground. Outdoor enthusiasts can dive, surf, fish, horseback ride, take a boat trip and visit caves, while animal lovers can watch birds and mammals in their natural habitat and take many stunning photographs. There are several paved roads through the protected area, which can be used to get to any part of the park; the north side of Flinders Chase is bounded by the Playford Highway. It leads from Cape Borda to the small town of Parndana in the center of the island. Kangaroo Island can be reached by air from Adelaide Airport or by ferry from Cape Jervis. Flinders Chase can be reached by foot from the nearby community of Penneshaw or by car from Kingscote.
History of Flinders National Park
Kangaroo Island was called "Karta" – "Island of the Dead" by the ancient aborigines. Judging by archaeological finds, even 15 thousand years ago the Paleo-Australians lived here, but about 200 B.C. for some unknown reason they left the island. For a long time, it was uninhabited. The first European to visit, name, and describe the land was Matthew Flinders in 1802. The explorer named the island Kangaroo, after the animal that James Cook first saw on the Australian continent in the mid-17th century. In 1836, the first European settlement appeared on the island, which later became the largest Kangaroo city, Kingscote. Since the area is free of rabbits and foxes, and other species introduced to the continent and various plants, it was used to preserve the autochthonous flora and fauna of Australia. In 1919, Flinders-Chase National Park was established on Kangaroo Island and named after the island's discoverer. Almost immediately rare and endangered animals were brought to the park from the mainland. For 20 years, from 1920 to 1940, 23 species were brought here, including the koala (Phascolarctos cinereus) and the platypus (Ornithorhynchus anatinus). The national park is now managed by the South Australian Department of Environment, Water and Natural Resources.
Flinders Chase Walk.
The end of the last ice age, which occurred more than 10,000 years ago, was marked by a 120-135 meter rise in sea level. For this reason, a small land area of 4,500 km2 was separated from the Australian mainland. The landscape of Kangaroo Island and, in particular, the national park is diverse. Here you can find dense evergreen forests and impassable swamps, red-brown rocks and sand dunes, deep gorges, mysterious caves and, of course, snow-white beaches. There are about 10 rivers flowing through the park, the largest of which are Dizzy and Rocky. The map of Flinders Chase National Park consists of several clusters, with the Cazuar Gorge protected area adjacent to it on the west side. It is about 3 km long, with high, up to 100 m, steep slopes, near the coast they reach a height of 120 m. The gorge of limestone with calcite inclusions on the coast turns into a 120-meter beach, which in turn – in the sand dunes, which stretch for 600 meters deep into the valley. The beach can be reached via a 3.5 km long footpath. On the coast in the area of the gorge there are caves formed by the action of sea waves. In the park there are several other remarkable geological formations, among which stand out the Arch of Admirals and the Remarkable Rocks. Admiral's Arch at the southern end of Flinders Chase on Cape Car du Kedic is remarkable for the ocean's incredible ability to create bizarre shorelines. Marine animals and birds love to rest in this area. Near the Arch, a special viewing platform offers the best view of the snow-white surf, coastal cliffs and fur seals frolicking in the warm and gentle waters of the Tasman Sea. The Arch is particularly beautiful at sunset, when the sun bathes it in shades of red, orange, and yellow.
Flinders Chase Natural Wonders and Facts
The symbol of Flinders National Park and Kangaroo Island's most popular attraction is undoubtedly the Remarkable, or as they are called, the Amazing Rocks. These unusual granite boulders rise up to 60 meters on a giant lava dome. The granite contains inclusions of soft rocks like mica and feldspar, which can break up on contact with the outside environment. The bizarre giants are the result of wind and water erosion caused by gusts of wind, sea spray and raindrops that have been acting on them for 500 million years. Covered in some places with golden-orange lichens, the Remarkable Rocks resemble bizarre birds or prehistoric animals, riddled with through holes, caverns and protrusions.
65 kilometers – The total length of the park's hiking trails
9 kilometers – Length of the longest trail (along the Rocky River)
400 meters – Length of the shortest trail (along the Discovery Trail)
More interesting things about Flinders Chase –
Flinders' viewpoints offer picturesque scenery of West Bay The basalt cliffs that fringe the Arch of Admirals from the sea with sharp ledges are the subject of many scientists' interest
The Remarkable Rocks, another of Australia's natural masterpieces
Xanthorrhoea semiplana, endemic to South Australia, is a herbaceous tree native to dry savannahs
The lesser penguin is also called penguin-elf for its small size (35-42cm) and the color of its feathers: they are more blue than gray, although it fades with age
The platypus is one of Australia's symbols. This unique nocturnal semi-aquatic animal lives along riverbanks and prefers rainforested equatorial areas
Flinders Chase flora
The flora of Kangaroo Island includes 891 species, with about 250 more introduced from other parts of the world. Flowers bloom here every season, and each month they create a unique carpet. Over 400 species grow right in Flinders Chase Park, the most representative area of native flora on the island. Eucalyptus sparse forests and savannahs predominate here. Eucalyptus cladocalyx and Eucalyptus cneorifolia are endemic to Kangaroo Island, grow up to 5m tall and are used to make eucalyptus oil. In sparse forests, the canopy is formed by Eucalyptus camaldulensis, Eucalyptus baxsteri, Eucalyptus obliqua, Eucalyptus fasciculosa and Eucalyptus viminalis. Along rivers and bay shores, white-tree eucalyptus (Eucalyptus leucoxylon) and mountain-marsh eucalyptus (Eucalyptus bensonii) grow. Of the other tree species, Allocasuarina mutovata (Allocasuarina verticillata) dominates here.
Melaleuca spp., Hakea spp., Callistemon spp., two species of Banksia spp., Xanthorrhoea sp. ), various shrubs of Myrtaceae, Proteaceae, Ericaceae, Fabaceae, especially many Acacia, which is almost as abundant as Eucalyptus. Due to the isolation of Kangaroo from the mainland, there are 36 endemic species, which is about 5% of the entire flora of the island. Among them are the eucalyptus spread out (Eucalyptus remota), two species of the Eleocarpaceae family (Elaeocarpaceae); the petrophila multisecta, more attractive for its uniqueness than its beauty; adenanthos (Adenanthos sericeus and Adenanthos terminalis). Spring in Flinders Chase is the perfect time to see Acacia pycnantha, Australia's floral emblem, with its vast yellow sea stretching from Pennyshaw to Cape Borda. There's a splash of colour in the park with orange and red Templetonia retusa, Thysanotus tuberosus, the scarlet Rutaceae and the blue-purple and blue-yellow Olearia rudis. There are also more than 80 different species of orchids (Orchidaceae). Most of them grow from 1 to 100 cm in length.
Flinders' animals
The fauna of Kangaroo Island is diverse. For more than 70 years, rare and endangered animals have been brought here from the mainland, mostly due to the destruction of their habitats or to the invasion of invasive species. This national park is a true paradise for the mammals of the Prototheria and Metatheria subclasses that dominate the park. These include various species of the kangaroo family (Macropodidae) from large kangaroos to small wallabies, and ring-tailed couscous (Pseudocheiridae), short-nosed bandicoots (Isoodon obesulus), koalas (Phascolarctos cinereus). The only absolute endemic of the island was the Aitken's marsupial mouse (Sminthopsis aitkeni). Among the first animals in Flinders Chase are the Australian echidna (Tachyglossus aculeatus) and the platypus (Ornithorhynchus anatinus), which can be found in the Rocky River area. Numerous colonies of marine animals, such as New Zealand harbor seals (Arctocephalus forsteri), can be found on the steep shores of the island, which have taken a fancy to the southern coast. Six species of bats (Microchiroptera) live in gorges and caves washed out by the ocean tide. Kangaroo Island and the national park itself are home to a huge number of birds, such as brown-headed mourning cockatoos (Calyptorhynchus lathami), whose numbers on the mainland have declined dramatically, rock grass parrots (Neophemapetrophila), honeyeater (Meliphagidae), and beeches (Psophodes nigrogularis). Kangaroo Island is considered one of the key ornithological territories of the Australian region, because of the wetland species in the park on nesting birds with the status of vulnerable or rare. These include the hen goose (Cereopsis novaehollandiae), Australian peafowl (Tadorna tadornoides) and Australian grebe (Ochuiga australis), paddle duck (Biziura lobata), mottled duck (Stictonetta naevosa), chestnut teal (Anas castanea), striped stilt (Cladorhynchus leucocephalus), Australian sandpiper (Haematopus longirostris), Australian aardvark (Burhinus grallarius). On the coast of the park there are colonies of little penguins (Eudyptula minor), big-billed gulls (Larus pacificus), magic terns (Sternula nereis) and white-breasted cormorants (Phalacrocorax fuscescens), which make about 1% of all populations of these species. Earlier emus (Dromaius baudinianus) were on the island, but they became extinct between 1802 and 1836, probably at the hands of hunters or forest fires. The classes of reptiles and amphibians are not diverse: there are only a few species of frogs and lizards in the park, as well as Varanus rosenbergi. The underwater world of the park is rich in a variety of corals, among which live bright tropical fish, octopods (Octopoda), actinia (Actiniaria) and holothuroidea (Holothuroidea), clams (Mollusca), sea urchins (Echinoidea) and stars (Asteroidea).
All this makes Kangaroo Island and Flinders Chase Park one of Australia's most attractive places.
Flinders Chase National Park
Flinders Chase National Park on Kangaroo Island, near Australia, which suffered the largest fires of the summer of 2019-20, is once again open to the public. Although the fire burned 96 percent of the park and killed more than a million animals and birds, Flinders Chase National Park is gradually recovering and regaining its former appearance.
Visitors can drive the newly reopened roads, including Cape du Cudic Road, visit the Remarkable Cliffs, Admiral's Arch, Seal Cove, and participate in the park's restoration.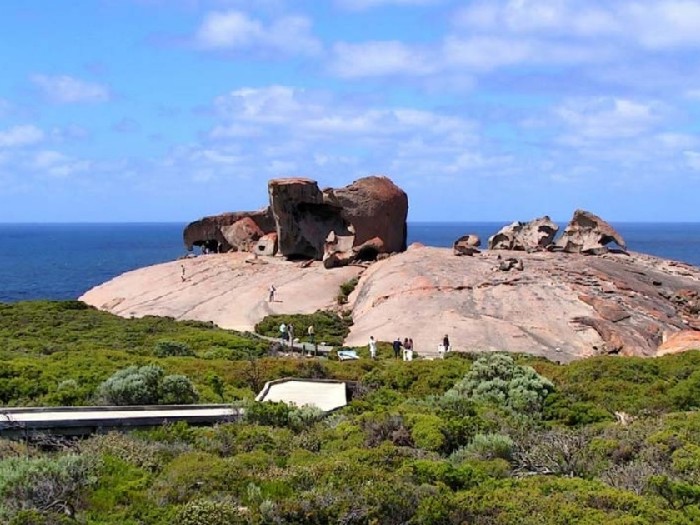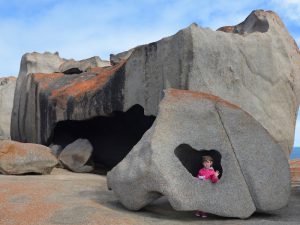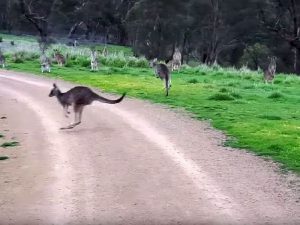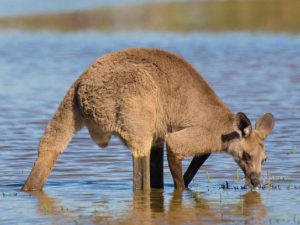 Flinders Chase National Park is a place you just can't miss when you're in Australia. Flinders Chase is located on Kangaroo Island 110 km west of Kingscote. It's a place on the island where wildlife has been preserved as Kangaroo Island was before humans arrived.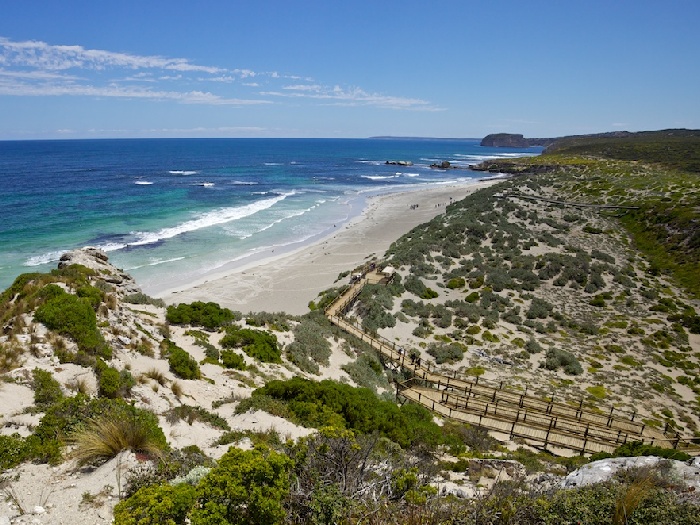 Kangaroo Island became known to Europeans in 1802, when the British explorer Mathew Flinders landed on the island and gave it its unusual name. Due to its climate and natural conditions, the island was quickly inhabited and cattle ranchers settled there. However, human interference with the unique environment could have turned Kangaroo Island into an ordinary farming region of Australia. To stop this and preserve the island in its natural state, the Committee for the Flora and Fauna of Australia pushed through a bill in 1919 to create a national park, which was named after the island's discoverer, Matthew Flinders.
Flinders Chase National Park is a unique place with the famous Remarkable Rocks, Admiral's Arch and Seal Cove. The remarkable cliffs are huge stones of surrealistic forms, located high above sea level on rocky plazas, they form a complex of natural formations which can not be seen anywhere else on our planet.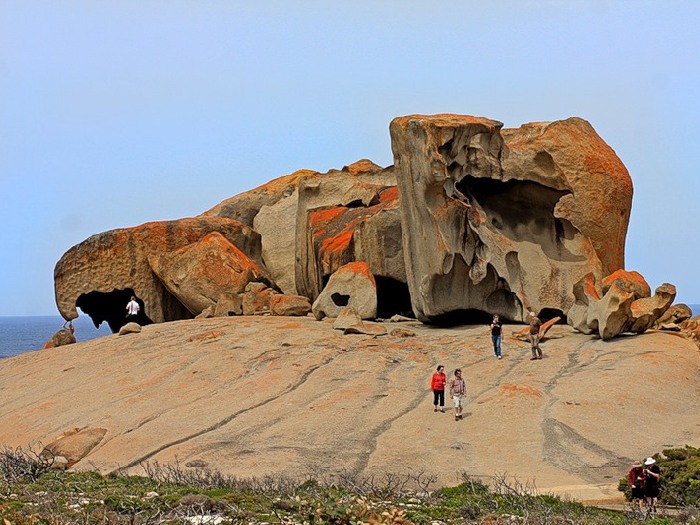 In Flinders Chase Park, special attention was paid to the wildlife. Several breeds of kangaroos were brought to the island, which over time have multiplied into several thousand.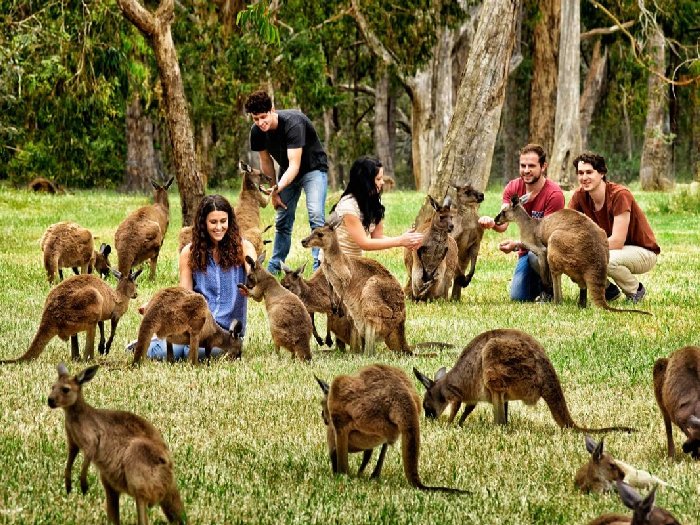 Vast groves of eucalyptus trees were home to huge numbers of koala bears.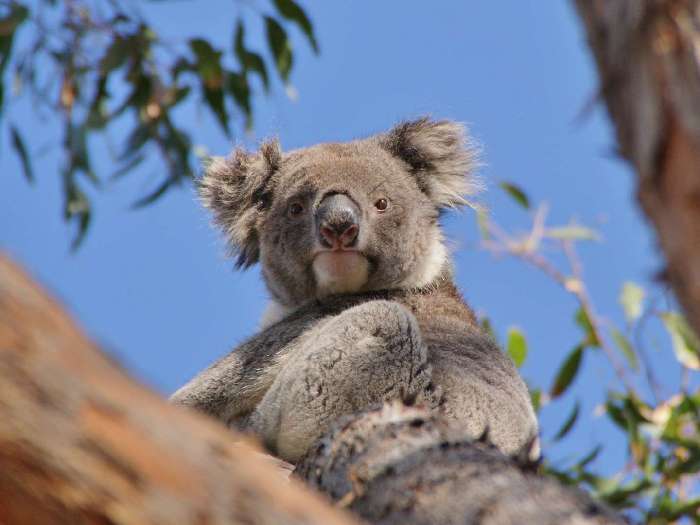 Cape Kudik, home to the famous Admiral's Arch, is home to a colony of long-nosed seals due to its weather conditions.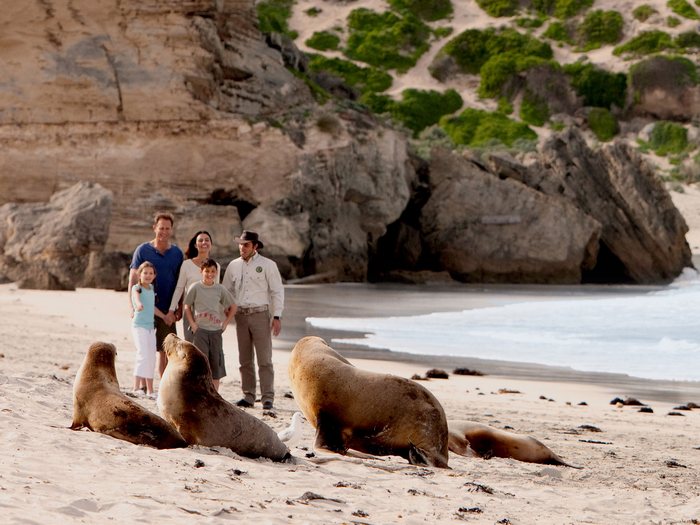 Goannas and echidnas are common in the park. Birds are abundant throughout the park, especially parrots of various species and pelicans.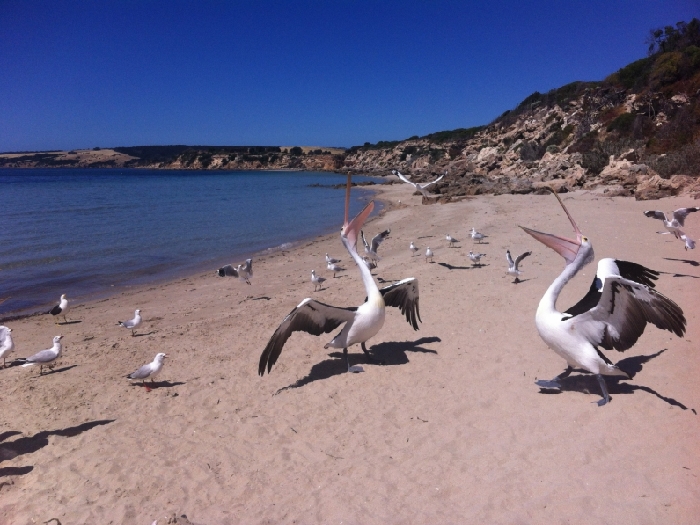 Forest fires on Kangaroo Island are quite common.Of course these fires are a national disaster, burning large tracts of forest and killing many animals and birds. In the summers of 2019 and 2020, the island fires were more intense than ever and the World Wildlife Fund estimates that about 1.25 billion animals died in Australia during the fires.
Yet over millions of years, fires have played an integral role in shaping the ecology of the island's landscape. Many native plant species have adapted to survive, recover and thrive after fire, and much of the park is regaining the green health of coastal areas, woodlands and eucalypt forests.
Despite the huge wildfires that took place on Kangaroo Island in the summer of 2019-20, which burned 96 percent of the park and killed more than a million animals and birds, today the Flinders-Chay National Park area is naturally recovering. This year, visits to the island and the national park are open again.
Visitors can take part in the post-forest fire recovery by driving the newly reopened roads, including Cape du Cudic Road (and the undulating stretch that has become one of South Australia's most famous roads), visiting the Remarkable Cliffs, Admiral's Arch and the dams. Cove and camping at West Bay and Harvey.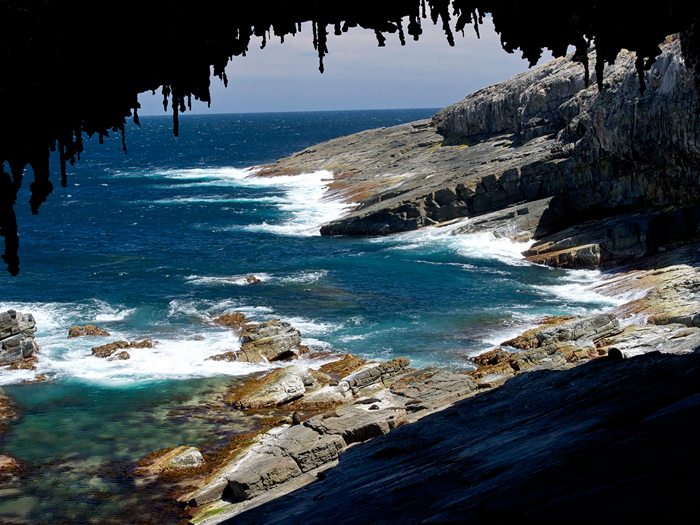 On Kangaroo Island, Flinders Chase National Park is always full of tourists. But in order not to disturb the unique natural environment, there are certain rules in the park. So in the walking areas you can move only on the sidewalks, not stepping on the ground. In the park is not allowed pets, including dogs, can not run drones, no smoking, etc. It is forbidden to collect firewood, because it is believed that dead wood plays a vital role in providing shelter for animals and is a good fertilizer. Violation of the rules faces a hefty fine.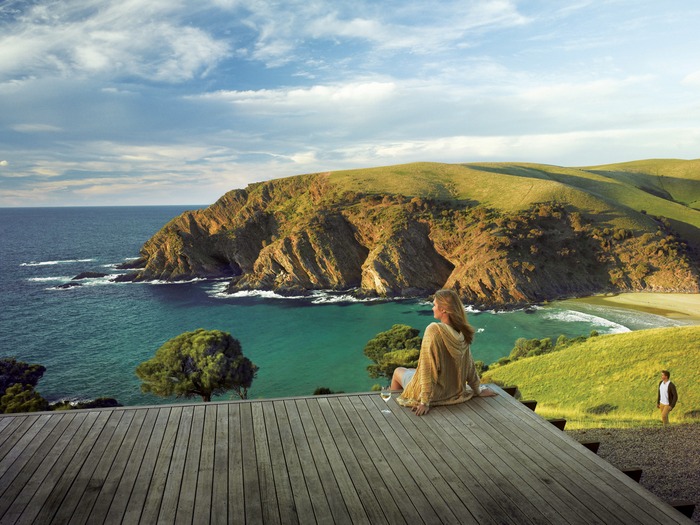 In Flinders Chase National Park, necessary repairs are being expedited. While they are underway, temporary facilities such as portable toilets are set up, of which there are still few, there is no food or drink available throughout the park. Food, drinks and ice cream can be purchased at the only existing general store in Vivonne Bay and at Western KI Caravan Park.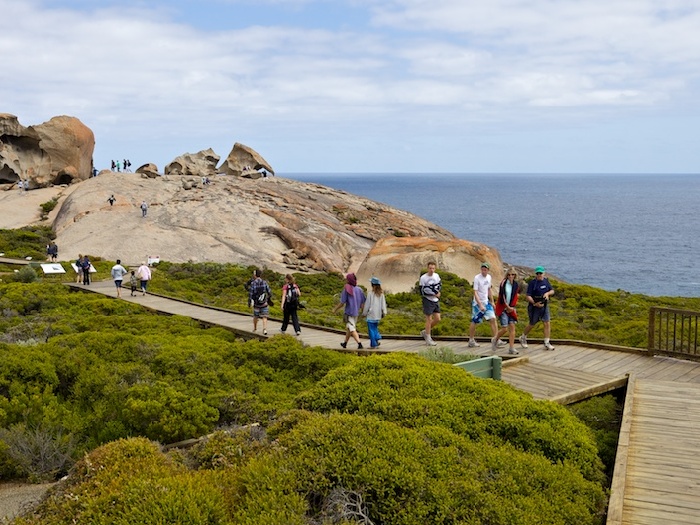 There is a 24-hour Wi-Fi hotspot in Rocky River, 5 km from the park entrance, but given the remote location, internet speeds are slow. Therefore, it is better to pay for your visit at the entrance. NPWS staff are in the park every day from 9 am to 5 pm.
Moving around the park by car you need to be especially careful, especially at dawn and dusk. It is desirable to always have a supply of water and food with you. Travel only on roads, do not drive on the ground, it will give plants and grass cover faster recovery.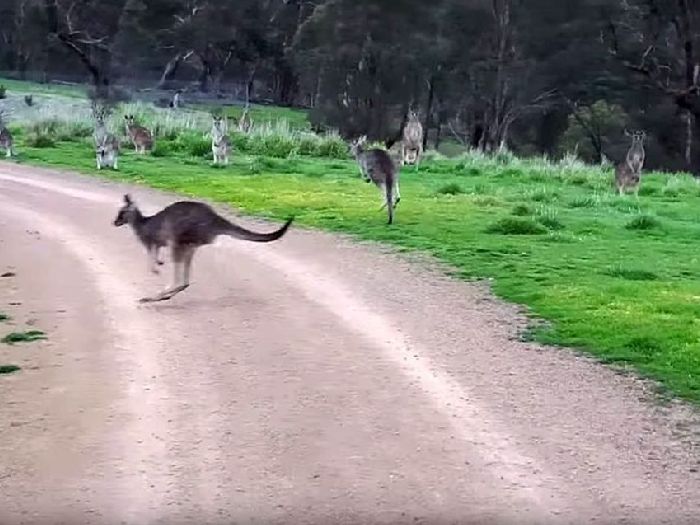 You can reach Kangaroo Island from mainland South Australia by SeaLink or KI Connect ferries or by Qantas or Rex aircraft.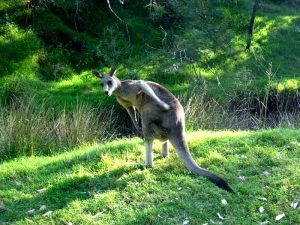 Grey kangaroos live mostly in forested areas usually remote from populated areas and only occasionally venture out into the open, well of course except in national parks where they have nothing.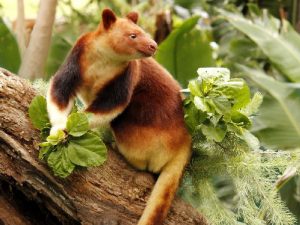 Tree kangaroos, photos of which are presented in this review, there are several varieties, differing in both name and appearance. There are a dozen varieties of tree kangaroos and below you will see photos of each species of tree kangaroo.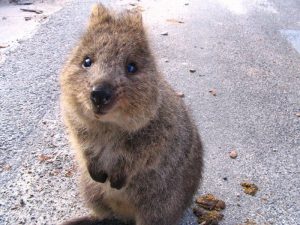 The quokka, or setonix, belongs to the kangaroo family and is a small animal about the size of a house cat. Quokkas are not aggressive at all, on the contrary, they are very curious and go to people themselves. The quokka is completely defenseless in front of people.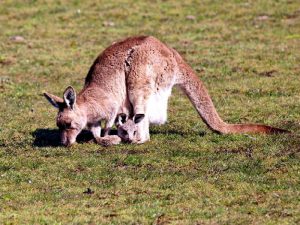 What do kangaroos eat? Kangaroos are herbivorous animals. It has a special structure of the lower jaw – the lower ends of which are curved inward, with missing canines and blunted molars with tubercles, as well as a special