Floating houses in Amsterdam
Floating houses in Amsterdam did not appear by chance. As you know, the Netherlands is a small country. So its residents have to literally reclaim territory from the sea.
However, the Dutch have gone further. They do not just build houses on artificial islands, they even build houses on the water. Literally, it is the most real floating houses.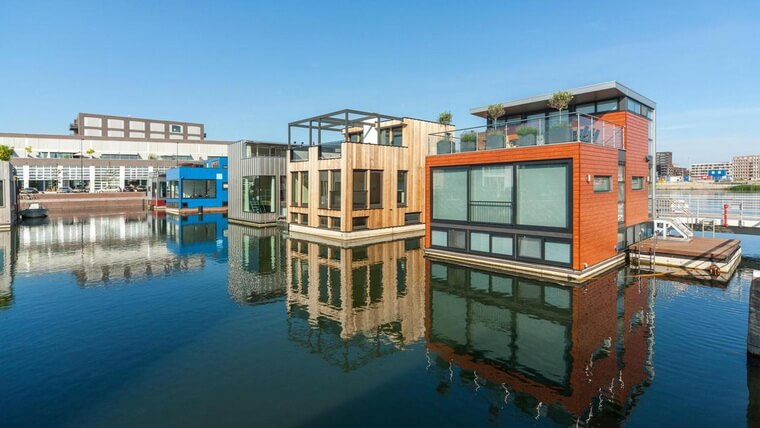 Floating houses in Amsterdam
Often the area where they are located is called Waterbuurt. It means "water district" in Dutch. But on the map you'll find it in Amsterdam, in the northern part of the Aiburg district.
It's now a modern housing development in Amsterdam, consisting of nearly 100 separate floating houses. In fact, they are moored at the southern end of Lake Eimer.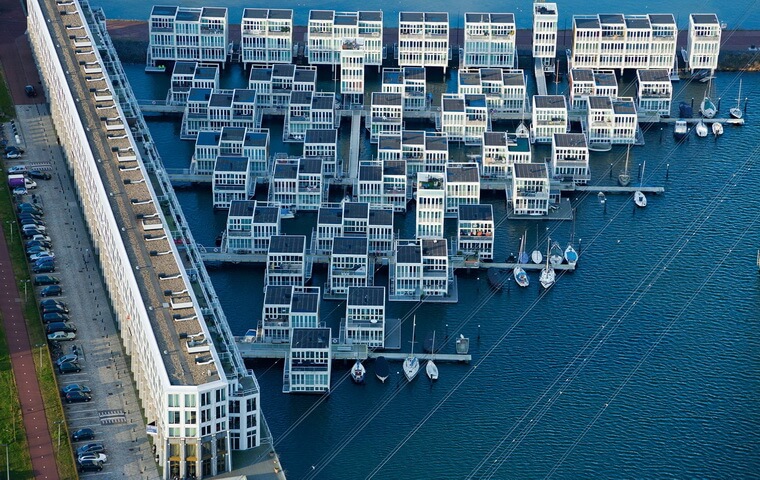 The floating houses of the Eiburg neighborhood are not simple little houses on the water. They are actual full-size floating homes up to 3 stories high. They are literally moored to the piers.
An interesting fact is that the houses are attached to steel pylons on which they can only move vertically depending on the tide. Lake Eimer is an integral part of the Markermere Bay of the sea. It is therefore characterized by the tides here
Who designed the floating houses and how
The houses were designed by the Dutch architect Marlies Rohmer. The design lists them as "no frills, basic design". However, the houses are quite comfortable.
They were built in a shipyard about 65 km north of Lake Eimer. Then they were transported by a network of canals.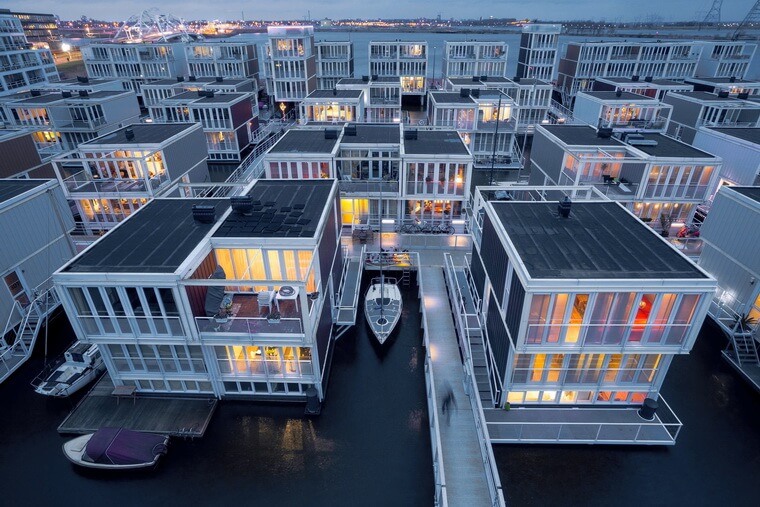 This is the real Water Quarter.
Even though the Water Quarter is still under construction, some houses are already being inhabited.
Why they build floating houses
Two-thirds of the Dutch population live below sea level. And as the glaciers melt, the problem becomes more serious.
Many people believe that it is much safer to live on the water in this country than on land. Not to mention the fact that land prices in major urban centers like Amsterdam have skyrocketed in recent years.
"It's already safer to live on the water. Especially if you live where floods are common," Cohen Olthuis told the BBC. He is the founder of the Dutch architectural firm Waterstudio.NL, which specializes in floating structures.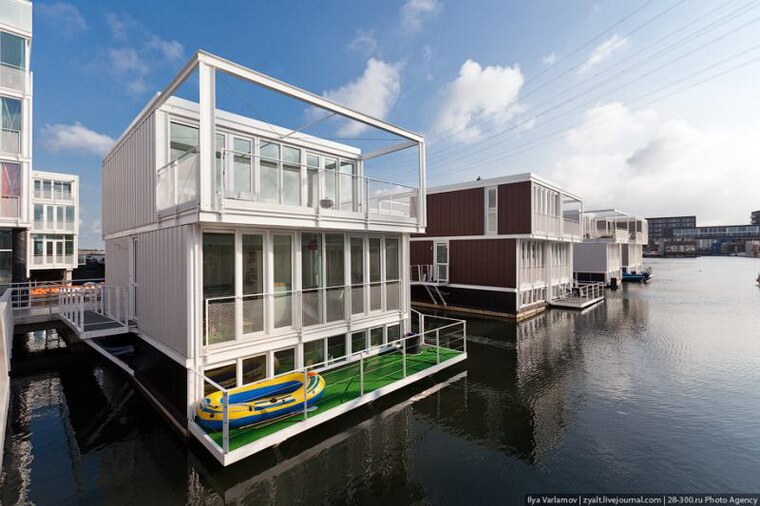 "Most major cities are already overcrowded, and prices per square meter of land are skyrocketing…and water is not as expensive as land. Also, cities are too static. Every city block we build is designed to last 50 to 70 years," Olthuis added.
Cohen also said that as cities change, some neighborhoods have to be demolished. But floating homes can simply be moved to other locations.
Technical features of floating houses
Housing complexes like Waterburth are proof that life on water is not only possible, but maybe even preferable to life on land. However, it is not easy to arrange. Many things that are common on land have had to be reinvented for use on water, both technically and legally.
Floating houses are built on submerged concrete platforms and consist of a light steel frame, wooden walls and panels. The bedrooms and bathroom are located on the lower floor, which is partially underwater (a kind of basement).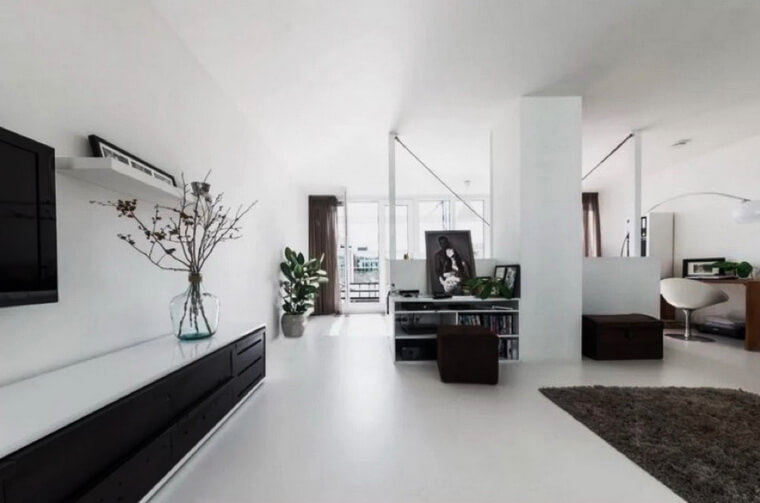 Inside, it's all pretty cozy.
The kitchen and dining room are located on the elevated first floor. But the main living room and outdoor terrace are already on the upper level.
All floating homes are designed with plenty of additional amenities. Buyers can choose, for example, from floating terraces, an extra entrance or a boardwalk around the house.
Waterbourg is part of the district of Aiburgh, an ambitious project designed to become the largest aquatic settlement in the history of the Netherlands.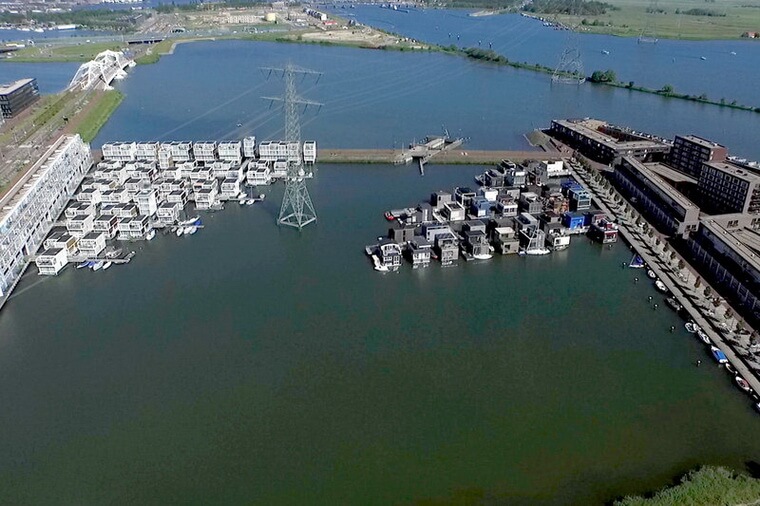 As you can see, there is still room for development.
In addition to floating homes, it will include apartment yachts, floating parks, and even floating skyscrapers.
Life on the water: floating homes in Amsterdam
Floating homes or houseboats (house and boat) are very common in Amsterdam. Often tourists wonder who lives in such houses and why they are, in fact, on the water. Do you wonder, too? Make yourself comfortable, because today you are going to discover a lot.
Floating Houses in Amsterdam: How it all began
Houseboats on Amsterdam's canals are old barges that are no longer used for their intended purpose or special platforms towed by boats. As you can see, nothing out of the ordinary.
Read also: 10 boring facts about Amsterdam
In the post-war period housing in Amsterdam was catastrophically lacking. But there was plenty of room on the water. Without thinking too much, clever Dutch people replaced the usual houses and apartments on the boats. Such housing did not require large monetary investments and with time was becoming more popular.
Read also: 10 Dutch habits that seem strange to you
Today the situation is quite different. No, houseboats are still popular. Except that their cost has increased significantly. Not everyone can afford a houseboat in Amsterdam, because it costs the same as an apartment in a good neighborhood.
An interesting fact! In Amsterdam, more than 2,000 houseboats are officially registered.
Even if you do not have the opportunity to own a houseboat, do not worry! You can always stay in a houseboat for a few nights. Some of them are converted into hotels. True, they have a corresponding name – botel.
Want to know even more interesting information about floating houses in Amsterdam and life in the city? Book an unusual excursion from the locals! Just 20-30 euros and you'll find out what the guidebooks don't tell you.
Hotels on the water – a calling card of Amsterdam
Looking for a unique place to stay in Amsterdam? A hotel on the water is exactly what you need! Whether it is a small boat for just a few people or a boat with more than 25 beds, the choice is yours.
Alternatively you can stay in a downtown botel on one of the main canals. If you are attracted to less hectic places, look for a suitable hotel on the water in a quiet area of the city.
Read also: Hostels in Amsterdam: 10 best options
The interior of a botel is no different from a regular hotel room. It has everything you need for a comfortable stay: bathroom, bedroom, living room. The view of the canal adds to the bonuses. For couples who want to arrange a romance in Amsterdam, a night in a botel is a very good option!
Read also: Top 10 free things to do in Amsterdam
The upper deck of the botel is most often decorated with flowers. It's just nice to spend time there, enjoying your morning coffee and watching the boats and yachts go by.
Read also: Calendar of events 2019: the brightest holidays and festivals
It's no less romantic to stay in a botel in the winter. If the winter is cold and the canals are frozen, you will have a great opportunity to refresh your skating skills. Oh, and don't be afraid to freeze! There are usually portable snack bars right on the canals. There you can also warm yourself with warm tea or mulled wine.
Read also: What to bring back from Amsterdam: 7 best ideas
The cost of an overnight stay in a hotel can cost several hundred euros. If you book directly in advance, you will get a much better price. We will be glad to help you!