From roti to lobster: an overview of food prices in Goa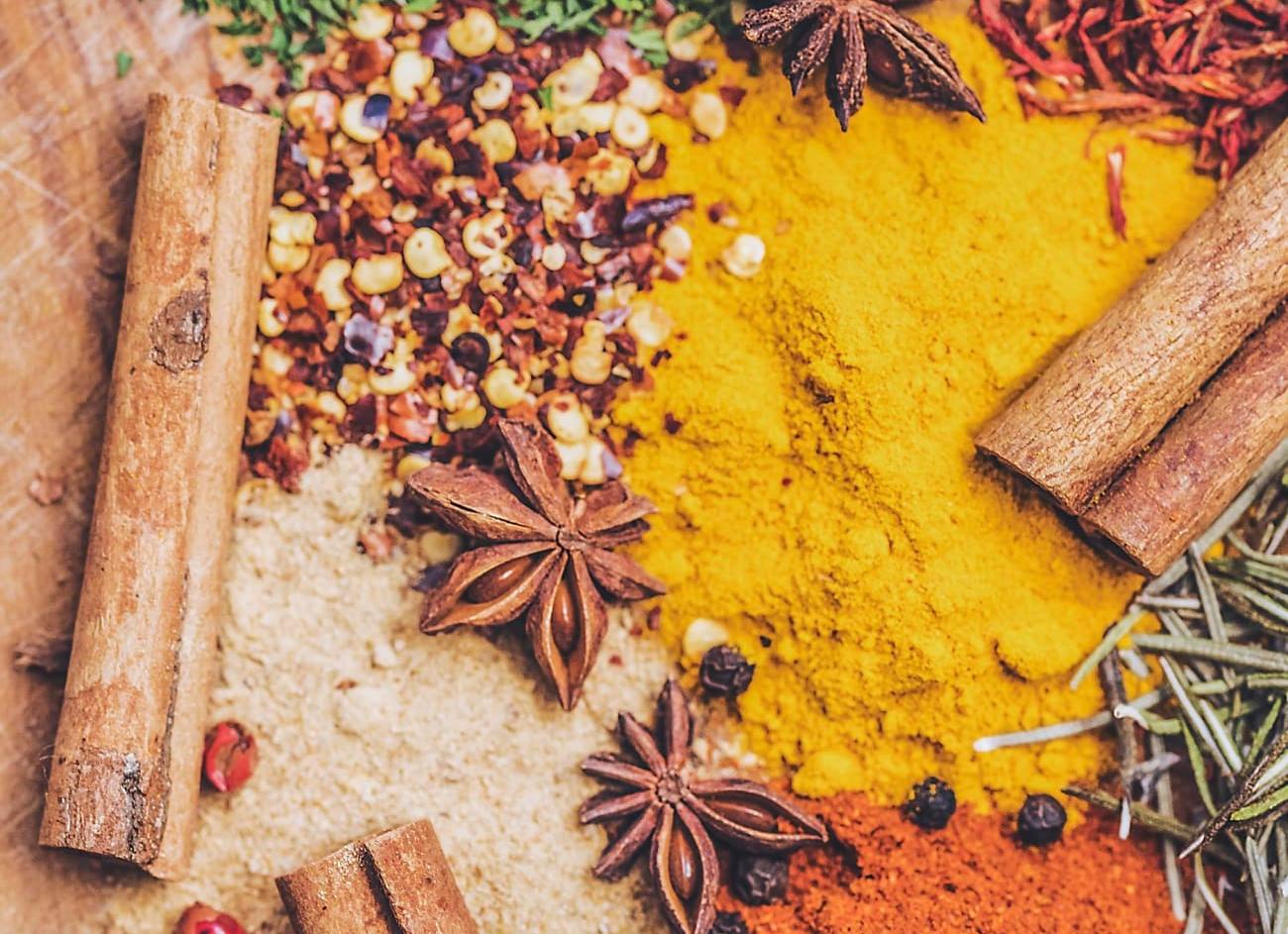 A complete review of food prices in Goa's cafes, restaurants and stores in 2022. Find out what dishes to try in India and how much it will cost. Tips on where it's best to buy fruit and seafood.
Content:
Exchange rate: 1 Indian rupee (INR) ≈ 1 RUB.
Prices in cafes and restaurants in Goa
Food in India is inexpensive. In South Goa, where there are more vacationers, prices are higher than in North Goa.
If you're looking for a certain service and fear of unsanitary conditions, eat in restaurants for tourists. If you want to save money, go to cafes for locals or beach cafes, which are called shekels here. Not only will you eat, but also get a free sun lounger. Keep in mind – the closer to the sea is a shek, the higher the prices there.
In the institutions for the locals cook delicious, the food is cheap, but the choice is small. As a rule, you will be offered boiled rice with vegetables or chicken, a bean stew daal and bread flatbread roti. Simple, hearty and inexpensive! Find out what to try in India.
Breakfast for one costs 250 rupees. For dinner for two with liquor, you'll pay 700-800 rupees, which is $10-$11. Not at all inexpensive! In restaurants for tourists the average bill for two is much higher – 1600-3000 rupees.
Tipping in India is not required. If you liked the service and the quality of food, leave the waiter up to 10% of the bill! You will be very grateful. Find out how much money to take in Goa.
Food prices at inexpensive cafes and restaurants in Goa in 2022:
bean chowder – 20-30 rupees
corn soup Rs 120
fish or chicken curry 80-100 rupees
masala dosas (filled pancakes) – Rs 40-60
gobi masala – Rs. 200
omelette with vegetables – Rs 70-120
lassi milkshake – Rs 20-50
fresh juice Rs 45-50
soft drinks, 200 ml – Rs 15
tea – 8-10 rupees.
Juice centers in Chapore are popular among tourists who vacation in Goa. This is not the only place for fresh fruit and juice lovers. In Arambola, too, there are jus centers – Samarth and Granthik. Fresh juices there cost 40-60 rupees, fruit shakes 40-80 rupees, and tropical fruit salad 80 rupees.
Lassi is a refreshing yogurt-based drink with ice, water, spices, fruit and sugar and salt. Photo: pxhere.com. Roti – unleavened tortillas, cooked in a pan without the use of oil. Photo: avlxyz / flickr.com.
Food Prices in Goa
The Indian rupee is a fairly stable currency, so food prices in this country increase no more than 10-15% per year. Groceries in Goa are cheaper than in other seaside resorts and in Delhi.
There are few supermarkets in the usual sense of the word in India. Much more often you can find small stores that sell not only groceries, but also household goods. Large Orchad Stores and Oxford are popular in Anjuna, AJ Supermarket in Siolim, and Delfinos and Newton's in Kandolim. A local peculiarity is that price tags on store shelves are rare. The price is written on the back of the item.
The cost of fruits and vegetables depends on the season and the size of the market. In large bazaars like Calangute Market and Margao Market, there is more competition between vendors, so the products are cheaper than in small markets. All year round bananas, papaya and pineapples can be bought for 20-50 rupees per 1 kg. One coconut costs 10-20 rupees and oranges, mangoes, guavas, apples and dates are 50-150 rupees per 1 kg. Learn about the fruits of Asia.
A little more food prices in Goa stores in 2022:
sliced bread – 40 rupees
Paneer cheese, 0.5 kg – Rs 130
hard cheese, 0.5 kg – 250 rupees
peanut, 1 kg – Rs 60
juice, 1 litre – Rs.100
water, 1L – Rs. 20
Coca-Cola, 0.5 l – Rs 35.
Fruit in Goa: what to try and how much it costs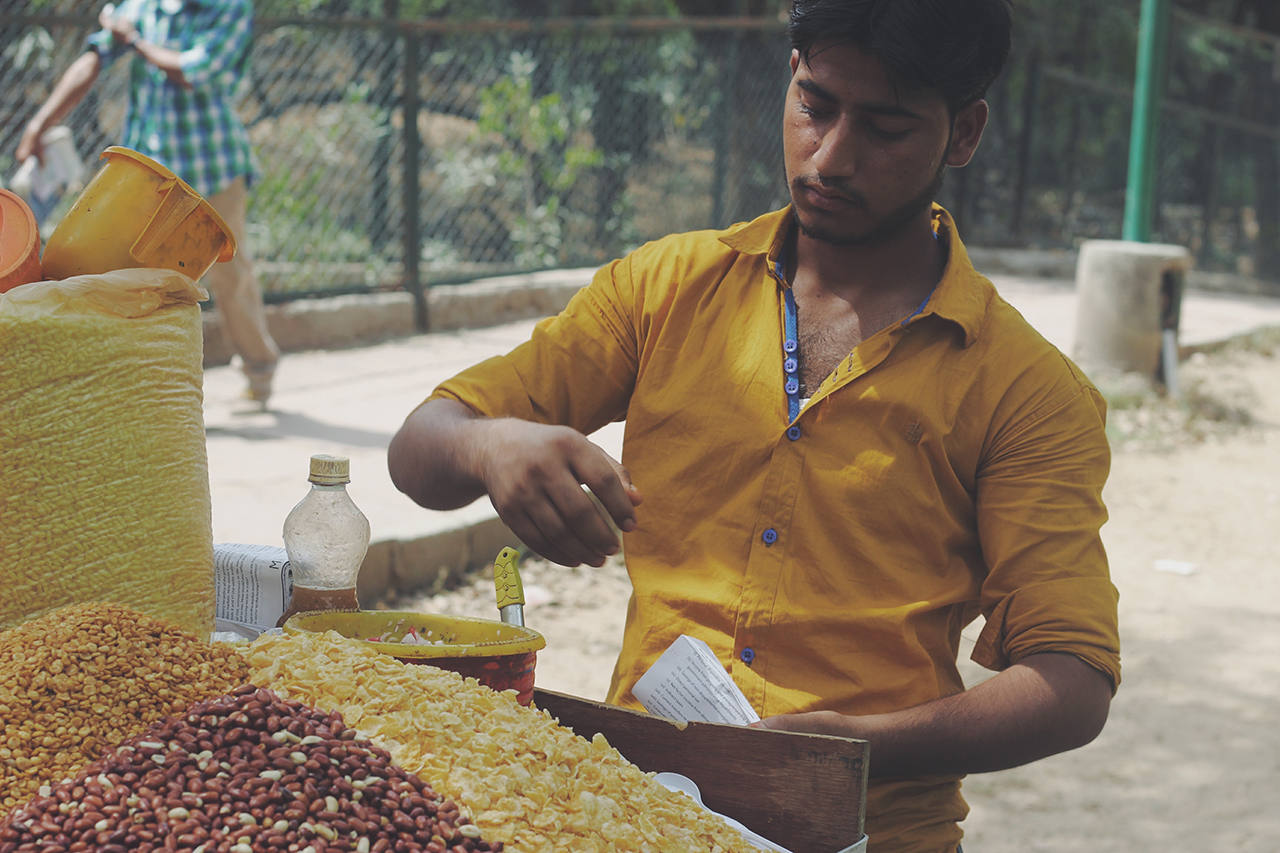 Seller of nuts and dried fruits at the market in India. Photo: unsplash.com / @ravinepz.
Seafood prices in Goa.
Fresh fish and seafood is something worth coming to Goa for! The Indians cook them perfectly. Depending on the contents of the plate and portion size, seafood dishes cost Rs 160-800. You will pay Rs. 200-250 for a crab salad, Rs. 180 for shrimp soup, Rs. 220 for spicy crab soup, and Rs. 600 for a hot pan of seafood.
Seafood and fish prices in Goa in 2022:
king prawns, 1 kg – Rs. 800
crab, 1 kg – Rs 450-600
lobster, 1 kg – Rs. 900
mussels, 10 pcs. – 100 rupiah
squids, 1 kg – 450 rupees
lemon fish, 1 kg – Rs. 300
shark, 1 kg – Rs. 250
barracuda, 1 kg – Rs. 200
kingfish, 1 kg – 500 rupees
perch, 1 kg – 450 rupees.
Seafood we advise to buy directly from fishermen or markets. They are in every village by the sea. Very cheap markets in Chapore and Chopdem. The fishermen bring their goods by boat in the morning and evening. Compare with the prices in the stores! In the markets, 1 kg of small shrimp costs 100-120 rupees and large – 600 rupees. The fish bought here can be cleaned – for 20 rupees apiece – and cooked. The price of the finished dish at the fish market is half as much as in the beach cafe-shek.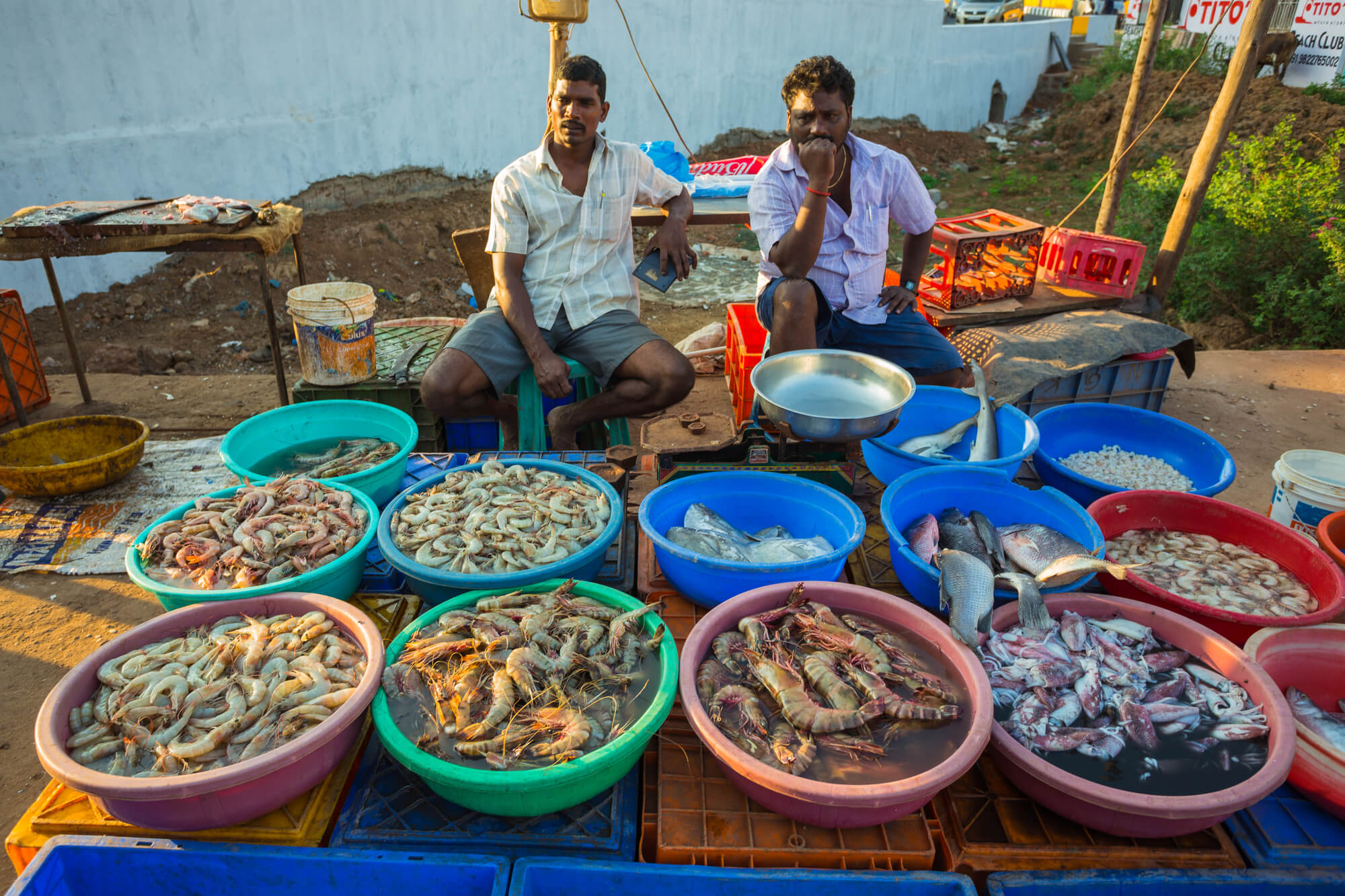 Seafood vendors at Goa market. Photo: alan64 / Depositphotos.com.
Meals at hotels in Goa
The system of food in Indian hotels is fundamentally different from what tourists are used to in Turkey or Egypt. There are all-inclusive hotels in Goa, but tour operators rarely have tours there. Such tours are not popular. Vacationers believe that it is enough to take only breakfast, and lunch and dinner are more convenient in local restaurants or in beach sheks.
Regulars in Goa also refuse hotel breakfasts. The fact is that the hotels do not have much variety in food. Guests are offered to start the day with eggs and bacon, a couple of toasts, fruit and juice. There are probably good restaurants and cafes near the hotel where you can get a better, nicer and less expensive meal.
Alcohol in Goa
Alcohol in Goa is legal and very popular. The state sells a wide variety of alcohol for every taste and purse. Tourists especially like the inexpensive Old Monk rum and Kingfisher beer.
Prices for strong drinks in bars in Goa:
alcoholic cocktail – 80-250 rupees
0.33 liter Kingfisher beer- Rs. 60-100
wine, 180ml – Rs 50-1,250
whisky, 60ml – Rs 30-150
vodka, 60ml – Rs. 80-90
Liquor prices in Goa stores in 2022:
Kingfisher beer, 0.33 l – Rs 40
Goa Kings, 0, 33l – Rs. 60
0.33l Heineken beer for 135 rupees
0.5l bottle of wine – Rs 550
0.75l Absolut vodka – Rs. 1750
Old Monk rum – Rs 186
Bacardi rum, 0.75l – Rs 490.
For the sake of safety and peace of mind, it is advisable to take out insurance.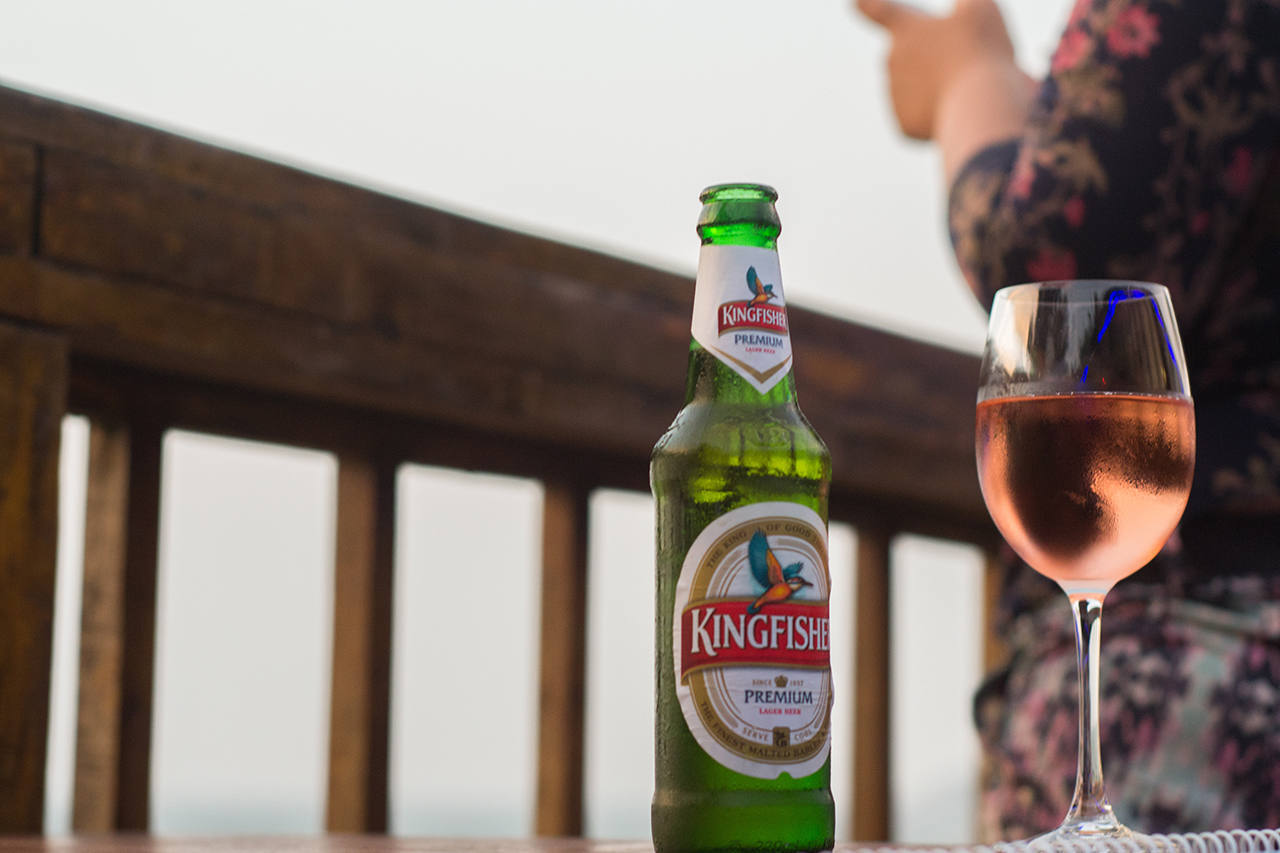 Kingfisher, according to tourist reviews, is an excellent Indian beer. Photo: unsplash.com / @suvirs.
Food prices in India in Delhi and other cities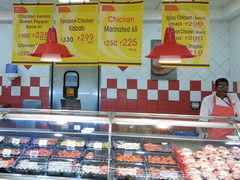 Of course all kinds of spices or SPICE.
Curcuma 125 RUB = 165 INR per kg.
Unground turmeric 11 – 26 RUB = 15 – 35 INR per 100gr.
Masala 166 RUB = 219 INR per kg.
Chili Masala 216 RUB = 285 INR per kilo.
Ground Kashmiri Chili 132 RUB = 175 INR per kg.
Coriander Ground 132 RUB = 175 INR per kg.
Ground black pepper 832 RUB = 1,100 INR per kg.
Dried chili 138 RUB = 182 INR per kg.
Dried aniseed 1 512 RUB = 2 000 INR per kg.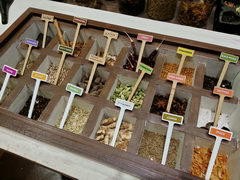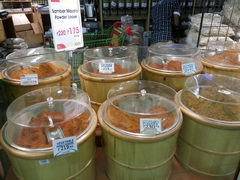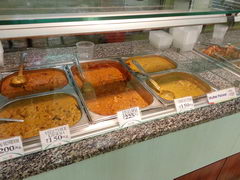 Sauces
Gobi mutton 113 RUB = 150 INR kg.
Kalhapuri 170 RUB = 225 INR kg.
Dal frye 113 RUB = 150 INR kg.
Korma 113 RUB = 150 INR kg.
Kadai mushroom 151 RUB = 200 INR kg.
Mateer paneer 189 RUB = 250 INR
Butter
Ready-made meal, price per 1 kg.
Brjani rice with chicken 189 RUB = 250 INR
Brijani rice Mutton 302 RUB = 399 INR
Chicken Sausage Slice 110 RUB = 145 INR per 150gr.
Ayurvedic food paste Chyawanprash 212 RUB = 280 INR per kg.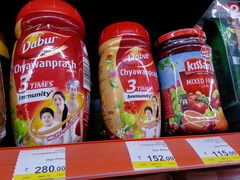 Tea, Coffee & Drinks
Green tea in bags 106 RUB = 140 INR for 25 pack.
Half a kilo of good quality loose green tea 76 – 91 RUB = 100 – 120 INR
Premium and premium quality from 227 RUB = 300 INR per kg. Up to 2,268 RUB = 3,000 INR per kg.
Nescafe instant coffee 185 RUB = 245 INR per 100g.
Coca-Cola 57 RUB = 75 INR for 1.75l, and 34 RUB = 45 INR for 1.25l.
Juices 76 – 113 RUB = 100 – 150 INR per liter.
Biscuits and Sweets
Pizza, sandwiches 23 – 38 RUB = 30 – 50 INR
White bread 53 RUB = 70 INR per 700 g.
Fresh Arabian flatbread 17 RUB = 22 INR for 4 pieces of medium size.
Indian delicacies (samosa, dal kacheri, bonda) 5 – 23 RUB = 7 – 30 INR per unit.
Gulab-jamun (milk powder balls in syrup) 11 RUB = 14 INR per unit.
Rasgullah (balls of cheese and sugar) 11 RUB = 15 INR per piece.
Cakes, buns 8 – 45 RUB = 10 – 60 INR per piece.
Sweets by weight 265 RUB = 350 INR per kg.
Packed cookies 11 – 23 RUB = 15 – 30 INR per 75g.
Jams by weight 756 – 1 437 RUB = 1000 – 1 900 INR per kg.
Nutella paste 189 RUB = 250 INR per 350gr.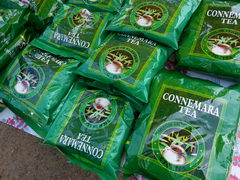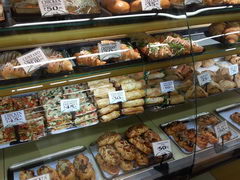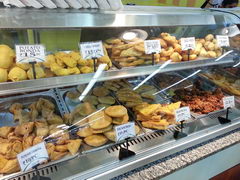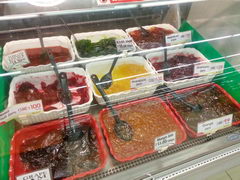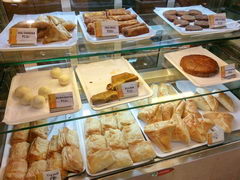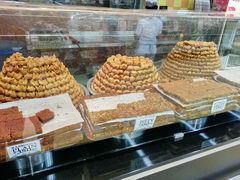 How much alcohol costs in India
0.6 liter bottle of beer 38 – 60 RUB = 50 – 80 INR
Strong drinks in Kerala 227 – 907 RUB = 300 – 1200 INR
It is necessary to notice that in Kerala the sale of alcohol is severely limited and you can buy it only in specialized kiosks or bars with a license.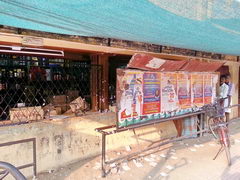 Markets in India
Markets in India are spontaneous. An interesting feature of the markets in India are prices – they are about the same as in major supermarkets. For example, North India, Rishikesh: Homemade Paneer Cheese and Yogurt 151 – 227 RUB = 200 – 300 INR per kg. – Very tasty!