Food in Cambodia. Food prices in Sihanoukville restaurants. How good can they cook in Cambodia!
September 2014 (updated: 10.08.2018) 23
After moving to Sihanoukville, we have fundamentally changed our attitude towards food in Cambodia and Khmer cuisine. In this article we will try to give you a complete picture of what food we buy, how we eat, and what the hospitable Khmers feed us. In Sihanoukville, the food is usually not only cheap, but in most cases just perfectly cooked.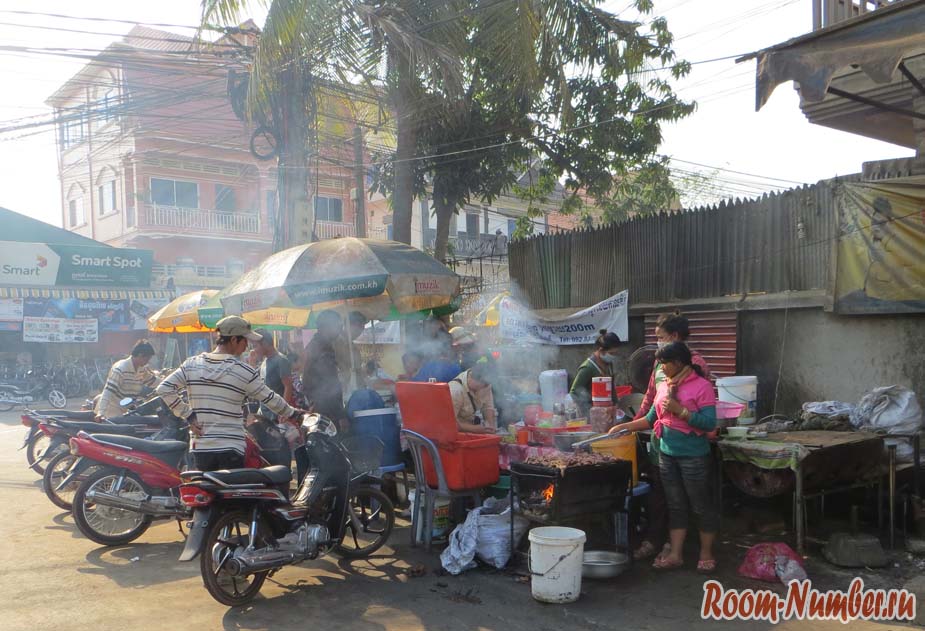 This is how we imagined the food in Cambodia and Khmer cuisine
Food in Cambodia reviews
Visiting Cambodia for the first time and knowing it only through the city of Siem Reap, we did not get into the Khmer food. More precisely, we didn't even notice it. What to try in Cambodia we did not understand then, the local cuisine was disgusting and unappetizing to us, sometimes even making us sick. We only saw some dirty cafes for locals and smelly taco stands with burnt fish and sticky rice.
During the two days we were in Cambodia looking at Angkor Wat, we ate at an Indian restaurant where the total bill was at least $20 for one meal. You have to be a wealthy traveler to live in Cambodia and eat every day at such establishments, we used to think.
But then we came to Sihanoukville and our opinion fundamentally changed.

Read also: Insurance in Cambodia. How and where to buy it →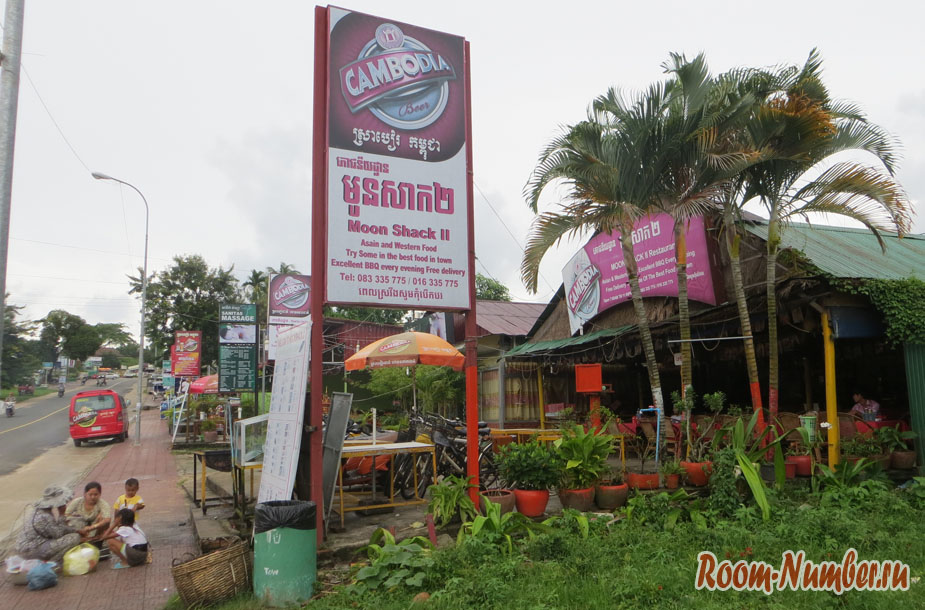 One of our favorite cafes
Sihanoukville is a gourmet paradise and a paradise for those who just like to eat good food. The food in the cafes here is very good. In any cafe. We go to the cafes every day. There is no other way because there is no kitchen in our gesture, and it's not profitable to buy food in Cambodia, because almost all conventional imported products, respectively, are expensive.
Cafes in Sihanoukville plenty. By Cambodian standards, they are quite decent institutions. Only here are clean and feel like a white man. The prices are almost no different from each other. Near the beach, of course, more expensive, but in other places about the same.
Breakfast
On average breakfast in Cambodia in a mid-level tourist cafe without air conditioning will cost $3-4 per person. It's a standard breakfast – scrambled eggs and baguette and coffee.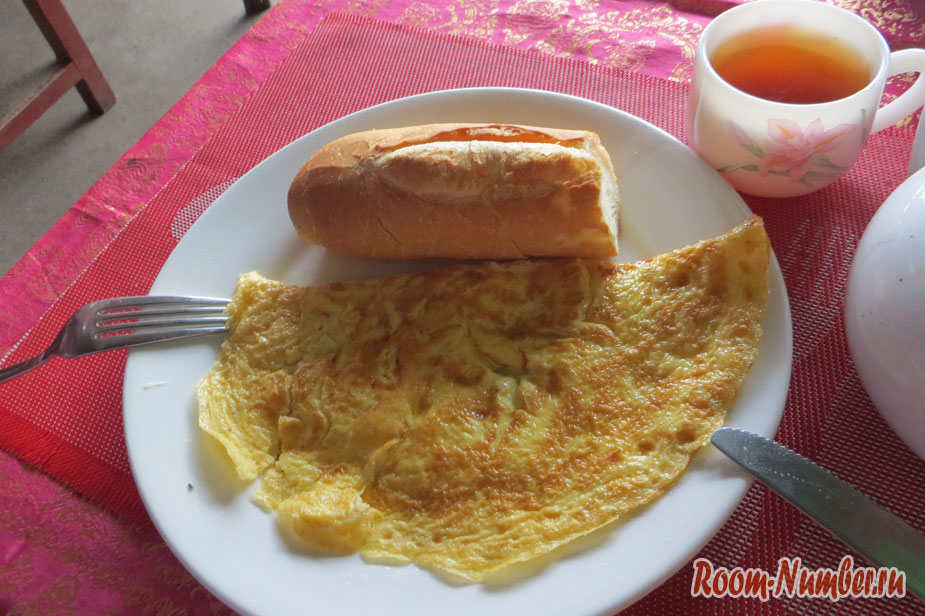 We sometimes take an omelet and a baguette for breakfast. This breakfast is very filling.
In order to save money, we eat breakfast at home most of the time. For this we buy cornflakes and milk, as well as bread, butter, and cheese for sandwiches. Here these Egyptian cereals are $3, and Vietnamese milk is $1.85.
Bread is $1, butter is $3, and cheese is also $3 for 300 grams. With this breakfast option, we don't spend more than $3 for two people a day for breakfast.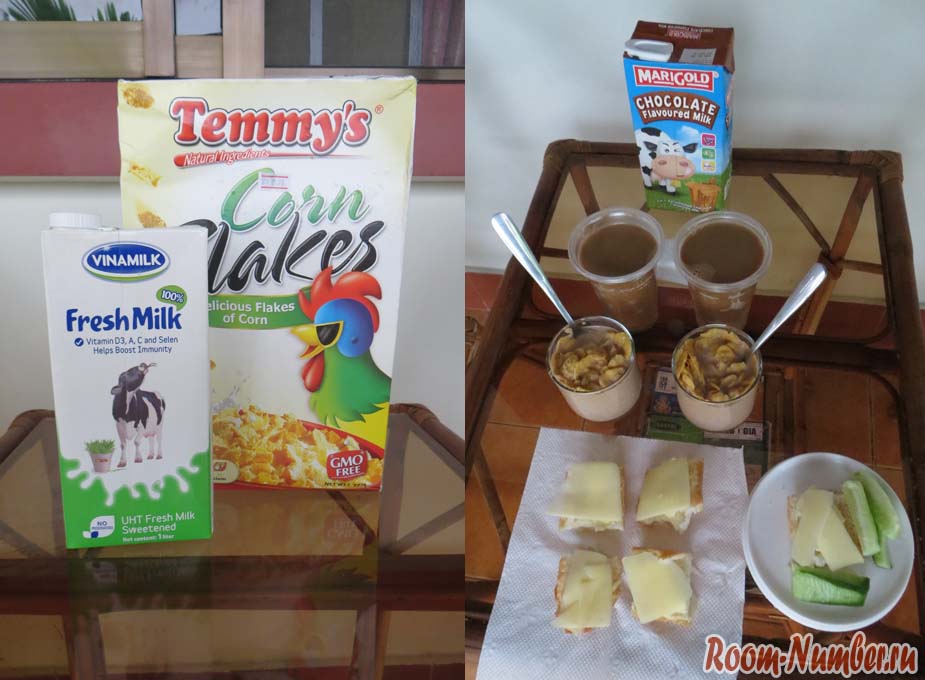 Breakfast in Cambodia
And what soups are like in Sihanouk! You guys, they make curry soups here, thick, a little spicy, just what you need. The toppings are different, you can have fish, meat, or vegetables, and potatoes are present in every dish. They are served with rice. This is just enough portion for us to fill up.
A favorite curry soupThe cost of the soup is $3.
In Cambodia amazing barbecue (BBQ).
Meat grilled just great. Almost every café has a barbecue where you can get a delicious steak or ribs for only $3-$4.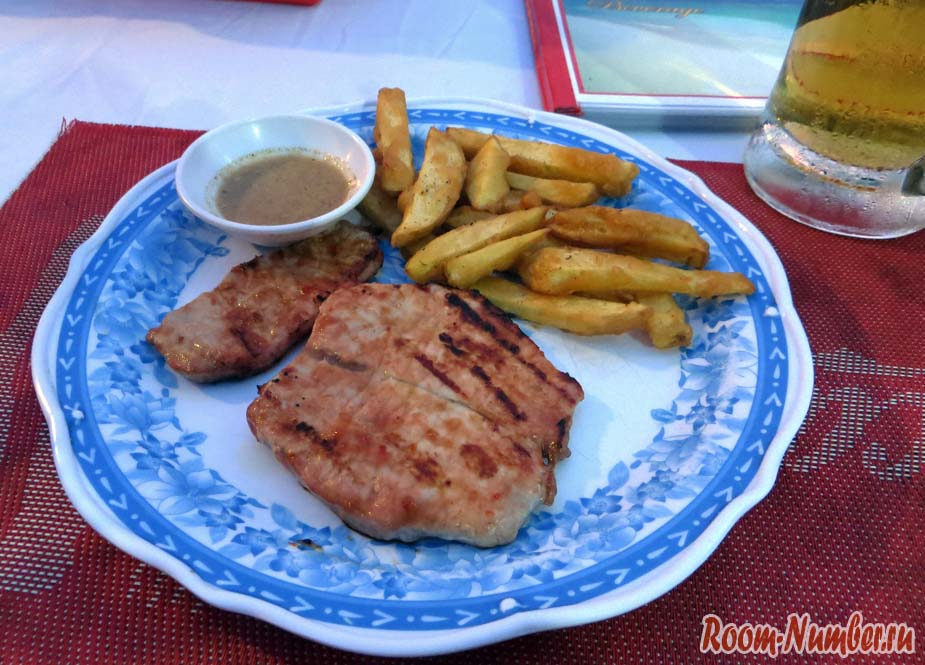 Pork steak for $3.50. A small portion.
Large, medium and small portions
Cambodia has this peculiarity. The menu lists prices for small, medium and large portions. Personally, although we like to eat so that we grunt when we are full, but the small portion is more than enough.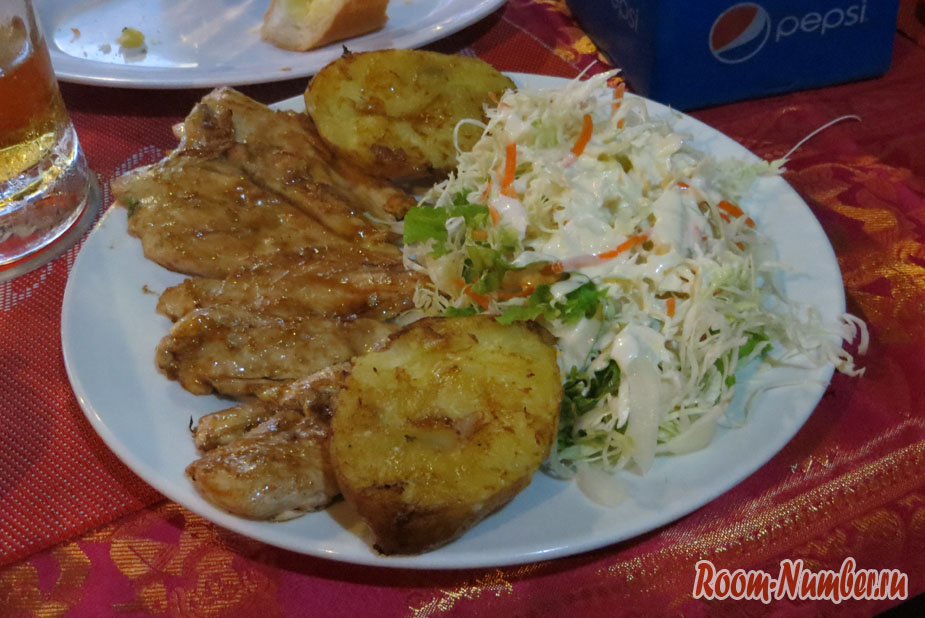 You won't believe it, but this (!) is a small portion of chicken filet for $3. Potatoes and salad are included
We are impressed that there is a wide variety of dishes with potatoes on the menu. Delicious baked potatoes in foil come with chops and ribs.
Vegetarians in Cambodia can order different variations of dishes of beans, cheese and potatoes. By the way, Khmer chefs don't spare any cheese in their dishes, which can't help pleasing two passionate cheese lovers.
If you order French fries (chips), then in some establishments you will not bring a fried version of the frozen fries, but they will cut the regular potato chips in the same thin sticks. It tastes different. It's more homemade and, most importantly, it's raw and real. But not everywhere is as luck would have it.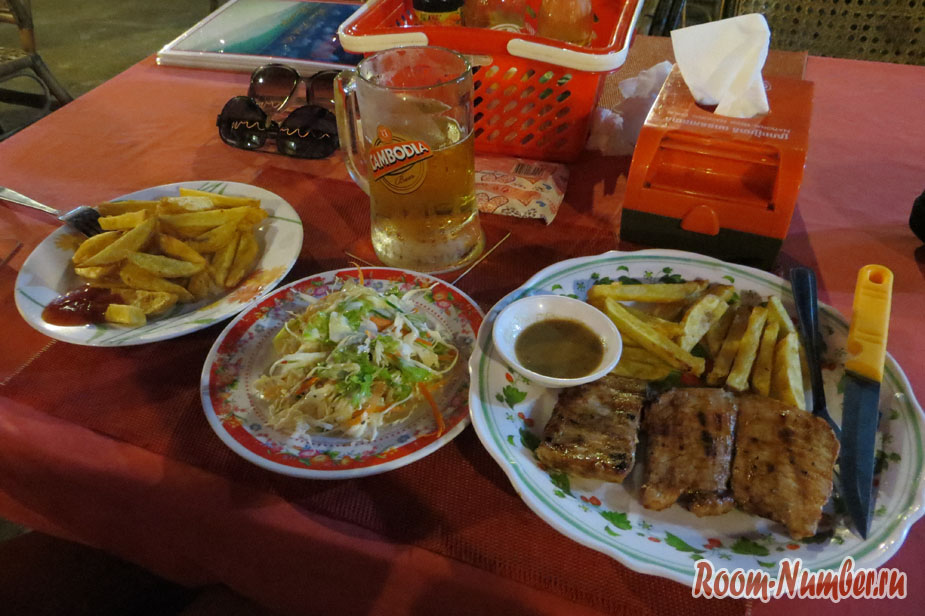 Pictured: French fries ($1.50) and a small portion of pork steak ($3.50).
They bring us a free vegetable salad with almost every order. Slava doesn't eat vegetables, so I get all the salad.
The rice here, too, is kind of special. I recently asked for rice and eggs and they brought me rice that was a little peppery, but not spicy. The eggs were finely chopped rather than lying around in bits and pieces like they do in some countries.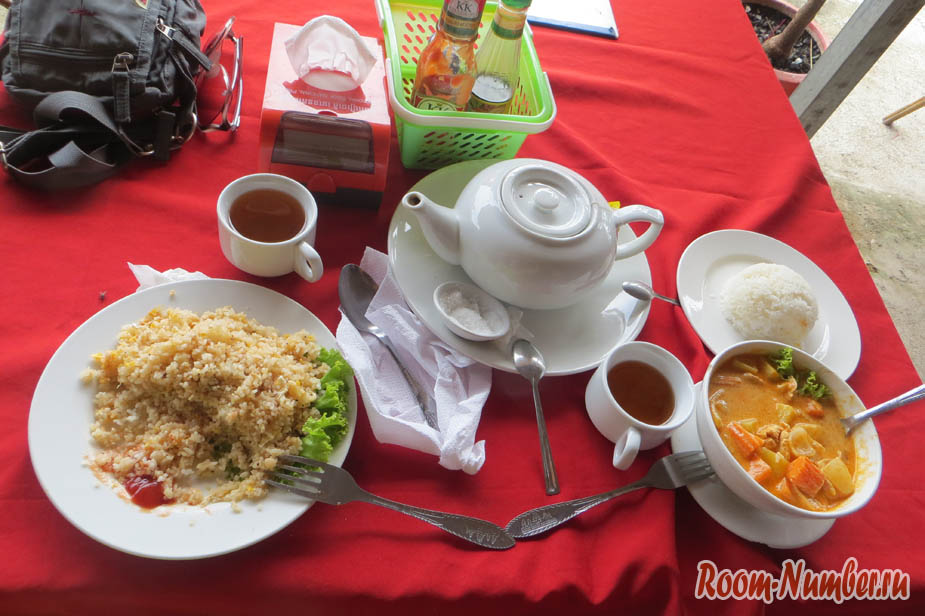 In some restaurants the staff is so hospitable that while you are waiting for your order they bring you free beer nuts and 2 baguettes with garlic. Well, that's cool. Where else can you find such generosity. I usually eat a baguette when I'm waiting for my order and I don't feel like eating that much.
Amok – Khmer national dish
Amok is the national food of Cambodia. We did not like it, neither meat nor fish. You can try it once for a tick, no more. Slava ordered once, it turned out to be just chicken fillet with some kind of sauce.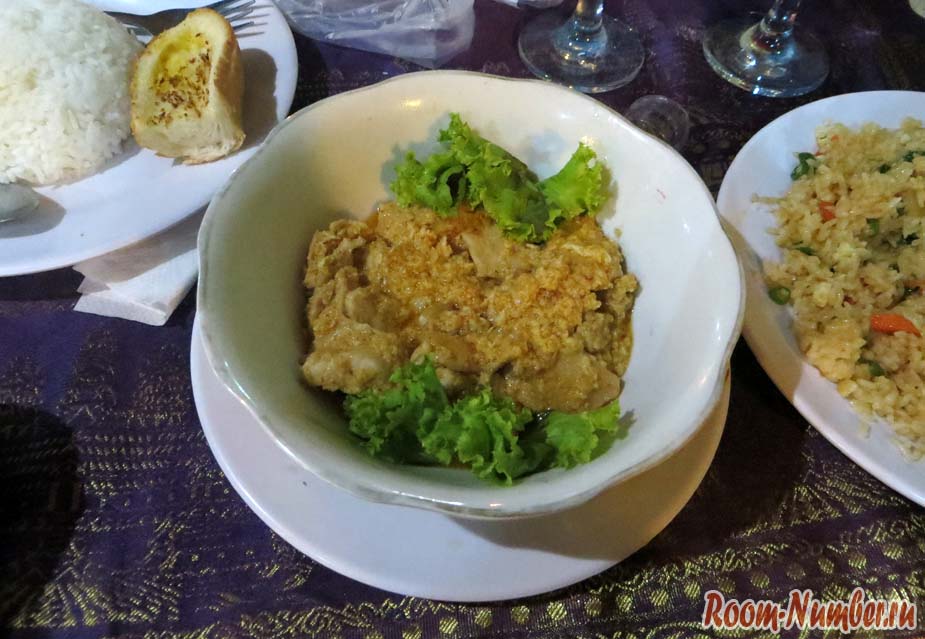 Prices for food in Kakambodia: The national dish Amok costs $3.
For dinner we usually order pizza and spaghetti. Probably thanks to European colonization, the Cambodians have learned how to make both.
Another one of our favorite cafes is Estatic Pizza Small pepperoni pizza for $4, not so small at all. It took us a long time to remember what pepperoni is.
I shudder to even imagine what would happen if you ordered a large pizza, they'd probably bring a whole basin.
My other favorite dish was spaghetti. Yes, regular pasta without everything. Once they get their hands on the Khmer, the spaghetti becomes incredibly delicious. Or maybe that's just because it's Italian spaghetti.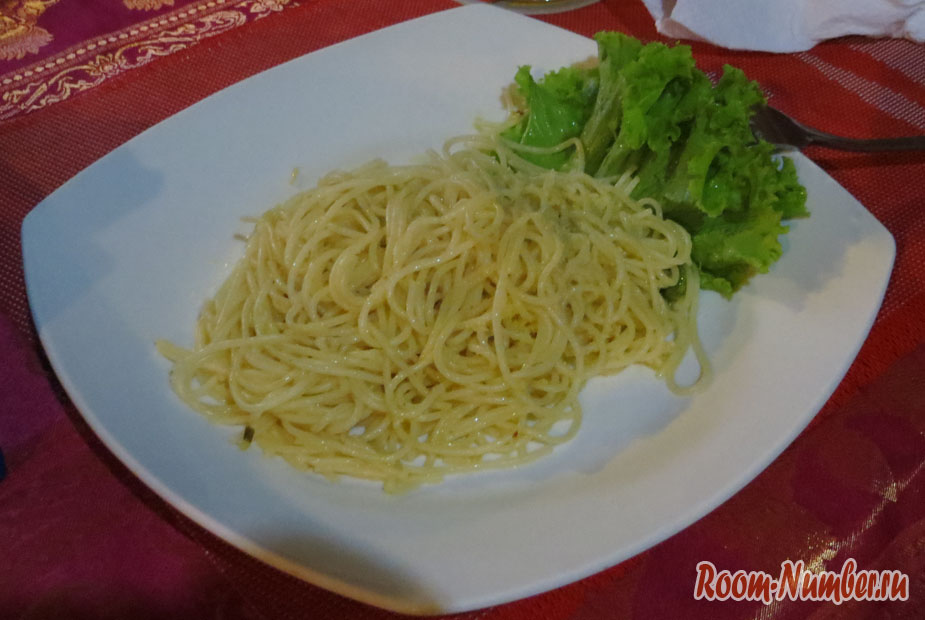 Naked Spaghetti for $1.50.
Fried Rice.
Also out of food in Cambodia, you can eat a variety of traditional Asian dishes like fried rice with fillings: seafood chicken, beef, pork or just vegetables.
Fried rice with vegetables Fried rice with chicken
Food of Cambodia conclusions
I would like to point out that all food in Cambodia in restaurants is served non-spicy. That is, in Cambodia you do not have to say no spicy. If you like spicy food, it is enough to ask the waiter about it.
Now we know for sure that the food in Cambodia is just great! I do not know how in other cities, but in Sihanoukville, for example, you can eat not only very cheap, but also very good. We have a real feast of the stomach here. Every trip to lunch and dinner is like a small feast, because we eat in a restaurant.
For specific food prices in Cambodia, see the following articles – restaurant prices (menu photos) and grocery prices in stores. As for cafes, our average bill for two for lunch or dinner is $6-8 with drinks. If you round it up to $10, consider that you need a maximum of $30 a day for food in Cambodia for two people.
Prices in Cambodia for food, hotels, tours and excursions
Category: Cambodia 18 685 12
Prices in Cambodia are neither low nor high, they are there… Asian. Which means that the cost of the same product can be several times different in different places – it all depends on the number of tourists. And depending on your skin color. But since you're reading this article, you probably have it white. So are we. So the prices in Cambodia for you and me will be the same. Here are the details!
Prices in Cambodia for food, hotels and tours: Siem Reap, Sihanoukville, Phnom Penh
Prices in Cambodia – especially in tourist areas – are not measured in the local currency, called riel. As a rule, the payments between tourists and locals are made in dollars. Wherever you have to pay – in a café, a store, a hotel or a cab – in most cases you will be told the amount in dollars. So we'll give all prices in Cambodia in green currency. But sometimes change can be given in local currency. In this case keep in mind that the rate of Cambodian Riel to the dollar – 4000 Riel for 1 buck.
As for the prices of airline tickets, tours and trips to Cambodia from different cities in Russia, we will give them in rubles. But do not forget that the ruble, in contrast to the real, is unstable, so it is better to check the relevance of the ruble prices. Always.)
Prices for food and products in Cambodia
We will show you how much it costs to eat in Cambodia, using Siem Reap, Sihanoukville and Phnom Penh cafes, stores and markets as examples. If you are not in the Khmer hinterland, where the spirit of Pol Pot still hangs over you, then the prices of food in Cambodia will be about the same.
Cambodian dish Amok with fish or chicken – $3-4
Khmer Lok Lak with fish or chicken – $3-4
Soup with meat and noodles $1
Tom Yum soup with shrimp – $4
Mango – from $1.5 per 1 kg
Rambutan – from $1.5 per 1 kg
Durian – from $3 per 1 kg
Mangosteen – from 2 dollars per 1 kg
Pitahaya (dragon fruit) – from 1 dollar per 1 kg
Banana – from 1 dollar per 1 kg
Pomelo – from 1 dollar per 1 pc
Pineapple – from 50 cents 1 pc
Watermelon – from 50 cents for 1 pc
Tomatoes – from 1 dollar per 1 kg
Fried insects – from $1 for 1 cup
Chicken – from 3 dollars for 1 kg
Pork – from $4 per 1 kg
Beef – from $12 per 1 kg
Eggs – from 1 dollar per 10 units
Shrimps – from $8 per 1 kg
Baguette – 25 cents
Beer in a store (0,33 l can) – $0,6
Beer in the store (0.64 l bottle) – $1.75.
Yes, it's better to buy beer in Cambodia in cans))
Prices in Cambodia for food: In Siem Reap cafes, meat dishes start at $3.
Prices in Cambodia for travel and transportation
Rent a motorcycle in Sihanoukville from 5 dollars per day (for short term rentals)
Rent a car in Sihanoukville – from 15 dollars per day
Rent a bike – 1 dollar
Gasoline – $ 1.2 per liter (visa included) – 2210 baht
Cab from Poipet customs crossing to Siem Reap – from 30 dollars
Tuk-tuk from hotel in the center of Siem Reap to the airport – $ 5
Tuk-tuk in Siem Reap – 1 dollar per trip anywhere in the city
Tuk-tuk rental with a driver in Sihanoukville for the whole day – from 15 dollars
Tuk-tuk rental with a driver in Angkor for the day – from 15 dollars
Keep in mind: renting motorcycles in Siem Reap for foreigners is prohibited. This was decided by the authorities to support the local tuk-tuks: otherwise, everyone would rent motorcycles and drive around Angkor on their own. Perhaps rightly so. After all, the prices in Cambodia to rent a vehicle with a driver are not at all high .
Prices in Cambodia: You can rent a motorcycle in Sihanoukville from 5 dollars and below. But it's prohibited for foreigners to rent motorcycles in Siem Reap. But to rent a driver with a tuk-tuk for the day costs mere pennies.
Prices for holidays in Cambodia (tours in Sihanoukville).
Tours in Cambodia from Moscow – from 105 thousand rubles for one person.
Tours in Cambodia from Novosibirsk – from 58 thousand rubles for one person.
Air tickets to Cambodia
– From 3000 rubles – from 3500 rubles – from 22 thousand rubles
You can find the prices for air tickets from Novosibirsk, Krasnoyarsk and Yekaterinburg to Siem Reap and Phnom Penh on Aviasales.ru .
Prices in Cambodia for excursions, attractions and entertainment
Ticket to Angkor complex (per person) – $ 37 for 1 day, $ 62 for 3 days, $ 72 for a week – from 15 dollars
Ticket to the Khmer Circus (Siem Reap): adults – $18, children – $10
Cooking class – from $20
Khmer boxing – from $15
Prices in Cambodia for excursions: Entrance ticket to Angkor costs from 20 dollars.
Prices in Cambodia for hotels
Miscellaneous
Cambodian visa – $ 30
Mandatory bribe at the border for the right to enter beautiful Cambodia – 100 baht
T-shirt – from 2 dollars
Small souvenirs in the markets (magnet, elephant, etc.) – from $1 – from 4,500 baht
These, friends, are the prices in Cambodia. If you have anything to add to this list, welcome. Your feedback will help other travelers! And you will surely find our other articles about Cambodia useful for planning your trip:
About the author Evgeny Proskuryakov
Active traveler, creator and author of Uchelya.com. Favorite cities are Budapest and Madrid. Avoided coffee for 15 years. Brings misfortune to the soccer teams he cheers for.
12 Comments on "Prices in Cambodia for food, hotels, tours and excursions"
Hello Eugene tell me in November we are planning to go to Cambodia from Bangkok and buy a tour to Kaosan but in the forums they write that they sell with aglozitsynnymi guides is it? My daughter is 6 years old with us should we go by plane or by bus on the tour?
Hi, Olga and Zhenya! Last year we could not go to Cambodia. We got in the Chinese New Year. You know that at that time there are only Chinese people going there. We plan to go there with you this year. Here I am studying the articles. I have a question about the outlets in the hotel in Cambodia. Something nowhere have not met the information, whether you need an adapter? Thank you very much for the site and organizing tours. If not difficult, answer to e-mail. I am afraid that I will not be able to find an answer among the comments. Thank you!)))
The price of Cambodia has gone up. And with the growth of the dollar, it is very expensive. Using mango as an example. In Thailand in Krabi Town in the market in January, bought on average 60 baht per kg. In Dalat, now I buy it for 20.000 VND for the same kg. In SR from 100 rubles. Cool. And to eat more expensive than in Thailand and Vietnam. Are the Khmer people better off, or do they want to live better?
Good afternoon! No, Cambodia hasn't become more expensive. Take mango as an example. 60 baht = $1.7. 20,000 dong = $0.9. 100 rubles. = $1.3. So, if you believe the figures you gave, the most expensive mango is in Thailand. And the dollar is not going up – it's the ruble that is going down.
This article attracted by the right word "Sihanoukville", but it is here in the wrong context. I think that the trip from Siem Reap (where I successfully got from Pattaya thanks to Eugene's instructions) to Sihanouk by bus is interesting not only for me, so I will leave here a description of my experience.
At the moment I bought a ticket for the night-bus car company Virak-Buntham express travel for $ 18 dollars at the office of the company. According to one lady's report from the network, everyone is berating Virak, but I nevertheless took a chance and here's why. Last time I was in Cambodia I took a Giant irbis bus to Kep from Pnh, I liked the ride. On the website of this company today I contacted the clerk and it turned out that with their help getting from Siem Reap to Sihanouk is possible only by going to Pnya first and then waiting for the "to catch 8a.m. bus", which of course does not suit me. Thus, not every company takes the right route directly and in a nighttime, sleeper bus.
In other bus companies found only phones, so I went to look for a travel agency, which will help with a small surcharge. In the found agency said that they do not sell such tickets, but kindly suggested how to get to the offices of the bus companies Mekong Express and Virak, and also added that the 1st has only sitting buses, which I do not need, because I do not want to go sitting 10-11 hours, and the 2nd has a sleeping bus.
Virak office is located near the Old market, if you drive along the river and leave the market on the right, then 200 meters after it will be a "circle", ie, the intersection of several streets with a statue in the middle, the office is right "for" the statue, there will probably be a big bus (as such a bus station in Siem Reap no and buses are sent from different places).
The agent in the office offered a choice of half-lying ($ 16) and lying buses that go directly from SM to SNK, I went to the 1st, I decided to try the 2nd. When the ticket was already put in the envelope and in my pocket, the thought occurred to me to check what was written on it again. It turned out that the agent had put the wrong date, a day later, but in the bus seating chart the number was correct. A tuk-tuk was supposed to pick me up an hour before the bus left the hotel.
If I don't report the result of this experiment here in a week, please give me a good word.