Museum of forgotten music in the DK Mashinostroiteley
There are a lot of music museums in the world. But the Forgotten Music Museum in Voronezh among them is a special account. The main thing is not only to see the ancient musical instruments, but also to hear their sound.
Family contract
This unusual museum is the brainchild of Sergei and Justina Plotnikov, who have chosen instrument studies as their profession. The two of them are the backbone of the museum, which has been operating since 2007 at the Palace of Culture of the Mashinostroitelnykh Palace of Culture.
The Plotnikovs: Museum founders and employees
The tasks of the Plotnikovs are many. They are engaged in searching and acquiring exhibits, as well as making new items from the surviving descriptions, drawings and pictures – because many traditional tools left the daily use long ago and did not survive in their original form.
Sergey Plotnikov also leads excursions with obligatory demonstration of sound of the most typical and unusual instruments. Because of the heavy workload of a specialist, a visit to the museum should be arranged by phone. Ticket price is also variable, and depends on the composition of the group and the tour program. Sometimes the Museum of Forgotten Music conducts free charity tours.
Music in time and space
The task of the museum (as explained by Plotnikov himself) is to bring the old, traditional music back into the modern cultural environment. The museum mainly specializes in Russian traditions, but not without exceptions. It also contains such examples as the Scottish bagpipe or the authentic Ukrainian bandura (modern ones, on which bandura players' chapels play, are arranged and made differently).
Museum's rare collection of musical instruments
Instruments come to the Voronezh Museum of Forgotten Music in different ways. In part they are purchased from private owners. Often people themselves donate to the collection "great-grandfather's heritage," which they personally do not need, but in the exposition – just right. Usually these rarities need a serious restoration, and the museum gives them a second life.
Part of the display of ancient instruments
But more often the originals of ancient instruments can not be found – they disappeared from use a long time ago. In these cases, Plotnikov makes them himself (with the help of professional musicians and masters of making musical instruments, of course), using the surviving descriptions and drawings or reconstructions made by archaeologists. Sometimes the master also makes samples to order.
As a result, the collection includes such antiquities and rarities as traditional psaltery and Russian pipes and horns, lyres of roving musicians (not to be confused with Orpheus' – these are different things!), hardy guards, chongurys, mini violins and much more. And it's all not just lying in display cases, it's all sound.
The return of sound
Employees of the Museum of Forgotten Music admit that the restoration of the authentic sound of ancient instruments and methods of playing them is a difficult task, and the result of the work may not be very reliable. Several centuries ago there were no sound recording devices – there is nothing to compare them with. But the Plotnikovs are still convinced that music should be listened to – verbal reasoning about it is not enough.
Sergey Plotnikov demonstrates the sound of a musical instrument
Therefore, tours at the Forgotten Music Museum in Voronezh are a combination of a lecture and a concert. Tour guides talk about Russian musical traditions and the variety of instruments used by the people on the basis of serious research in the field (A.L. Maslova, V.V. Andreev, V.I. Povetkin, A.S. Famintsin and other authorities), and the most important points are supported by a visual demonstration of the methods of use and sound of individual instruments.
Not only that – visitors to the museum also have the opportunity to try to perform something on the psaltery or bagpipes. Here it is not customary to lock the exhibits under bulletproof glass – they are available to all.
Museum of Forgotten Music team at the festival
The Carpenters are also indispensable participants in a number of folklore and historical festivals, where they take their unusual "concert programs". They perform not only in Voronezh region, but also in Suzdal, Tula, Penza, Rostov Veliky and even in Crimea (as participants of military-historical festival), and everywhere they are welcome guests.
All Voronezh museums are rich in exhibits and interesting for visitors. But the Museum of Forgotten Music is one of the most unusual – it is not every day you can hold a piece of history in your hands and even try to use it for its intended purpose.
The psaltery, the horns and the saw. How a former locksmith created a museum of forgotten music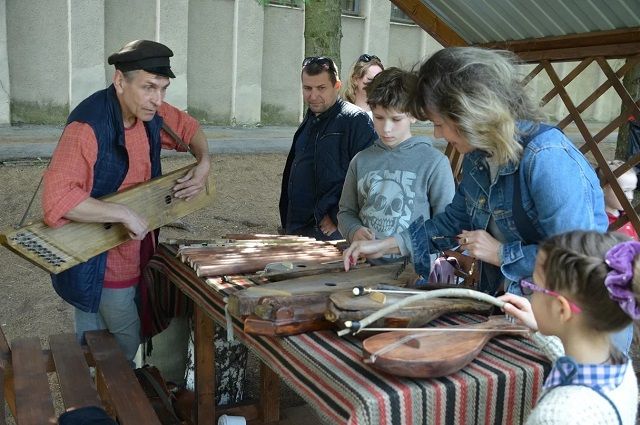 In a small exhibition hall at the Palace of Culture in Voronezh you can not only see what our ancestors played, but also hear the music, which they heard, and test your skills, playing, for example, on the grass pipe.
Sergey Plotnikov, the founder of the Museum of Forgotten Music, an expert on folklore, told the correspondent of "AiF-Voronezh" about why and how to create ancient instruments in the modern world.
"I'm a working man."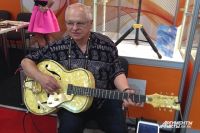 "I had nothing to do with music until my wife gave me a book by Vasily Bychkov "Musical instruments" with drawings. I saw a drawing of a bagpipe and decided to try to make it. I can read blueprints, I am a working man. I could not create an instrument straight away: I lacked musical education. Konstantin Kharitonov, a balalaika player, who worked with me at that time at the boarding school No. 1 for orphans, was keen on the idea and decided to help me. He came over with his accordion, helped me to tune the instrument and taught me how to read and write. Half a year later we got a bagpipe," says Sergei Plotnikov.
And then came the instrument after instrument, and today the Museum of Forgotten Music has been in existence for 11 years. And Sergey Plotnikov and his wife represent the Voronezh region at folklore and re-enactment festivals. This year he also visited the forum "Tavrida".
Before the museum appeared, Sergey took his instruments to bard festivals. And then it became clear what interest they arouse in the public. Seeing this, Inna Shatilenya, the wife of Sergey Plotnikov, inspired him to create the museum. Initially Sergey was making European and Asian instruments, but Inna convinced him to take up Russian folk instruments. Now the museum is based at the City Palace of Culture.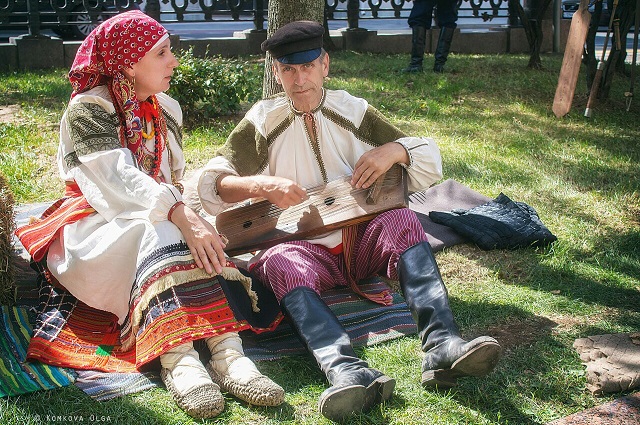 "A willy-nilly musician."
Sergei Plotnikov began making instruments without any musical training.
"I used to work in a factory, I'm an instrument fitter," says Sergey.
He learned about soundtracking as he developed his hobby.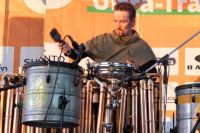 "There are instruments I can't do. For example, the Bashkir kurai. It's a difficult sound for me to play. Although the kurai itself is very simple," says Sergei. – If I can't make a sound, it means I can't make an instrument, because it has to be tested. If I make a gusli, I have to check how they sound, so I have to know how to play the gusli. I play all the instruments fairly average. I call myself a musician willy-nilly. I have to check the instrument, and to play… There are some guys who play all the instruments beautifully: the balalaika, the psaltery and the wind instruments. I play simple, but I can show you".
Sergei makes instruments from a variety of materials. For the wind instruments, hogwort or reed, which Sergei procures himself, is suitable.
"I always say that folk musical instruments are made from what I have at hand. If I don't have a grass pipe, I can make it out of plastic or metal," Sergey notes.
There are kalyuka, zhileiki, gusli, bagpipes, and a wheeled lyre in the museum's exposition. And Sergei talks about each of the instruments with fatherly tenderness: "The grass pipe is a very simple and interesting musical instrument, they call it an overtone flute. This is our such a Belgorod-Voronezh instrument".
The guests who come to his museum are surprised to find a scythe and a saw there. They did not get here by chance: they can also be played.
"If you take percussion folk musical instruments, it's any household item. Everyone has a huge number of percussion musical instruments in the kitchen: a glass, a pot, a pan, spoons. The people used almost everything. Anything that makes a sound is counted as a musical instrument", – says Sergey Plotnikov.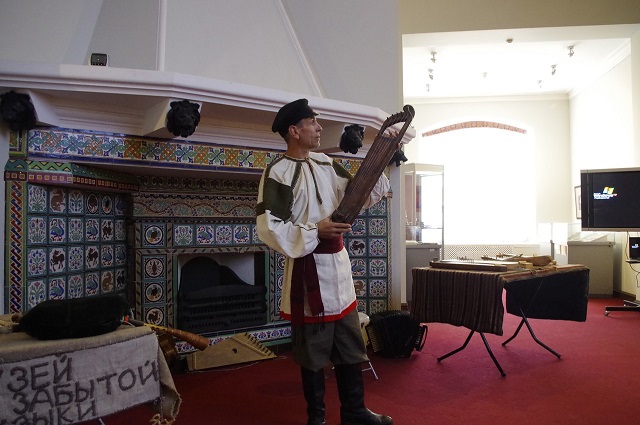 Musical excursions
You can visit the Museum of Forgotten Music by prior arrangement. Sergey actively participates in festivals from spring to fall. Guests of the museum, he not only shows the instruments created by his own hands, but also tells about their structure. And also gives them to play. The guests take apart the instruments with a simple sound and begin playing music together.
But to learn to play antique instruments professionally is quite difficult because there is simply nowhere.
"They don't teach you to play Russian folk instruments. There are balalaika, domra, and accordion lessons – three instruments that actually have indirect relation to the people. For example, the balalaika, which everyone imagines today, is a concert version of Vasily Andreyev (head of Russia's first orchestra of folk instruments – ed.), made in the late 19th century. And earlier the balalaika had two strings and a very long fingerboard. Both the bayan and the domra had nothing to do with the people," says Sergei.
The joint performance of Sergey and his wife Inna will be a real success for visitors to the museum. Together they perform Inna's author's material, as well as folk songs.
As Sergey says, now people's interest in folklore is growing. Instruments invariably cause a great response from the public at festivals. And for him, the hobby has become not just a job, but his life's work.