German Railways
As in Russia, trains and railroads in Germany belong to a single monopoly. And even the names are identical: Russian Railways and Deutsche Bahn. That is where the similarity ends. To compare the infrastructure and level of service of German railroads with their Russian counterpart would be deplorable for the latter. So I will limit myself to describing this mode of transport in Germany.
As the theater begins with a hanger, so German railroads begin with stations for their passengers. Barely every town or village has a railway station. Often one station includes two or three nearby communities, and large cities may have several stations. The main station is called the "main" – Hauptbahnhof.
German stations have everything that should be inherent in a modern railway station. Newsstand, a small cafe, ticket office, information desk, scoreboard of train schedule and so on. DB Lounges business lounges are available for first class passengers. Business travelers in large cities are offered convenient Coworking – a space to work.
All functions are duplicated by vending machines. In one you can buy something to eat, the other sells drinks.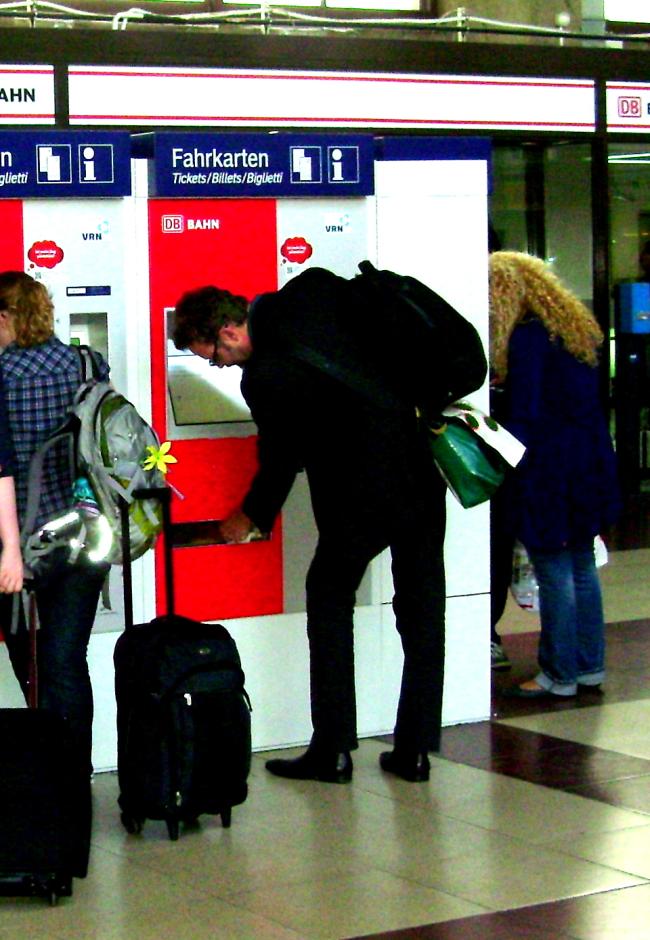 Buying train tickets in Germany from a vending machine
Especially convenient to use vending machines to buy tickets. The navigation system in them is not the easiest, but if you understand once, you forget about standing in line at the ticket office forever. All German stations are equipped with ticket vending machines. In them you can pay for travel, and get a detailed printout of the route. In addition, ticket vending machines stand even in the trains themselves.
Using German Railways
But burghers usually don't put off buying a ticket to the last minute. It has become popular to buy tickets through the German Railways website bahn.de or a mobile app. There you can order tickets in advance and take advantage of numerous discounts. Sometimes it is considerably cheaper. You can get a ticket by mail, print it out on an A4 sheet or download it to your cell phone. You can pay for travel by bank cards, credit cards and electronic payment systems. Ticket in this form has a special barcode in the upper right corner. Controller on the train passes the barcode by hand scanner, getting all the information about the ticket and its owner. Then all that is left is to check the data of the ticket owner with a passport or credit card.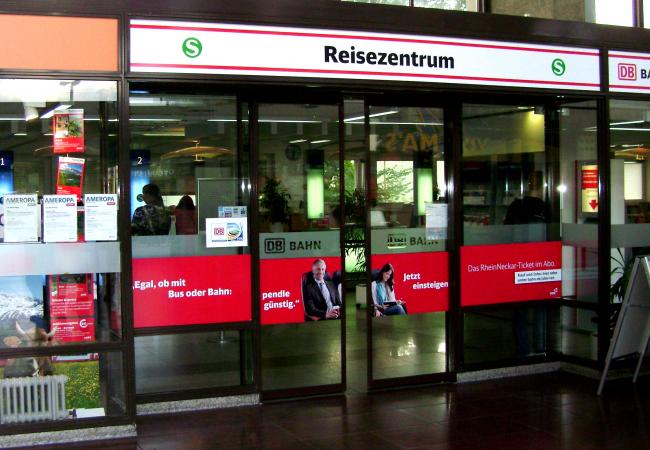 If you were not able to buy a German train ticket from a machine, ticket offices are always at your service.
Staff of German railroads are usually very polite, but to the "hares" are merciless. The smallest fine for stowaway is €60. In the case of recidivism, the fine is increased, and if you are caught for the third time, you risk a month of community service and a fine of €500. Of course, no bribes, as well as any German officials, train ticket inspectors do not take. So in Germany it is better to pay the fare on time.
Although prices, of course, are quite high. On average, 100 kilometers of track costs the passenger 15-25 €, depending on the type of train used. In compensation is offered a flexible system of discounts on BahnCard – from 25% to 100%.
There are 4 basic types of trains in Germany.
German electric trains
Within large cities or between small stations the bright red S-Bahn runs. They are small trains, consisting of 3-4 cars, which on weekdays run every 20-30 minutes and often serve as a subway or express streetcar. They usually stop at all the stations that are on the way.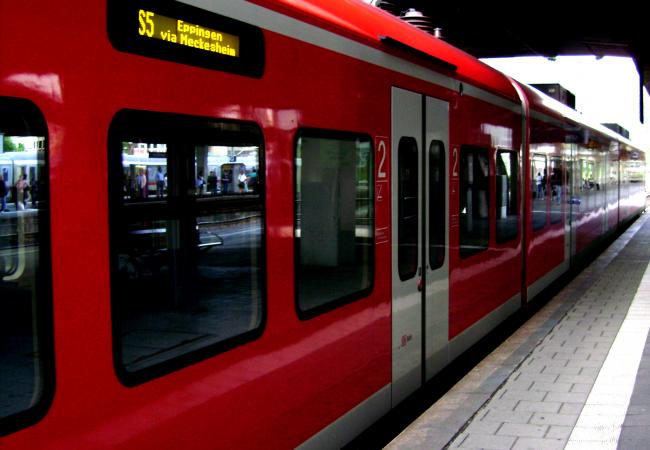 German trains are fast and comfortable
But regional express trains RE can skip some stations. Such trains have more carriages, they go less often, but allow to move quite long distances within one land at relatively low cost. By transferring from train to train regional express trains you can get to any city in Germany. However, it can take quite a long time.
Intercity express trains
If a passenger wants to travel quickly, however, he should choose the famous German high-speed trains. They are labeled IC for domestic trips or EC for routes linking cities from different countries. But there is no fundamental difference between them. Locomotives of such trains look like big silver bullets. At great speeds they carry a dozen of their comfortable cars, skipping most of the stations on the track. Such trains stop, as a rule, only in large cities and their routes are hundreds of kilometers long.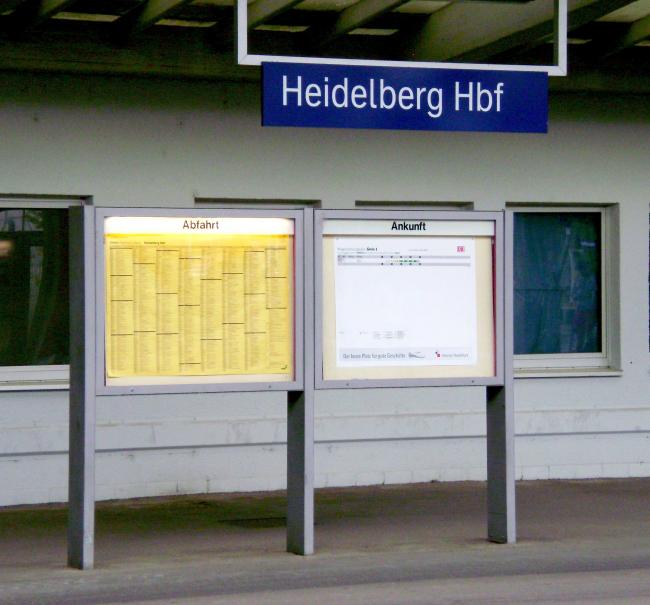 Abfarht – departure, Ankunft – arrival. It is easy to understand train schedule in Germany.
High-speed train cars are equipped with comfortable wide seats, like airplanes, in the first class cabin or their less comfortable counterparts in the second class. There are several types of seats in second class cars. When ordering a ticket, you can simply buy yourself the right to travel by sitting in vacant seats, if any are available. But it is better to reserve a specific seat. You can choose from window or aisle seats. You can sit on a seat with a small table that also has a socket for your laptop computer. Separate compartments with 6-8 seats and glass doors are available for children and the disabled. There are also simply six-seat compartments for anyone who wants one. There used to be different cars for smokers and non-smokers, but since this year smoking is not allowed on the trains. The cars of these trains are not equipped with flatcars, so anyone who wants to sleep do it sitting down. The express trains move mostly in the daytime, and the total travel time rarely exceeds the standard working day.
One car is usually occupied by a German railroad restaurant. The word "restaurant" here has exactly the meaning it should have. The restaurant is divided into two parts by a cockpit. On one side of the carriage there is usually something like a bar and a few high tables. Here you can drink tea or German beer. And on the other side there is a real restaurant with an extensive and not particularly expensive menu. There you will be served by a friendly waiter, everything is just like in a usual place on the "ground". Next to the restaurant there is a public phone booth for on-line communication with the outside world, and a conductor's compartment.
There are also night versions of such express trains, they usually connect megalopolises and European capitals. There are full-fledged places to sleep, with mattresses and linen. These trains are marked either as CNL (City Night Line), or EN (EuroNight).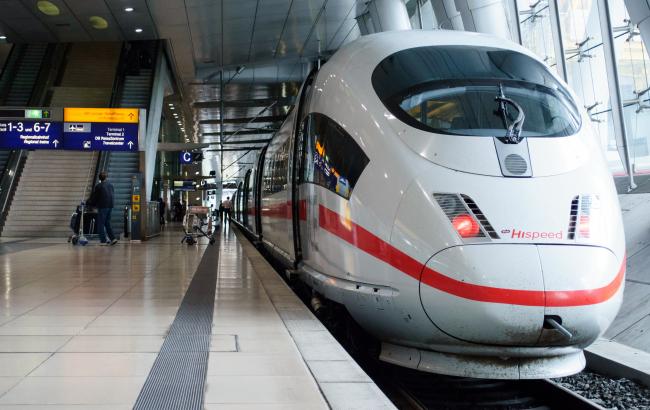 The pride of German railroads – high-speed express trains!
Finally, the beauty and pride of Germany, the fastest and most comfortable German trains, run under the label ICE – first class express. The price of a ticket on them is the highest. The trip from Frankfurt to Munich (350 km) on such a train in first class will cost the passenger 93€. It takes about three and a half hours if no delays occur. The cruising speed of the high-speed train is 230-250 km/h but because of the stops along the way the travel time is about the same as by car. But it is more comfortable!
Deutsche Bahn is modernizing its fleet.
The German railway giant is constantly expanding its rolling stock.
Despite the competition with intercity buses, Deutsche Bahn leads in carrying passengers on IC and ICE trains. The high passenger traffic, which increases every year, also requires more trains. In 2017, 142 million passengers were recorded.
At a meeting in Berlin, the Group's Supervisory Board approved an additional investment of one billion euros by the end of 2024. 700 million euros is earmarked for the purchase of 18 new ICE-4 type trains and 50 cars, which will be added to the ordered trains, thus adding another 13 section.
The updated train will be 375 meters long and will be the longest passenger train of Deutsche Bahn. The number of seats will increase by 88 to 918.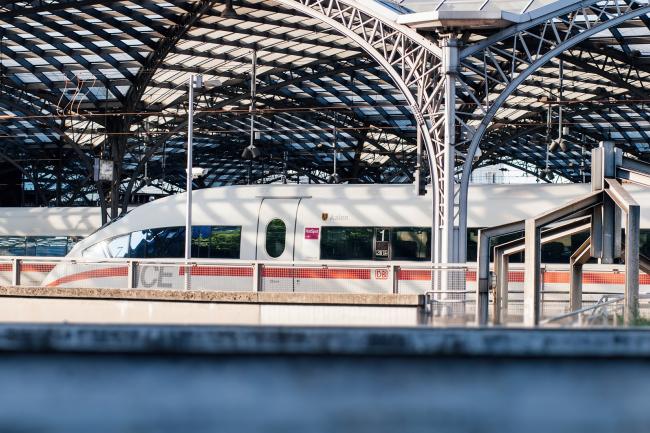 DB spends billions of euros on long-distance trains.
320 million euros will be allocated to modernize the fleet of ICE-1 type trains that were put into service in 1991.
Car to train
For rich Germans the possibility to take a car with them on the road has been offered since the 1930s. Passengers took seats in compartments and the vehicle traveled separately by freight train. The 50 train stations between Szczecin and Stuttgart accepted passengers traveling by train with their cars.
After the war in 1956, German trains transporting cars in double-decker open wagons began making trips abroad to Germany for the first time. But the service was used only by German car manufacturers to deliver goods to customers. Ordinary motorists were not able to take private cars on trips around Germany again until 1960. In 1973, the German railway held a record with 185,000 private cars!
Today, an average of 250,000 cars are carried by rail passengers per year. The Deutsche Bahn provides a hundred different trips to Germany, France, Italy, and Austria. The longest route between Hamburg and Narbonne is 1,570 kilometers. Older Germans or vacationing families eagerly take advantage of the advantages of traveling to warm destinations by train along with their car. So they avoid unnecessary stress from long journeys behind the wheel and standing in traffic jams. And if you also calculate the cost of gasoline and road fees for driving on highways, add to that the amount of time gained on the way, such a trip is quite a profitable enterprise.
Travelling by train in Germany together with a car will cost 99€. This includes a seat for the car and one seat for the passenger in the sleeping car. International flights cost from €149 one way. All other passengers except the driver pay 60€ per seat. The carriage service should be booked at least 7 days in advance.
German train delays
And whatever people may say about German punctuality, life shows that on German railroads this German virtue has decided to rest. And no wonder, the system is too huge. For express trains, a delay of five to ten minutes is commonplace. But it can be worse; I personally once rode on a flight with a three-hour delay.
An acquaintance who works for Deutsche Bahn said that the frequency of train delays is related to the extremely busy track in Germany. Transit freight traffic is on the rise, and the new lines cannot be built in time. Computer optimized routes are being used. Therefore, a failure in one part of the system leads to many consequences.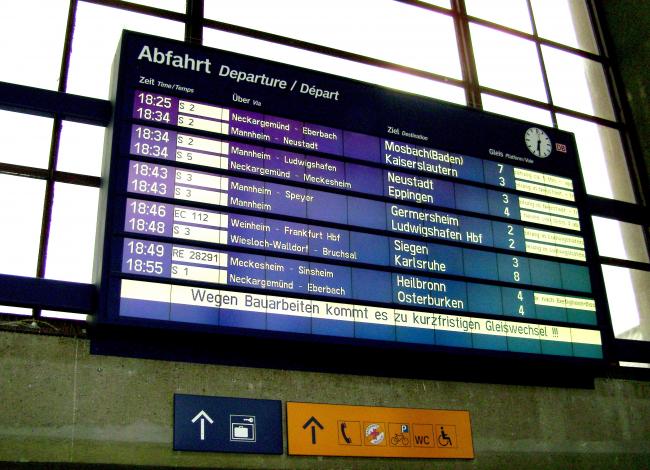 Station signage in Germany warns about late arrivals
The transfer schedule then goes to hell. But Deutsche Bahn takes over the traveler's losses. The train conductors poll the passengers for help with the new schedule and stamp the tickets with a delay time interval. Then the "aggrieved" passengers mail the tickets to the German Railways customer service and receive compensation. If the delay is more than an hour and a half and does not cause serious consequences, such as being late for a flight, the compensation is approximately equal to the value of the ticket.
German railroads are the fastest and most convenient way to get around Germany when they are operating normally.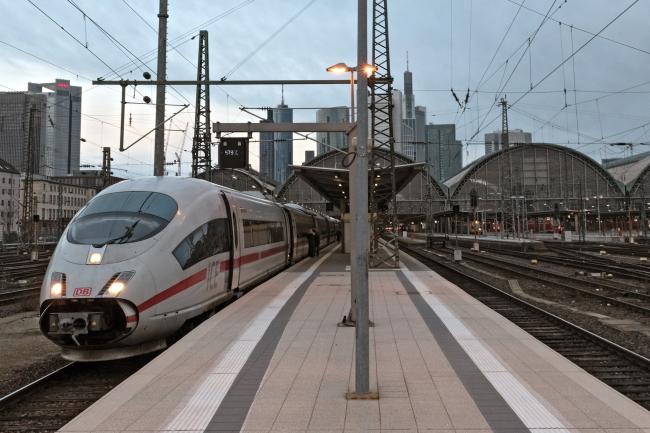 The railroad is the largest employer in Germany.
Deutsche Bahn as an employer
A large number of trains and passengers require service personnel. Deutsche Bahn is constantly looking for employees. A total of 200,000 people are employed by the railways in Germany. There isn't enough staff. Above all they need locomotive drivers, electricians, dispatchers, engineers and IT experts.
The shortage of machinists is a long-standing problem. There is a shortage of 1,200 train drivers. The problem in passenger transport has to be closed with overtime work. And freight trains often stand idle due to the lack of a driver.
A shortage of programmers is predicted for the next 10-15 years. But Deutsche Bahn is planning to completely switch to digital train control technology.
They are especially counting on the growth of their own staff. They need those willing to learn to be train drivers. Unmanned trains are a thing of the distant future, but there are few people willing to learn the profession for fear of losing their jobs in a few years. In 2018, German railroads opened 4,000 positions for mid-career vocational training.
German railroads – favorable fares, trains, tickets
We really like the trains and railroads in Germany.
We were fascinated by the well-developed railway network in Germany. You can reach almost any small town by train. And also to neighboring countries: France, Austria, Switzerland, Belgium, the Netherlands. Do you understand the scale?
The main official carrier in Germany is DeutscheBahn, a state-owned joint-stock company. One can easily recognize its trains by the red DB logo on the trains.
In addition to Deutsche Bahn there are a number of private rail companies in each federal state.
Keep this in mind if you want to get where you want to go by train. The DeutscheBahn website has many trains, but not all, just the DB company with its fares and fare conditions. For a complete picture, it makes sense to go to the website of the state railroad. There may be more routes (for this area) and different fares. More about that at the end of the article.
The convenience of German trains
Comfort and service in Russian trains, especially in electric trains, do not always match the price of the ticket. I still shudder to think of the Moscow-Dubna train in winter. Will the heating be turned on? You run around the cars, looking for the warmest, and not sure that the heater will warm up to the end station. Horror, horror!
It's not like that in German trains. You sit down and enjoy it:
The cars are not hot in summer, not cold in winter. The air conditioning is perfect.
There are toilets in every car. And with that there is toilet paper!
The doors of the carriages open when you approach. Closed automatically when you step back the desired distance.
There are special places for bicycles and wheelchairs. There are monitors with timetable in the carriages.
If any part of the railroad is being repaired, passengers are asked to get off the train and change to a bus that is running specially for the repair period. Such buses stop right at the station. They take all passengers of the train and leave in 5-10 minutes after the train stops. The necessary number of such buses is strictly monitored and there are no problems with the lack of seats. You do not need to pay. The same ticket you bought will be valid, because you have already paid your fare from point A to point B.
I'm describing the usual conveniences of an ordinary suburban train. I don't say a word about high-speed trains. The conditions there are like in business class.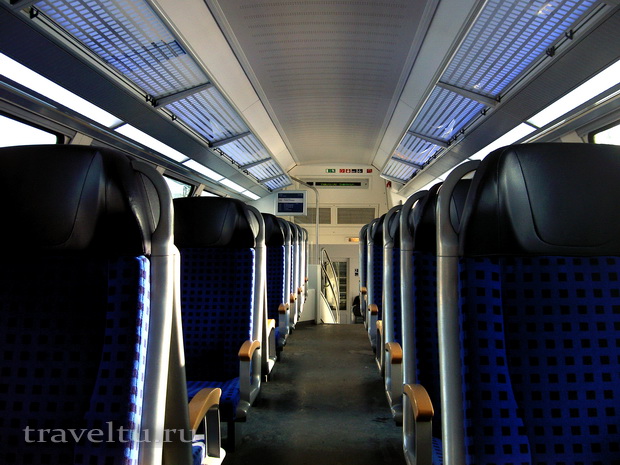 On the downside: many have heard about German punctuality. So, when we got to our desired cities, not once 20-30 minutes waiting for the train on the platform. Or sat in the car halfway to our destination, hoping that the train was about to start. But it stood, letting the other trains pass.
Apparently it had something to do with the general rail schedule and the priority of the train route. We encountered such a situation only on regional routes.
Probably punctuality works, but in a special mode.
Why does it happen?
In Germany, and in Europe in general, there are a lot of small gaps between transfers and short stopping times.
For example, to get by train from Nuremberg to Rothenburg ob der Tauber (80 km) you need 2 changes in 1 hour. It often happens that if one train is late, another is waiting for him, the third, and so on up the chain.
Now imagine that such frequent interchanges exist between cities all over Germany and delays of 5-10 minutes are very difficult to eliminate. Sometimes there's a decent amount of delay time. Maybe the employees somehow work things out at night.
We once traveled from Munich to Nuremberg. Our train was delayed for 40 minutes. It was explained to us that we were waiting for an oncoming train to pass, which in turn was waiting for another train to pass.
Conclusion: If you have a plane or international train ticket in hand (they won't wait for a passenger) and you're limited on time, budget more time for your route by 30-40 minutes.
Types of trains in Germany
There are several types of trains. They differ in distance range.
For better understanding I will compare with the types of our train classes. But you have to remember that the conditions inside the carriage on German trains are 120 times better.
High-speed
Intercity-Express (ICE), Inter City (IC), EuroCity (EC) – run long distances, including other Schengen countries. For example, you can get from Berlin to Dusseldorf in 4 hours and 20 minutes. It is comparable with our Sapsan Moscow-St. Petersburg.
High-speed trains reach speeds of up to 300 kilometers per hour. For them special tracks are built. Inside the carriage looks more like an airplane cabin.
Regional
S-Bahn – City train. In cities, they connect with subway trains at stations. It connects nearby cities, and connects the suburbs. Such a kind of subway. I can't find any analogy with our train.
RegionalBahn (RB) – runs between cities within the same state of Germany. The maximum distance is 100-300km.
Stops at almost all stations. Go every 1-2 hours. Can compare with my train Moscow-Dubna – 120 km for 2.30 minutes.
RegionalExpress (RE) is an improved version of the RB. They go faster, stop less often, mostly at major stations.
A distinctive feature – the cars may be double-decker. We took it from Dresden to Meissen. You can compare it with the express train Moscow-Dubna, Moscow-Vladimir.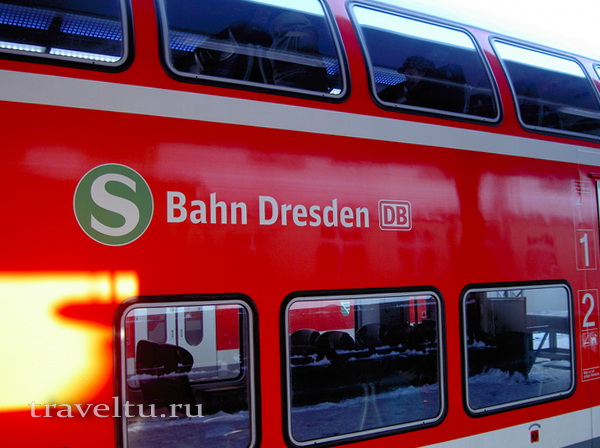 Railway ticket – what is it?
It is clear that the ticket, which we buy at the ticket office is a ticket. But the railroad ticket in Russia and the railroad ticket in Germany are different. To avoid trouble on the road, let's understand the difference and what we pay for.
In Germany
Two services may be included in the ticket price:
Road fare.
Platz card – payment for a seat (car class 1 or 2, your seat), i.e. comfort.
What does this mean to us?
It means that after buying a ticket, we can get off at any station on the way (for example in the city we like), take a walk there, and then use the same ticket to continue the trip.
In Russia
Having bought a ticket and paid the fare from point A to point C, you can get off at your favorite point B. But it's not certain that with the same ticket you can continue your trip.
Example: A large, friendly group of us were returning from a forest near Moscow. Bought a ticket at the station, crossed the platform through the turnstile and suddenly realized that you should go to the toilet, because the train wait another 20 minutes and no one knows whether it will be a working toilet.
There was no facility at the station. Strange, isn't it? But we were even more surprised when we approached the station attendants at the turnstiles. We learned from them that if we left the station (the border – turnstile and the toilet was just behind the turnstile), then we would have to buy a new ticket because this one would be invalid (!).
We asked why – we had paid the fare, right? The question was a bit of a mystery. Around us we gathered about 6 employees who heatedly began to discuss the "problem" of whether we had the right to travel on the ticket we had paid, or whether we would have to buy a new one.
Finally, one of the employees allegedly referred to some unknown to the rest of the document, which said that once you can go out, but only for "good" reason. What that "valid" reason was, apparently, was not explained in the document. The workers voted and found our reason to be important. But they warned us "not to do it again. Normal?
What is absurd in this story – the rules of the railway lines or illiteracy of the workers, we did not try to find out. But the savagery is amazing.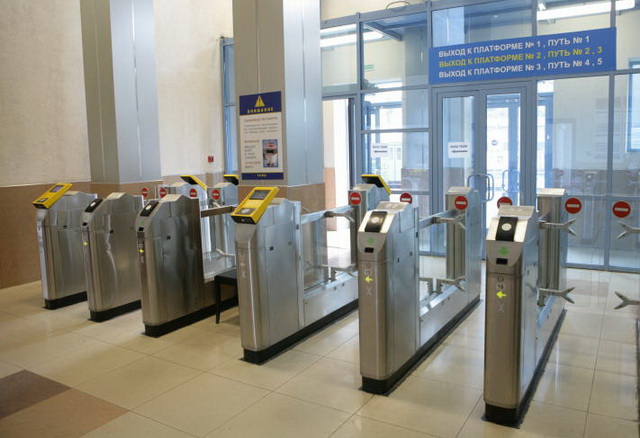 Russian turnstiles on suburban trains. No way back
In Germany
You can easily go in and out at the stations on the train route and use your paid ticket, because your travel on the road you have already paid, and pay the same distance again and again you do not need.
What to pay attention to
On the payment card or additional conditions of travel.
If you have purchased a 2nd class ticket, then the next train you take is also in a 2nd class carriage.
If you bought a ticket with a seat assigned, you lose your seat when you leave. But you can continue your trip with the same ticket, taking an empty seat in the same class of carriage. A ticket with a reserved seat costs more and is convenient for long distance travel or during rush hours, when there may be no free seats.
If you bought a ticket for a special promotion (for example, a cheap ticket for a regional train of a particular company), then you can continue to travel on this ticket not on any train that passes here, but only on the train of the company whose ticket you bought.
What happens if you made a mistake and got on the wrong train (carriage)
You'll have to pay an extra fee.
You'll have to pay a fine.
You must buy a ticket for this train from the ticket inspector. You do not need to get off the train and wait for the next train.
The fine will be more expensive. Compliance is strictly monitored by the Controllers.
Attention: Be sure to read the conditions when buying a ticket. If the ticket is cheap, it means there are some restrictions on its use.

For long-distance trains the conditions are the same. When buying a ticket it is worth to clarify them in person, because the information can change.
Is it possible to return a purchased ticket?
Yes. About that below.
Railway tickets are economical and convenient.
Did you know that you can travel by rail in Germany not only comfortably, but also economically? Comfort, by the way, you do not lose.
How convenient is the standard ticket
The fare for them is called – normal. And these tickets are expensive. But they have a number of advantages:
With a ticket with a normal fare you can go on any of the trains running on that day on this route.
A ticket with a normal fare can be freely exchanged or even surrendered, receiving back the same money, but the day before the trip.
Restrictions
If you want to exchange or surrender a normal fare ticket on the day of travel, you can do so too, but the price will not be fully refunded.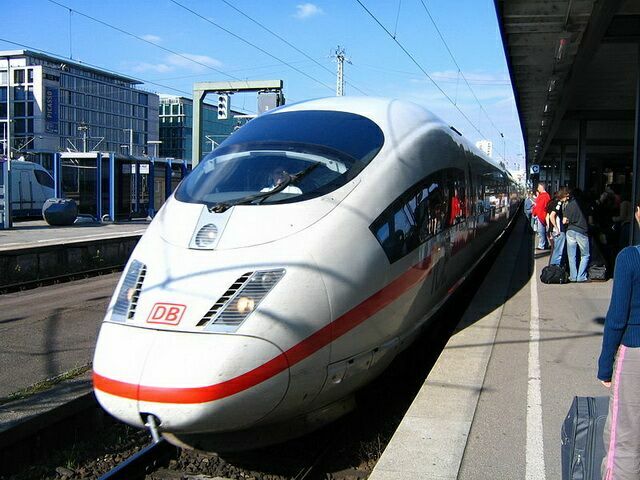 ICE high speed train
Why the economy fare is convenient
Standard fare tickets are usually expensive. So I suggest you learn how to use the federal states tickets, the weekend ticket and the all-terrain fare in Germany. We have saved 25% of our budget from traveling in Germany with these tickets.
The ticket can be exchanged/returned the day before the trip, unless there is a note in the conditions that the ticket cannot be surrendered.
Restrictions
With a special economy ticket you can only travel on certain trains and/or at specified times.
The special ticket cannot be returned on the day of travel.
If not by train, how
If you want to visit small authentic German towns, it is better to rent a car. Small towns are sure to get trains, but there is still a sense of freedom of time and master of your vacation by car.
We rented a car in Germany and have no regrets: maximum comfort, good free roads, great autobahn. Caught only one traffic jam, and that because of the repair of the road. The amount for rent and gasoline came out the same if you go by train.
About the roads in Germany, we wrote a series of articles. You can see them: Road Behavior, a female perspective on the roads in Germany.
Websites to buy rail tickets
So, Germany has a rail network of Deutsche Bahn and private rail companies.
1.This is a map of DB rail lines and transfer hubs.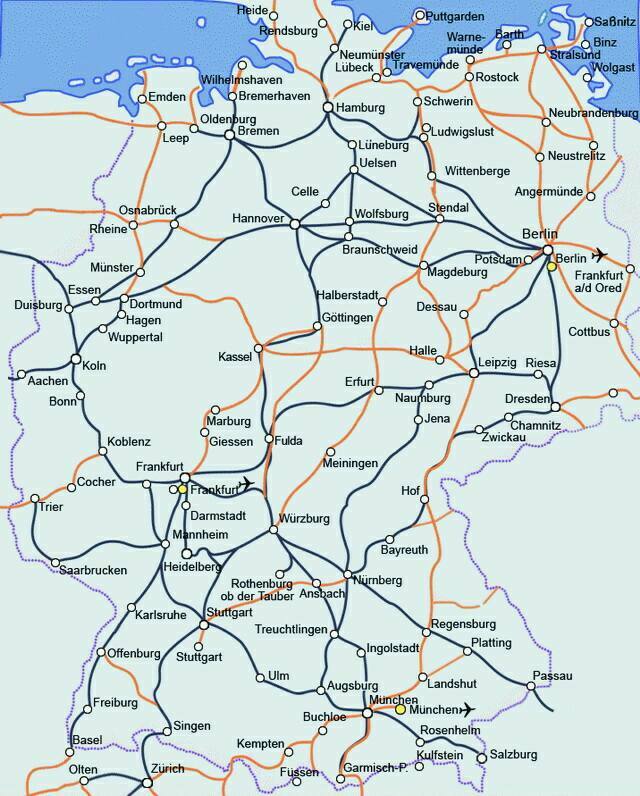 The official website of DeutscheBahn German Railways is www.bahn.de .
Here you can see and buy rail tickets of this company.
2. Regional trains of private companies.
To find the right regional train of a particular state, do the following steps:
Enter the magic words Karte der Verkehrsverbünde und Tarifverbünde in Deutschland into the Google browser search box.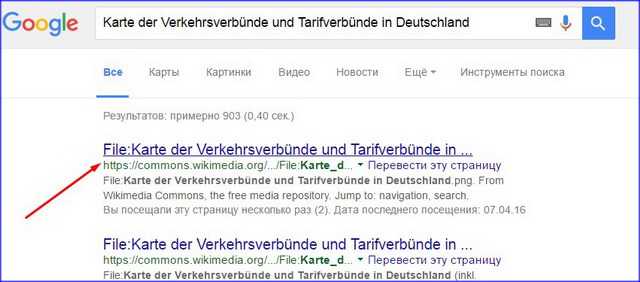 Then we come to this place. It is a map. Click on it.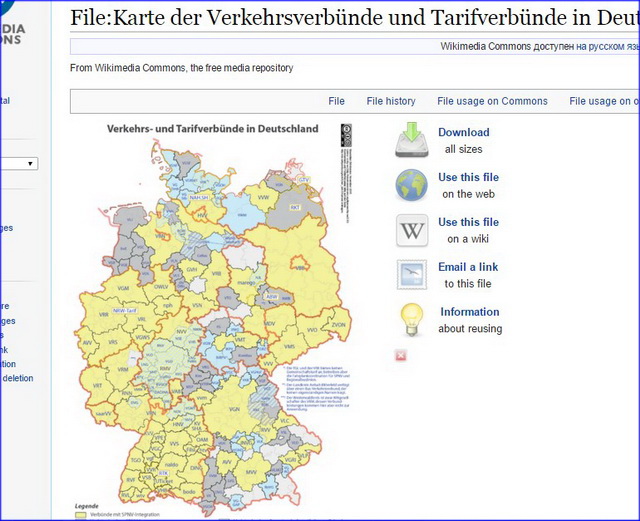 This is a map of all the transport associations in Germany. On the map you see different letters, OWLV, VRR, NRV-Tarif, ZVON and other signs. Select the desired designation and duplicate it in the search engine. If it is not found, add the words bahn or Tarif to the designation. Be sure to search for local German rail company websites.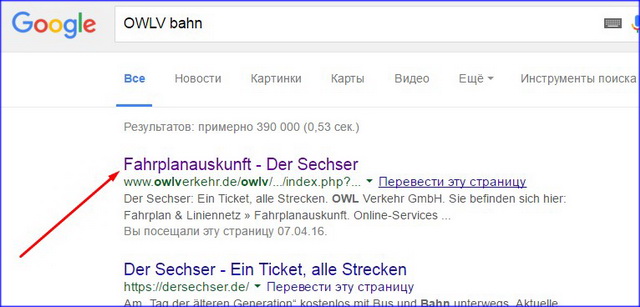 Next, explore the website with ticket fares. You can see all the fare options in the Tickets section.
Subscribe to our blog and get useful information to your e-mail. We wish you pleasant travels.