Hitachi National Seashore Park
In Ibaraki Prefecture, on the site of a former American military base in Japan, there is Hitachi National Seashore Park. It is a place unlike any other in the country or even the world. Anyone who travels to the Land of the Rising Sun with a sightseeing program, be sure to include Japan's Hitachi Park in your plans.
What is interesting about Hitachi Seaside Park in Japan?
The national park covers an area of 120 hectares, which is a kind of record for this kind of parks. This includes countless fields with a variety of plants (mostly flowers), a swimming pool for visitors, a luna park, cafeterias, children's play areas, and even a zoo with exotic fauna. The area is riddled with miles of hiking and biking trails. The name of Hitachi Seaside Park in Japan (Hitachi Seaside Park) translates as "dawn". And indeed, it is in the morning hours that walks here bring an extraordinary state of peace to the soul.
Hitachi Seaside Park in Japan is a field of simple but extremely beautiful flowers. It is their mass accumulation that makes walking through the park so exciting. From time to time, flower festivals are held here, for the sake of which fields of tulips, nemophila (forget-me-nots), poppies, cosmos, and lilies are planted.
Looking at photos of Hitachi Park, one wants to understand what fluffy balls, similar to our tumbleweeds, occupy huge territories. At different times of the year they have a special color: in spring and summer they are green, in autumn they become pink and yellow, and closer to winter they are poured with bright red crimson. All this is a remarkably unpretentious cochineal, a shrub that can grow in any soil and with minimal care amaze with its shapes and shades.
The park is designed so that there is always something in bloom. Blossom of some plants is replaced by others, and so until late fall, and then until March there is a winter break. In the groves under the trees you will find modest daffodils and a little further away there is a whole field of tulips, numbering more than 170 varieties.
But the real queen of the park is American forget-me-not, or nemophila. It comes in many varied shades, but the most colorful of all are the blue ones. People come from far and wide to see these blue-blue fields in bloom. Come and see it and take a piece of Japan in your soul, transparent and airy like the blue nemophila.
How to get to Hitachi Park?
The town of Hitachinaka, near where the park is located, is 137 km from the Japanese capital. It takes 1.5 hours to get from Tokyo to Hitachinaka by high-speed train, and then another 20 minutes by bus. Moreover every day regular buses go along the itinerary of the city-park, so you won't get lost even if you don't speak the language.
Hitachi Seaside Park. Japan
On the east coast of Japan's largest island of Honshu, about one kilometer from the waters of the Pacific Ocean is the well maintained and insanely beautiful Hitachi Park. It is located within the city of Hitachinaka, Ibaraki Province.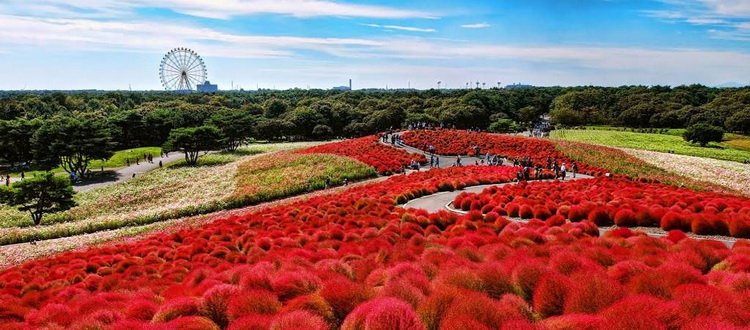 Hitachi Park on a map
Geographic coordinates 36.405002, 140.600285
Distance from Tokyo, Japan's capital city, is about 100 km.
Nearest Narita International Airport about 75 km
A little history
The official name of the park is Hitachi Seaside Park (in the original Hitachi Seaside Park). The name Hitachi that we are accustomed to (it includes household appliances, industrial equipment, and many other things) should actually be written Hitachi, which is due to the peculiarities of the Japanese language.
So, in Japanese, "Hitachi" means "dawn". If you take into account where Hitachi Park is located, it's quite clear why the park has such a name.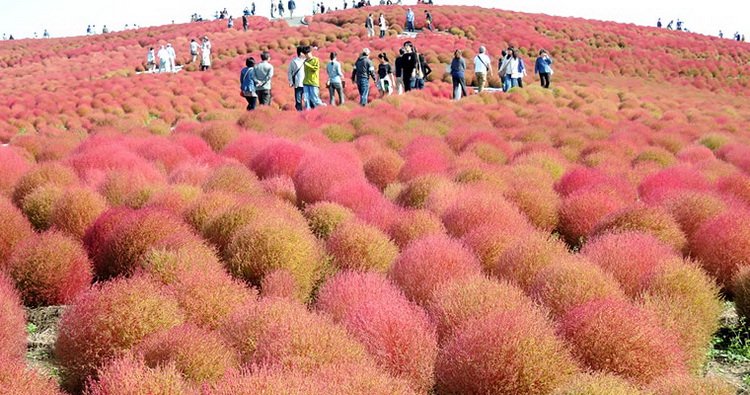 Originally there was an American military base, but in 1991 this remarkable park was established here. In our opinion, the transformation of a military base into a blooming and fragrant oasis is the best thing that could have happened to this piece of land.
So what is so beautiful about this park? On the one hand it is just a city park where thousands of people come to relax from the hustle and bustle of the city.
As a rule, in any city there are places where a person can have a little time alone with nature and peace. In Rio de Janeiro, Brazil, it's Tijuca Park, a tropical jungle right in the middle of the city. In India's capital, it's the Lodi Gardens.
But on the other side it is a whole 190 hectares, which is now a wonderful, impressive and unforgettable spectacle. Millions of flowers grow within the park and bloom at different times. Hitachi Park comes alive in March. This is when daffodils bloom in the park. There are more than a million of them. In April, tulips of 170 species and all colors of the rainbow bloom.
Looking at this magnificence, involuntarily I have associations with the Kekenhof Park in Holland (there are an incredible amount of tulips). In the park you can also find lilies, poppies and sakura.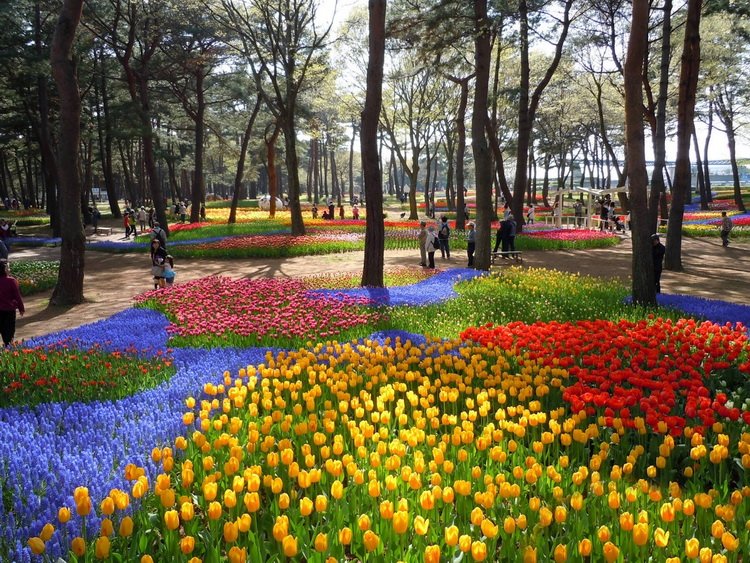 Nemophila blooming
But this is not all. From the beginning of May comes the flowering of nemophila. It is a delicate blue or blue flower. Imagine, about 5 million flowers bloom and fill huge areas, turning the park into a blue-blue carpet.
At this time, the park hosts the Harmony Nemophila Flower Festival. This event attracts a huge stream of travelers.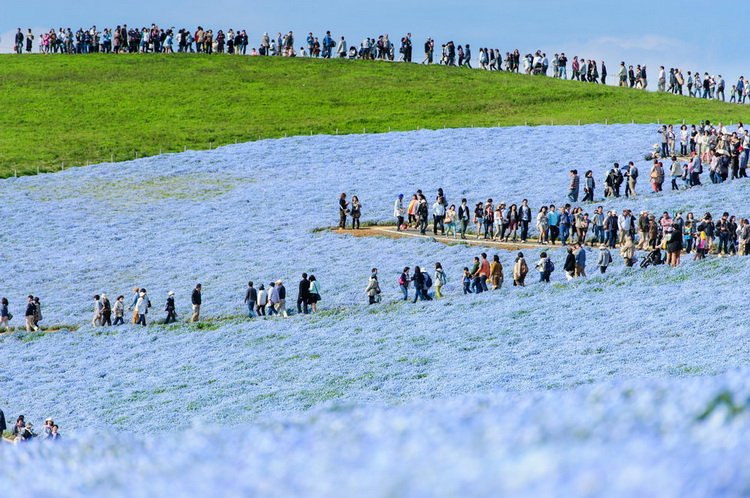 Cochium orbs.
Beginning in early July, the park is covered with amazing "balls" of kohia. This interesting plant in Hitachi Park really does look a lot like large rounded bush balls.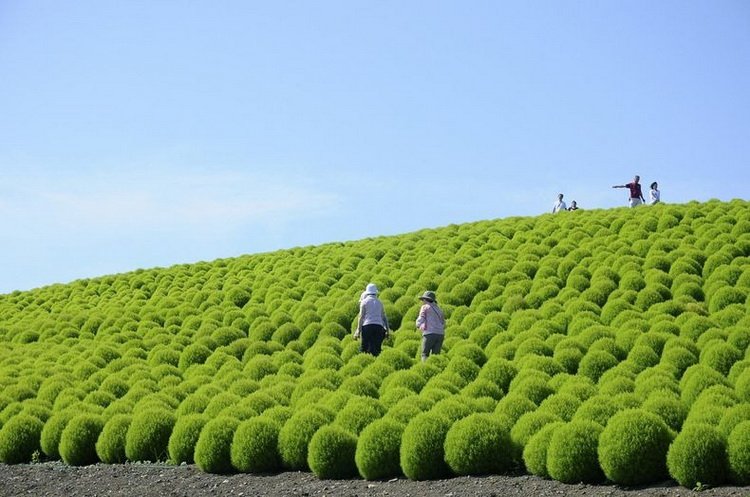 In early fall, the kohia bushes begin to change color. Gradually the greens give way to yellows, oranges, and reds.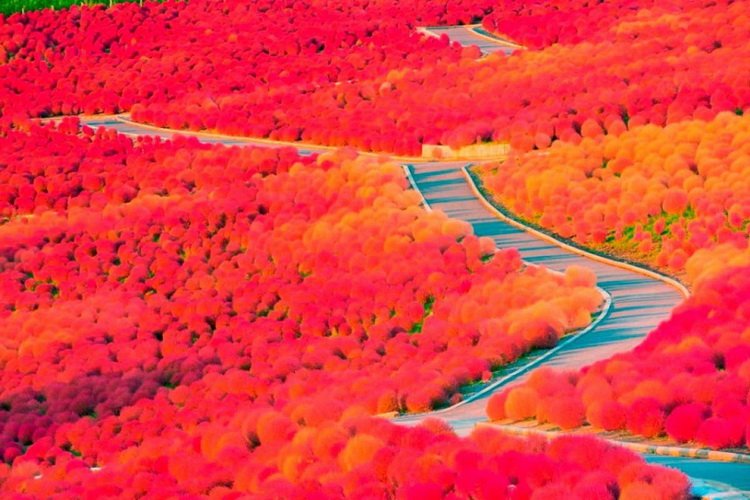 As winter sets in, the park falls asleep and builds up its strength to amaze us again next year with its splendor.
Hitachi Park is not the only flower attraction in Japan. The floral waterfalls of Kawachi Fuji and the Wisteria Tunnel are worth mentioning.
In addition to the stunning floral extravaganza, Hitachi Park also has traditional attractions for citizens and tourists – a swimming pool, zoo and amusement park, hiking and biking trails, and a Ferris wheel.