What to see in Mui Ne: attractions near the resort
Mui Ne is a small fishing village on the southern coast of Vietnam. Its closest neighbor is the city of Phan Thiet.
I must admit, I was not impressed with Mui Ne at first sight. In the guidebooks Mui Ne resort is described as a place with heavenly beaches. In fact, due to soil erosion, the beaches here are more disappointing than charming. Some of them are poured with concrete, the rest are close to a busy road, and therefore very popular. For a beach holiday in Vietnam, it is best to go to the island of Phu Quoc.
Another feature of Mui Ne – there are a lot of Russian tourists.
Despite all of the above, it was worth me to get acquainted with Mui Ne more closely, as I fell in love with this resort. In this article I will tell you what is so remarkable Mui Ne (Vietnam) and what attractions can be seen here.
Where to look for cheap tickets? The best way to do this is with the Aviasales search engine. Be sure to look at the price calendar and check adjacent dates. Read the instructions on how to find the cheapest plane tickets yourself.
What to do in Mui Ne
Interactive map of Mui Ne attractions.
Hon Rom Beach and Water Attractions
The beach I liked most in Mui Ne was Hon Rom beach. It is not the most popular among tourists because it is a bit remote, but it is quiet and very beautiful. This is one of the places in Mui Ne that I recommend if you want a break from the hustle and bustle.
Opposite the beach are rocks of bizarre shapes, which in the rainy season are covered with thick green vegetation, and in the dry season – the yellowish grass. From a distance, the mountain looks like a haystack, which is why the place was named "Hon Rom", which means "island of straw.
Many people come to Mui Ne for surfing. The long sandy strip and windy weather make Mui Ne an ideal place for surfers. On the other hand, because of the high waves is uncomfortable to swim, and children should not be allowed in the water at all. Diving in Mui Ne is not a good idea for exactly the same reason. For this entertainment is better to choose the beach in nearby Phan Thiet.
How to find a good hotel in Mui Ne? You will be helped by a convenient service to search hotels Roomguru.ru – the site compares the prices of different booking systems and finds the best one. Read our guide on how to find a good and inexpensive hotel in Vietnam.
Mui Ne Harbor Fishing Village
© 97898436@N03 / flickr.com / CC BY 2.0
Not without a distinctive Mui Ne attraction. Mui Ne Fishing Village is a great place to watch the life of local fishermen and eat freshly caught seafood. I highly recommend coming to the village before 10am. This is when the fishermen return with their catch of live crabs, scallops, rays, and perch, and you have every chance of witnessing the spectacle.
At 7:30, the "blind bidding" takes place here. When fishermen and seafood wholesalers haggle blindly without seeing the goods. Sometimes you can hear cheers here if you manage to buy a rare fish, and sometimes the opposite.
On the southern edge of the village you can find a lot of colorful seashells on the shore. Many tour operators organize tours to this village from Mui Ne and Ho Chi Minh City. The fishing village is very close to Mui Ne and if you want to explore it on your own, you can easily get there by cab, motorcycle or bicycle.
If you are a photographer, you will love this picturesque place. Be sure to try the fresh seafood at the local market.
Where is it: 7 km north of Mui Ne, see map
Fei Creek in Mui Ne.
© magtravels / flickr.com / CC BY 2.0
There's a lot to see in Mui Ne. Take Fei Creek in Vietnam. Not the Grand Canyon, of course, but also a very beautiful place.
Fairy Stream Mui Ne is a small red canyon in Mui Ne. It is called red because of the dramatic combination of red, orange, pink and white. Fairy Stream is located 18 km northeast of Phan Thiet. It is a water rift, which is located near the island of Hon Rom (already familiar to us straw island). On one side are white and red sand dunes, on the other are coconut palms and flowers.
You can explore Fairy Creek on your own. All you have to do is walk up the river, at the end you will see a small waterfall. Afterwards, you can turn around and head back. The walk back and forth through the canyon will take an hour and a half.
It is very hot to walk along the shore during the day. You can take off your shoes and wade through the water of the river flowing from Dinh Hint Tien Mountain. For the most part, the depth will be up to your ankles and only in some places will rise to your knee.
There are two "official" legends about Fei Creek that the guides tell:
One says that in the past only wives and daughters of dignitaries were allowed to swim here;
The other says that fairies really bathed in the creek and therefore it has healing powers.
There is also a third legend. That the name of the creek is a lure for tourists. It is up to you to decide what to believe.
You can wear comfortable clothes and if necessary, take a change of shoes. To get wet here is a piece of cake. Here you can ride an ostrich for 100,000 VND. You will be approached by Vietnamese children and teenagers who will offer to watch your shoes for a fee or be your guide. If you do not intend to use their services, it is better to reject, otherwise they will demand money for walking with you next door.
Lovers of more active recreation can climb to the top of sand dunes and rock formations. From there, you'll get a breathtaking view of the reddish waters of the river and the bizarre stalagmites. Admission to Fairy Stream (Suoi Tien in Vietnamese) is free.
Don't be afraid to get hungry, there are several food stalls along the way. And upstream there are bars and restaurants.
Where is Fei Brook: Huynh Thuc Khang, Ham Tien, Phan Thiet – Mui Ne, see map.
How to get there: if you are part of a tour group, they will arrange a transfer. If on your own, you can order a cab for VND80,000, take a bicycle or bus #1 or #9 for VND12,000.
Dunes of red and white sand
© blue_f / flickr.com / CC BY 2.0
The red and white sand dunes in Mui Ne are one of the region's top attractions and a veritable mini-desert in Vietnam. There are many tour operators organizing day trips to the dunes in Mui Ne, but you can easily visit them on your own.
The white dunes consist of yellow and white sand. They are very reminiscent of the Sahara. They are the largest dunes in the region. Locals call them "Bau Trang," which translates to "white lake." Here you will find many stalls with food and drinks. They usually nestle near the pine trees where you can relax in the shade.
The dunes are located 26 km northeast of Mui Ne. On the way to the dunes you will meet more formations of yellow and white sand smaller, most importantly, do not confuse them with the main dunes.
Next to the white dunes there is another attraction – the Lotus Lake. Here you can rent a boat, but it is strictly forbidden to swim. The lake is deep – 22 meters, and it is very easy to get your feet entangled in the lotus stems.
What to keep in mind: It makes sense to come here when the lotus lake is in bloom, otherwise it is unremarkable. Blossoming of lotus in Vietnam is from early July to late September, the second wave of flowering is shorter and falls in November.
© chiccops / flickr.com / CC BY 2.0
The red dunes of Mui Ne are smaller and closer to the resort, just 17 kilometers away. It has red-brown sand with very beautiful hues that attract many photographers.
The best time to visit the dunes is in the morning or evening. In the afternoon, the sand gets very hot. Take plenty of water with you.
The dunes are very fun to ride on an ATV. Here you can also rent plastic sleds and ride the dunes, as from the slides. The main thing is to find a good dune, as the sand is constantly flowing from place to place. It is best to roll down from the dry sand. Many people fly kites here.
The red dunes have a very beautiful sunset and many locals come here in the evening for a picnic. The red and white dunes of Mui Ne have not yet left anyone indifferent.
Poshanu Cham Towers
© 35395636@N03 / flickr.com / CC BY 2.0
A must on the "what to see in Mui Ne" list, the Po Shanu Cham Towers (Po Shanu Cham) are conveniently located at the top of Ong Hoang Hill. The temple complex consists of three cham towers built in the 8th century. Together with the Po Dam Towers and My Son Reserve, these ruins are among the attractions of the ancient kingdom of Champa. The main tower is 15 meters high and the other two are 12 and 5 meters.
Archaeological excavations carried out in 1992 – 1995 have revealed several temples dating back to the 15th century. They were all dedicated to Princess Po Shanu, daughter of King Para Chanh.
If you explore the past of these towers, you will find a fortress used by French and South Vietnamese troops and a memorial to honor the revolutionaries who launched the attack on the towers in 1947.
Thanks to its high location, it offers a beautiful view of Phan Thiet and the coastline.
How to get there: you can reach the Cham towers from Mui Ne by bicycle, cab or even on foot. Do not miss the towers will help you a beautiful stone sign with the inscription "Nhomdenthap Cham".
Entrance to the temple complex will cost you 10,000 dong. If you come with your bike, you will need to pay another VND 2,000 for parking.
Location: Ong Hoang Hill, Mui Ne, see map
Did you know that often a trip to Vietnam is cheaper than a flight? In this case the price of the tour includes a flight, accommodation, transfers, insurance and meals of your choice. You can buy your trip online. It is convenient and safe. If you want to save money, read the instructions on how to find the most profitable tour.
Look at the price statistics from Level Travel, and I advise to buy tours in Onlinetours. In addition, the readers of travelest.ru discount to 3% on any tour. Take it!
Mountain Taku and the pagoda of the reclining Buddha
Mount Taku covers 250,000 square meters of lush rainforest, rare wildlife, limestone caves and ornate Buddhist shrines. Mount Taku is an hour's drive from Mui Ne. You can reach the top of the mountain in a 2-hour hike or a 10-minute cable car ride.
The first option is suitable for hardy hikers because you have to climb a steep staircase and then a winding path in the middle of the forest. At the end of the trail, the Lying Buddha awaits you. Along the way you will encounter several small shrines and a restaurant. If you climb the mountain on your own, the entrance ticket to the temple complex will cost 15,000 VND for adults and 10,000 VND for children.
If you choose the cable car, you need to pay 160,000 dong for the ride to the top of the mountain. This price will include a round trip cable car, entrance fee and electric car ride through the area. The ride itself takes 6-10 minutes. On the way you will have a dizzying view of Thuan Nam Town, Ham Thuan An Sea and Ke Ga Lighthouse, as well as rice fields and dragon trees.
You can also take a tour from any local travel agency. It will cost you 25 dollars.
On top of Mount Taku, the Lying Buddha Pagoda has several halls for worship, three entrances, intricate animal sculptures and colorful paintings of deities.
The main attraction is the 49-meter statue of the Lying Buddha. The largest Buddha statue in Vietnam. Next to the main statue is the Three Poses of Buddha statue complex, each statue is 7 meters high.
The "Lying Buddha on Mount Taku" complex is open all year round. During the Lunar New Year, thousands of Buddhist devotees come here to worship the shrine.
Where is it located: Ham Thuan Nam, Binh Thuan, map location
How to get there:
By cab;
By bus #4 from Phan Thiet;
By bike;
Along with a tour.
To that end. I have listed the main attractions of Mui Ne that every traveler coming here should see. I wish you a successful vacation. See you in other articles.
Holidays in Mui Ne: the pros and cons of the resort
Why do Russians love and hate Mui Ne so much? Read our review! Pros and cons of holidays in Mui Ne in 2022, prices for hotels, food and entertainment, the best attractions, all the truth about the beaches and the resort.
Content:
Vacation in Mui Ne: what to expect from the resort
What the resort looks like . If you are going on vacation in Mui Ne for the first time, it is important to know: Mui Ne is a fishing village on the cape, where the locals live. Tourists there almost never meet. Phan Thiet is a big city. But when they say they go to vacation in Mui Ne, they mean many kilometers of beach between the fishing village and Phanteet. Its length – about 20 km. Along the coast runs just one street, clammed as clams, hotels and resorts, shops and restaurants, drugstores and souvenir shops. That is where the tourists live. In general, it is not a promoted resort with green neat streets, but a tourist zone, cluttered with advertising and signs. Don't expect much.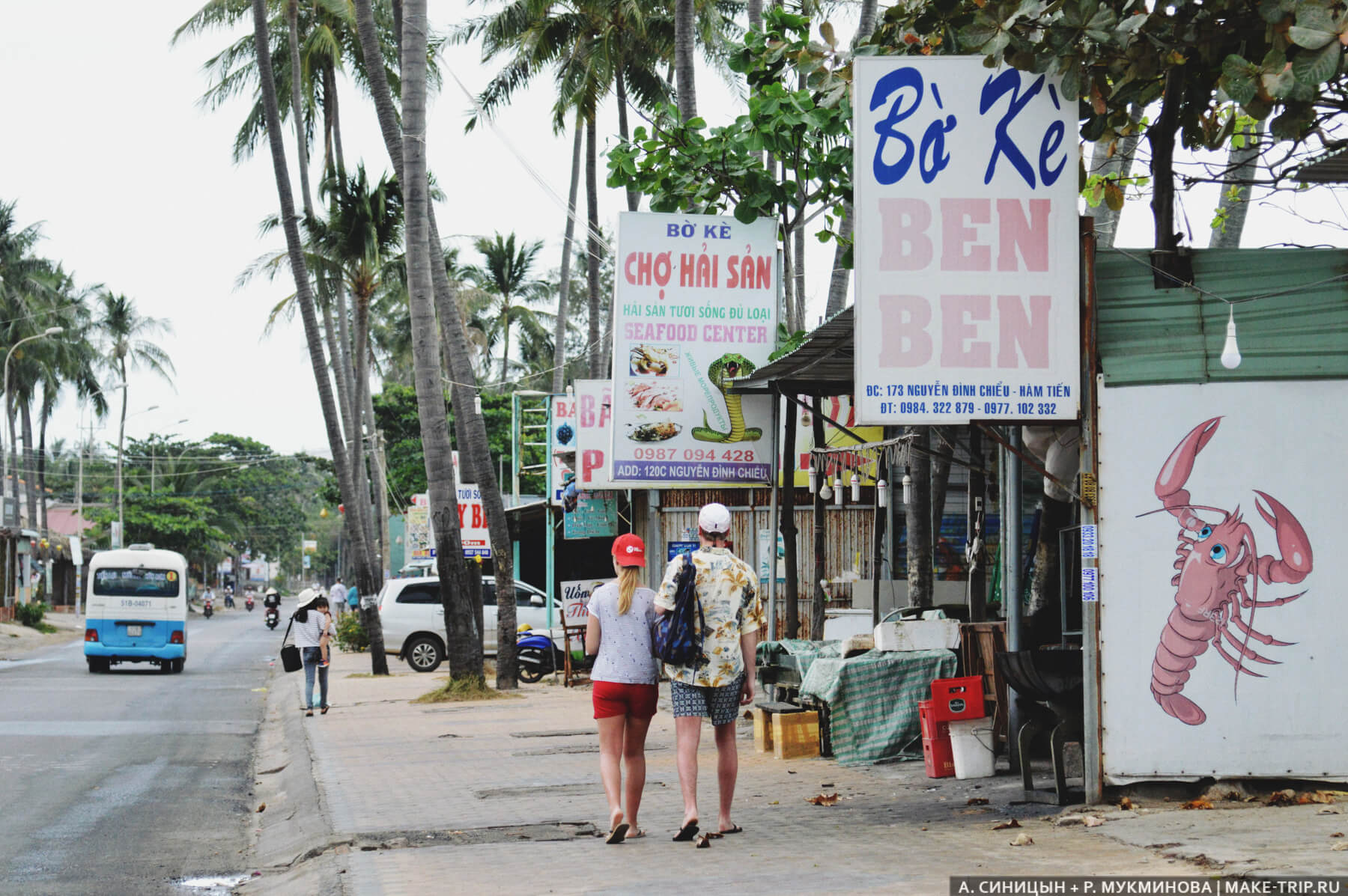 This is what the main street in Mui Ne looks like: countless cafes, bokeh, travel agencies.
Tourist opinions about Mui Ne . As in the case of Nha Trang, we have long put off visiting the resort because of the stereotype that it is a Russian ghetto. Tourist reviews of holidays in Mui Ne are contradictory, from enthusiastic to devastating. The first we suspected in the pursuit of promotional purposes. These reviews are either paid by hotels / travel agents, or wrote them people just lived in a good resort and did not go beyond its limits – too rosy picture of rest at the resort, they draw. The latter are usually due to personal bad stories (robbed, cheated) or inflated expectations.
Why did we decide to visit Mui Ne? Here are a few reasons:
The main thing is the sights, namely the dunes. I love the desert and space landscapes.
It was eerily curious why the village is so stigmatized on the Internet and whether everything is so bad in fact – because with Nha Trang turned out to be not as they say.
I wanted to close the gestalt, because we've been to almost every corner of Vietnam, and this village has not dignified the visit.
The weather in Mui Ne.
At the resort we stayed only five days in January. The forecast promised rain, but it was just cloudy. At first I was upset – how to take beautiful pictures of the famous red and white dunes in such weather. Then I realized that we were extremely lucky with the weather: we would not know the whole beauty of the Fairy Creek and the dunes in the hot sun.
So, about the weather . Thanks to the sand dunes has formed its own microclimate. There are no sudden cold spells, heavy rains and storms with floods. The rainy season is from June to October, but the showers are mostly in the evening and for a short time. Average air temperature is +30°C, in winter it is about +27°C. Water temperature in summer is +27. +29 ° C and in winter it is about +24 ° C. May and April are the hottest. Holiday for the New Year is popular.
We read in the reviews of tourists about the weather in Mui Ne and Phan Thiet that in winter because of the winds in the evenings can be cool. This is indeed true, especially if you ride a bike in the evening. I was freezing and wore jeans with a shirt.
Main street in Mui Ne.
What are the prices in Mui Ne in 2022
Look for the hot tours on Level.Travel and Travelata services – they will find the best deals among different tour operators.
Узнайте также: как покупать туры дешевле >>
Только для наших читателей: скидка 1500₽ на туры во Вьетнам >>
Prices for food in cafes
Exchange rate: 10,000 Vietnamese dong (VND) ≈ 32 rubles.
We came here after Fukuoka where the prices of cafes were very high. Mui Ne seemed to us like a paradise in terms of food – everything was so cheap! In general, the prices in the cafes are about the same as in Nha Trang.
Here are the prices of food, using Bo Ke Tho (seafood restaurant), where we had dinner every night and tried almost the entire assortment:
The dish
Qty
Price
Grilled scallops
15 units
50 000 VND
Fried or braised shark
1 pc
220 000 VND
Snake
1 pc
1 PIECE 500 000 VND
Fried frogs
Few pieces
120 000 VND
Grilled oysters
1 kg
120 000 VND
Crocodile steak
1 serving
150 000 VND
Ostrich steak
1 serving
200 000 VND
Fried red perch
1 pc
200 000 VND
Grilled or stewed turtle
1 pc
300 000 VND
Grilled eel
1 pc
220 000 VND
Squid
70 000-150 000 VND
Tiger shrimps
10 pieces
120 000 VND
Lobster
1 kg
1 200 000 VND
Rice with seafood
Portion
60 000 VND
Bokeh seafood in Mui Ne. You choose the creep you like and they cook it for you right away. The seafood is fresh and almost all of it is still alive. Curry soup in a cafe in Mui Ne. Many places have menus in Russian, often even one of the staff speaks Russian.
Hotel prices in Mui Ne – 2022
We stayed at the cheap Quoc Dinh gesthouse with great reviews for $13 a night. The room was simple, but we only stayed overnight in it. The hostel has a friendly hostess and very cheap breakfast. But most importantly, the location! On the outskirts of the tourist area, almost by the fishing village itself. We were glad to live not in the Russian ghetto, but in the outskirts: quiet, low prices, no kolkhoz signs in Russian and karaoke. We advise to settle in the area.
In Mui Ne hotel prices are slightly higher than in Nha Trang. Inexpensive hostel – $ 9 per night for a double room. 3* hotel – from $13 per night, 4* – from $30, 5* – from $90. If you go in high season, book in advance and always read the reviews of tourists.
Useful. During the New Year and Vietnamese New Year (Tet) prices on hotels go up, book in advance.
Search for discounted hotels in Rumguru. Check out our tips: how to book hotels cheaper.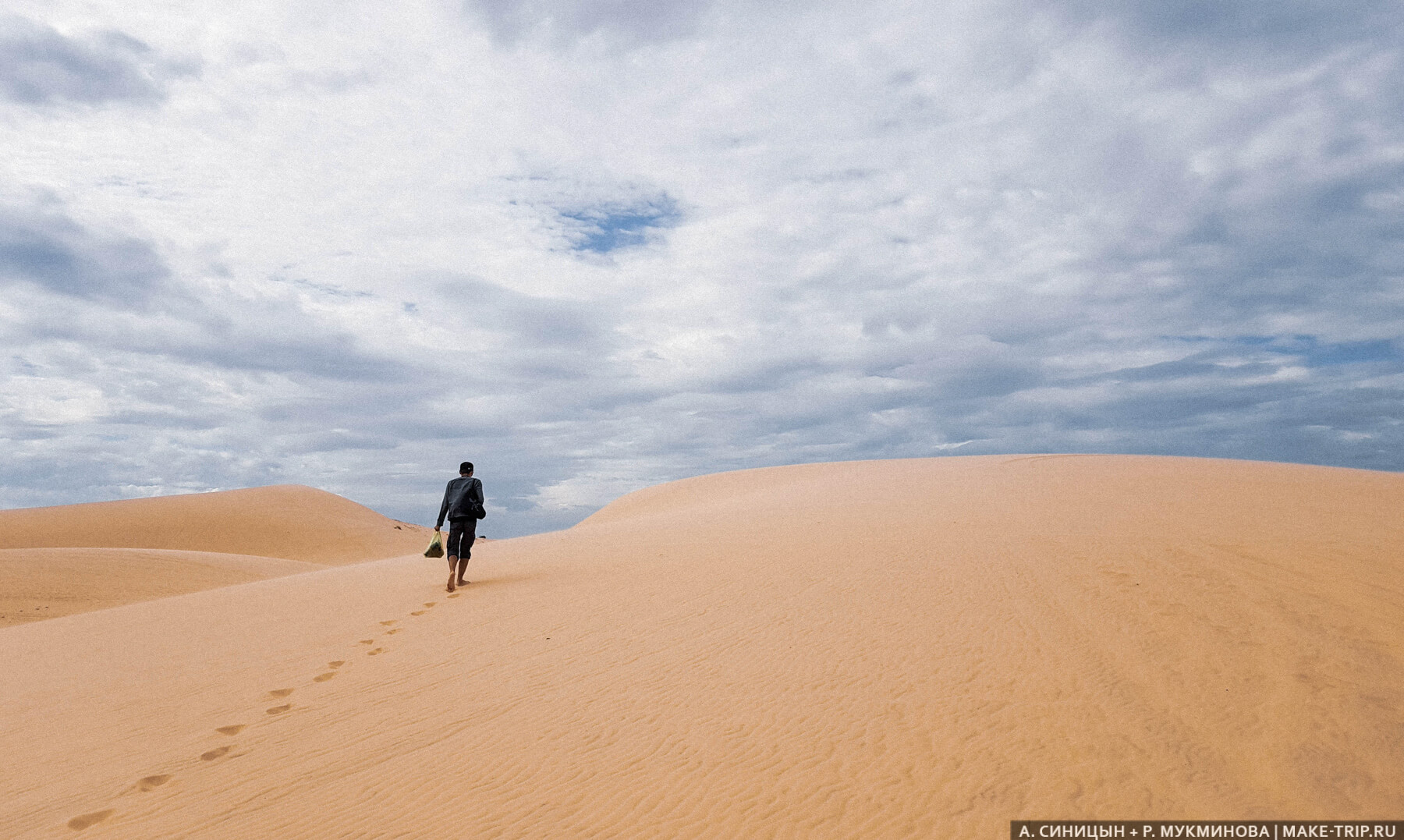 Walking the White Dunes of Mui Ne.
Mui Ne tour prices – 2022
The price range for excursions in Mui Ne is large – compare different agencies and conditions. The average is $25 per person. Here are a few examples:
tour to Dalat for 1 day – $30;
Tour in Ho Chi Minh City – $ 60;
Mt. Taku – $25;
Dunes and Red Canyon – $10.
Tourists are advised to take tours in the street travel agencies (almost everywhere there are Russian-speaking guides) – more interesting and cheaper. Do not believe the horror and intimidation of your tour operator and do not buy expensive excursions. And even better – take a bike (130,000 VND), if you know how to drive, and arrange a tour yourself.
Interested in shopping? There are no big stores and shopping malls – they are only in Phan Thiet. There are a lot of small shops, which sell mostly souvenirs. What to bring from Vietnam →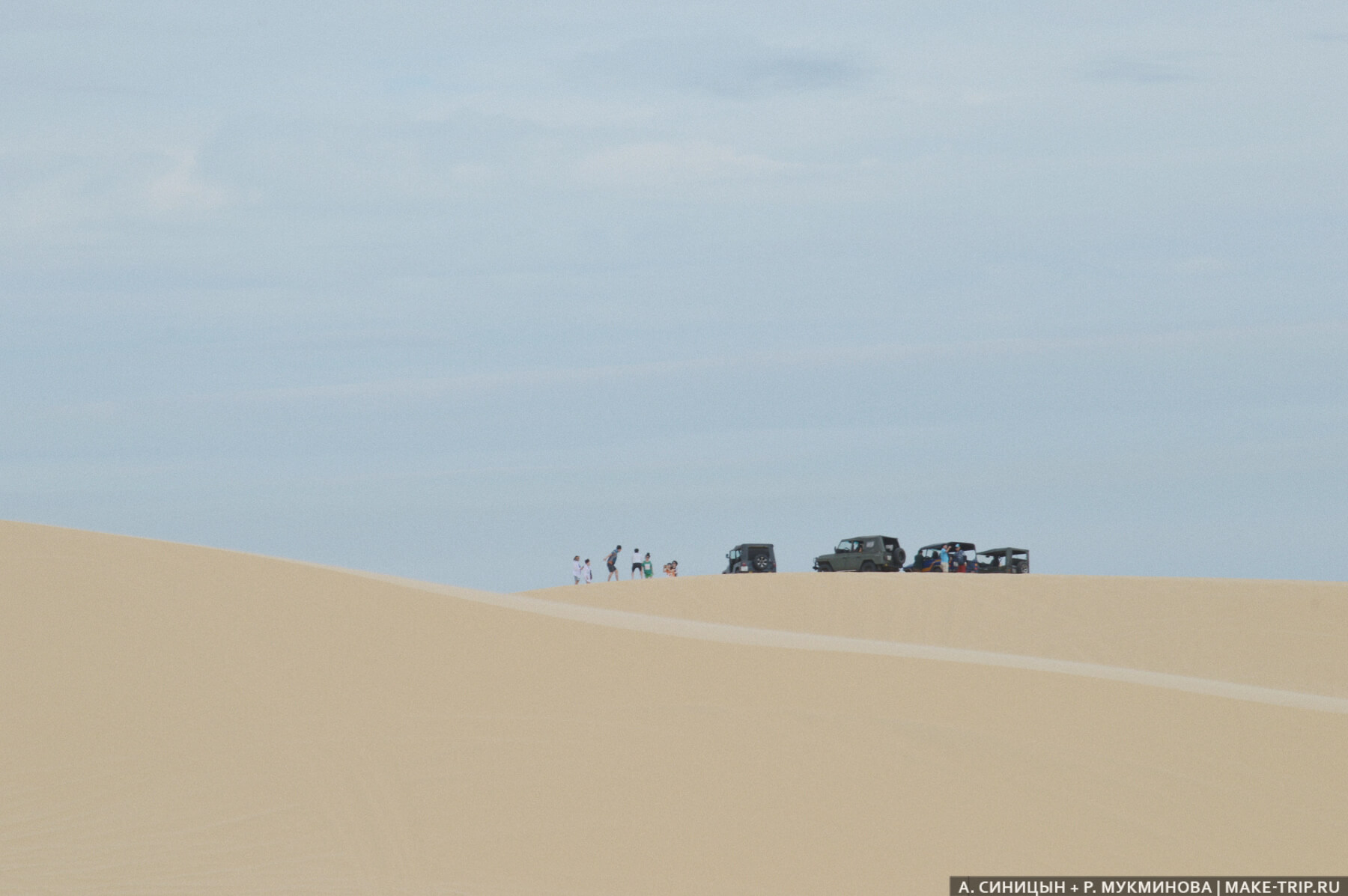 Jeeping in the White Dunes. The lines of the barchans are immaculate and beautiful – admire!
What to see in Mui Ne
While vacationing in Mui Ne, we visited several attractions:
Red Dunes . They are rather orange or yellow-red, depending on the lighting. Tourists bunch up on a few nearby dunes and mostly roll down on pieces of plastic. We went much farther out, where there was no one. There was a sense of complete isolation and tranquility. Best to visit at sunset and in cloudy weather. It is very stuffy during the day.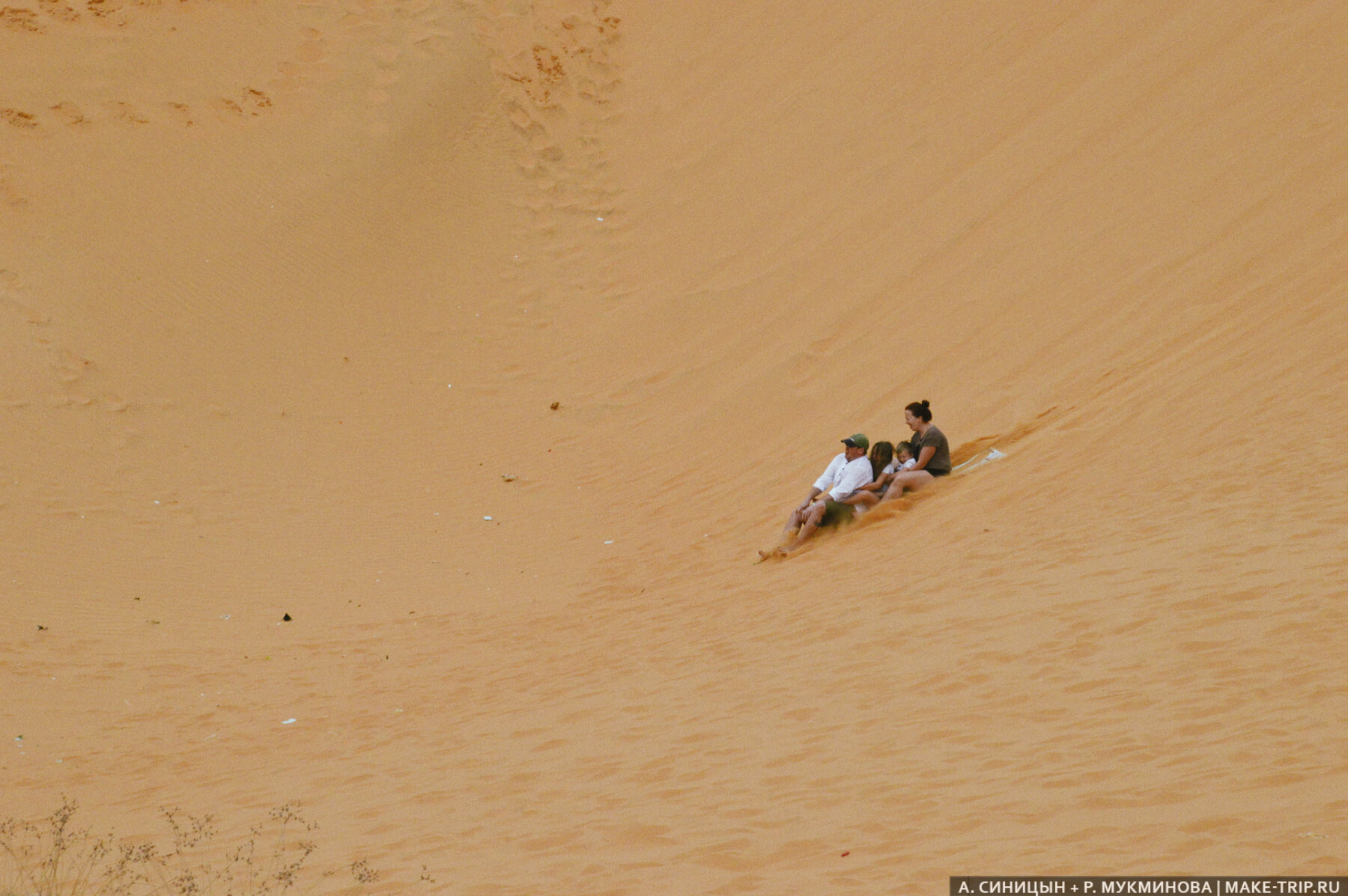 The red dunes in Mui Ne. Riding on a plastic "sled" here is the main entertainment.
White dunes. Very picturesque place, but tourists are more active than on the red dunes – ride quad bikes, jeeps and pieces of plastic. Therefore, there is noise and ruckus. Again, we got away from the people – it was great. At sunset, tour buses come by. There are several lakes near the dunes. It seems that during the rainy season, one of them is covered with lotus blossoms.
Picturesque white dunes near Mui Ne. A beautiful and unusual landscape. On the white dunes, tourists are a breeze to ride quad bikes and jeeps.
Fairy Stream (Red Creek). Fairy Stream suddenly turned out to be a very impressive attraction! The scenery is mind-blowing, the place is soulful. We climbed the sand in different gorges and looked at the creek from above, and launched a drone – so beautiful there. Spent a total of 4 hours in the place. You can get in both from the village, and from the side of the highway to Phan Thiet. The second entrance is good because it is clean, few tourists, free entrance, and the beauty of the place gradually. Parking is 5 thousand dong.
The view from the top of the fairy brook. In addition to walking along the creek, you can also climb the slopes of the canyon.
Red Canyon. It has its own charm, but a lot of trash. There were no people at all. It was unbearably hot during the day.
There are still a few sights of Mui Ne, which we did not have time to see:
Pros and cons of vacationing in Mui Ne
Why do many Russians come here time after time? What attracts them? Let's see what tourists like and what they are dissatisfied with.
Pros of vacationing in Mui Ne – 2022 :
Interesting attractions;
tasty cheap seafood – hardly a place in the world where you can eat clams, shark, turtle and other sea creatures cheaper;
inexpensive food;
cheap kite and windsurfing instruction;
suitable weather conditions for active sports;
good roads – nice to ride a bike;
almost no nightlife (for some people this is a minus);
many excursions, including trips to other cities – for example, Dalat or Nha Trang;
For those who do not speak English, well – almost everything is in Russian, some Vietnamese know the language.
If you live in a five-star resort and eat in expensive restaurants in the neighborhood, most likely, you almost do not suffer disadvantages of the resort (except the rough sea, of course).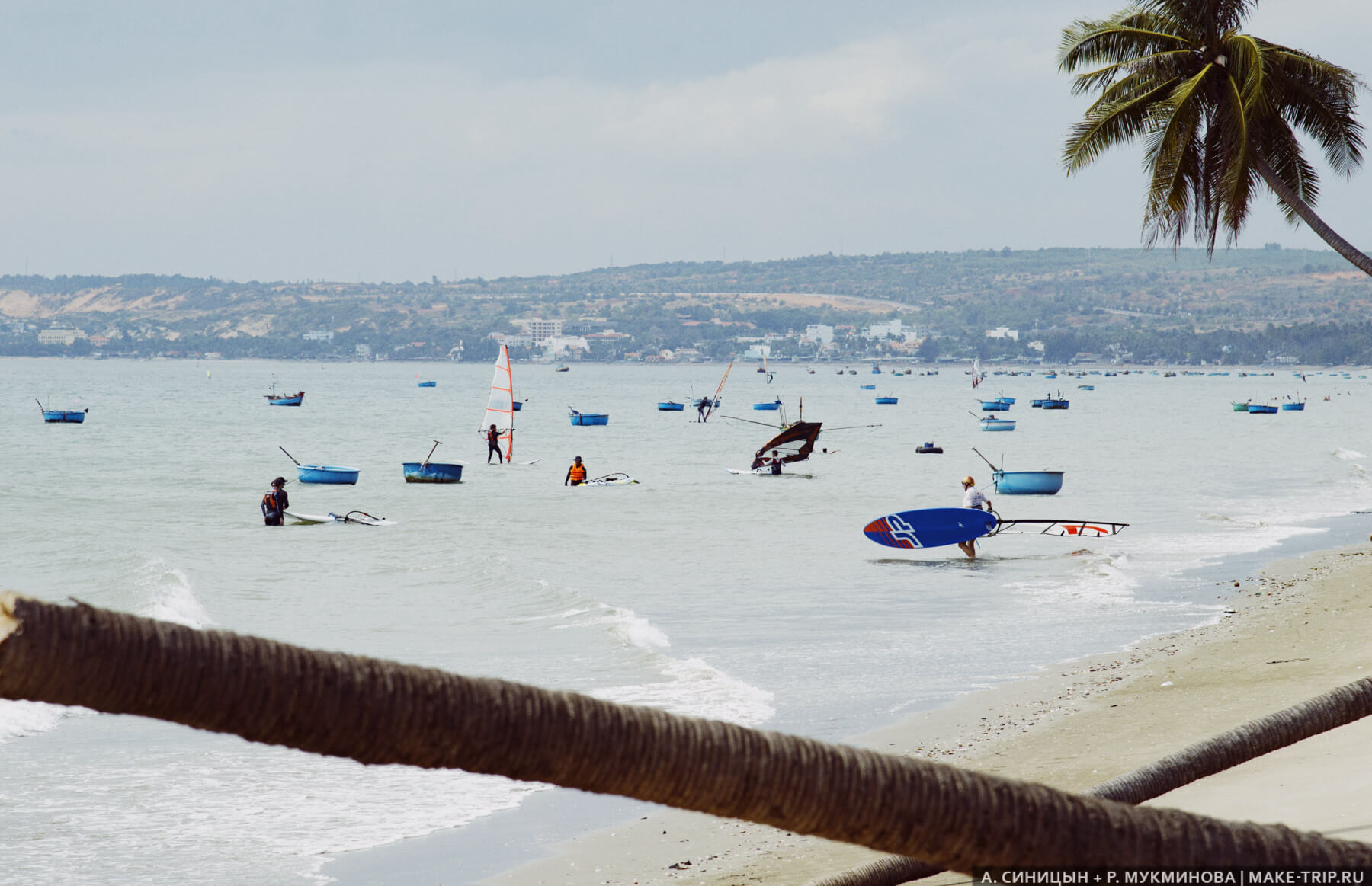 The beach in Mui Ne. Good only for windsurfing. Trash, muddy water – not a bounty.
Minuses :
Unsuitable weather conditions for beach holidays;
garbage, dirt and bad smells – the Vietnamese are not known for cleanliness;
the general disrepair;
contingent;
The abundance of advertising and ugly signs (design is not heard of here) – some people will consider it a trifle, but it greatly spoils the appearance of the resort;
long road from the airport;
beaches are cleaned only at expensive resorts;
locals are spoiled by tourists;
tourist area is very stretched, and without a bike is difficult (especially not everywhere there are sidewalks);
Passages to the sea or through wasteland and dumps, or resorts – but I doubt they will let you in.
About the sea and beaches. Some tourists write in reviews about the good beach and gentle sea in Mui Ne. People, are you serious? We did not venture into this "gentle" sea. Maybe we were unlucky with the weather. And the beaches are cleaned only near the hotel, for this area is better not to look out.
About the trash. It's everywhere here. Along the roads, on the sidewalks, on the beach and in the sea, on vacant lots. But this is a problem of Vietnam.
About nightlife. We do not like bars, clubs, discos and a general gathering of people, especially drunk. Therefore, can not say anything on this point. According to tourists, all the nightlife is concentrated in the institutions Dragon Beach, Sankara and Line Up Bar and Grill.
About the appearance of the resort. When we drove through the village on a slipbus, we were dazzled by the neon colors of the grotesque. There is a bad impression of all these signs with a design from the 90s with inscriptions in Russian: "Dima Tours", "Uzbek", "Drugstore", etc. Did we come to Vietnam or where? Why do you want to mess up the resort?
This beach is located north of Mui Ne village, here you have to ride a bike. It is spacious and fairly clean, but the winds are strong.
How to get to Mui Ne
We went to Mui Ne from Ho Chi Minh City by a day slip-bus. We chose Hanh Cafe: they even have daytime departures, not only at night, plus we went to Nha Trang with their help. There are many bus ticket agencies in Ho Chi Minh City – all lined up in one line along Phạm Ngũ Lão Street. Take your pick of any one. Prices and departure times vary. We use Hanh Cafe and Sinh Tourist. Ticket prices start at VND110,000.
The bus passes through Phan Thiet and slowly drives along the beach, dropping off everyone on the way. The main thing is to show the name of the hotel to the driver or its location on the map.
Our impression and review of vacation in Mui Ne
I can not say that the resort left a bad impression. If you are used to Vietnam with its features and mentality, nothing will surprise you. But the nature will please! Before the trip, we advise you to read carefully the reviews of tourists about Mui Ne and not to have inflated expectations, and choose a good resort.
So, we believe that you should go to Mui Ne just for the sights, delicious inexpensive seafood and recreation. That's all. We are puzzled why beach lovers (especially with children) go to where the wind is always blowing, the beaches are dirty and the sea is not swimmable. For the same money you can go to Phu Quoc, where the beaches and the sea a thousand times better, or Nha Trang. Or better yet – to Thailand. But if you like Mui Ne, then you're welcome.
Comments
Probably we were in different Mui Ne, went there 4 years in a row Although 9 hours by plane, then 5 hours by cab, which we booked back in Moscow Normal clean beaches, although we took mostly hotel on 1 line 4 and 5 * Smells – in Thailand smells better? All your minuses are due to the fact that you lived on the back of the city One huge minus, is the road from the airport and the fact that it is just a beach vacation. Nothing to do there, boring.