Review: House of Butterflies at VDNKh (Russia, Moscow) – A magical garden with big tropical butterflies.
Hello, dear friends and readers of Otzovik!
This is not the first time we came to the House of Butterflies on VDNKh.
Impressions of our first visit were unforgettable, my children and I often recollected huge tropical butterflies as big as an adult's palm, landing on hands, clothes, hair and not being afraid of people.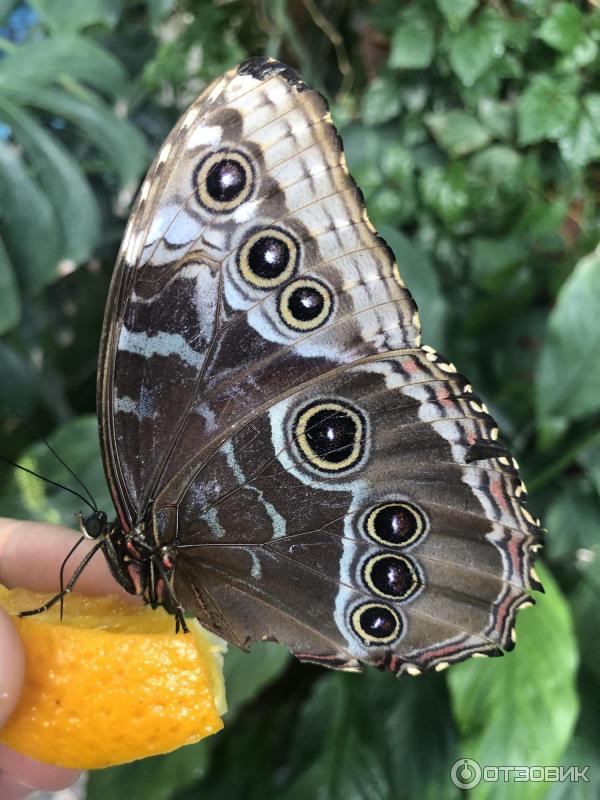 They used to be located in another pavilion, but now they have moved to a larger room. This is the beautiful one-story building that now houses the House of Butterflies: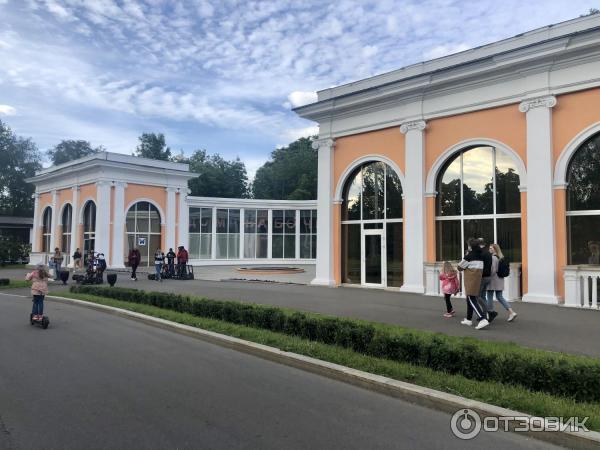 On the front door hangs a picture of a big beautiful butterfly.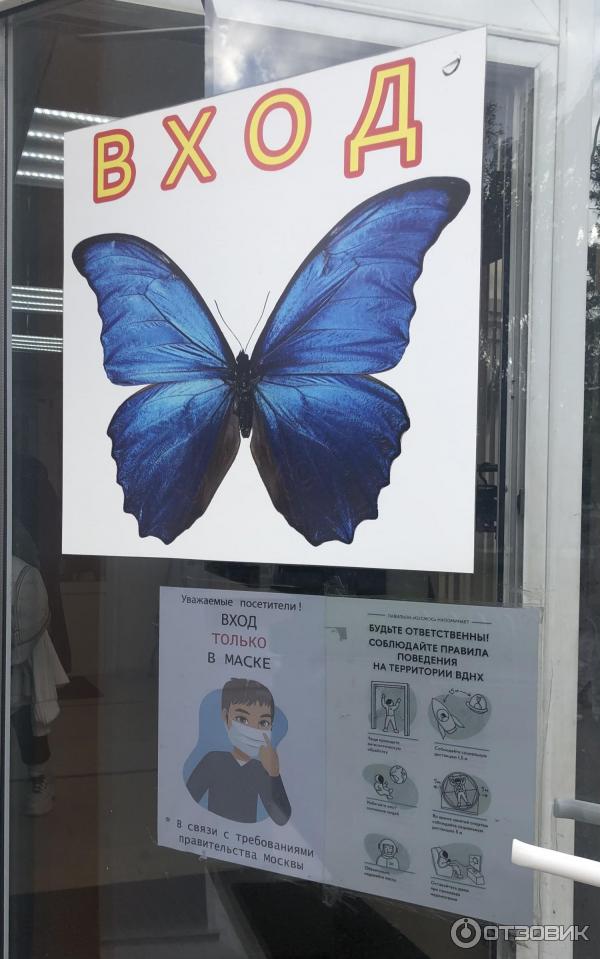 Once inside and after paying for our tickets at the ticket booth at the entrance, we entered a real tropical garden. Lots of tropical plants and a lot of humidity. And amidst these thickets fluttered a large number of colorful butterflies.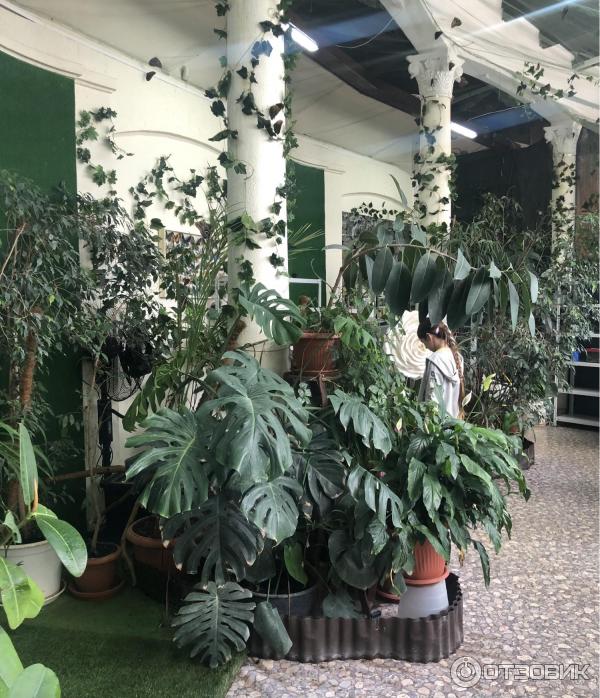 In several places in the pavilion there are tables with treats for butterflies. Slices of sweet, juicy oranges are laid out there for them.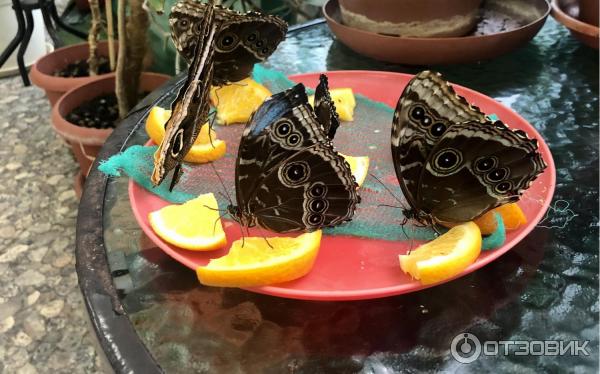 Several butterflies immediately settled on us. At this time, an employee explained to us the rules of conduct in the butterfly pavilion.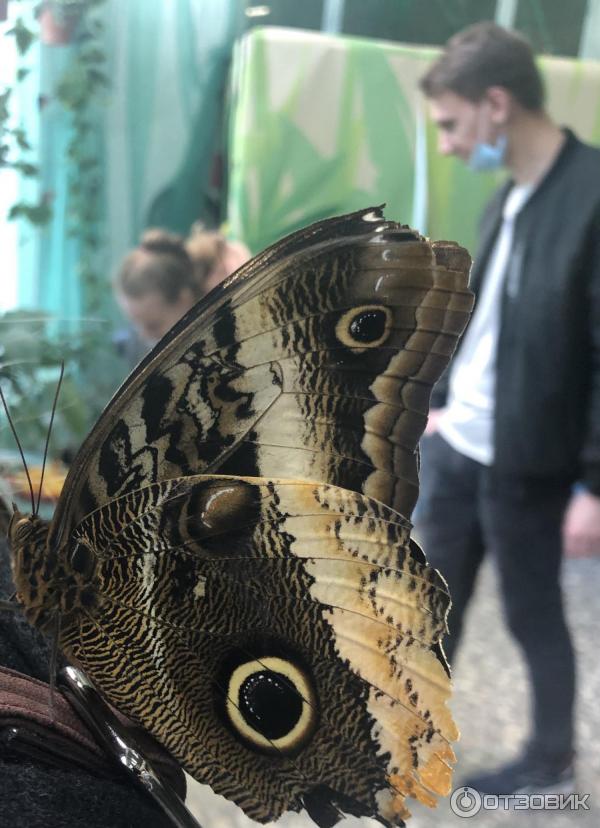 In order not to harm the butterflies, you need to behave very carefully and cautiously. If you want to take a butterfly in your hand, you must bait it with a piece of orange, putting it on your palm.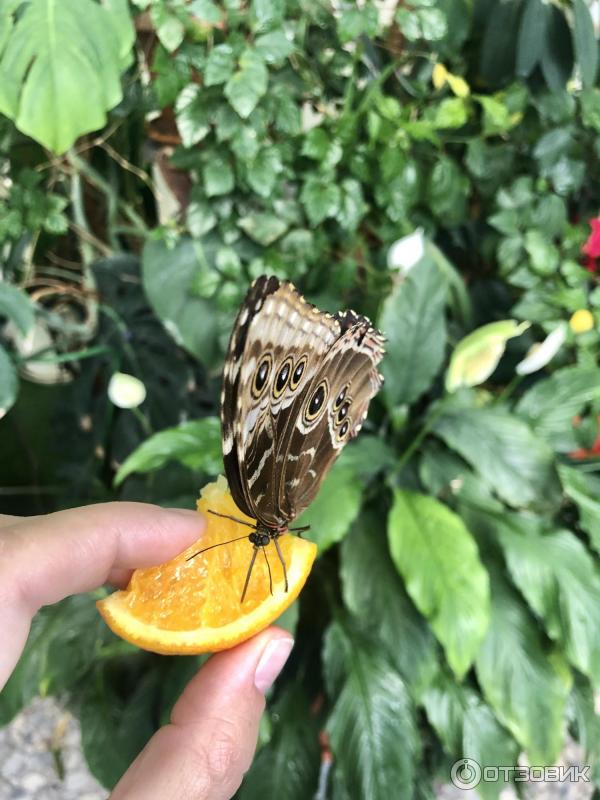 Butterflies behave very calmly and are not afraid of people. After setting the winged beauty on the orange, you can leisurely examine it close up and even take a picture.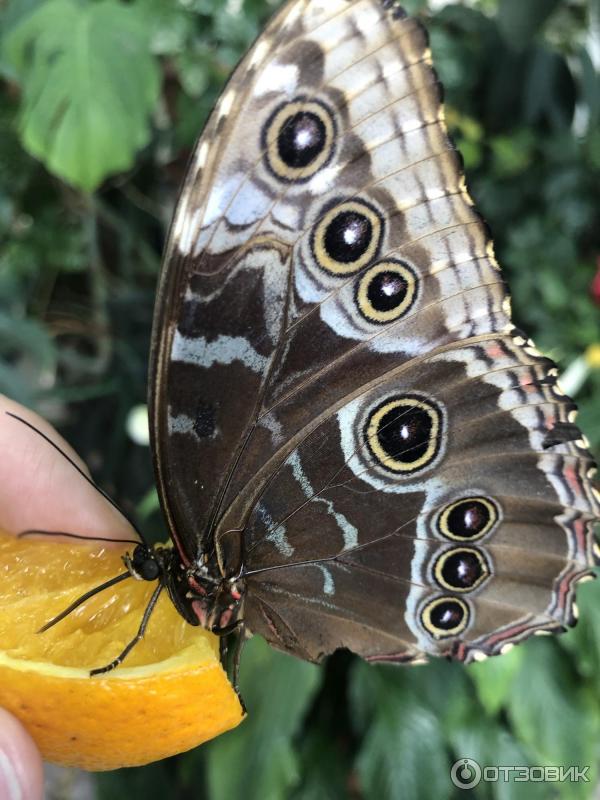 It is not necessary to attract them, they will land on your clothes and you should be careful not to crush their wings.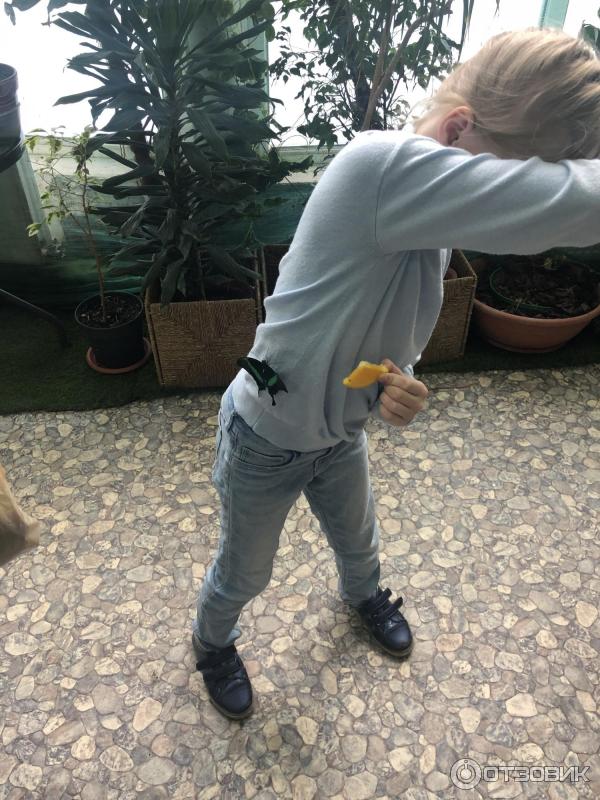 A huge number of butterflies flying around the pavilion, they land on flowers and visitors, swirl in the air and the feeling that they play with each other.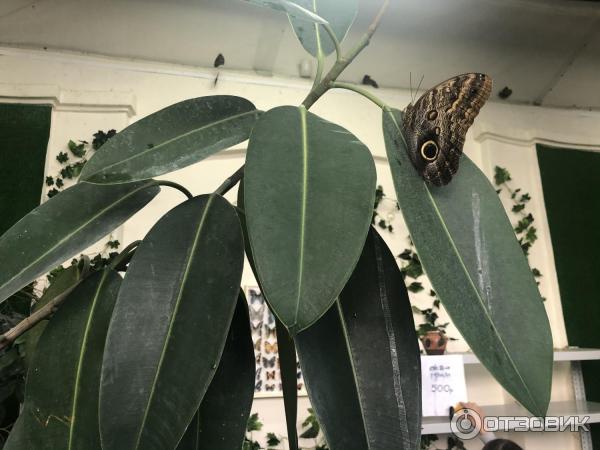 The pavilion is small, but very cozy. There are not many visitors at a time and you can enjoy the quiet communion with the butterflies.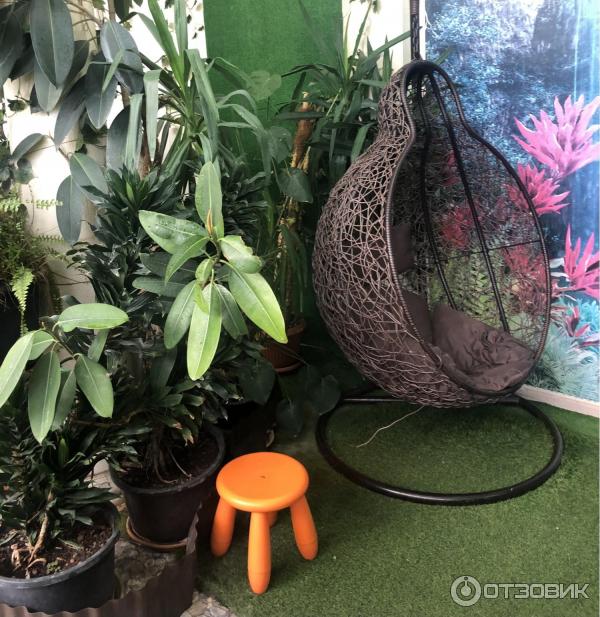 I liked this corner with hanging chair. I snuggled up in it with my new winged colorful friend.)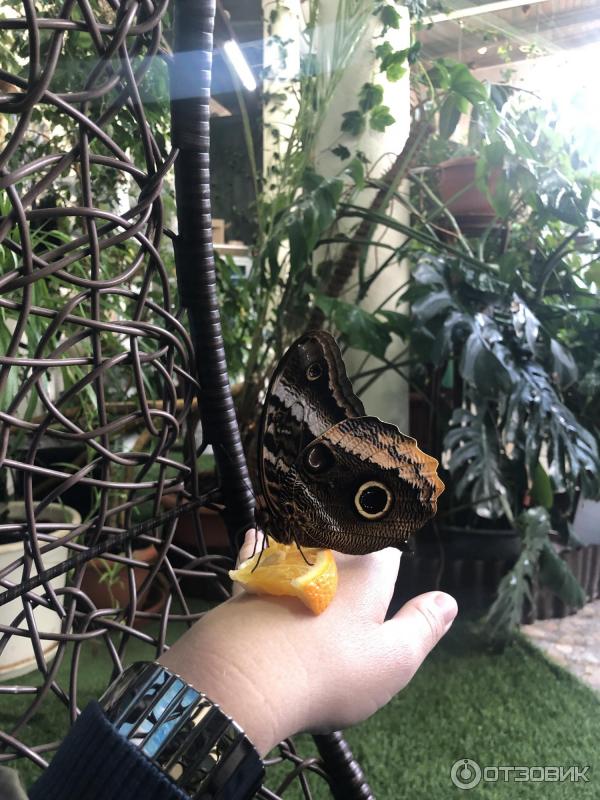 In the pavilion on the walls you can find pictures with the names of butterflies flying around.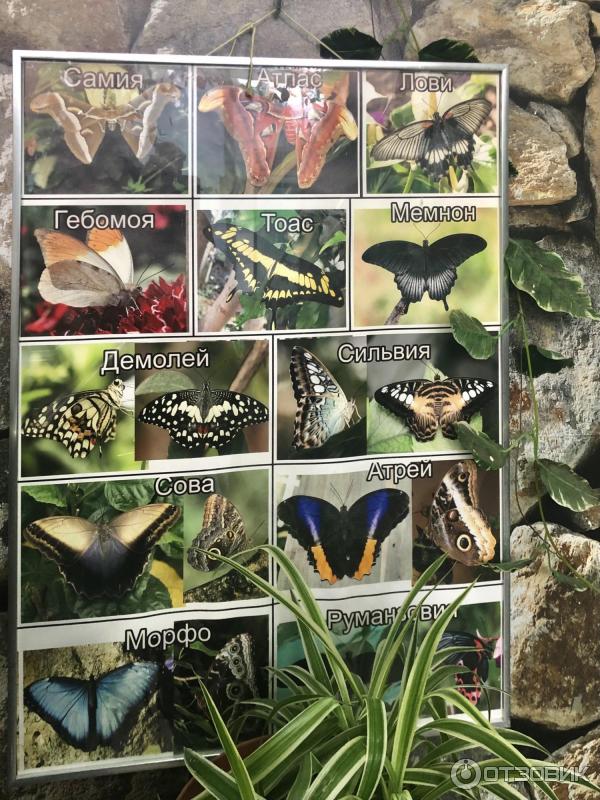 On our last visit we learned some interesting things about the nutrition of butterflies and even the kids remembered this information. It turns out that when a butterfly is not hungry, its proboscis is curled, and when it wants to eat its proboscis is straightened. And that's the kind of butterfly you can lure to a piece of orange.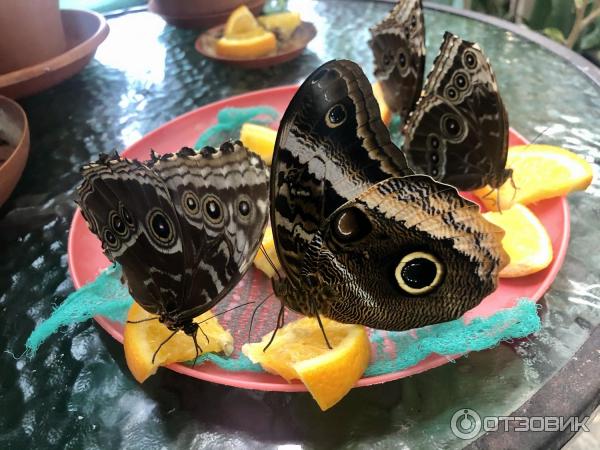 The butterflies are all very large and incredibly beautiful.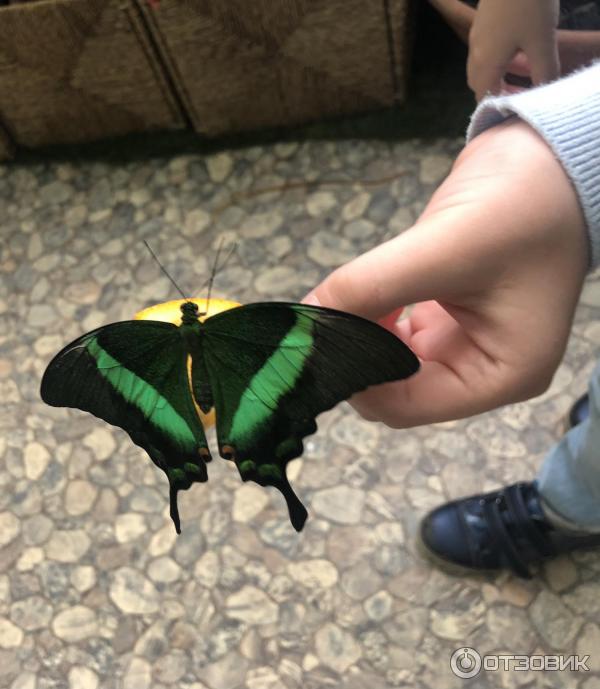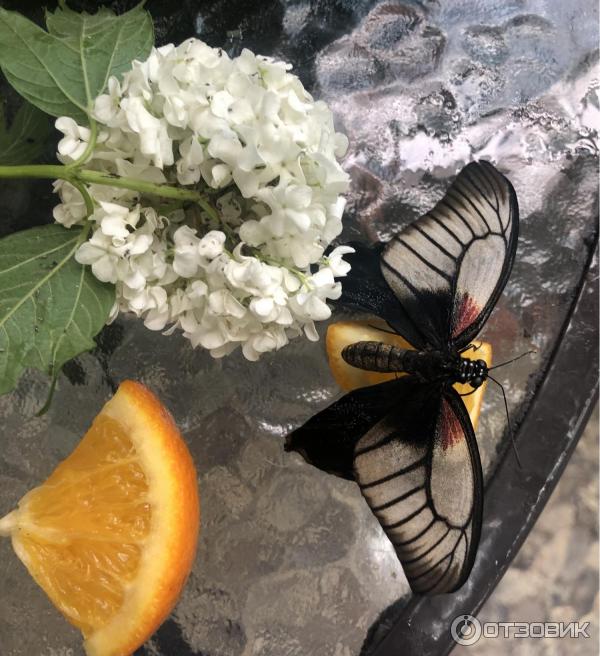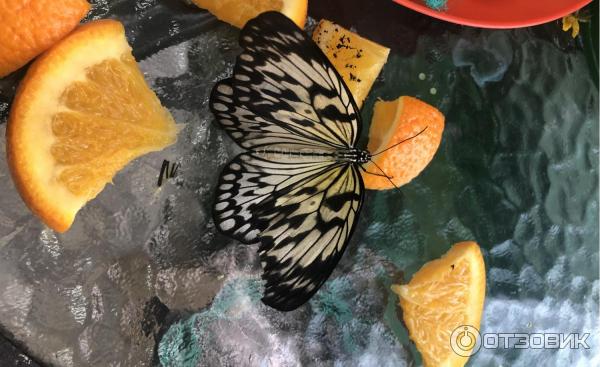 It is true that they do not always want to open their wings and show off all their beauty. Sometimes you have to wait with a camera at the ready.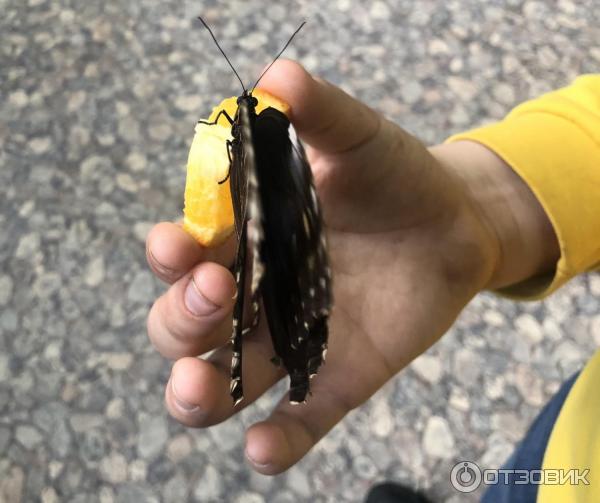 A little patience and here is such a gray-brown butterfly opens its wings and you have a blue miracle in your hands.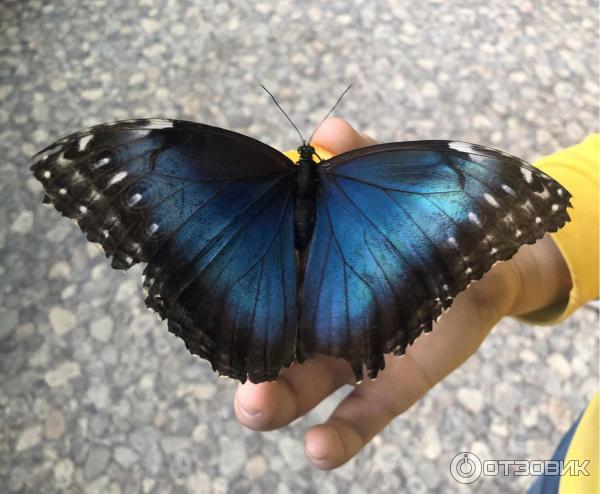 In one of the corners of the pavilion is a small babbling fountain.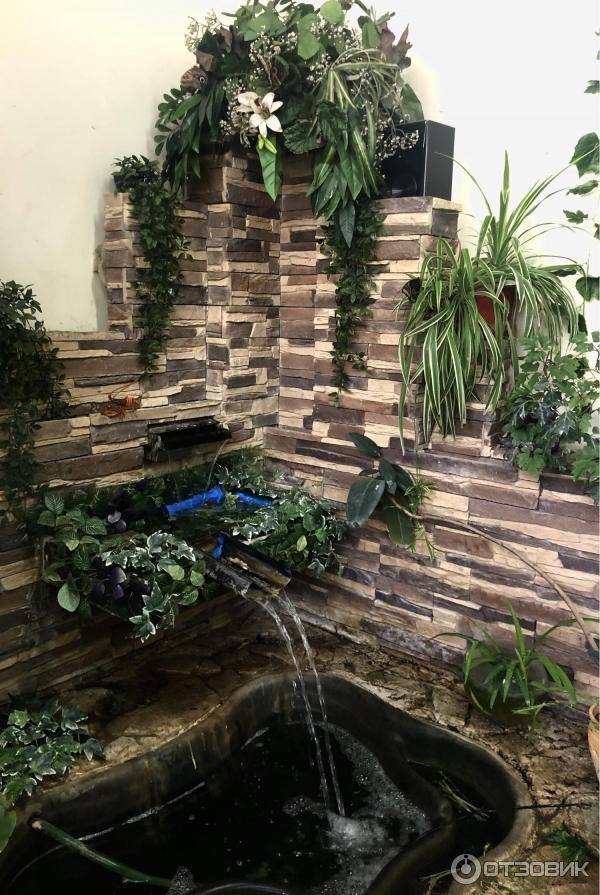 And at the end of the pavilion is a special cabinet with butterfly pupae. From these pupae and hatch butterflies that fly around us on the pavilions.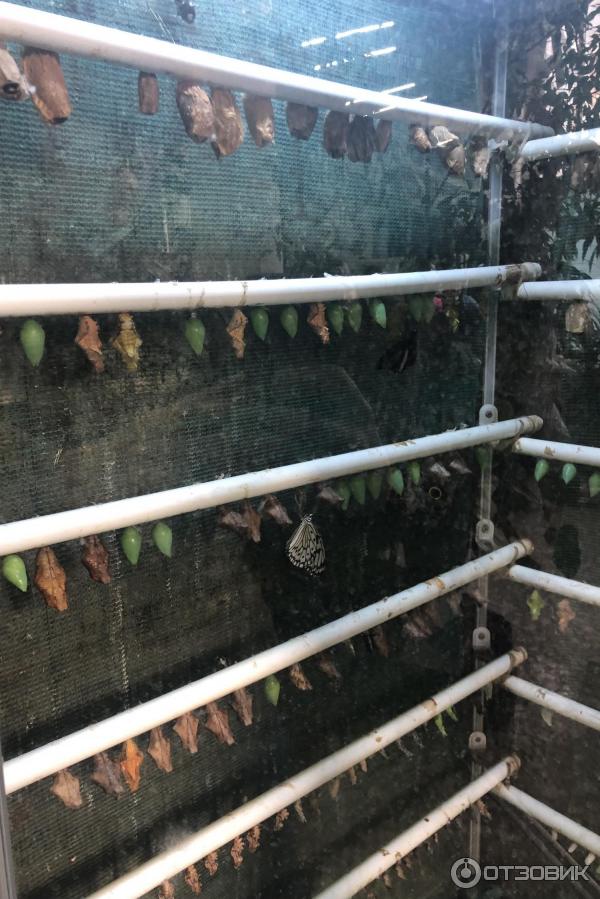 There is also a small poster that illustrates all life stages of butterflies.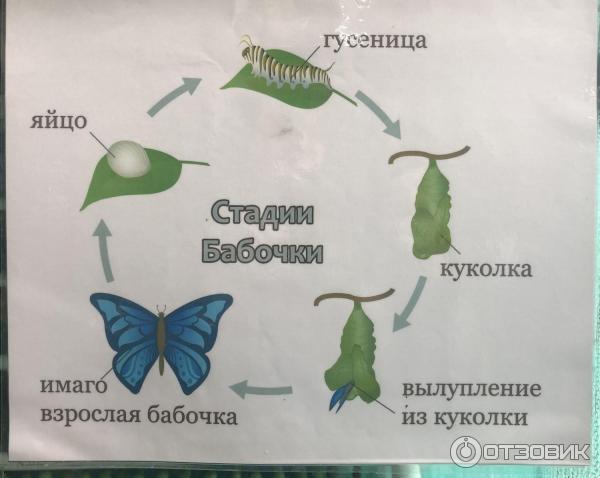 If you want you can breed butterflies at home. There is a special house for that, which you can buy.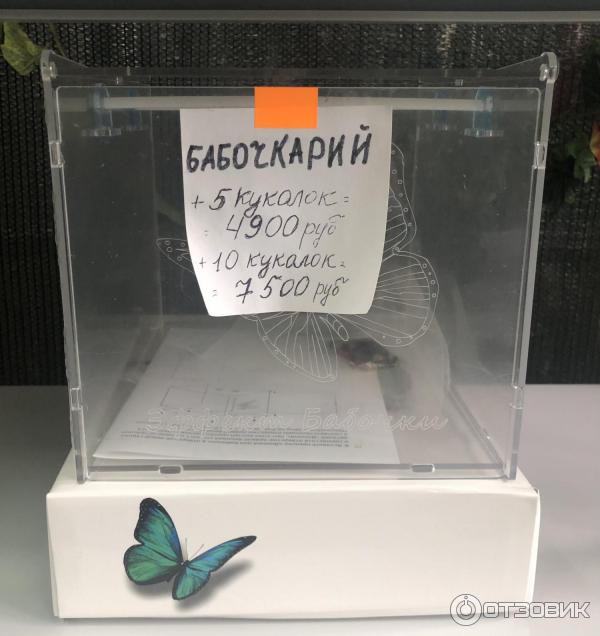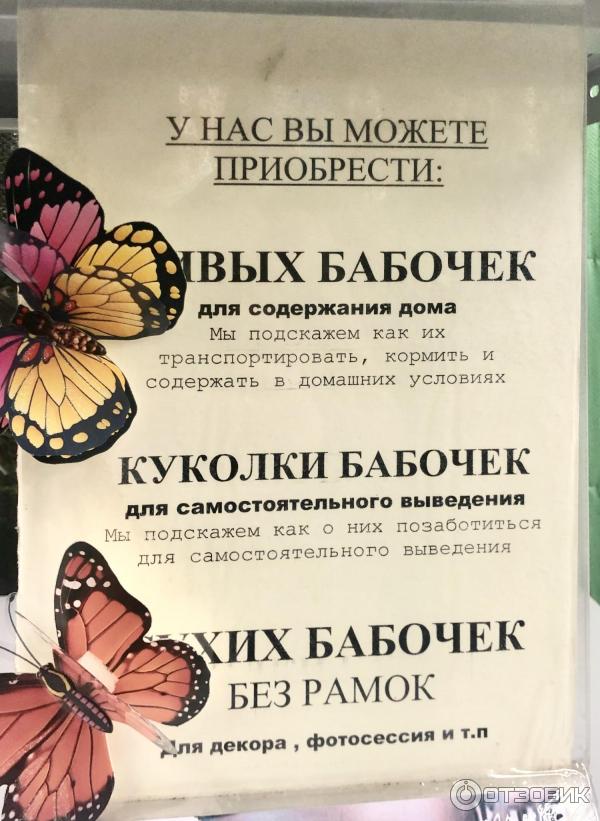 But I had no such desire. I'd rather come here to look at this beauty. But I probably wouldn't want to breed butterflies at home.
Especially since their lifespan is not long. And raising butterflies, I think, is not the easiest thing to do. Among the flying butterflies we came across such a shabby specimen. We felt very sorry for this beauty. But apparently in every barrel of honey must be a spoon of tar.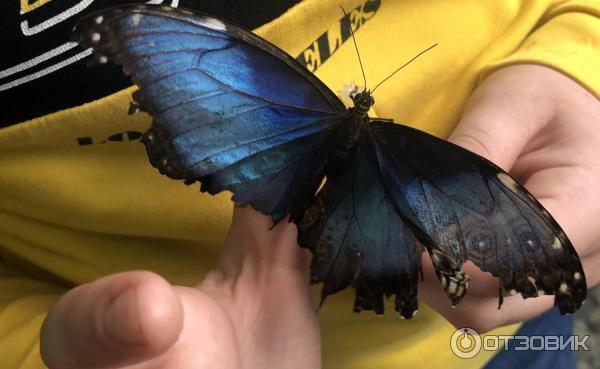 At the pavilion you can take pictures to order, but we made do with our own camera.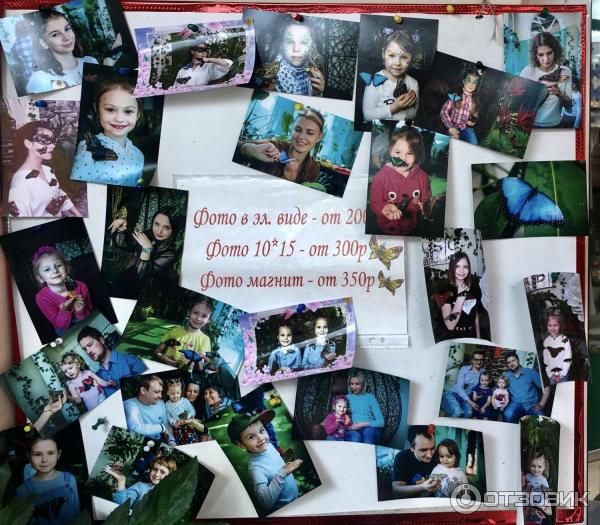 When leaving the pavilion the most important thing is to examine each other, so that not a single butterfly left the pavilion with you. And to prevent them from flying out on their own, there are heavy curtains at the entrance.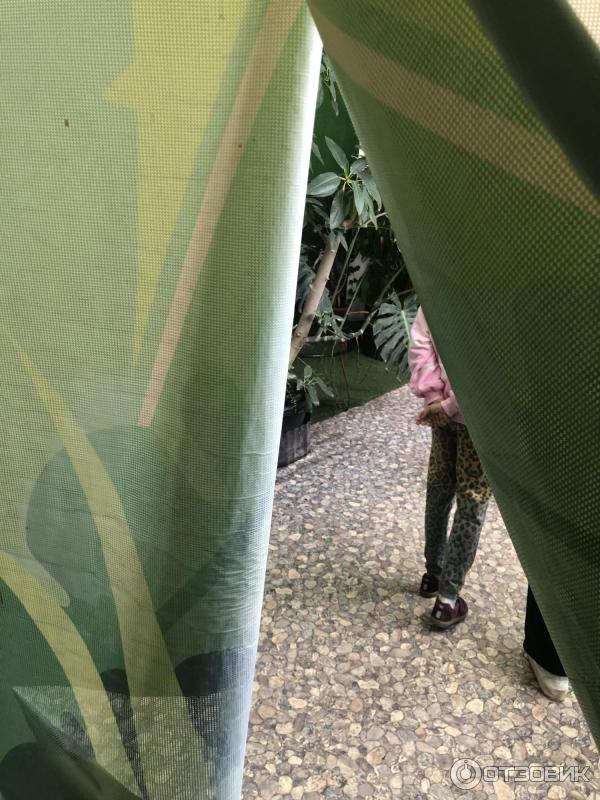 After enjoying the beauty of butterflies to the full and communicating with them, we headed out and saw that there is a second room to which the ad on the door invites us.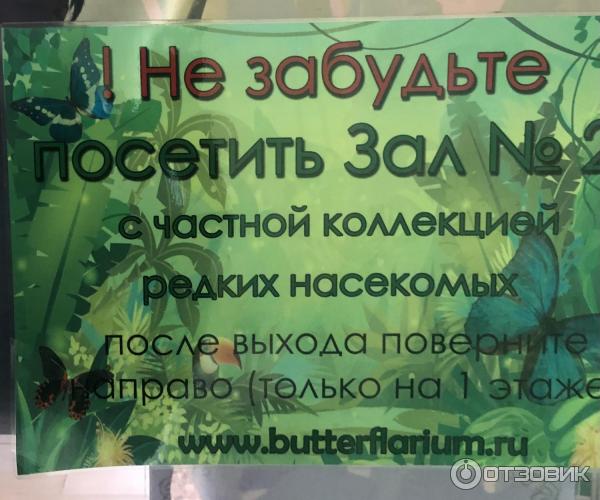 In this room is a collection of butterflies and all sorts of bugs and spiders.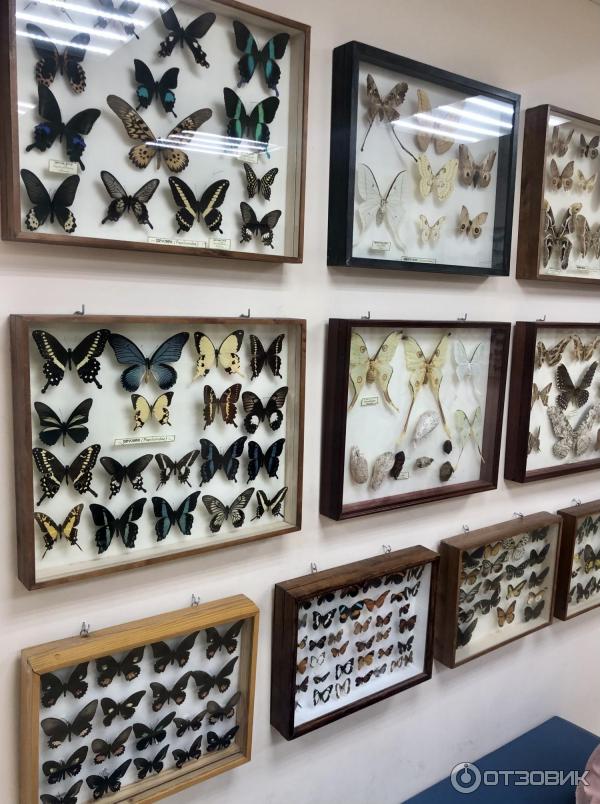 Basically under all the specimens are written their names, it's very interesting.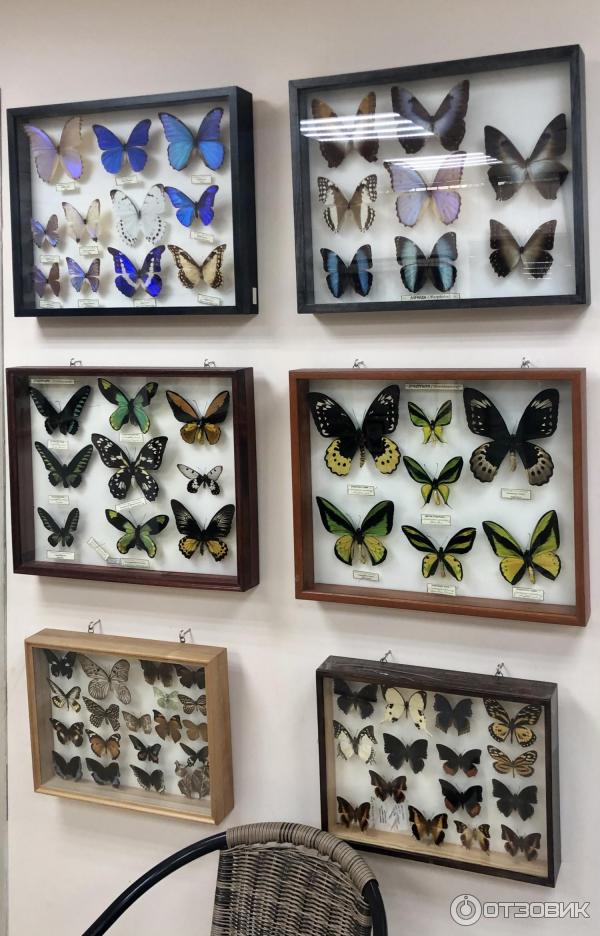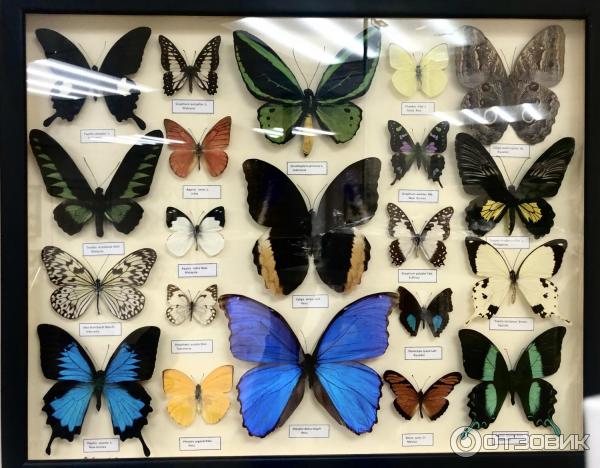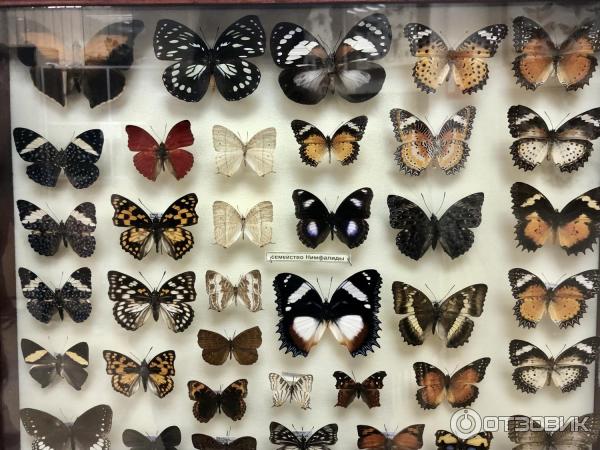 Here we met our old acquaintance, which we liked so much at the exhibition "Aesthetics and richness of the world of insects" in Aptekarsky garden butterfly from Madagascar, called Comet.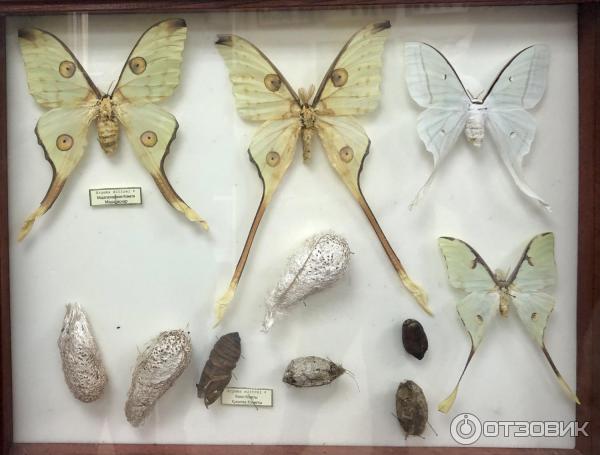 In addition to butterflies, there are other collections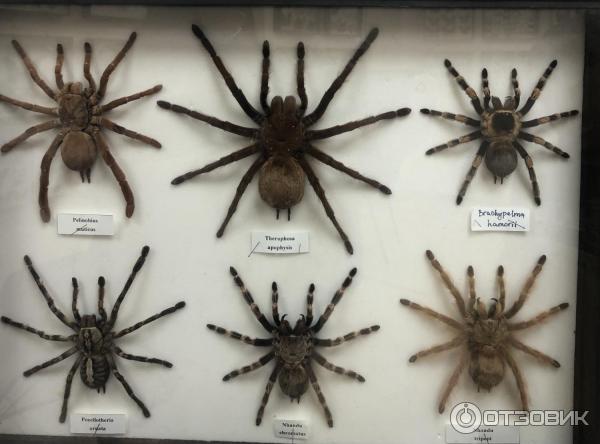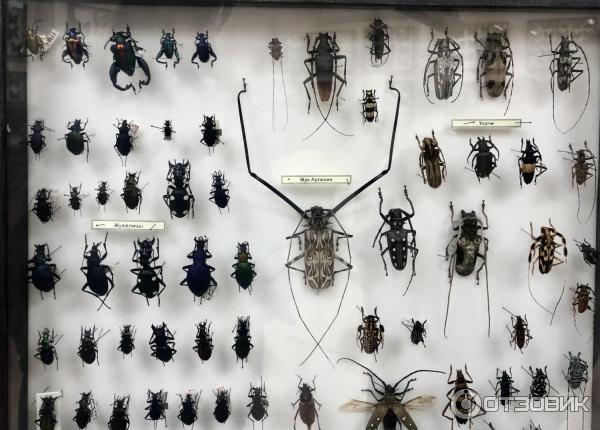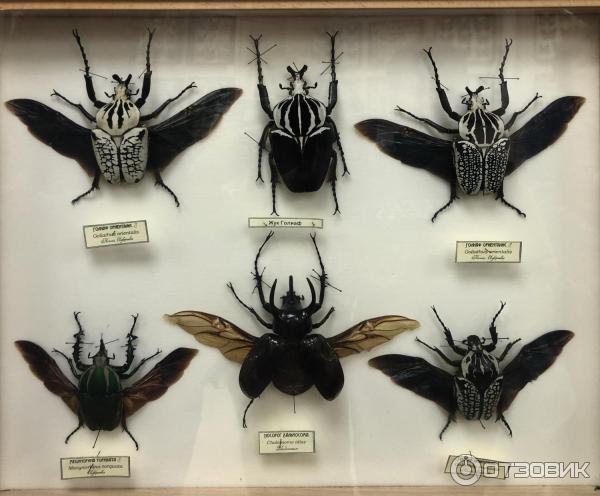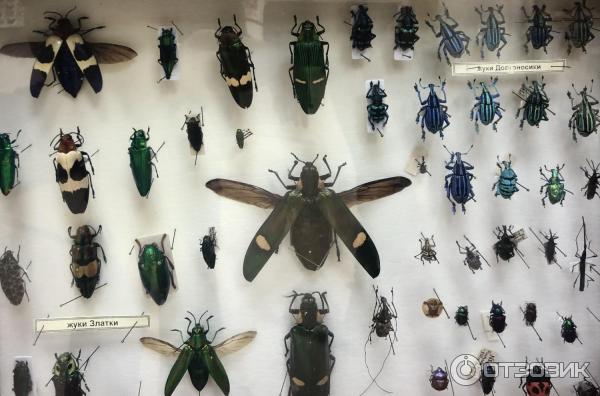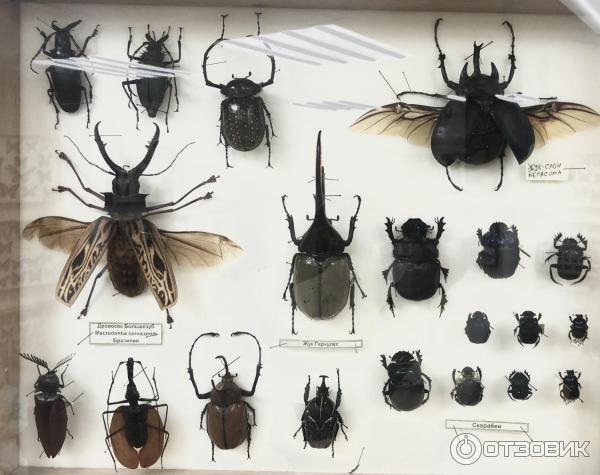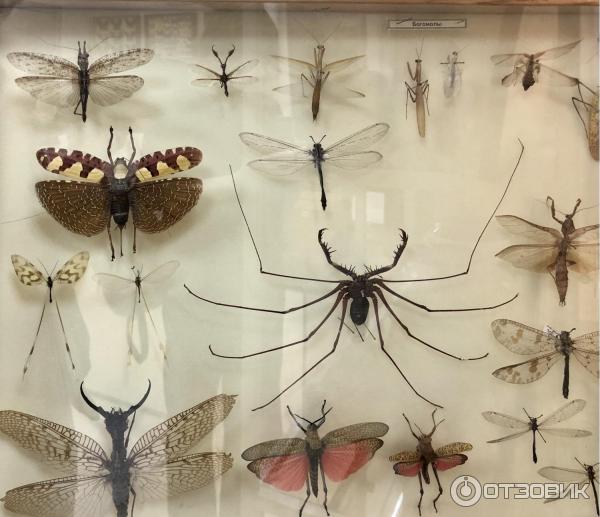 Some specimens you can buy: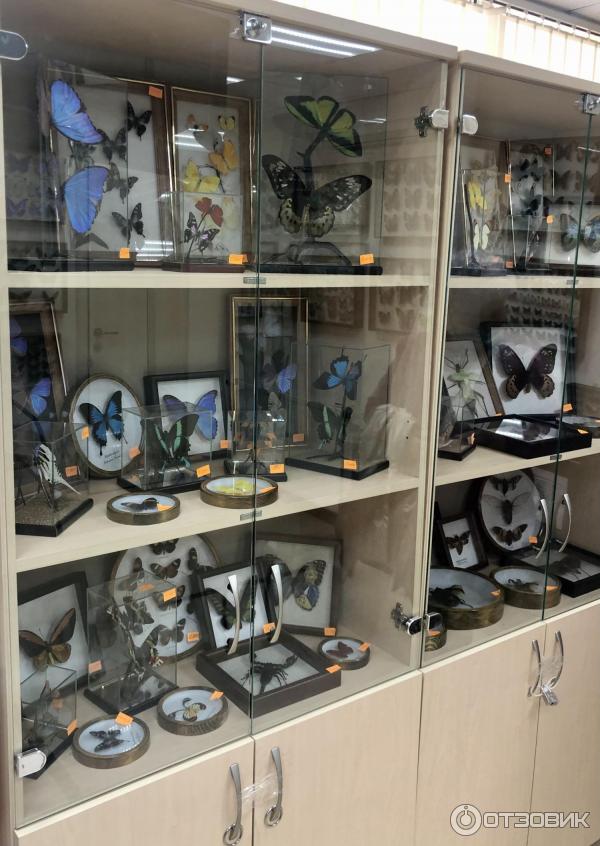 Here I saw for the first time in my life a painting on the wings of a butterfly. It looks extremely beautiful and very unusual. It is a pity that because of the window glass the picture was not very clear.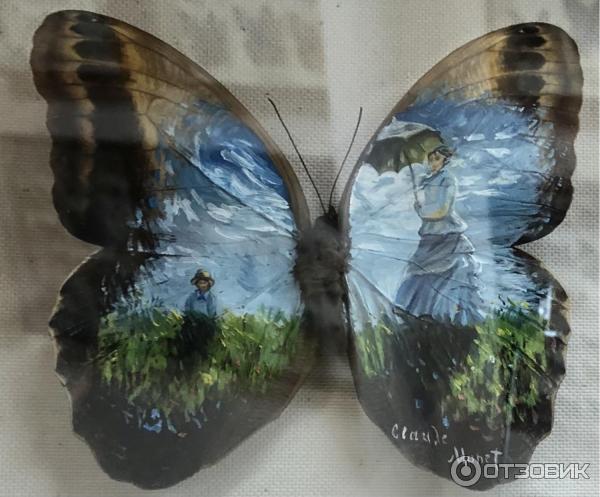 You can buy compositions of dried butterflies.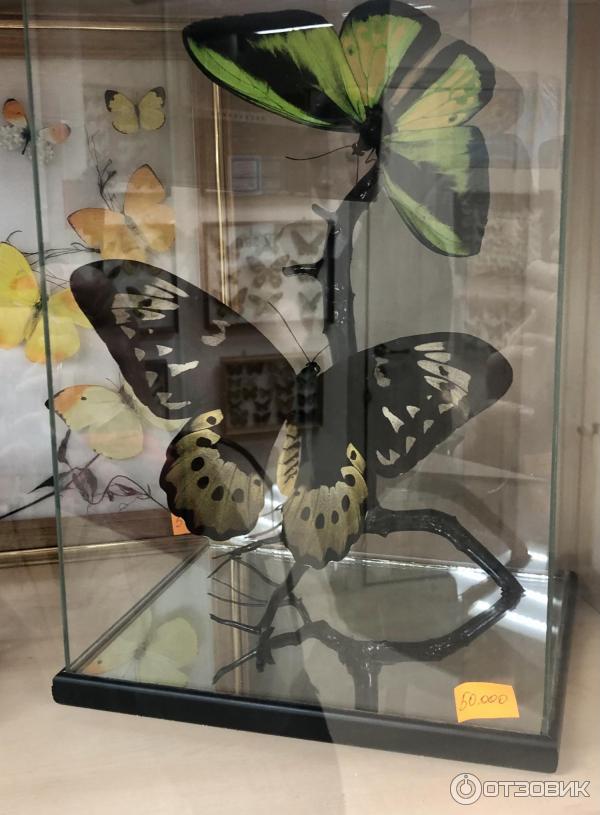 There are lots of options for all tastes and wallets.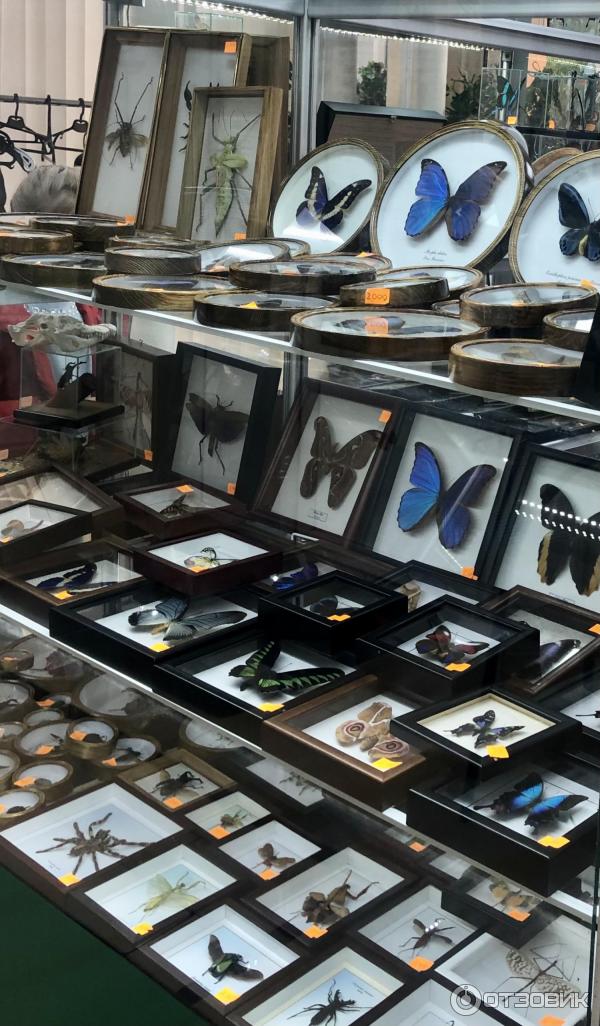 After reading the following ad, I wondered what a butterfly salute might look like. Very interesting. I've never seen one before in my life.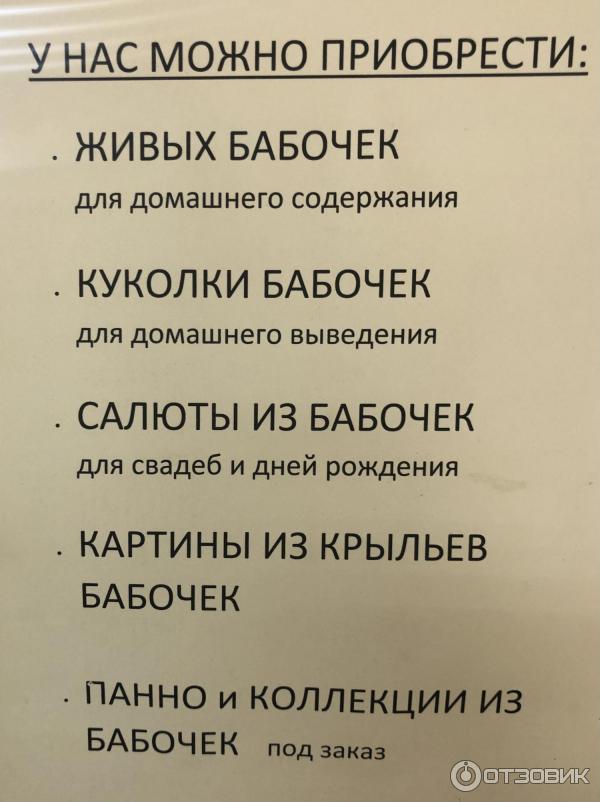 And there are many more not inexpensive services from the house of butterflies.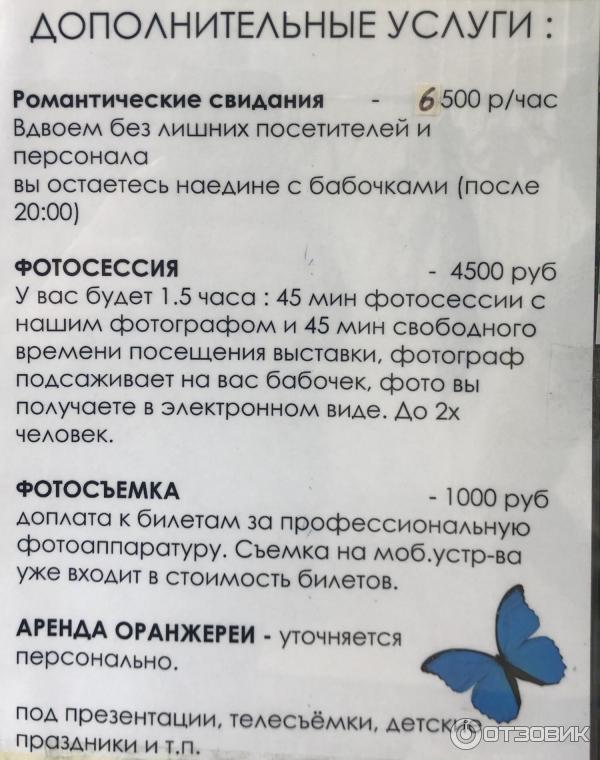 And here are the admission prices: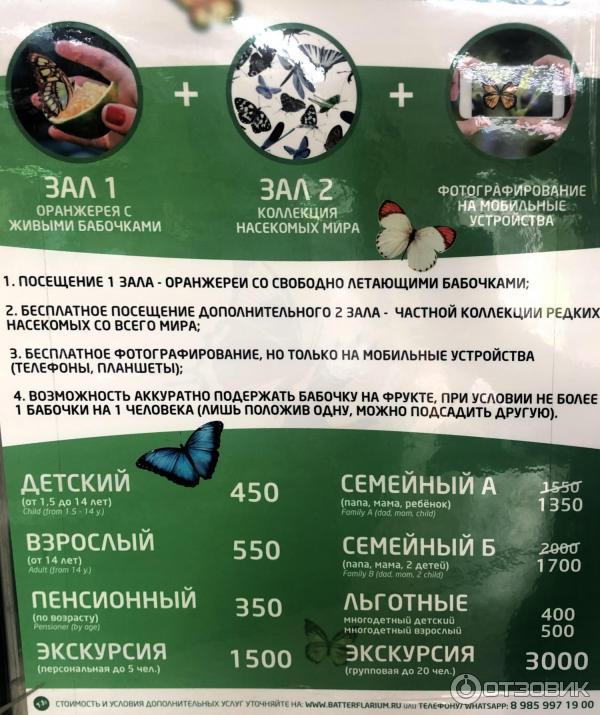 The rules of admission, which no one reads. But these rules are then told in detail at the entrance to the pavilion with butterflies.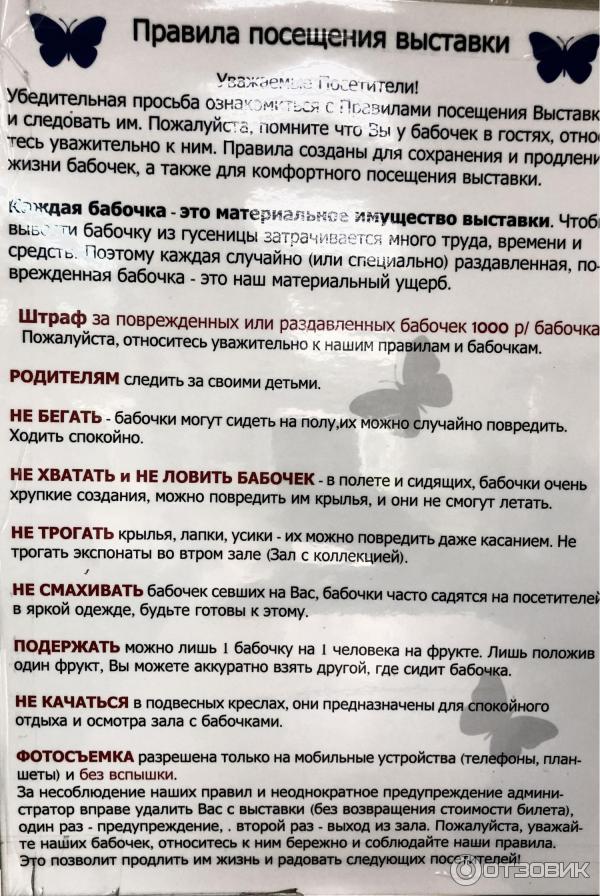 That was the end of our visit to the house of butterflies. As a farewell, we once again stopped by the flying butterflies to admire their fragile beauty.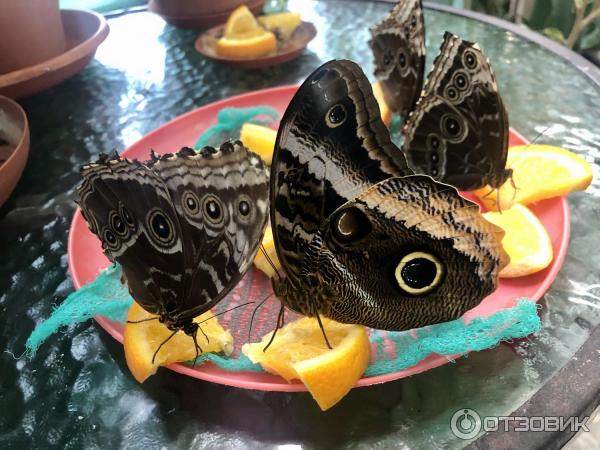 From visiting the house of butterflies we had the most pleasant impressions as the last time. Once again we thought about how rich nature and how boundless imagination of the creator of living creatures.
I will certainly recommend the House of Butterflies at VDNKh for visiting. Definitely need to bring at least once, your children or loved ones here.
Thank you for your attention to my review. I wish you all a good mood and unforgettable moments of magic!
Moscow Butterfly House at VDNKh

On the territory of VDNKh opposite the Stone Flower fountain after the reconstruction the museum of butterflies in Moscow was opened. Now it is called Butterflyarium. The purpose of its creation is to inspire people to love the world around them and to acquaint visitors with the amazing butterflies and other inhabitants of the southern latitudes.

Monday 11:00-20:00
Tuesday 11:00-20:00
Wednesday 11:00-20:00
Thursday 11:00-20:00
Friday 11:00-20:00
Saturday 10:00-21:00
Sunday 10:00-21:00

Museum of Butterflies in Moscow was opened after the reconstruction.
History and years of creation
The Museum of Butterflies first opened in 2007. Between 2013 and 2016 there was a reconstruction of the VDNH. After its completion, the house of butterflies again began to receive visitors. The renovated museum has undergone changes. The organizers opened another hall. New rules came into force.
Halls and exposition
The pavilion, where the museum is located, is small, about 200 square meters.
There are 3 halls:
In the first, visitors can see artwork made from butterflies.
The greenhouse hall is a place where live insects live.
In the third hall is a gallery with a collection of butterflies from all over the world.
Art objects of the house of butterflies
Here visitors can view and buy a variety of products and souvenirs made of winged insects:
paintings of different sizes;
decorative panels;
Glass cubes with insects inside;
collages;
frames.
Greenhouse Hall
Here visitors can observe live insects in conditions as close to natural as possible. The temperature in the greenhouse is maintained at +30 degrees Celsius. Humidity is high here, because in the dry climate butterflies die. Insects freely move around the room and sit on people.
Among the exhibits one can see representatives of Asia, South and Central America. The butterflies living there are not at all like those that fly in the gardens and vegetable gardens of Russia. Winged natives of the tropics are much larger than the local insects.
The wingspan of some butterflies kept in the museum reaches 15-20 cm. The tropical guests can boast spectacular colors.

In the greenhouse hall visitors can observe live insects in conditions.
The museum features such rare species of winged beauties as:
Cetosia biblis.
Blue morph.
Atreus owl.
The peacock-eyed atlas.
Rumyantsev's sailfish.
Bolina lunaria.
Sailboat polite, etc.
Those who wish can bring treats for the inhabitants of the museum – oranges, bananas, pineapples, mangoes. Insects willingly sit on pieces of fruit. This gives them a chance to take good pictures.
In the greenhouse hall there is an incubator in which they hatch butterflies. If you are lucky, you can see the process of birth of winged beauties to the light. Visitors have an opportunity to buy pupae or adults for home keeping and get advice on caring for insects.
Prices for live insects vary from 700 to 4500 rubles. Especially valuable specimens cost up to 10 thousand rubles, but they are not always on sale. Pupae are sold cheaper – from 390 to 2,000 rubles. However, there is a small chance that the butterfly will not hatch. When buying a chrysalis you need to keep this in mind, because the product is not exchangeable and returnable.
Gallery of Butterflies of the World.
Here visitors can get acquainted with rare insects from around the world. There is no analogues of this collection in Russia. It was collected for over 60 years and is still being added to.
In addition to butterflies, the private collection presents other insects and spiders:
beetles;
dragonflies;
spiders;
cicadas, etc.
The exhibits are framed and sorted by family, species, and subspecies. Around each specimen are plates with brief information about each insect.

In addition to butterflies, the museum also displays cicadas.
Rules of visiting the greenhouse with live butterflies
The organizers of the exhibition ask visitors to adhere to the established rules, which are aimed at protecting the winged inhabitants of the greenhouse. Each insect is the property of the museum and has its own material value. Careless handling of butterflies may lead to their death. There are fines for damaging exhibits.
Running in the greenhouse is prohibited:
Running. Move slowly and watch your step so you don't step on any insects.
Swiping at a butterfly. A piece of fruit is brought to the visitor who has sat on it. In this case, the insect itself crawls over to the treat.
Taking butterflies by their wings. This can cause damage to them.
Use flash when taking photos.
Adults should keep a close eye on children so they don't spoil and damage the museum. Live insects can only be kept on fruit. It is allowed to take pictures with a cell phone for free. There is a charge for taking pictures with a camera or video camera, and you can ask about the cost when you buy tickets at the ticket office.
Ticket prices
A visit to the exhibition lasts for 50 minutes. This is enough time to slowly explore the halls and become acquainted with all the exhibits.
The cost of a self-guided visit depends on the age of the visitor:
children (from 1.5 to 14 years) – 450 rubles, for large families – 400;
for adults (from 14 years old) – 550 rubles, for large families – 500.
The museum provides a discount for pensioners of 200 rubles. The cost of the ticket for them is 350 rubles. It is only necessary to show a pension certificate.
There is also a discount for visiting the exhibition with whole family:
Package "Family A" (mom, dad and 1 child) – 1,350 rubles;
Package "Family B" (mom, dad and two children) – 1700 rubles.
The museum offers several types of services. Here you can order individual or group tours. Professional entomologist will shed light on the species diversity of butterflies, their way of life, habitats. The guide will tell interesting facts from travels to exotic places of our planet.
The service is payable separately in addition to the cost of the tickets:
group of 1 to 5 people – 1500 rubles;
From 6 to 20 persons – 3000 rubles.
You can order a turnkey photo shoot, dinner for two in a romantic atmosphere with or without decoration, as well as greenhouse rental for holidays, presentations and master classes. You can check the price by phone, because it depends on the season, time of the day and other factors.
Working schedule
The museum works every day. On weekdays the pavilion opens at 11.00 and closes at 20.00. On weekends there are more visitors, so the opening hours are increased by 2 hours. On Saturday and Sunday, the museum can be visited from 10.00 to 21.00. Butterflies are most active in the morning when the weather is sunny. During this time they are very interesting to watch.
Address and how to get to the house of butterflies
The museum is located on the territory of the Exhibition of Economic Achievements of the USSR. Address: Prospekt Mira, 119, building 519. To get here is conveniently by subway, reaching the VDNKh station. It will take you about 15 minutes to walk slowly from the metro station. You need to go to the second fountain, which is called "Stone Flower". To the right of it, between the 64th and 66th pavilions, there is a museum. The entrance is located on the left wing.
On weekdays, those who come by car can go directly to the territory of VDNH. Although, you will have to pay for parking. On weekends and holidays the entrance is closed.
Contacts of the Museum of Butterflies
If you have any questions about the exhibition call +7 (495) 997-19-00. To rent a greenhouse, please call +7 (905) 582-99-79. This number is connected to the messengers Viber and WhatsApp.