How much money to bring on vacation in Goa and what to buy there.
India GOA
Friends, I continue a series of articles about rest in Goa. In previous articles Advices to those who are planning a trip to Goa and Flight from Moscow to Goa (India) and back – what to pay attention to, I have already told about what resort to choose, how to buy a ticket or a trip, issue a visa, and what to do at the airport. Here I will also try to answer the question that bothers many people, how much money to take with you and what necessary and optional expenses to plan.
Currency and plastic cards
The local currency in India is Indian rupees. Their exchange rate is approximately equal to 1 ruble, which is very convenient – you do not need to make any calculations. A more exact official exchange rate can be seen HERE, but beware it will be a little different in the exchange offices.
You can take both dollars and euros with you. Only keep in mind that $100 or euro bills are in demand, while smaller denominations are at a less favorable exchange rate.
I would not recommend going with rubles, because they are not exchanged everywhere and the exchange rate is not profitable. As a rule, it's more profitable to change currency at jewelers. But you will have to beat them off with offers to buy something. A good rate is also given at the drugstore chain D`Mellow. Also, many people exchange currency in the shayki or in the hotel.
But the most unprofitable exchange rate is at the airport. They deceive people there by saying that they can not change money in another place, for example, because of the weekend. In addition to the unfavorable exchange rate they take an additional fee for the exchange.
It is not profitable to use plastic cards in India. ATMs are known to charge a hefty withdrawal fee. But this is the first time I have encountered the fact that a large fee is also charged when paying in a store. When I paid in a supermarket the receipt was 720 rupees, which is about 700 rubles, I saw that the card was charged more than 1000 rubles. After that I decided to stop my experiments with the bank card in India.
And one more thing. When you are given change in the local currency check the integrity of bills because nobody will take torn bills from you.
Expenses for accommodation
If you have purchased a tour, then the cost of living in it is already included and paid by you. The only exception is if you want to go for a short time in another area of Goa and there overnight. In that case you can choose a place to stay HERE or find something else to stay there.
Most tourists in Goa stay mostly in what are known as gest houses or guest houses. The price of rooms depends on many factors: distance to the sea, facilities, air conditioning, refrigerator, hot water, cleaning, etc. The advantage of booking accommodation in advance – you can easily look through all the options, read reviews. Also you do not have to walk around with suitcases, there are no storage lockers. The advantage of finding an accommodation on the spot: you can bargain, and also assess the quality of accommodation and location. Prices for rooms start at 400 rubles, but note that this will be the most basic economy option and for the long term. In the south of Goa, prices are usually higher than in the north.
Search for tours in GOA:
Meal Costs.
Beach Shake.
In guest houses, as a rule, food is not included in the room rate, and if breakfast is included, it is likely to be a cup of tea or coffee and toast with jam. Some hotels operate on a "half board" or "All Inclusive" system.
Discover exciting train cruises on trains! Rates include meals, excursions, transfers. DETAILS HERE
In my opinion, definitely not. Meals in cafes and restaurants are so delicious and varied, as well as affordable, that there is absolutely no reason to overpay for lunches and dinners included in the room rate. For example, I talked to tourists staying at the 5* Holiday Inn on "All Inclusive" and they complained that not everything is included, and for the most delicious, they still go to the beach cafes – sheikis, as the restaurants in the hotel itself are very expensive.
Very tasty naan bread.
We mostly ate at the shakes. Those who eat there get free sun loungers and umbrellas. Our shake also gave beach towels. They also give access to free wifi, which in India is as slow as anything else. All shakes compete with each other and try to offer tourists the best service possible, so the differences between them are quite subjective. Prices for main courses: soup Rs. 80-100 (1 rupee is approximately equal to 1 ruble), very tasty tortillas nan – from 50 to 120 rupees, depending on the additives, the most delicious – with cheese and garlic, side dishes cost about Rs. 100, second courses – 150-350, large fish with a side – from 1000 rupees, fresh juices – 90, water 30 per liter, beer 80-200 rubles per 0.5 liter. Prices are raised by 10-20% during holidays and theme parties. It is customary to tip 10 % of the check amount. Prices in Kavelossim and Mobora sheikas are some of the highest in Goa. In other villages they are lower, but not by much. The average check in a restaurant is about 600 rubles per person. Prices for products in the stores are about the same as in our country. But, as a rule, you can keep something in the room only in the refrigerator – otherwise your food will be mercilessly attacked by ants.
Transportation
The main means of transportation in Goa are scooters or bikes. In order to rent one, you need an international driver's license category A. Although in some places they can be rented without a license, especially in the north. Traffic on the roads there is left-handed and very dangerous. The main means of public transport are buses and cabs. A bus fare is inexpensive, from 10 to 30 rupees depending on the distance. The suburban buses are old and travel short distances, usually within one hour. Cabs are not cheap, and it is imperative to bargain with cab drivers, as the initial price is usually twice as high. Another popular form of urban transport is tuk-tuks. They are scooters that have two passenger seats and a roof at the back. The fare on them is cheaper than a cab.
Souvenirs
Pashmina (a large handkerchief made of cotton, silk or wool) can be brought as a souvenir from Goa, their price varies from $5 to $350. Also popular are cosmetics and dietary supplements. They are bought in pharmacies, of which there are many in Goa. Popular souvenir of Goa – coconut oil, it is sold as a food, and cosmetic. That's just on the road oil hardens because of low temperatures. This is said to indicate its authenticity. In Kavelossim, where we vacationed, there are many jewelry stores that offer gold, silver, diamonds.
The Old Market in Margao
Clothing in India is very cheap, but again, you have to haggle. The market in Margao sells completely incomprehensible things in the style a la the 90s. The only thing that caught my attention there were fabric kits for sewing saris. You can buy Levi`s branded clothes in the Margao malls. In Panaji, there are a lot of different brand stores where you can buy quality clothes, shoes, home textiles. You can buy the main fruits in Goa – pineapples (60-90 rubles per piece), mangos (200-300 rubles per kg), watermelons (20 rubles per kg), passion fruit (200 rubles), melons, tangerines, papaya, lychee, figs (150 rubles). Prices for fruit are cheaper in Margao than in the resort villages, but if you bargain properly, you can get a decent discount there too. In the fish market in Margao you can buy not only fresh seafood, but also dried fish and shrimp of many kinds. Also a popular souvenir is the local rum Old Monk, the price of a bottle of 0.75 – 170 rupees, aged – 400 rupees. Also popular alcoholic beverage, which the seller recommended to us as the moonshine from cashew nuts. The cashews themselves are also not a bad souvenir. Their price depends on the size of the nuts – it is believed that the shallower they are, the drier and tastier they are. The price per kg – about 1000 rupees. And, of course, how to come from India without buying spices. This is, above all, the signature Indian spice masala . It consists of ground spices of various kinds. Masala is for meat, for tea, and I can't remember what else. Other spices are zira, saffron, cardamom, cinnamon, and many, many others. I also want to bring back Indian tea from India, remembering the elephant tea familiar from childhood. But tea, strangely enough, is not very good here. It is sold in different flavors – chocolate, vanilla, etc., but they say that all these additives are unnatural. It is better to get plain black tea Assam and Darjeeling, I also bought as a souvenir masala tea .
Cell phone service
Internet, as I wrote, in Goa is very slow, even in expensive hotels. Many people use local SIM cards, which cost 100 rupees plus a flat rate.
But to get such a sim card, you need to come to the office of the operator with a passport and a photo (photos can be made on the spot for 50 rupees), and the connection can take up to 5 days. The activation process itself is quite complicated. The guides will ask you to buy a SIM card which has already been activated but at a higher price. If you live in Moscow, you can look for a tourist sim card on the forums, note only that it is usually valid for only 3 months from the time of activation.
You can save on cellular service in India, as well as in other countries, with a Dreamsim SIM card. It automatically connects to local carriers when you travel, providing services at prices much cheaper than roaming.

Read more about the sim card in my article Experience with the Drimsim travel sim card.
Tours in Goa
Excursions will be offered to you by the guide at the information meeting. There are usually excursion bureaus in all the villages, which will also offer you a massage. The cost of a massage – from 800 p. per session.
The main excursions are Dudhsagar Waterfall – you can go on jeep rides, see monkeys, ride elephants ($50 per person); Murgeshwar and Gokarna – a trip to the neighboring state of Karnataka in the place where Shiva was born, there you will see the largest statue of Shiva, 37 meters high ($ 70 per person), crab fishing – 5 hour trip on the Sal River, where you see how they catch crabs, and then they treat you ($ 50). Children are usually given a 50% discount.
Excursion to the dolphins Palolem.
By the way, water and boat trips at low prices will offer you on the beach.
Do not forget to bargain. For example, an hour boat ride to see the dolphins costs 500 rupees per person, but after haggling I was allowed to take my child for free.
You can also take a parachute ride (1200 rubles), pellet (500 rubles), banana, jet ski.
You can buy GOA tours at bargain prices HERE.
How much money to take in India (Goa)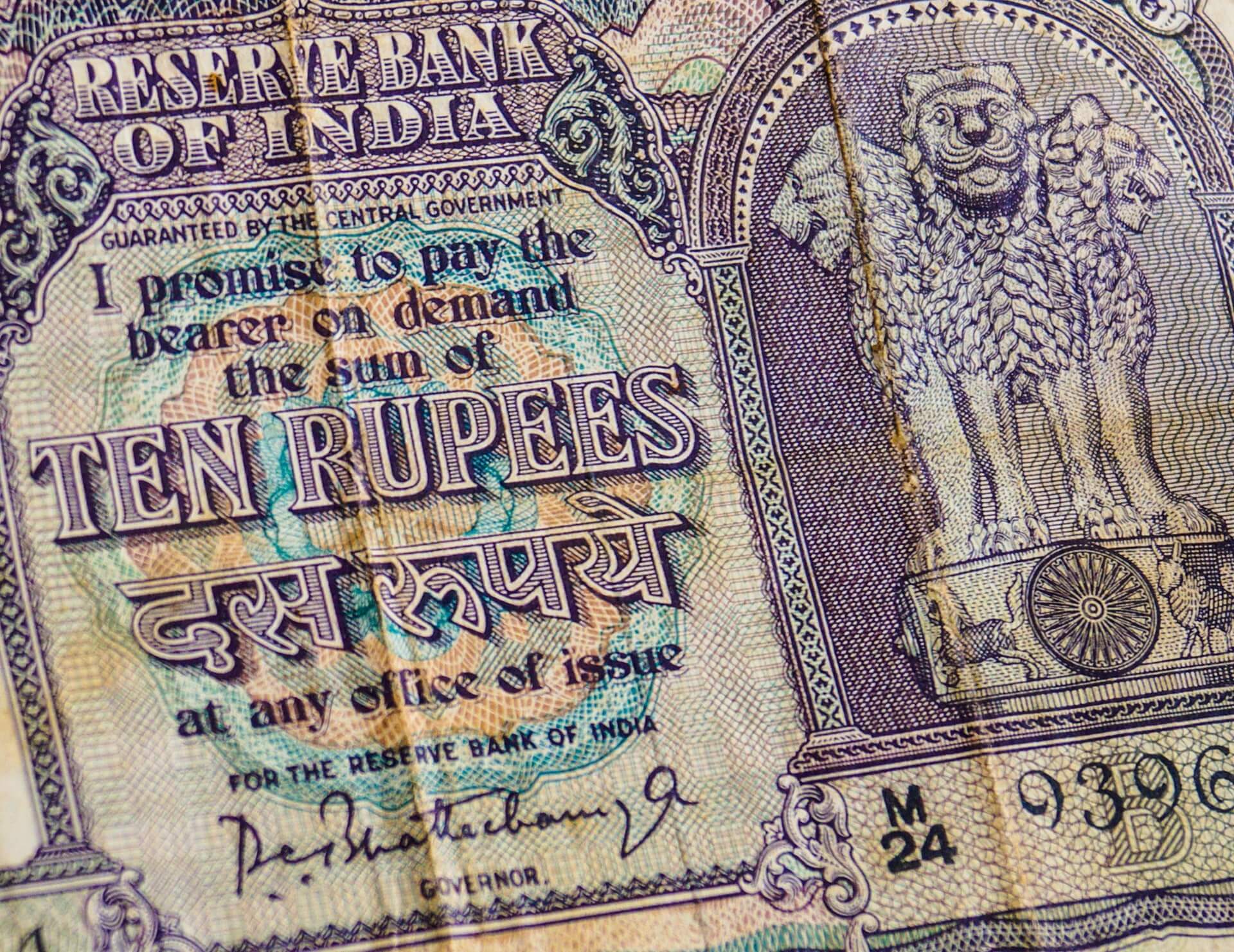 Figuring out how much money to take to India for a budget, comfortable and luxurious vacation in 2022. Up-to-date prices for food, tours, entertainment, shopping, souvenirs and transportation in Goa. At the end, we calculate the cost per person for 10 days.
Contents:
Meals
Exchange rate: 1 Indian rupee (INR) ≈ 1 RUB.
The menu of beach cafes in Goa has breakfasts for 250-290 INR. These are sets of ready-made meals such as rice porridge with quinoa and coconut, fruit salad and juice or cheese toast, 2 eggs, fruit salad, tea or coffee. A delicious and healthy start to the day!
A hearty lunch with a meat dish without alcohol will cost 300-350 INR, and a dinner with shrimp and fish will cost 700-750 INR. Food at the market is not inexpensive, for example, 1 kg of tiger prawns can be bought for 500-600 INR.
If you want more vitamins, treat yourself to some excellent tropical fruit cocktails. Fruit shakes and freshes are cheap in India. For example, at Jai Ganesh Fruit Juice Centre in Chapore, juices of mango, kiwi, strawberry, melon, papaya, pineapple, orange, banana and apple are 50-80 INR, avocado is 140 INR, fruit salads are 90-130 INR, and ice cream is 50 INR. Lassi (milkshakes with fruit) cost 70-90 INR.
For three meals a day in a cafe, where Indians eat themselves, 800-900 INR is enough. Keep in mind that food at beach cafes will cost cheaper than in restaurants in the city.
If you want to eat in tourist establishments and try seafood dishes, shakes, coffee, ice cream and sweets, budget 1500 INR per day for food.
How much food money do I need in India for a luxury trip? To not deny yourself anything, plan from 2000 INR per day.
Andrey Lebedev: "Our expenses per day on the beach did not exceed 700-800 INR. That plus beer, ice cream, tea, water. Dinner is a separate song".
Anastasiya: "We spent 500-700 rupees per person per day, and we didn't cut back on anything. Prices for food in Goa seem ridiculous. A figure of $50 for a day or $300 for ten days for two seems to me unrealistically excessive."
Thali – several dishes on a tray or banana leaf. Photo: bionicgrrrl / flickr.com / CC BY-NC-ND 2.0 license. Lassi is a refreshing yogurt-based drink with ice, water, spices, fruit and sugar and salt. Photo: pxhere.com.
Excursions and Entertainment
Excursions in Goa are a separate expense item. Crabbing with a guide costs 3,500 INR, and a one-day "All of Goa in One Day" tour – 4,500 INR. Trips of two or more days are much more expensive because you have to spend the night in another hotel.
Rental of a double canoe on the popular Palolem beach costs 400 INR for 1 hour. For a massage under a sun umbrella you pay 300 INR, and for three sessions with an instructor who teaches surfing – 7500 INR.
If you want to spend the whole day on the beach, rent a bungalow by the sea. It has a bed to rest on and a bathroom with a shower. Cheap bungalows with a fan cost from INR 1300 per day, accommodation with air conditioning from INR 2500, and a luxury bungalow with a Jacuzzi and sea view from INR 9000.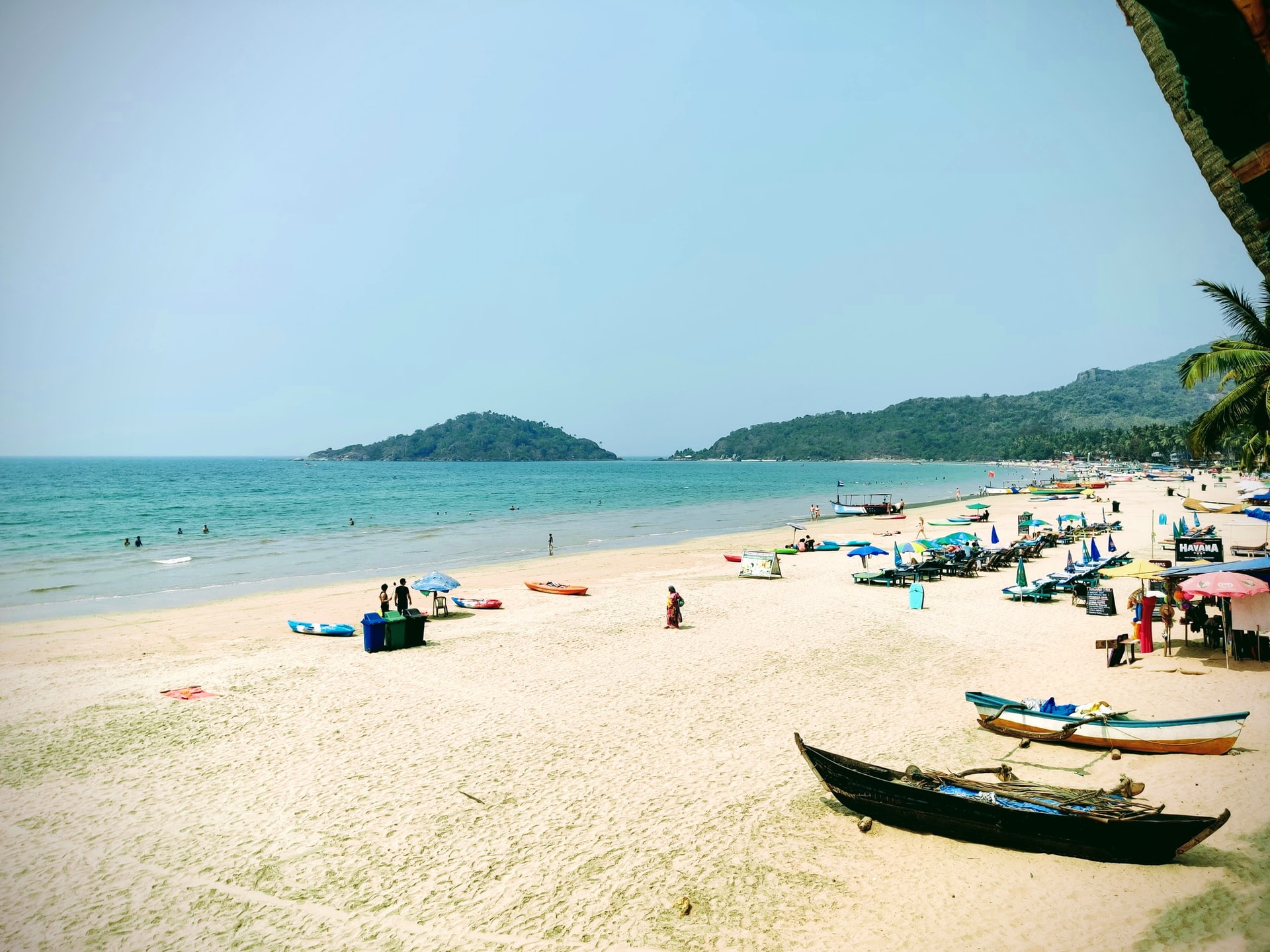 Renting a double canoe on the popular Palolem Beach costs INR 400 for 1 hour. Photo: Shubham Amane / unsplash.com.
Shopping and souvenirs
For many tourists, a vacation without shopping is not a vacation! How much money do you need in India to buy memorabilia and the bare minimum of beachwear? Shopping in Goa is inexpensive. According to reviews of thrifty tourists, 1500 INR is enough for this spending for the whole vacation.
If you want to bring national clothes, buy a sari made of silk – they cost 350-500 INR. A down shawl from Nepal costs 300 INR, and a cotton stole costs 100-150 INR. Tourists eagerly bring from India natural cosmetics, almond oil and toothpaste with spices. Exclusive purchases – quality jewelry – cost from 700 INR.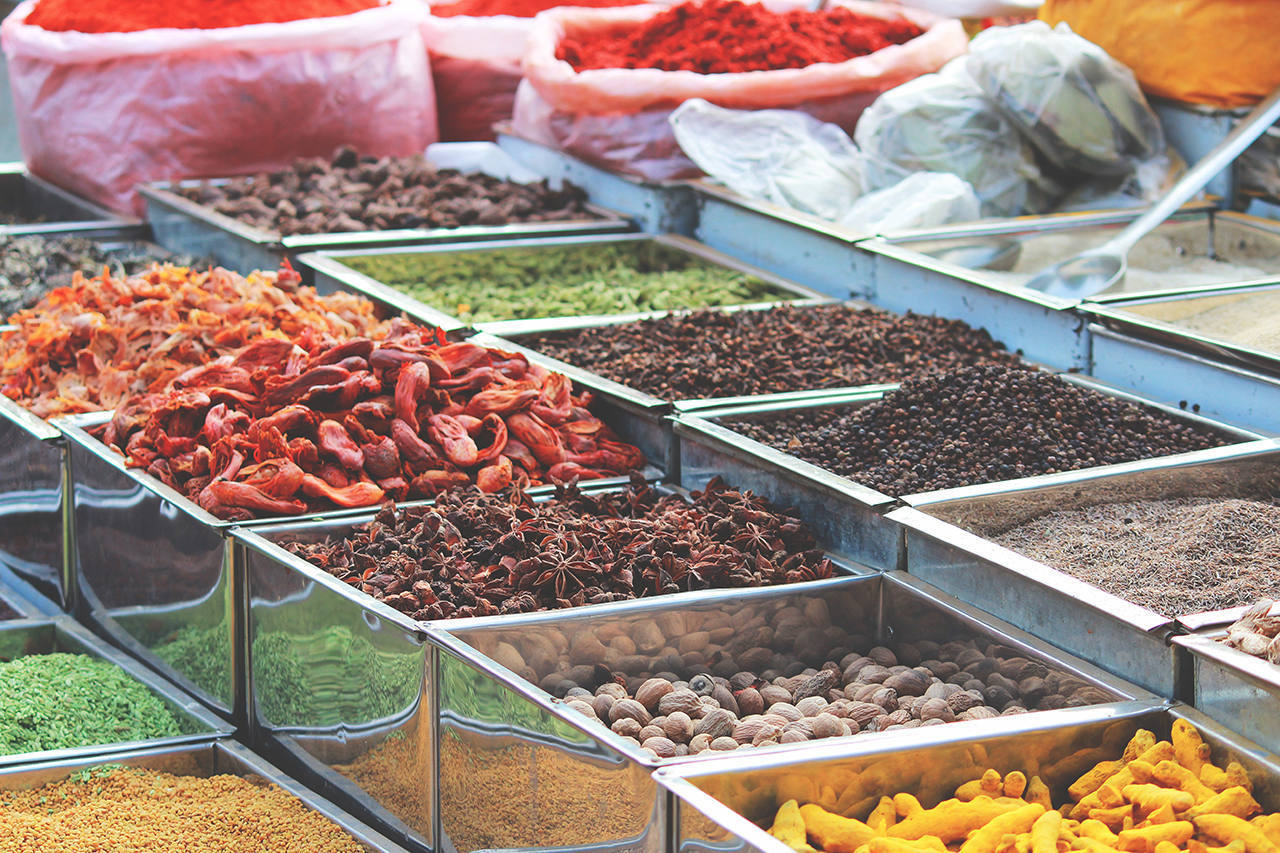 Indian dried fruits and spices at the market in Mapusa. Photo: unsplash.com / @akhiltchandran.
Transportation
Goa's resorts are conveniently navigated by two-wheelers. To be mobile, rent a bike! Renting for a day costs 250-400 INR. Gasoline – 60-70 INR per 1 liter at gas stations. Locals sell gasoline and 90 INR on the side of the road and at their own homes. In reviews, tourists write that it takes about a liter of gasoline per day.
An hour-long cab ride costs 850-1200 INR. Pay 2300-3500 INR and the cab driver will take you for a ride all day!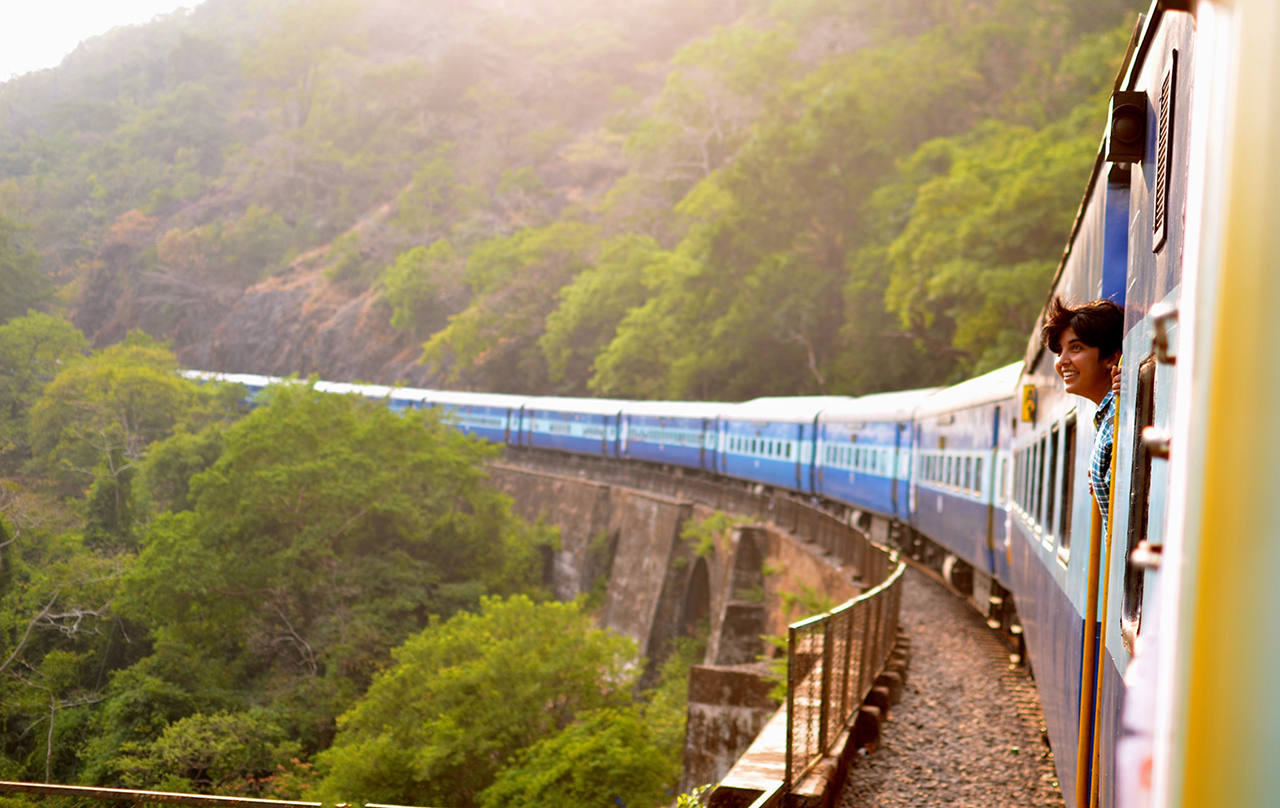 Incredible view on a train ride, Goa (Photo: unsplash.com / @jk)
Bottom line: how much money to take in Goa
Goa is a great option for an inexpensive beach vacation in an exotic country! Excluding the cost of airfare and lodging, a budget trip for one for 10 days will cost $175: meals – $110, tours and entertainment – $0, shopping and souvenirs – $20, bike rental + gasoline – $45.
For a comfortable vacation, take $400: meals – $200, 2 excursions – $100, shopping and souvenirs – $50, 3 cab rides – $50.
How much money do you need in Goa for a luxury vacation ? There are no upper limits to enjoyment! We think you can have a great vacation for $900: meals – $275, 3 excursions and surfing instruction – $300, shopping and souvenirs – $200, 10 cab rides – $125.
Add to this free ocean, hot sun, tropical greenery, and most importantly – the opportunity to relax and forget about problems!
arkul64: "25 thousand for 10 days. Flight, accommodation in a modest hotel with breakfast. Staying in a hotel for at least $150 for the rest of my life. I've flown to the south of Goa that way more than once. Enough for everything: food, alcohol, souvenirs. True, almost no excursions, as not for the first time.