Visa to Cambodia: obtaining and renewal. Why we did not renew
September 2014 (updated: 21.09.2017) 7
The way to get and extend a visa in Cambodia for Russians and Ukrainians is very simple: when you enter the country they put a stamp for 30 days for $ 30. Another about 7-10$ will be spent on the border guards. Extend the visa to Cambodia or arrange a business visa is quite easy, it can be done in any travel agency, if you have the right amount of money.
We entered Cambodia twice, both times by land, when traveling from Bangkok to Siem Reap and the second time from Pattaya to Sihanoukville.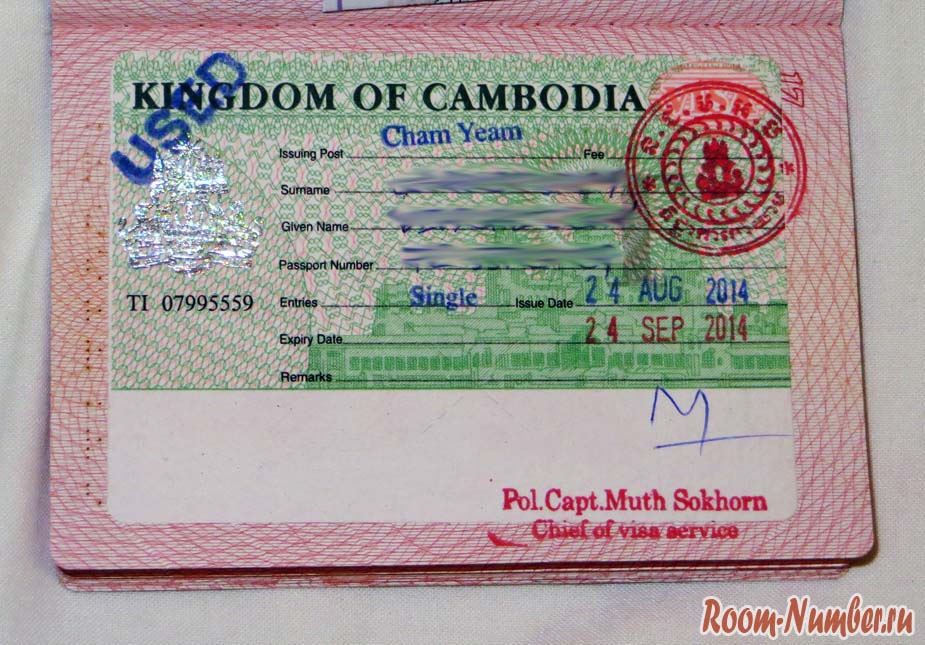 This is what a visa to Cambodia looks like
This visa is called visa on arrival. It is the easiest to get it, because you do not need any documents for registration, except your passport, 1 photo for the documents (size is not critical) and money. There is also an option to make an electronic visa, but I heard that with it not all border crossings can be allowed.
How to renew visa to Cambodia
If you want to stay in Cambodia for a month or more, you must contact any travel agency, which are quite a lot in Phnom Penh, Siem Reap and Sihanoukville. You can even ask at the reception of your hotel. Since we were seriously thinking of staying in Sihanoukville for another month, went to look at the prices for visa extensions in Cambodia for a month. In all such offices prices are about the same. For clarity, a photo with the price list: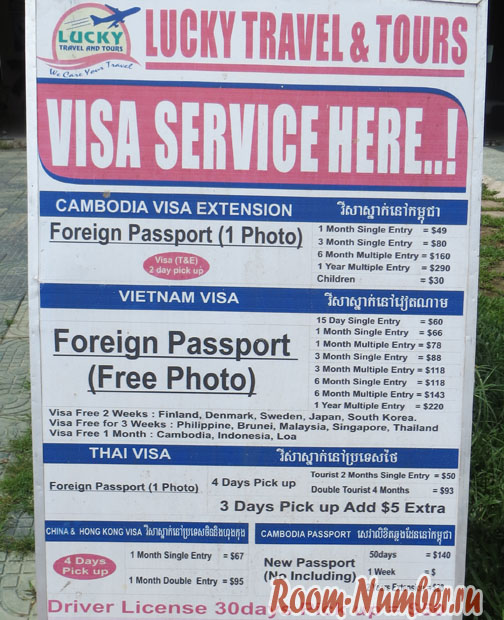 Prices for visa renewal in Cambodia
Prices for visa
1 month – $49
3 months – $80
6 months – $160
1 year – $290
You submit the documents to the office and within 3-7 days (depending on whether those days will fall on a Cambodian holiday), you get your visa of choice. No notarized certificates of employment, bank account, airline tickets, copies of leases, extracts from the house book and other bureaucracy is not required. Not even your personal presence is needed. You just hand in your passports, photos and money, and in a week you get your visa.
All for the people, compared to Thailand…
Cambodia doesn't have all that visa hassle like Thailand. You don't have to go to visa-rans, worry that they won't let you into the country or go to the immigration office and do another extension and pay money again. In Cambodia, all conditions are loyal and do not burden the traveler with unnecessary gestures and expenses. After all, for $290 per person, you can live in Cambodia for a year in peace! After Thailand, such visa conditions are like a breath of fresh air.
Do I need insurance for a visa to Cambodia?
For a Cambodian visa is not required to provide insurance for the period of your trip in this country. Therefore, whether or not to do insurance is your own business. We have already written a separate article about insurance to Cambodia.
You can get insurance in Cambodia on Compari ru website.
So why did we refuse to renew our visas?
Because, after living in Sihanoukville a month, we have already decided that at most we can stay here for another month, and that without much trepidation. The main thing in the city, not only good food, but the beaches. And since now the jellyfish season and the rainy season, which will end only in November, the sense that we live in Cambodia the whole October, to freeze and get wet under the daily rains. Moreover, the money is profitable to make a visa for at least 3 months, and to pay almost 4000 rubles for two people to stay for a month, we thought it was too expensive.
Our conclusions
Getting a visa to Cambodia is easiest on arrival. There are no problems with obtaining it at the land borders, if you take a bus from Thailand or Vietnam. The only thing is that the border guards will ask for $5 more. This is a scam for all tourists, which almost no one can cope with, but if you like frazzled nerves, you can try. Visa renewal in Cambodia occurs without going to another country and even without a visit to the immigration office in Phnom Penh, enough to apply to the offices that provide visa services, no documents need to collect, the return ticket also no one ever asks. The cost of a Cambodian visa is about $50 for a month, it is more profitable to make a visa for 3 months. It is possible to get a visa to Cambodia for a year for $300.
Visa to Cambodia: nuances and tips
Whether you need a visa to Cambodia, what documents you need for a visa to Cambodia, where to get a visa to Cambodia and other visa nuances – in our article.
Getting a visa to Cambodia is not a difficult process, at least not compared to getting a visa to the USA or countries of Schengen agreement. However, there are still some nuances, and it is better to know about them in advance. As the saying goes, forewarned is forearmed.
Russian citizens when crossing the Cambodian border must have a visa, which you can get in three ways: at the consulate of Cambodia in Moscow, on the Internet, or buy directly at the border. Naturally, it is most convenient to do it online or at the border, given that it does not cost any supernatural money and effort.
There are several types of visas to Cambodia: A and B – transit visas; C – short-term visa (including tourist visa); D – national visa.
To get a Cambodian visa at the Consulate, you must provide the following documents: a valid passport, a photocopy, three 3*4 photos and an application form, which is issued and filled out directly at the Consulate in Russian or English.
Also when submitting these documents you will need to pay a consular fee of $30. Visa processing time is an average of 3 days. Coordinates of the Cambodian Embassy in Moscow can be found here. You can also see the contact information of the Russian embassy in Cambodia.
If you want to avoid these procedures, you can easily get a visa immediately upon arrival in the country –
at the airports in Phnom Penh and Siem Reap and at the border crossings. You must have a passport, two photos 4 * 6, and pay a consular fee of $ 30 (this can be done on the spot). You must also add to this a kind of "tip" to the various employees of the border crossing, so that in the end the visa costs about 5 dollars more expensive. For absence of photo you also have to pay a little – $ 3-5.
It is worth noting that the Cambodian officers do not have a lot of nerve – at the Thai-Cambodian border for a visa they ask for $40 and $50, and at the border with Laos you can pay less than $30. Often tourists have no other option but to overpay to get the border guards off their backs.
There is also an electronic visa, which you can apply for online at the website of the Ministry of Foreign Affairs of Cambodia. This visa is not valid at the entrance, but only at the border points with Thailand (Poipet and Cham Yeam), with Vietnam (Bavet) and at the airports in Phnom Penh and Siem Reap. The cost of an electronic visa is $36.
Fill in the form in English on the above-mentioned website, to which you must also attach a scan of a passport photo in JPEG or PNG format. The passport must be valid for at least 6 months at the time of entry into the country. The visa fee of $36 must be paid with a Visa, MasterCard, American Express, or Discover bank card. The visa is executed within approximately three days, after which a confirmation is sent to the e-mail address of the applicant, which must be printed out and presented directly at the border crossing or at the airport. Visa is valid for 3 months from the date of issue, the period of stay in the country is limited to 1 month.
Visa to Cambodia for children
A visa is not required to enter the country with a child under 12 years of age, whose information is in the passport of the parents or one of them. To apply for a visa to Cambodia a minor child over 12 years old must submit the following package of documents:
– birth certificate with a note on the child's citizenship; – passport of the child over 14 years old; – certificate from an educational institution; – copies of passports/foreign passports of parents/guardians; – work certificate of at least one parent; – notarized permission of a parent to leave Russia for the child, if the child is going to Cambodia with one of the parents.
Medical travel insurance Price comparison service for medical insurance from leading Russian insurance companies. Specify the country and dates of travel, then choose a suitable option and take out the policy.