Ko Chang Island is an emerald paradise. Thailand
Ko Chang – Emerald Island, nestled near the eastern coast of the Gulf of Thailand about 300 km east of Bangkok in the province of Trat, close to the border with Cambodia. Ko Chang is the third largest (after Phuket and Samui) island in Thailand.
Why is it emerald? This is the color of the water that washes around the island and its gorgeous white sandy beaches.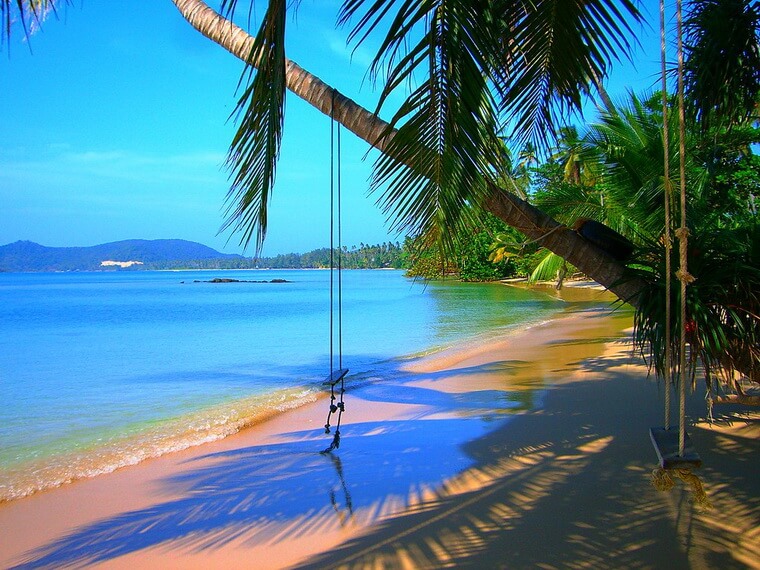 Emerald waters of Ko Chang
Intact jungle covers about 80% of the island. Amazing waterfalls and landscapes of pristine beauty will not leave you indifferent. The most important feature of this place – almost untouched nature. The island can rightly be considered a world landmark.
Where is Ko Chang Island
Geographical coordinates (12.043686, 102.344393)
Distance from Bangkok, capital of Thailand about 300 km
The nearest airport is Trat 23 km
Distance to the nearest major international airport in Pattaya 160 km
What is Ko Chang
Chang means "elephant" in Thai. Indeed the island is shaped like an elephant's head.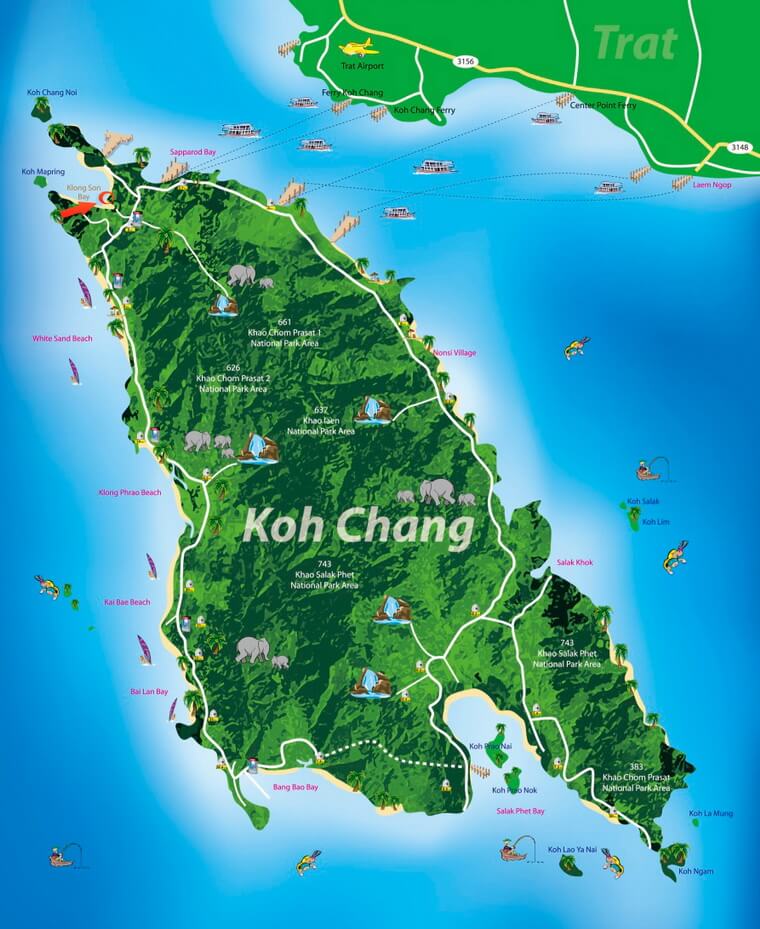 The shape of the island resembles the head of an elephant
Ko Chang is a relatively young resort, which was originally only rested rich local residents. Nature has been preserved here almost in pristine condition.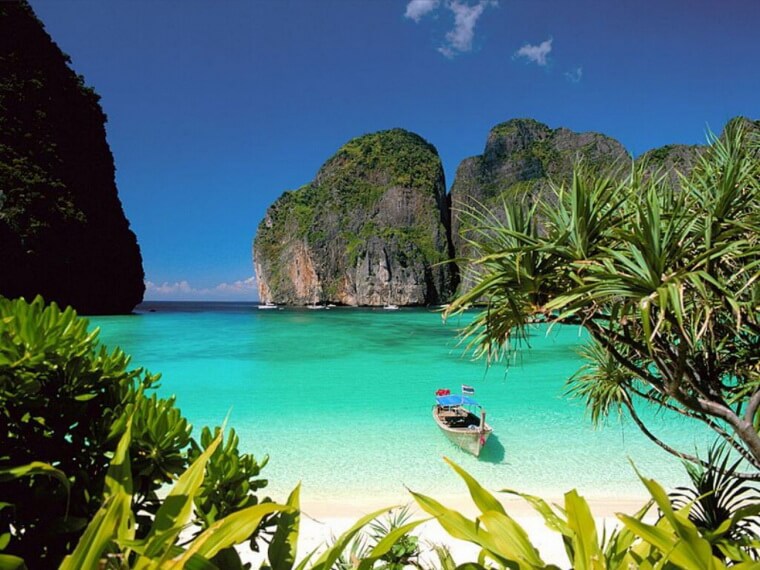 Many people call Ko Chang "the last island paradise" of Thailand
It stretches for 30 kilometers from north to southeast.
In fact, Ko Chang – a whole archipelago, consisting of 52 islands. But we will look at the largest of them. The other islets are much smaller.
The area of Ko Chang is about 212 km 2 . The highest peak on the island is Mount Khao Salak Phet. Its height is 743 meters.
From jungle-covered mountain peaks to wide bays, from waterfalls to flowering coral reefs, from beach huts to luxury resorts, Ko Chang is sure to surprise you. Despite the rapid development of tourism, the island retains its primitive character.
For a long time it was away from the bustling tourism business, so you will have the opportunity to be alone with yourself and nature (you can of course bring the family).
It is worth noting that in recent years, the island is rapidly developing – built hotels, roads and other necessary infrastructure. But the island has the status of a national park, so construction is carried out in compliance with all rules and regulations that do not allow the destruction and contamination of nature on the island.
An interesting fact – since Ko Chang is part of the National Park Mu Ko Chang, the rules of the park can not build buildings over 4 floors
On the eastern part of the island are plantations of rubber and tropical fruits. Bananas, pineapples, pomelo, jackfruit – this is just a small part of the delicious flora of the island.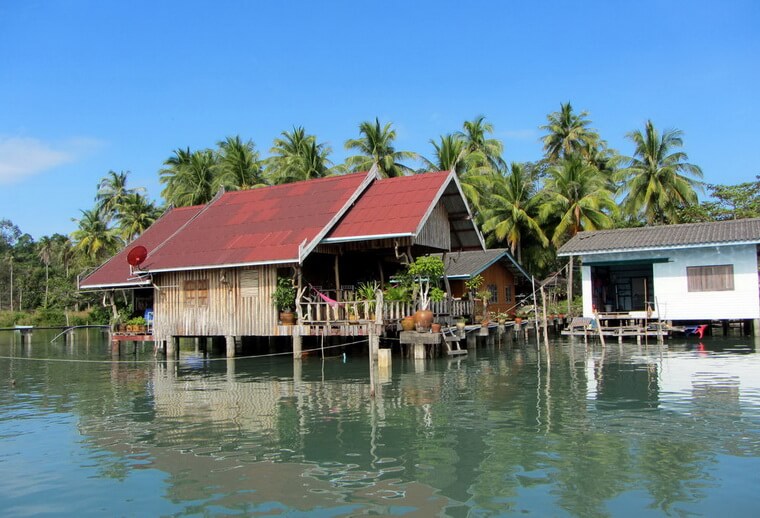 In the south of the island there are fishing villages of Salak Phet and Bang Bao, whose wooden houses are built on stilts.
Local seafood restaurants offer the freshest seafood.
Mu Ko Chang National Park
A large part of the Chang Archipelago became a National Marine Park of Thailand in 1982. Its area is about 650 km 2, 70% of which is ocean.
Beaches of Ko Chang Island
There are many beautiful beaches on Ko Chang. This is one of the most striking features of the island. The most famous beaches on the island are White Sand Beach, Klong Prao, Kai Bae and Lonely Beach. As you understand, these beaches are usually full of tourists, especially in high season.
White Sand Beach.
Originally it was a small village with a few simple bamboo huts.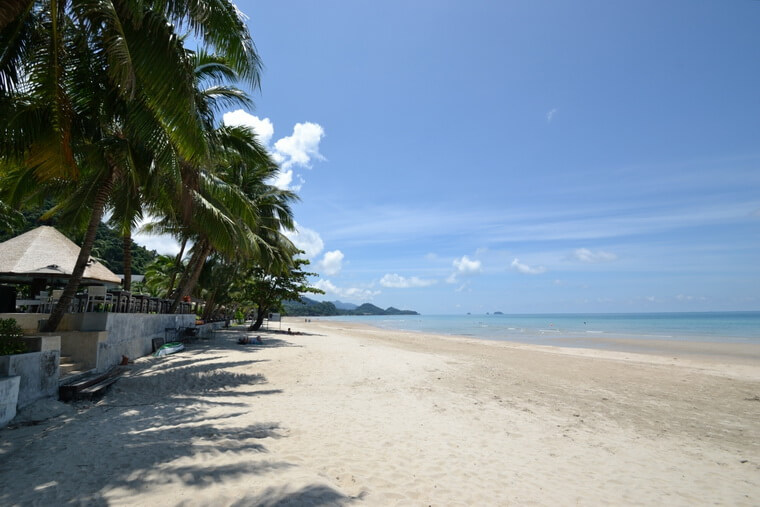 White Sand Beach
But now White Sand Beach is the main center of tourism in Ko Chang. Three kilometers of soft white sand and magnificent jungle-covered mountains await you here.
If you like an active nightlife and comfortable beach vacation, you will definitely like this place.
Klong Prao Beach
Klong Prao, located in the center of the west coast of Ko Chang, is home to some of the most upscale hotels on the island.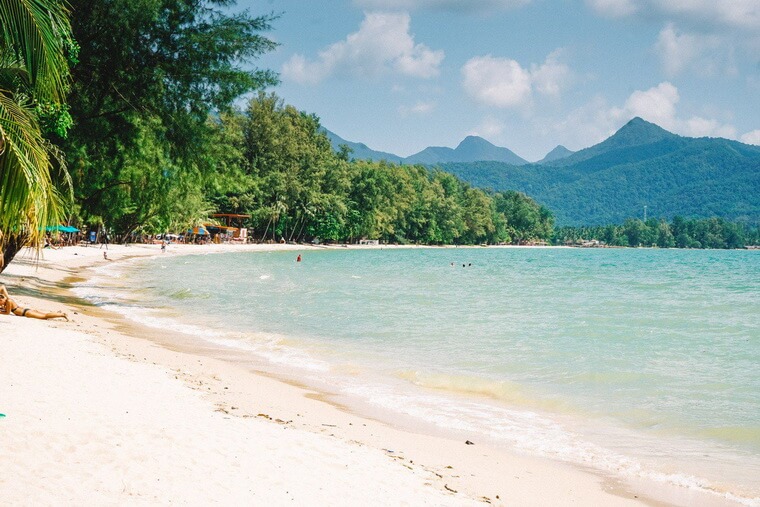 Klong Prao Beach
This beach has fine, white sand and calm, clear waters. Palm trees on the coast and picturesque scenery make it an ideal place for people who want to escape from the crowded tourist spots of the island.
The beach is divided in two by the mouth of a small river that runs through a coconut plantation and flows into the Gulf of Thailand.
In fact, Klong Prao is a village that stretches from the sea inland. However, the name is now used for the five-kilometer coastline from Chai Chet in the north to Cai Bae in the south. At the village of Klong Prao, upstream, a country road leads to Klong Plu Falls. It is the most popular waterfall on Ko Chang Island.
Kai Bae Beach
Kai Bae Village and beach is located just behind Klong Prao.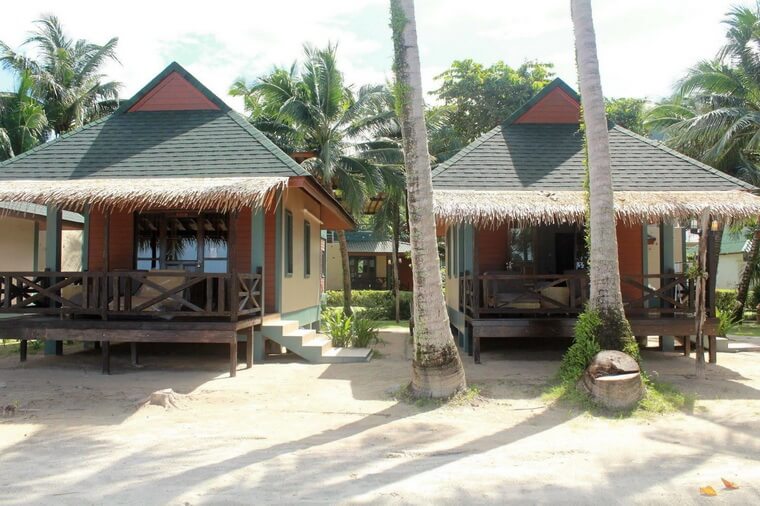 Kai Bae Beach
Kai Bae has the perfect mix of nightlife, great restaurants, and relaxing beach activities. Although not as long and wide as Klong Prao or White Sand Beach, this beach is known as one of the most picturesque tropical spots in Ko Chang.
The beach overlooks the small islands of the Gulf of Thailand. You can rent a boat here and go to one of these uninhabited islands and find a truly pristine beach.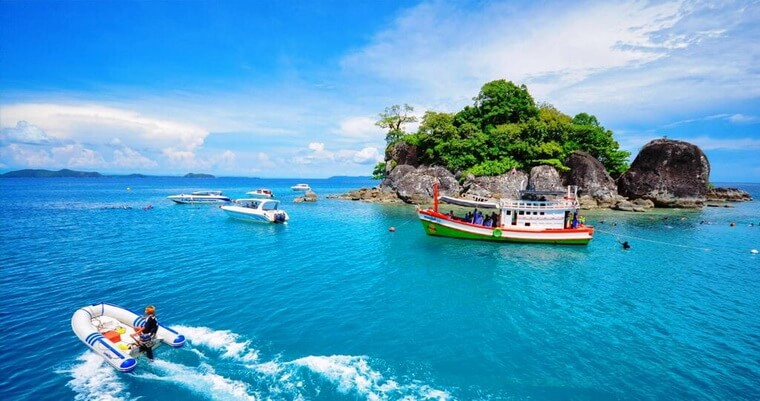 True, there can be many uninhabited island lovers
Lonely Beach
Lonely Beach, known to locals as Haad Tha Nam, used to be virtually inaccessible.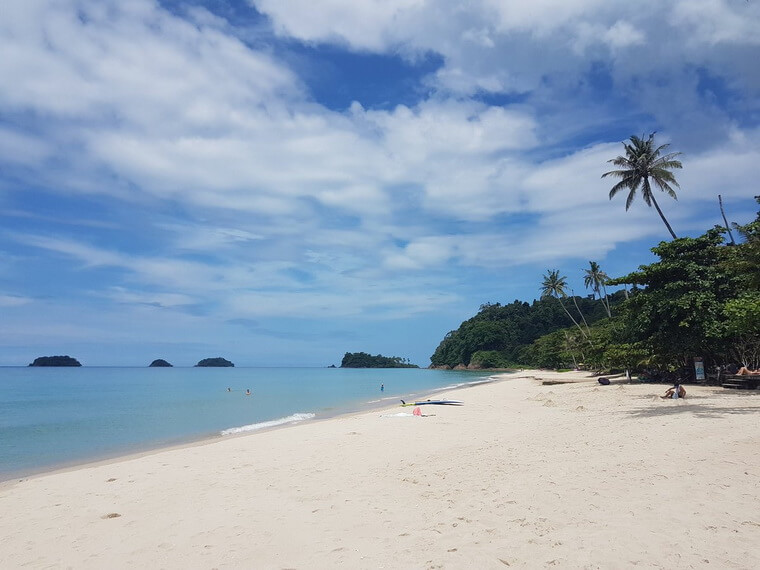 It could be accessed by a small trail over a high hill. But it was well worth it. A real slice of paradise awaited you with small, cozy thatched huts.
Now the huts have been modernized, and there is a road connecting the beach to the rest of the west coast. Nevertheless, the beach still retains its charm of yesteryear, and is a must-see for many tourists.
Other Beaches of Ko Chang
Klong Kloi Beach. It is also known as Bangbao Beach, as it is located in the south of the island one kilometer from the fishing village of Bangbao.
Dan Kao Beach. A small pink sand beach with three excellent small hotels.
Klong Son Beach. This beach is 1.2 km long and is home to the private Siam Royal View apartment complex. However, anyone can visit this beach. It is very shallow, so it is difficult to swim at low tide.
Long beach. Inaccessible beach in the southeast of the island. To get here you need to overcome a difficult but surprisingly scenic way.
Wai Chaek Beach. Another challenging beach located on the south coast of the island.
When you get tired of lounging on the beaches, dive the coral reefs. At a depth of 5 to 30 meters (where visibility will be about 20 meters) you will discover a wonderful and diverse underwater world.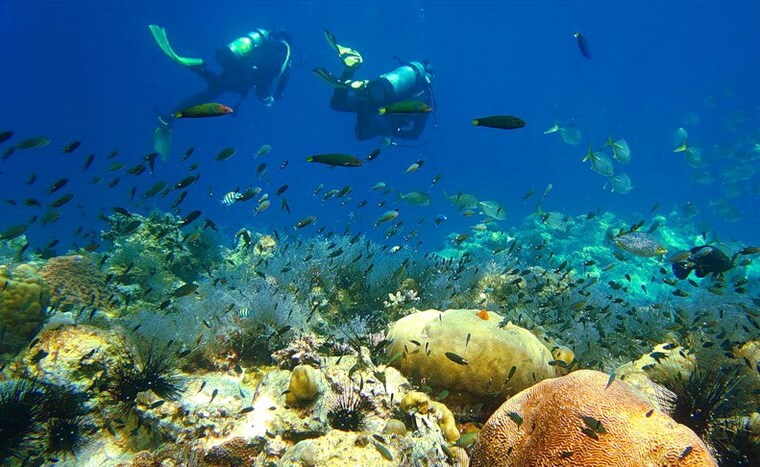 Diving in Koh Chang
In addition to fish, corals, and shellfish, you can even meet with a whale shark. Well, and look for the treasure of sunken ships is also possible. There are a few such places in local waters.
When best to go to Koh Chang
On Ko Chang there are three main seasons.
The cool season lasts from November to late February. During this time, the island is the busiest tourist destination, as the average daytime temperature is 27 – 30 o C. In addition, during this period there is the maximum number of sunny days and the sea is calm. If you do not mind the crowds of tourists, then this is the perfect time to visit.
The hot season follows the cool season and lasts for 3 months, from March to April. During these months the temperature usually exceeds 33 o C. Add to that the high humidity and you get not the most comfortable conditions. April and May are the most popular vacation months for Thais, so the tourist areas of the island tend to be crowded. Especially during Songkran, the Thai New Year, which runs from April 13 to 15.
The rainy season begins in late May. It rains here until the end of October. During these months, tourism on Ko Chang declines, as do accommodation prices. Although the weather is unpredictable, this can also be a great time to visit the island. It is much quieter, prices are lower, and the rainforests are thick green and full of life. This is the perfect time for people who just want to relax and enjoy some peace and quiet.
How to get to Ko Chang
There are many options from Bangkok. But there is no "best," as it all depends on your budget and preferred style of travel. The fastest, but also the most expensive option is to fly by Bangkok Airways to Trat. And then by ferry to the island.
You can just take a bus, and from Ekkamai Station to one of the piers at Cape Laem. Then take the ferry. They run to the island from 06:30 to 19:30.
Ko Chang in Tourism
The choice of accommodations in Ko Chang is enormous, which is not surprising considering the size of the island. You can find anything from luxury villas to budget beach huts.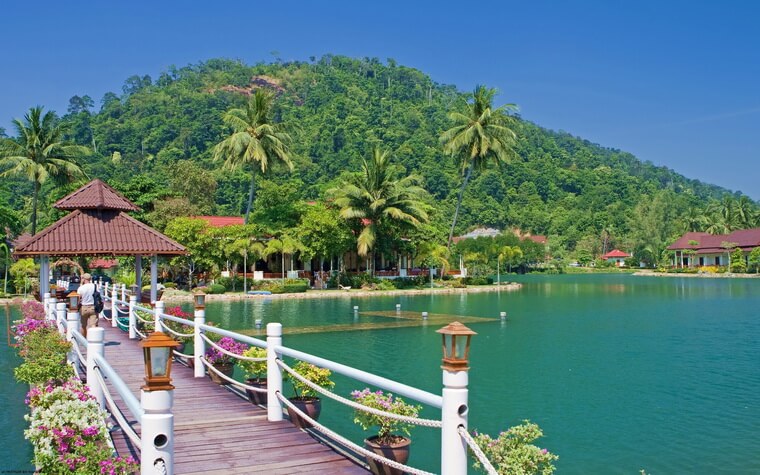 The most popular areas are on the west coast of Ko Chang. But if you want a minimum amount of tourists, go to the eastern part of the island. Here you will experience the real local life. You'll see classic fishing villages and lush green countryside.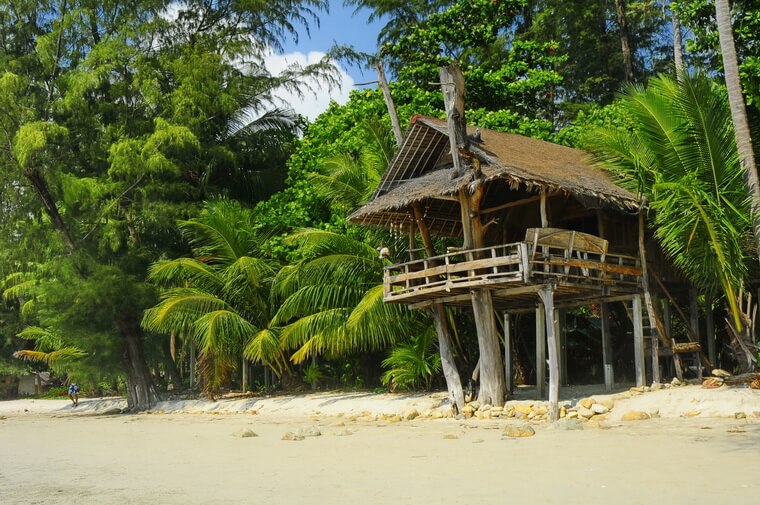 But remember, there is no public transportation in this part of the island. You'll have to use a cab or a rented scooter.
16 Best Sights in Ko Chang Island
Ko Chang is the second largest island in Thailand. It has excellent conditions for fans of outdoor sports. Ko Chang is famous for the diversity of wildlife.
Many people call this island a paradise for nature lovers. The serene white sand beach and fabulous blue sea water make Ko Chang an ideal destination for weekend excursions. This is why the number of tourists visiting the island has increased significantly over the past decade.
What to see on Ko Chang while on vacation in Thailand?
Bang Bao Fishing Village
Bang Bao Fishing Village photo: Paola Farrera / Flickr.
In this former fishing community, built in the traditional local style of houses on stilts connected to each other by a pier, villagers have swapped nets for rental properties.
They rent part of the houses for souvenir stores and restaurants. Most tourists visit this village for its excellent seafood and exciting shopping.
At first glance, Bang Bao may seem like just another tourist trap, but the pier really is an excellent place for an exciting stroll, and the vendors who fill it offer quality local produce.
It's definitely worth a walk to the far end of the pier to see the white lighthouse and boats sailing to the nearby islands. Unless you plan to spend the night in one of the guest houses at the pier, head back before dark, as you may have trouble finding a cab.
GPS coordinates: 11°58'17.2″N 102°18'46.0″E.
Ban Salak Phet Village
Village Ban Salak Phet.
If you want to see what Ko Chang was like before tourists arrived, visit the village of Ban Salak Phet on the far southeast side of the island.
In this quiet community you'll see numerous houses on stilts, fishing boats and yawning dogs stretching on the side of the road. It is a suitable place for fascinating walks.
Most visitors head to seafood restaurants or the secluded beach. Behind the village shopping center is Ao Salak Phet, a beautiful blue bay surrounded by rocky islands.
GPS coordinates: 11°59'45.1″N 102°22'12.0″E.
Khlong Kloi Beach
Khlong Kloi beach.
At the eastern end of Ao Bang Bao Bay is the sandy beach of Khlong Kloi. This is a remote location away from the sightseeing routes. Although it is popular with holidaymakers, you can still enjoy a sense of seclusion here.
The beach has everything you need for a comfortable holiday – beer, food, fruit, massage, as well as several guest houses.
The address is Klong Kloi Beach, Koh Chang Tai, Chang, Trat, Thailand.
Mu Ko Chang National Marine Park
View from Mu Ko Chang National Marine Park.
This park covers the land and sea area of the archipelago, occupying almost the entire central part of the island. The security of the park is fairly haphazard, but you will have to buy an entrance ticket when visiting some of the waterfalls.
The headquarters of Mu Ko Chang National Marine Park is on the east side of the island, near Nam Tok Than Mayom.
It is prohibited by law to sunbathe nude or topless in Mu Ko Chang National Marine Park. This rule also applies to all beaches in Ko Chang, Ko Kut, Ko Mak and Ko Wai.
Address: Mu Koh Chang National Park, อำเภอ กิ่ง Chang, Trat, Thailand.
Ao Salak Kok Cove
Ao Salak Kok Cove.
Dense thickets of mango trees are protected here by local fishermen who realize the ecological importance of these forests. Mango trees are the ocean's nursery for the next generations of marine species, and a habitat for birds and crustaceans.
This bay is now considered the best place for ecotourism in Ko Chang. The villagers run an award-winning program to protect the environment and traditional way of life. They rent kayaks at Salak Kok Kayak Station and operate a restaurant at the station.
GPS coordinates: 12°01'59.4″N 102°23'41.4″E.
Kai Bae Beach
Kai Bae Beach.
Kaibae is located next door to Khlong Prao Beach. It is a wonderful vacation spot for families with children and middle-aged couples. A narrow strip of sand stretches along the bay separating the beach from the bustling tour groups, and there are numerous bars and restaurants open along the main road.
You can kayak to the island and enjoy the contemplation of the sea waves lapping against the shore at low tide.
Address: Kai Bae Beach, Ko Chang, Trat, Thailand.
Nam Tok Khlong Plu Falls
Nam Tok Khlong Plu Falls.
This is the largest and most impressive of all the waterfalls on the island. It is a three-tiered water cascade with a pool in which you can swim (with fish). It is easily accessible from the beach Khlong Prao: drive 1.5 km on the main road, pay the entrance fee to the national park, and then climb 600 m up a forest path.
The waterfall looks most impressive after a few months of the rainy season, and in the morning before the arrival of the crowds of tourists.
Address: Khlong Phlu Waterfall, Ko Chang, Chang, Trat, Thailand.
Ao Khlong Prao Cove
Ao Khlong Prao Cove.
The beach at Khlong Prao Cove is a slightly curved strip of sand sand sandwiched between giant mountain promontories and divided by two deltas. If you look closely at the sand at low tide, you can see living creatures that have been exposed by the waning water.
Luxury resorts can be seen everywhere, where vacationers spend most of their time sunbathing by the pool, as water floods most of the beach at high tide.
Address: Klong Prao beach, Ko Chang, Chang, Trat, Thailand.
Beach Hat Sai Khao (White Sand Beach)
Beach Hat Sai Khao (White Sand Beach).
The longest and most luxurious sandy beach on the island. "White Sand Beach", as it is called, is crowded with tourists from beachfront hotels and passionate sunbathers.
Going to the northern part of the beach, you can find a more secluded place. Along the main road you will encounter a village of pesky inhabitants, but try to be polite to everyone.
Address: White Sand beach, Ko Chang, Trat, Thailand.
Lonely Beach
Lonely Beach
You definitely won't feel lonely on this beach – it's the liveliest place in Ko Chang, especially after sunset when beach parties are held here, during which ladles of vodka are passed around and music is played loudly. Pebbles are only at the south end of the beach, and the rest of the area is sand. The official name of this beach is Hat Tha Nam.
Address: Siam Beach Resort, Ko Chang, Trat, Thailand.
Nam Tok Khiri Phet Waterfall
The waterfall of Khiri Phet.
This small waterfall is located 2 km from Ban Salak Phet village and 15 minutes walk from the road. Its distinctive feature is a small but deep pool where you can dive. Usually there are fewer tourists here than at the larger waterfalls, and it is easy to reach, especially from the neighboring bay of Ao Salak Phet.
Address: Khiri Phet Waterfall, Koh Chang Tai, Chang, Trat, Thailand.
Nam Tok Than Mayom Waterfall
Complex of waterfalls Nam Tok Than Mayom (Than Mayom Waterfall). | Photo: yevgeniy sokurov / Flickr.
The three waterfalls, located along the Khlong Mayom River, can be reached through the park office near Nam Tha Than Mayom. The panorama from the top is magnificent and you can see inscribed stones with the initials of Rama V, Rama VI and Rama VII next to them.
Address: Than Mayom Waterfall, Ko Chang, Trat, Thailand.
Hat Kai Mook Beach
Hat Kai Mook Beach translates as "Pearl Beach", although instead of pearls they are coarse gravel that covers the shore and reaches down to the headlands, near which hordes of friendly fish swim. You can not swim and sunbathe here, but it is a great place for fans of snorkeling.
GPS coordinates: 12°04'54.5″N 102°16'33.4″E.
Diving
Diving in Ko Chang.
If you are looking for the perfect place for an unforgettable diving experience in Thailand, it is definitely Ko Chang. The sea off the island is shallow and clear, with many mesmerizing coral reefs and flocks of colorful tropical fish.
All this makes Ko Chang one of the most popular places in the country suitable for diving. The best time to dive is from October to May, when the sea is warmer and visibility is better. There are stores along the beaches where you can rent diving equipment and take a course with a professional trainer.
Treetop Adventure Park
Treetop Adventure Park.
The tropical island of Ko Chang offers its guests a wide range of exciting outdoor activities. Treetop Adventure Park is an exceptional opportunity to visit the island's rainforest.
You will have great fun with the original rope rides including rope bridges and trails, bungee cords and tropical slides. If you want to test your stamina, try to overcome the zip line, a rope stretched at an angle between the trees.
Stunning experience! Trained staff accompanies visitors at all times for safety.
Address: Tree Top Adventure Park Koh Chang, Koh Chang Tai, Chang, Trat, Thailand.
Zip N Zorb Adventure Park
Zip N Zorb Adventure Park.
The name of the park speaks for itself – it is a wonderful place in Ko Chang where you will get an unforgettable experience with two extreme rides – zipline and zorbing.
Have you ever imagined what a rainforest looks like from above? This amusement park invites visitors to walk through the rainforest with a rope rope and fly above the tallest tropical trees.
Zorbing is a new type of outdoor activity and entertainment. You are placed in a transparent inflatable balloon of gigantic size, and you roll in it on a distance of about 46 m. The distance doesn't seem like much, but you'll find out just how hard it is when you start your descent.