Ko Tao – the turtle island of Thailand
Ko Tao is one of the many and attractive islands of Thailand. It is part of the Chumphon Archipelago. Literally, the name of the island translates as "turtle island".
The island of Ko Tao is a popular place for scuba diving in Thailand. Perfect white sand beaches surround the hilly island of 21 square kilometers. The crystal clear waters of the Gulf of Thailand are excellent for diving and snorkeling.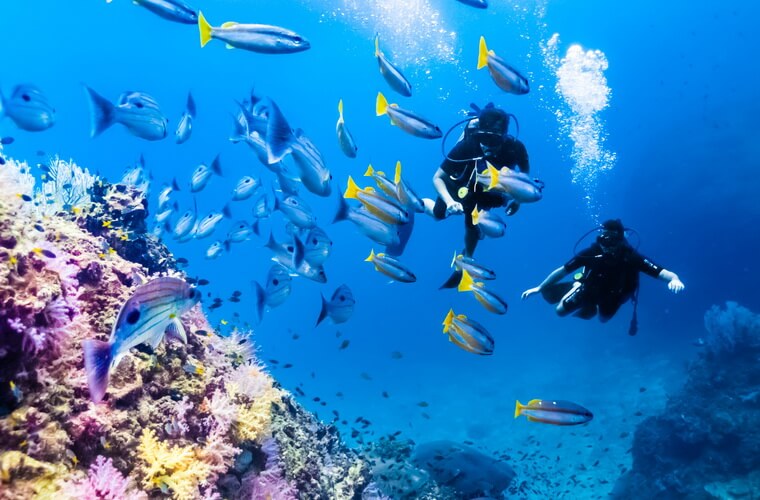 Diving on Ko Tao is one of the most popular activities
The vibrant coral reefs are home to many interesting and colorful sea creatures, including turtles.
Where is it
Located in the south of Thailand about 50 kilometers north of Samui in the western Gulf of Thailand.
Geographic coordinates (10.093813, 99.837149)
The island was "opened" for tourism only in the early 1980s. And today it actually lives off tourism and related infrastructure.
Here you will find a wide range of hotels, from budget guest houses and beach bungalows to luxurious 5-star hotels. The number and variety of restaurants and nightlife is constantly growing. Despite the fact that the island is relatively far from civilization, it is an idyllic tropical paradise.
The capital of the island is the settlement of Mae Haad.
Attractions of Ko Tao
Although the island is small, but pleasantly surprising sights. Here are some of the best beaches in Thailand with the purest white sand, palm trees and sparkling blue sea. And besides the beaches, there are some great viewpoints, and other attractions.
Nang Yuan Island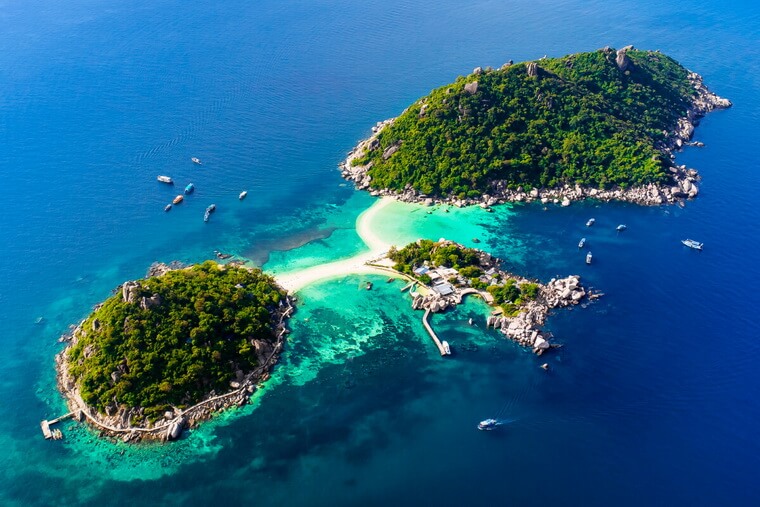 Nang Yuan
Nang Yuan is actually a group of 3 tiny islets off the northwest coast of Ko Tao. You can get to them by boat for a small fee.
The main attraction of Nang Yuan is the beach that connects the islands. It is a narrow spits of sand, similar to the sandy paths between the islands. That is why it is the iconic and most photographed landscape of the area.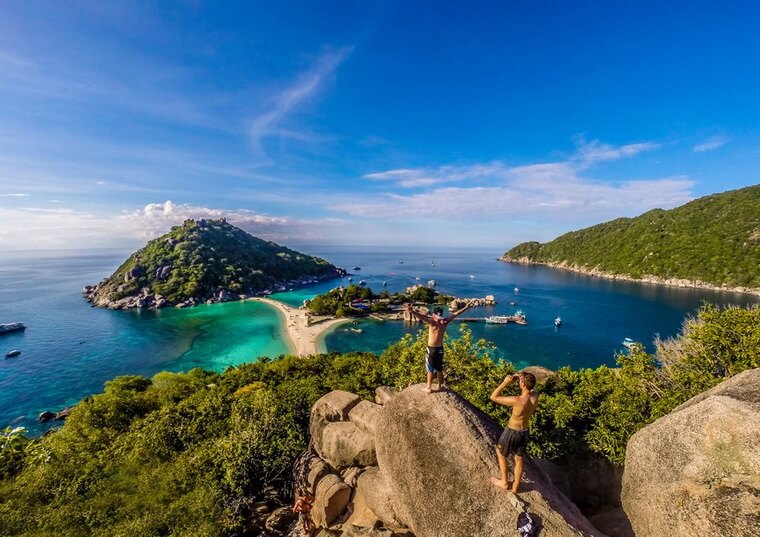 This viewpoint is located on the south islet
Naturally, because of the amazing landscape of Nang Yuan's beaches, they are usually heavily packed with tourists. However, it is definitely worth a visit. Try to get here early, before the mass influx of tourists.
Diving in Koh Tao
The island is known as an ideal place for diving. The picturesque coral landscapes are home to turtles, stingrays, reef sharks, barracudas, and many colorful coral fish.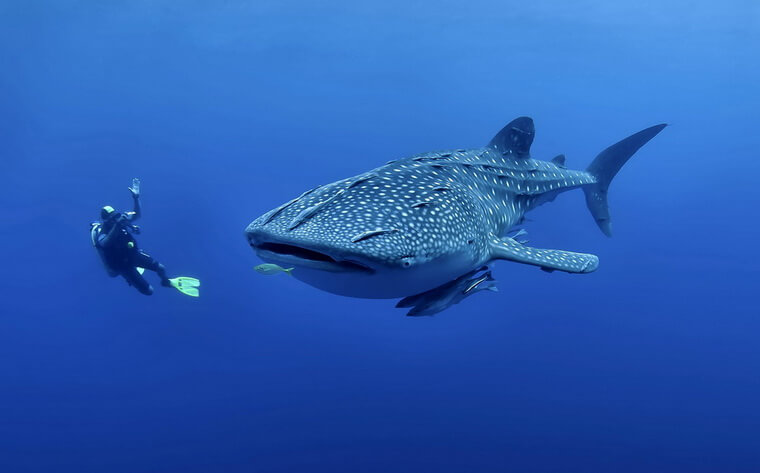 And if you're lucky, you may be able to see enormous, but safe for humans, whale sharks
Popular dive sites include the underwater sculptures of Ocean Utopia, the sunken HTMS Sattakut warship, Lighthouse Bay, Japanese Gardens, Chumphon Pinnacles and many others. On the island, you'll find dozens of dive centers offering daily excursions and training courses.
Sairey Beach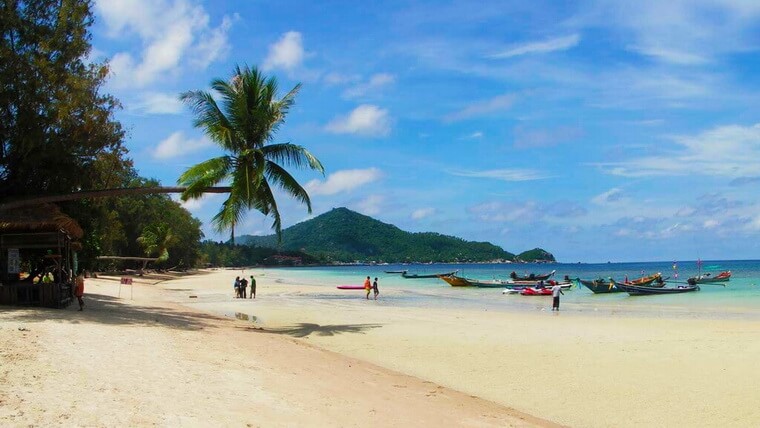 Sayri Beach is probably the most famous beach on Ko Tao. This is the noisiest, longest and busiest beach on the island. Here are a lot of inexpensive hotels, cafes, and restaurants.
Haad Tien Beach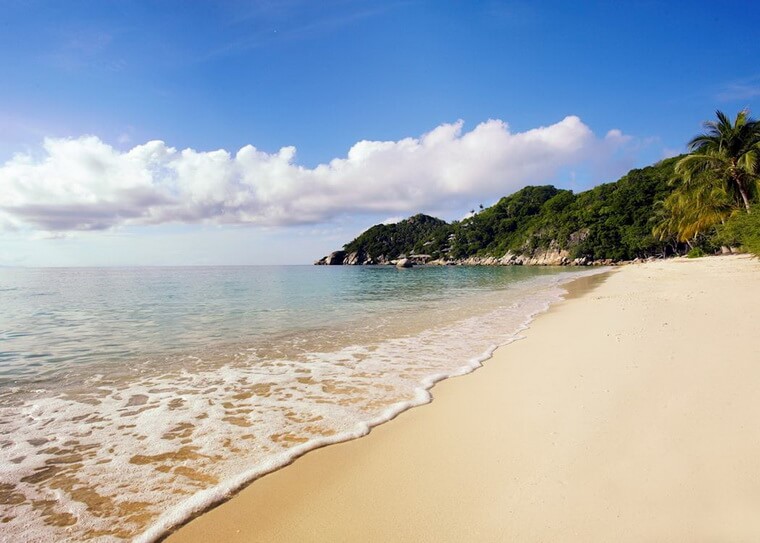 Haad Thien is known as the "Rocky Bay. Although it is one of the most remote beaches from Mae Haad, it is also one of the best. Here the clearest water and the cleanest beach. In addition, there are a number of exclusive hotels. Sometimes it is also called "Shark Bay". This is due to the large number of black tip reef sharks, among which you can even swim.
Tanote Bay
Tanote Bay has the largest beach on the east coast. This is the busiest and most populated area on this side of the island. The beach is 260 meters long. And of course there are hotels, bars and restaurants.
Mae Haad beach
Mae Haad is the main beach of the island's capital. Here you will find a pier, as well as many guest houses, stores, bars and entertainment. Naturally, this beach is one of the busiest.
Stone Bay Mao Bay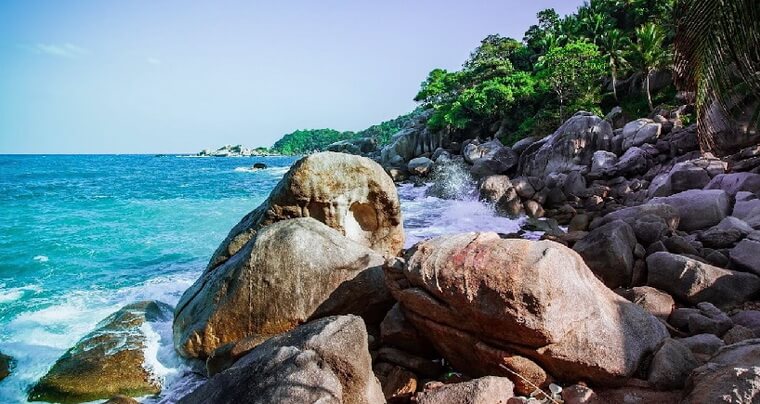 It is located on the east coast of the island. You can hardly swim here. But it's worth a visit for the views. The boulders against the backdrop of the jungle and sea are photogenic.
Mango Viewpoint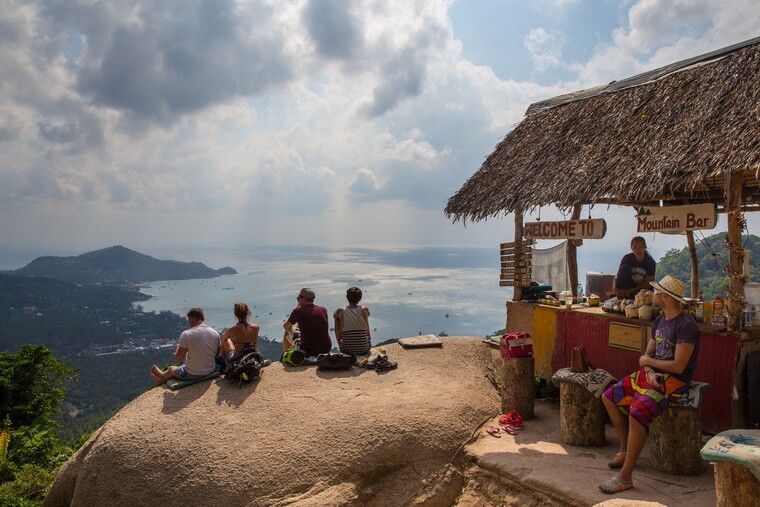 Mango Viewpoint is located in the hills on the north side of the island. From here you can get a breathtaking view of the island's capital and Sairi beach. It can be accessed on foot along a challenging road up the hill from the 7-Eleven convenience store at Sayri Beach, or by motorcycle along a different but equally challenging road.
You will be charged a small fee to enter this observation deck. It is said that the money will be used to build a good road to the observation deck.
Two Views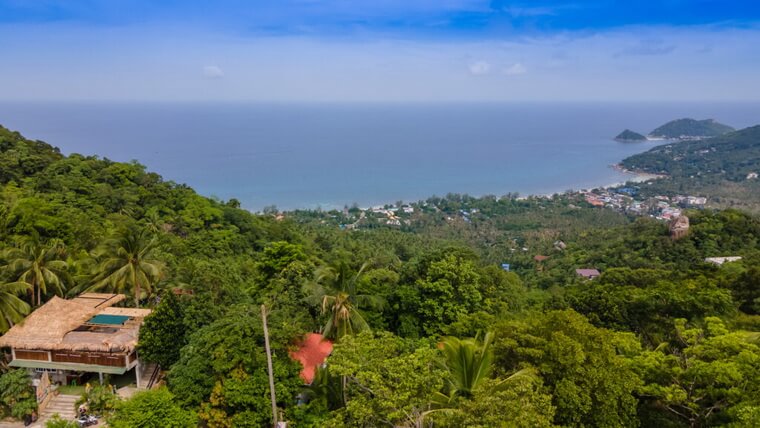 Two Views is one of the most difficult viewpoints to access. It is located just a few hundred meters from the highest point of the island of Ko Tao Mount Tanote. There are several restaurants at the observation deck, which gives you the opportunity not only to enjoy the beautiful views of the island, but also to try local and European food in the restaurant.
On a clear day you can even see the island of Ko Phangan 30 kilometers to the south.
John-Suwan Viewpoint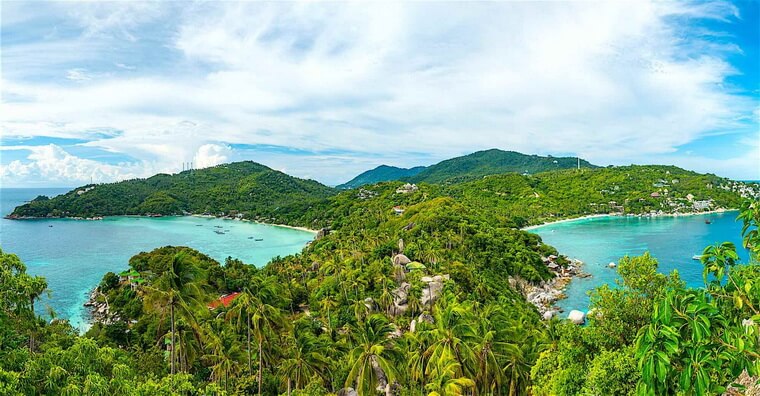 John-Suwan is one of the top three viewpoints on Ko Tao.
This spot is right on the southern tip of Koh Tao. From the small peninsula you can see the beaches of Chalok Baan Khao and Haad Tien.
There is a fee to enter the site. And it is much easier to get here than to the previous sites.
Interesting fact – the site is named after two friends who chose this place to build a house.
Grape Viewpoint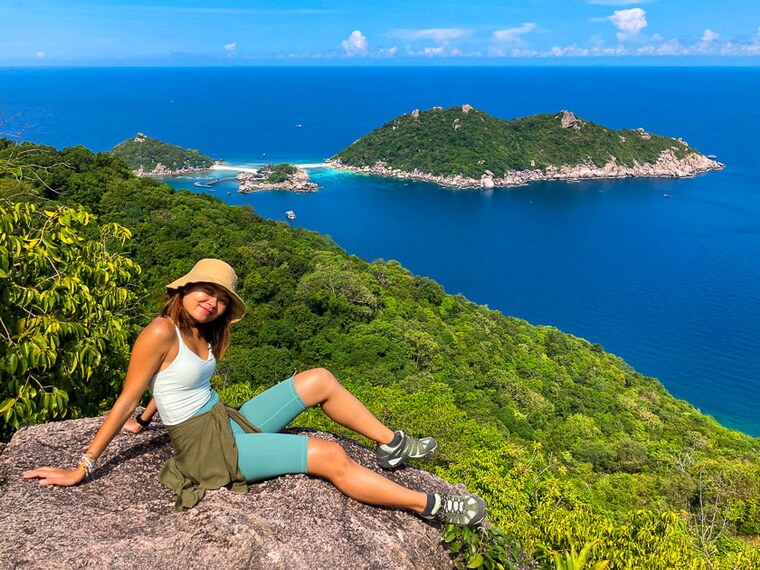 You will find it on the northern part of the island. It's not an easy way to get there, but you'll enjoy the walk through the jungle. From here you can get a great view of the Nang Yuan Islands.
The Statue of King Rama V.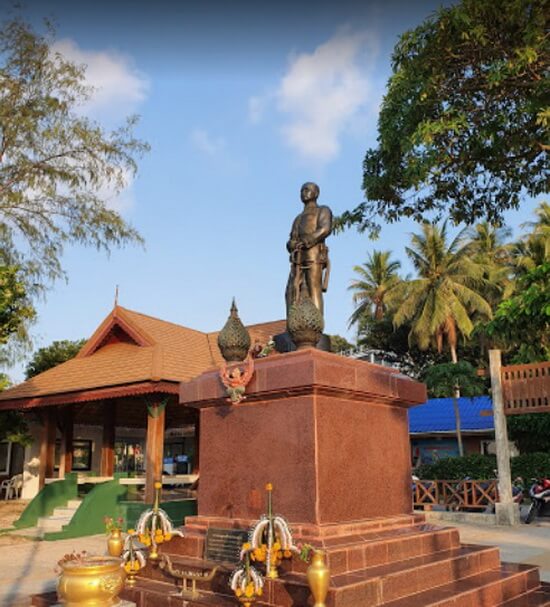 At the southern end of Sairi Beach there is a large rock formation. Next to it there is a monument to King Rama V. The monarch visited this island in 1899. I must say that this is a very revered place on the island. Many Thais come here to pray and just to sit.
Ko Tao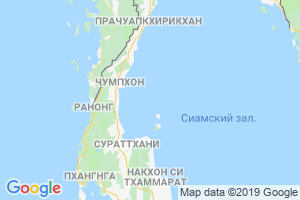 Ko Tao – an island in the Gulf of Thailand in the province of Surat Thani, whose name literally translates as Turtle Island. The island is not large at all – about 21 square kilometers, with a population of less than a thousand and a half people.
In 1933-1947 this island was famous for being a prison for political prisoners, but today it is known to most people as a great sea and dive resort, where there is no crowds and bustle of Ko Samui, let alone Phuket. The entire economy of the island is based on tourism. Ko Tao is considered because of its colorful underwater world one of the best places in Thailand to learn and practice diving. Here there is virtually no current and a large number of dive sites, schools and stores where you can buy all the necessary equipment.
During the year, Ko Tao is visited by over 100,000 people. True, the island faces some everyday problems, for example, the lack of drinking water and expensive electricity. There is also a problem with garbage, as the resort is less developed than other islands. Nevertheless, there are enough bungalows and hostels for accommodation, as well as bars and restaurants. The administrative center of the island is Ban Mae Hut, where ferries arrive from other islands and the mainland.
Area: 21 km 2 Population: 1382 (2006) Currency: Thai Baht Language: Thai Official website: http://kohtao.com/
Flight time: (closest airport on Koh Samui) from Moscow – from 11 hours 30 min. (1 connection) from Saint-Petersburg – from 14 hours 45 min. (2-3 connections) from Kazan – from 15 hours 5 min. (2-3 connections) from Ekaterinburg – from 16 hours 15 min. (2-3 connections) from Novosibirsk – from 10 hours 20 min. (1-3 connections)
The busiest seasons on Ko Tao are from December to March and July to August. This place is quite popular among Thais, so on Thai holidays there may be absolutely no vacancies.
How to get there
The only way to get to Ko Tao is by ferry. The closest airports are on Koh Samui and Surat Thani, which have very good connections to the region's major cities like Bangkok, Penang, Singapore, and others.
From Surat Thani
You can get to Ko Tao by ferry from Surat Thani on the mainland – one ferry leaves in the morning and takes about 4 hours, but there is also an overnight ferry that sails at about 11:00 am and arrives at Ko Tao early in the morning (about 6 am). In case of overnight sailing, it is recommended to board early to get a mattress.
From Ko Samui and Ko Phangan
Ferries to Ko Tao also sail from the neighboring islands of Ko Samui and Ko Phangan. These are the more popular tourist islands, so many people who want to relax in a less crowded place go to Ko Tao. For this purpose, you need to use the ferries of the company Lomprayah. Tickets for these boats can be purchased online. This company is generally considered one of the best in Thailand in terms of ferry transportation, their ferries are equipped with air conditioning, so that in the intense heat on board not so hard. Departures from Ko Samui are at 8:00 and 12:30, with a stop in half an hour on Ko Pangan. Seatran also has a good reputation, whose comfortable ferries also connect Ko Samui and Ko Tao, departing from the first island at 8:00 and 13:30 (travel time is 2 hours). On the way, the ferry stops at Koh Phangan at 9:30 and 2:00 pm.
From Bangkok and Chumphon
From Bangkok you can also take the Longprayah ferries, which depart at 6:00 and 9:00 p.m. with a travel time of 8 hours and 45 minutes on the day trip and 12 hours and 45 minutes on the night trip. Another option is the Songserm trains and ferries. First you will have to take the train to Chumphon (departure 18:20 or 19:30; arrival in Chumphon 2:56 and 3:44) and then take a ferry to Koh Tao (see below). You can also take the train to Surat Thani, they leave at 5:35, 18:20 and 19:30 (the last two are the same as to Chumphon), arriving at Surrat Thani at 5:03, 5:30 and 6:11 am respectively. From there it is already possible to depart by ferry.
From Chumphon to Ko Tao you can take ferries from several companies – Lomprayah and Songserm. The ferries Longprayah leave at 7:00 and 13:00; ticket costs 600 baht and travel time is 1:45. Songserm Ferries depart at 7:00 and arrive in Ko Tao at 9:30.
It is always worth checking the timetable carefully – missing the right ferry or train is always unpleasant.
Get to your destination without transfers. When traveling with a traveling companion you don't have to worry about lines and hours spent waiting at the station.
We cooperate with Blablacar and don't take any commissions – the cost of the trip is absolutely the same as on the website.
Reviews by month
Transportation
There is one main north-south road on the island, from which the secondary roads branch off. It connects the northern village of Sairi with Chailock, passing through the center of Mae Haad Island. Some of the secondary roads lead to small mountains in the middle of the island, and they are all very muddy and easily eroded by rain. In recent years, the island has appeared tolerable paved roads leading to the main beaches and bays. However, the condition of roads on the island is still depressing, so drivers should be as careful as possible. In addition, traffic rules are ignored everywhere, no one monitors the speed limit, and stray dogs do not mind sleeping right on the road. Traffic, by the way, is left-handed.
Rent
Many tourists in order to explore the island and its beaches do not mind to rent a vehicle. By some vehicle is meant either a motorcycle or a bicycle. Although you can also rent a small jeep, which will cost at least 1000 baht. Motorcycles are cheaper – from 150 baht. It is best and cheapest to rent Honda Dream and Sonic models. Very interesting can be a bike ride – it is cheaper and more environmentally friendly, although when riding on a two-wheeled friend is also worth watching out, as local drivers are not neat.
In the case of renting any vehicle must take pictures of all scratches and damages so that then you can prove to the rental company, which is not a bread and butter let them cheat, that the tourist is free because he did not damage the bike or motorcycle or a car.
Cab
It is also true that Koh Tao has its own cab service. It is a motorcycle cab, working from early morning until about 11 pm. Motorcycle cabs can be found in the main busiest areas of the island or you can catch one right on the road. There are no fixed prices, so it's always worth negotiating in advance. At nighttime, cab drivers almost double the fare. In addition, given the driving style of the locals, you should prepare for a trip with a breeze.
On the main beaches of the island you can take a water cab – a boat company Longtail, which can take tourists to remote beaches and bays for a fee. You can rent a boat with a driver for the day or, for example, for a walk around the island, which will cost about 500-700 baht.
Photos of Ko Tao
What to see in Ko Tao
The island of Ko Tao is famous primarily for its underwater world, but on land there is something to see – the nature on tropical islands is always a particular beauty. On the other hand, in Ko Tao there are no significant tourist attractions. For example, there is a fishing museum at the southern end of the village of Sairi, opposite which is the Rama V Rock, which offers a beautiful view of the surrounding area. Another great vantage point is Two View, one of the island's highest points on the way to Tanote Bay. Chalok Baan Khao also offers great views, and the bay here is particularly impressive. There are several other great vantage points around the island, such as John Suwan in the south, two sites in the center, and Fraggle Rock in the north.
By and large, each cove on the island is a natural landmark of its own beauty. Koh Nang Yuan, Freedom beach, Laem Thian, Mango Bay, Hin Wong Bay and Tanote Bay are good places for day trips and can be reached either by land or sea. Admittedly, some roads may be in such condition that they can only be accessed by car or off-road vehicle. Certain beaches are privately owned, but nothing prevents you from diving in their coves. As an example of a great dive site stands Shark Cove, a great place to dive, which is home to black tip reef sharks, non-hazardous to humans.
Where to go on Ko Tao
Cape Thien, on the east coast of Tao Island, has different names on maps: Cape Thian, Laem.
Interesting places in Koh Tao
Also
Things to do
Diving Koh Tao
This is probably the main reason tourists come to the island. The seascapes in Koh Tao are beautiful and abundant with turtles, stingrays, barracudas, a variety of minnows, reef sharks, and even a small chance of meeting a whale shark. At Chumphon Pinnacle (Chumphon Pinnacle) sometimes you will find young six-jawed sharks, which are not aggressive.
On Koh Tao is almost always (except November) is good weather for diving, and visibility underwater can exceed 40 meters. In November, the sea is covered with ripples, and visibility is reduced. The average visibility is 10-15 meters.
It is possible and quite comfortable to swim and dive without a diving suit all year round. Nevertheless, as in any other place, it is recommended to have a diving suit to reduce the risk of getting cut or injured. Contact with coral reefs should be avoided.
For diving dummies on Koh Tao, there are various PADI scuba diving training centers offering professional courses, equipment rental, dive boat and certificate for a price of several thousand baht; insurance and accommodation may also be included in the price. Typically, a single lesson costs $24. By the way, Ko Tao is second in the world in the number of issued certificates PADI. In total, there are about 70 dive schools. The competition is quite high, which positively affects the prices. Some provide free accommodation for a period of training.
Typically, the training takes place first in the pool, where he is taught about 20 basic skills, and then the student is waiting in the open water. Some schools have their own pier, others go from the beach to the sea by boat. It is worth making sure in advance that the instructor speaks a clear and familiar language – Russian or English.
PADI Centers and Resorts
"Ban's Career Development
"Crystal Dive
"Coral Grand
"Black Tip Diving & Water Sports
"Easy Divers
"Seashell Dive
"Sunshine Divers
"New Way Diving
"Island Dive Club
"Alvaro Diving & Taraporn Bungalow
"Asia Divers Resort
"Impian Divers 5 Star
"Planet Scuba
SSI Dive Centers
Other Dive Schools in Koh Tao
Dive Sites Koh Tao
Diving is not just about diving.
Over the past few years, an increasing number of non-divers have been discovering the beauty of this island, with its secluded coves and pristine mountain ranges. Thanks to this, small fashionable resorts are steadily increasing in number, villas have sprung up in the valleys, and overall the island has seen many more activities, including swimming, rock climbing, rock climbing, water skiing, jungle paintball, mini golf, bowling at Mae Haad, massage and yoga courses and cooking courses, eco-tourism, and so on.
"Good Time Adventures is almost the main tour company on Koh Tao with a wide range of exciting activities including: rock climbing lessons at different levels; guide services; diving (certified divers only) with speedboat rides; mountain climbing, mountain biking, snorkeling; cruises; and tours to the best beer and bars on the island. Various custom tours and packages are available, allowing visitors to figure out how to spend their time. Climbing equipment (shoes, chalk, bedding) is also available, including a free map of hiking spots on the island.
Cruises around the island are day and evening sailing cruises, but private trips, safaris to Ang Thong National Marine Park and customized group trips are also available on the island.
Thai Boxing – For those who want a serious workout, the Thai Boxing Stadium in Sayri offers Muay Thai wrestling courses, and if that's not enough, there's the convenient Monsoon Gym nearby.
MV Watersports offers a variety of water sports such as catamaran sailing, boating, water skiing, windsurfing, and more.
Black Tip Diving & Water Sports has a similar selection of activities: boats, surfing, snorkeling, cliff diving, trips around the island, kayaking and so on.
Food & Drink
On Ko Tao, of course, tourists can partake in Thai cuisine, which includes an abundance of seafood dishes. Since most of the population is made up of immigrants, it is easy to find many national dishes of other countries, particularly European ones.
Thai food is the cheapest. One of the favorite local foods is fish barbecue, which in a standard local restaurant will cost about 250 baht. A portion of rice there will cost about 60 baht. In inexpensive resort cafes for 35 baht you can buy a fresh banana fritters, for 60 baht – a bowl of porridge with honey. 200-300 baht will cost a plate of freshly made Italian pasta, a pizza can be ordered for 160-200 baht. Everywhere on the island for about 30-40 baht make freshly squeezed juices.
Examples of good resort restaurants and cafes: A Taste of Home (east of Sayri), Bhan Thai (fine Thai restaurant in central Sayri), Chineese Noodles (Chinese restaurant in Mae Haad), El Toro Restaurant (eclectic café in Mae Haad with Thai, Italian and Tex-Mex dishes), Shalimar Indian Cuisine (restaurant at Sayri Plaza with an excellent selection of Indian dishes), Tukta Thai Food (Thai café in Chalok Ban Khao).
Drinks
There are plenty of bars on the island where you can relax perfectly after your diving and beach vacation. Many bars on the island are open 24 hours a day, so it's best to ask the school staff which bar is the best to stop by at night, or browse the posters yourself. Many people start the evening in the bars on the north side of Sayri, and when those close at 1 a.m., they move to the clubs on the south side of Sayri, which are open the rest of the night.
Examples of good Koh Tao bars: FIZZ beachlounge (on Sairee beach, open until 1am), MOOV (bar in beautiful garden right by the beach in Mae Haad), Vibe (bar on Sairee north beach with fire shows and great music), Khirana (pool bar in Chalok Ban Kao), Dirty Nelly's (only Irish bar on Ko Tao in Mae Haad), DJL Bar, Pool & Restaurant (bar in Sairee with pool parties, BBQ and more. ), AC bar (a frivolous club in Sairi for noisy parties), In Touch (a club that hosts house music parties a couple of times a week).
Safety
The main rule of safety on Ko Tao is not to drive while drunk. Motorcycle accidents are common here, especially when driving drunk at night. There are also a lot of ATVs on the island, on which many people get injured because of a false notion of their safety. So it's worth thinking twice before renting one. When renting a bike is always worth paying attention to all the scratches and take pictures of them still in the rental center, because usually upon return from the tourists asked for money for the damage that happened supposedly through their fault. However, this rule applies to any mode of transport.
In those cases where a tourist needs medical care, you should go to one of the clinics – they are available on the island. The largest one is located in Sairi. However, the nearest hospitals are only on Koh Samui and Chumphon, so if you have serious injuries and illnesses will have about two hours to swim to hospitals. The water on the island does not meet Western standards, so it is better to buy it in stores. You should be careful when driving, swimming and diving – minor scratches can lead to an unwanted infection. Mosquito bites do not bode well either.
You should also make sure that the room in the hotel or hostel is safe. It is not uncommon to steal money and property directly from the rooms, especially often it happened on Sairi Beach. Typically, thieves (sometimes even hotel employees) sneak into the room while the tourist is on the beach, and take cash out of purses or bags.
As always, you have to be careful in the sun. The sun is particularly strong on the island, so do not forget about the sunscreen in any case.
Where to stay in Koh Tao
The company Ostrovok.ru offers for booking more than 470 hotels in Koh Tao. You can select a hotel using a variety of filters: hotel star, type of hotel (hotel, apartment, villa, hostel, etc.), price, hotel location, ratings of people who visited the hotel, availability of Wi-Fi, and more. Go to the Koh Tao hotel selection and reservation service.
The most recently booked hotels in Ko Tao
In addition to the traditional hotels presented above, you can rent apartments in Ko Tao, this can be convenient for certain categories of tourists – families with several children, who prefer to cook for themselves and so on.