Laser tag arena LtReload "Abandoned City", Moscow – review
Indoor laser tag in Moscow, where you can have a great time and even celebrate your birthday
We have celebrated our daughter's birthday in LtReload's laser tag arena "Abandoned City" in August. We found out about it from our friends, who have been there many times and the place has been tested by them.
The place is located at 2, Lilac Blvd. Once there was a famous Cherkizovsky market, and now there is an interesting gaming area.
The cost of the game is cheaper on weekdays – 700 rubles per hour, on weekends – 900 rubles per hour per person. Birthday boy on his birthday the game is free. After you can sit in a room at the table and celebrate the holiday, the food is own, rent a room of 2000 rubles. Also additional money (600 rubles) costs a scenario game Predator, but it is optional, it's a game against an experienced employee Laser tag in the mask.
There are no other costs there. The more people, the more interesting, but also more expensive if you call the guests on the holiday at their own expense. Us 2 hour event and tea drinking cost 17000 rubles, not including food.
But if, for example, to go on weekdays to play with schoolchildren – 1400 rubles for 2-hour event – the price is adequate.
Prepayment for the game is 2000 rubles, for cars can be issued a pass to enter the free parking lot.
The area is large: a lot of rooms, there are cars in which you can hide.
At the briefing should arrive in half an hour, there will give a camouflage to change, it is better to put on top of his clothes, and also show how the weapon works, tell the rules.
Clothes choose comfortable and warm, it was cool there even in August, when it was warm outside.
Teams can combine, we had a team of 9 people, added three more willing and divided all into 2 teams. The players quickly became friends, it was even more interesting.
There are several different game modes: team versus team, bomb defense, checkpoint, predator. There are modes where you use the first aid kit.
You can take pictures, but without flash. Photos are a bit dark, because during the game the lighting is dim.
I liked the fact that it is possible to create a multi-age team: in ours there were children from 6 to 14 years old and an adult. And after us came a team where the kids were very young, maybe 4 years old, they also played with their parents. There are different sizes of guns, the little ones are given what is lighter.
The kids were excited about the game and two hours was not enough for them. It was fun, the adrenaline was off the scale. This game is great for girls if in doubt (we only had 3 boys on the team). Our guests subsequently asked their parents to have their party in this laser tag as well.
Laser tag "Abandoned City" (Russia, Moscow)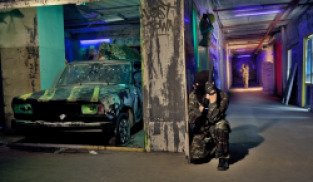 We celebrated the birthday of a classmate there. We had a separate team of girls and boys together. They met us, explained everything and showed us around. Then the kids went to change, the form suited all, there is a different one. But there is a lot to stitch)) but not a wedding were going to the fight)) The game has several scenarios, capture the base, the team on the team, the battle with the monster. It was the most interesting, all shrieking and screaming)) girls were especially "scared", but as real girls, they hid and waited out the trouble)) the monster did not find them, but he walked very close and they heard him breathing! The stories did not stop for a very long time)) The atmosphere at the game is that you really are somewhere in an abandoned city, all in graffiti, broken old cars, a lot of rooms, the locations are decorated very epically. All the shimmering, touching scary music, the sounds of footsteps, dripping water. That's it! At the end of the game we had a small banquet and a tea party with cake. The kids were very happy with the party. And by the way, I recommend it not only for children but also for adults) It will be interesting to all. Good luck and enjoy the game! – Pros: Large location, a lot of space, different scenarios of the game – Cons: The time flew by quickly Year of visit: 2017 Country: Russia Region (region, province, state): Moscow City or town: Moscow Street: Lilac Blvd House No.: 2
Vote Against
7 Feb. 2017 в 20:20
A child's birthday is always a holiday and a headache – how to celebrate this day, so that the child would be happy, and different-sex and different-age friends would be happy, and the purse would not have to be thrown away for lack of use. Last year we caused an animator with a chemical show – all were delighted and still remember, but repetition in this case is not the mother of learning, repetition is not interesting. Our son said "I want either quest or laser tag". We chose the latter – especially since there is a huge laser tag complex "Abandoned City" not far from our house. I phoned, made an appointment, we had 10 people and our group was combined with a similarly sized group. At first I was upset that there would be other people's kids, but then I realized that the more (within reason) players, the better. And so, on the appointed day we approached the building and went inside through a long corridor, we were greeted by a comrade in the lobby is a fridge and you can buy water, but we brought his – we assumed that the sweat will come off the children. There is also a cafe and you can organize a party, but we decided to go to McDonald's, especially since it is nearby and the kids love it. While there was time everyone changed their clothes, which were in many places torn and with broken zippers. This is so, by the way, for the squeamish. Next time I will wear something dark, but individual. The kids rushed to pick out weapons. I do not understand it, but they were happy. While the previous game was going on you can watch the game on the screen – all with interest watched, who – someone was the first time and the action mesmerized. Here the instructor tells us how to load – reload, what to do if you run out of life, and so on. Our team was complete – we were accurate and had to wait a little team opponent – they were delayed then the children were taken and the two fathers embedded (for moral support) and led into the inner city – there darkness, horror! Again a briefing – about the darkness, the accuracy of the game, the tactics of the game Then the team "turned on" by the light touch of a button on the remote control and all retired into the dark corridors, where they ran up a sweat for two hours, occasionally running out into the hall and "recharging" or "coming alive" And we, mothers, after sitting in the hall for a while and realizing that the kids were happy and wouldn't cry in the darkness lit by dim flashlights, went to the chocolate shop nearby and had a great time My conclusions from my visit: It was very interesting for the boys (and dads) – they changed tactics, they thought of something on the fly, watched it over, back to back, in general they fought like grown-ups. The main thing was they were running, not sitting with their iPads on. We had one girl, militant, she liked it, but in general I can not imagine girls in such entertainment – I personally would not have gone even as a child. This place I recommend, in principle, all well organized, but I do not know, would I want my son was into war? – Pros: + moving game – Cons: – this is still a war game Time of use: 1 time Cost: 1200 rubles Year of visit: 2017 Country: Russia Region (region, province, state): Moscow City or town: Moscow Street: Lilac Boulevard House No.: 2
Vote Against
10 Mar. 2016 в 21:59
We celebrated my son's birthday in this laser tag. We had a company of 6 children. We were joined by a company of 15 children. Companies are chosen STRICTLY by age. The first thing I want to note, the kids are absolutely delighted. They were divided into two teams of blue and red. Given a few tasks. such as capturing the point, releasing hostages, etc. Two hours flew by quickly, the kids did not want to leave, asking to play more. So if you decide to play, book a game for 2 – 3 hours, not less. The site itself is quite large, with lots of corridors, rooms and nooks. At the site are these cars, with broken windows, in which you can climb. It gives the impression of an abandoned city. You can play for both children and adults, but you must either come in your large company, or sign up in advance to be joined by a company of your age. The more people, the more fun and interesting. Parents can wait for their children, in the reception area, on the couch, and watch TV. There is a small cafe. We ordered 6 different pizzas for the kids, all quite tasty. Juice and water can be bought in the cafe, or you can bring your own to save money. Also we brought a birthday cake. Cafe staff set the table at the end of the game, in complete darkness brought out a cake with candles. In general, we organized a festive atmosphere. Well done. The guys who organized the game are very attentive and friendly, trying to answer all questions and help. The game for two hours for the child costs 1000 rubles, the birthday child comes to play for free! Which is very nice. Laser tag is convenient to drive up from Shchelkovo highway. At security tell them that you go to the laser tag and you will be passed to the parking lot (free). From Cherkizovskaya metro station also go a short distance. Cafe worker in character. On the ground of laser tag, a lot of chips. in the form of hanging spiders, artificial blood, painted walls. You can additionally order a photo session or magnets. If you want to throw a party for yourself or your child, this is the place to go. – Pros: Cool decorations, attentive staff, reasonable price, the kids are happy – Cons: I couldn't find any Cost: 10500 rubles Year of visit: 2016 Country: Russia Region (region, province, state): Moscow City or town: Moscow