Lavender Fields in France. Description, Photos, Coordinates
The lavender fields of Provence are one of the main attractions of the region, which have become literally its calling card. Unfortunately, you can see the fragrant purple fields almost only in July (a little +/-, depending on the altitude of the fields). You can see the fields on foot, by bike, or by car along one of the many routes (see below for maps). There are many fields, they are quite different, the most beautiful ones can be occupied by crowds of Chinese tourists. But you can step aside a little and you will be alone in the fields.
Lavender in bloom
About mid-June to mid-August, depending on the area and the weather. The best time to go is the last week of June and July. The lavender harvest is usually from July through September. In the Luberon region and the Rhone Valley, the lavender blooms in mid-June. In the Plateau of Valensol and Drome Provence, it is in early July. The Sault area blooms in mid-July.
Typically, fields of wheat and lavender sit side by side, surrounding the lilac fields with a sea of gold shimmering in the sun. Sometimes there are fields of sunflowers nearby (they bloom in July and August).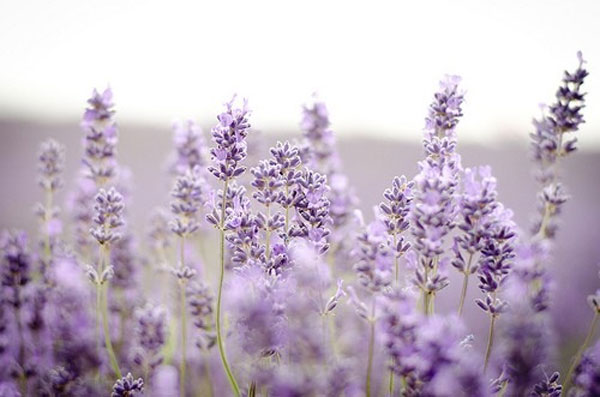 Blossom periods of lavender in Provence: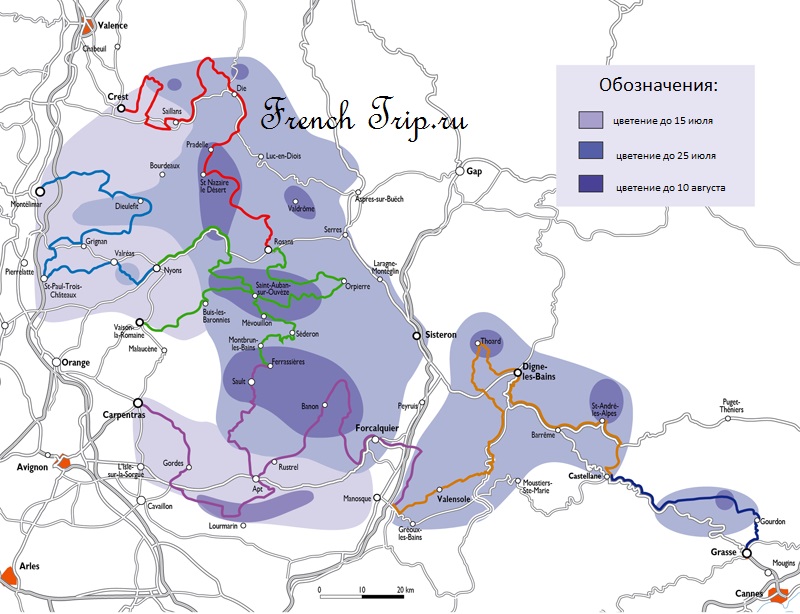 Lavender Festivals.
A trip to the lavender fields of Provence can be combined with a visit to one of the lavender festivals, which are held at different times in several of the main "lavender" towns. Typically, the festival is timed to coincide with the harvest of aromatic flowers, so after such festivals, it is too late to see the lavender fields.
There is a timetable for the lavender festivals in Provence:
Riez : last days of July – Lavender fête : Lavender fête. Annual lavender festival in the second half of July (usually the third Sunday in July).
Digne : Lavender parade, annually at the beginning of August. At the end of August, lavender day.
Thorame-Haute : Lavender fête : 2nd weekend in August.
Esparron sur Verdon : mid-August lavender festival : mid-August (14 to 15 August) – lavender festival, lavender picking competition, flower crews
Valréas : lavender parade, flower carriages, popular shows. Every year on the first weekend in August.
July 19 – Valensol.
July 31 – August 4 – Digne les Bains
August 1st to 3rd – Valréas
August 15 – Sault
Driving to the lavender fields
The best way to see the lavender fields in Provence is by car. It is more difficult to do it by public transport. For example, in Avignon you can take a 1-day tour by bus. You can also see the lavender fields from the buses on the routes:
Carpentras – Sault bus – Route: Carpentras, Mazan, Mormoiron, Villes-sur-Auzon, Monieux, Sault.
Bus Apt – Sault – Route: Apt, Villars, Saint Saturnin-lès-Apt, Petits-Cléments, Grand-Cléments, Rustrel, Saint Christol, Sault.
Lavender Fields
The lavender fields of Provence occupy several districts (pays):
Pays d'Apt – Luberon
Pays de Buech – Baronnies
Pays de Digne
Pays de Forcalquier et Montagne de Lure et du Verdon
Drôme Provençale
Vallée de la Drôme – Diois
Plateau de Valensole
Here, in a relatively small area, there are many lavender fields. To see them, you can take a circular route by car (33 kilometers): Valensole D56 – east to Puimoisson – D953 north to the "Poteau de Telle" interchange – D8 back west to Valensole.
There are lavender fields along the D8 between Valensole and the D953 (4 km north of Puimoisson). GPS: 43.896292 N, 6.128771 E
Along the D6 between Valensole and Riez, about 5 southeast of Valensole are beautiful lavender fields at the entrance to Petit Arlane (Centre Naturiste).
Sault and Mont Ventoux
The Mont Ventoux region, which includes the town of Sault , northeast of Avignon and Carpentras, includes a number of beautiful lavender fields. East of Avignon, around the towns of Gordes, Apt and Saignon, lavender fields can also be found. Some of them have picturesque stone buildings – Borie (a large village of Bories is next to the village of Gordes).
The lavender fields of the Sault plateau, Chemin des Lavandes (Lavender Route)
Senanque Abbey.
Near Senanque Abbey there is one but very famous lavender field. It is located north of Gordes, at the walls of the 12th century abbey.
Lavender fields on the Côte d'Azur
The closest lavender fields to the Cote d'Azur (Nice-Canet territory) are in the Pays de Valensole.
It takes about an hour and a half by car to Castellane. Then 45km west through the picturesque Verdon Gorge (Gorges de Verdon) to Moustiers-Sainte-Marie (among the most beautiful villages in France), at the northern end of the Lac de Sainte Croix. The trip takes about an hour, but you should add some time for stops to admire the fields of lavender. From Moustiers-Sainte-Marie the road climbs west on the Valencole plateau, right up to the lavender fields. The whole trip takes about 2.5 hours one way, not counting the stops.
Go west on the highway to Brignoles (exit 35, approx. 1 hour), then north through Barjols, Tavernes, Montmayan, Quinson and Riez (65 km, approx. 1 more hour).
To see the wild lavender fields, head in the direction of Plateau de Calern north of Grasse (from Nice it's about 1 to 1.5 hours away). In the midst of a rocky landscape and fields of wild flowers, the eastern hillside is densely covered with flowers and lavender.
Be careful, there may be snakes hiding in the shade of the lavender bushes!
Routes through lavender fields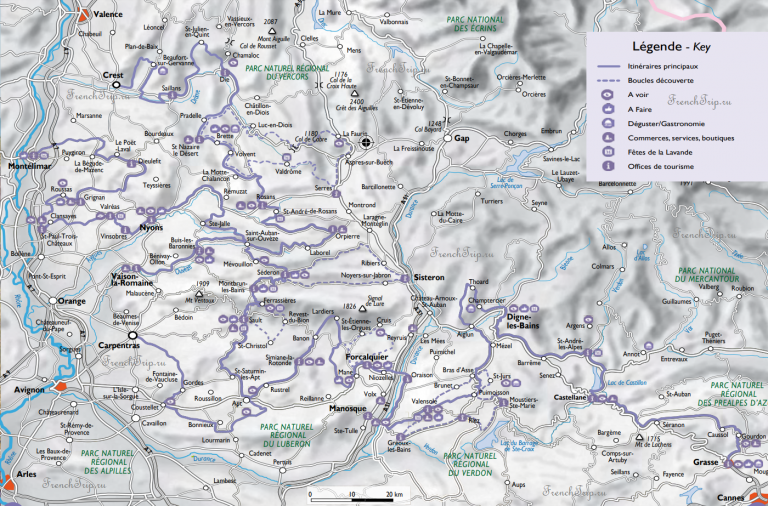 Routes through lavender fields for road trips:
Route 1. Montelimar to Nyon:
Drome Provence and Pays de Dieulefit
Route 2. Nyon – Vaison-la-Romaine:
101 km, 2 hours and a ponytail – drive.
Route 3. Drome Valley, Diois and Haut-Buech:
169 km, just over 4 hours – drive.
Route 4. Rosans – Sault.
The Drome region and the Upper Alps.
126 km, just over 3 hours of driving alone, not counting stops.
The lavender fields of the Sault plateau, Chemin des Lavandes (Lavender Route)
Route 5. Carpentras – Apt.
76 km, almost 2 hours only without counting the stops.
Route 6. Sault – Forcalquier
114 km, about 2.5 hours just driving, not counting stops.
Route 7. Forcalquler – Castellane
190 km, almost 4 hours only, not counting stops.
Route 8. Castellane – Grasse
71 km, 1.5 hours only, not counting stops.
Festivals and Corsos de Lavande
July 14 Apt – Fête de la lavande
July – 2nd half of Riez – Fête de la lavande
July 2nd half of Valensole – Fête de la lavande
August, 1st weekend Valrés – Corso de la lavande.
August, beginning of Digne-les-Bains – Corso de la lavande
August, middle Esparron-sur-Verdon – Fête de la lavande
August, middle Riez – Journée du miel et de la lavande (honey and lavender)
August, mid-Sault – Fête de la lavande.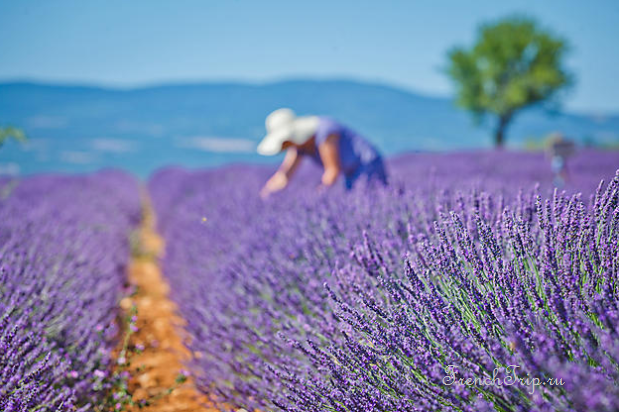 Lavender fields of Provence on the map
Purple indicates areas where lavender is grown in the fields.
In yellow are the distillers where lavender oil is made. They can be visited during the summer, from July to August.
Detailed maps: Department of Drom:
Sault-Apt:
Valensol Plateau Region:
Lavender soap is a great souvenir after visiting the lavender fields of Provence. You can buy this soap in any souvenir shop in each town in the region. It's inexpensive: 1 to 3 euros apiece. Better than a magnet .
Fields of lavender in Provence. France
These are not photoshopped pictures. These are not paintings by artists. Lavender fields are the stunning reality of Provence. The endless rows of lavenders in the French province of Provence, stretching over the horizon, are known throughout the world for their unrealistically beautiful and serene views. Vast fields of lavender are scattered throughout the province, but most of it lies in the northern part.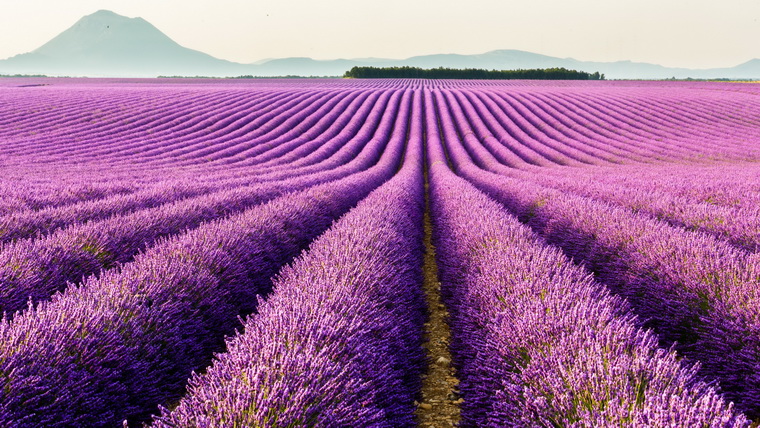 Lavender Fields on a map
Geographical coordinates 43.929024, 5.187149 ( these are the coordinates of an abbey that has been growing lavender for many years)
Distance from Paris, France about 600 km in a straight line.
Distance to the nearest airport of Marseille 55 km
Nîmes Alès Camargue Séven Airport about 65 km
The soul of Provence
It is not for nothing that lavender is called the "Soul of Provence" and the "blue gold". During the blooming period (July-August) many parts of the province are filled with a truly unreal beauty and fragrance. Colors run the gamut from gray-purple to bright purple. This is due to the climate and weather conditions of the different areas, as well as the timing of the blooms.
The area, with its small village houses against a background of beautiful lilac and purple fields, has long attracted artists, romantics fans, and just tourists. Unrealistically beautiful and fabulously attractive landscapes of the surrounding area literally drive you crazy, making you believe in a miracle.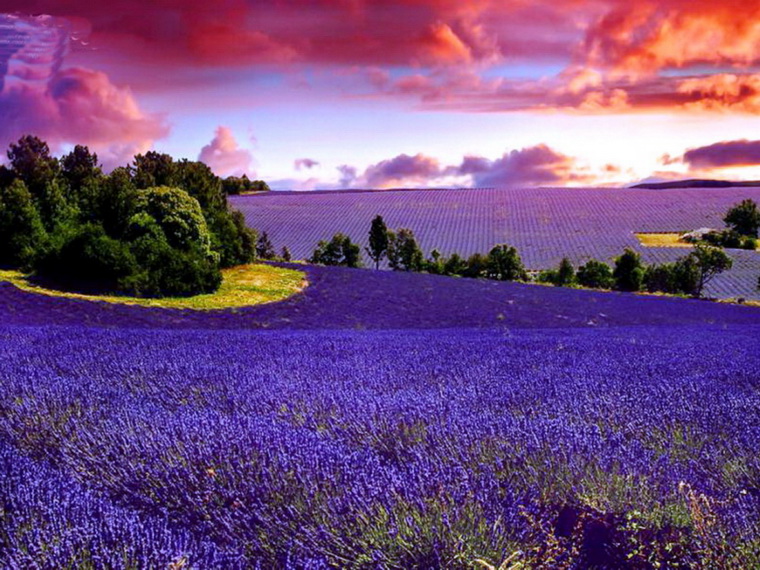 It is worth paying attention to other corners of our planet, where you can also see the beautiful combination of colors. This is, for example, the Hitachi Seaside Park or the famous Kawachi Fuji Gardens in Japan. In Europe, it's the beautiful Kekenhof Park in Holland.
What is lavender and why do they grow it
Lavender is a beautiful small shrub in the cloverfoot family with flowers in various shades of lilac, purple and blue. This same family also includes sage, basil, rosemary and melissa.
Lavender grows in many parts of the world. It can be found in Europe, Asia, Africa, Australia and even in the Canary Islands. Humankind has long appreciated this plant.
The ancient Greeks revered lavender and considered it a noble plant. The Romans used it as a relaxing bathing agent and called it Lavandula. Also since ancient times, people learned to produce lavender oil and extract and used it extensively in medicine and perfumery.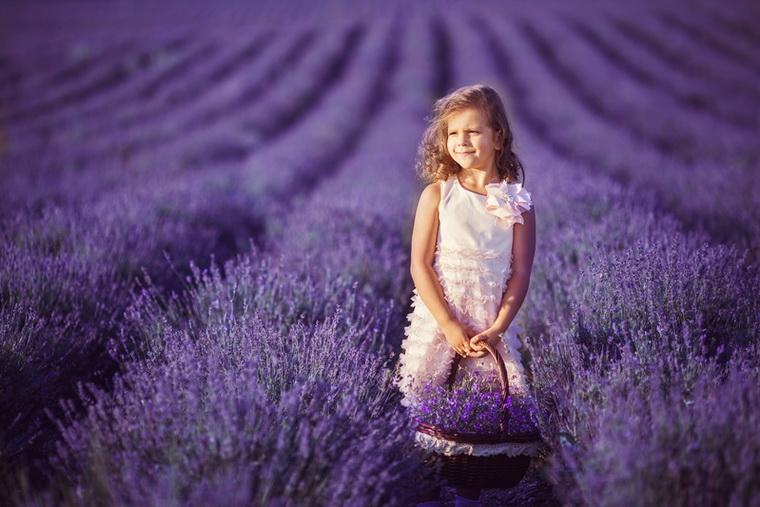 Lavender fields today
The modern inhabitants of Provence have been cultivating lavender on an industrial scale for a very long time. It is cultivated and improved by many farmers in the region.
The process used to be labor-intensive (for example, harvesting was done by women with ordinary sickles), but since the middle of the last century, manual labor has been replaced by lavender-harvesting (if I may say so) tractors and harvesters.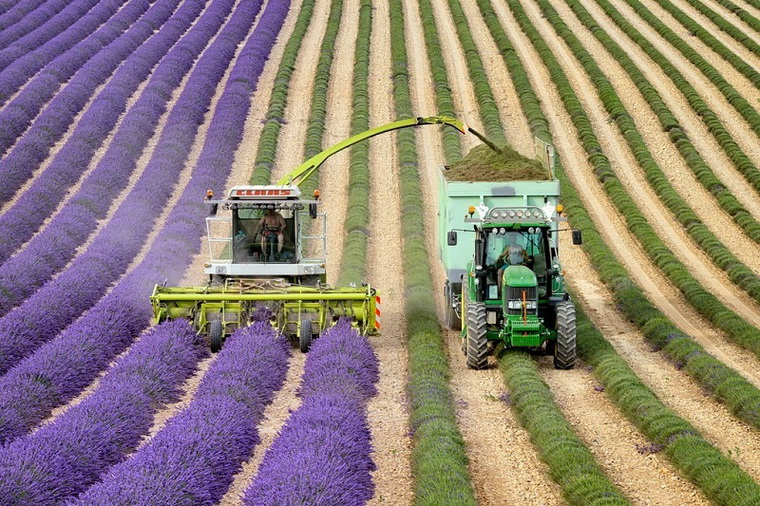 The work became more "fun". The territories of the lavender fields began to increase. It is now safe to say that, apart from the Gorge of Verdun, a few dozen kilometers to the east, the Lavender Fields are one of the most spectacular sights in Provence.
Provence breathes and lives lavender. In addition to the cosmetics and perfumes mentioned, lavender is used to produce the original honey. Chefs actively incorporate it into their recipes, adding a kind of zest and uniqueness to the local cuisine.
Lavender and lavender
In Provence there are mainly two varieties of this plant, lavender and lavandin. Up to 500-600 m above sea level grows lavender (a species bred by breeders), which is mainly used in the manufacture of soap, various creams and detergents.
Lavender grows higher, at an altitude of 700 m. above sea level. Lavender is the main source of quality essential oils and extracts. The lavender, for its extremely useful properties and ineffable aroma, is very much appreciated by cosmetic and perfume manufacturers.
The most impressive lavender fields are located in the Alpes de Haute Provence, Vaucluse and Valencole. Remarkably, fields sown with sunflowers and wheat are sometimes found in the background of lavender fields, creating very beautiful and contrasting landscapes.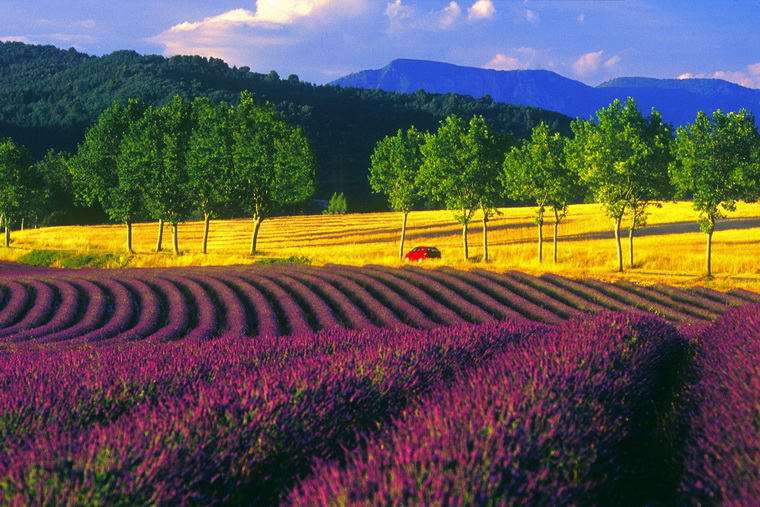 When is the best time to visit the Lavender Fields
The best time to walk through the lavender fields is in the second half of July, as this is when almost all of the fields are in their maximum bloom. In early July you may see only small unopened buds in some fields, but in August the harvest begins. Fields after the passage of agricultural machinery is not so impressive look. Be sure to consider these facts when planning your travel time.
The best way to explore the lavender fields in full is by car. This way you can drive around as much of the province as possible. You can rent a bike. The minus will be much less seen space. However, on the plus side you can visit places that are more difficult to reach by car. And the most economical (one might even say free) way is to use your feet. Walking is healthy, and no harm to nature. But here is the main disadvantage – a significant reduction in the area surveyed surroundings.
A special place in Provence takes the monastery of the Abbey of Notre-Dame-de-Senanc, founded in the 12th century (its coordinates are listed above). Here the monks grow lavender and collect honey. You can buy from them not only honey, but also soap and perfume of their own production.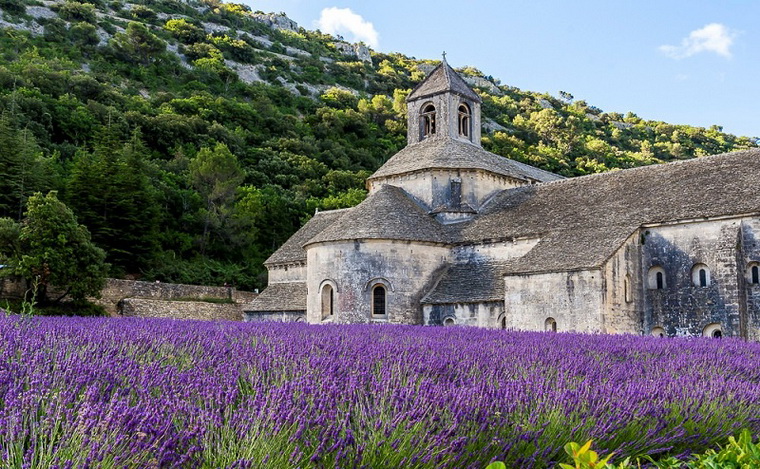 Monastery of Notre-Dame-de-Senanc Abbey
Many farms in the surrounding area offer their own lavender products. For a small fee, you can arrange a small tour of the farm with lectures on … of course lavender.
Worth seeing is an interesting place called the Lavender Museum in the town of Kustelle. It is a museum of lavender. Naturally, the whole exposition, one way or another, is associated with lavender, its cultivation methods and methods of obtaining extracts and oils.
The beauty of the lavender fields inspires the people of Provence to hold numerous festivals. The largest festival takes place in So (Vaucluse district), the official capital of the lavender region. The festival begins on 15 August and is dedicated to the lavender harvest. During the festival, there are competitions, colorful activities and a fair where you can buy everything made from lavender. It's honey, soap, perfume, essential oils or just a bunch of dried lavender.