How we went to Le Mat Snake Village
Ten kilometers from Hanoi, there is a snake village, Le Mat (Lệ Mật), where snakes are caught and raised. In the village you can buy different tinctures with snakes, buy medicines and medicines based on snake venom, have dinner in one of the restaurants where snake dishes are prepared.
"…And we are going to eat snake here! How!? Haven't you heard? It's a local delicacy, the heart of the snake still beats when they put it in the glass, and then you get a "knock, knock, knock" in your stomach… And there's a village, we'll go there tomorrow where you can try it!" – That's how I first heard about the snake village of Le Mat, from John, a traveler from the States whom I met in Hanoi.
Naturally, the next evening, there was a party at the home of our hospitable host, Anya, and the snake village was postponed for another day. And the next day, we had no plans to go anywhere, probably because of the Hanoi beer and our friendly slacking off.
A trip to the snake village.
Such a shame it didn't work out to get to the village earlier in the day. I made it to Hoan Kim, where John and a friend were pouring beer from a five-liter bottle. And the picture seemed to me to be absolutely similar to yesterday. Beer all evening and no snakes. But since by evening, when the beer was finished, there were only three of us left and the mood became more determined. The cab to Le Mat village, which does not look like a village at all, cost 90 thousand for three from Hoan Kim. It didn't take that long.
There we had time to drink a shot of liquid, which was poured into a snake in a jar, for nothing. The shopkeepers waved when we wouldn't buy a bottle and treated us to one.
We went to the same restaurant when Anh arrived on his motorcycle. 900 thousand dong for a kilo of snake without venom, 1.1 million wanted for the venomous cobra, gave it away for a million.
The venomous cobra was trying to punish and drag someone down with it. The cooks deftly wrapped it in a bag and weighed it.
It came out to one kilogram. She looked bravely into the eyes of her killers, all those to whom she would end up on the table. When the heart was cut out, it immediately stopped beating, a quick death. Headless, the body wriggled several times in convulsions, the muscles relaxed…
One cobra would make ten dishes. Different combinations, it was just right for four.
On rock-paper-scissors John got a heart.
If anyone has a desire to try it, you can tell the cab driver "le mat vilage," right on Hoan Kim. There are also buses going there, 10, 15 and some other, but if you're going there like we did, late, it's easier to take a cab.
I don't think the Vietnamese eat snakes that often, unlike the Chinese who eat everything. Especially in this village of Le Mat: they breed snakes, catch them, make different medicines and tinctures, supply snake meat to restaurants. To go there and have a meal in one of these restaurants is a tourist topic. But for those who suddenly want to try it, the coordinates are known.
Le Mat Snake Village: let's take a closer look
Detailed information about the attraction. Description, photos and map with the nearest significant objects. Name in English – Le Mat snake village.
Photo: Le Mat snake village.
Back to table of contents
1 USD = RUB 75,5079 (USD per person)
Block: 2/2 | Number of characters: 148 Source: http://www.bambooclub.ru/countries/vietnam/city/hanoi/articles/document33012.htm
Attractions nearby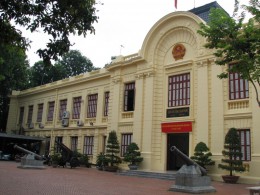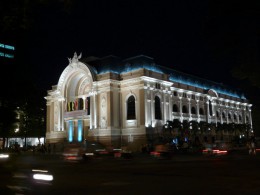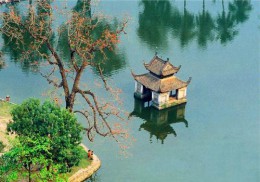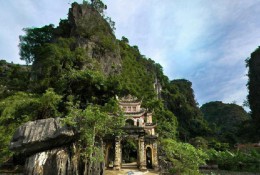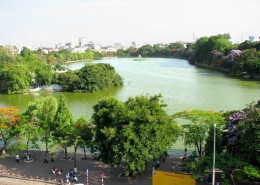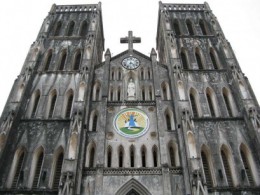 Block: 2/2 | Number of characters: 318 Source: https://discoveric.ru/mesta/vetnam/hanoj/zmeinaja-derevnja-le-mat
The mysterious Asia
Today, the authority of Oriental medicine is beyond question. It was she who first recognized that the use of snakes and medicines based on snake venom is one of the most effective methods of treatment and prevention of various diseases.
Le Mat Village, a village on the outskirts of Hanoi, has long been famous for its snake experts. Tourists in the village are told a beautiful legend about a fisherman who saved a beautiful princess from a monster that turned her boat upside down. The brave young man defeated the terrible serpent and saved the entire population of the surrounding villages from the fear they had of the monster.
Exotic Festival in the snake village of Le Mat
The profession of snake hunter is still respected today. Every year in March, the villagers hold a snake festival and the splendid legend of the fisherman and the princess comes to life on man-made stages. Numerous guests and locals enjoy the spectacle, tasting various snake dishes.
This small area supplies snake meat to almost every restaurant in Vietnam. Here in specially created farms residents are engaged in breeding aspids, water snakes, vipers and cobras. Of course, such taste preferences are not for the faint of heart. However, there will be those who will not deny themselves the pleasure of tasting the local wine, infused with viper or snake blood with ginger vodka, such a cocktail is an excellent thirst quencher on hot days.
Block: 3/5 | Number of characters: 1431 Source: https://planetofhotels.com/vetnam/hanoy/zmeinaya-derevnya-le-mat
Taste the snake
Residents of such an exotic attraction in Vietnam will gladly offer their signature snake meat sauce. It is certainly worth a try, but do not try to repeat the preparation yourself, the process is long and labor-intensive.
After the snake is caught and killed, the meat is cleaned of all excess, leaving a clean fillet, which is marinated with spices in ginger wine. If we forget for a while about whose meat it is, the process itself resembles the preparation of a kebab. However, in this case, after it has marinated, it is thrown into the boiling oil. Onions, spices and mushrooms are added to enhance the flavor, which gives the dish a special zest. This dish is especially popular with European tourists. Well-known cooking technology in a harmonious combination of unusual products attracts lovers of exotic and gourmet cuisine.
Address of the restaurant: 33 Le Mat | Viet Hung, Long Bien, Hanoi.
Table reservation: (+84)989331012.
And more classic tourist programs include a visit to the Museum of Fine Arts in Hanoi, presenting large collections of sculptures, paintings and folk art.
Block: 4/5 | Number of characters: 1161 Source: https://planetofhotels.com/vetnam/hanoy/zmeinaya-derevnya-le-mat
Le Mat Snake Village: What's close by?
Le Mat Snake Village is in relative proximity to the following attractions in the region. Due to the uneven location of the world's attractions, you should take into account the conditional proximity of the sites.
Popular cities and resorts in Vietnam:
Number of blocks: 10 | Total number of characters: 10505 Number of donors used: 5 Information on each donor: