The Most Beautiful Places of Altai: Dwelling of the Gods, Dream, Fairy Tale and "Little Paradise
This is a land of seven thousand lakes, wild rivers and silent landscapes. Here rises the largest mountain in Siberia and one of the most picturesque roads in the world, archeologists find ancient artifacts in the mounds, and shamans hold their mysterious rituals in the places of power.
Residents of the European part of Russia sometimes confuse Gorny Altai with Altai Krai. These two regions border the Siberian Federal District, but are quite different: the Altai Mountains are characterized by mountainous landscapes, but the Altai Territory is green steppes and mahogany hills.
In ancient times, the paths of nomadic tribes crossed in the Altai Mountains. Hundreds of thousands of years ago people already lived in these lands, their traces are found all over the territory: unique rock petroglyphs, burials in places of strength, and camps.
Throughout centuries this severe, but picturesque territory was a part of the Great Mongol Empire: horses of Genghis Khan's army trampled delicate bowls of edelweiss in valleys and overcame steep mountain passes.
Now Gorny Altai is a republic, it has its own flag, constitution and two equal languages: Altai and Russian. Here they honor the traditions of their ancestors and warmly welcome travelers. About two million people visit Gorny Altai every year! Today I will tell you about what interesting things there are in this land and where to look for the most-important places.
Hiking, rafting and ethno-tourism – what to do in Altai
Altai is an ideal place for ecotourism. The main value of the region is its nature, and the way to the most picturesque places is often thorny, but the effort is worth it. Here you can organize a week-long hike, swim in one of the crystal clear lakes, go fishing or pick berries.
Another format of travel in Altai is ethnographic excursions. For example, in the yurt-gallery of Kalambina Zheltkovskaya visitors are introduced with traditional felt fabrics, and in the "Aychus" ethnographic workshop they learn Turkic patterns, learn to make dolls, amulets, and play national instruments: komus and topshuur.
And of course, extreme tourism! Climbing to the peaks, rafting on violent rivers of any difficulty level, mountain skiing: there are good tracks on the Teletskoye Lake, and "Manzherok" resort is not only slopes, but also the first professional bike park beyond the Urals.
The Chuisky tract is one of the most picturesque roads in the world!
The best option for exploring the Altai Mountains is to travel by car along the Chuisky tract. This 968-kilometer long federal highway that crosses the region from Novosibirsk to Mongolia is called the most picturesque road in Siberia. National Geographic Russia magazine even put it in the top 10 of the most beautiful roads in the world!
The section of the Altai Republic begins with a symbolic arch near the village of Dolina Svoboda. The route goes along the noisy waters of the Katun and Chuya rivers, winding among mountains and lakes. The majestic Babyrgan ridge is changed by shaman-trees near Arjaan-Suu spring, and Karakol cliffs with ancient drawings – by birch groves in the valley of Bolshoy Ilgumen river. You can travel along the Chuisky Tract by yourself in an off-road vehicle or by ordering a guided tour in Gorno-Altaisk.
Lakes of the Altai Mountains – inaccessible and beautiful
Thousands of Altai lakes shimmer with all shades of turquoise. Some of them, such as Uzunkel and Akkemskoye, are hidden among the mountains and surrounded by dense forests, on the shores of others there are small cozy villages. On the lake Dzhulukul you can meet colonies of seagulls and cormorants, and the landscape of the reservoir Talmen complement the numerous butterflies. Such diversity makes your eyes diverge, but I made an effort and chose for this review three most-savory reservoirs, which are definitely worth a visit.
Teletskoe Lake.
Teletskoe Lake is a very popular attraction in the Altai Mountains. It is the largest lake in the region and the second largest reservoir of fresh water in the country after Lake Baikal. The depth of Teletskoye reaches 325 meters. On its shores are nestled three small villages: Yailyu, Iogach and Artybash. If you want to have a rest and bathe, choose one of the hotels on the southern shore: the water temperature rises up to +17°C – +20°C here in summer, but on the north, near Artybash, the lake is still cold even in hot weather – about +10°C. The water in the lake is much warmer.
The water in the Teletskoye is so transparent that even at a depth of 15 meters you can see the pebbles at the bottom. You can pitch a tent on the shore or enjoy the lake landscapes by taking a ferry: it goes from the Cape Kyrsay on the south shore to the pier in Iogache. 78 kilometers of the trip will give you both good impressions and beautiful pictures!
Coordinates of Kersay cape: 51.363 980, 87.760 251.
Shavlya Lakes
They were formed as a result of melting of ancient glaciers. The lakes are situated in the center of the North-Chuysky ridge and are considered the most picturesque in the whole Altai! Their water is of fantastic bright turquoise color, and from the shores you can enjoy wonderful views of three Altai peaks at once: Dream, Beauty, and Fairy Tale.
You can get here as part of walking tours, which are organized by companies in Biysk and Gorno-Altaisk. The route starts from Chibit settlement and lasts about a week.
Coordinates: 50.106 689, 87.410 589.
Geyser Lake
This small lake near the village of Aktash does not freeze even in winter. Its water has an unusual pattern formed by circles of blue clay – they have been carefully "laid out" at the bottom by underwater springs. The pattern is not static and changes during the day.
Now the lake is the property of the tourist camp "Little Paradise", which has recently rented it for 20 years. Every year this place is becoming more and more popular with travelers, so you should come here early in the morning to have time before the tourist groups. The entrance to the lake is paid: about 50 rubles.
Coordinates: 50.290 140, 87.673 125.
High-mountain plateau Ukok – a mysterious place of power
Located in the south of the Altai Mountains, near the intersection of the borders of four states: Russia, China, Mongolia and Kazakhstan. Here, at an altitude of over 2200 meters above sea level, found 150 archaeological sites: prehistoric petroglyphs, deer stones, mounds Pazyryk culture with burials, Scythian tombs.
In 1993, archaeologists excavated a burial mound, which perfectly preserved the remains of a female mummy aged over 2500 years. She was named the "Ukok Princess" and taken to the Novosibirsk Museum of Archaeology and Ethnography of the Siberian Branch of the Russian Academy of Sciences. In 2012, the "princess" was returned to Altai, and since 2014, the local council of elders has been seeking to have the find reburied: according to the elders, natural disasters struck Altai because the mummy was disturbed.
On the territory of the plateau is the Ukok Nature Park, which is divided into three zones: one of them prohibits any activity except scientific, the other allows only limited and regulated visits, and only the third is accessible to travelers. The fauna of the untouched plateau is very diverse: here you can easily see a wild horse, wolf, fox and even a snow leopard! And in the sky over the silent landscape of soaring eagles, golden eagles and black storks.
Hiking tours and yoga tours are organized on the plateau, esotericists often come to this place, and shamans hold their rituals here.
Coordinates: 49.360 813, 88.76 642.
Mount Belukha – the main peak of Altai
The highest peak in Siberia got its name because of the snow cap on the peak. Locals call it Uch-Syure, "the dwelling of the three gods". This mountain can be seen on the coat of arms of the Republic of Altai. The famous Russian traveler and esoteric Nicholas Roerich depicted its southern slope in one of his paintings. He was convinced that the entrance to Shambhala was hidden here. "The Mistress of Altai" was how the artist called his mighty snow-covered muse.
The beauty of Belukha is best admired from the side of Akkem Lake. Your guide will cost about 30 thousand rubles per person. You can also see the mountain from the height of the bird's flight, becoming a participant in the group helicopter tour from Gorno-Altaisk. It lasts 7-8 hours, and the cost per person – about 28 thousand rubles.
Coordinates of the top: 49.807 679, 86.590 023.
Katun River – the mistress of Altai
"Mistress" or "mistress" – that's how its name is translated. The biggest river of the republic starts at the slope of Belukha and rushes 688 km away. On its way there are rapids and boulders, which then change to flat areas, and the total height difference along the stream reaches two kilometers! This explains Katun's "restless nature": it flows gently, then rumbles between the rocks. The river crosses all types of Altai landscape, so fauna and flora are very diverse along it.
In the Biisk area, the Katun meets the Biya, and the place where these two rivers meet is considered one of the most picturesque in Altai! Katun changes its color throughout the year, acquiring its famous turquoise hue in early fall.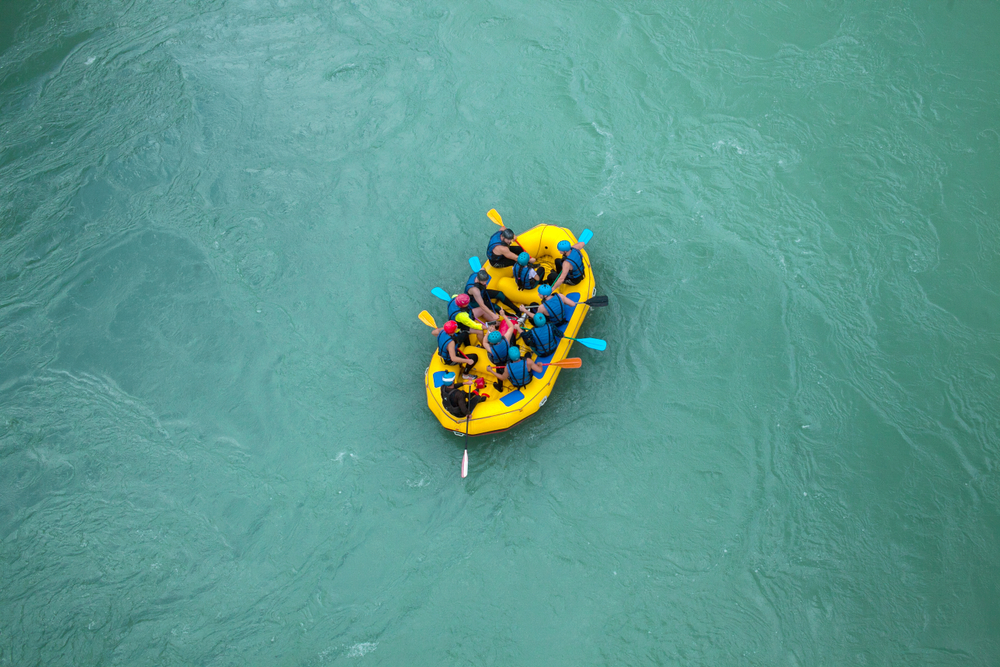 Every year thousands of tourists flock to Katun: some of them go to its banks to have a rest in a tent or at recreation center, others to test their strength by rafting on the river. Most rafting routes begin in Katunsky reserve. This area is a border area, so before you visit it, you must obtain a pass in advance. To enter the reserve you also need to obtain a permit – you can do it at its administration, which is located in the village of Ust-Koksa.
Coordinates of the Katun spring: 49.779 318, 86.592 552.
Big Chulchinskiy waterfall or Uchar
The highest waterfall in the Altai Mountains! Its waters cascade down from 160 meters high in a loud and spectacular way. It is located on the territory of the Altai State Reserve.
"Uchar" is translated as "unassailable", and the waterfall justifies this name: the way to it across the picturesque landscape of the Reserve takes about four hours and requires good physical preparation – the route goes over the cliffs, which you have to overcome by ropes.
Coordinates: 51.118 079, 88.91 675.
Who is suitable for rest in the Altai Mountains?
This region is for those who are willing to sacrifice comfort for the sake of seeing incredible landscapes and pristine nature with their own eyes. Here you often do not get a network, you can pass only in an off-road vehicle, and from the nearest village to the next lake or mountain you have to walk for several days. But it's in these places you have a rest from the city, to tidy up your thoughts and recharge your batteries!
Liked the review? Read my other articles: about Baikal and ski resorts near Moscow.
"Solnechny" – a park-hotel near Moscow with the largest spa center in Russia. Cuva – certificates for hotel vacations
RU,Moskva,Zelenograd;RU,Moskva,Moscow;RU,Moskva,Rumyantsevo;RU,Moskva,Troitsk;RU,Moskva,Khimki;RU,Moskva,Shcherbinka;RU,Moskovskaya Oblast,Aprelevka;RU,Moskovskaya Oblast,Balabanovo;RU,Moskovskaya Oblast,Balashikha; RU,Moskovskaya Oblast,Bekasovo;RU,Moskovskaya Oblast,Beloozerskiy;RU,Moskovskaya Oblast,Besedy;RU,Moskovskaya Oblast,Bronnitsy;RU,Moskovskaya Oblast,Veshki;RU,Moskovskaya Oblast,Vidnoye; RU,Moskovskaya oblast,Vnukovo;RU,Moskovskaya oblast,Volokolamsk;RU,Moskovskaya oblast,Voskresensk;RU,Moskovskaya oblast,Voskresenskoye;RU,Moskovskaya oblast,Golitsyno;RU,Moskovskaya oblast,Gorki-2; RU,Moskovskaya oblast,Dedovsk;RU,Moskovskaya oblast,Dzerzhinskiy;RU,Moskovskaya oblast,Dmitrov;RU,Moskovskaya oblast,Dolgoprudnyy;RU,Moskovskaya oblast,Domodedovo;RU,Moskovskaya oblast,Dubna; RU,Moskovskaya oblast,Yegor;RU,Moskovskaya oblast,Zheleznodorozhnyy;RU,Moskovskaya oblast,Zhukovskiy;RU,Moskovskaya oblast,Zaraysk;RU,Moskovskaya oblast,Zvenigorod;RU,Moskovskaya oblast,Ivanteyevka; RU,Moskovskaya oblast,Istra;RU,Moskovskaya oblast,Kashira;RU,Moskovskaya oblast,Klimovsk;RU,Moskovskaya oblast,Klin;RU,Moskovskaya oblast,Kolomna;RU,Moskovskaya oblast,Konstantinovo;RU,Moskovskaya oblast,Korolev; RU,Moskovskaya oblast,Kotel;RU,Moskovskaya oblast,Krasnoarmeysk;RU,Moskovskaya oblast,Krasnogorsk;RU,Moskovskaya oblast,Krasnoznamensk;RU,Moskovskaya oblast,Krekshino;RU,Moskovskaya oblast,Kubinka; RU,Moskovskaya oblast,Kurovskoye;RU,Moskovskaya oblast,Lesnoy;RU,Moskovskaya oblast,Lesnoy Gorodok;RU,Moskovskaya oblast,Lobnya;RU,Moskovskaya oblast,Losino-Petrovskiy;RU,Moskovskaya oblast,Lukhovitsy; RU,Moskovskaya oblast,Lytkarino;RU,Moskovskaya oblast,Lyubertsy;RU,Moskovskaya oblast,Malakhovka;RU,Moskovskaya oblast,Malino;RU,Moskovskaya oblast,Medvezh;RU,Moskovskaya oblast,Mil;RU,Moskovskaya oblast,Mikhnevo; RU,Moskovskaya oblast,Mozhaysk;RU,Moskovskaya oblast,Mytishchi;RU,Moskovskaya oblast,Naro-Fominsk;RU,Moskovskaya oblast,Nakhabino;RU,Moskovskaya oblast,Nikolina Gora;RU,Moskovskaya oblast,Noginsk; RU,Moskovskaya oblast,Odintsovo;RU,Moskovskaya oblast,Oktyabr;RU,Moskovskaya oblast,Orekhovo-Zuyevo;RU,Moskovskaya oblast,Pavlovskiy Posad;RU,Moskovskaya oblast,Podol;RU,Moskovskaya oblast,Protvino; RU,Moskovskaya oblast,Putilkovo;RU,Moskovskaya oblast,Pushkino;RU,Moskovskaya oblast,Pushchino;RU,Moskovskaya oblast,Ramenskoye;RU,Moskovskaya oblast,Reutov;RU,Moskovskaya oblast,Ruza; RU,Moskovskaya oblast,Selyatino;RU,Moskovskaya oblast,Sergiyev Posad;RU,Moskovskaya oblast,Serebryanyye Prudy;RU,Moskovskaya oblast,Serpukhov;RU,Moskovskaya oblast,Solnechnogorsk;RU,Moskovskaya oblast,Staraya Kupavna; RU,Moskovskaya oblast,Stolbovaya;RU,Moskovskaya oblast,Stupino;RU,Moskovskaya oblast,Skhodnya;RU,Moskovskaya oblast,Tagan;RU,Moskovskaya oblast,Tomilino;RU,Moskovskaya oblast,Fryazino; RU,Moskovskaya Oblast,Khorlovo;RU,Moskovskaya Oblast,Chernogolovka;RU,Moskovskaya Oblast,Cherusti;RU,Moskovskaya Oblast,Chekhov;RU,Moskovskaya Oblast,Chigasovo;RU,Moskovskaya Oblast,Shatura; RU,Moskovskaya Oblast,Shchelkovo;RU,Moskovskaya Oblast,Elektrogorsk;RU,Moskovskaya Oblast,Elektrostal;RU,Moskovskaya Oblast,Elektrougli;RU,Moskovskaya Oblast,Yubileyny;RU,Moskovskaya Oblast,Yakhroma
5 sights of the Altai Territory that are the stuff of legend
There are a lot of legends about Altai. Since ancient times people have felt the amazing atmosphere and magical attraction of the region. We'll tell you a few legends about the famous attractions of the Altai region.
Lake Aya
There is a freshwater lake of Aya in the Altai region. There is a legend about its appearance: once upon a time there lived in those places a monster called Delbegen. And it liked to do evil to ordinary people. The Sun and the Moon could not stand it and decided to exterminate Delbegien. The Sun chased him all day long, but did not catch up with him. Delbegen hid in a cave. At night, the moon caught up with him, crushed him with its weight and threw him into the sky. Delbeghen fell into the Katun and disappeared. And the place where the moon touched the ground, eventually filled with water and turned into a beautiful lake, resembling a crescent moon. Ai means "moon" in Turkic.
Mount Babyrgan, the rivers Katun and Biya
Mount Babyrgan is located in the Soviet district, on the left bank of the Katun. There is a legend about it: the khan of Altai had a beautiful daughter, Katyn. Her father took care of her like gold and built a palace for her high in the mountains so that nobody could see such beauty. But the birds have sung and the winds have whispered to Kating about the beautiful young man Biya, who lives far away in the steppes. One day she decided to run away from her father. She waited until he fell asleep, jumped from a high rock and ran from hill to hill, from pebble to pebble – towards her beloved. Altai Khan wakes up and sees that his daughter is not in the palace. He sent a strong and brave warrior Babyrgan to chase her. Babyrgan chased Katyng and almost grabbed her. But she broke free, leaving in his hands the sleeve of her dress, and rushed on towards Biy. In anger Altai Khan turned Babyrgan into a mountain, and Katyn and Biya into two rivers – Biya and Katun. They merged together to form the Ob River.
Tavda Caves
This is an array of caves in Altai region, on the left bank of the Katun River. According to legend, there lived in these places a wicked and greedy khaness Tavda. Despite her countless riches, she kept coming up with new ways to rob people. And so a visiting husband and wife settled nearby. Dexterous and skillful. The husband was busy with pottery, and his wife was embroidering carpets and weaving fishing nets. When Tavda saw their work, she decided to impose a tribute on the family that is beyond the power of a dozen masters. How surprised she was when they came to her in the morning with practically empty hands. The man brought only one pot, saying it was a bottomless pot that could never be filled with any wealth, and the woman brought a net with huge cells, saying she could not catch all the fish in the world. When Tavda realized that she had been tricked and only laughed at her greed, she became furious and stomped her foot so that she fell underground with all her riches. In the place where it happened, the entrances to the caves, nicknamed Tavda, were formed. People found all sorts of things there later on – clay pots, nets, and lots of other stuff, which, according to legend, belonged to the greedy khaness Tavda.
Devil's Finger Mountain
Chertov Finger Mountain is located in the village of Katun, Altai district. This is a popular tourist spot, which offers a stunning view of the Katun River and the surrounding area. According to a legend, a husband and wife lived in a village not far from Lake Aya. They lived happily, but they had only girls, who left the family when they grew up. And their mother and father wanted an heir very much. And now in their old age they had a boy. Not a son, but a giant. They named him Cherto. He grew up spoiled, he didn't want to help his parents. He considered himself a god and decided that he had to live next to the gods. He climbed a high mountain, raised his hands to the sky and shouted: "Hey, gods, look how glorious I am! I am worthy to live with you!" This insolence made the gods angry, turned Cherto into stone, and threw him into the abyss. And as an admonition for their descendants, they left his petrified finger, which is still sticking out among the rocks.
Murzinka Mountain
300 kilometers from Barnaul, in the Krasnovtschekovsky area, there is a mountain Murzinka, with which is connected a later, but no less interesting legend, not giving rest to treasure hunters. There was a rumor that Akinfy Demidov, a well-known industrialist in Altai, secretly mined deposits here, and minted gold and silver coins in his secret workshops. The Empress was aware of these machinations and periodically arranged inspections of Demidov's workshops. According to one version, in the mountain Murzinka hidden treasures Demidov, and another – a whole gold carriage, which he wanted to present to the Empress, to placate her, but did not have time. They say that on one of the slopes of the mountain is a mark in the shape of a large cross, indicating the place where the hidden treasures, but so far no one has found them.