Legoland in Denmark
Legoland in Denmark is a wonderful magical world in miniature where everything: cars, ships, knights, Indians and pirates, birds and animals, and many other things are made completely out of Lego – about 65 million small or simply huge plastic cubes. But these are not static figures. Everything is so close to real life, which is not only in motion, but also accompanied by special sound effects, aromas, live trees and plants. This gives even more realism to the panoramas, which involuntarily make not only children but also their parents freeze in amazement.
Save money on your trip!
Highlights
Legoland Denmark is visited annually by more than a million tourists with children from all over the world. It opened in June 1968 in the heart of the country on the Jutland Peninsula, in the small town of Billund, and occupied at the time 38,000 square meters. Today the area of Legoland is already about 100,000 square meters, and it increases every year.
There are seven such parks in the world, but the Danish one offers tourists the widest range of possibilities – from familiarization with the world's main sights to children's driving school.
A family holiday in Legoland is a pleasant and memorable experience, which makes you dive into a fairy tale and take your mind off the daily worries and fuss. In Legoland every child will find an activity that suits his or her spirit and mood.
Constructor LEGO (LEGO) has long been recognized in our world as a "useful children's toy. And, indeed, this constructor is not only loved by almost all children and causes them indescribable delight, but also greatly enhances the development of the child. Lego constructors confidently occupy a leading position in satisfying children's interests and needs, and probably visited the hands of many children.
But few people know that the birthplace of LEGO is Denmark, namely, the Danish town Billund, and that it was there in 1934, the grandfather of the current president of the holding LEGO Group has created his first wooden toy and gave it the name Lego. And it wasn't until 1949 that the first already plastic LEGO brick appeared.
Map of Legoland in Denmark
Park zones
Legoland in Denmark is divided into eight zones, each of which has its own specifics and is equipped according to its thematic focus:
World of Miniatures (Miniland)
The World of Miniatures represents miniatures of such countries as Denmark, Germany, Japan and the United States. Miniland is one of the most popular and visited areas of Legoland. It is not without reason that the construction of the park began with this block, which is often called the heart of Legoland. It took more than 20 million LEGO cubes to build this area!
Upon entering Miniland, you will get into an amazing atmosphere, where adults become children and children become giants. Surprisingly, the parents here are really no less interesting than their children. Well, who would not want to see, for example, the Statue of Liberty, or the famous corners of the world, made of Lego, but looking so realistic that it is impossible to take your eyes off.
Every structure, street, square, port lives its own life here, everything is so dynamic and interesting that you can stay in this part of Legoland for hours.
The entire panorama of famous works of architecture and art, famous buildings and places from various countries can be seen at once from a 30 m LEGOTOP tower, which creates an unforgettable impression as if you are looking at the real world from a height of 600 meters.
In the World of Miniatures, thanks to realistically built models and projects, everyone feels like Gulliver. There are fountains, floating ships and steamships, cars moving through the streets of the city, and people having lunch in a restaurant or strolling through famous squares and parks.
You can even see a miniature airport, modeled on the one in Billund, not far from here. The interesting thing is that everything in the airport also moves and creates the appearance of life in these constructions, consisting of plastic LEGO cubes. Even the plane itself rides so realistically that observers simply do not doubt – passing out on the runway, it is about to take off.
Sufficiently spectacular will be an introduction to the city of movies in Los Angeles. Here everything is made of LEGO construction materials: from movie sets and cameras to famous actors. And at the Silverstone racetrack you can drive your own race car.
World Duplo (DUPLO Land)
Duplo World is designed for the youngest visitors. It is quite safe – the whole area is equipped with a special soft coating, protecting against falling. Therefore, parents can be absolutely calm for their children. In this area of LEGOLAND lots of interesting things: here a child can build something of his own from Duplo cubes, ride the train DUPLO TRAIN or the plane DUPLO PLANE, and take a ride on it all and his parents, there is a farm and a hospital and a police station.
But perhaps the most interesting thing for all the kids in this part of the park will be the Statoil children's driving school. This is the only attraction in Legoland for which you need to pre-register and pay extra money for the ticket, but it is worth it. Statoil driving school is a small town with real traffic lights, road signs and markings (of course, all this in miniature for children). There is even a gas station! Beforehand, each child is photographed, instructed and given an electric car that he or she can drive for half an hour through the town, observing all traffic rules. At the end of time, the young driver is given a real driver's license, with a photo and flag of the country of the child. Kids just love it!
Imagination Zone
This part of the park Legoland in Denmark is especially attractive for children 10-13 years old. Here is a large 3D movie theater, which is equipped with modern audio and video equipment. At the entrance to the theater give out special glasses, through which, watching the movie, you are involuntarily plunged into the thick of the events taking place in it. With special techniques, the viewer feels the gusts of wind, high speed, which vibrates the floor, a snowstorm, smoke and more, which leaves an unforgettable experience.
Worth your attention is the LEGO MINDSTORMS Center, which mainly interests older children, where a child can create his or her own toy. In this center, computer technology is combined with the LEGO constructor system. Children here can program all sorts of robots, having undergone preliminary training in 2 lessons of 45 minutes each.
In this area of Legoland, you can visit the LEGO Interactive Center, where a child will have the opportunity to play with the latest LEGO constructors.
LEGOREDO Town
Legoredo is recreated in the style of a Wild West town. The architects have accurately recreated the atmosphere and structure of the American city in the times of the Indians and cowboys. In this area of Legoland parents with children will be full of thrills down in an Indian canoe, an exciting journey along the rocks on the river, meeting with the Chief of the Redskins. The child can try himself as a sheriff here or go to the gold mines, where you will be taken by the local Mine Train, where the children can become gold prospectors and cast from nuggets of shiny coins. All attractions are completely safe and suitable for any child whatever their age.
Pirate Land
Pirate Town welcomes you to a big fairy tale ship to take part in a treasure hunt. Built from construction material, it is an exact replica of a seventeenth century ship. You will have amazing adventures in the caves of the famous pirate Roger. And you can not avoid a meeting with pirates – have to fight with swords! After the battle your ship will arrive on a land full of treasures of pirates, you will learn everything about how they fought for these riches.
On board the ship is a restaurant with a children's menu. And for the bravest of the brave, there will be water races!
Knight's Kingdom
In this city the Middle Ages reigns. A majestic castle is built of Lego bricks with the silhouettes of beautiful princesses through the windows. It is perhaps the largest building in all of Legoland. The Royal Castle covers an area equal to two soccer fields, it is more than 2500 square meters. The largest tower of the castle allows you to look around the park from a height of six-story building, it is about 18 meters. The entire attraction took more than a million LEGO bricks! Even more majesty, beauty and realism of this design give all sorts of special effects – light, sound, animation, and even smoke!
Children can ride a fire-breathing Dragon Ride through the castle, which speeds up to 40 kilometers per hour. And fans of water attractions will undoubtedly be interested in Vikings River Splash – a fascinating rafting on the river.
Every day behind the castle in the mini-castle there are shows on medieval themes. Vivid special effects and theatrical performances by actors in knightly costumes involve every viewer in the world of adventures of King Richard the Lionheart. Here you can take a break from travel and fully immerse yourself in the world of the Middle Ages. Truly mesmerizing spectacle!
Adventure Land
Adventure Land is the craziest amusement park in Denmark, which has everything you need to get an unforgettable adrenaline rush. There is a 400-meter roller coaster called X-treme Racers where the adrenaline is high. Another attraction is Jungle Racers, which offers the most adventurous a glider ride on the river in the middle of the Jungle. The Jungle Riders also offer exciting adventures in which you will have to overcome a variety of obstacles on your way: walk along logs, climb to the tops and much more. This part of the park has everything from fun water rides to thrilling roller coaster and cable car. The city is equipped with special equipment for extreme roller skating and skateboarding. It will be interesting and safe for older children and parents.
Lego City
Lego City is a large city in miniature with a fire station, a large production factory, and a port where cargo ships ply. Lego City's rivers and canals are lined with pleasure boats and boats. The town is surrounded by railroad, on which move cargo and passenger trains. Along the streets are toy houses, and the sidewalks are walking little men. Everything moves and changes right in front of your eyes – bridges open and close, buses and cars drive by, trucks unload, and new buildings and houses are built.
Meals and accommodation
Legoland has its own hotel, which has a restaurant with a varied menu and a rich buffet. A Grill House is open in the Legoredo area. In the heart of Imagination World, Burger House offers hot burgers with chips and refreshments. Pizza and pasta are served in the eatery at Miniland. The Knights' Table at Knights' Kingdom specializes in medieval cuisine.
Shopping
Right at the entrance to the park, you can buy everything you need to travel around Legoland: cameras, sunscreens, glasses, a LEGO set consisting of a pirate sword, a princess crown and trinkets.
Between "Pirate's Land" and "Kingdom of Knights" is the Castle Shop. There is a huge assortment of dresses for little princesses and robes for brave knights. In addition to wonderful outfits, you can buy a collection of crystals and fossils in the store.
Legoredo has a General Store with a large variety of LEGO souvenirs, as well as adorable girlie crib accessories, scarves and bags for young fashionistas from Hello Kitty.
The World of Imagination has a store selling sweets: a huge selection of candy, candy sticks, cotton candy and chocolate awaits little gourmets and their parents.
At the Legoland exit is the largest LEGO store in the world and the Lego Wear store for children.
Opening hours
Legoland in Denmark is open to visitors from March to October, daily from 10 a.m. to 6-9 p.m. Attractions stop operating 2-3 hours before closing the main gate of the park.
Cost of admission tickets
For children under 2 years old free of charge Children 3-12 years old 245 DKK 275 DKK Adult 13-64 years old Pensioner from 65 years old 245 DKK
For exact information, see Legoland's official website at www.legoland.dk
How to get to Legoland
There is no railroad in Billund, so it is better to get to the city by car or plane. Many airlines have flights to Billund International Airport.
Busses run twice a day from the airport to Vejle (30 min.) and Aarhus (1 hr 30 min.: with connections to Horsens and Skannerborg).
From Vejle, Kolding and Horsens, regular buses depart daily for Billund, stopping at the airport.
Legoland in Denmark: Legoland and points of interest.
Billund, Denmark, is a small town located in the southern part of the country. Its population is only 7,000 people, but despite this, hundreds of thousands of travelers of all ages come here from all over the world. What causes such popularity?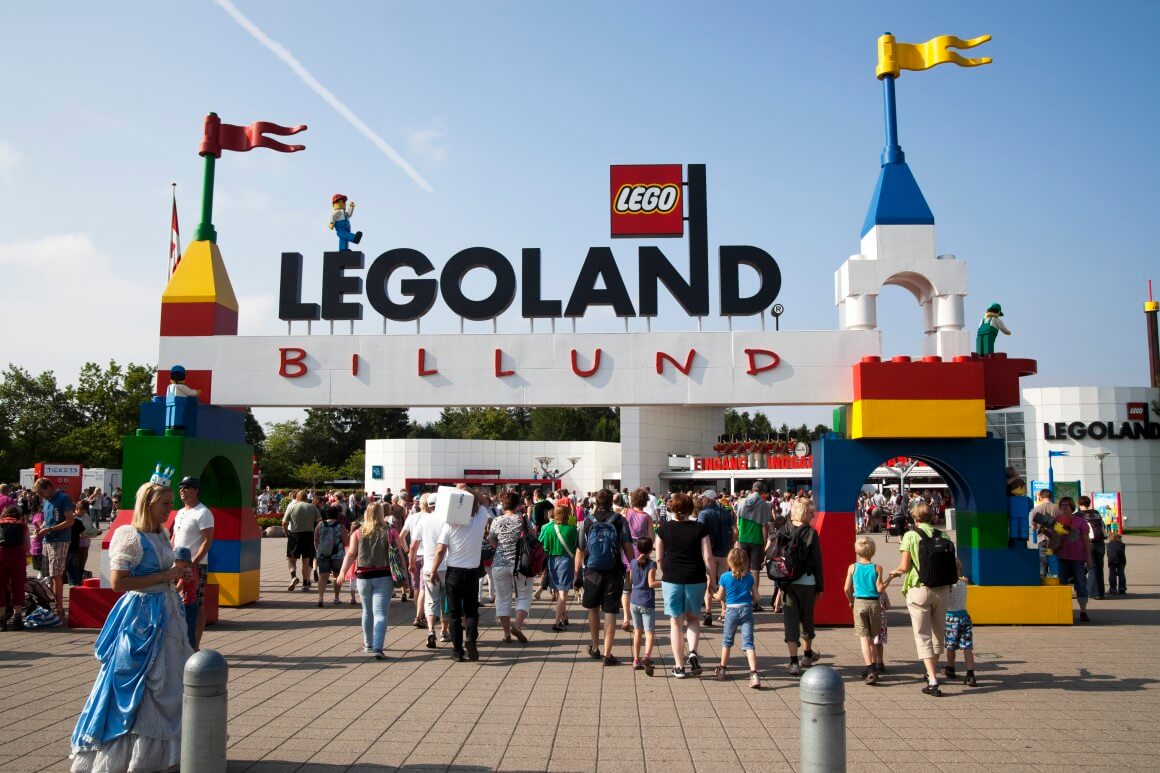 Since 1960 the world famous LEGO GROUP has had its headquarters in Billund. Eight years later, the company built the first and today's largest children's amusement park from the constructor, which is the main attraction of the city.
How to get to Billund? Where to go with small children besides Legoland, and how much does it cost to stay in the south of Denmark? The answers to all your questions are in this article.
Billund sights
Legoland
An amusement park built from 46 million LEGO cubes – the main attraction not only the city of Billund, but also the whole of Denmark. In 2018, the largest Legoland in the world, with a total area of 100,000 m2, celebrates its 50th anniversary, while the mark of 50 million visitors it crossed 15 years ago.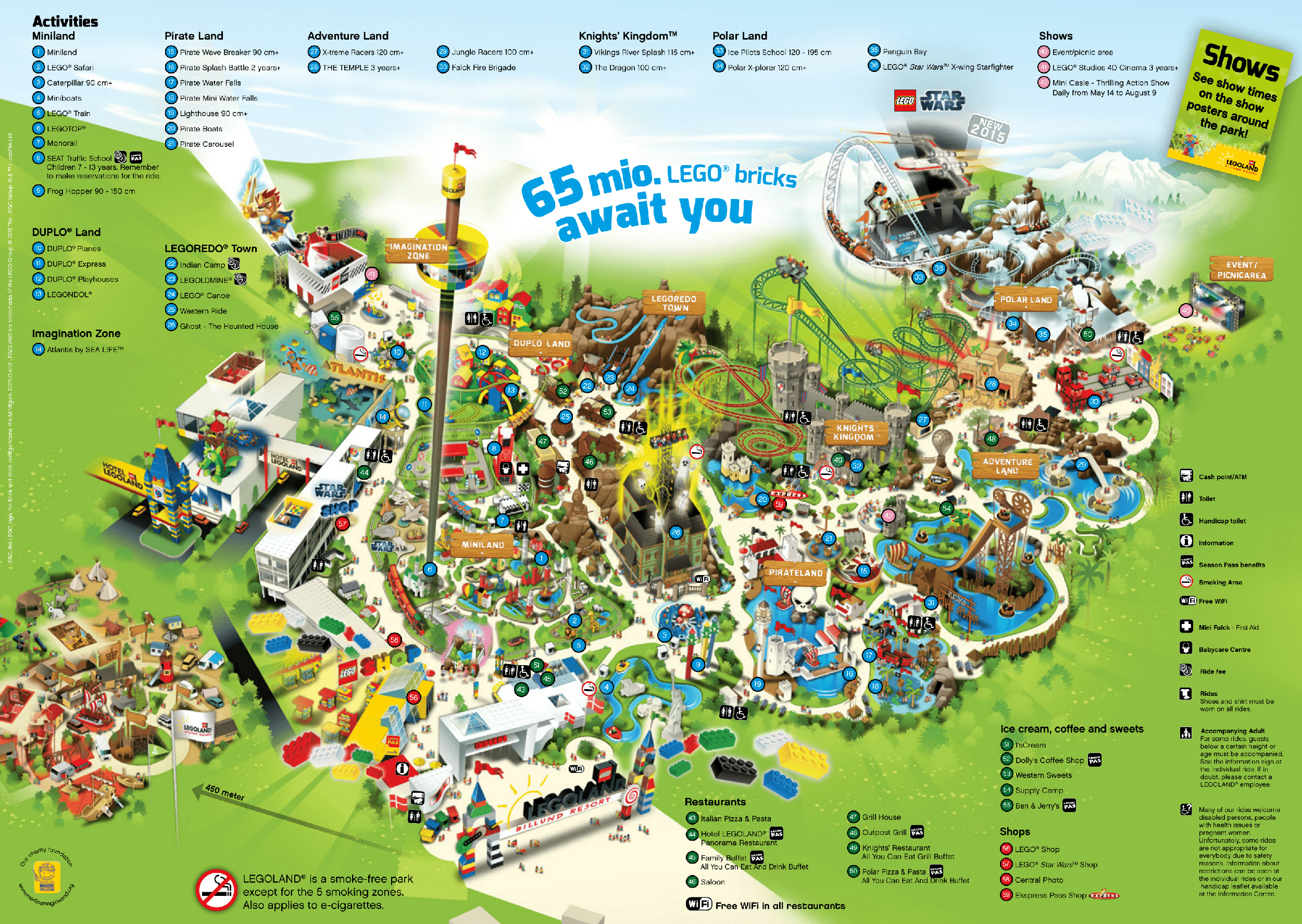 Interesting fact! At the moment there are only 6 Legolands in the world, two of them are in America, while the rest are in Germany, England, Denmark and Malaysia. Billund Legoland is considered the twin brother of Munich, but they have the same attractions.
The park is located within walking distance of Billund Airport, but you can also get there by taking the free bus to the Legoland or Lalandia (Billund Aquapark) stops. The exact address is Nordmarksvej 9.
Visitors to this attraction are offered three fares to choose from:
One-Day. Price – 329-429 DKK for children and adults, the price depends on the date of the visit to Legoland;
Two-day – 508-578 DKK.
Important: Prices are per ticket when buying online, at the box office the cost is higher. Detailed information and reservations on the official website – www.legoland.dk/en.
As a rule, Legoland in Billund is open from 10 am to 6 pm. But the park does not have an exact schedule because it depends on the tourist season, weather, weekends and holidays. Before planning your trip, check Legoland's opening hours on this website listed above.
Please note! The park closes an hour or two after the rides stop.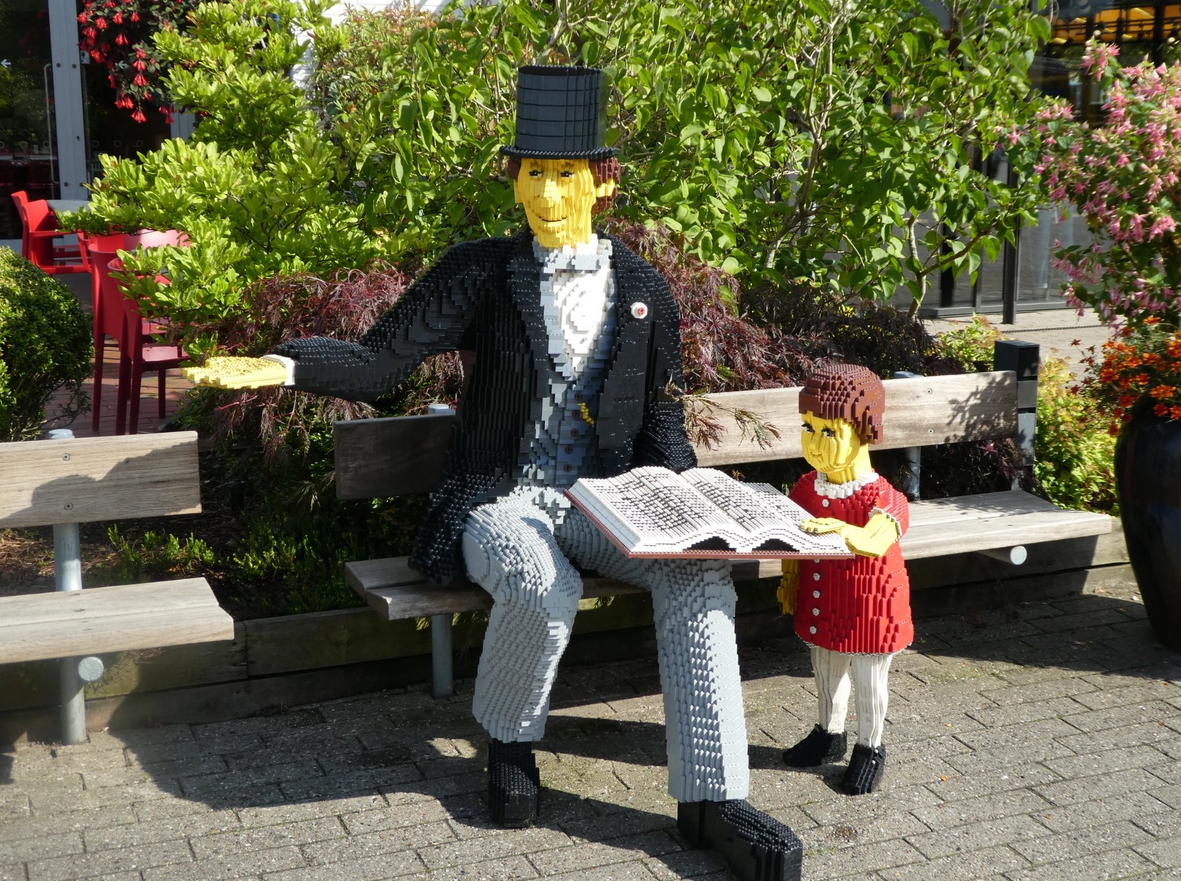 The park consists of many themed areas, each of which is unique in its own way. Immediately at the entrance you are greeted by the symbol of all Legoland – a cheerful man in colorful clothes, made, as everything here, from a construction set. But there are also unique characters, for example, the favorite children's storyteller from Denmark – Hans Christian Anderson.
All in all, Legoland has 10 thematic areas:
The centrally located area takes up the most time and attracts the key attention of visitors. This is the heart of Legoland, where the construction of the complex began and where the main efforts of the architects were concentrated.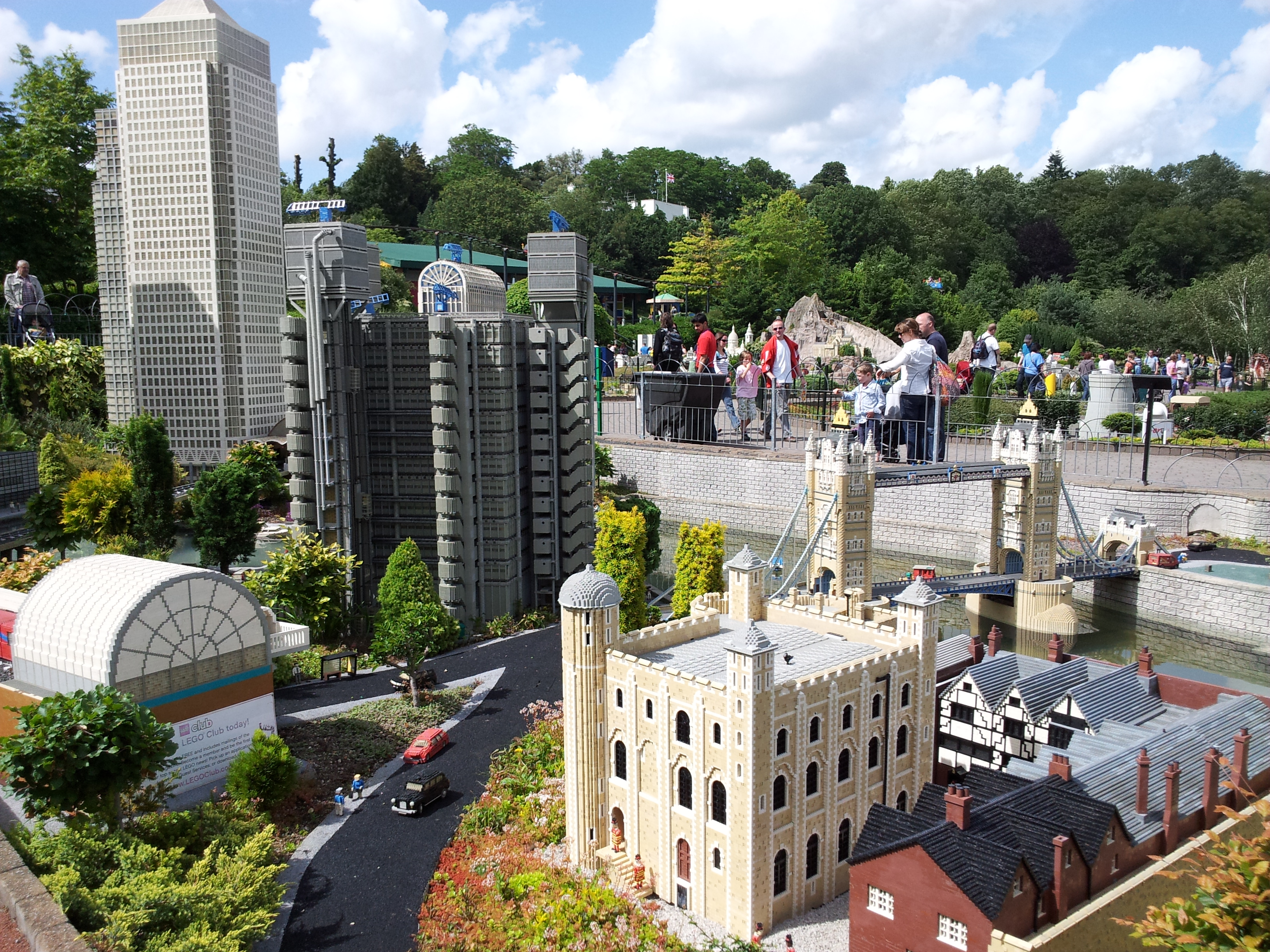 Miniland is pieces of architectural structures from all over the world, embodied in a few dozen square meters. These are the main attractions of Denmark, Norway, European countries, the U.S. and even some Asian countries, it:
Nyhavn Quarter, Copenhagen;
Amalienborg – the royal palace of Denmark, Copenhagen;
Bryggen Quay, Bergen, Norway;
All districts of Amsterdam, Holland;
The Statue of Liberty (New York), the Capitol (Washington), and Mount Rushmore with the faces of American presidents carved on it;
Buddhist temple in Bangkok;
The Egyptian pyramids.
The main attractions in this area that you should pay attention to is the LEGO train, which will take you throughout the park, and the high observation tower LEGOTOP, where you can get a bird's-eye view of Legoland. The best Miniland attraction is LEGO Safari, where the main characters are wild animals.
Fun fact! It took more than 20 million cubes to build Miniland.
LEGO City is a key feature of Danish Legoland, an automated living town with an elaborate infrastructure and characters as tall as a real person. Here you can see moving Lego-humans, ships floating on the water, and even watch the railroad made from the constructor.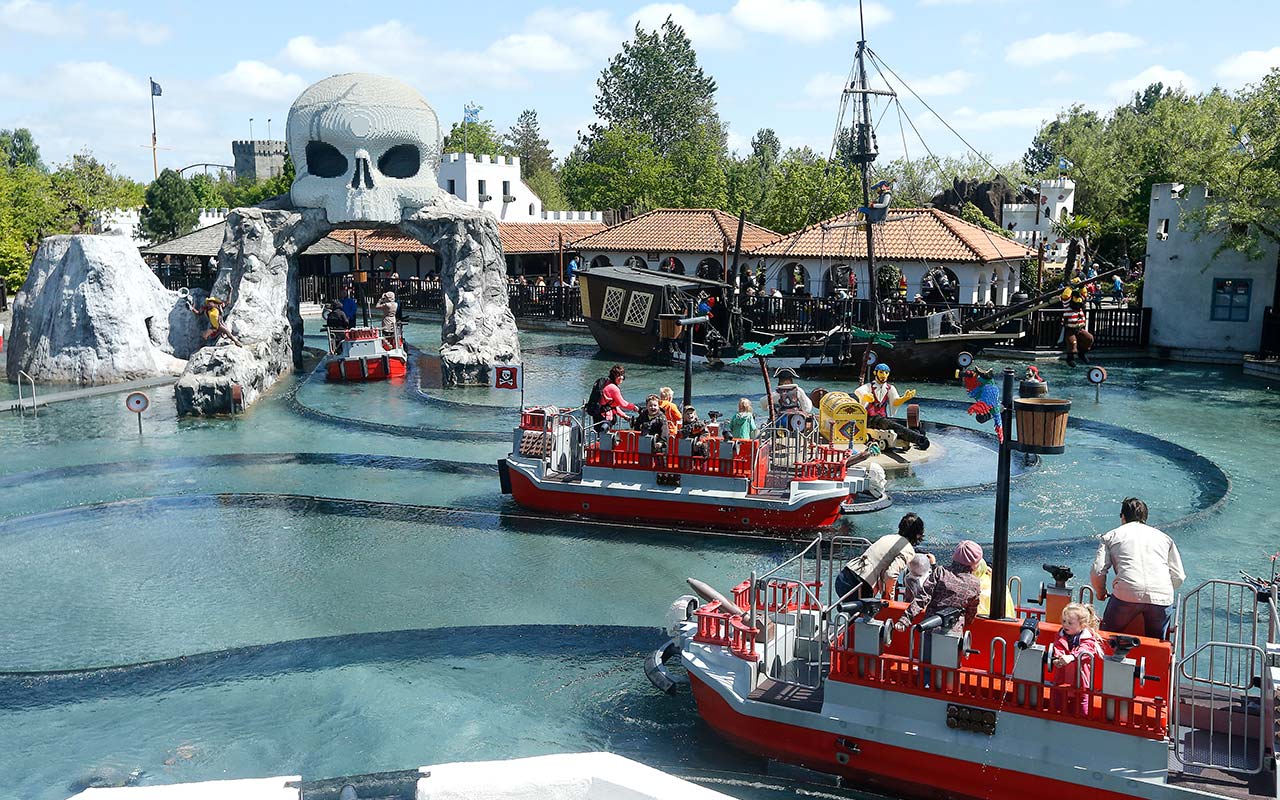 Many of the themed areas are based on the series of toys produced by the company. One of them is Pirate's Land, which is dedicated to water fun. Here, visitors play in real sea robbers: divide into teams, sail on ships and splash each other from the water cannons installed on board.
Tip! Before boarding the ship, be sure to wear a raincoat if you don't want to get your clothes wet.
Also in this area vacationers can go on a treasure hunt through mysterious dark caves.
A place for lovers of the Wild West, presented in the form of Indian villages and cowboy saloons. Here you can eat delicious meat in the Grill House restaurant, test your nerves in the haunted house or get lost in the mirror maze.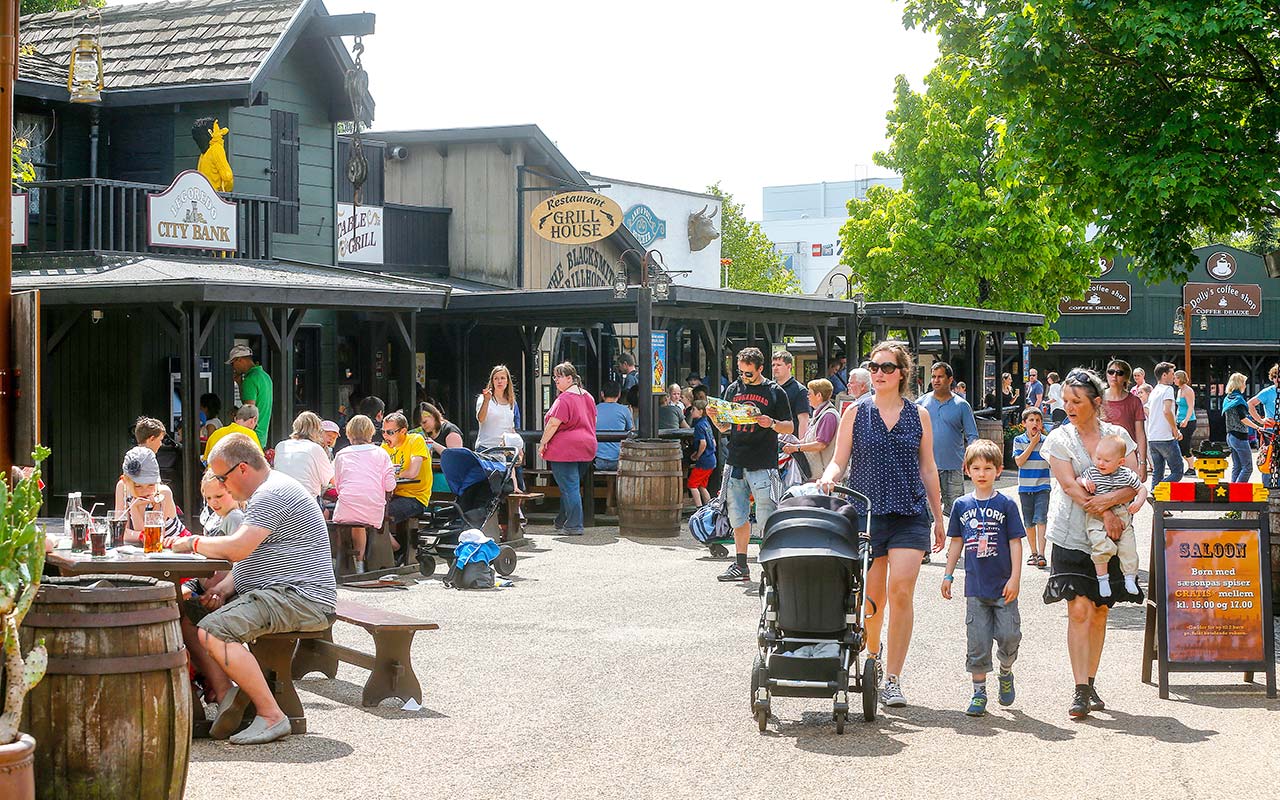 This area is designed for older children and their parents. There are many extreme attractions, among which the most popular are the X-treme Racers, competitions between families Falck Fire Brigade and The Temple – an Egyptian tomb with pharaohs, where you can test your marksmanship.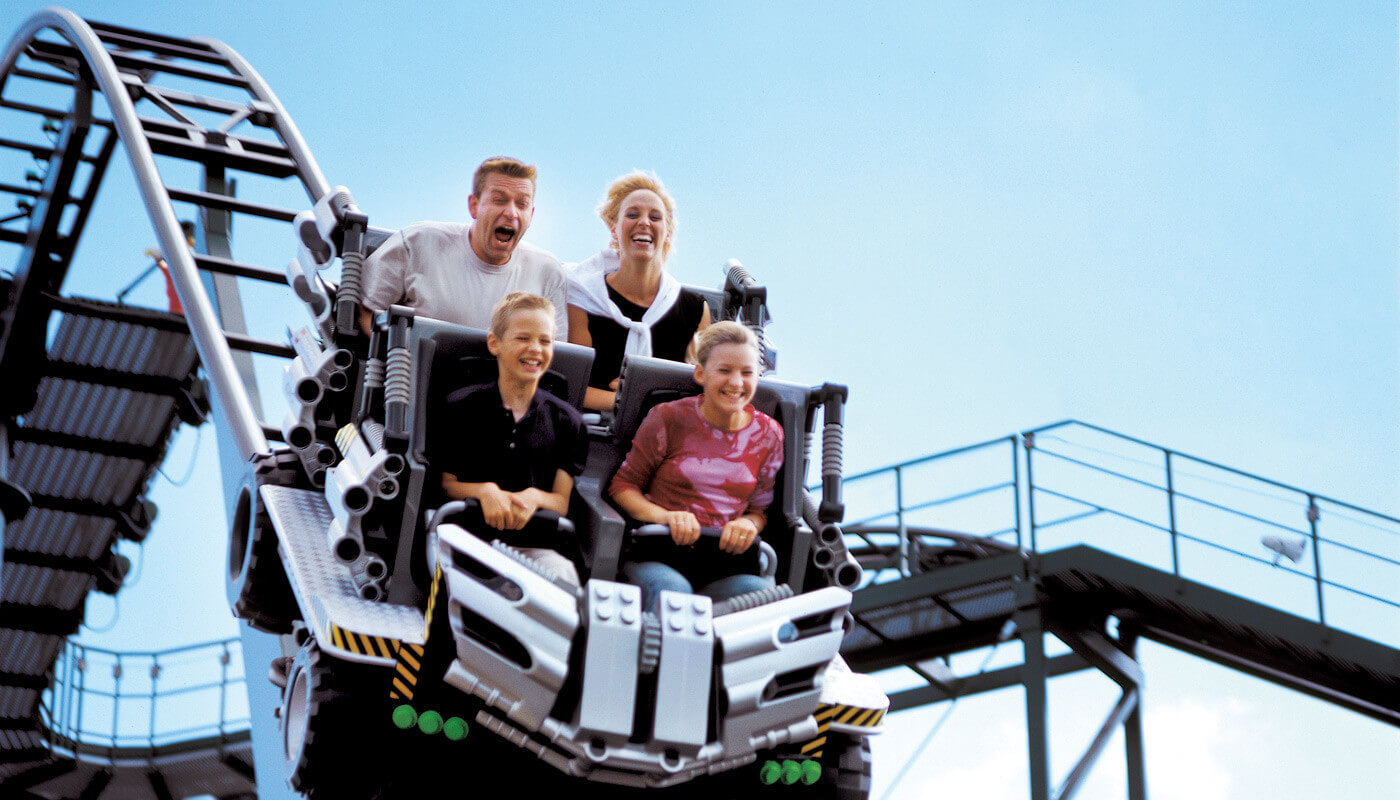 X-treme Racers.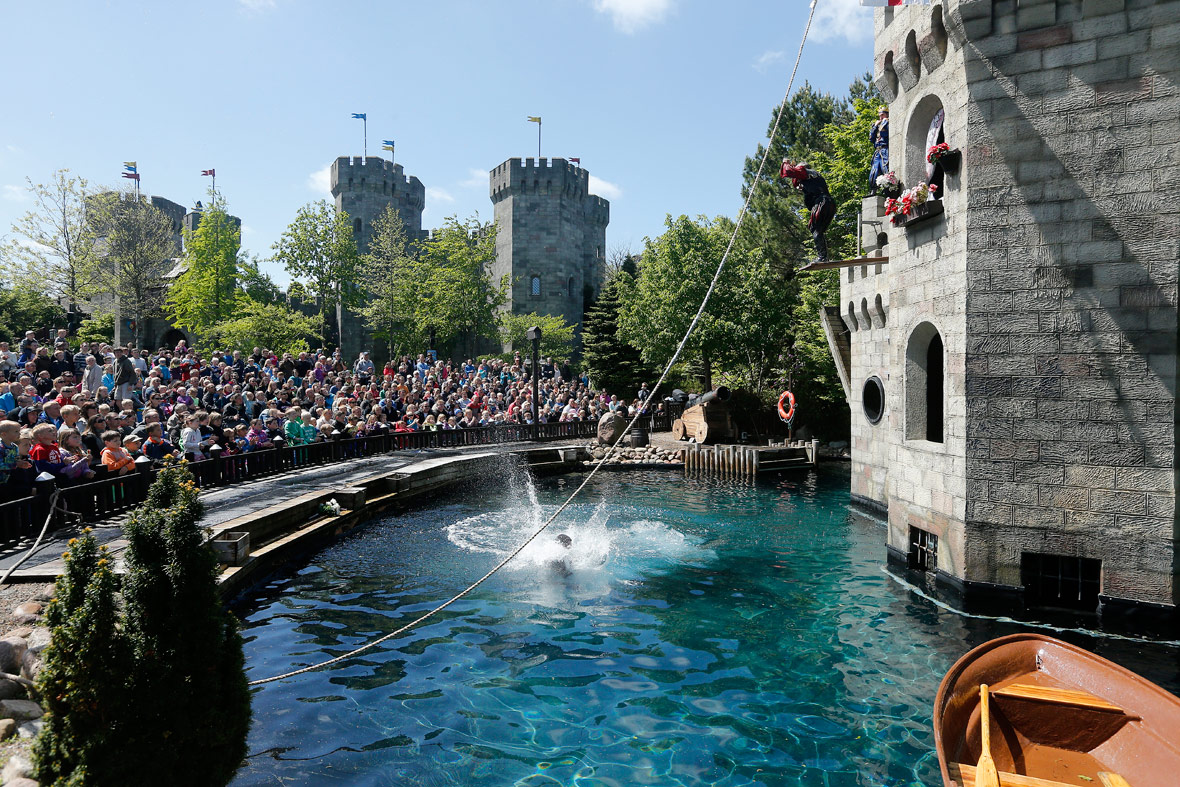 An amazing place where everyone can feel as a medieval hero, try on the armor, to compete with the Vikings, to defeat the dragon and save the princess. The biggest queues gather near the majestic Royal Castle.
One of the few truly lively areas of Legoland. It is dedicated to the LEGO Arctic series of toys and stands out among the others by having a real penguinarium. It is in this area that the biggest queues gather, as this is where the most interesting for adults and children rides Polar X-plorer and Ice Pilots School are located.
The most famous Lego toy series is dedicated to an area with rides that will test your strength, flexibility and speed of thinking. Can you and your kids climb up the wall or get out of the laser maze unscathed?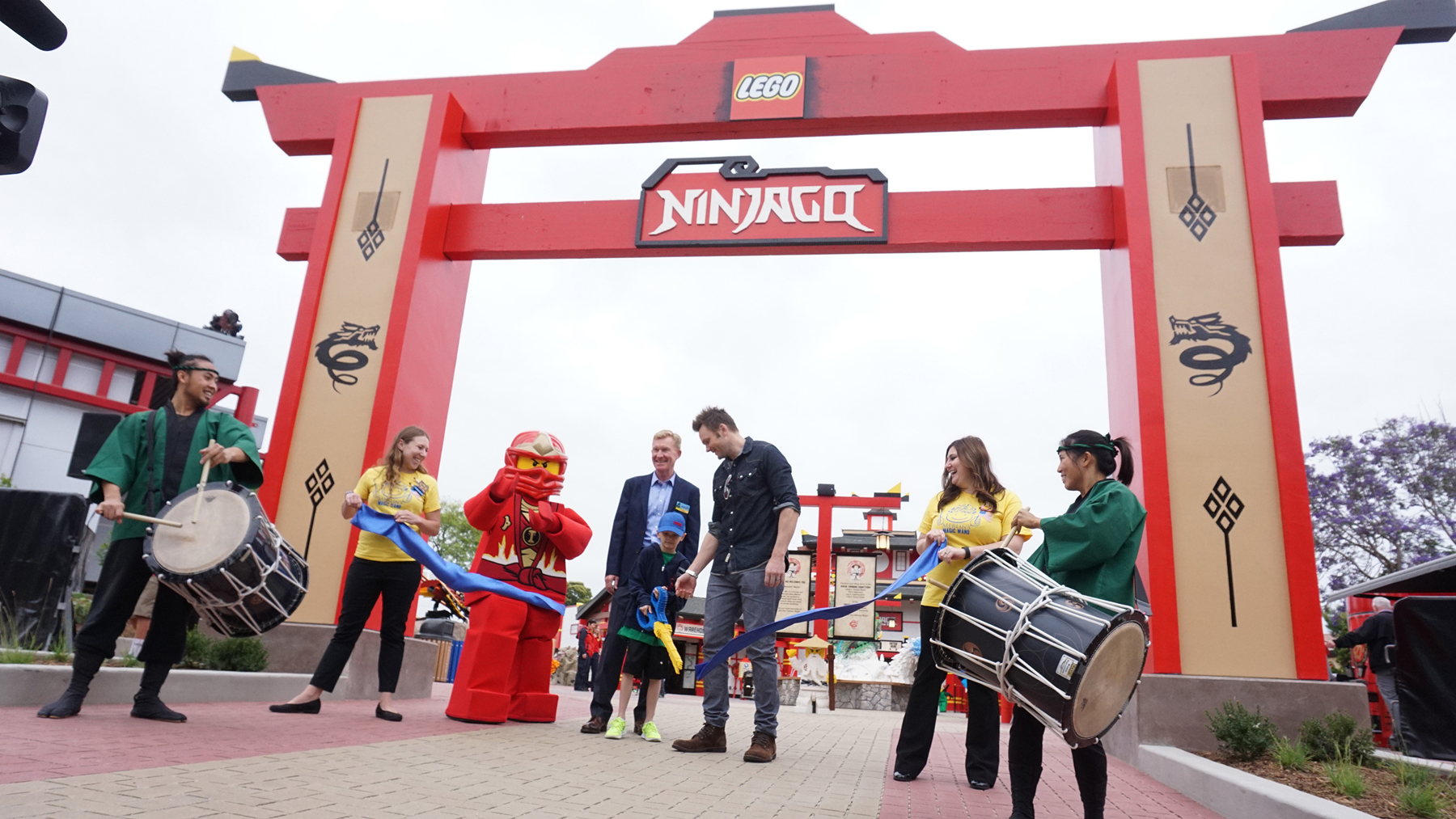 After proving to yourself and others that you are a real ninja, you can visit Denmark's only store with souvenirs and toys dedicated only to Ninjago.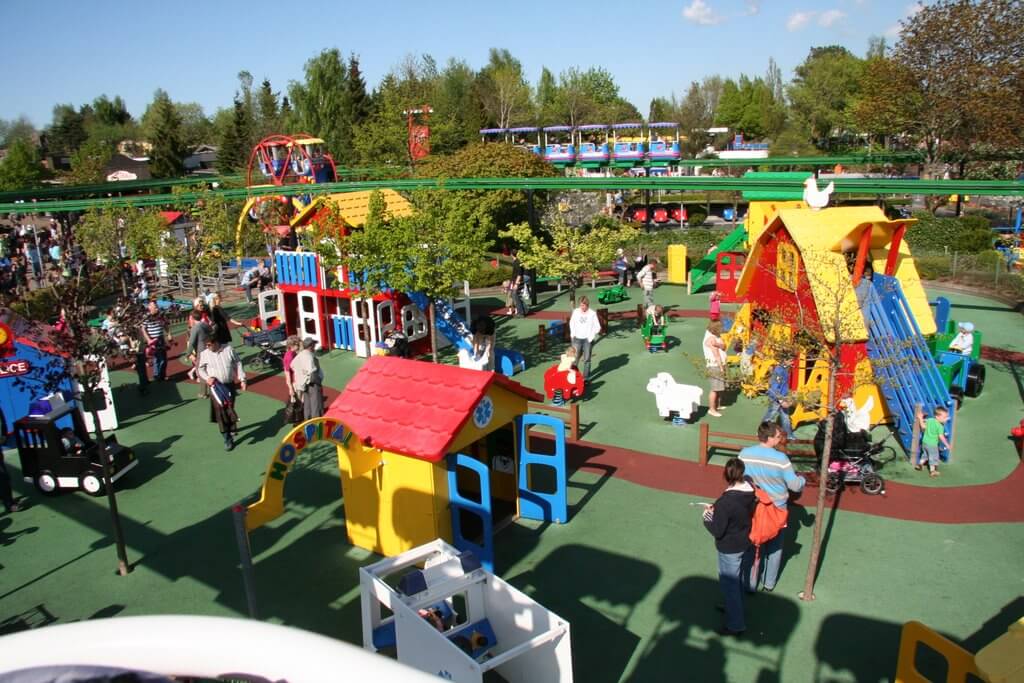 The amusement park Legoland is also designed for the youngest travelers under the age of 6 years. Everything here is made of cubes twice the size of standard ones: a playground and a driving school for future drivers, where they can even get their license.
Incredible area with a huge aquarium, where live sharks swim, live huge crabs and other marine animals. Here you can watch a cool movie in a 4-D movie theater, take a photo against a dancing fountain and even create your own LEGO toy in a special center.
There are many cafes and restaurants within Legoland, but the food there is either fast food or grilled steaks, which children rarely eat. So that the wonderful experience isn't spoiled by a rumbling stomach, take suitable food with you from home;
The biggest lines gather at the Ninjago laser maze, the haunted house and the races. It's best to come here in the first hour and a half after the park opens, while other visitors are still looking around;
Pay attention to the weather forecast, as most of the entertainment at Legoland is outdoors;
After 17 or 18 hours (depending on the season), when the rides are closed, entrance to the park is free;
The best age to visit this Danish attraction is 5-13 years old. Does not apply to LEGO fans;
Do not go to the park on Sunday, if you take a ticket for one day – you risk half of the free time to stand in lines. The same goes for the period of school vacations, at this time, even weekdays are not saved;
Legoland Billund is home to the largest LEGO Store in the world with a huge assortment. All of the company's products are fixed prices, so the cost of toys here is the same as in other stores in Denmark.
Sculpture Park
Skulpturpark is further proof that, besides Legoland, there are places worthy of your attention among Billund's attractions. In fact, by "park" the people of Denmark mean a small wooded area and a small river that crosses it. This park is practically untouched by the hand of man, so a walk here on a warm evening is a pleasant entertainment.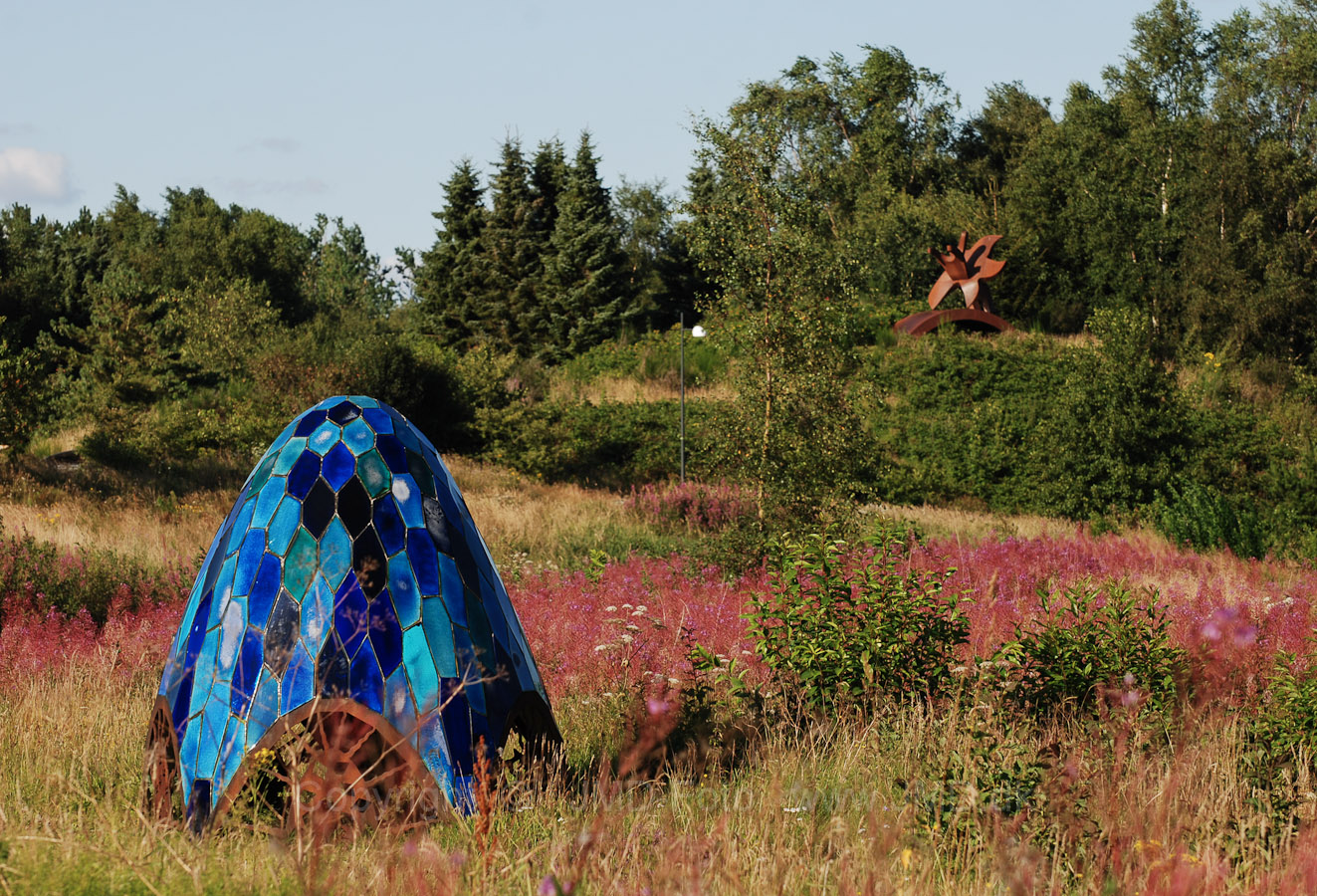 All sculptures of the park are located on both sides of the paved road that leads to the city center and divides the woods in two. They are the creations of local contemporary artists and belong to the avant-garde style.
Location: Hans Jensensvej 6, 7190 Billund, Denmark.
Bindebull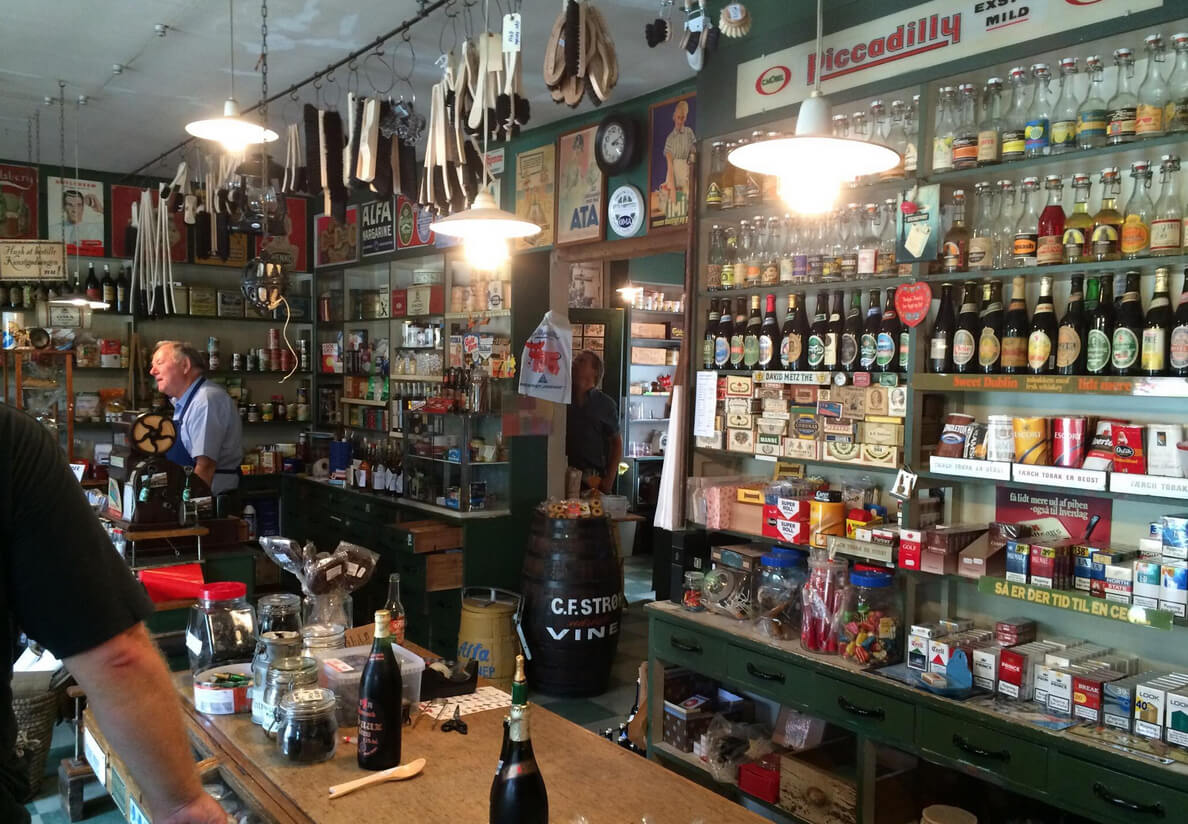 If you want to know what Denmark's most unusual store looks like, you have to go to Bindeballe Kobmandsgaard. This museum is decorated in the style of a farm shop from the late 19th to early 20th century, and you can see products that were sold at that time and various antiques.
Maya and Reinhold, who took over the grocery farm in 1973, wanted the grocery farm to go back to the original, original style of 1897. Both in terms of appearance, in terms of decor, and in terms of operation. And it must be said that they succeeded. The old counters that had been in the attic were restored and took their place in the store. After arranging the furniture, the couple began hunting for antique enamel signs. In addition to the enamel signs, the couple brought home original old merchandise: price lists, furniture pieces, etc.
In addition, Bindeballej operates a homemade cafe with low prices and delicious pastries for coffee.
Location: Bindeballevej 100, 7183 Randbøldal, Denmark.
Entrance fee: 20 DKK, children free.
Opening hours: 10-17 daily except on public holidays.
Lalandia
A huge water park is part of the entertainment complex, located on two islands (Billunde and Lollande). It is a great entertainment for the whole family, here every traveler will find something to their liking.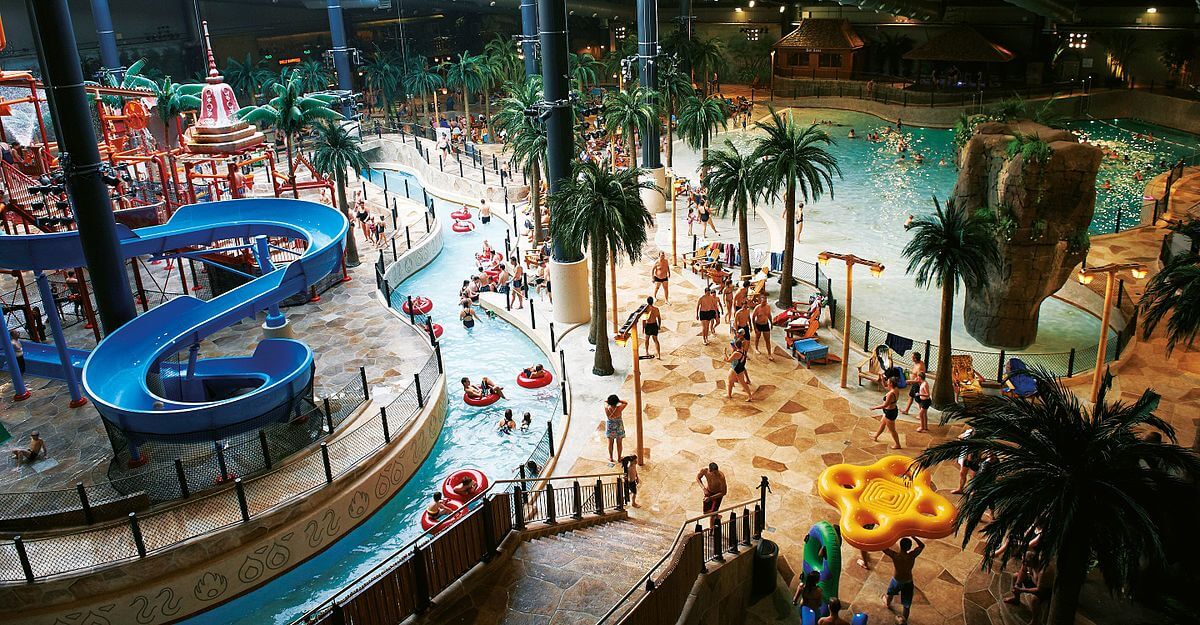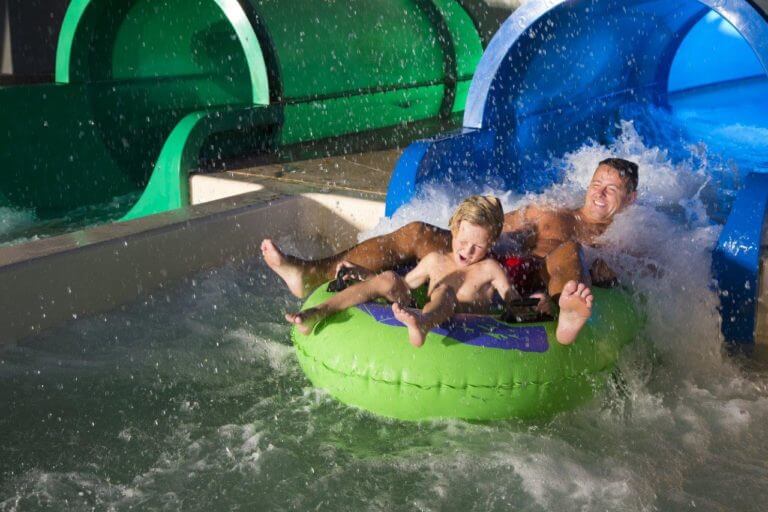 In Lalande there are:
Several dozen slides;
More than 5 swimming pools for adults, 2 for children;
Saunas and Jacuzzis;
Underwater caves in which you can swim surrounded by exotic fish;
Cafes and restaurants;
Tennis, volleyball, basketball and water soccer courts.
Tickets cost: full day – DKK 299 for adults and DKK 249 for children aged 3 to 11, half day (from 14 to 18:30) – DKK 249 and 199 respectively.
For up-to-date information on opening hours, see the water park website – www.lalandia.dk.
Where to stay in Billund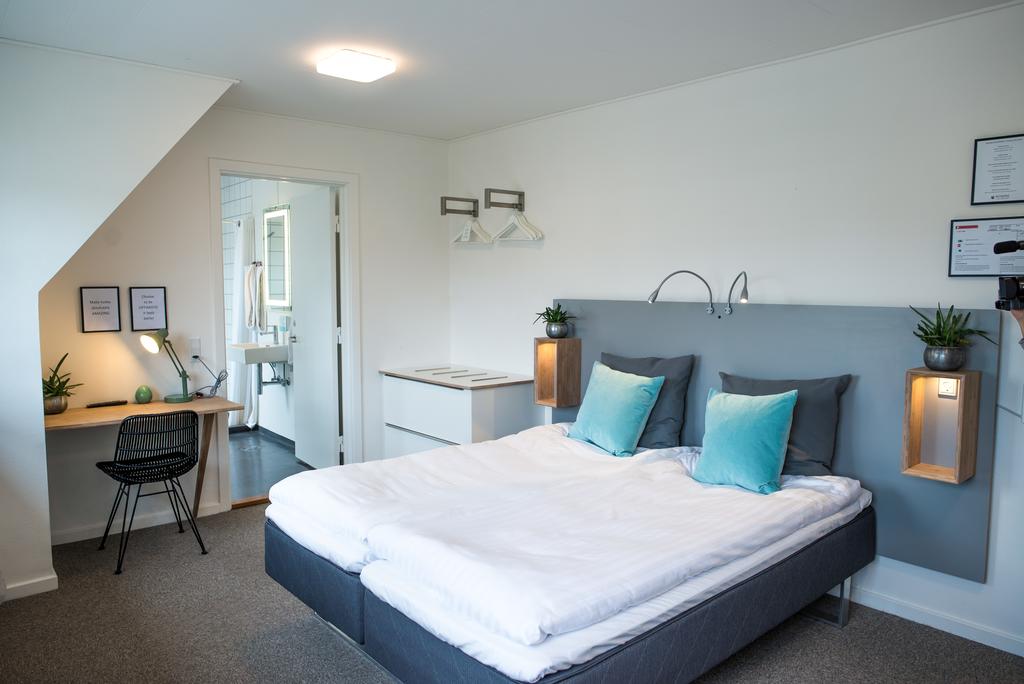 Refborg Hotel
Billund is a small town, there are only about 10 hotels on its territory. The cheapest option – a three-star hotel for 115 € per night, the most expensive – Legoland Hotel, from 250 € per night in a double room. Staying in an apartment is a little cheaper than staying in a hotel – from 90 € per day.
Whether it is worth it to stay in Legoland is up to you to decide, but as many tourists say, this place will make your holiday unforgettable. Themed rooms, bright design, a real museum on the territory of the hotel and a lot of entertainment for children – this and much more, including discounts on visits to the park, offers hotel guests.
All prices on the page are for June 2022.
How to get from Copenhagen to Billund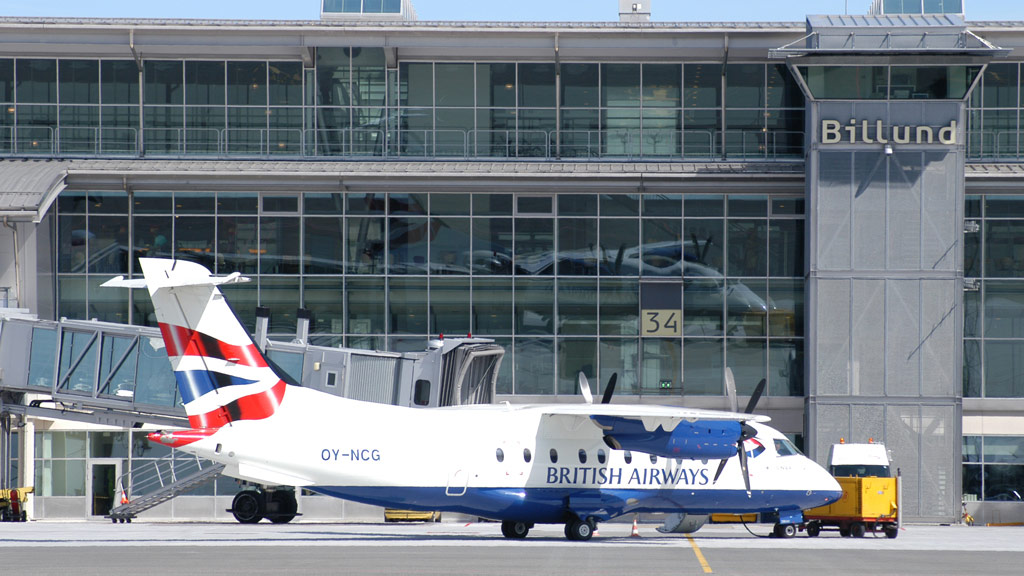 Billund Airport
Getting to Billund from anywhere in Denmark, thanks to the availability of the airport is quite easy, and Copenhagen is no exception. But if the cost of such 50-minute flights (from 75 €) does not suit you, you can use ground transportation.
The best option to overcome the 270-kilometer distance between Copenhagen and Billund is to take the train Copenhagen-Veile to the city center, and then change to a bus number 43 towards the stop Billund Centret. The total cost of such a trip – about 53 €, travel time – 3-4 hours (including transfers).
Detailed train timetables and ticket prices can be found on the official Danish railroad website (www.dsb.dk), bus timetables on the website of the state carrier (www.sydtrafik.dk/forside). Or you can use the route planner in Denmark, which includes all modes of transport – www.rejseplanen.dk.
Billund (Denmark) is one of the most unusual cities in Europe. Immerse yourself in a fairy tale and feel like a kid again. Have a good trip!
Video: a lot of useful information about Legoland in Billund, how the park looks like inside. watch it for sure!
Author: Elena Lunina
Updated: May 23, 2022 Aarhus (Denmark) is the largest and most important city of the country…
Updated: 20 June, 2022 Aalborg (Denmark) is a charming town in the northern part of the country…
Updated: 5 Jul, 2022 Skagen (Denmark) is a small resort town in the northern part of the country.
Updated: 31 Aug, 2022 What to bring back from Denmark is the most popular question…