Response: Leisure in Lignano Sabbiadoro (Italy) – Beautiful beaches in the Adriatic, holidays with children, the best discotheques on the coast, air and nature, shopping
Resort town Lignano is located in the North-East of Italy, in the province of Friuli. In the middle of last century it was an unpretentious fishing village, but since the sixties of XX century it began its wonderful transformation into a fashionable resort and now a photo exhibition in the center of Sabbiadoro reminds about the past. The resort is very popular with Italians living in the north of the country, as well as Germans and Austrians (to the Austrian border nearby), also rest Slovenes and Croats. There are not many Russians, but some restaurants have menus in Russian. The city is divided into 3 parts: Sabbiadoro (Golden Sands), Pineta (pine) and Riviera, each part has its own advantages. Pineta has a lot of greenery and huge Mediterranean pines, the beach strip is a little narrower and smaller than in Sabbiadoro. It is quiet here, the sea air is mixed with the smell of pine trees, which promotes relaxation and treatment of lung diseases. In this part of town there are many villas, hotels and children's camps, where children come from all over Italy, there are also scout, international camps. In Riviera pine trees, palm trees, beaches and many villas, quiet, fashionable vacation, solitude, springs, where you can improve your health.
Sabbiadoro – the most fashionable, bustling and crowded part of the resort, there are many top hotels and pensions, which many tourists book in advance, from spring. Many Italians have summer apartments and villas here. The beaches of Lignano, 8 kilometers long, are very well-kept, clean and comfortable, on all beaches work lifeguards and offices to sell beach umbrellas and sun beds (they are expensive, from 9 to 13 euros per umbrella), but you can stay beside the water or near the beach fence on a personal towel or beach chair, which many do:
Entrance to the beach is free, toilets and showers (with cold water) are also free, and the shower with hot water is already paid (1-2 euros, I do not remember exactly). It is advantageous to pay for an umbrella at once for the duration of your stay – in this case you will get a discount. It is possible to stay in a hotel, and in boarding house that is cheaper, and also it is possible to remove a room or the whole villa – everything depends on your financial opportunities. Meals, too, for all budgets. You can have lunch and dinner at numerous restaurants, they are more expensive in the center. But, moving away from the center, you will also meet a lot of pizzerias, family restaurants and pubs, where you can eat good and much cheaper, you can also buy take-away food (pizza, for example). Breakfast in cafes is inexpensive, Italians prefer a cup of coffee and brioche (2-3 euros). You can also buy food in a large supermarket SPAR, they have cooking, hot pastries, a huge selection of cheeses, sausages, prosciutto, fruits, vegetables, etc. So it's up to you whether it's going to be an expensive vacation or quite a budget one. On the beaches there are also bars that serve salads and hot dishes in addition to soft drinks – everything is quite budget and the portions are decent. Living in an apartment or villa can also cook, thus trying all the Italian specialties. The sea is very shallow, so on the beach a lot of children:
For them, both on the beach and in town, there are plenty of activities. There are slides and trampolines on the beach – they are free and available to all children. In the town, in the central square, there is a small park also with free swings and slides, there is also a beautiful, antique carousel (2 euros). Lignano Sabbiadoro also has a Junior Park and many paid rides (cars, swings, etc.), where your wallet is sure to be empty – you can't drag the kids away.
There is also a pleasure blue train, which merrily rides through the center of Sabbiadoro and beeps to everyone you meet (2 euros). You can visit Gulliverland Park and the Zoo, they are located at the entrance to the city (expensive). From the port of Sabbiadoro you can take a picturesque boat with a cheerful crew to an old fishing village, visit the Lagoon (a unique nature reserve), visit the island of Crawfish, as well as the towns of Marano and Grado, very beautiful and picturesque. The cost of tours – from 20 euros, small discounts for children. If you are traveling by car, you can go to Venice (about 90 km), visit the city of Udine (Friuli province center), and admire the beautiful medieval town Cividale which is also nearby. Most of the noise and tourists in August, when Europeans massively start their summer vacations. Traffic jams on the roads, a full house on the beach, queues in restaurants, and in the evening, when the heat dies down, the numerous and multilingual crowd carries you away then to the sea, then to a promenade on the main street of the town. You have to be careful – there can be thieves (Romanians are not sleeping!!) and swindles. Be careful! In the evening on the beach (in July and August) there are discos (they say that the best in Italy), there are trendy DJs, singers and pop world celebrities – young people are not bored. Also there are numerous night clubs and bars, open till dawn.
If anyone finds my story interesting I will be glad to help if you have any questions about Lignano. I know the city well, I vacation there every year, I live with Italian friends.
Lignano Sabbiadoro – the golden sands of Italy
Lignano is a town and municipality in the province of Udine (Friuli-Venezia Giulia region) in north-eastern Italy. It is one of the main and best summer resorts in the north of the country on the Adriatic Sea.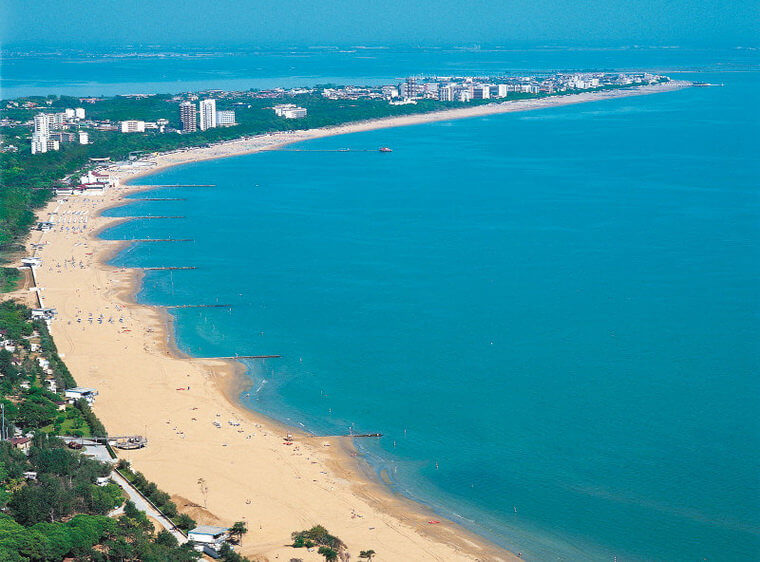 Lignano – resort town of Italy
Regions of Lignano
It is customary to divide the town into three main areas, each with its own characteristics.
The historical center with many stores and restaurants is called Lignano Sabbiadoro. It used to be called simply Lignano. The additional name Sabbiadoro (Sabbia d'Oro means "golden sand" in Italian) appeared in 1935 to attract tourists.
Lignano Pineta is a green area with lavish gardens and walking paths. It lies just south of Lignano Sabbiadoro.
Finally, Lignano Riviera, the promenade where you can feel the pleasant sea breeze surrounded by coastal pine trees.
The peninsula of Lignano is surrounded by the warm sea. This is why many locals, in addition to cars, also have yachts. And they need somewhere to park them. Lignano marina is the largest in Italy and one of the largest in Europe. It has more than 5,000 berths. They are located all around the perimeter of the Lignano peninsula, from the Marano Lagoon to the mouth of the Tagliamento River.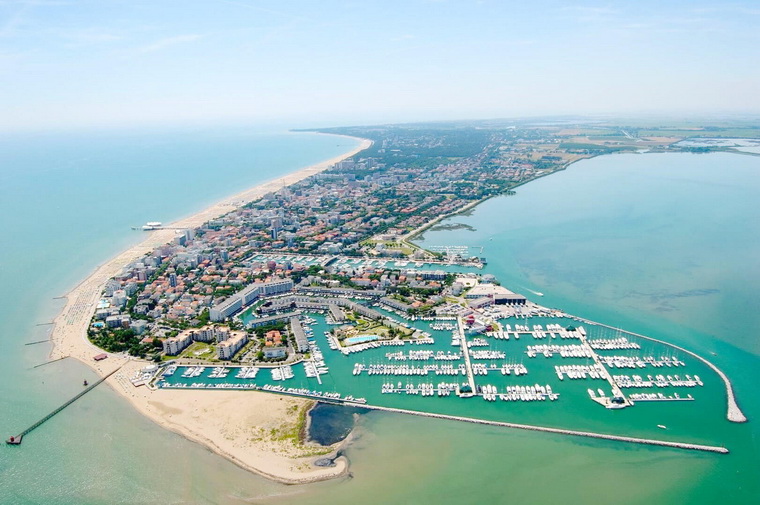 One of the marinas in Lignano
A bit of history
Lignano Sabbiadoro as a resort began to develop rapidly only at the beginning of the twentieth century. Before that, it was only accessible by sea. The first settlers arrived in 1931, after the drainage of the surrounding marshes. The first road linking Lignano with the nearby commune of Latisana was built in 1926. Lignano became an autonomous municipality in 1959. Now the town lives in the summer tourism. It is actively buying housing representatives of Austria, Germany and Slovenia.
Where is it
Lignano is a small resort town on the coast of the Venetian Gulf of the Adriatic Sea in northeastern Italy.
Lignano in tourism
Many people think that the resort of Lignano for vacation is quite expensive. But you will have a choice. You can stay in a luxury hotel by the sea, or, if you want cheaper, rent an apartment or apartment. Entrance to the beaches, which spread across 8 kilometers of the Adriatic coast and are considered among the best in Europe, is free everywhere.
Lignano – it is surprisingly gentle sea, clean, wide and comfortable beaches, unique in its beauty lagoon of Marano, a lot of parks and squares immersed in the greenery.
Undoubtedly, this resort is worthy of attention. Here you will not only relax your body and soul, but also improve your and your children's health. Some of the best children's camps in Europe are located here, in Lignano. Accommodation in some hotels makes it possible to take advantage of the local balneological springs.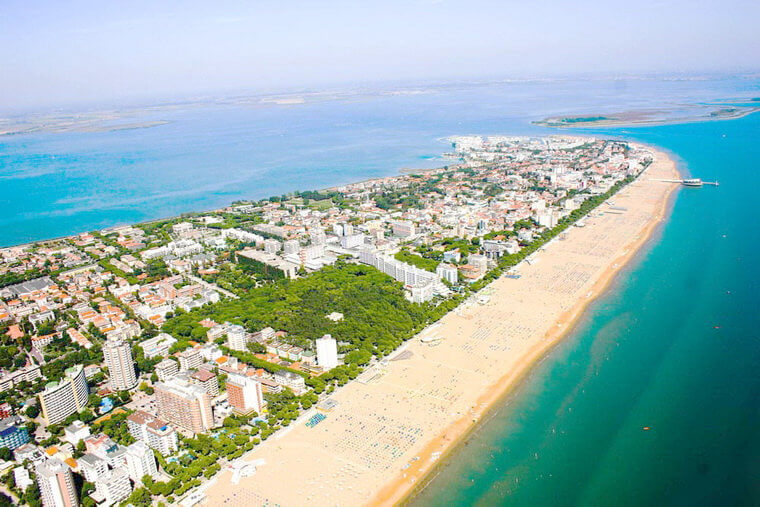 View from the top of Lignano
Holidays in these places are more comfortable in the period from July to August. But cheaper in the period from May to June and the Velvet season.
If you want to travel around the area, you should know that public transport here runs frequently only in the summer season, and in the rest of the months – at long intervals, so in the "off season" is more convenient to rent a car. From Lignano you can make a trip to see the sights of Vicenza, Padua and Verona, you can get there by train.
If you are planning a vacation with your family by the sea, when choosing accommodation, pay attention to where it is located. If you want a quiet place, check out the Lignano Riviera and if you are an avid fan of entertainment and shopping then Lignano Sabbiadoro is the right place for you.
Also in Sabbiadoro is a beautiful beach for families with small children. The most respectable neighborhood in Lignano is Pineta. It is a fairly young neighborhood that is favored by celebrities.
All areas are well maintained and good in their own way, but still, the Riviera has the most luxurious villas and golf courses, a large selection of entertainment and much more. Regardless of which area of this lovely place you stay in, in 2-3 days you take your time to go around and see all its charms and beauty. Lignano good as a romantic break, and for active, and you can find here and privacy and do something to your liking.
Do you like unusual beaches? Then pay attention to the Vanishing Beach of Chandipur in India. Its width at times up to 5 kilometers.
Lignano Attractions
Lignano Sabbiadoro Beach
It is the most important reason why many tourists come here. The entire coast of Lignano, which is about 8 kilometers long, has a beach with the finest golden sand. Thanks to the possibility to rent beach umbrellas, sun loungers, gazebos and even hot tubs, you can relax in complete serenity. Of course, there are all the necessary facilities on the beach. Don't miss the lessons at the many kitesurfing and windsurfing schools. Or rent a pedal boat and head out to sea. Don't worry about safety – there is always a professional lifeguard on duty on the beach.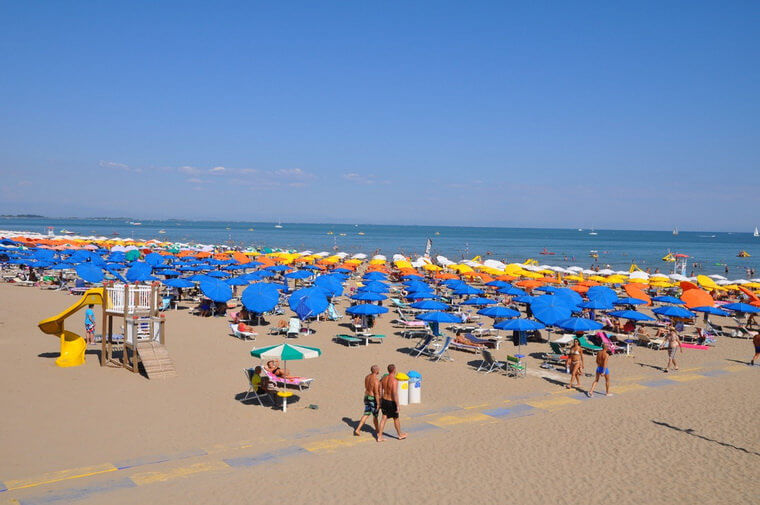 Tagliamento River
Tagliamento is a long, winding river in northeastern Italy, flowing from the Alps to the Adriatic Sea. It is in the Lignano-Sabbiadoro area that it flows into the Adriatic Sea.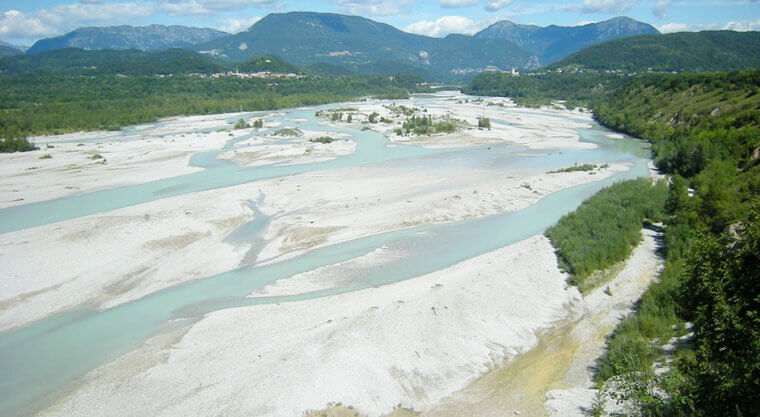 Hemingway Park.
Visit one of the best parks in Lignano – Hemingway Park. Naturally, it is named after the famous writer Ernest Hemingway, who loved spending time here. There are plenty of plants, you can ride bicycles, and there are playgrounds.
But the highlight of the park are the outdoor performances. You will see both musical and theatrical performances. As well as photo exhibitions and a festival of flowers.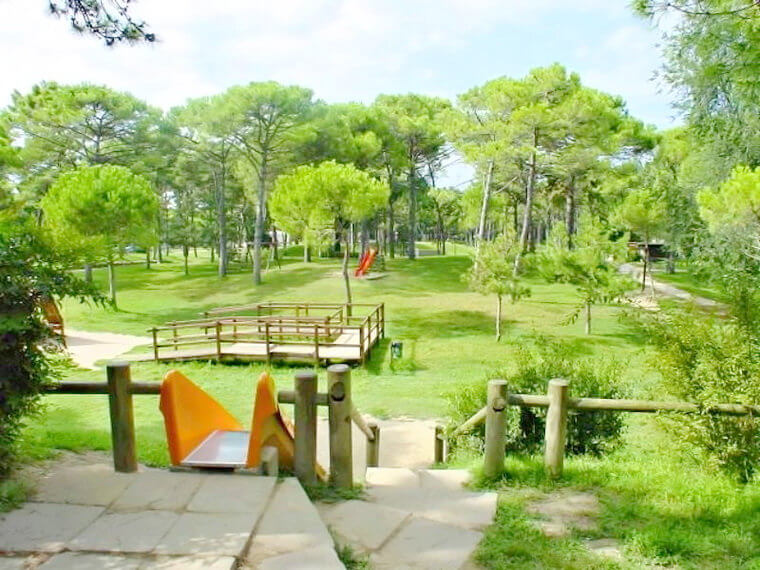 Church of Santa Maria del Mare (Chiesa di S. Maria del Mare)
In Lignano you will find a small church in the middle of a green thicket. The Church of Santa Maria in Lignano was previously destroyed, but was rebuilt in 1965 and is on the site of an early Christian cloister. For centuries it has been a religious landmark for the inhabitants of the area as well as for pilgrims, merchants, soldiers and even fugitives. According to legend, in 1409 this place became a refuge for Pope Gregory XII.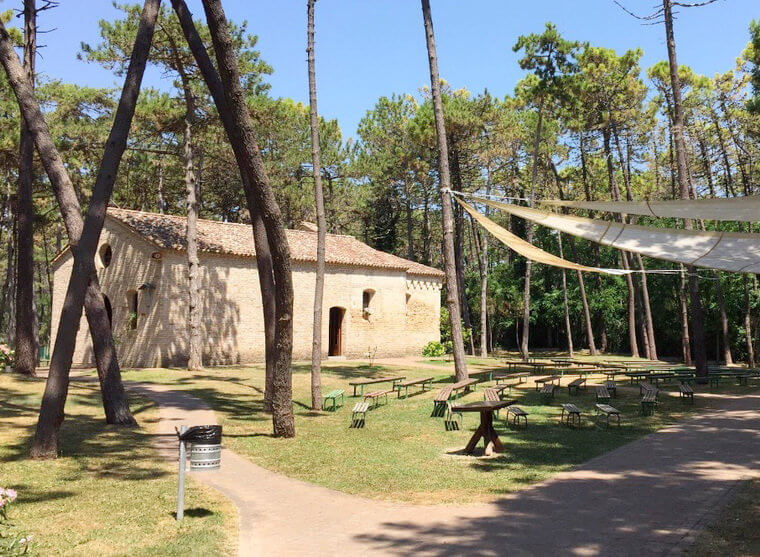 Faro Rosso Lighthouse
On the northern tip of the Lignano Peninsula you will see a red lighthouse. It is known as Faro Rosso. It is one of the key monuments in Lignano. It was recently restored and solar panels were installed. Since ancient times this lighthouse has helped fishermen to reach the shore safely. Against the vast expanse of sea it creates an interesting contrast.
Remarkably, you will see two structures. One stands directly on the water closer to the shore, and the second has a wooden bridge to it.
This lighthouse is closer to shore The second lighthouse is farther from shore View of both structures from the shore
Punta Verde Zoo
The Punta Verde Zoo will present you with a variety of animals, from hippos to otters. If you are a keen person, you can spend a whole day here.
Aquasplash Water Park
The Aquasplash? You can't go without one. Head to Aquasplash. You are guaranteed a terrific storm of excitement, adrenaline, and splashing.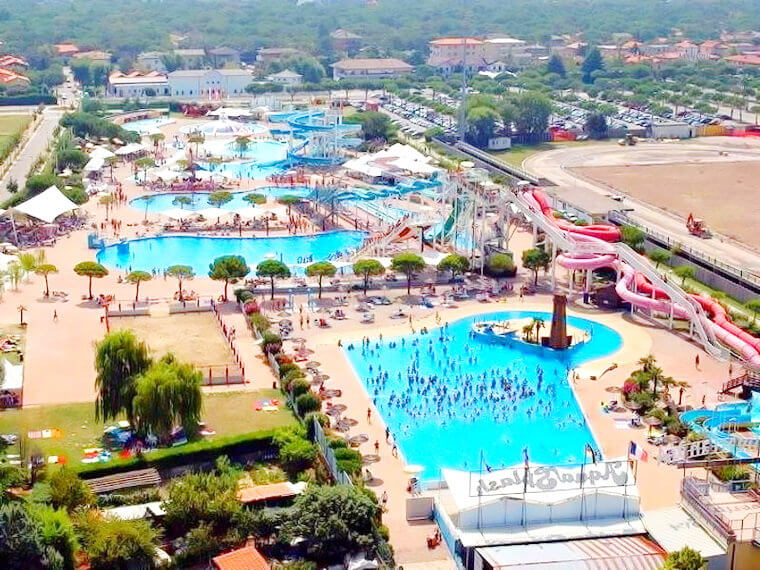 Beach Arena
The Beach Arena in Lignano Sabbiadoro is a great way to practice or enjoy watching the games. The open American-style arena is located next to the beach. Sometimes concerts and other events are held here.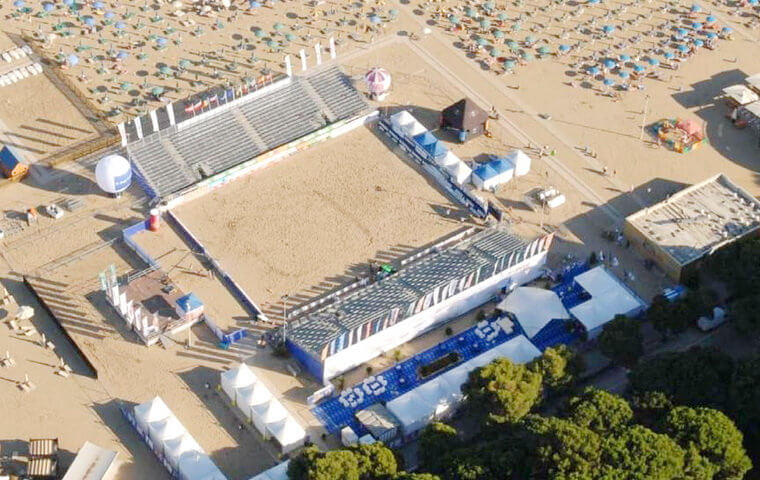 What kind of places don't build stadiums? Even on the island, right among the rocks you can find an excellent stadium that even meets the strict UEFA rules. This is the Henningsver stadium in Norway
Carousel in San Giovanni Bosco Park
San Giovanni Bosco Park has a wonderful antique-style carousel.