Machakhela – unforgettable excursion inside the gorge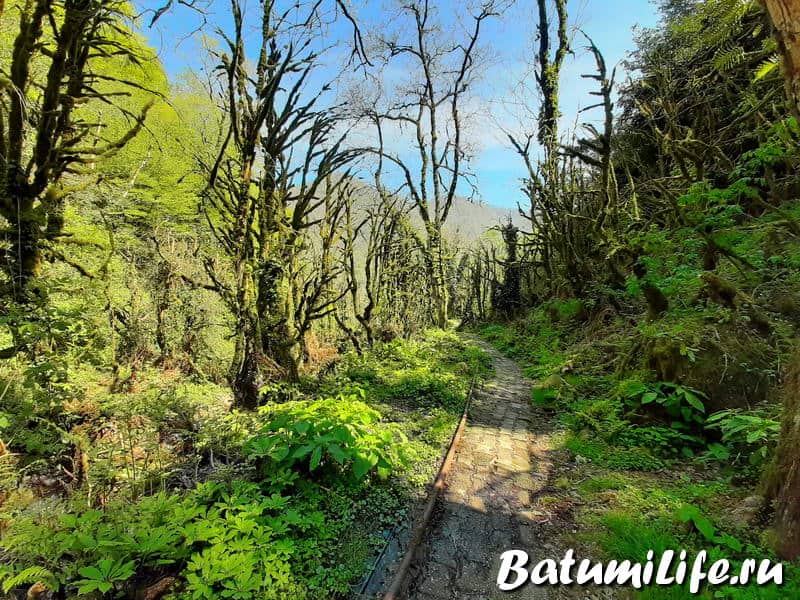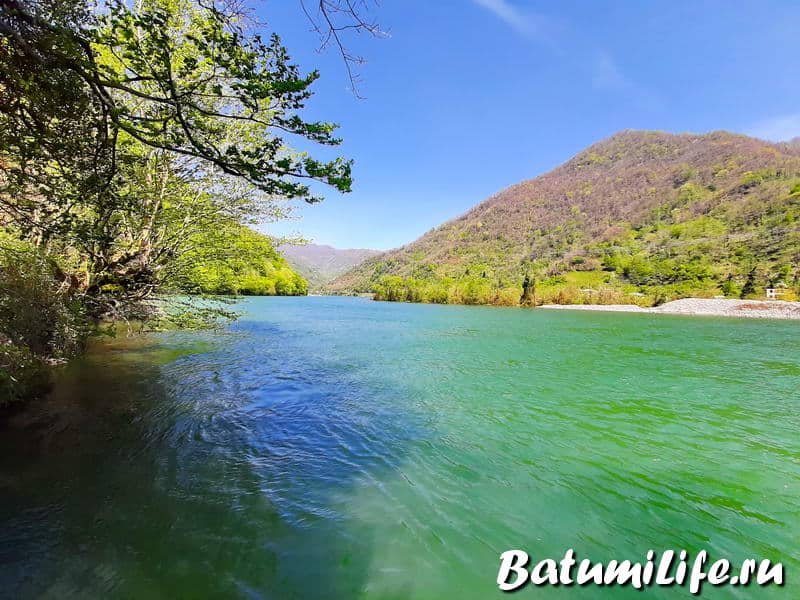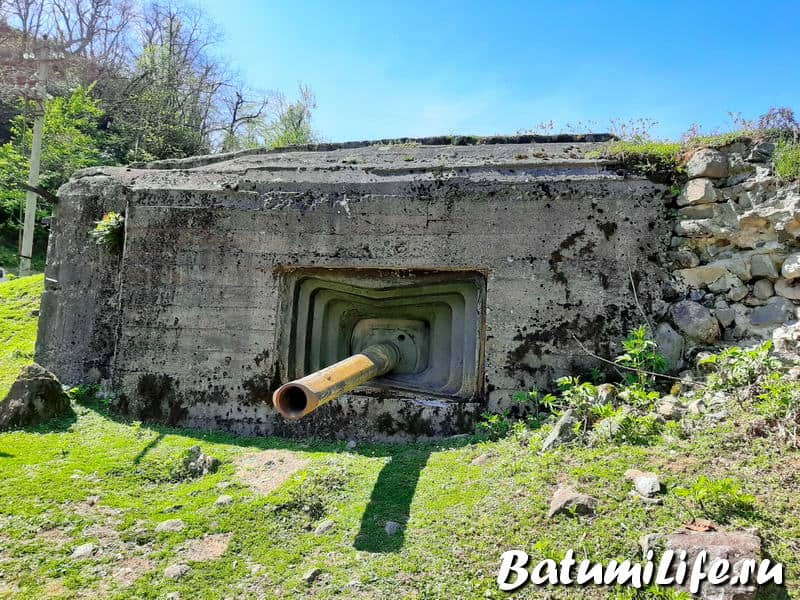 Around Batumi – unforgettable mountains with lush nature, mighty rivers and charming waterfalls. To top it all there is the incredible beauty Machakhel Gorge, with its very ancient history and unique architectural monuments.
This region is famous for an abundance of unique places that most visitors want to visit the Black Sea resort. Do not miss this opportunity and you, because the fabulous nature in Machakhelsky Gorge, boxwood grove, extreme suspension and centennial arched bridges will creep into the soul for a long, long time.
Program of the excursion:
A unique viewing platform on the outskirts of Batumi about which few people know
the mysterious Mirvety Waterfall and a miraculous boxwood grove of moss-covered trees
the Gvara Fortress with breathtaking views of the gorge
The original monument of the ancient Machahelian rifle with a long history
a suspension bridge over the river, which evokes a lot of different emotions (temporarily out of service)
well-preserved remnants of war – a real cannon and an abandoned bunker
One of the famous stone bridges of Queen Tamar built in the 12th century
Cascading waterfall under the mysterious name of Karimana
stops at places with beautiful views
waterfall and arched bridge
Price of the tour:
2 persons. – 75 GEL per person
3 pers. – 60 lari per person
4 pax. – 50 lari per person
5 and more – 45 GEL per person
Information about admission of groups by dates:
In order to have a group, someone has to sign up first!
For September 6 (Tuesday) – 2 people signed up! Join us.
On September 10 (Saturday) – 5 people signed up! Join us.
September 13 (Tuesday) – 2 people signed up! Join us.
For September 17 (Saturday) – sign up.
On September 20 (Tuesday) – 1 person signed up! Join us.
September 24 (Saturday) – sign up.
September 26 (Monday) – sign up.
For September 27 (Tuesday) – sign up.
September 28 (Wednesday) – sign up.
September 29 (Thursday) – sign up.
September 30 (Friday) – sign up.
For October 1 (Saturday) – sign up.
For October 2 (Sunday) – sign up.
For booking please write your name, number of people and address of your accommodations in Batumi on Tel/Viber/WhatsApp/Telegram: +995 597 87 17 49 – Anatoly
Organizational details:
Duration of the trip is 5-7 hours, departure at 09:00. We pick up at one of our meeting points near your place of residence and bring you back.
The tour is conducted in Russian. Warm clothes are not needed, it is as warm as Batumi.
The price includes: traveling the route, a driver who accompanies you everywhere and talks about the places he visited.
Our tours are trips to the above-mentioned places and attractions on the planned route. We don't have professional tour guides, but we have good drivers who will accompany you everywhere, help you with everything and tell you about the places they visit.

See below for reviews of our drivers ⇓
Map of meeting points
We visited Sataplia and Prometheus Cave. Great tour, very interesting and memorable places. Many thanks to the driver Temuri – polite, calm, he told us a lot about the places we visited, planned everything so that we did not waste time standing in queues and waiting for lunch. Special thanks for the portable changing room in Ureki and cold water on the road.
Went on an excursion to mountain Adjara with my husband. We were lucky for three times: the weather was fine, we had a wonderful company (greetings to the girls from Samarka VKO and the boys from Israel), and our third luck was Mamuka – an excellent driver and nice person. Thank you Batumilife! Good luck and prosperity to your team!
Yesterday we went on a sightseeing tour to Machahelu. Everything went well. Lots of impressions. The driver was very accurate in his driving. It was a pleasure to be in the company of such a wonderful person. The tour itself is rich, perfectly organized, the locations are super. We managed to see everything without rushing. Thank you very much.
Great trip to the waterfalls and Machahela Gorge, the driver was very kind and responsive person. Thank you your agency. Would recommend.
I wanted to write a review about this wonderful, creative team for a very long time)))) I have been on three excursions in Batumilife during my two trips to Georgia. I want to say thank you very much to Anatoly, Mamuka, Gizo and Nodari for their professionalism, love to Sakartvelo, which has already become my home…) Martvil – is something unimaginable, fabulous beauty, Okatse – the place where you want to take off to see this beauty from the bird's flight… The drivers were very faithful, told us a lot of interesting information, not conceding anything to professional guides. We had our second excursion – mountain Adjara and unforgettable Mamuka))) He is a person who could fall in love with Georgia so much that it is impossible to fight him)) And I returned with a group three months later to make them fall in love with Georgia too))) But the tour was special – we had two birthday boys, me and a 10 year old boy. We wanted something special, and Anatoly met us and created a non-standard tour, which was above all praise))). Anatoly, my congratulations, I think it will never be forgotten … The good thing about Batumilife is that he is always ready to make concessions, ready to do something new, ready to be creative, ready to surprise)) I'm sure when the war is over I will come back with new tourists))) In my opinion you are one of the best tourist teams in Batumi.
I liked the service very much. The driver of the minibus Manuka was a very good narrator and not a bad guide. In one day we saw several waterfalls, tasted delicious local food, and enjoyed the kind and smiling people of Batumi. And the prices are acceptable, loyal. Thank you! Good luck to the organizer Anatoly and Manuka!
Machakhel Gorge. Georgia
For many years, if not centuries, the beauty of Machakhel Gorge could be admired only by local residents. This beautiful corner of the Lesser Caucasus has preserved its untouched beauty, because for many years it was a closed border zone. The gorge leads to the Turkish border. Relations between Georgia and Turkey are much better now than they were in Soviet times, but you should still carry identity documents when traveling through the gorge.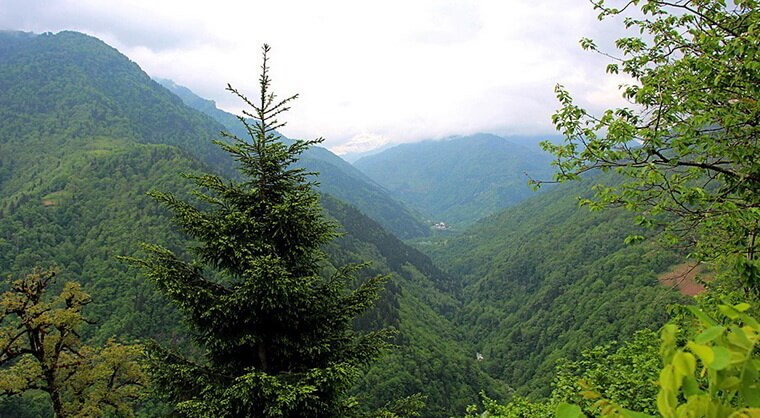 History of the Machakhel Gorge
As a border zone between warring neighbors, the Machakhel Gorge has repeatedly been a territory passed from one warring side to another. These parties were the Russian and Ottoman empires. The inhabitants of the gorge lived their own way of life and were engaged in crafts. They produced firearms necessary to protect their families.
Machakhel flintlock shotguns were noted for their high quality and at one time were considered a famous brand in Georgia and beyond. To commemorate this landmark, a monument to the Machahela shotgun has been erected in the Gorge.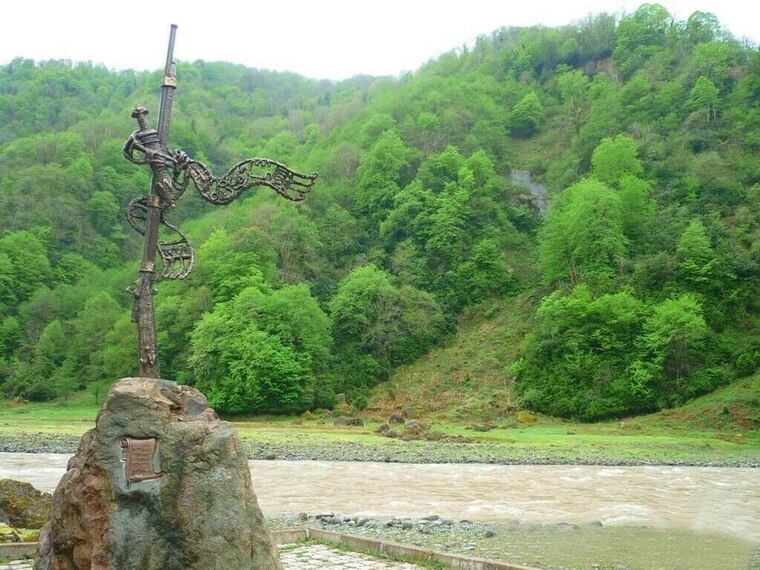 Monument to the "Machahela" shotgun
During the Soviet period, the gorge was closed to outsiders. All residents knew each other, and outsiders immediately aroused suspicion. In principle, even now there are many border guards in this corner, carrying out their duties.
Having been under the yoke of the Ottoman Empire for a long time, the inhabitants of Adjara in general and the Machakhel Gorge in particular are mostly Muslims, so there are no old churches or monasteries in the gorge. But there are mosques, in the architecture and interior of which one can notice orthodox motifs.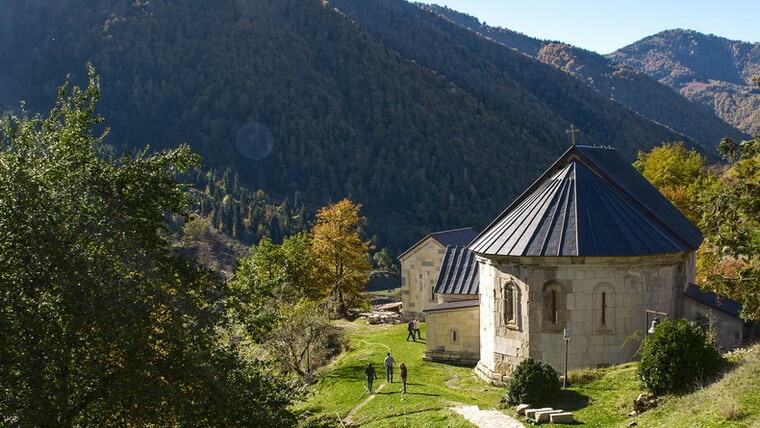 Sacred places of Machakhel Gorge
Sights of Machakhel Gorge
For many years Machakhel Gorge was a closed border zone, and one could enter it only with special permits. Now there is an asphalt road almost to the border. The gorge has become a natural reserve available for tourists.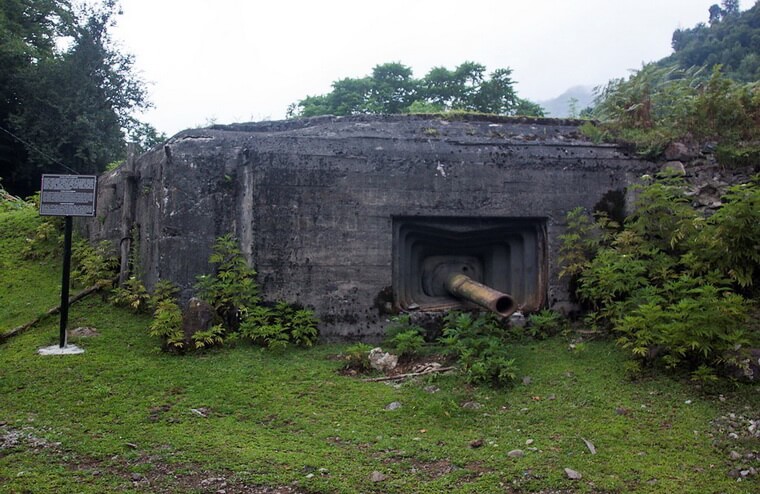 Relict deciduous forest of Kolkh, which covers the slopes of the mountains. Here you can find centuries-old boxwood and beech trees. The forest resembles the scenery of a fantasy movie.
The arched bridges of the XI-XII centuries, called the bridges of Queen Tamara
Picturesque waterfalls, to which the forest paths lead
Ruins of ancient forts and fortresses
Ruins of military fortifications of World War II
Chhutunet Historical-Ethnographic Museum, which is located in a former mosque built by the inhabitants of the village, there is a waterfall and other places of interest
A brief description of the attractions of the gorge
Bridges
In Machakhel gorge there are several perfectly preserved arched bridges. They were built approximately in IX-XII centuries. There are already arched bridges at the approaches to the gorge in the villages of Makhuntseti and Makho.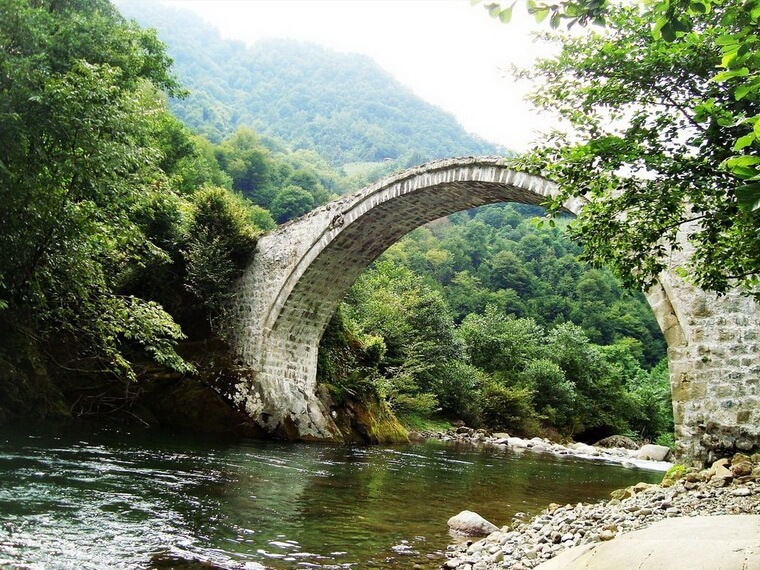 The arched bridges of Queen Tamara
The most notable bridges of Queen Tamara in the Machakhel gorge itself are:
The bridge in the village of Mirveti, which is 5 m. high, 12 m. long, and 2 m. wide at its narrowest point (center).
The gorge itself is divided by the Georgian-Turkish border, so some of the bridges of Machakhel Gorge, which was once fully part of Georgia, remain on the Turkish side and are not accessible.
Ethnographic Museum
The village of Chkhutuneti is the closest to the border (far from Batumi) settlement in Machakheli Gorge. The village is notable for an ethnographic museum which was established and managed by local inhabitant Zurab Nagervadze in a former mosque. After the death of the museum's founder, his son became its director.
Before describing the features of the museum, it should be recalled that the inhabitants of the gorge were often caught between two opposing empires. The inhabitants showed their loyalty to the conquerors by their religion: under the Ottomans they were Muslims, under the Russians they were Orthodox Christians.
The mosque, the building of which is now a museum, was built in the second half of the 18th century. The interior decoration, ornaments and carvings were made by Georgian craftsmen who left hidden Christian and Georgian national symbols in the patterns and drawings: crosses, bunches of grapes, a wine jug, etc. Thereby leaving for posterity the information that they were still faithful to Christianity and Islamization under pressure. Thereby leaving the descendants the information that they were, after all, faithful to Christianity and Islamized under the pressure of force. Since the beginning of the new century, many inhabitants of Adjara, especially young people, were baptized and are parishioners of the Georgian Orthodox Church.
The museum includes models of houses where Adjarians lived, utensils and famous Machahelian rifles and looms where rifles were made. Museum visitors learn that the barrel of the rifle was not made from a pipe, its hole was drilled by gunsmiths from a solid metal cylinder on primitive equipment, a sample of which is also an exhibit of the museum.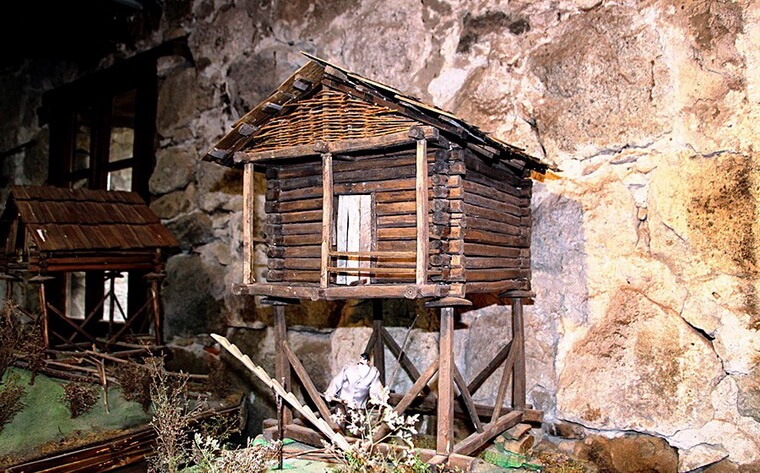 Ethnographic Museum Exhibit
The most striking attraction of Machakhel Gorge is the unimaginably beautiful nature, a virgin, even fairy-tale forest. It is no coincidence that from the Turkish side the gorge is called Jamil Biosphere Reserve and is a reserve zone, just as from the Georgian side. Machakhel Gorge is a new, interesting and attractive destination, which is becoming increasingly popular.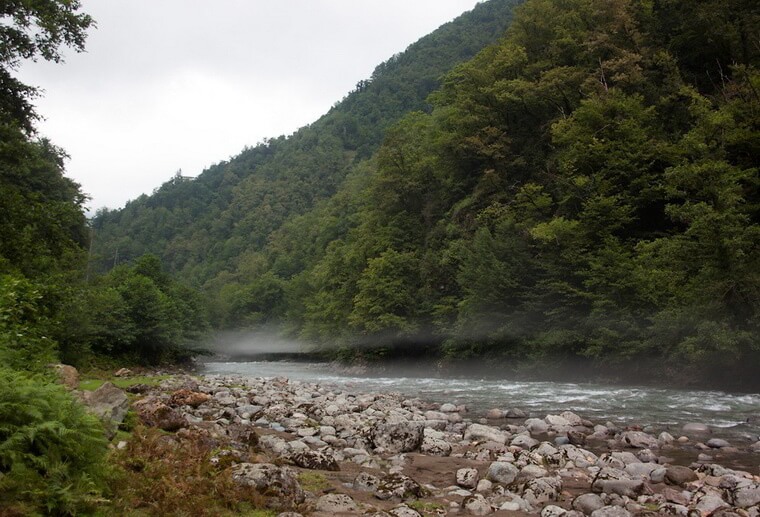 Nature of Machakhel Gorge
For even more interesting articles about life, traditions, history and tourism in Georgia, visit Georgia Travel.