Tours in Maldives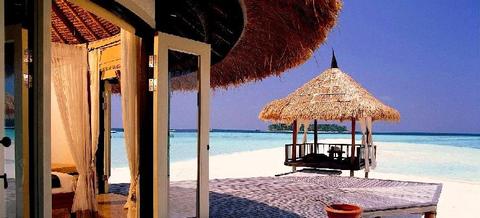 Prices for last minute tours and special offers to Maldives from Moscow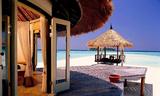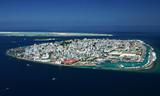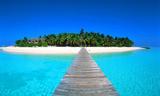 The cheapest tours to the Maldives in 2022
Prices per person based on double occupancy. We've picked out the cheapest options for each month. Click here and choose a hotel for your dates.
September
October
November
December
for 3 days
74 725 р.
69 376 р.
78 912 р.
73 408 р.
for 7 days
89 569 р.
82 917 р.
83 085 р.
85 051 р.
for 11 days
113 338 р.
109 050 р.
94 348 р.
99 979 р.
for 14 days
101 902 р.
88 760 р.
103 227 р.
107 886 р.
Selecting tours by hotels
The hotels which our tourists choose most often for their travels.
Maldives: no news, no shoes
Maldives is a resort that has already become a household name, because absolutely everyone dreams to visit it at least once in a lifetime. No wonder we associate recreation in the Maldives with picturesque scenery of the Indian Ocean: last minute tours from Moscow for two people in this beautiful country really guarantee the opportunity to get at their disposal miles of secluded beaches, enjoy high-quality hotel services and never cease to marvel at the beauty of local nature. The choice of tourists is more than a thousand different islands and they all have a good selection: with blue lagoons, spacious beaches and exotic flora.
Types of vacation
The Maldives is a tourist destination that needs no introduction, but it's not just beach vacations that attract travelers here. Shopping tours and excursions to Islamic shrines are what you can find in the densely populated cities, but the active tourists in the islands waiting for a stunning diving with the opportunity to visit marine reserves and underwater caves, and surfing, for which here go wave hunters from around the world.
Beach vacations
For a lazy time in paradise tourists choose one of the fifty islands of North Male. It is the main archipelago of the Maldives, where tourism began to develop first. Proximity to the airport was one of the reasons why the era of luxury hotels flourished in this place, but do not forget that the coast of these islands is strewn with white sand. A large number of crystal clear lagoons with turquoise-clear waters only strengthen the status of the paradise place for this atoll.
Active Recreation
If sunbathing by the sea and relaxing aren't part of your plans, welcome to Ari Atoll. All kinds of sports are available, including diving, snorkeling, windsurfing, parasailing, water skiing, canoeing, catamaran rides, and more.
However, do not limit yourself to just this atoll: there are many more islands in the Maldives where even professionals of water sports will not be bored. The Baa and Raa atolls, for example, are great places to dive with schools of dolphins, while Laviani is teeming with exotic underwater fauna.
New Year
Flight to the Maldives during the winter vacations – perhaps the best gift for the New Year, they will tell you in any travel agency and will be absolutely right. Everyone's favorite holiday falls on the high season: by this time of year the constant rains are over, so beach-goers can get a "under the tree" beautiful tan, and divers – a sea of impressions from diving in the most comfortable weather conditions. Moreover, already a week before the holidays the Maldives "change" in the New Year's atmosphere, however, noisy animation with fireworks should not be expected. Here the holidays are celebrated in a quiet and peaceful way.
How much is a tour to the Maldives?
A tour to the Maldives is not a pleasure from the cheap: you can not buy an "all-inclusive" ticket with a flight from Moscow in 2022 for the price of Turkey or Egypt, but "loopholes" are still available. The price may well depend on many factors. The prices are influenced by the season: the proximity of the equator is one reason for the stability of weather conditions in the Maldives, but the climate on the islands is not always ideal. From May to October it often rains and wind blows, so the high season is considered the period from November to February.
A special role is played by the stardom of the hotel. Most local hotels are complexes of bungalows, which are given 4 or 5 stars. In order to save money, you can consider more favorable three-star alternatives, but the difference in terms of accommodation will be very noticeable.
How much does it cost to vacation in the Maldives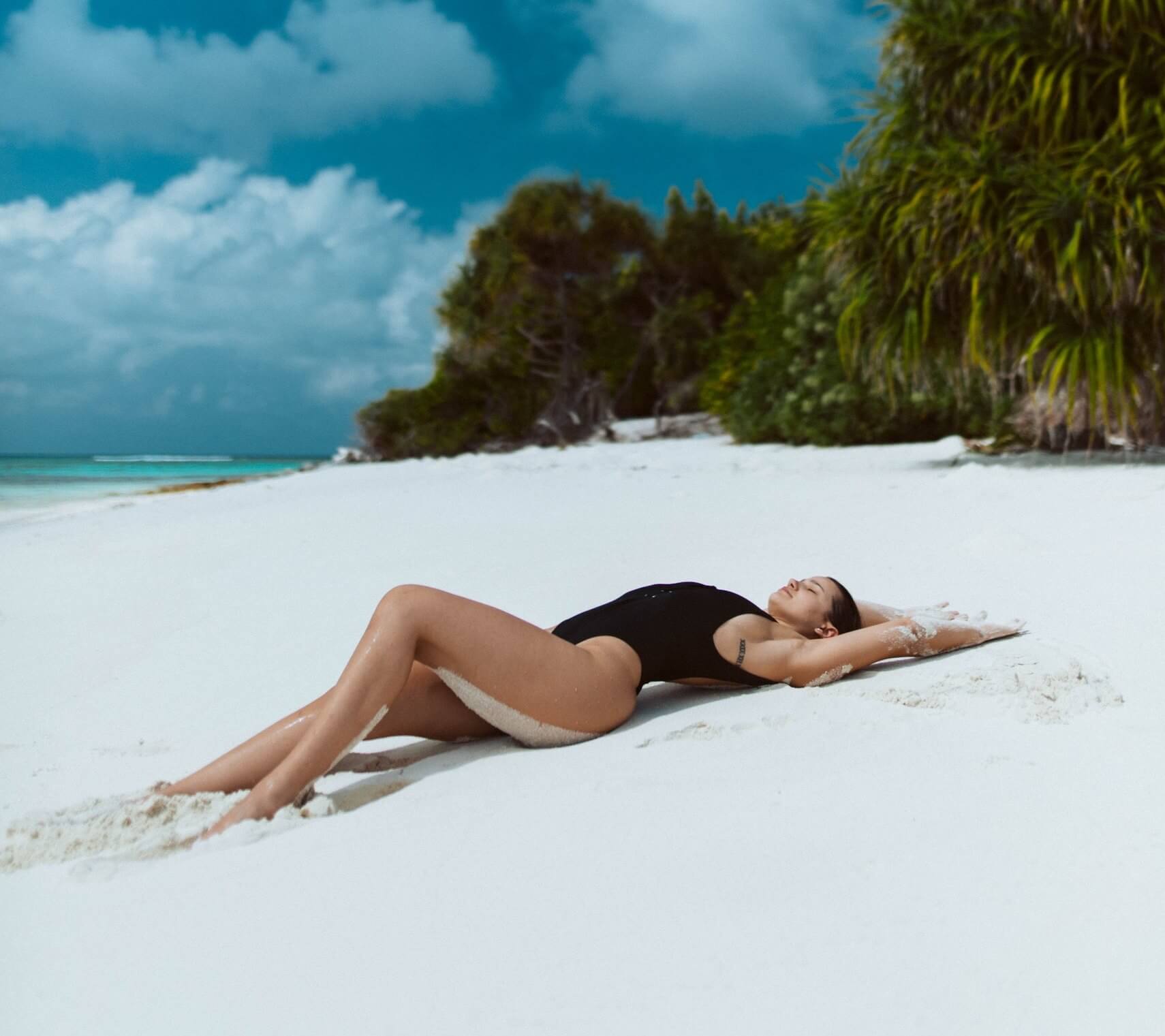 How many suitcases of money to take to the Maldives? Let's find out! We'll tell you about the prices of tours, tickets and more in 2022 and then calculate the cost of a trip for two for a week and 10 days. Find out how much you'll need and if you'll have to rob the bank.
Check out: How to go to the Maldives now – there you'll find up-to-date travel reviews, pandemic entry conditions, and tour prices. See also the list of open countries.
Content:
How much do tours to Maldives cost
The cost of tours from Moscow for two adults for 2022 is specified.
130 000 ₽ – the cheapest tour to the Maldives during the pandemic. That's the price for a trip for two people for 7 nights at Kaani Beach Hotel 4 * or similar. These tours are sold to the local islands of Hulhumale and Maafushi. Be warned, these are not tourist resorts from advertisements. Hulhumale is an artificial island near the airport and the capital, there is no relaxed beach atmosphere and a break from civilization. And Maafushi is more like beach Thailand in atmosphere – a lot of young backpackers from Europe vacation there. Learn about the disadvantages of a budget holiday in the Maldives. By the way, during the pandemic, prices for tours to the Maldives jumped by 50%, but have now returned to their previous values.
250,000 ₽ – that's how much the most inexpensive all-inclusive tour to the five-star island-hotel in the Maldives costs now. At this price you can go on vacation at Coco Palm Dhuni Kolhu 5*. Tourists consider this place paradise and share the most rave reviews about rest there. Especially impressive is the half-hour transfer flight by hydroplane, which is included in the price of the trip. And for 20 thousand cheaper you can buy a trip to the island-resort Malahini Kuda Bandos 4 *. The cost of such trips before the pandemic was about the same.
1,000,000 ₽ – that's how much a week's stay in the Maldives at the luxurious Park Hyatt Maldives Hadahaa 5* costs.
2,400,000 ₽ is the most expensive tour to the Maldives that we could find right now. For that money, two people can enjoy 11 days of life in a luxurious 210m² waterfront villa at the Grand Park Kodhipparu 5* hotel.
Warning. Prices during a pandemic are extremely unstable – they change quickly and drastically. We checked all prices before publication, but tomorrow they may be completely different: rise sharply or, conversely, fall. This is especially true for the cost of packages. Double-check the prices according to the given links, in order to know the actual prices.
Where to buy a tour? We advise to search and buy tours on reliable and convenient services Travelata and Level.Travel – they cleverly look for the best deals among different tour operators. We buy tours only there, and we don't go to travel agency offices for almost ten years. After all, it's the XXI century! Also find out 7 ways to buy a better tour.
From December to April the cost of recreation is higher in the Maldives. From May to November, especially in July and August – lower. Read more about the seasons of holidays in the Maldives.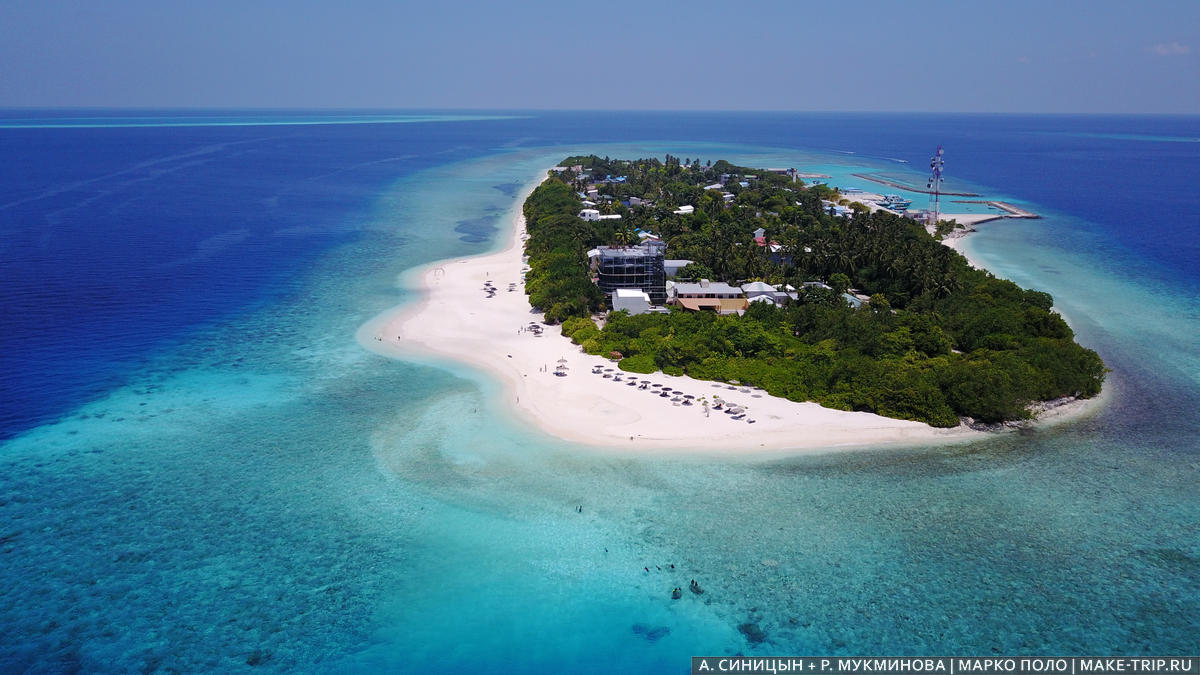 Ukulas is one of the islands where we vacationed in the Maldives.
How much are the tickets to the Maldives.
40,000 ₽ – that's how much airfare for a direct Aeroflot flight from Moscow to Male and back in 2022. Before the pandemic, such tickets cost the same. But after the events of February-March 2022 direct flights were suspended.
That's ₽60,000 for a flight to the Maldives on less convenient flights with a connection in Abu Dhabi or Doha. You're advised to check with airlines about the possibility of connecting during the pandemic and the conditions of the flight. Before the pandemic, such tickets cost from ₽28,000, with promotions even cheaper.
Look for cheap tickets on the Aviasales search engine – it compares prices of all airlines. See also 15 rules for buying cheap tickets.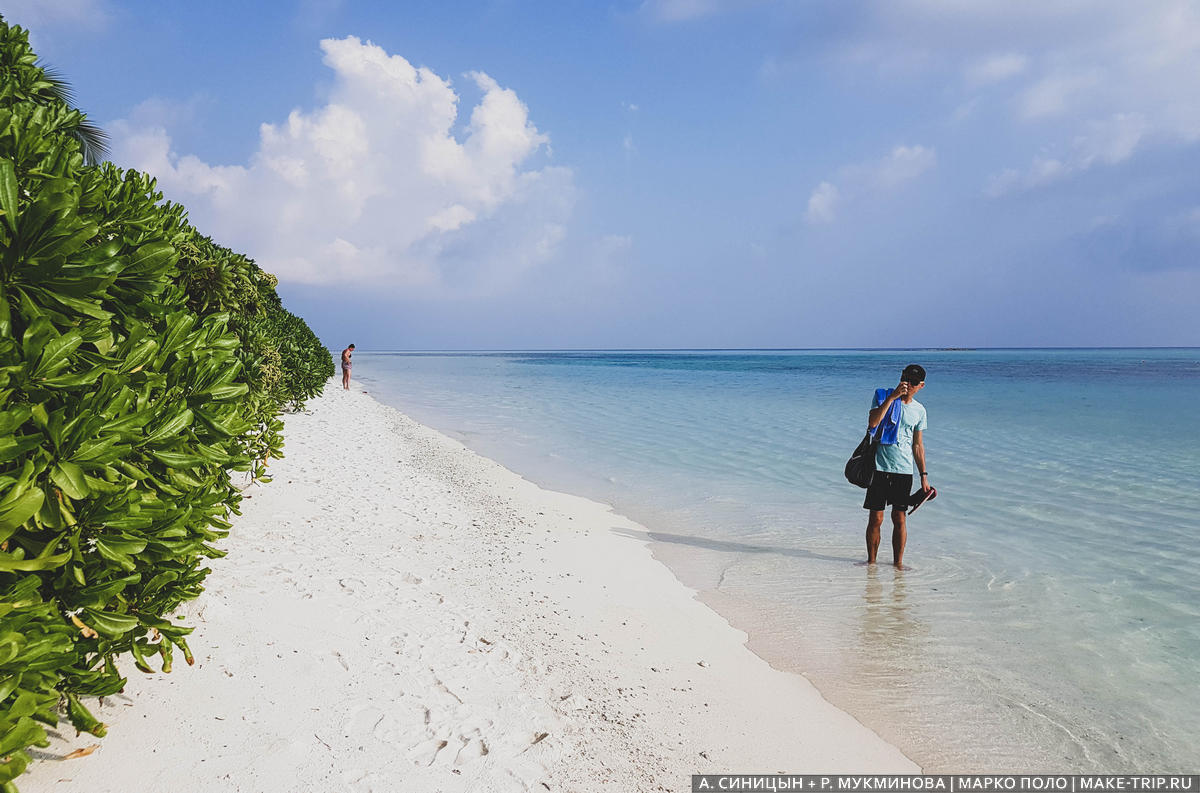 This is me vacationing in the Maldives (Toddoo Island).
How much do hotels cost
The room rates listed are per night for two adults, and we've chosen hotels with high ratings and great reviews as examples.
27 $ – room in a shabby hotel in Male.
$45 is the minimum price for a double room in a decent, highly rated hotel on Maafushi and the local islands. During our vacation on the islands of Toddu, Rasdu, and Ukulas we paid $45-$60 per night for a room for two.
$130 – an inexpensive room with breakfasts on a classic Maldivian island-hotel of 20-30 square meters, but not by the water. For example, Fun Island Resort & Spa 3*.
350 $ – better villa 110 m² by the sea with a whirlpool and other joys. For example, Bandos Maldives 4*.
470 – a win-win combo: 5 stars + "all inclusive" + villa on the water (the most favorite option for tourists to stay in the Maldives). For example, Sun Island Resort & Spa 5 *.
2 300 $ – a luxurious villa 150 sq.m. on the water in One&Only Reethi Rah 5 *, one of the most expensive and best hotels in the Maldives.
$48,000 is the most expensive we could find in the Maldives on Bookings. It's a 1,400 m² waterfront villa at Soneva Jani 5* with four bedrooms, a water slide, a pool and full board. Perfect for a self-contained family getaway.
Where to look for hotels . It is most convenient to choose and book hotels on Ostrovok.ru. However, do not be lazy to check prices on the service Hotelluk – it can find better deals on other sites.
Note: taxes are added to the cost of housing – look at the small print under the price on the Bookings. Above we have listed examples of prices with the tax already included.
Tip: If you decide to have a luxury holiday in the Maldives, it is better to take an all-inclusive package rather than pay for drinks and food in restaurants.
Villas on the water in the Maldives. Photo: birdeye / unsplash.com. Our hotel room on Rasdu Island for $45 a night. Clean, tidy, modern room, with everything you need for a comfortable stay. Almost all budget hotels in the Maldives will be decent and comfortable, there are almost no trashy options. Photo: booking.com.
How much does food cost
1 $ – 1.5 grams of water in the supermarket.
5 $ – coconut.
1. $5 – a meal at a local cafe.
5. $10 – a meal at a cafe for tourists on local islands.
$10 – dinner per person at the hostels.
15. $60 – main course at resorts island restaurants.
$100 – dinner for two without drinks at the island-resort restaurant.
$800 – dinner for two at the famous Ithaa Undersea Restaurant.
10% tip.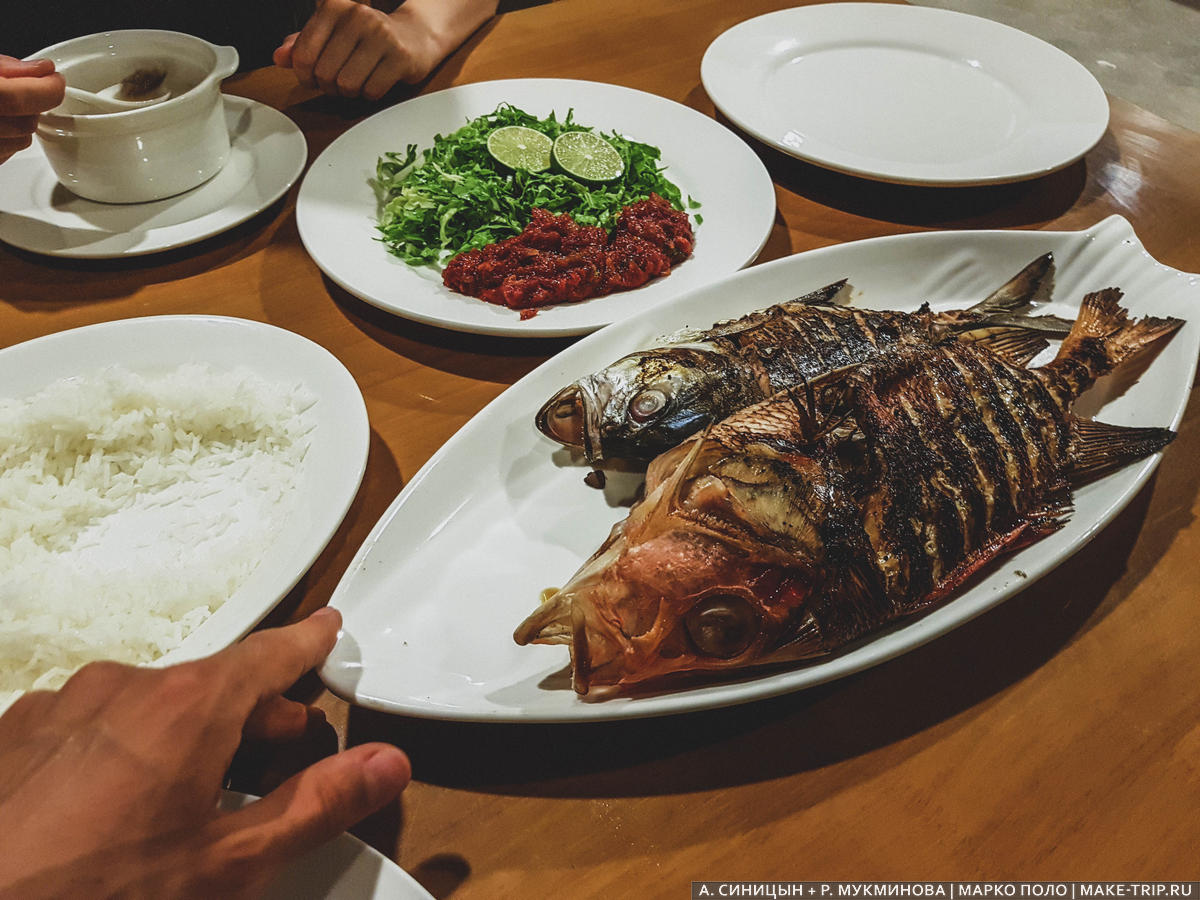 Our dinner at the hotel on Toddou looked like this: grilled tuna and reef fish, rice, vegetables and a drink – $20 for two.
How much for transportation.
$0.7 – ferry from airport to Male.
$2 – ferry between the nearest inhabited islands.
$10 – legendary overnight fruit ferry from Male to Toddoo.
$50 – speedboat from airport to nearby islands.
$400 – half-hour flight (≈80 km) by seaplane from airport to island resort and back for one person. The cost of the transfer may be higher or lower depending on the distance.
So, in the Maldives between the islands can be moved both by public (slow, cheap and not always daily) transport, as well as speedboats and seaplanes (expensive and fast). Airport transfers are usually included when you buy your trip, but it's best to check. Check the schedule and book your transfer at atolltransfer.com.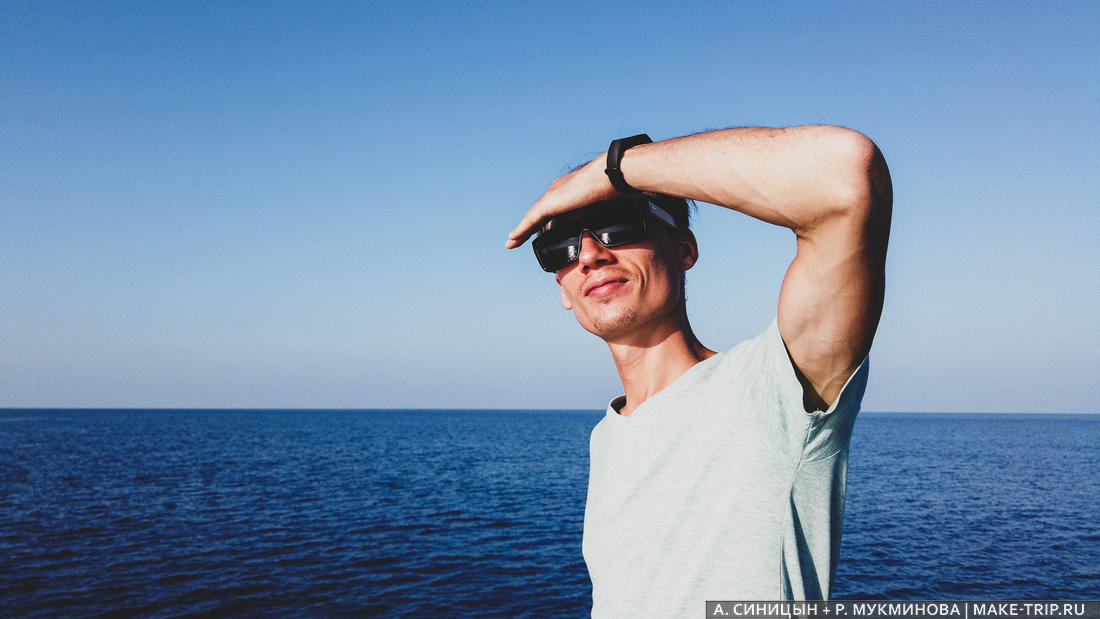 Sail across the Indian Ocean on a ferry from one island to another.
Excursions and activities.
$0 – swim, snorkel and admire tropical fish in Maldivian azure waters right off the shore.
10 $ – Rent a mask and snorkel for the day.
$70 – local island diving.
$70 – romantic dinner on the beach.
$90 – trip to a tiny uninhabited picnic island.
$150 – manta swim for two for 90 minutes.
Tip . If you want inexpensive excursions to local islands, look for local fishermen and make arrangements with them. At the hotels, the entertainment is three times more expensive.
Where to have an inexpensive vacation in the Maldives: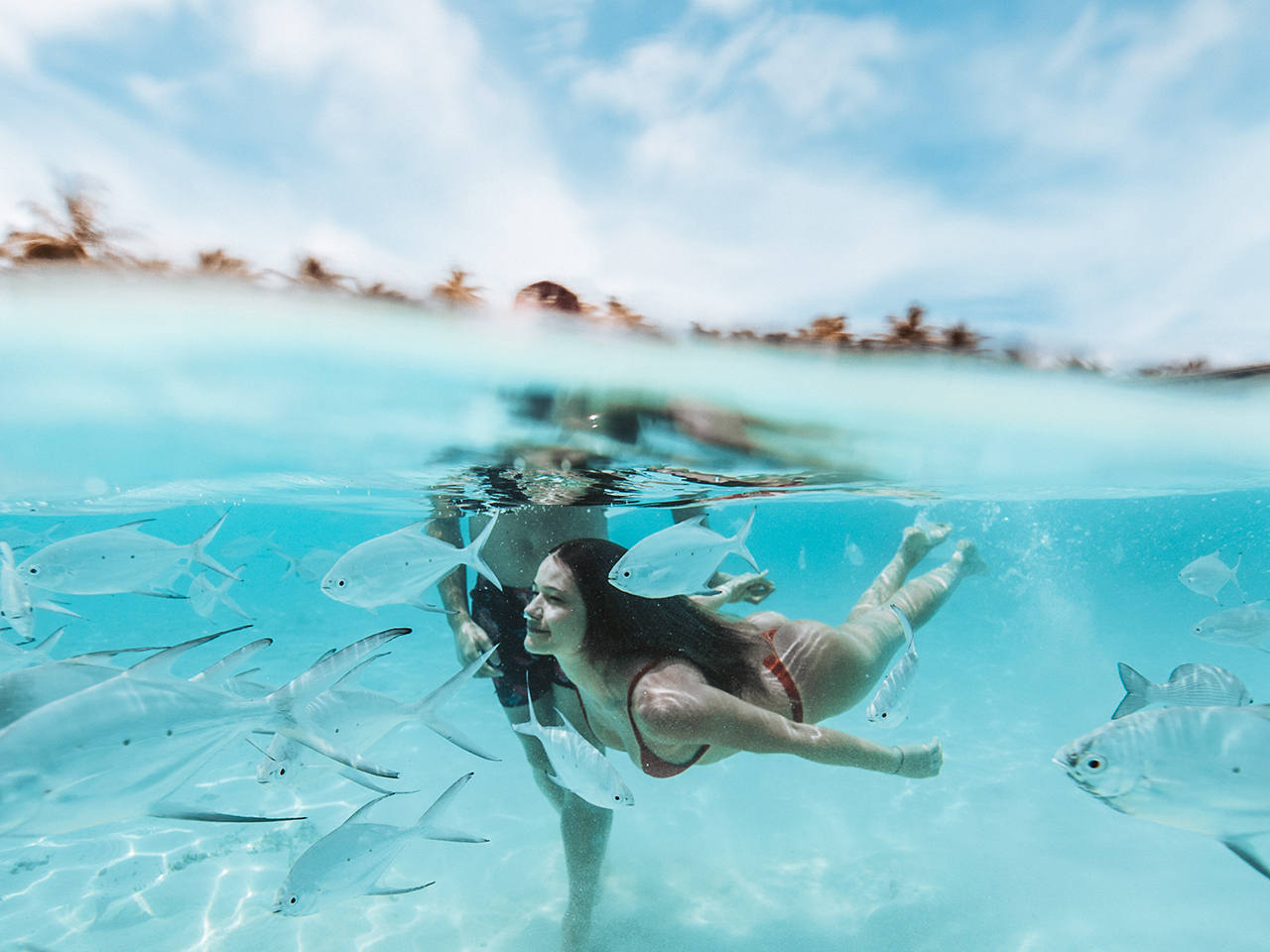 Scuba diving in crystal clear water is free (Photo: unsplash.com / @sotti)
How much will it cost to vacation in the Maldives in 2022
Let's find out how much a Maldives vacation for two will cost! Let's calculate the cost of a budget trip to the local islands and the cost of a beautiful vacation in resorts. Also give the prices of related expenses.
$ 0 – visa to the Maldives for Russians.
10 $ – fee to withdraw money from the card at local ATMs.
30 $ – a local SIM card with 17 GB of Internet.
700 $ – the cost of our vacation and a trip to the Maldives. That's the amount for two people for 10 days. Counted everything except for airfare, because we flew from Sri Lanka and then went to Bali. It turned out very cheap compared to vacationing in resorts – on average, one or two nights there cost that much. We saw paradise beaches with white sand and azure water, admired the underwater world and its inhabitants, visited three different islands and saw the capital. It was interesting and pleasant! I have told in detail about how to rest cheaply in the Maldives. Read also how not to spoil your vacation in the Maldives.
2000 $ – that's how much would cost a similar vacation in the Maldives for two people for a week, but including airfare and a few excursions. This is cheaper than a tour, but will require a lot of time to organize the trip. Many people prefer to overpay and take a trip.
4000 $ – the cost to go to a week for two in the Maldives on an inexpensive island resort 3-4 * including expenses in restaurants, buying a few excursions and airfare.
5000 $ – the cost of a week of beautiful and carefree vacation for two in a nice villa on the water in a five-star hotel-resort with all-inclusive meals, excursions and airfare.
The list could go on and on, but I think you've got the picture and now you have a good idea of how much money you need for a holiday in the Maldives. Choose your format and budget trip. We wish you a great holiday!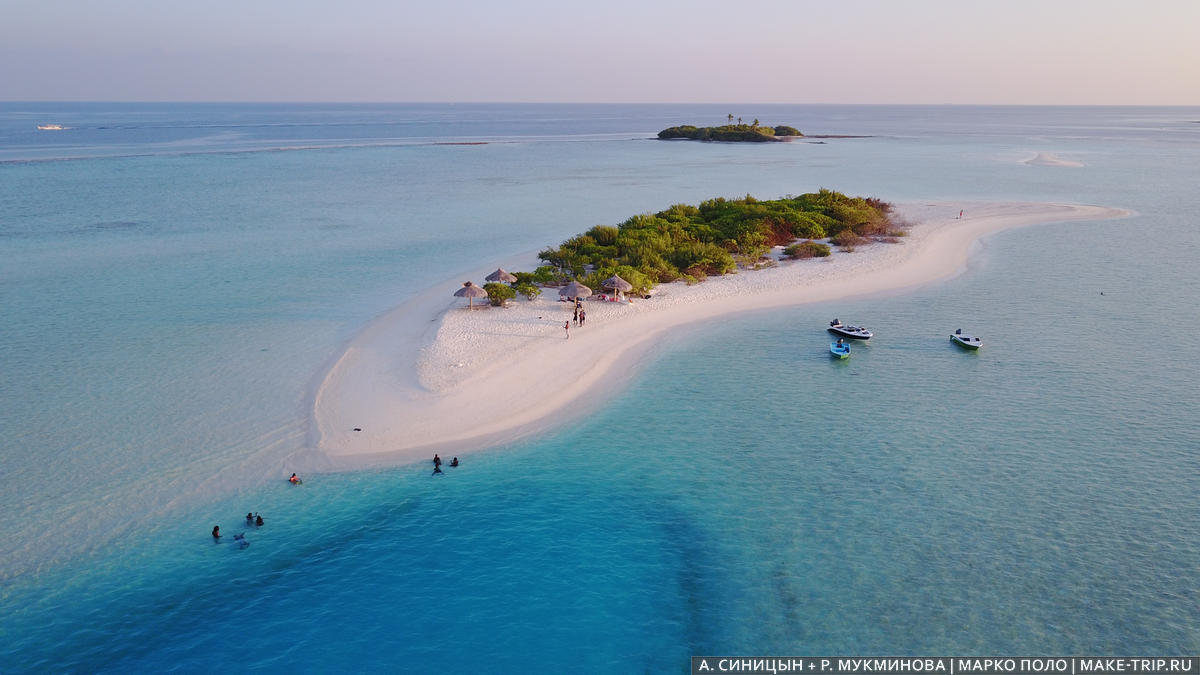 The uninhabited islands of Madivaru, 1 km from Rasdu. Here you can come on an excursion. From one island to the other you can walk right on the ocean (500 meters). We did not get to the island, but flew there by drone.