Medellin
Add the user as a friend if you want to follow their new content, statuses and posts in the forums. If you just want to keep the user's data so you don't have to look for them again in the future, add them to your contacts.
A world without visas – 157. City of drugs and sculptures
The "World Without Visas" circumnavigation continues. We took another overnight bus from Cali to the infamous Medellín.
City of Orchia and drugs.
In 1616, the mining town of San Lorenzo de Aburra was founded on the Medellín River (a tributary of the Porce River) at 1538 meters above sea level, which in 1675 was renamed "Villa de Nuestra Señora de la Candelaria de Medellín," and then simplified to just "Medellín." Modern Medellín is the second largest city in Colombia and the largest industrial center in the country (textile and iron and steel industries). The city has many exuberant epithets: "City of Eternal Spring", "Capital of the Mountains", "Capital of the Orchids", "Beautiful Village", "City of Flowers". But it's much better known as one of the most dangerous cities on the planet – in terms of murders and violent crimes per capita (although crime rates are still much lower now than in the "dashing" 1990s). And yet, paradoxically, in Colombia itself, the people of Medellín are considered friendly, cheerful, and artistic, and the local girls are considered the most beautiful girls in the country.
For most foreigners, Medellín is associated with the famous Medellín drug cartel. At the end of the twentieth century, the headquarters of Pablo Escobar, the leader of a criminal group specializing in the production and trafficking of cocaine, was located here. In the world media, this mafia organization was simply called "Medellin Cartel" (and thereby cast a shadow over the entire city. In Russia the same way was used to "publicize", for example, Lyubertsy or Tambov). In the 1980's and 1990's the Colombian government tried to crush the crime syndicate. But the local police lacked the strength to cope with an organization whose annual turnover, according to experts, reached 80 billion dollars. Pablo Escobar launched a real large-scale war against the government. His men blew up airplanes and government offices, killed police officers and cabinet ministers. However, as the saying goes, "as long as the rope does not wind," but in direct confrontation with the state almost no one had a chance to win. The result was known in advance, and it was only a matter of time before it was achieved. This is why no one was surprised when on December 2, 1993, during another shootout with the police, Pablo Escobar was killed by a sniper. The drug trafficker's associates, apparently, had already prepared themselves a way out in advance. There simply weren't any heroes eager to lead a drug cartel that was under severe pressure from law enforcement agencies. And immediately after Escobar's death, the cartel began to disintegrate. And now, of course, drug production and trafficking continue. But no longer on the same scale as before. And the city and its environs have become much safer. But perhaps it was only a temporary lull. As the statistics say, 2008 saw a third more murders than the previous year, and 2009 saw a 100% increase over 2008. Apparently, a new generation of criminals has grown up in the city and perhaps a "New Medellin Cartel" will soon appear here.
The bus from Cali dropped us off at the east bus station. According to the map (free maps of the city are available at the tourist information office), the city center can be reached by the elevated subway, a line that runs along the river. But we preferred to walk. Such a walk is the best way to wake up and stretch the bones after another night on the bus. Still, image is a frightening force. All the talk about the Medellín drug cartel, the crime associated with it, and the dangers of being a foreigner in Colombia cannot fail to have an effect. And here we were, walking through the morning city (at least we weren't already at night) with apprehension. And then – just because of the general nervousness – we noticed that one fidgety fellow was "following" us for a suspiciously long time. Elsewhere we would not have paid any attention to him. But here our suspicions began to creep in. We began to recall the techniques described in spy novels and demonstrated in action films – we often changed our direction unpredictably, accelerated or, conversely, slowed down. And it helped – the tail came off (or was it us from our own suspicion?). That's not to say that the people of Medellín do nothing to correct their city's image. Quite the opposite. Recently, they created the "city of Botero," named after one of Medellín's most famous natives, the sculptor Fernando Botero (who calls himself "the most Colombian of Colombian artists"). They built a museum in the city center, created a Botero sculpture park, opened art galleries and studios for artists, cleared parks and landscaped squares. And all this so that Medellín is not perceived in the world as just the home of the Medellín cartel Escobar. Indeed, the city center now feels like a giant open-air art gallery. There is simply no time to look around, waiting to be attacked, or to pick your pockets to avoid being robbed-all attention is consumed by Fernando Botero's giant, grotesque figures. From Cali we arrived at the east bus station, and the buses to Bogotá leave from the west bus station, on the opposite side of town. Luckily, you can also take the subway from downtown to this bus station. We take another overnight bus to Bogotá, the capital of Colombia. The "World without Visas" circumnavigation continues…
Visa. Entry into Colombia for Russians for 30 days is visa-free. Currency. 1 U.S. dollar = 1910 pesos. Transportation. Bus Cali – Medellin – 35 thousand pesos. Metro in Medellin – 1550 pesos. Bus Medellin – Bogota – 40 thousand pesos. Overnight accommodation. Overnight in buses Cali – Medellín and Medellín – Bogotá – free of charge. Meals. Packed lunch – 5 thousand pesos. A loaf of bread 0.5 kg – 1750 pesos. A loaf of bread 0.440 kg – 1600 pesos. Milk 1 liter. – 1800 pesos. Beer 0.3 l. – 1900 pesos. Attractions. Fernando Botero Sculpture Park in downtown Medellín – free.
Narcos vs reality. How cocaine Colombia really lives.
"Cities with bad reputations attract as much as bad women," wrote Pablo Neruda, the Chilean senator and Nobel laureate. A bad reputation is Colombia's middle name.
It's a little calmer now, but until four years ago, when I boarded an intercity bus, a man with a video camera would go in before I left and film the passengers' faces.
– Why do you do that? – In case the bus was hijacked. We want to know who was on it.
The main danger was the Revolutionary Armed Forces – FARC. The bus drove from Bogotá, in the heart of the country, through the mountains to Popayán, where three or four factions were fighting for control of the city, something we learned after we arrived. But it was a relatively safe route.
It was much worse – closer to the border with Ecuador, where a volcano protrudes from the clouds and anti-personnel mines explode on its slopes.
Guidebooks and forums say about most of these places: check up-to-date security information before going. Cocaine is produced here.
What is the national product in Colombia? It's unlikely anyone would think of coffee. Or about Fernando Botero, a local artist and sculptor who depicts hypertrophied obese peasants, the military, animals, a chubby Mona Lisa, a fat Jesus and President Uribe. A cast of all the important moments in history, an imprint of the most significant figures – historical, popular, mythical – is all there in his work. More than his "Mona Lisa," only the painting "The Death of Pablo Escobar" is known. The man who was both the best and the worst in Colombia, a product of both domestic and export, is captured here in his last moment. With a gun popping out on the rooftops of Medellín, barefoot – in a hail of bullets.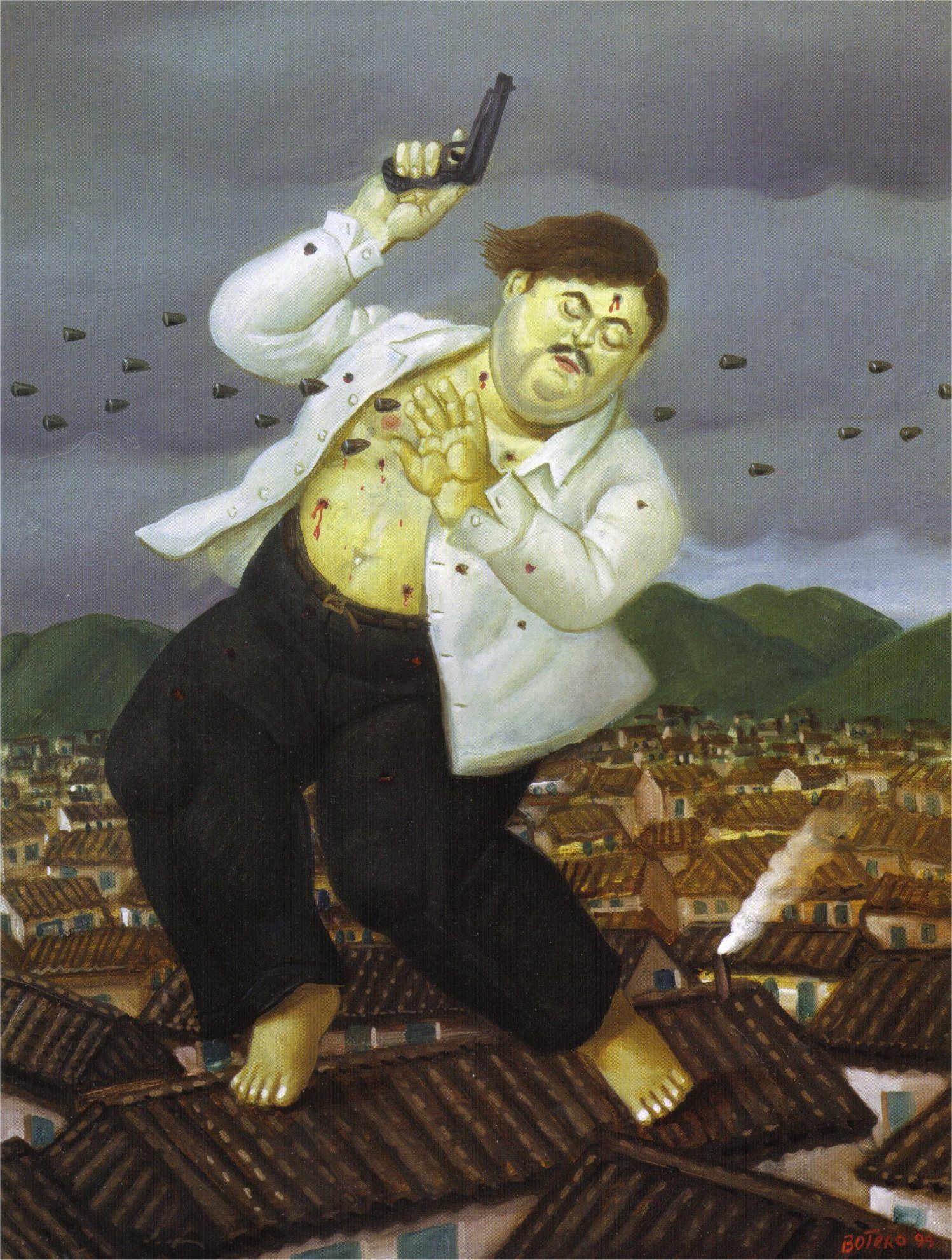 This is the scene that ends the second season of the series Narcos, which has become one of Netflix's highest-profile premieres. The authorities in Colombia were very worried before filming began, I don't think I need to explain why.
For years they have been trying to convey their truth about who Escobar was and what he did, but still the utterly romanticized image of him overpowers everything else in people's minds. Magical realism as it were.
On the Pacific coast, in the fishing village of Baja Solano, there is a hotel. It is almost empty; we ourselves lived in a small bungalow nearby. There is no road to the village, no trains – the railroads are dead in Colombia, and small planes land at the local airport a few times a week. Tourists in small groups come mostly from August to October, when the whales arrive in the bay. There are military personnel everywhere. One of them goes through each passenger's luggage by hand. Another next to him holds a dog.
The bungalow owner we are staying with is a fisherman, like everyone else in this village, who walks around without a machine gun.
– You don't get many tourists. Is it better in season? – No, of course not. Not many people come here. Everyone goes to the Caribbean, Cartagena, Santa Marta. – Then why is there a hotel here? – Oh, I built it. For Pablo. I used to be a simple fisherman. Pablo came here and we all started taking his cocaine. Boats all the way to Panama. – All of them? – All of them.
Because if you don't work for Pablo, you're snitching on him. Then it was a short conversation. Plata o plomo – silver or lead.
Silver, of course, is better. And you get used to easy money… And then he was killed.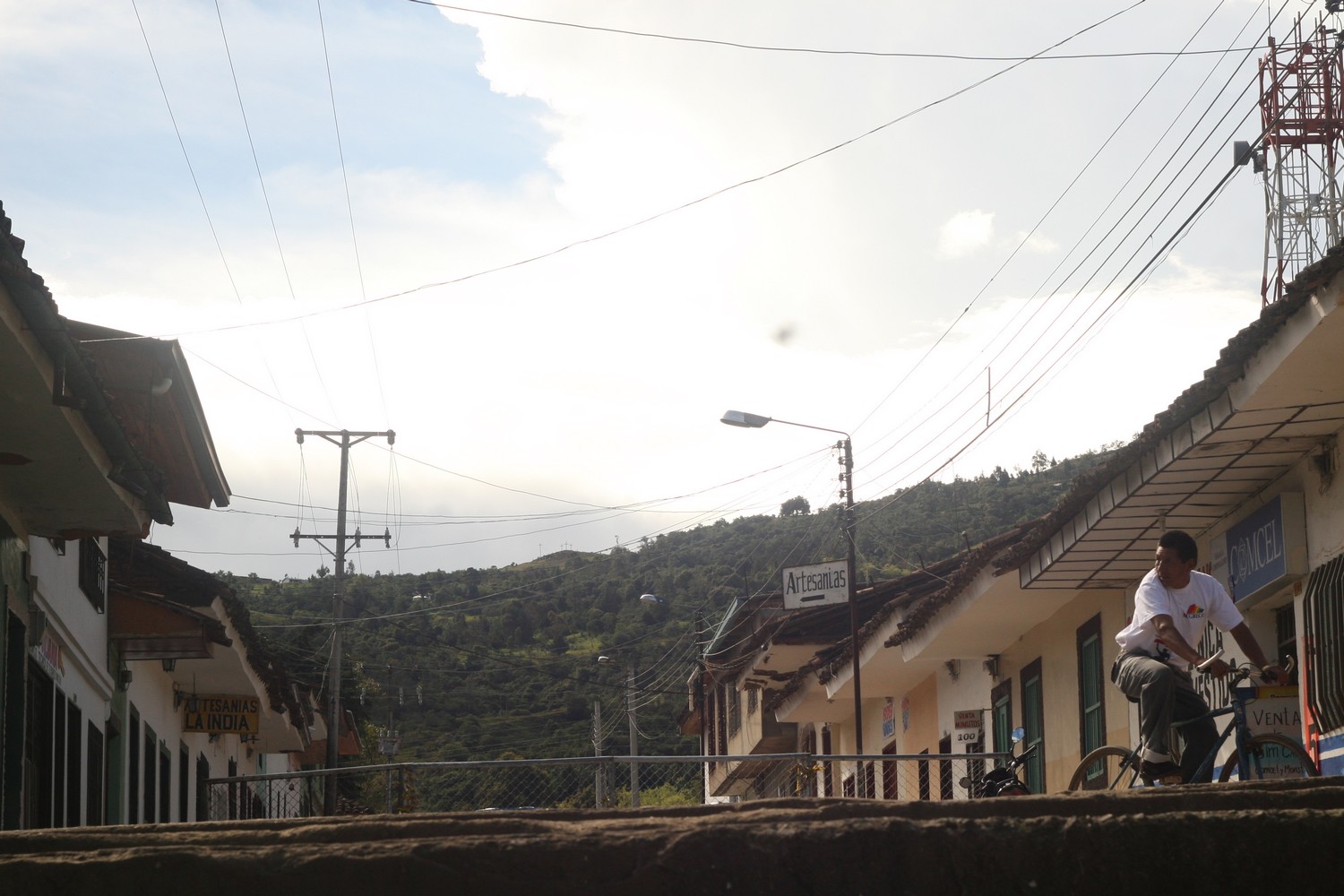 The hotel stands, even someone lives there sometimes. There are a lot of military men now – they catch smugglers. They used to run operations against FARC, but they don't come here anymore. Now the FARC is no longer a threat. At least, it seemed so at the beginning of the year – until it turned out that Arsen Voskanyan, an Armenian and Russian citizen who had been kidnapped earlier while catching frogs and allegedly involved in reselling these amphibians, was shot dead during his escape. Most likely, he was caught by the Colombian National Liberation Army.
All this is happening against the backdrop of the Nobel Peace Prize awarded last year to Colombian President Juan Manuel Santos, who managed to negotiate with the leftist FARC guerrillas. Their head Timoleón Jiménez had already begun disarming his guerrilla units when it turned out that people were still being captured, still being killed, only now it was no longer a particularly profitable business: the guerrillas no longer controlled all the hard-to-reach areas of the country, and it was increasingly difficult to collect a "revolutionary tax" from cocaine producers, especially when they moved hastily to Bolivia, Peru and the absence of Hugo Chavez, who had supported them from neighboring Venezuela. That's it, the fun is over, but only the specter of socialist revolution still roams the country.
The South Pacific coast of Colombia has its own story with geography. The Chocó region is populated by Afro-Colombians. While the Atlantic Coast has more coca, the Chocó region has more crack and synthetic derivatives, which people are instantly hooked on. The only place in Colombia where all this is widespread. High levels of street crime, robberies, gangs, sometimes syringes underfoot. The military is increasingly watching the border, their faces turned to the water. The coasts are left to themselves. Isolated neighborhoods, towns cut off from each other. There are roadblocks every few kilometers. Fortifications, barbed wire, muzzles of machine guns.
Tumaco is a city on three islands. The history of the place is quite funny: Francisco Pizarro killed the Incas here, and Henry Morgan buried the looted gold from the Spaniards somewhere on the beach. Now the fishermen are fishing and the drug dealers are racing the goods in speedboats and mini-submarines. One of these is lying on the beach with the other confiscated vessels.
An American hero operative from Narcos wouldn't last a week here – whites are too conspicuous, especially when you get away from the big cities.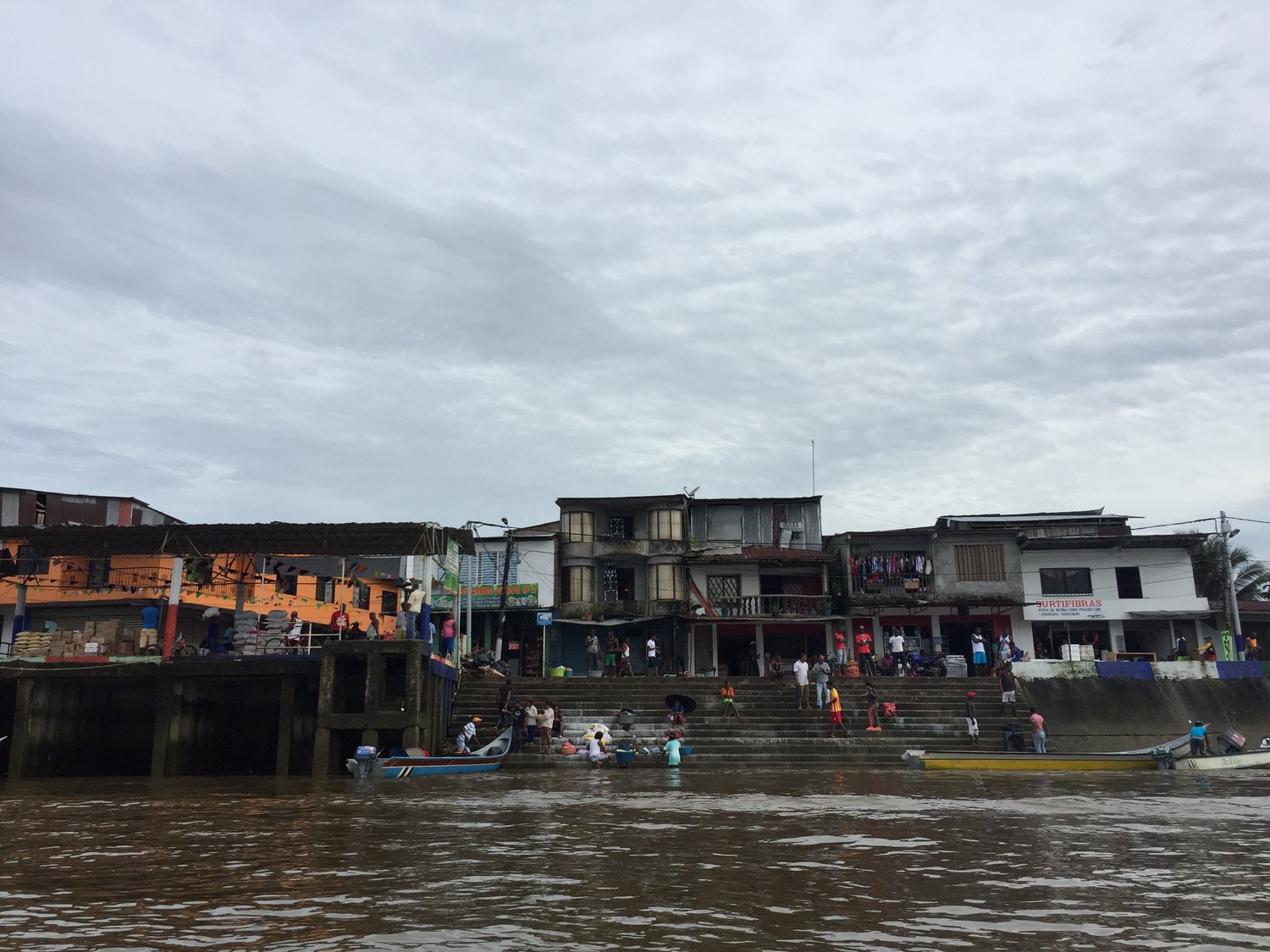 The sailing was delayed by an hour. Well, at least we didn't miss the tide. The boat captain first took a long time to scoop out the water, and then gave up on it. When I boarded, the first thing they put in my hands was someone else's infant. The ticket listed insurance benefits – 3 million pesos for death, 1.2 million for disability and the same amount for medical expenses. The route was first on the ocean, then on rivers and creeks between villages lost in mangrove forests. The boat traveled on its own only one-third of the way, which was to be expected.
In the end, the transmission broke down, some people moved to oncoming boats, and those remaining on board were taken in tow. There was a mechanic in a village nearby, and it took some more time to repair. The off-schedule passage apparently caused some nervousness in the military – a siren blared around one of the bends in the river and a military boat approached at a low speed. Machine gun turrets sticking out from under a tarpaulin, some pointed at the boat, there even seemed to be anti-aircraft guns: "What's taking so long? Vessel papers!"
It's a black hole, where no planes, buses – and nobody and nothing but boats go. You can seriously get caught up here. "Bienvenidos a Charco city," the captain joked. And informed us – the next boat is in the morning.
Most of all Colombia's coca is produced in this area, transported to factories in the woods and there made into cocaine. Some grow it, some transport it, some process it. The nearest major city is Cali.
Cali is the center of club culture, with all that entails. " Cali limpia, Cali linda" – clean and beautiful, as those who dumped corpses in the river said.
The Cali drug cartel was the largest of all, after the war with the Medellin group of Escobar it was they who dictated prices and conditions, including to Colombian politicians. The cartel ceased to exist back in the '90s, but there is a reason why there is so much military here.
It is impossible to control all the rivers and forest trails, so there are also helicopters circling over the jungle. Sometimes they manage to spot something, then the farms are burned – especially without distinguishing between bananas and coca. A big problem and cause of hatred for the authorities was this: entire villages could be left without a livelihood. The legacy of the Cali cartel: it is destroyed by fire, but still coca is everywhere.
The Atlantic coast attracts far more tourists. There are the beaches of Cartagena, national parks with a developed network of roads, and in the mountainous areas – the lost Indian city "Ciudad Perdida", the Colombian Machu Picchu.
– No, we are not taking tourists there this spring. – Why not? What's there? FARC or drugs? – Both. A couple of days ago, a group was taken hostage – they were on their way to a lost town and stumbled upon a factory. Don't you guys watch TV? – There's no way out now? – Let the military sort it out first.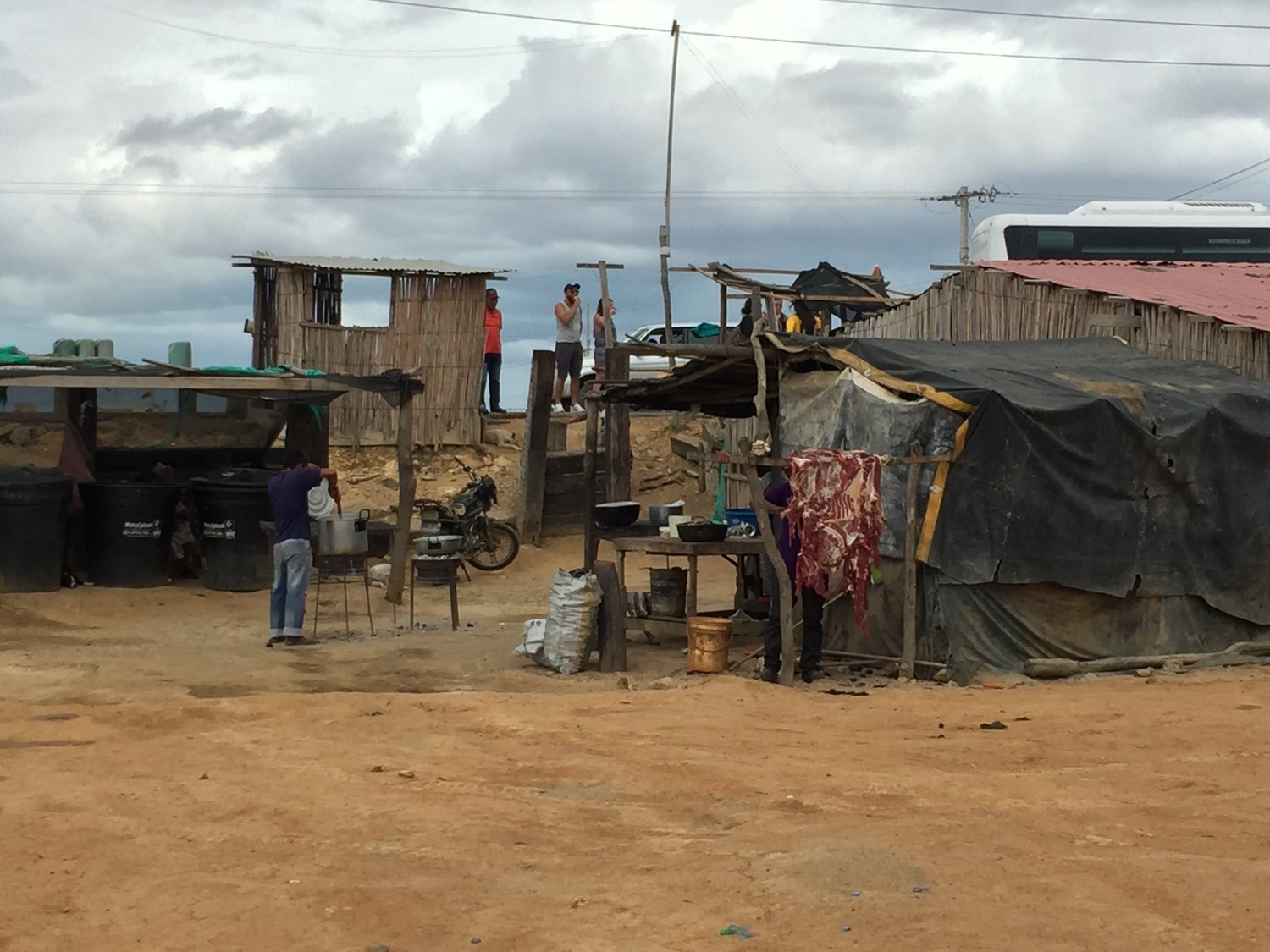 On the beach of Cartagena, deserted these days, a local sits down, puts out beads, wooden animal figurines. He tries to guess where I'm from, and for some reason decides I'm either from Chile or Argentina. Not "gringo."
– You have a strange accent. Would you like to taste a little of the real Colombia? – What have you got? Right here? – Of course, you have to appreciate the quality. It's free. If you want more, you pay. – It's an old trick, amigo. I know… I'm sorry, I don't have any money today. – You can even pay with a credit card! – What, do you pay taxes on that? – Well, brother, it's not like I'm selling you cocaine. Take your pick. There's coral, there's pearls. Not real, of course. I don't want to cheat you. Here are the animals, my brother carves them out of wood. What do you like? – I like the crocodile…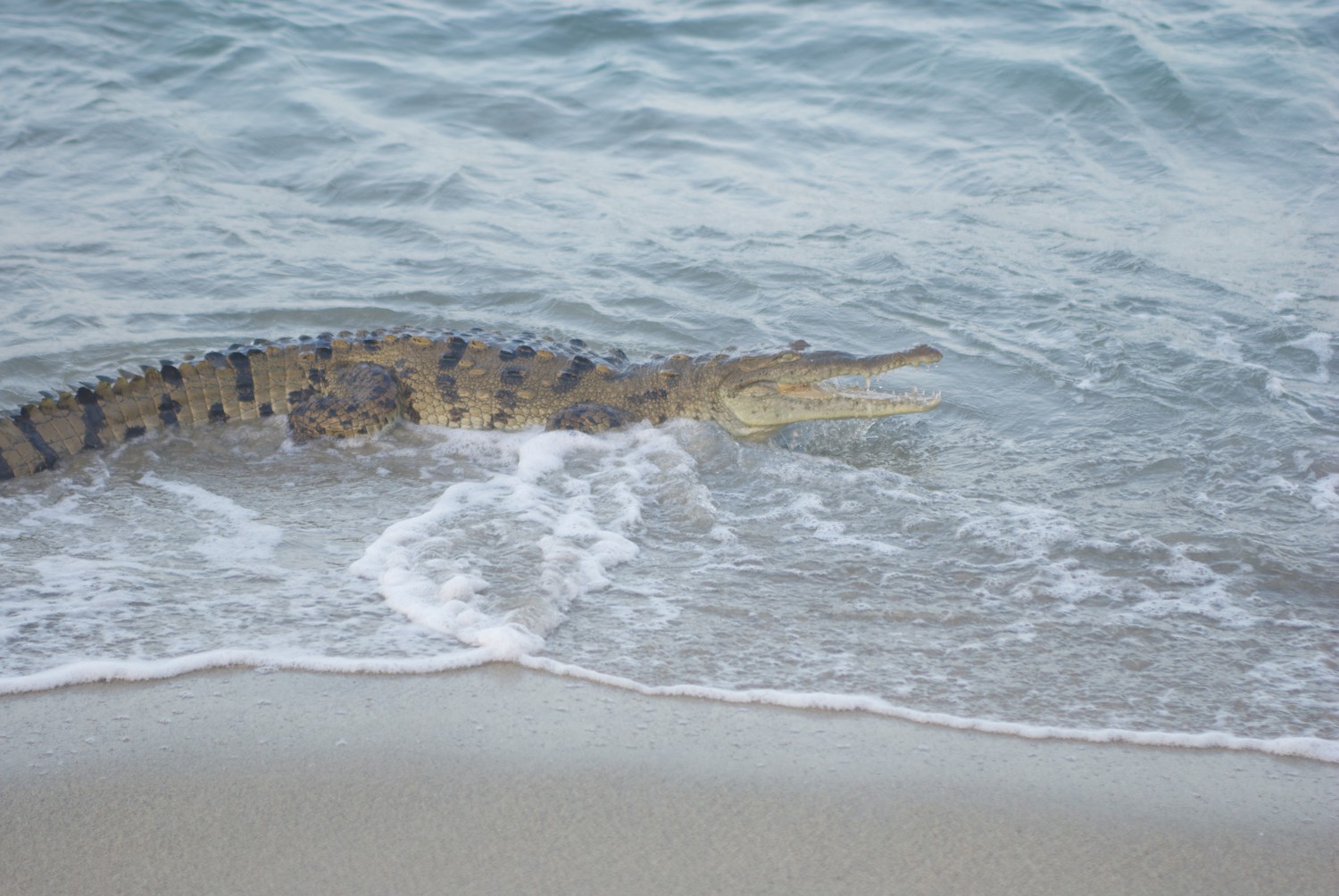 The crocodile showed up a couple of days later – in the park. A real two-meter crocodile jumped at us from the swamp, for ten seconds overcame fifty meters of sand to the ocean and plunged into the water. It was cooling in the seawater, staring at me with yellow-green eyes. Drug cartels and revolutionaries, it seemed at that moment, were definitely not the most dangerous inhabitants here. Gabriel García Márquez didn't seem to have anything about that. Neither did Narcos, just some nonsense about magical realism. That's probably what you think of when you're dragged somewhere in the jungle.
Almost all the cocaine in the world is produced in Colombia, Bolivia and Peru. It makes its way to the U.S. through Mexico, through ports in Spain and Portugal to Europe, on its way through Africa. The next drug-mafia movie will probably be about the Mexican Sinaloa cartel.
Cocaine came into vogue in the 70's, then penetrated the mass consciousness through movies and entertainment shows, became an attribute of bohemian life and synonymous with success. And he's not going anywhere.
Botero painted Pablo's death twice. One painting is now in Bogota, the other in Medellín. In the second, Pablo is already dead. The same mountains, bare feet, a bare belly with a bullet hole poking out from under his shirt, other bullet holes, a wailing woman below, and smoke rising from chimneys over the rooftops of the city. Pablo Escobar is dead. But Colombia and the world still can't get over it in any way. Filming soap operas about beating the drug mafia doesn't help much.