Miami sights. Places to visit
This building, which stands out from the rest of the cityscape both in shape and color, has become a recognizable symbol of Miami. Today, the Museum of Contemporary Art is open inside and houses the offices of the Miami Dade College Art Department.
Miami Aquarium
Swim with dolphins and seals, feed sharks and rays, pet penguins, and dive into the colorful world of coral reefs – the Miami Aquarium brings the wildest fantasies to life. When it opened in 1955, it was the largest oceanarium in the world.
The Venice Walkway
In Biscayne Bay, between Miami and its resort suburb of Miami Beach, stretches a chain of Venetian Islands connected by bridges. The unusual structure stands in place of the wooden Collins Bridge that in 1913 connected Miami Beach with the Florida Peninsula.
Villa Viscaya
Villa Viscaya (now the Viscaya Museum and Gardens) in Coconut Grove was once owned by businessman James Deering. It is a beautiful architectural and landscape complex that also includes extensive Italian Renaissance style gardens, original woodland landscaping and historic buildings.
Winwood Art District
Didn't make it to the annual Basel Art? That's okay: in the Wynwood Art District, even without special events, you can see enough art at a time to get Stendhal syndrome for a long time. There are more than 70 galleries, 5 museums, 7 art complexes and 12 art studios in the area.
The Design District in Miami
The Design District is an entire neighborhood filled to the brim with world-renowned brand stores, designer showrooms, and art galleries. From the moment you set foot here there's no doubt that you're in a classy place.
Gold Coast Railway Museum
In the mid-20th century, one of Florida's three railroad museums, the Gold Coast, opened on the former Richmond Military Airfield, next to the Miami Zoo. The location wasn't chosen by chance: almost 5 kilometers of railroad tracks run through the airbase.
Miami-Dade County Courthouse
This historic building simply needs you to take a picture of it while in Miami. Though you'll have to find an angle to get the whole thing in the frame. When it was built, it was the tallest building in Miami and Florida.
Miami Zoo
Miami-Dade Zoological Park and Garden, formerly MetroZoo, is not just the largest and oldest in Florida. Its unique feature is that it is the only tropical zoo in the United States. Consequently, you can see an impressive variety of animals here.
Barnacle Historical Park
This state park covers an area of 2 hectares in the Coconut Grove area. The centerpiece of the park is the namesake mansion that was built in 1891 and is now the oldest house in Miami-Dade County.
Miami Cathedral
Against the skyscrapers of downtown Miami, the bright two-story Holy Trinity Cathedral building looks like a fragment of another reality. The city's oldest religious edifice truly belongs to a different era: the first wooden church was built here in the late 19th century.
The Deuce Club in Miami
Club Deuce is a dimly lit, smoky bar that has obviously seen better days, and those days were a long, long time ago. Meanwhile, in a city where bars and clubs come and go every day, Deuce is doing very well and has its own place on the podium.
Coral Castle
Coral Castle (sometimes called Rock Gate) was the eccentric idea of Latvian-born American Edward Lidskalnin. This complex is not so much a castle as a cluster of numerous megaliths, each weighing several tons.
Little Havana in Miami.
The Latin Quarter, one of the oldest in the city, borders Downtown Miami and is located to the west of it. Its second name is Little Havana, and it earned it because it is where Cuban immigrants settled.
Patricia and Phillip Frost Science Museum
In the interactive museum you can take a fascinating journey into the world of science, technology and wildlife: see in action the laws of mechanics and optics, explore the structure of the human body, touch the mysteries of the universe and learn about future technologies
Gianni Versace at Miami
The Versace Mansion on Ocean Drive in Miami is a house legend. And, as usual, mysterious – it has changed several owners, and often due to tragic circumstances. The main treasure of the villa is actually its interiors, which can be briefly described by the words "expensive-rich".
Park Museum
Park Museum is a striking example of careful use of urban space: on the site of the former seaport stretches a spacious recreation area with lawns and palm trees, art objects and museums. It opened in 1976, for the 200th anniversary of U.S. independence.
Jungle Island Amusement Park
"Jungle Island is an entire island of adventure, fun, tropical plants and amazing animals. You can swim in the ocean, sunbathe on the beach, enjoy the pink flamingo lake and even hang from a branch with a sloth.
Fairchild Tropical Botanical Gardens
The extensive collection of this 34-hectare garden includes rare tropical plants, including palms, cicadas, flowering trees, and vines. The garden was opened to the public in 1938 and today employs about 45,000 official staff members.
Many tourists believe that Miami Beach is part of Miami. Meanwhile, they are completely different things, even administratively. Even without its beach neighbor, Miami is big enough to spend more than a day or two on its attractions. Globally, it can be divided into Downtown, North and Southwest, and there's something of interest in each of these areas.
Downtown is more or less clear: It's the cultural and commercial center of all of South Florida. There are plenty of museums, parks, and the oldest and most imposing buildings in the city. Brickell is the most modern area of Downtown, built up with new skyscrapers: you'll find stores, banks, offices, and corporate headquarters here. The Downtown Historic District is sparse and contains about fifty notable buildings from Florida's land boom of the first third of the 20th Century.
The northern part of Miami is much less commercial and business-oriented, and for many, much more interesting because of its "creativity. Here are the interesting Design District, the immigrant "Little Haiti" and the historic "MiMo," the modern architecture district of the Upper East Side.
Miami is the most "tropical" place in the U.S., and nature is a great place to get up close and personal.
The southern and western neighborhoods boast some of the oldest neighborhoods in Miami and some of the most vibrant cultural attractions. "Little Havana" is a very interesting neighborhood that was once inhabited by immigrants from Cuba, but today is considered simply the Latin Quarter of Miami. Coconut Grove is a different story: it is an old, noble and expensive neighborhood with an abundance of greenery, upscale art galleries, fine restaurants and famous clubs. The neighborhood is also the highest part of the city, so it's worth a visit if only for the views.
Natural attractions
Do not ignore the fact that Miami – this is the most "tropical" place in the U.S., and the nature here is favorable to be close to her. The zoo here is the only tropical zoo in the country. "Jungle Island is an amusement park for the whole family with an abundance of greenery and animal shows. Miami Sea Aquarium is a tropical island, again with animal shows. And Oleta River Park is the largest urban park in the state, where you can swim, sunbathe on the beach, ride bikes, go boating or sleep in an air-conditioned cabin and do all of the above.
Sightseeing in Miami
Miami is one of the iconic vacation spots in South Florida. Beaches, great climate, historical and cultural attractions, sports and entertainment are all present here in abundance.
Central Miami, separated from the Atlantic by Biscayne Bay and Miami Beach, is the modern metropolis and cultural treasure trove of Florida.
Stroll the streets of Little Havana, visit local museums, and immerse yourself in an atmosphere of absolute relaxation and recreation. Check out Miami Beach with its famous Art Deco district, great beaches and incendiary atmosphere. In the suburbs of Miami is the Everglades National Park. It is famous for its pristine wildlife and amazing ecosystem.
And now for more details about Miami's most important attractions.
Miami Beach .
This legendary neighborhood is nestled on an island and connected to the continent by several bridges. Quiet nooks, bustling entertainment districts and long, sandy beaches make up Miami Beach.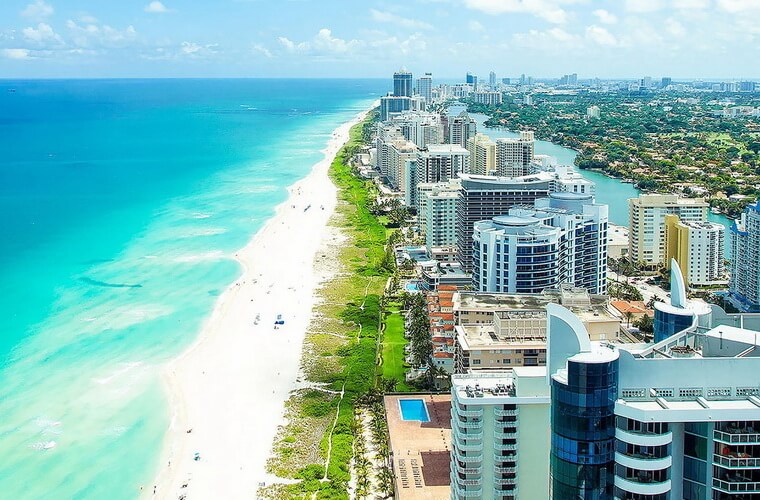 South Beach and the Art Deco Historic District, with its first half-20th century buildings that use traditional neon signs on their facades, have become some of the top attractions.
Miami Beach is a fashionable tourist area where you will find many restaurants, stores, hotels, beaches and entertainment.
Ocean Drive is the area's most famous street. It runs along the oceanfront. Here you will see beautiful art deco houses. In addition, Collins Avenue runs parallel to Ocean Drive. This federal highway No A1A is actually considered the main street of Miami Beach. It offers stunning views of the ocean.
Art Deco neighborhood.
Interested in history? Then you're in the historic Art Deco neighborhood. Here you will see buildings in the architectural style of the first half of the 20th century.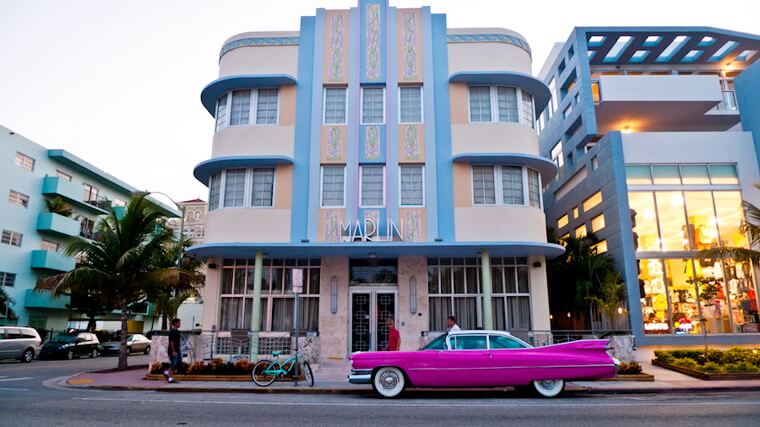 These uniquely designed houses are in pastel colors and have large neon signs. They were built after a major hurricane in 1926. Many of the buildings house hotels and cafes. Along some of the main streets are equipped with awnings on the first floors of houses. They provide shade for those who like to dine outdoors.
The famous historic Delano South Beach, National Hotel Miami Beach, and Breakwater South Beach are still operating here.
South Beach
This famous beach is located in South Miami Beach. A wide stretch of beach faces the ocean in the neighborhood of the same name. It is considered the most popular beach in Miami and one of the best beaches in Florida. You'll find a boardwalk on the beach and the Ocean Drive behind it where you can see the Atlantic Ocean in all its glory.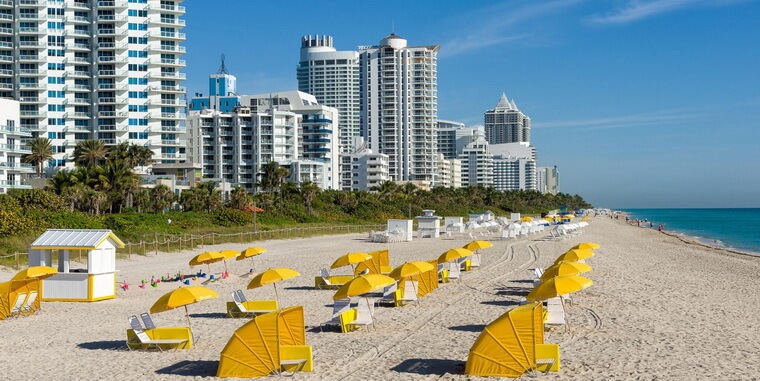 Villa and Vizcaya Gardens.
This national historic museum spans more than 11 hectares. It was once the winter residence of James Deering, a major 20th century tycoon. The villa was built in 1916.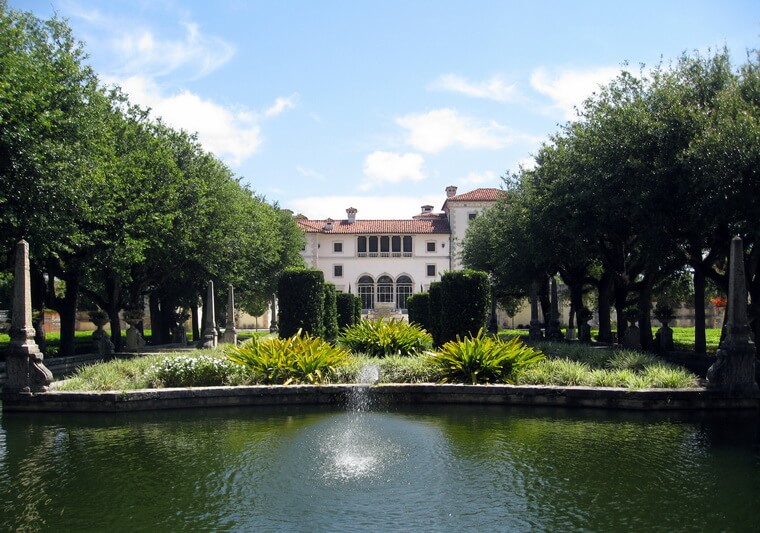 It has 34 rooms that surround a central courtyard. The villa is in the Italian Renaissance style and is filled with chic European furniture and artwork from the 15th to 19th centuries.
1,100 people were employed to build and furnish the villa. Some of them specially traveled from Europe to create an authentic design.
The villa's grounds and surrounding gardens are filled with beautiful Italian and French fountains and sculptures. The breakwater at the base of the steps descending to Biscayne Bay looks like, richly carved, a sculpted ship.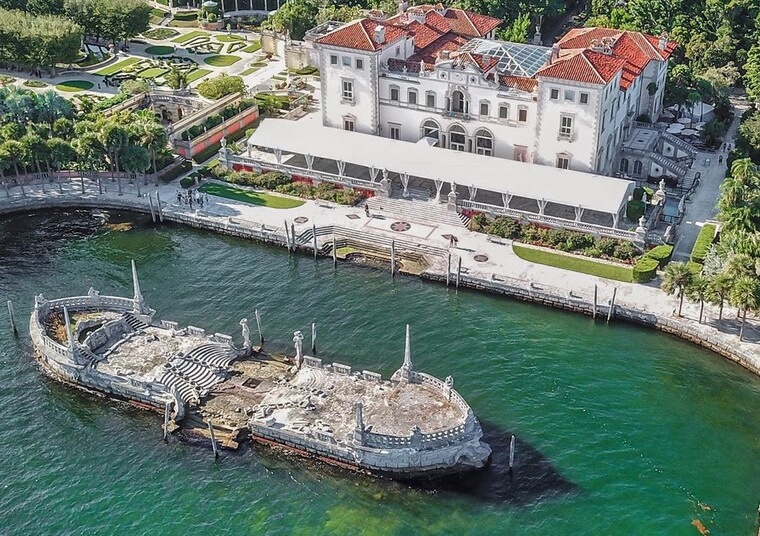 Everglades National Park.
Located just outside Miami, it protects one of Florida's major natural attractions: the Everglades. Yes, that's right, the wetlands. They cover an area of about 610000 hectares.
The Everglades are home to alligators, snakes, and many species of birds.
The park has a visitor information center, hiking trails, and wildlife viewing platforms. The best way to see the Everglades is on an airboat tour (these are boats with a huge "fan" in the back). These boats will take you on rides through streams and backwaters and give you a chance to see crocodiles and many other animals.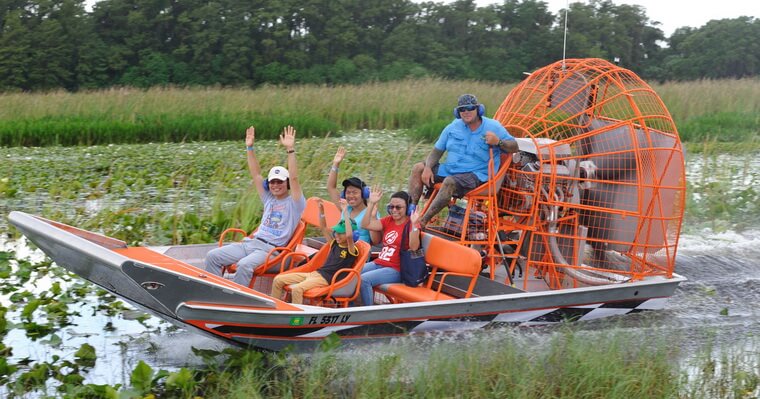 One of the most famous hiking trails in the park is the Anhinga Trail. It starts from the Royal Palm Visitor Center. This trail is about a mile and a half long, but it passes through places where you can see predatory alligators live.
Note, some parts of the Everglades are very similar to Caddo Lake.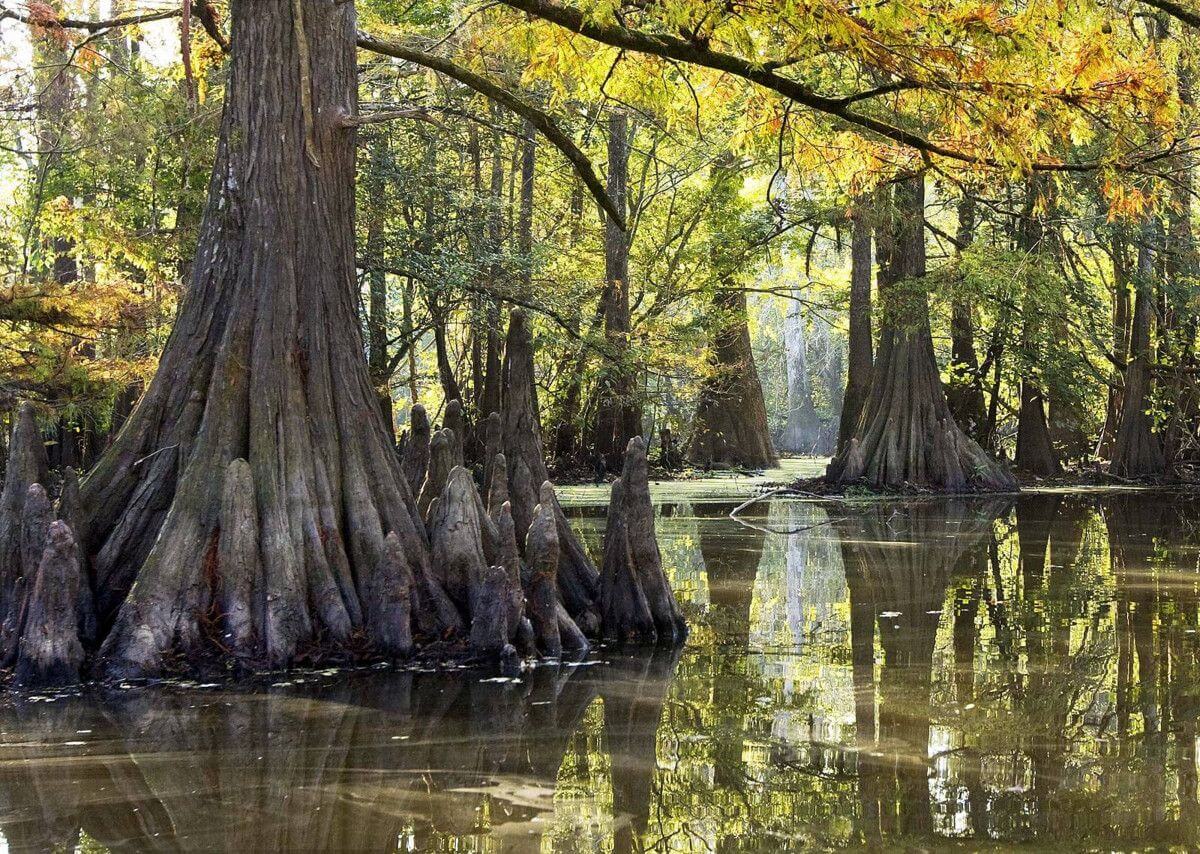 Bayside Marketplace
Bayside is a huge open-air shopping center. It has about 150 stores, many cafes and restaurants. In addition, there are daily entertainment programs. This place attracts not only tourists but also local residents. The mall is located along the Miami waterfront.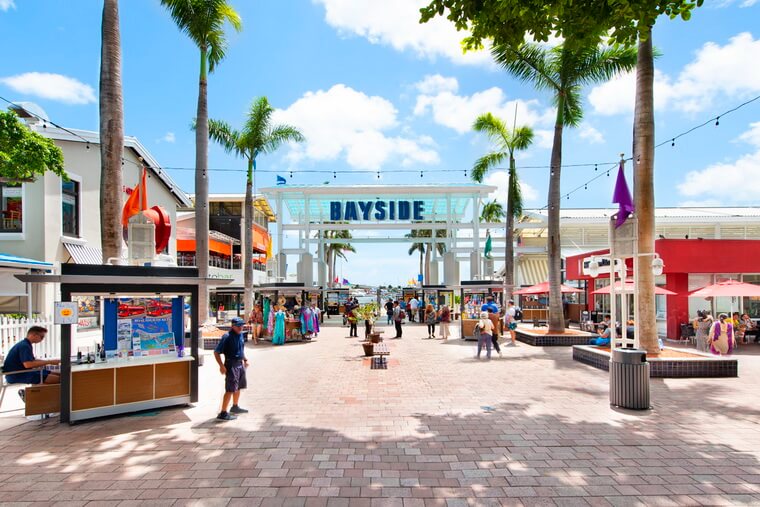 Tourist boats depart from here with excursions on Biscayne Bay. There are also water cabs to Miami Beach and to the hotels downtown.
Little Havana and Calle Ocho
Little Havana is a colorful Cuban neighborhood in Miami. Although there are no famous tourist attractions, this neighborhood is famous for its special culture. Interesting cafes and stores line the streets, and Latin music is in the air. Frescoes adorn the walls of homes depicting scenes from Cuban culture.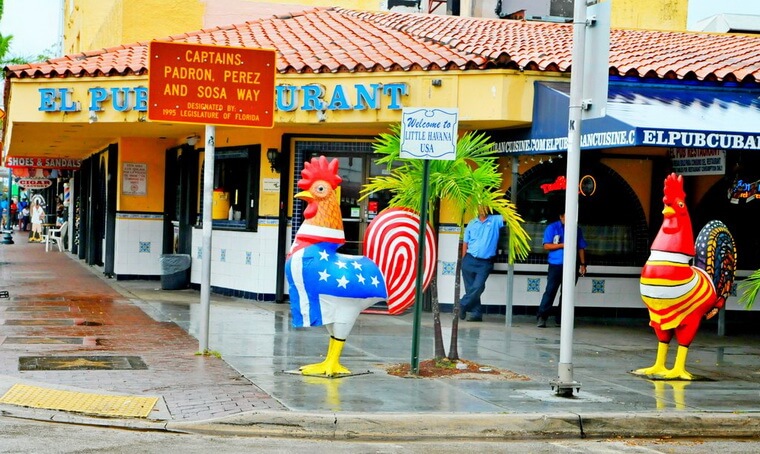 Calle Ocho is the main street of the neighborhood. Here you can taste classic Cuban cuisine.
In March, the Calle Ocho Festival is held here. And this festival of Cuban culture has become the largest of its kind. Over the years, this street festival has expanded to include not only Cuban but also other Latin American cultures. This festival is now a good way to experience Latin American culture and cuisine of the Caribbean region.
Bayfront Park.
The park is located on the east side of Biscayne Boulevard. It is a 13 hectare green space adjacent to Bayside Market. You'll find interesting monuments in the park. Such as the electronically controlled Pepper Fountain.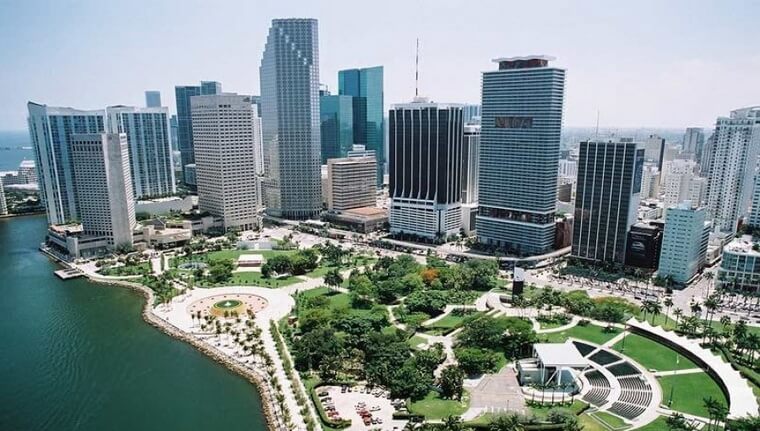 In addition, you will see the Challenger Memorial. It was built in honor of the dead crew of the space shuttle Challenger that exploded on takeoff in 1986. There is also an amphitheater that is used for various performances.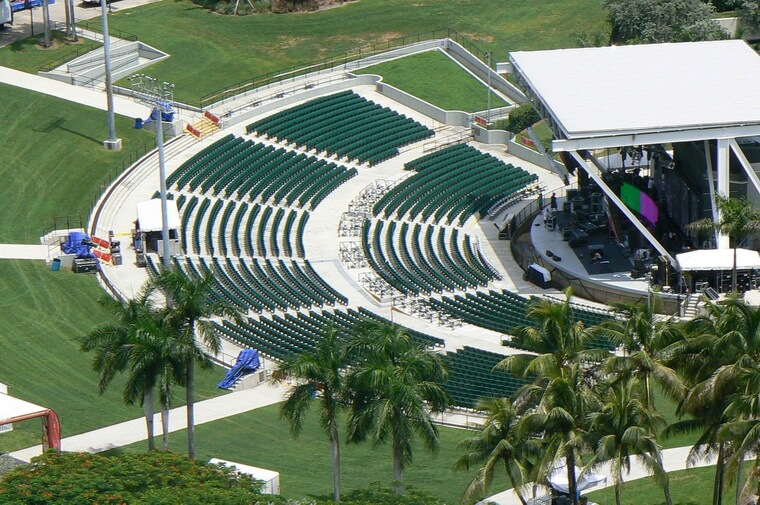 There is a playground for children. Locals often come here just to run or take a walk.
American Airlines Arena.
This is the main venue for various concerts and cultural events. In particular, the American Airlines Arena is used for NBA basketball games.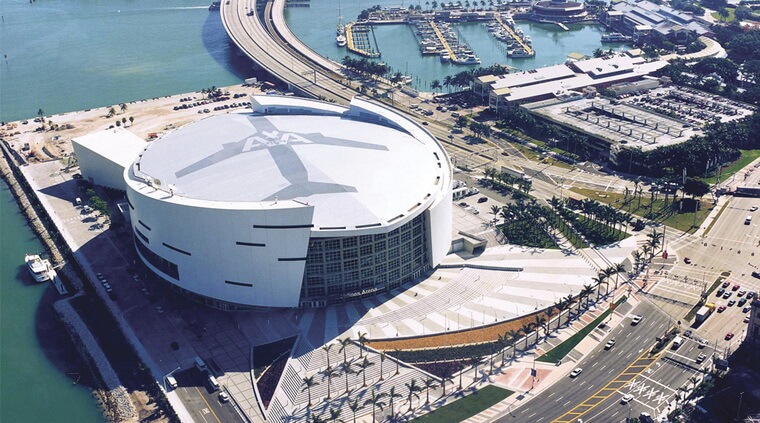 The venue opened in 1999 and has a capacity of about 19,000 people.
An interesting fact is that the stadium's design won the Leed Green Building award for "energy efficient building."
Miami Zoo
About 3,000 animals live here, including 40 endangered species. Unlike regular zoos, the animals here are grouped with other species. That is, those with which they normally live peacefully in the wild.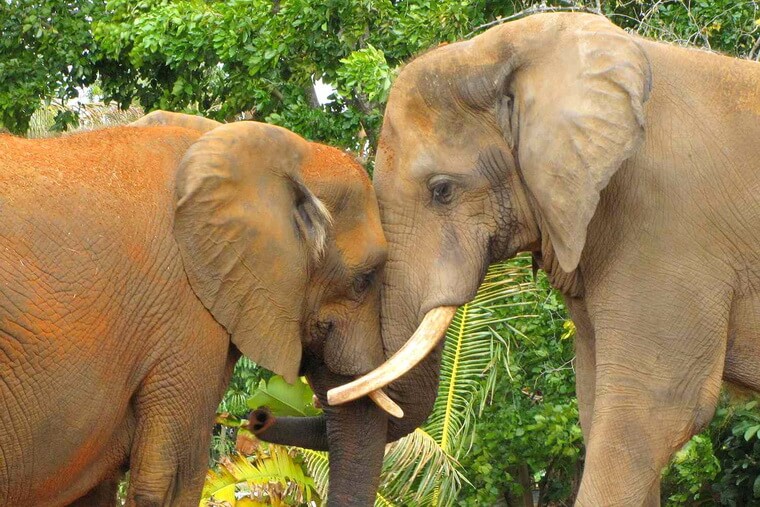 This is the only zoo in the continental United States located in the subtropics.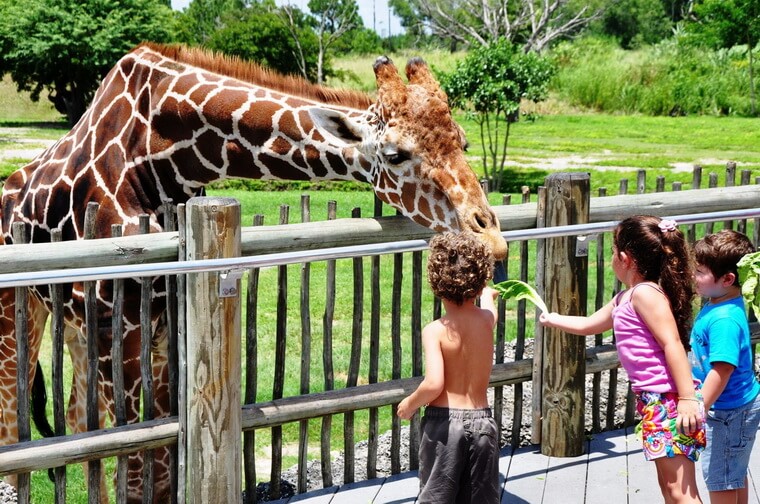 In addition to the animals, there are about 1,000 varieties of plants on display here.
Jungle Island
Jungle Island is a unique bird sanctuary. It is a combination of wildlife and botanical gardens. Here parrots and other exotic birds do not only live in paradise forests. Some of them also participate in entertaining shows.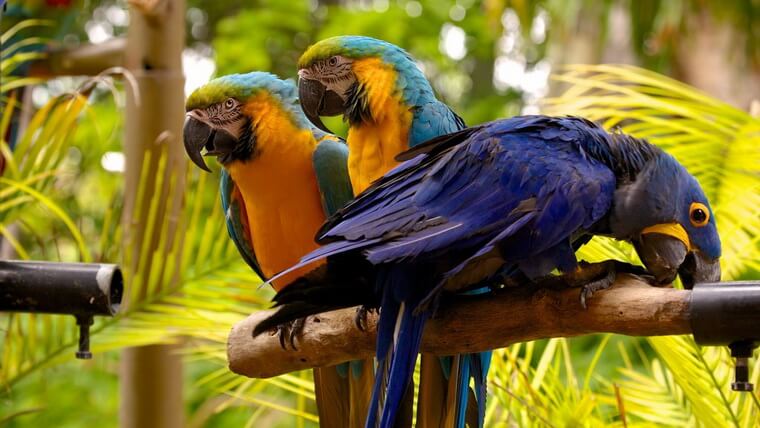 Large animals such as tigers, baboons, alligators, turtles and monkeys attract special attention. In the gardens you will find about 2,000 species of plants.
Deering Estate in Cutler.
This is Charles Dearing's former estate of 180 hectares. Here you'll find a unique endangered ecosystem with coastal rainforests, pines, mangroves, salt marshes and a coastal dune island.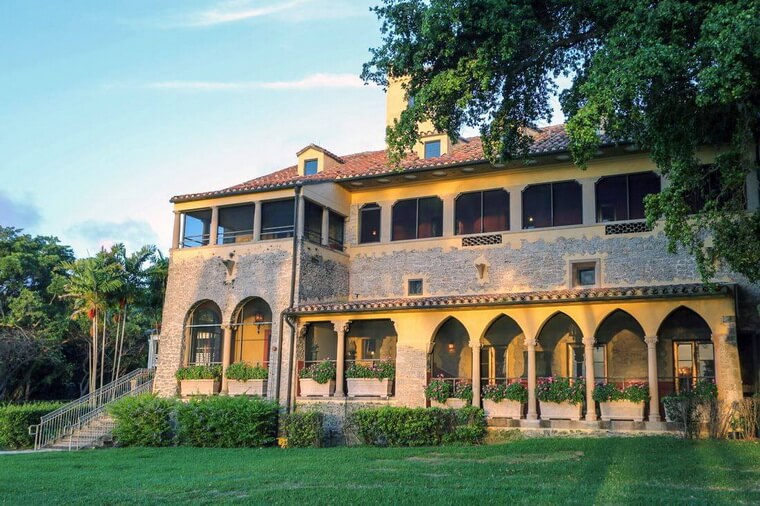 Dearing Estate in Cutler is on the National Register of Historic Places. On its grounds is Richmond Cottage, which was once a hotel, and other buildings built between 1896 and 1922. In addition, there are Indian burials dating back to the 1500s.
Charles Deering was a collector and art connoisseur. He and his brother James (the same magnate who built Villa Vizcaya) accumulated many works of ancient masters. Charles himself also painted, and many of his paintings are on display here. The Artists' Village on the estate has become an important cultural center where art exhibitions are held.
Wynwood Walls Street Art.
In Wynwood's industrial district, old warehouse walls have become vibrant works of art. There's graffiti on the walls. They breathe new life into the neighborhood. Tony Goldman is credited with spearheading the phenomenon. He began to create stunning paintings in 2009 and attracted the attention of famous people in the world of street art not only from North America but from all over the world. Now more than 7,500m2 of walls are decorated with paintings in this unique artistic style.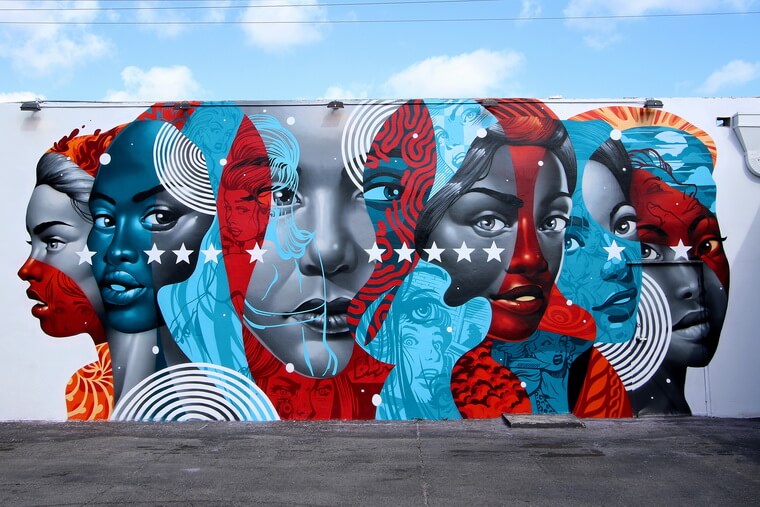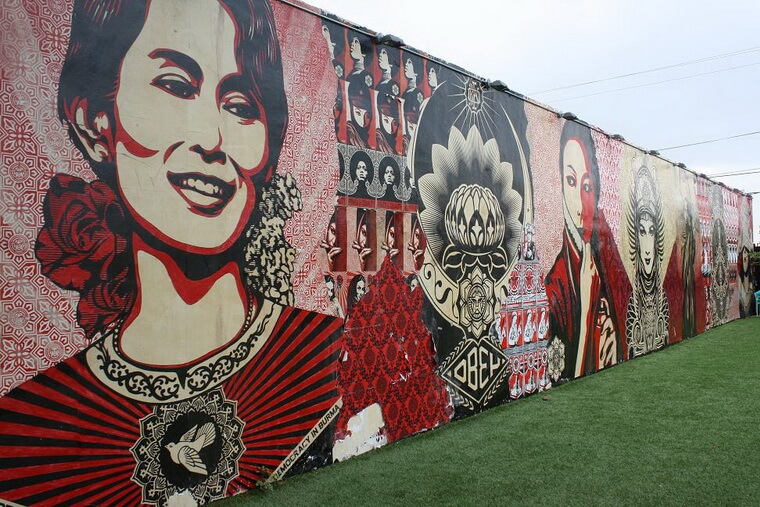 Coral Castle
This is a fantastic complex of giant stone sculptures. And it is the result of the work of just one man – Edward Lidskalninsh. He practically moved and processed the huge limestone stones by hand.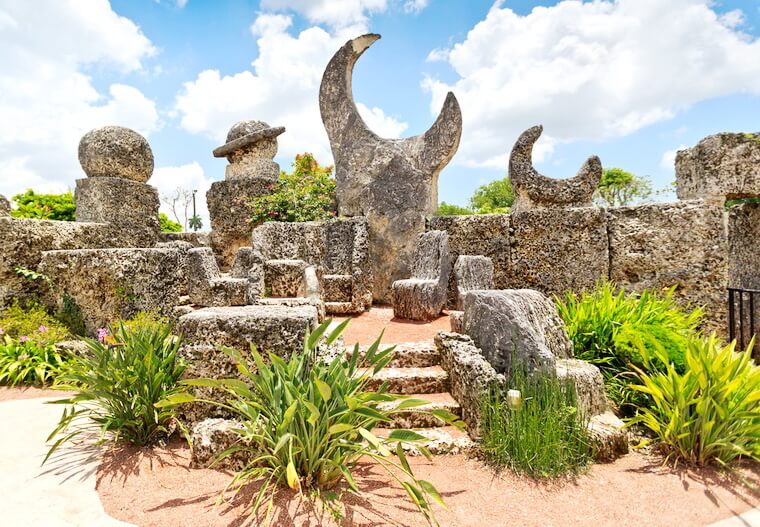 It is still unknown how he carried the heavy boulders, given his very modest physical characteristics. When you get here, notice the colossal gate. You can open it literally with one finger.
You will learn more about this place in our separate article about Coral Castle.
Freedom Tower
One of the most notable buildings on Biscayne Boulevard is the Liberty Tower. It looks like a wedding cake. It was built in 1925. It is one of the oldest skyscrapers in the southeastern United States. In addition, it served as the main office of the Miami Daily News for many years.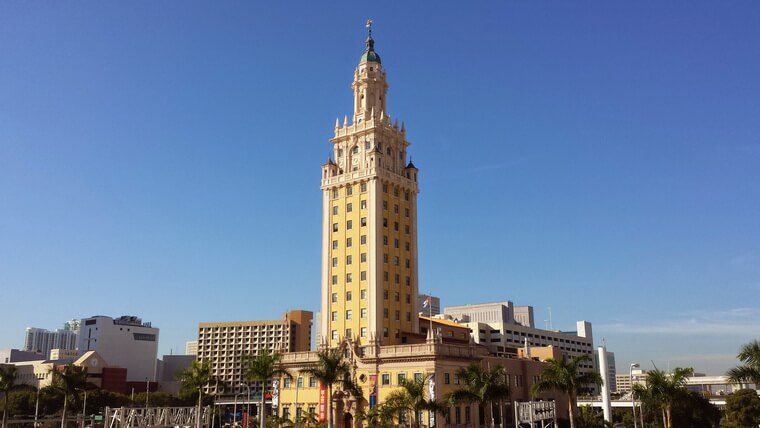 The name of the tower comes from the migrant reception center that came here in the 1960s from Cuba. Now it is a kind of tribute to the Cuban immigrants. The Freedom Tower is occasionally used as a contemporary art museum.
Miami Children's Museum
It will definitely be of interest primarily to children. It is located in a creative bright modern building.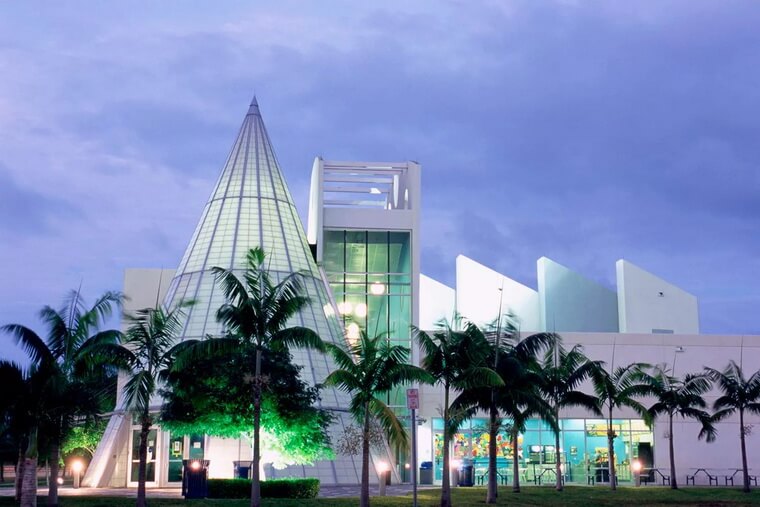 Over 5200m2 of exhibition space are educational and entertaining enough to satisfy children's curiosity and thirst for creativity. Fourteen themed galleries and four outdoor exhibits give children the opportunity to realize their many ideas.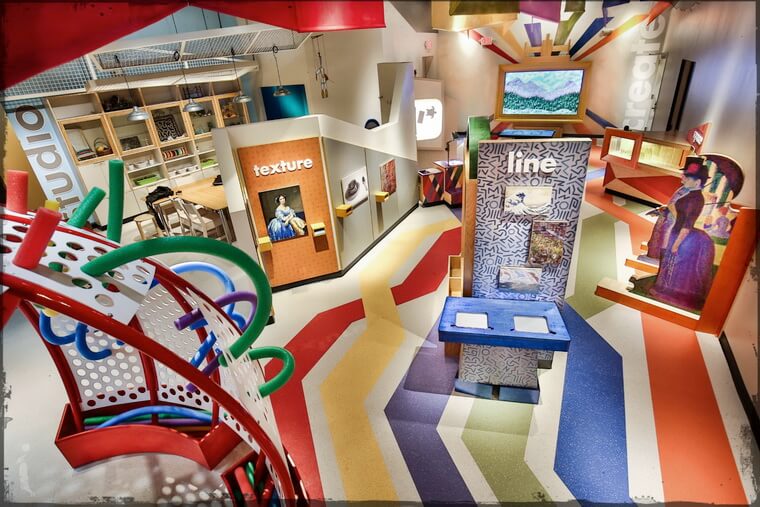 Key Biscayne and Crandon Park.
To the south, beyond Miami Beach is Key Biscayne. It's a small, cozy neighborhood with excellent beaches and beautiful parks. Crandon Park, with its coastal reef that protects the shore from big waves and is great for swimming, deserves special attention.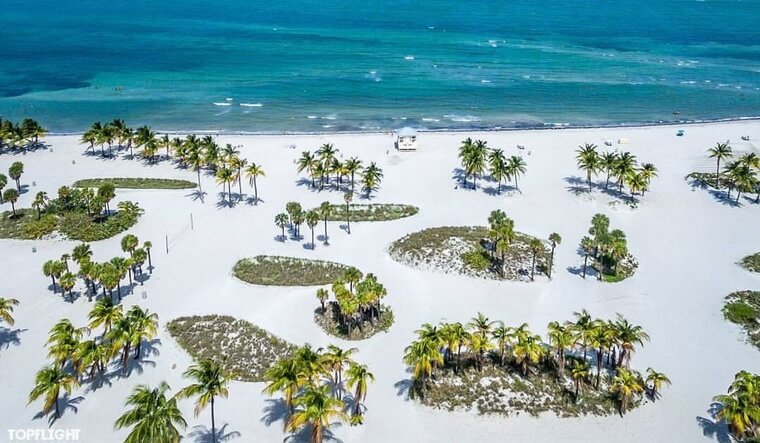 The park has a Family Fun Center, making it especially popular with families, and a Nature Center. Parking, lounge chairs and lifeguards are included.