Monkey Island. Hainan. China
Funny and mischievous, intelligent and calculating, sometimes cunning, sometimes good-natured. These adjectives can safely be attributed to monkeys, of which there are a huge number in Asia. Often these sweet creatures form groups that people simply can not ignore.
Immediately think of the Monkey Forest in Bali, heavily populated by these animals. Or Jigokudani, a snow monkey spa in Japan, where macaques bask in the geothermal waters.
China also has a similar place, proudly called Monkey Island.
Monkey Island on the map
Geographical coordinates 18.401539, 109.973944
Distance from Chinese capital Beijing is about 2470 km
Distance to the nearest Sanya Phoenix International Airport about 60 km
Let's say at once that Monkey Island is called a small peninsula that is part of Hainan Island, in the southern part of the country. Sometimes the whole of Hainan is referred to as Monkey Island. Of course, it abounds with macaques, but their maximum number per unit area accounts for a small piece of land in the southern part of the island. According to the laws of geography, this is a peninsula, but the place is called an island in order to attract more visitors.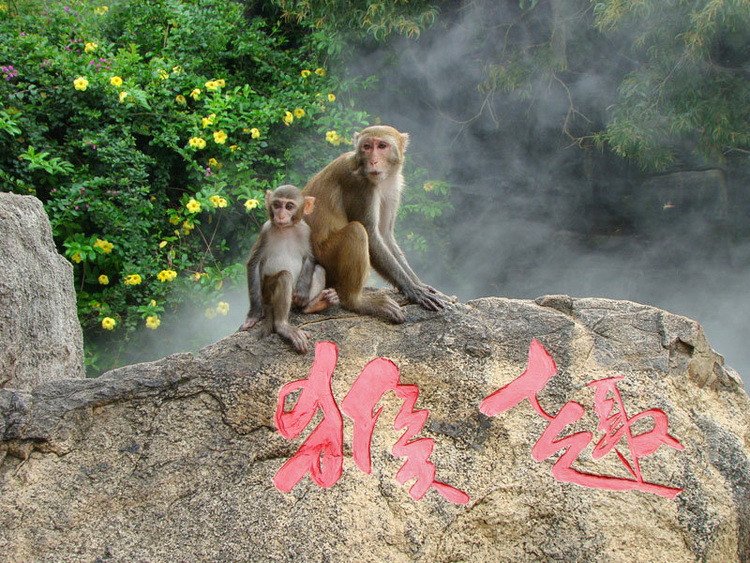 This is where Nanwan Houdao Island Ecological Scenic Spot (full original name: Nanwan Houdao Island Ecological Spot) is located. The park is covered with dense forests and mountains. There are more than 2,000 monkeys living on an area of 1,000 hectares. They live under natural conditions.
The scientists of the center observe them, their behavior and peculiarities of their life activity. There are practically no changes in the landscape, except for paths laid out specially for tourists. Go away from them is forbidden, so as not to harm the natural habitat of macaques. There is, however, a pleasant novelty for monkeys – the pool. Yes, it is a pool built for animals. In it they are free to swim and even swim in different styles. Watching the macaques is very interesting and fascinating activity.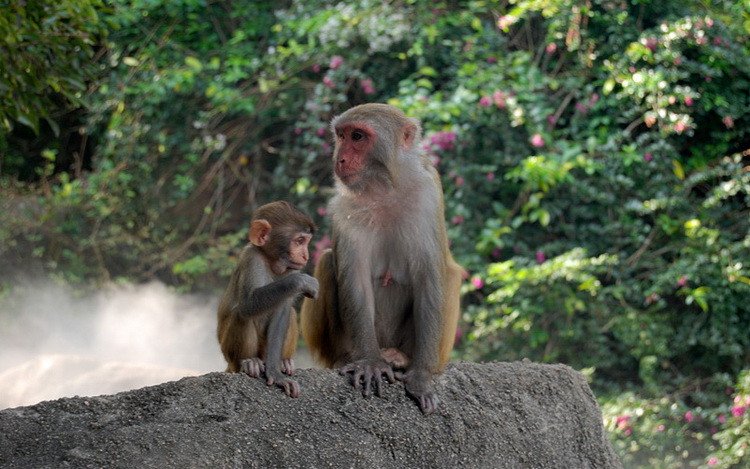 On the island of monkeys you can get as part of a tour group or on their own. There are two ways into the park – by water by boat or boat, and by air with the help of a cable car.
At the entrance to the reserve you will be greeted by monkeys with colorful flags. However, there is not a very nice moment – these monkeys are tied, and do not feel quite free, in contrast to the many of his brethren, frisky galloping nearby.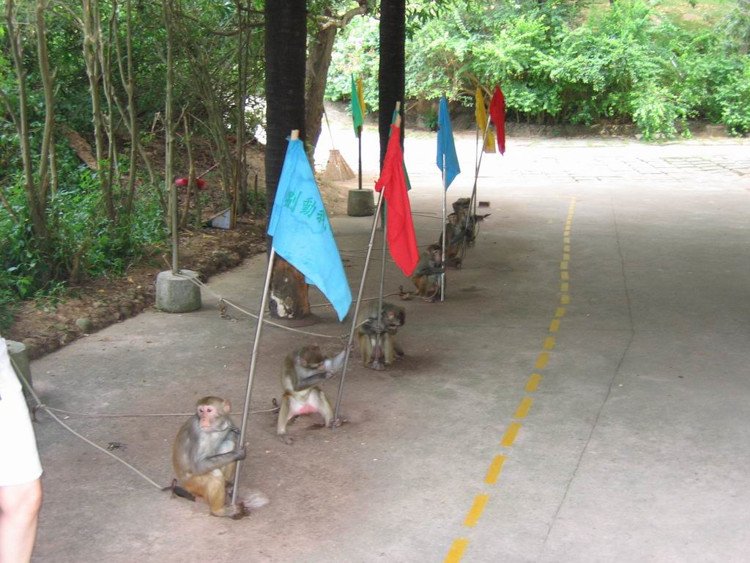 The freer monkeys are not at all afraid of humans. On the contrary, they boldly approach tourists and ask for all kinds of tasty things. But you can not feed them with the food you brought with you. All food stuff will be taken away from you at the entrance, even if you took it for yourself. If you still want to feed the animals, you can buy special food for the monkeys right in the park for a small fee.
The usual tour involves arriving at the park by cable car (by the way, it is 2,138 meters long). But before that, you will be taken to the local villages, where you will be urged to buy some terribly medicinal remedies and souvenirs of vital importance in everyday life. The way back from Monkey Island is usually by boat through the village of the "sea people. This is an interesting village, consisting entirely of boats, in which people live right on the water. You will definitely be taken to a small restaurant on the water. Its menu consists of a large number of seafood. But the smell in this place is appropriate and quite specific.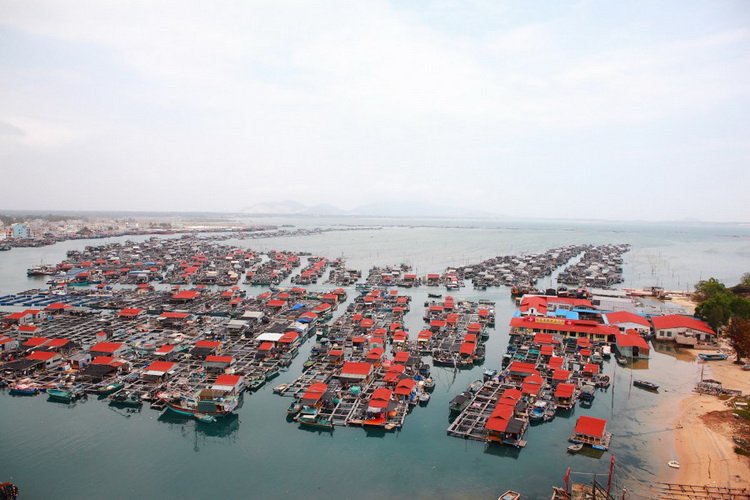 Directly in the park for visitors conducted performances. In the main roles of course monkeys. Usually there are two types of performances: theatrical and circus. They are held outdoors at different times. The park has a schedule of these events and locations. The performance arenas are just a few benches around a small area with "actors."
There is an interesting thing about these performances. There are teller birds flying around the makeshift "auditorium." No, this is not a species of feathered birds, but their work activity. As soon as you raise your hand up with a bill, a bird flies up to it and takes the money.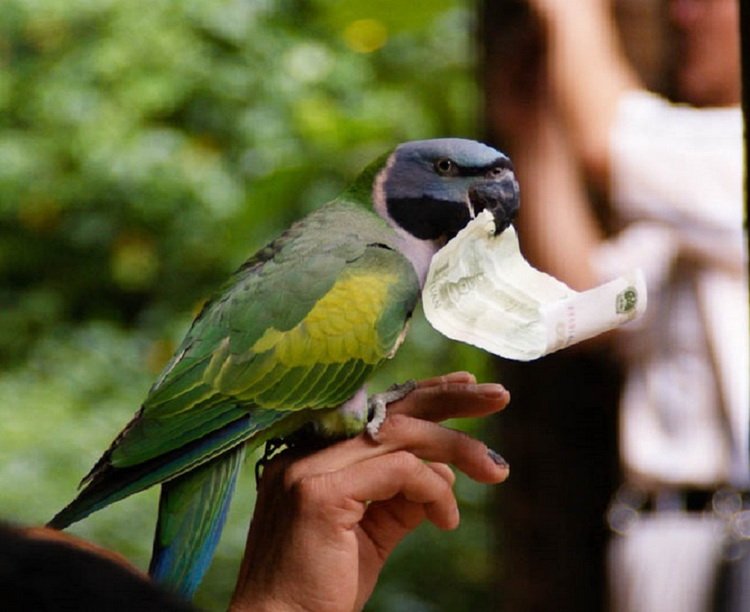 And of course on Monkey Island for a modest fee you can take the traditional macaque photos as a keepsake.
Monkey Island
Excursion to the Monkey Island in Hainan I remember often. From this trip I was left with very conflicting impressions. I can not even say what I remember more: the joy of meeting with macaques or "scary" ride on the cable car. I'm afraid of heights, so the cable car was a real challenge for me.
Mode of operation and cost of a visit
Nanwan Monkey Island is open daily from 8:00 am to 4:30 pm.
You can get to the island by cable car or by boat. One way cable car ride is 4 Euros (30 RMB), round trip is 8 Euros (60 RMB).
Usually during a group excursion, a cable car will take you to the island and a boat will take you back. "Private" boats offering transportation services from the island I have not seen, so if you go on your own, you need to take a round trip cable car ticket.
The entrance ticket costs 8.5 euros (63 yuan).
Children up to 1.20 cm – free, from 1.20 cm to 1.40 cm – 4 euros (30 yuan).
There is a comprehensive ticket, which costs 22.5 euros (163 yuan). The price includes: round-trip transportation by cable car, a visit to the monkey sanctuary and a transfer from the Linshui railway station to the cable car.
Children up to 1.20 cm free, children from 1.20 cm to 1.40 cm – 11.5 euros (83 yuan). Students and seniors over 60 years old €15.5 (¥113).
How to get there
The way to the island (actually it is a peninsula, they call it an island to lure more tourists) can be divided into two parts: first you need to go to the village Xinjun and from there you take a cable car to the Nanwan Island Reserve.
The way to Xinquan
I chose to take a group tour. First of all the reserve is quite far away, about 60 km from Sanya, secondly it seemed to me that it is difficult to get to the monkey island on my own, and thirdly I was on it without my husband and I was afraid to get lost on my own.
The tour operator's tour costs about 48 euros (350 yuan). I bought on the street in Dadunhai cheaper, for 35.5 euros (260 yuan).
Prepare in advance for the fact that on the way you will certainly be taken somewhere: a shark or snake farm, a pearl factory, a medical center or other similar place. Then they will be persistently starting to tell you how all this is vital to you, and if you do not buy something, then you will never forgive yourself. That is, the tour you'll spend more time than originally planned.
If you decide to go on your own, try this. First, you should get to the train station in Sanya, which is located in the northern part of the city.
The easiest way to get there is by cab (about 3 euros or 20-30 RMB), but you can also take bus #4, 22, 29. A bus ride will cost 1 euro (5 or 7 yuan depending on the distance).
From Sanya train station you need to take the train to Linshui city. The ticket is only sold with a passport! The cost is approximately 3 euros (18-20 yuan) and travel time is 25 minutes.
There is a Y2 bus from Linshui train station to Xinjun village, the fare is about 1 euro or 10 yuan. But the schedule is in Chinese! So it is not easy to find out what time the bus leaves. Help here is a map where you can just "point your finger" and show the place you want. Then the good people of China will do their best to help you and show or write in numbers the departure time of the bus.
I do not like this option, to be honest, did not like it, why on vacation so much trouble?
You can take a cab yourself: the first 3 km – 1 euro (8 yuan), then every kilometer for 2 yuan. The driver will take you straight to the ropeway. You should pay by the meter.
Cable Car Ride
The cable car that connects the land to the Monkey Island is China's longest over-water ride. Its length is 2,138 meters.
The cable car cabins are open because it is convenient for tourists to enjoy the scenery from a bird's eye view.
From the wind the cabin is sometimes swaying violently. The funicular rides slowly as it approaches the pinnacle tower and then quickly as it descends.
The views around, of course, just stunning: the mountains, sea, fishing village on the water, rice paddies, pearl plantations. When else will it be possible to look at it all from such a height?
The funicular ride took 10-15 minutes and finally we got to the reserve itself with monkeys.
Nianwan Sanctuary Island.
Monkey Island is a nature reserve with an area of about 1000 hectares. More than 2,000 monkeys live here in their natural environment. Scientists observe their behavior, study the animals, monitor the population of the species. It is not allowed to walk around the entire territory, many are closed to tourists. To see the animals you can walk only on special paths, and there are not many of them.
Macaques are free to walk around, where they want, splash in a specially equipped pool for them, jumping in the trees, hiding from the people in the bushes. In a word, they are the masters here. Monkeys are not afraid of people and come very close in the hope of a treat. For a small fee (not more than 1 euro) you can buy food for the animals and feed them.
At the entrance you will be greeted by monkeys holding the flags of different countries. I felt sorry for them: they were on a leash while their congeners were running around.
The tour begins with a guide in a smart suit attached to each group, who tells about the rules of conduct in the territory of the "monkeys. Be sure to follow these requirements! In my presence, a monkey bit a woman who wanted to pet a baby macaque (apparently, the female mother was so protective of her child). No matter how cute they may seem, they are animals after all. Then you can walk with a guide or walk around the reserve on your own.
Watching the animals was really very interesting. The caring females scratch the males' skins and look for fleas. Mama Macaques carry their cubs on their backs or stomachs, protecting them in every way.
Some swim in the pool, and in different styles! Some residents of the island sunbathe in the sun, sitting on a rock or near the pool, others lie in hammocks.
For me, for example, it was a discovery that the monkey peels a banana before he eats it, knows how to open a water bottle. I also saw an example of how animals obey the leader. A bunch of monkeys were running around, begging for food, and then suddenly a large male appeared, made a scary sound and all the monkeys retreated and scattered.
By the way, they put the guilty monkeys in the "prison. This is such a large cage where the animal is kept until he corrects himself.
The trained monkeys will show the tourists a free show. There are two of them: one similar to the circus, and the other theatrical. Both performances take place at different times, and there is a sign with a schedule and how to get to the show. In addition, you can ask your guide for directions and times, and he is always available to answer any questions you may have. Places in the "auditorium", which is just a stage in the open air and the benches around it, it is desirable to take in advance, or you just might not see anything.
In the circus show animals perform different tricks: walking on a rope, riding a bicycle, a pony, a goat, etc.
For 1.5 euro (10 yuan) they take a photo for your camera. There are cashier parrots flying around the "hall" collecting money. If you raise your hand with your bill, a bird will fly up to you and use its beak to collect the money.
As soon as you pay for the photo, on the trainer's command the macaques take certain places near you: one jumps on your shoulder, another on your lap, and the third one sits on the floor in front of you – now everything is ready for a good photo!
The theatrical show is more complicated. Its essence is that the monkeys make fun of their trainer. But to be funny, you have to understand what it's all about, and the animal trainer only speaks Chinese. So the only people laughing here were the Chinese.
And I also noticed that the trained animals are sometimes treated cruelly. The monkeys are collared and chained, and they are severely scolded for their misdeeds. The training is built on the total obedience of the animal to man.
There are no special cafes, where you can eat on the island. But to take food with you, too, do not advise: at the entrance it will be taken away from you, because they will think that this is food for monkeys. You can eat on the way back, in the fish village on the water.
The Way Back
If you went on the tour as part of a group, you will be taken back from the island by boat, not by cable car. We drove through the settlement on the water.
It's a whole village of houseboats where people live. The guide said that many people live like that all their lives! They marry on these boats, work, raise children, and so on, and some have never even set foot on land! Those who live on such a boat don't have to pay an expensive land tax, because their house is on the water. Naturally, their whole life and work is related to catching fish and seafood.
On the way we were taken to a local "restaurant" located somewhere between these huts. There, for a small fee, you can choose your favorite fish, which will be fished from a special cell and in a few minutes cooked as you want: boiled, fried, steamed. A whole grilled fish (similar in size to a medium-sized mackerel) costs only 3 Euros (20 RMB)!
However, the smell here is unbearable: it smells a lot like fish, mud, standing water, etc. I, at least, completely lost the desire to eat or even drink anything.