Map of Montenegro in Russian: resorts, attractions, beaches
On the tourist map of Montenegro are marked the most popular resorts, attractions, excursions and beaches of the country. About most of these places are prepared articles with relevant information.
Here are some useful features that will help you to use the map better:
1 It is more convenient to use the map if you expand it to full screen. There is a button in the upper right corner to do this.
2 If you drag the person from the bottom right corner to any point on the map, you can see it in 3D. Most resorts can even be virtually "walked around" in this way.
3 By clicking on any marker, you can go to a separate article and learn detailed information about the attractions in that place.
4 If you switch the map to the "Satellite" mode, you can find houses and roads that are not yet marked on the regular map.
We constantly replenish the map by adding new places and removing places that are no longer relevant.
Where is Montenegro?
Montenegro is located on the Balkan Peninsula. It is in Europe. It has the cleanest Adriatic Sea. Near Italy, Croatia, Serbia, Albania and Bosnia and Herzegovina.
The country is small. Its area is 13,812 km², which is three times less than just the Moscow region. To see all the major sights, driving around Montenegro up and down is realistic even for a week. Especially if you plan to rent a car and travel independently.
Montenegro is not in the European Union, tourists do not need a visa. There is no currency of its own – the euro is used here.
Different online maps of Montenegro: Our top 5
1 Google Maps. One of the most convenient and familiar maps with rich functionality. Decent detail in Montenegro, marked all the main roads.
Of the disadvantages – it does not pave walking routes without an Internet connection.
2 Yandex.Maps. Analogue of the previous maps. Subjectively, details of these maps are worse than Google Maps, but the main roads are shown correctly. The service is blocked in Ukraine.
3 Maps.me. Not bad maps, which do not require an internet connection. Not bad detail, shows observation sites and trails. Too much advertising hotels, a little disturbing.
4 Wikimapia. In some areas much more detail of the previous options, but the interface does not seem to us the most convenient.
5 Interactive map from Windy allows you to look at water temperature, waves and wind speed in real time. It also shows a very detailed weather forecast.
Navigators in the car: online and offline
Most often, in Montenegro we use usual Google Maps with previously downloaded offline maps. It is not always adequate, but on the main tourist routes there were no problems.
Even if you have mobile internet (local SIM card or DrimSim), we still recommend saving the maps offline – on some mountain roads network speed is low. Here are the instructions: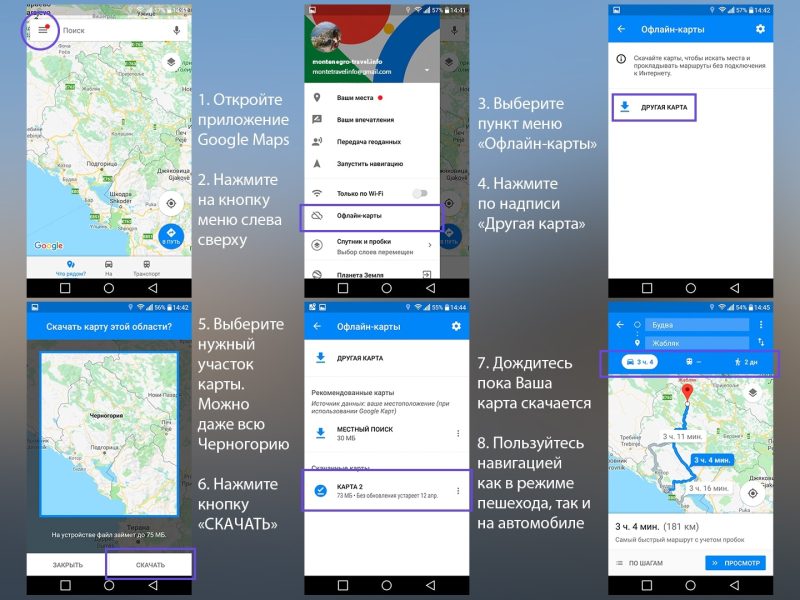 Step-by-step instructions on how to download Google maps to your phone
Many travelers prefer Maps.me. As a navigator these maps also work fine, we have no special complaints about them.
In mountainous regions, navigators don't always give us the right route. For example, once Maps.me suggested that we drive to Bosnia and Herzegovina on a terribly broken dirt track. In the beginning it was still more or less, but with each kilometer it got worse. We had to turn around.
If you see that the road is absolutely bad and in the navigator it is not marked with a bold line, it's better to look for an alternative.
Navigators for pedestrians
For hiking it is better to use Maps.me. It has the same features as other maps, but marked hiking trails and viewpoints with beautiful views.
An additional plus is that these maps do not require an Internet connection even to create walking routes. You won't have to pay extra for cell phone service.
Maps of major cities and resorts in Montenegro
Found maps of major cities and resorts in Montenegro in popular mapping services.
Hotels and apartments in Montenegro on the map
Almost all hotels and apartments in the country are rented through Booking.com. There are many accommodations from owners or with just one intermediary (few people want to bother for the sake of renting a single apartment).
Booking on Booking usually turns out more favorable than searching for offers in social networks, forums and smaller sites. The fact is that the Montenegrins speak little Russian. Beautiful girls who will tell you everything and help you to find an apartment are usually middlemen. They include in the price a percentage. Often a lot of money.
If the intermediary has direct contact with the owners, it is not so scary. Bucking also takes a small commission. But sometimes they work in a chain of 2-3 people, each include their own commission in the price. We know cases where people paid intermediaries twice as much as the actual cost of the accommodation.
As an alternative to Booking.com you can use AirBnB.ru. Here you will find only apartments. If compared with Booking, the advantage is that you can communicate with the owners, but the disadvantage is the prepayment.
You can check the prices for hotels and apartments in Budva, Becici and Rafailovichi (these are the most popular resorts in the country) with Booking.com interactive map.
It is convenient, that you can see at a glance where the hotel is, which beach is nearby and how much more expensive the first line is.
Map of Montenegro in Russian
Good maps of cities and resorts of Montenegro in Russian on the Internet are rare. Below are excellent quality maps, which can be printed out on an A4 sheet. They are taken from the English-language guide, and translated into Russian specifically for Turpotok.com.
Map of towns and villages of Montenegro
This map shows roads, railroads, national parks, major lakes, airports, main cities and some villages.
Download Montenegro map in JPEG (3300×2550, 670 Kb) or in PDF (555 Kb)
To visit Montenegrin resorts you can independently book accommodation and air tickets, or buy a package tour. The latter is more convenient to do on the website Onlinetours, which allows you to compare prices from different tour operators and choose the most suitable option.
Map of Central Montenegro
The central part of the country is the capital city Podgorica, the areas around Skadar Lake and Lovcen National Park. The map shows highways and railroads, border crossings, the highest mountain peaks, ancient monasteries and fortresses.
Map of northern Montenegro
This map covers the northern regions of Montenegro – the cities of Danilovgrad, Niksic, Berane, Rozaje, Šavnik, Žabljak, Plevlja, Bijelo Polje and some villages around them. In addition, some natural attractions are marked: the canyon of the Tara River, national parks, lakes, mountain peaks. You can also see the famous monasteries and fortresses of the region, border crossings, railway lines and highways.
Map of the Montenegrin coast
Here you can see popular resorts – Herceg Novi, Tivat, Kotor, Budva, Bar, Ulcinj, as well as border crossings, historical sites (monasteries and military fortresses), lakes, islands and mountain peaks.
Map of Montenegrin resorts
Another version of the coastal map – you can see where the main cities of the coastal part of the country are located.
The best option for traveling in Montenegro is to travel around the country by car. You can rent one in two ways:
On the Rentalcars website, which compiles offers from international rental agencies operating in the region.
With the help of Myrentacar (founded by Russians) which cooperates with local rental agencies where the prices are lower than the international ones.
Interesting tours of Montenegro can be found on this site:
Guidebooks with maps
For a trip to Montenegro, two guidebooks can be advised: Elena Jachimovic's Orange Guide and Tatiana Golovina's Walking in Montenegro. Both have good maps. Example:
From "Walking in Montenegro."
Maps in English
More or less detailed maps, which, unfortunately, are only in English.