Museum "The Lights of Moscow"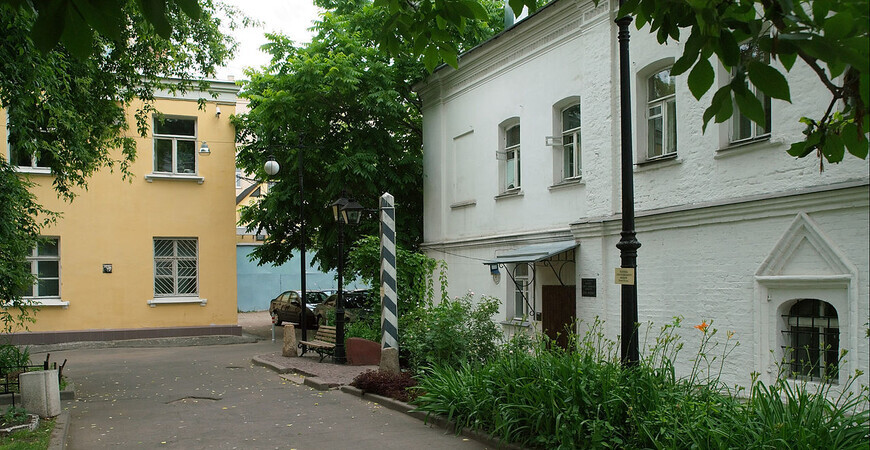 Full ticket – 250 rubles excursion + 250 rubles admission ticket. Privileged tickets (students, pensioners, schoolchildren) – 150 rubles excursion + 150 rubles admission.
Museum "Lights of Moscow" – a thematic exhibition site with a permanent exhibition devoted to the history of lighting devices. The object is located within walking distance from the historical center of Moscow – in the XVII century building in the Armenian Lane, former chambers of the boyars Protopopovs (Miloslavsky).

The Museum was established after a thematic exhibition was organized in 1980 to mark the 250th anniversary of the installation of the first street lamps in Moscow that illuminated the Kremlin, the German Quarter, Zemlyanoy, Bely and Kitay-gorod. It was a success, was widely covered in the media, aroused great public interest, but remained in the Boyars' chambers, where "Mosgorsvet" was located at the time. Yuri Apollonovich Kharkevich, who for a long time headed the electric grid company and dreamed of organizing a Museum of street lighting, played a huge role in creating the exhibition and collecting exhibits. The exhibition, which had existed for four years on a voluntary basis, got its official status in November 1984. Some museums in Moscow, such as the Polytechnical Museum, the Museum of History and Reconstruction of the City, and also the Ostankino Estate Museum helped with the creation of the museum.
Museum "Lights of Moscow": expositions
Immersion in the history of lighting the city begins even before entering the museum building. Near the front, lined up in a row, guests meet street lamps from different eras: oil, kerosene, gas and more modern – electric. You can see them in all their glory and be transported back in time for a few minutes in the evening when the lights come on.

The main exhibits of the museum are ancient lanterns and lighting devices:
an authentic candle and a matchstick;
A copy of the first lantern, made according to the original drawings;
hand and street lamps – oil, kerosene, and electric;
a variety of lamps, varying in form, design, size, and age;
Once common carriage, railway and bicycle lanterns.
A part of the exhibition is occupied by archival materials and photographs related to the history of lighting technology. In particular, there are pictures of electric lamps, created by Russian scientists-inventors P. Yablochkov and A. Lodygin in the second half of the XIX century. There are also unique drawings of lighting devices, historical drawings of old Moscow with the obligatory presence of lampposts and children's artwork on the theme "Lights of the capital".
In one of the halls you can see two incandescent lamps from the world famous brands OSRAM and PHILIPS. These first samples of gas-filled devices were accidentally found in the storerooms of the "Mosgorsvet" laboratory. There are also domestic samples made by MELZ for the Kremlin stars in 1937.

The main exhibition tells about the turning point in the history of the city, when, by order of Empress Anna Ioanovna, in 1730 they began to install lanterns in the streets of Moscow, and provides information about who lit them and how. Various stands and exhibits detail the stages of development of street lighting, beginning with cast-iron lanterns hung from low posts and filled with hemp oil, and later with kerosene lanterns in the mid-19th century, capable of covering a much wider light radius. A little later, gas lanterns appeared, and closer to the 19th century Muscovites saw what electric light could give the streets. But this was only the beginning of progress. The most interesting history of further development is vividly presented in the exhibition fund of the "Lights of Moscow" museum.
One of the expositions is dedicated to electric Christmas lights, present here in the form of balloons, bells, snowmen and Santa Clauses, stars, snowflakes and crescents. Children look at them with enthusiasm, and adults plunge into childhood memories of Christmas holidays. There are stands where you can see collections of candles, candlesticks and candelabrums, as well as an exhibition of matches, matchboxes and labels, called "Fire in your pocket. A separate room of the museum is devoted to a very interesting collection of electric clocks. Of course, most of the exhibits are accompanied by descriptions.

An interactive area has been organized for children in the "Lights of Moscow" – with exhibits that you can touch, light and take in your hands. Children get fire, travel to the past of a light bulb, visit an old street lamp. Classes are exciting and leave a lot of impressions, which you want to share with friends.
Coming to this museum, many visitors note that they get into a fabulous atmosphere of the old town, with its legends and history, learn about the most curious facts and for a while find themselves in another world. Interest is aroused not only by antique lighting equipment, but also by modern exhibits, centralized control systems, light camouflage and much more.
Excursions in the "Lights of Moscow" museum
The institution offers tours of different format and duration. Employees uncover secrets, tell legends and amazing stories in an overview tour of the museum halls. They introduce expositions, the history of lighting in Moscow and innovations in lighting technology. The duration of a standard tour is 1 hour, and a shortened tour – 30 minutes.

Evening tours allow you to see how the streets looked like in different eras in the light of lanterns. Participants in the group travel through the streets of Moscow accompanied by guides and listen to their fascinating stories. Walks with hand-held candle lanterns, shrouded in romance and mystery, are especially popular.
The museum offers visitors a number of thematic walking tours, during which one can find out what happened in Moscow in 1812 and during the Great Patriotic War, and what lampposts, hatches, house signs, and facade sculptures can tell about the history of the city. Walks along the Armenian Lane are interesting and informative.
Bus tours are taken through evening Moscow, and with an optional trip to the Moscow suburbs.
Events
The museum participates in the majority of large-scale thematic events and actions, including becoming one of the sites of Museum Night, Biblionochi, etc.

At the master-classes they offer to make with their own hands:
make a candle lantern;
paint the candles with acrylic paints;
make scented candles out of beeswax.
Interactive lessons in an exciting game form introduce students to the objects of ancient life and traditions, the nature and properties of light beams, archaeological findings related to fire production, inventors and much more. The stories are accompanied by experiments and demonstration of various effects. No less interesting are interactive quizzes, during which movies are shown, phonograms are played and unusual prizes are given. Schoolchildren virtually travel to a time when their grandparents, at a young age, made telephones out of matchboxes, listened to "Pioneer Zorka" and wrote with fountain pens, dipping them into inkwells.
During vacations and holidays, the museum holds entertaining events – candlelight ball, New Year's and Christmas programs with stories about ancient rituals. Chinese New Year, Shrovetide with pancakes and tea and Easter events are not left aside.

Children can celebrate their birthdays in the company of friends, junior high school graduates – celebrate the transition to high school, parents – remember their childhood, taking part with their kids in the street game "Robber Cossacks," and teenagers – test their intuition and attention in the quest-travel.
Opening Hours
You can visit the unique exhibition every day from 10:00 to 18:00. On Thursday and Saturday the museum is open from 12:00 to 20:00, on Sunday from 12:00 to 22:00.
Tours of the museum exhibition are:
Thursday at 7 p.m;
Saturday – at 13:00 and 19:00;
On Sunday – at 13:00.
Walking tours are organized only during the warm season. You can find out about the time and dates on the official website of the museum "The Lights of Moscow," by phone or email (data are at the top of this article).

Ticket prices in "The Lights of Moscow"
The cost of visiting the museum is 250 rubles. There are discounts for pupils, students and people of retirement age. They can buy a ticket for 150 rubles.
The price of the tour depends on its duration, subject matter and language features:
one-hour introductory – 3000 rubles + entrance tickets (for a group of up to 25 people);
a half-hour sightseeing tour – 1500 rubles + entrance tickets (for a group of up to 25 people);
an hour in English – 4000 rubles for students of special schools and 5000 rubles for foreign guests + entrance tickets;
hour evening – 3500 rubles + entrance tickets (by preliminary order);
bus – from 16000 rubles for groups up to 40 people.

Master-classes are paid separately. They cost 100-300 rubles.
Interactive classes for schoolchildren are held in groups of 8-25 people, depending on the subject. Prices range from 2000 to 9000 rubles.
Birthdays at the Museum "Lights of Moscow" can be celebrated for 10000-12500 rubles (group up to 12 participants). Outside classes cost from 5000 rubles, with discounts when ordering from 2 to 4 classes at one institution.
Cost of game "yard" programs and quests is 5000 and 3000 rubles respectively.
Detailed price for excursions and activities can be found on the official museum website.

How to get to the Museum "Lights of Moscow
By subway you can go to the station "Lubyanka", then – on foot along Myasnitskaya Street, turn to Krivokolenny Lane, then to Armyansky Lane. Go a little further from "Turgenevskaya", "Sretensky Boulevard", "Chistye Prudy" stations, located on the opposite side of Myasnitskaya Street, or from "Kitay-gorod" station on Maroseyka Street.
The nearest bus stops are:
– No. n15, c633; – No. m3, H3, m3k.
In Moscow there are mobile cab applications Uber, Gett, Maxim, Yandex.Taxi.
"Lights of Moscow" – a museum where the exhibits glow
Night, street, lantern… – from this point, perhaps, a little more detail.
In 1980, a museum dedicated to lighting devices – "Lights of Moscow" – was founded. It is a true guardian of history and is located on Armyanskiy Lane and features unusual lighting exhibits. It was born after an exhibition dedicated to the lighting fixtures of Moscow.
The exterior of the "Lights of Moscow" museum
The museum is housed in a building which is a historical monument – the white stone chambers of the Protopopovs, an ancient residence of the Miloslavsky family from the 17th century. In 1980 a large-scale exhibition of lighting devices was held there, which was such a success that it was decided to keep the exhibition items and organize a new museum.
Exhibits
"Lights of Moscow" is considered one of the most amazing museums of the capital . Even before entering, the visitor has a wonderful view of the old devices for street lighting in Moscow – kerosene and oil lanterns. One can visit four halls, in which all sorts of exhibits are on display. The collection of photographs of Moscow at night is also extremely popular. And of particular interest is the hall with a unique collection of electronic clocks.
There are a lot of printed materials in the museum that tell the history of various lighting devices, provide their drawings and data regarding the history of the city. In the vaulted hall with white-stone walls, you can look at the real incense . There are unusual lighting fixtures of all kinds of shapes and sizes in the museum.
There is even a model of a modern control panel, which regulates the lighting of the streets of the capital. One of the most interesting sections is the lighting laboratory.
Achievements of the museum
Vladimir Potanin's charity foundation holds an annual contest "A changing museum in a changing world". And "The Lights of Moscow" has repeatedly won the leading position. It also got in the list of the best cultural and educational places in the capital (according to Afisha magazine in 2012). This museum is worth visiting for everyone who loves not only history, but is also interested in everything unusual.
Cultural program
The museum offers many extraordinary excursions that will please both kids and adult visitors. For example, an excursion at the exposition "Lights of Moscow" – in this program the history of lighting of the capital – the whole long way from a lighter to ultra-modern electronic lanterns, and the achievements of technology and science are revealed in detail.
The uniqueness of this excursion is that it is held for Russian-speaking visitors – in Russian, and for foreigners – in English. The tour lasts for an hour.
Thematic reviews are carried out within the walls of the museum: historical information about the organization of illumination of the Moscow Kremlin, the moment of coronation and festive events.
There are walking tours, the approximate duration of which is 1-1.5 hours. You can choose one of three directions for such an event:
"Armenian Lane" is a historical place with many landmarks;
"Moscow of 1812" – a thematic walk that takes place along the historically significant alleys of the capital;
A unique educational walk with hand lanterns, which is organized by the museum after sunset.
An interesting excursion of the museum is the tour "From the Lantern" – an experienced guide tells not only about the lanterns, but about their location, about the entertaining elements of this historical place – monuments, plaques and similar city "trifles". Such tour lasts about 2 hours, and it can be visited by adults and children over 14 years. The museum offers umbrellas for visitors during the walking tour in rainy weather.
Bus tours are of two types – "The Lights of Moscow" with an additional tour in the museum building, which takes about 5 hours, or a trip without a visit to the museum lasting about 2 hours.
Museum "Lights of Moscow" is not the only interactive museum, which will be of interest not only to adults, but also to children. The Temporary Polytechnic Museum at VDNKh is one of the best places where you can have a fun and informative time.

You want to learn the history of evolution, look at exhibits from "ancient times", and participate in interactive programs. Among the many "living" museums, don't miss the State Darwin Museum. Read more about it here.
Reasons to visit the "Lights of Moscow" Museum
The main difference between the museum and other cultural and educational institutions is the variety of expositions – simple and familiar things like lanterns and lamps take on a new meaning. Interesting and numerous interactive classes in the walls of the museum and fascinating excursions, very popular nowadays. There are classes for schoolchildren, you can even organize a birthday party for children of different ages!
Interactive tours are designed for a wide variety of audiences: for example, the program "Visiting a street lamp" is suitable for little ones. For example, the program "Visiting the street lamp", which tells about ancient everyday life and offers to take part in the ancient life, is suitable for kids. There are also educational activities for children called "What is light? where kids will have to conduct real experiments and find out where light comes from.
For those who like to have fun there are holiday events such as "Historical Disco", "New Year Traditions", "Oriental New Year" and "Shrovetide". At such interactive events kids can go to a real ball, visit interesting workshops and try out a variety of themed entertainment.
Photos of museum exhibits
Special programs
A very attractive service of the museum is holding a birthday party within the walls of this wonderful building. There are 3 programs for young birthday boys:
"Lights for the Hedgehog" – a congratulatory program for the youngest visitors of the museum from 3 years old.
"As on your name day" – a program for birthday kids from 7 years old, which includes a tour, an interactive "Historical Disco" program, as well as wonderful master classes.
"Renaissance" – a program for older children – from 10 years old, which includes a fascinating study of the history of the Renaissance, a real carnival and many master classes.
Such an unusual Birthday will stay in your child's memory forever!
A birthday party at the Museum "Lights of Moscow" is not the only place where you can celebrate this wonderful event. The Museum of Animation at the All-Russian Exhibition Center, also provides programs to celebrate birthdays. If your child loves Soviet cartoons, be sure to take him or her there.

Does your child like to play dolls and has a birthday coming up? Then it will be a real gift for him if you visit with him a doll's house of Olga Okudzhava. After all, this is the museum that will allow your child to truly celebrate their holiday. Find out more details in this article.
Mode of operation
In the museum "Lights of Moscow" can be accessed daily from 11 am to 6 pm . But for guided tours and thematic activities are required to leave an application in advance. There are special programs for visitors from September to May, which are held twice a week.
How to get to the museum
The museum is located at the address: 3, Armyansky lane, as a guide is the Armenian embassy building opposite. The closest metro stations are: Lubyanka, Kitay-gorod, Chistye Prudy, Turgenevskaya.
Phone: (495) 624-73-74. At this number visitors can leave a request for a tour or request the necessary information.
Not far from the museum building there are many historical sites:
An early 19th-century architectural monument, the Armenian Embassy, which was formerly the Institute of Oriental Languages.
The house of F.I. Tyutchev, the famous poet.
The Embassy of the Republic of Belarus, the former home of P. Rumyantsev-Zadunaisky.
Visiting prices
The ticket to the museum for an adult will cost 70 rubles, and for the privileged category of people (pensioners, schoolchildren, students) – 30 rubles. The cost of the tours, interactive and festive programs starts from 150 rubles per person. Admission to the museum for preschoolers is free. Video-syllable about the Museum "Lights of Moscow