Got a ticket? Welcome to museums with unreal exhibits
There are so many different kinds of museums in the world that it can take hours to list them. For example the Tretyakov Gallery, the Louvre or the Cairo Museum, but that's all, we can say, traditionalism, and there are also centers where the rarest cars, weapons of all kinds and eras, contemporary art, etc. are exhibited. All this we are accustomed to, but there are some that make us doubt the reality or authenticity of the exhibits. About two such unusual museums and we will tell in today's article.
Museum of Lies in Küritz
Every museum strives to have as many ancient, ancient, and most importantly authentic artifacts in its exhibits as possible. This is not the case of the Lügenmuseum (lie museum) located in the town of Küritz, Germany. Its motto is "Traue deinen Augen nicht" (Don't believe your eyes) and right at the entrance is the first little deception. You are offered a healthy drink that makes you feel young forever, but it's just tea.
When you approach the Museum of Lies you might have an impression that the building is 200 years old, but it is just an illusion, because in fact it was built just a few years ago. The old look of the building was given by means of artificial aging, and on the walls, on the outer side, there are paintings of different artistic directions. It is therefore worth lingering in front of the building and taking a close look at it, because in the past the director of the museum, Reinhard Zabka, was a famous German artist. He believes that there is a very thin, almost elusive line between truth and falsehood, and so it is often difficult to know what is mediocre and what is truly valuable. This is what the artist has dedicated his Museum of Lies to. And in fact, the museum building is only a few years old PHOTO: onetwotrip.com
The museum has 10 exhibition rooms, each of which is stuffed to the brim with different and unusual exhibits. For example, visitors are offered a mop supposedly belonging to Stalin's father, a broom witch, a magic carpet Aladdin, a toy airplane, which was played as a child of former German Chancellor Widley Brandt and even a mustache of Adolf Hitler. You can also see the severed ear of the famous painter Vincent Van Gogh, a vintage radio from the sinking of the Titanic, the mummy of Bishop Havel as a cat and much more. In this respect, Tsabka's imagination is inexhaustible. The owner of the amazing Lie Museum himself tells his guests a beautiful legend, which says most of the exhibits were given to him by Emma von Hohenbyuss, great granddaughter of Baron Munchausen, the most truthful person on earth. Aladdin's real magic carpet PHOTO: gum1788tn.mskobr.ru
Each exhibit at the Museum of Lies is accompanied by a warning sign with an inscription stating that everything on display may not be real. However, whether the items on display are true or false is up to visitors to decide for themselves. As exhibit owner Reinhard Zabka says, there are many things in the world that have value to some and are just useless junk to others. Van Gogh's severed ear PHOTO: media.lrytas.lt
Some visitors are completely disappointed in the Museum of Lies, considering the exhibits useless garbage, the idea of creating such an exhibition a delusion, and the owner – eccentric and crazy. However, there is a different opinion and that is why the exhibition is very popular among tourists.
Background information
The Lie Museum is located in Germany at Am Anger 1, 16866 Kyritz. Opening hours: Saturdays, Sundays and holidays from 1:00 to 18:00, weekdays and mornings on request with a group of 8 people or more. Adult ticket € 5, children under 12 € 2, guided tours € 47.
Museum of Vision Deception in Seoul
In today's world almost no one is surprised by various illusions, but only until you find yourself in Seoul's Trickeye Museum. This is a completely new exhibition format, where the Augmented Reality (AR) effect is applied to all exhibits. Thanks to this, visitors to the museum have the unique opportunity to become a direct part of each installation or work of art. To do this, simply download the proprietary Trickeye application before entering the active part of the exhibition. With its help you can not only see the AR effect, but even take a photo or record a video on your smartphone. And the girls of the same height walked into the room PHOTO: clarsmisadventures.com
The museum has several galleries with different themes. In them, visitors have the opportunity to take a closer look at the exhibits. Unlike other museums that prohibit touching or photographing paintings or sculptures, the Trickeye Museum only encourages this on the condition that you interact with the exhibits as creatively as possible. So if you avoid being photographed or don't like fooling around, then bypass this museum, but everyone else, especially children, have a great time here.
The museum has a series of deceptive canvases and optical sculptures for interactive participation. You can smack a boy with an oar, hold John the Baptist's head in your hands, be impaled on a horseman's spear, and do many other unusual and eccentric things. And you can pour a nobleman a glass of wine, ride a gondola in Venice, or help a sushi man manage a huge salmon nigiri.
The guys will soon drain all the water from the sea PHOTO: enjoykorea.ru
The Museum of Vision Deception or Illusions is currently the first and only one who has used the Augmented Reality (AR) effect for entertainment purposes and with such a scope. A special application was specially developed for this purpose.
Background information
Trickeye Museum is located at Seoul, Mapo-gu, Hongik-ro-3-gil, 20, tel. +82-2-3144-7748. the museum is open daily from 09:00 to 21:00, with the last launch at 20:00. the official website is trickeye.com/seoul.
This article uses images from publicly available online sources and photobanks without attribution and is licensed for commercial use under a CC0 Creative Commons license .
If you liked our story or want to contact the author of the article, leave a comment on the publication, and he will surely answer you. Maybe you want to tell about your travel discoveries, our online travel guide readers will be very interested to know what you have seen and what you found interesting! Leave comments, ask questions, tell about your travel experiences, suggest topics for new reviews and articles!
For those who want to read our news in the mobile version, quickly follow the publications, subscribe to our channel in Yandex-Dzen
Andrey Kashirsky
I prefer the forest to the sea. There is nothing better than waking up early in the morning in a tent surrounded by pine trees and drowning in the pine-scented air. I also love "silent hunting" and hiking in the city. Even though I know my own city inside out, I always discover something new.
Museum of Lies – an inheritance from the great-granddaughter of Baron Münenhausen
The motto of this unusual museum, which is located in the German city of Küritz: "Do not believe your eyes. This humorous warning very accurately characterizes the concept of the entire Lie Museum. The exhibits presented here are not what they seem at first glance.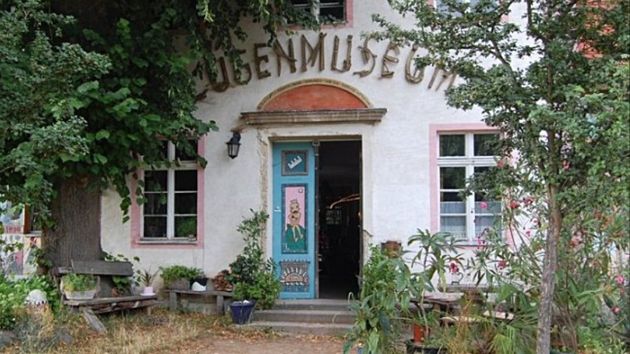 For some, they are just fakes and ordinary junk, while others see in all this diversity original thinking, a sense of humor and real creativity. In any case, the Museum of Lies is the only one of its kind in all of Europe.
When tourists first approach the Museum, they have an impression as if the house has been standing here for a hundred or maybe even two hundred years. But even this first impression is deceptive, because it was built less than ten years ago.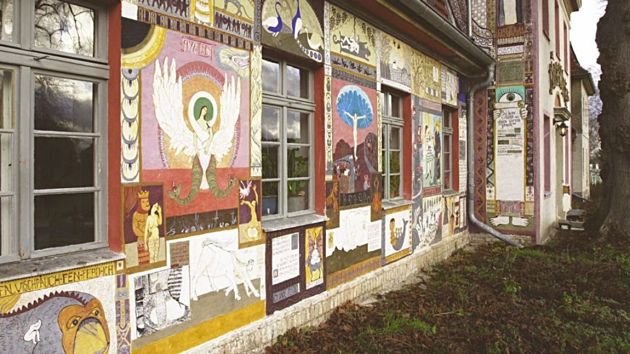 And the old look of the building is the first exhibit. This look was given to the building only thanks to the methods of artificial aging. The walls of the Museum are painted with pictures, reflecting different directions in art.
So at first one should not hurry to get inside, but carefully examine the exterior of the building. The director of the Museum of Lies is Reinhard Zapka, a famous German artist in the past. He believes that in art, as everywhere else in general, the line between lie and truth is very thin, almost invisible.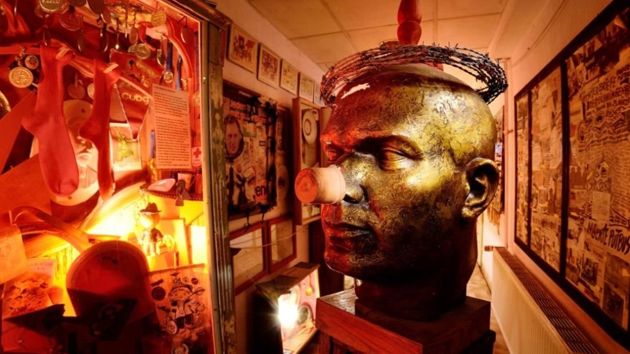 Therefore, it is sometimes difficult to understand what is truly great value and what is mediocre. These philosophical meditations Tsapka devoted his Museum of Lies.
In the house there are 10 rooms, each of which is crammed with a variety of exhibits. Among them, tourists' attention is presented to a mop that may well have once belonged to Stalin's father, or an airplane, made in his childhood by the hands of German Chancellor Widley Brandt.
And then there's the witch's broom, Hitler's false mustache, the flying carpet, objects from the sinking of the Titanic, and even the earlobe of the famous painter Van Gogh, which he himself cut off.
The owner of all this museum "good stuff" himself tells the visitors a beautiful legend that he inherited the exhibits from the great-granddaughter of not just anyone, but Baron Munchhausen himself. Apparently, this is a "control shot" in case anyone believes the exhibits are authentic.
There is a warning inscription next to each item in the Museum of Lies exhibition. It informs tourists that everything here can be fake. But the final decision as to whether the exhibits are true or false is still up to the visitor.
Because, as Reinhard Zapka says, much that was once valuable to some, becomes absolute garbage to others. And he considers art an eternal illusion.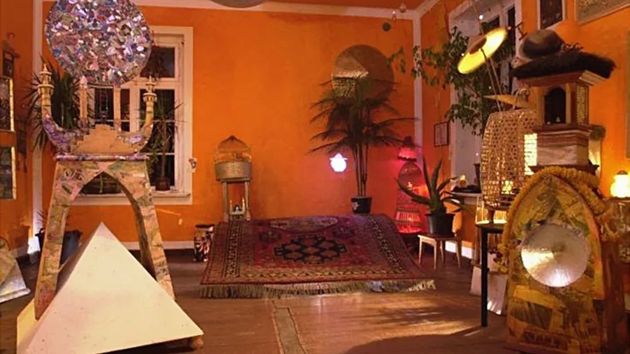 No wonder his author and owner calls this museum "the most truthful" of all other museums. Some visitors, however, are completely disappointed. They consider the exhibits to be ordinary trash, and the owner to be a madman.
Nevertheless, the museum is popular with tourists. Perhaps it is because the original and even unexpected exhibits here break the stereotype that museums are always tedious and not interesting enough.