Record holder for weird questions to applicants: what's special about Oxford
Oxford University today is known for its long history, high educational standards, and legendary prestige around the world. But how much do we know about this oldest university? What do oxen and cows have to do with it? Who has the right to wear blue jackets at Oxford? And what tricky questions do applicants sometimes ask?
What do oxen have to do with it?
Let's start with the fact that Oxford is a truly unique historical institution. It takes its name from the English town with a corresponding name, which is not at all poetically translated into Russian as "ox's ford". According to the legend, the travelers, who gave this place its name, saw a herd of cows during their visit, which gave the city its name. It is hard to believe how such a small town gave birth to the greatest English university, which today is known even to a child.
Every cloud has a silver lining.
Scientists usually trace the history of Oxford since 912: this is the year of the first record of the city in chronicles. It is known that a monastery existed in the area, and its leaders planned to build an institution where the local priests could receive a decent education. Historians confirm that some form of education in Oxford was already taking place in 1096.
And in 1167, Henry II's ban on English students studying at the Sorbonne forced them to return home and settle in Oxford. It was this event that was the catalyst for the further development of Oxford. Soon foreign students – Scots, Irish, and Welsh – began to arrive in the city for education.
In XIII century, against the background of conflicts between students and townspeople and street riots caused by them, the first dormitories were established. And less than a hundred years later the university acquired the highest position among other educational institutions and was approved by popes, kings and scholars because of its antiquity and peculiarities of the educational process.
In 1355 King Edward III in his speech thanked Oxford for its gifted graduates who served their country faithfully.
In 1878, Oxford introduced academic classrooms for women, but the teaching was separate. It was not until 1974 (!) that all five men's colleges recognized women's rights, changing their charters and thus making the abolition of segregation possible.
Interesting Facts
"Custody in the Oxford way. It was at this university that tutoring was first introduced as a form of education. This innovation, adopted in the XII century, stuck and still is a distinctive feature of the University: each student has a tutor – an ace mentor who helps his mentee in his professional development.
Either you are with us or against us! There is a prohibition for an applicant to apply to both Oxford and Cambridge at the same time. There is a tuition fee, the price depends on the chosen specialty.
The main thing is to dazzle the applicant. It is now common practice for many institutions of higher learning to conduct personal interviews with applicants. However, it is Oxford that is famous for its legendary ability to ask unexpected questions. Tricky, provocative, and partly bizarre questions pour out of the horn of plenty, and the applicant may be asked about anything. For example: "What can you tell me about. a. banana!"
Blue jackets are allowed to be worn by those students who have made their university famous in any sport at a high level.
Under Guard. Another curious fact is that up until 2003 Oxford had its own police force (like Cambridge), whose duties included maintaining order on campuses. Now this service has been disbanded, but Cambridge still has it.
Nothing is clear, but it is very orderly and solemn. One part of the graduation ceremony is in Latin. True, most students do not know this dead language, but it gives the last day of their stay in the University some medieval solemnity and a feeling of involvement in the ancient history of the University.
Oxford is rightly the landmark of England and its pride. It is the center of education and science, creativity and sports. This is how a true university should be: loyal to its history and traditions, but at the same time full of young people, wishing to change this world for the better. After all, new ideas and new discoveries often originate here, in the minds of students sitting in the classrooms of the oldest university.
Join our community on Telegram, we are more than 1 million people
Top 10 interesting facts about Oxford University that you didn't know
Oxford University is one of the greatest universities in the world, topping the world rankings in 2017, 2018, 2019, and 2020. It is also one of the most popular, with the university receiving five applications per seat.
Yet despite its notoriety, many of us don't really know how this university functions. Its history, traditions, and achievements are still a mystery, and some of the widely believed things about Oxford are actually false.
Get ready for an interesting amount of information: today we're going to take a crash course in the facts about Oxford.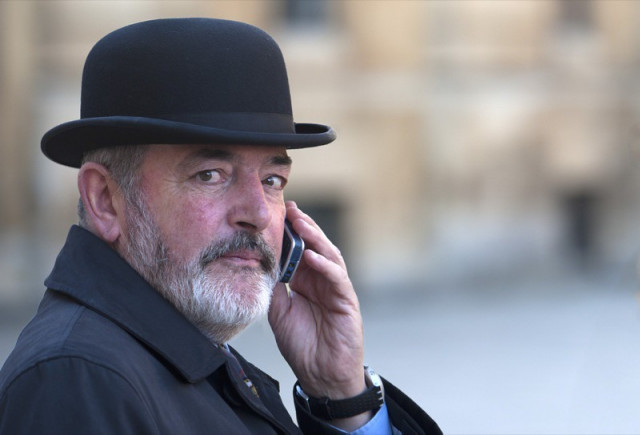 10. Until 2003, Oxford University had its own police force Photo: Flickr
Until some time ago, crime in Oxford was fought by the university's own police force. Police officers, fondly called "bulldogs," had served here since 1829, making these police units some of the oldest in Britain.
Not only did they keep the university in order-they also took parental care of the students. Until the 1940s they actually had the same authority over students as parents or guardians.
In 2003, after a complaint from a member of the public, this unique Oxford feature was abolished. The university decided that it would be too expensive to retrain the Bulldogs according to modern standards, so they lost their status as police officers.
However, they did not disappear altogether. They are now known as Proctors or Proctors' Officers and still monitor student discipline, but they can no longer arrest people.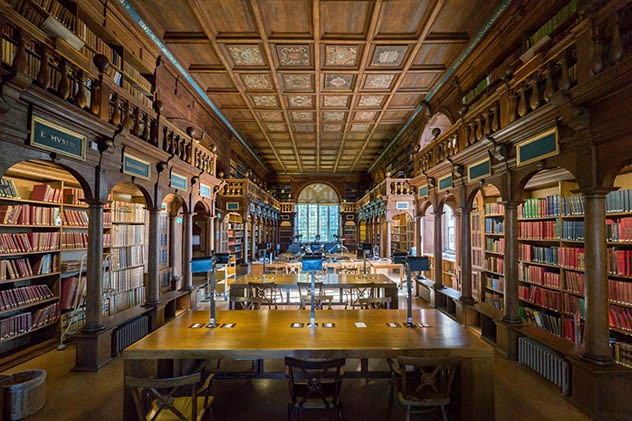 9. You can't light a fire in the Bodleian Library Photo: listverse.com
There are more than 100 libraries in Oxford, but the most famous of them is the Bodleian Library or Bodleian Library. Founded in 1602, it is one of the oldest in Europe. As such, it has a number of strange traditions.
The most important is the Bodleian Library's declaration, which everyone must accept before entering. Normally it must be said out loud, but today's students can simply sign the document instead. Visitors to the library who are not university students must still say the declaration out loud, and Oxford has translated it into more than 100 languages so that people can say it in their own language.
All visitors must promise not to deface or take away books, not to smoke, not to violate library rules, and "not to bring into the library or kindle fire or flames in its premises. Today we have no need for this because of electric lighting, but in the past, when the only source of light was a candle or lantern, this could cause much inconvenience to students.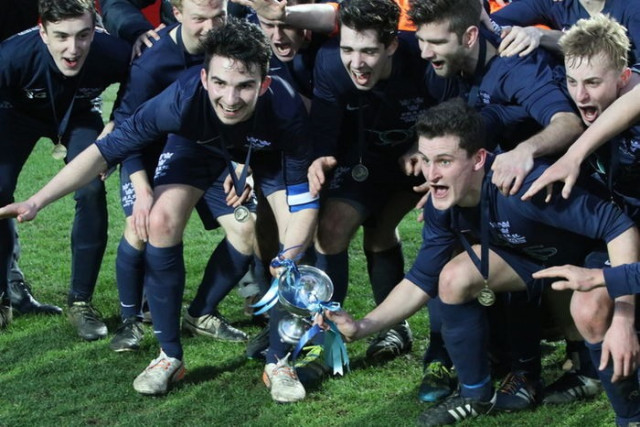 8. The name of soccer, soccer, was invented in Oxford.
Soccer is one of the most popular sports on the planet; over 200 million players play it. It was given its name in the 1860s to distinguish it from many other ball games played at the time. In most English-speaking countries, the sport is still known as "football," but in America it is called "soccer" not to be confused with American soccer. Because of this, many people think that the word "soccer" is Americanism. It is not.
In Victorian times, Oxford students began adding "-er" to the end of words to form slang terms like "rugger" for rugby, "brekker" for breakfast, and "bonner" for bonfire. For them, soccer was either "footer" or "soccer. These slang terms spread across the country and eventually the world as the sport grew in popularity. American athletes began to use Oxford slang, though no one knows why.
Today the British can't stand the word "soccer" because they think it is something American, when in fact the word comes from Oxford.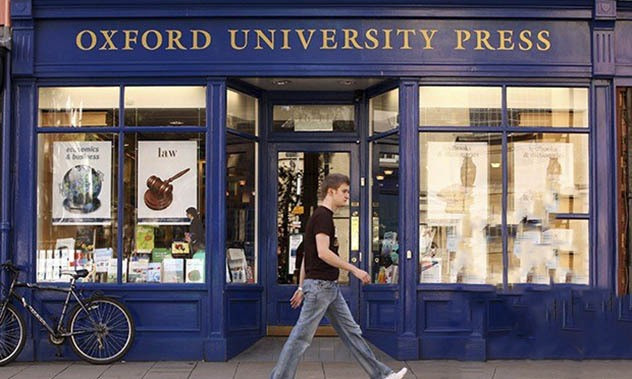 7. Not the oldest university publishing house photo: listverse.com
There are quite a few university publishers, but none as large and famous as Oxford University Press. The publisher, run by 15 scholars (who are not in business) chosen by the vice chancellor, employs thousands of people and sells books all over the planet. The publisher has offices in more than 50 countries. Its first office outside Britain was built in New York City in the late 1800s. Needless to say, it is one of the largest university publishers in the world and certainly one of the best known.
But despite popular belief, Oxford University Press is not the oldest in the world. That title belongs to Cambridge University Press, though many still argue about it. Oxford printed its first book in 1478, just a couple of years after the first printing press arrived in England. In doing so, it was decades ahead of Cambridge, but Oxford was not entirely devoted to publishing, and books were published only occasionally. Oxford received royal sanction in 1586, much later than Cambridge, which received it in 1534.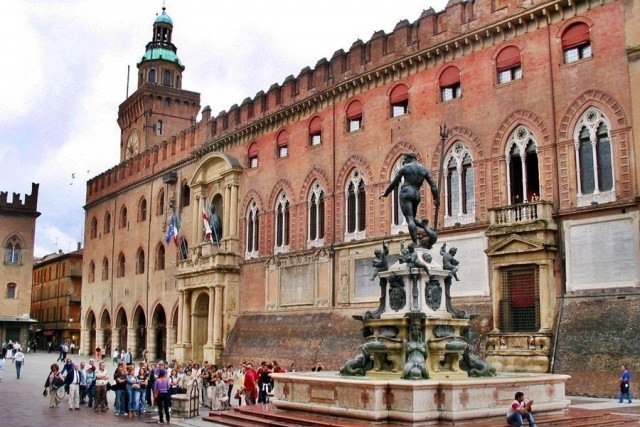 6. Not the oldest university in the world photo: listverse.com
Another misconception: Oxford is famous for being the oldest university in the world. That's one of the things that attracts potential students from all over the world, especially from noble families: the opportunity to study where it all began. The most legitimate and credible qualification you can get is recognition as the oldest institution in the world. But that's not true.
Oxford is the second oldest university in the world, which is not that far from the truth. The really oldest university in the world is not so widely known: it is the University of Bologna in Italy (pictured). It is also the first place to use the Latin word "universitas" (translated as "totality, community") in reference to its students and faculty.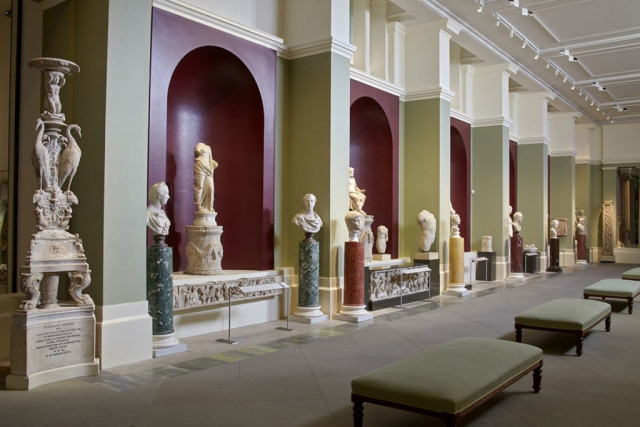 5. The world's first public museum photo: listverse.com
The model for any modern museum is a single museum – Oxford's Ashmolean Museum, which was built in 1683.
It was a credit to the great English thinker Elias Ashmole, who just a few years earlier had given the museum his enormous collection of artifacts, books and other important objects, including the world's first identified dinosaur bone. It took 26 huge trunks to move it all from London to Oxford. The museum became the world's first public museum.
Elias Ashmole drafted 18 charters that outlined how to run the museum, including the promise of an annual audit, cataloguing all the objects, and having a board of governors to run it all. These charters laid the foundation for the way modern museums around the world operate.
For Ashmole himself, however, this experiment seems to have proved a disappointment. Just three years later, he left his position at the museum because he was not satisfied with the pay.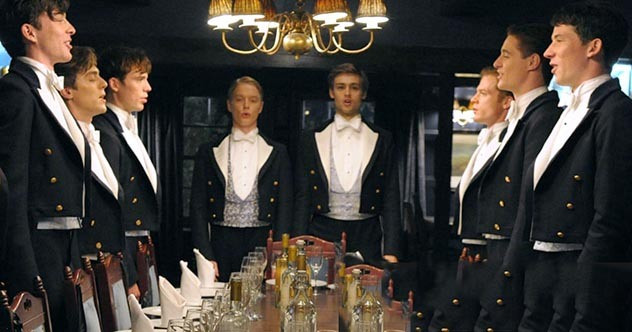 4. Punishment by alcohol photo: listverse.com
Oxford is one of the few universities that still have "formal" lunches. There were once very strict rules about what you could and could not do at the dinner table: talking about religion or politics was one thing, but saying a short prayer in Latin before eating was another. Whoever broke the rules at the table was fined–and back then it was a regular fine–a certain amount of money had to be given. But at some point the fine turned into a more unusual punishment – one had to drink a mug of beer.
At present, each Oxford college has slightly different rules for fining, and some do not fine at all. Some require you to drink alcohol from your own shoe, while others require you to drink from someone else's shoe (although most just drink from a regular glass). Today, the "fine mug" isn't really used as a punishment, but rather as a great version of "Will you ever. " Someone will stand up and say, "I fine anyone who has ever done that," and the guilty dinner participants must get up and drink their drinks. A strange but mostly harmless tradition.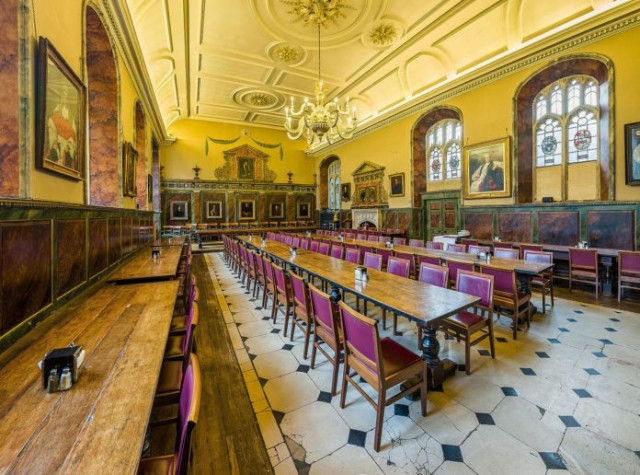 3. Students eating at low tables photo: listverse.com
Oxford is a place of tradition, and students have traditionally eaten at a lower table than professors and other scholars. Nowadays, these events do not carry the weight or importance that they once did-when there were strict rules about how to behave at these dinners. Today, even at formal luncheons, it makes little difference what professors wear under their official robes.
Different colleges have their own traditions: some hold formal dinners every night, others once a week, and still others several times during the semester. Some have a mix of formal and informal dinners, where suits and robes are required only occasionally. What all these dinners have in common is the fact that students eat at the main tables in the college dining hall, while scholars and professors eat at the High Table, where they have a very different (and more sophisticated) menu. The major exception is Linacre College, which is student-run and has no High Table – everyone eats together.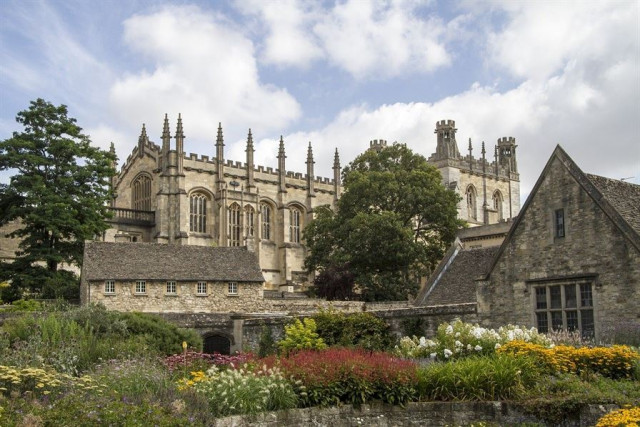 2. Oxford time photo: pixabay.com
It used to be that every city in Britain had its own, local time. Because travel and communication could take days back then, it didn't matter if the time in one place was 5 or 10 minutes earlier than in another. But with the advent of telecommunications and high-speed railroads, accurate measurement of time became important. People began using London time as early as the 1840s, but in 1880 the government decided that the entire country would switch to London time.
Of course, Oxford, being a deeply traditional place, did not follow this rule thoroughly. Outdated Oxford time is five minutes behind London time. The bell at Christ Church rang 101 times every evening at 9 p.m. to remind students to go to bed before the gates closed. This tradition is carried on and even today the bell at Christ Church tolls at 21:05 (21:00 Oxford time) as the final bell of the day.
Also, lectures and other events at Oxford usually officially begin at 5:00 (after the start of the hour), but whether this is tradition or pure practicality is unclear. It may be both.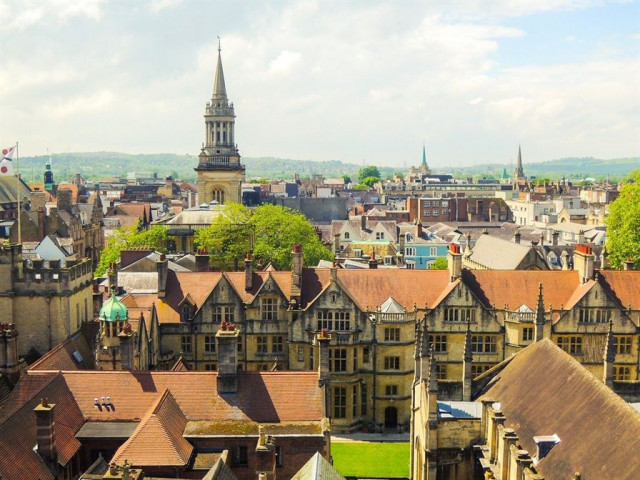 1. The largest employer in Oxfordshire photo: pixabay.com
Oxford is made up of more than 30 colleges, and each one cares about its students, facilities, and money. Most colleges have their dormitories to clean, repair, and provide food. There is a large amount of work, and that's not counting the other organizations that the university runs (such as the huge library system, the publishing house, and the museums).
Oxford claims to provide 30,000 jobs in Oxfordshire, making it the largest employer in the county, bringing £2.3 billion (almost $3 billion) to the economy annually. The university has about 24,000 students, which means that Oxford has more employees than students. By comparison, Yale University only employs about 10,000 people.