How to get to Pangangan: Top 10 ways (by bus, train, plane, car and ferry)
In this article I will tell you how to get to Pangan from Bangkok, how to get to Pangan from Phuket and Samui by bus, car, ferry and plane.
Phangan island in Thailand how to get there? Pangan is an exotic island, let me tell you right away that there is no airport here, you can get to Pangan Island only by sea. This is both good and bad at the same time. The good news is that due to the inaccessibility, there are not so many tourists as, for example, on Koh Samui and Phuket, and Pangangang has still preserved its wildness and wilderness. And the bad thing is that to get to the island of Pangangan still not very convenient.
How to get to Pangangan Thailand? There are several ways to get to Pangangan by bus, train, plane, car, ferry. However, all of these ways are combined with each other in one way or another. I will describe each of them in detail in this article so that you can choose the best way for you. It's a long journey, so I advise you to take out insurance for your vacation. Please take out insurance in Thailand, I always do it here.
How to get to Pangangan – ferry map.
Photos from www.phangan.info
How to get to Pangan island Thailand? As I said before you can get to Pangangan only by sea. There are several piers on the mainland where the ferries to Ko Phangan leave from. For clarity look at the map, everything becomes clear at once.
Donsak Pier is located 70 km from Surat Thani and around 700 km from Bangkok, the closest point to Phangan by sea.
Chumphon Pier is located about 400 kilometers from Bangkok, which is twice as close by land as the first option, but the distance by sea is longer. That is why boats from Chumphon offer a relatively quick way to cover the distance by water.
The pier in Surat Thani is the pier of the company Lompraya (I will tell you about it in the article).
Now let's see in detail how to get to Pangangan by all possible means of transportation – plane, train, bus, combining them with ferries.
All ways to get to Pangangan I can roughly divide into 3 categories:
Fast, comfortable and expensive (plane + bus + ferry) – 1400-5000 baht per person.
Slow, comfortable, but not cheap (Train + Bus + Ferry) – 1500-2000 Baht per person
Slow, uncomfortable, but not cheap (Bus + Bus + Ferry) – 700-1300 baht per person
If you are an avid traveler, you can buy your own tickets for each section of the route. But to be honest, it's a hassle, because you need to find the right time for all the stages to match each other. For example, trains in Thailand tend to be late, so there is a risk of missing the ferry, and the next may not be available. So I recommend everyone, all things being equal, to buy a combined ticket. The vast majority of travellers to the island use the combo-tickets. So in this article I will focus on them.
How to get to Pangangan from Bangkok by bus (Bus + Ferry)
How to get to Koh Phangan by bus? Bus is the cheapest way to get to Ko Phangan. The end point of your journey is Tong Sala, the administrative center of Phangan. This is where all the ferries arrive.
Bangkok Pangan bus – two routes:
* bus to the pier in Donsak + ferry (companies: Seatran Discovery, Songserm Express and state carriers).
* Bus to Chumphon pier + speedboat (Lompraya company, Songserm has a pier in Chumphon, but they don't offer combo tickets via Chumphon for some reason).
You have several ways to get to Pangangan by bus
This is the easiest way to get to Pangangan. You can buy a combined bus + ferry ticket at any travel agency in Bangkok. The easiest way to do this is in Bangkok's most touristy area, Khao San Street. Here they are sold at every step.
Itinerary: bus to Donsak Pier + ferry
Ticket : 700-900 Baht
Total traveling time : 11-18 hours depending on the company
The bus will pick you up from Khao San Road and take you to Donsak Pier (8 hours). On the bus they give you a bottle of water as a bonus, they can give you a juice or something else. At the pier you have to wait before the ferry leaves (1-2 hours). Then you get on the ferry and sail to Phangan (5 hours).
Where to buy tickets: you can buy tickets locally on Khao San Road or book online at 12go.asia at least 3 days before your departure date, and a day before departure you need to confirm the reservation in person at the office or by calling the office. The service is very convenient to use, you can see all the options and costs at once. You can also book on the websites of companies, but it is less convenient (the sites are in English).
How to get to Pangangan (Thailand): all ways and prices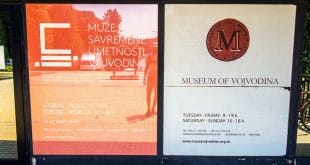 Sparsely populated island of Koh Phangan is not as much hyped as the popular resorts of Thailand, here every visitor can enjoy the leisurely pace of life, warm weather and the flavor of Asia… for almost a month.
Every full moon, young people from different countries come to Phangan for the Full Moon Party, which made Phangan famous: a few miles of sandy beach and thousands of people ready to party until dawn. Outside the beaches where the parties are held, you can not even guess about their existence – so manages to maintain the identity of wildlife. So, Thailand, Phangan – how to get there?
1. Route on the map
Ko Phangan is located near the island of Samui in the Gulf of Siam and the route will look as follows:
2. Choices on how to get there
To find out how to get to Pangan Island in Thailand, it's important to decide on the nearest point to the island.
The distance to Pangangan from Bangkok is 770 kilometers, the island itself has no airport, the nearest one is on Koh Samui, so the fastest way is to get to Koh Samui first.
And from Samui you can get to Pangangan by ferry.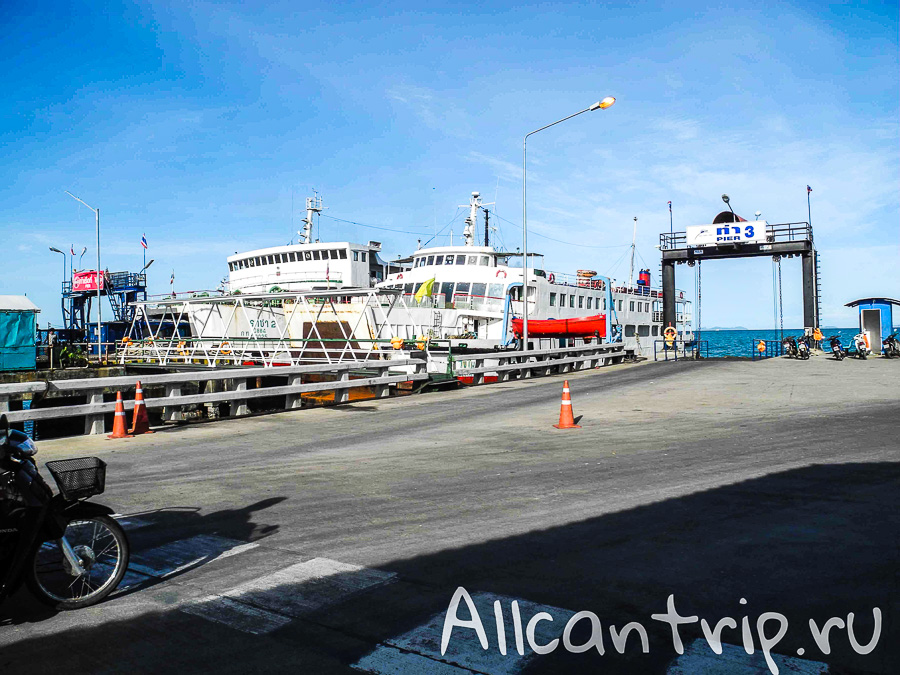 Koh Samui Pier
Another route option is to first go to Surat Thani (the nearest mainland town), and from there again by ferry.
This article will show you the different ways of getting to Pangangan so you can choose the best one.
2.1 By Airplane
Samui Airport has flights from Bangkok, Singapore, Hong Kong, Krabi, Phuket, Suvarnabhumi, Kuala Lumpur, and Guangzhou. The minimum ticket price from Bangkok is about 1,500 – 2,000 THB.
You can see the prices as through this form from the search engine aviasales :
and on the website 12go.asia (there, incidentally, for some reason cheaper options).
Almost as close to Pangangan is Surat Thani Airport, located on the Thai mainland. A ticket here from Bangkok will cost from 600 – 1700 THB.
After Samui or Surat Thani to the island still need to take a ferry, which will be discussed a little later in this article.
2.2 By Bus
The best way to get from Bangkok to Surrat Thani is by bus, the ticket costs about 500 THB.
The departure is from two points in the capital: South Station and Ratchadamnoen Avenue.
From South Station there are flights at 9:15 and 8:20 pm, the trip will take 10 hours.
It takes a little longer to get from Ratchadamnoen Avenue, 13 hours, with a flight at 4:30 p.m. from there.
When traveling by public transport in Thailand, as strange as it may sound, it is better not to forget warm clothes – air conditioning is often on full power, you can easily get cold.
Another tip for traveling by bus – grab a scotch tape, you can tape the holes in the air conditioners temporarily.
2.3. by Train
It's a little faster to get to Surat Thani than by bus, you can take the train, about 8 – 10 hours . The trains leave Bangkok from Hua Lampong station at 8 am, the last train leaves at 10:50 pm, the ticket price is 900 THB, you'd better buy it in advance and not be late for the train, as you can return the ticket not later than an hour before departure.
There are different classes of coaches in Thai trains: the first can be comfortably seated lying down, and the second only seats seated.
2.4 On the ferry
Regardless of how you travel to Surat Thani and Samui, there is only one way to get to Pangangan island: by ferry. You can take it alone, with a bike, or with a car, but the bigger the vehicle, the more expensive the fare. The ferry ticket costs about 200 THB, surcharge for a car – 350 THB.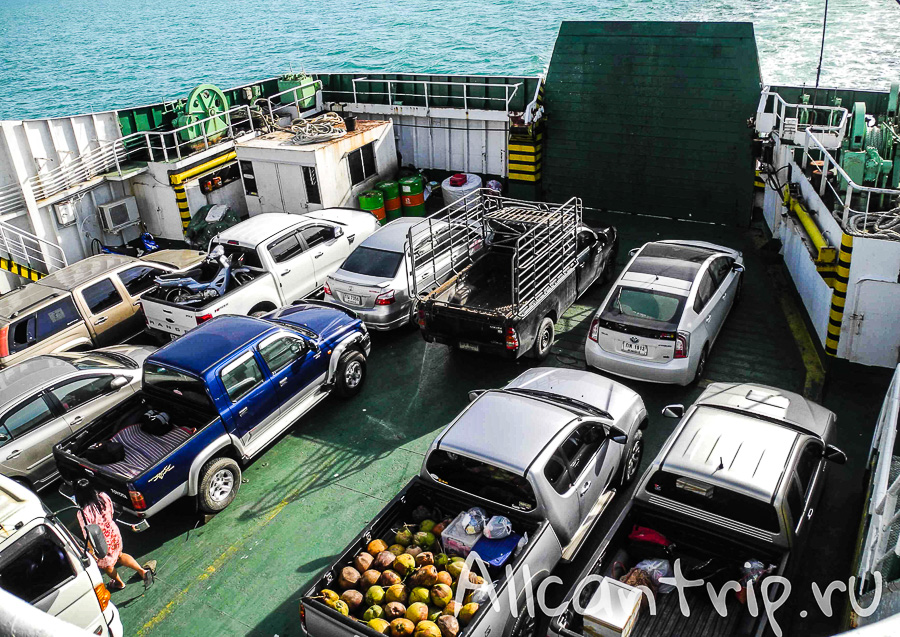 Car on the ferry
In Bangkok for the entire route to Pangangan you can buy a combined ticket that combines train, bus and ferry. The cost of such a route ranges from 900 to 2,000 THB depending on the comfort of the bus and the timing of ticketing, it is much better to buy tickets in advance.
Departures are available from stations in Bangkok Hua Lampong, Ratchadamnoen Avenue, South Station and Khao San tourist street, the arrival point is the town of Tong Sala, the main road junction of the island.
2.5 Book a tour
On the island of Koh Samui available many tours to Pangangan, which included everything: round trip transfers, breakfast, beach recreation and a study tour of the island itself. The cost of such tours may vary from one organizer to another, on average it is 1500 – 1700 THB, a ticket can be purchased at any travel agency.
2.6 Car rental
Fans of auto travel can travel all the way to Tong Sala by renting a car, not depending on flight schedules, travel agencies and other things. Renting a car in Bangkok costs just over 800 THB (20 euros) per day.
You can find a car that meets the technical and design requirements on the rental website (for example, here), but it is better to do it in advance to have the car in stock. You can book a car right at the airport so you can leave immediately.
So you can get to the pier Donzak, ferries from which supervise to Phangan, but it is important to consider that they run on a schedule, and the last ferry leaves at 19:00. And from the pier you take the ferry along with the car.
3. Where to buy tickets
Tickets for ground transportation can be purchased at 12go.asia.ru, with addresses of bus terminals and drop-off points.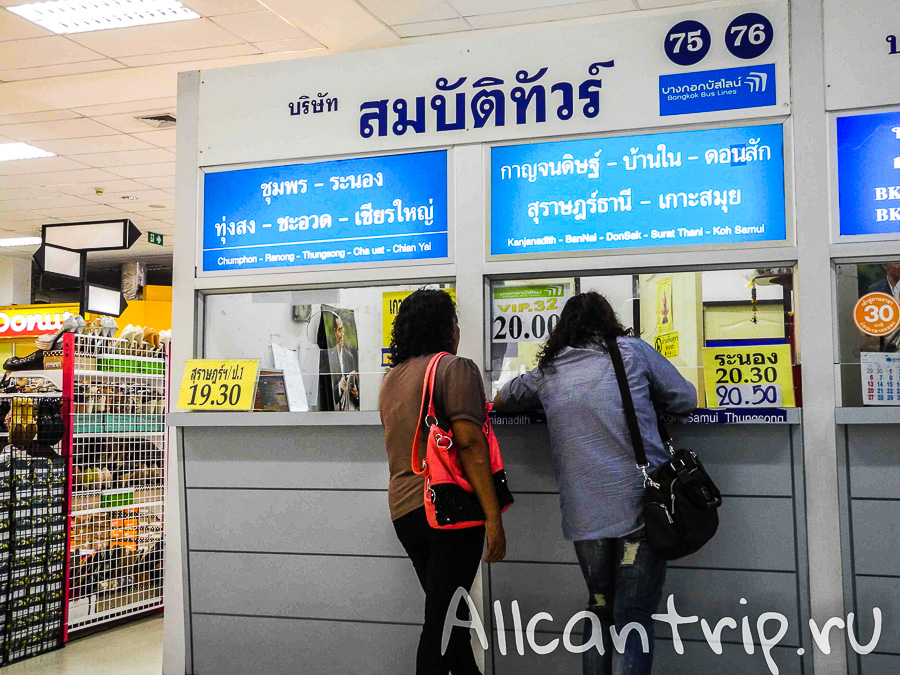 Checkout counters at the South Bus Station in Bangkok
You can find airline tickets on the Aviasales aggregator website. And any tickets are available for cash at departure points, as well as on the tourist street Khao San in Bangkok. On Kaosan, by the way, the prices are always a little lower, but there are also more risks.
4. How to get to the hotel on the island
You can get on the island by cab, the average price is from 100 to 150 THB per person. Also on the island operate a boat-taxi (transfer by boat), which is often more convenient, the price varies. In Pangangan almost everywhere bikes and cars for rent, on average, a day rent costs from 150 THB for a moped and from 1,000 THB for a car.
5. Conclusions
The most budget way to go to Pangangan – a combined ticket from Bangkok, including travel by train, bus and ferry, the average price of the ticket – 1,500 THB, the journey takes about 16 hours, which is less than picking up connections alone.
It would be faster and more comfortable with children to get to Samui by plane and then by ferry, and the followers of the format "All Inclusive" is more suitable already designed excursion to the island.
Have you ever been to Koh Phangan? How long was your trip? What route did you choose? Share your impressions and useful information!
By the way, if you just going to Phangan, but have not chosen a hotel, I advise you to look at the website search engine hotellook (there you can find the best deals from 40 booking systems) or choose one of these hotels with a good rating: